If you're anything like me, you're probably still recovering from Thanksgiving. It doesn't help that I've eaten nothing but Thanksgiving leftovers for the past three days...
Lucky for us, Pharrell Williams (the songwriter, rapper, producer and fashion designer who brought us hits like Robin Thicke's "Blurred Lines" and Daft Punk's "Get Lucky") recently launched a new project that's sure to lift our spirits.
The project--called "Happy"--is a 24-hour interactive music video. You may ask: Who on earth is gonna sit and watch a 24-hour music video? But that's not the point--even Williams admits he hasn't watched the whole thing.
The video streams on 24hoursofhappy.com. When you visit the website, it links you up to the spot in the video corresponding with your local time. You can pause, fast-forward and rewind the video once you get there, and you're encouraged to share your favorite moments on Twitter and Facebook.
What will you see at any given point of the video? Basically, it's a compilation of anonymous extras and celebrities dancing through life to a loop of the song "Happy" from the soundtrack of Despicable Me 2 (yet another one of Williams' projects).  Celeb cameos include Steve Carell, Magic Johnson, Jimmy Kimmel and Williams himself.
So if you find yourself feeling under the weather, visit the website and get "Happy"--here's a four-hour clip to get you started!
It's truly been a year of "Happy." I mean, we've raved about rendition after rendition after rendition of dances to the Pharrell Williams hit. And we'll admit it: We've tried to resist over the past couple of months. But then, this came along...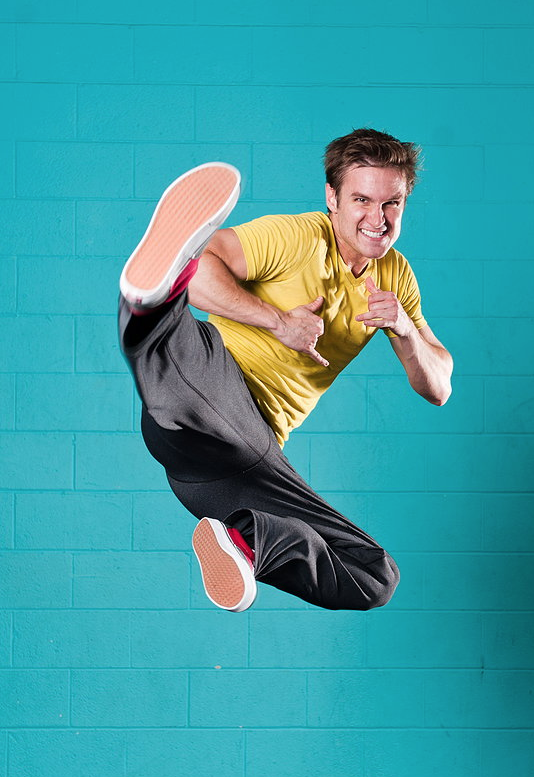 Christopher Rice (photo by David Parks)
You guys, today we're getting #Tappy.
And we owe it all to this guy—dancer, choreographer and Broadway boy Christopher Rice. Rice is currently a swing in The Book of Mormon (you know, just casually the winner of the 2011 Tony for Best Musical—nbd). He earned his YouTube street cred back in October, when his video "Cups: A Tap Dance"—a tap-tastic cover to the Pitch Perfect fave—quickly racked up over two million views. And now, he's back for more.
On Monday, Rice unleashed #tappiness on the world with his new YouTube video, "Happy Tap Dance," aka #Tappy. How has this just now become a thing?! I mean, it makes complete sense: Not only is the play on words brilliant, but tap dance is pretty much the happiest kind of dance I can think of. And to add to the gloriousness, Rice stacked his cast with some of the best dancers to have graced Broadway, in shows like A Chorus Line, Kinky Boots, White Christmas, Newsies, 42nd Street, Billy Elliot, Matilda and West Side Story. Seriously, I dare you not to smile when watching this video.
#Tappy Friday!
C'mon, c'mon get happy! —said contemporary ballet company BalletX to everyone in Philadelphia.
BalletX's Summer Series kicks off next month in Philly, and to get the city revved up for the string of premiere-studded performances, the company put together a video montage of BalletX dancers and other Philadelphians showing off their best moves to—what else?—Pharrell Williams' hit song "Happy." (Thought that song was over? You thought wrong. "Happy" WILL NEVER DIE, and frankly we are totally OK with that.)
The four-minute video is chock-full of adorableness—we're especially partial to the talented little guy at 1:45—and features all kinds of iconic Philly landmarks, too. Take a look, and get your tickets to the BalletX Summer Series here!
A bajillion listens and one fantastic Oscars performance later, you think you're finally getting over Pharrell's "Happy," don't you?
Well, you're not. Or at least you won't be once you watch this video of Ellen and her adorable dancing 3-year-old friend Heaven.
You've met Heaven already. She and her mom were on "The Ellen DeGeneres Show" last fall, doing a pretty impressive routine to Beyoncé's "End of Time." This week they returned to perform another insanely cute routine to "Happy."
How cute, you ask? THIS CUTE: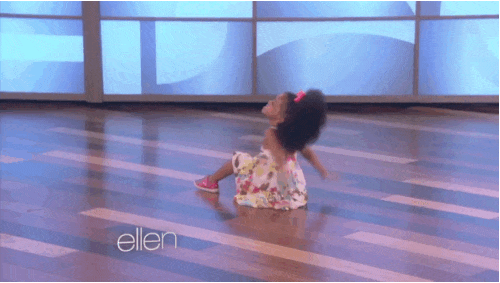 In a pre-dance interview, Heaven also tells Ellen that she would make her over with "a little bit of blush and red lipstick and pink eyeshadow," and that she wants Play-Doh for "Daughter's Day," because of course. Oh and then toward the end Heaven gets what looks like a lifetime supply of Play-Doh—but I don't know what happens afterward because at that point I passed out from cuteness overload.
Enjoy!
Before we get to the highlight of last night's Academy Awards, we need to say: Congrats to Idina Menzel and the writers of "Let It Go"—this year's Best Original Song.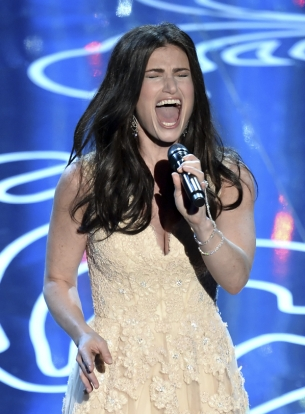 Sing it, Idina. (photo by Kevin Winter/Getty Images)
But honestly, we really just want to talk about "Happy," which was also a nominated for Best Original Song.
Full disclosure: We realize we've been a little bit obsessed with Pharrell Williams' hit song lately. We just can't help but get behind a song that's encouraging people everywhere to dance.
And Williams' performance at the Oscars last night did not disappoint. From a stage filled with talented performers of all ages (shout out to Comfort Fedoke!) to the movie stars themselves—everyone was doing the "Happy" dance.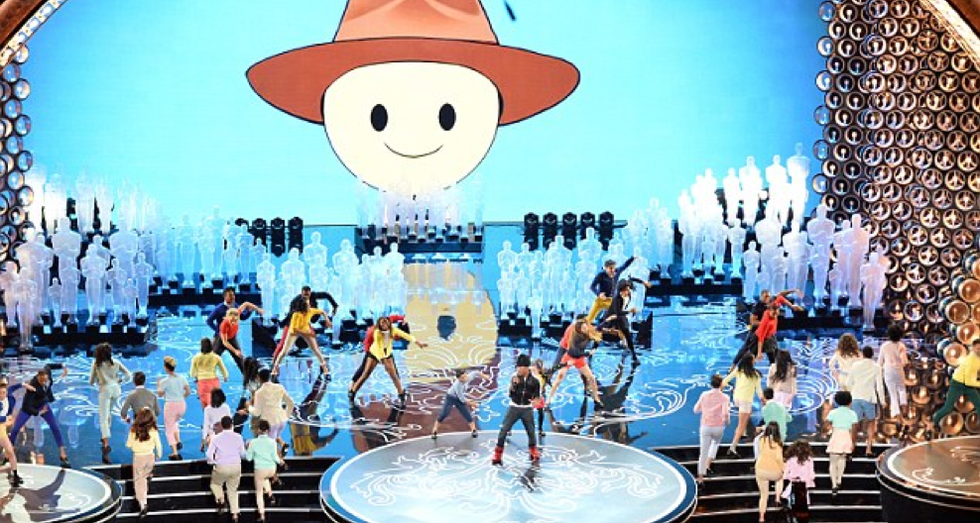 (Photo by Getty Images)
But the highlight of the performance had to be when Williams hopped off the stage to dance with three of Hollywood's brightest—Lupita Nyong'o, Meryl Streep and Amy Adams. And dang, did they show their stuff.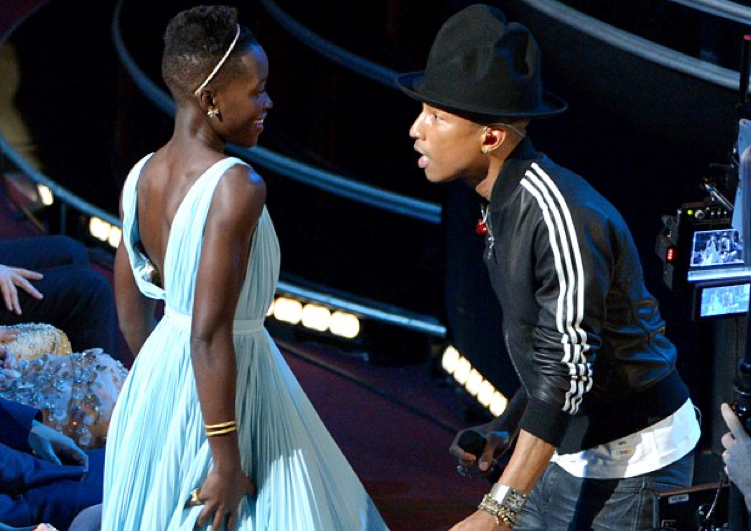 Lupita Nyong'o—Best Supporting Actress, best dressed and best danced. (Photo by Getty Images)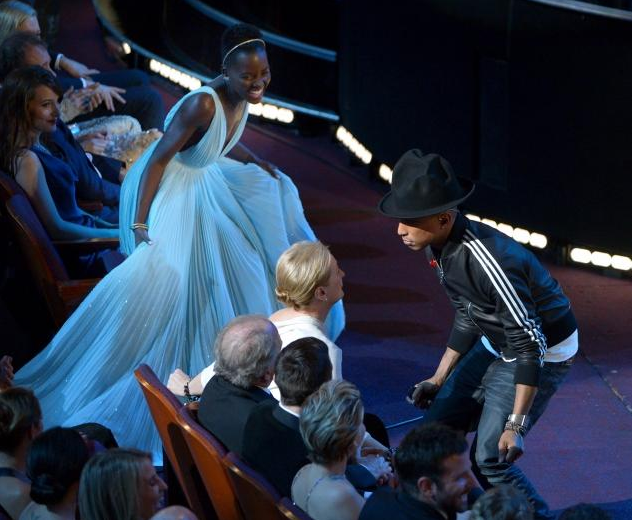 Who knew the 18-Academy-Award-nominated actress knew how to shimmy? (Photo by John Shearer/John Shearer/Invision/AP)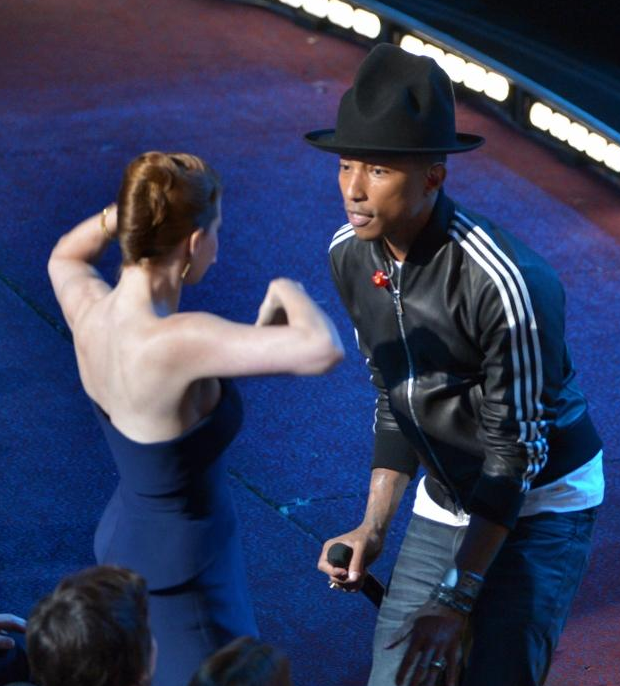 Bold moves, Amy Adams, bold moves. (Photo by John Shearer/John Shearer/Invision/AP)
Missed last night's performance? Catch the entire video here:
Have a very "Happy" Monday!
We'll admit it: We're still jamming out to Pharrell William's "Happy." We've been hooked ever since he released that 24-hour music video.
It just feels so GOOD!
Well, it turns out we're not the only ones still doing the "Happy" dance. In fact, there's a viral trend emerging that's making this song more popular than ever. Individuals from across the globe are making their own (much shorter) "Happy" videos to celebrate whatever place they call home. These videos take the form: "Happy (We Are from [insert country, city, region, school, etc. here])."
It all started with "Happy (We Are from Paris)":
But there's also Moscow:
London:
Tokyo:
Kairouan (Tunisia):
The Bahamas:
Seriously...we could go on forever with these things. But instead, we're gonna go brainstorm for our own video: "Happy (We Are from Dance Spirit)." Has a nice ring to it, no?
Have a very "Happy" Saturday!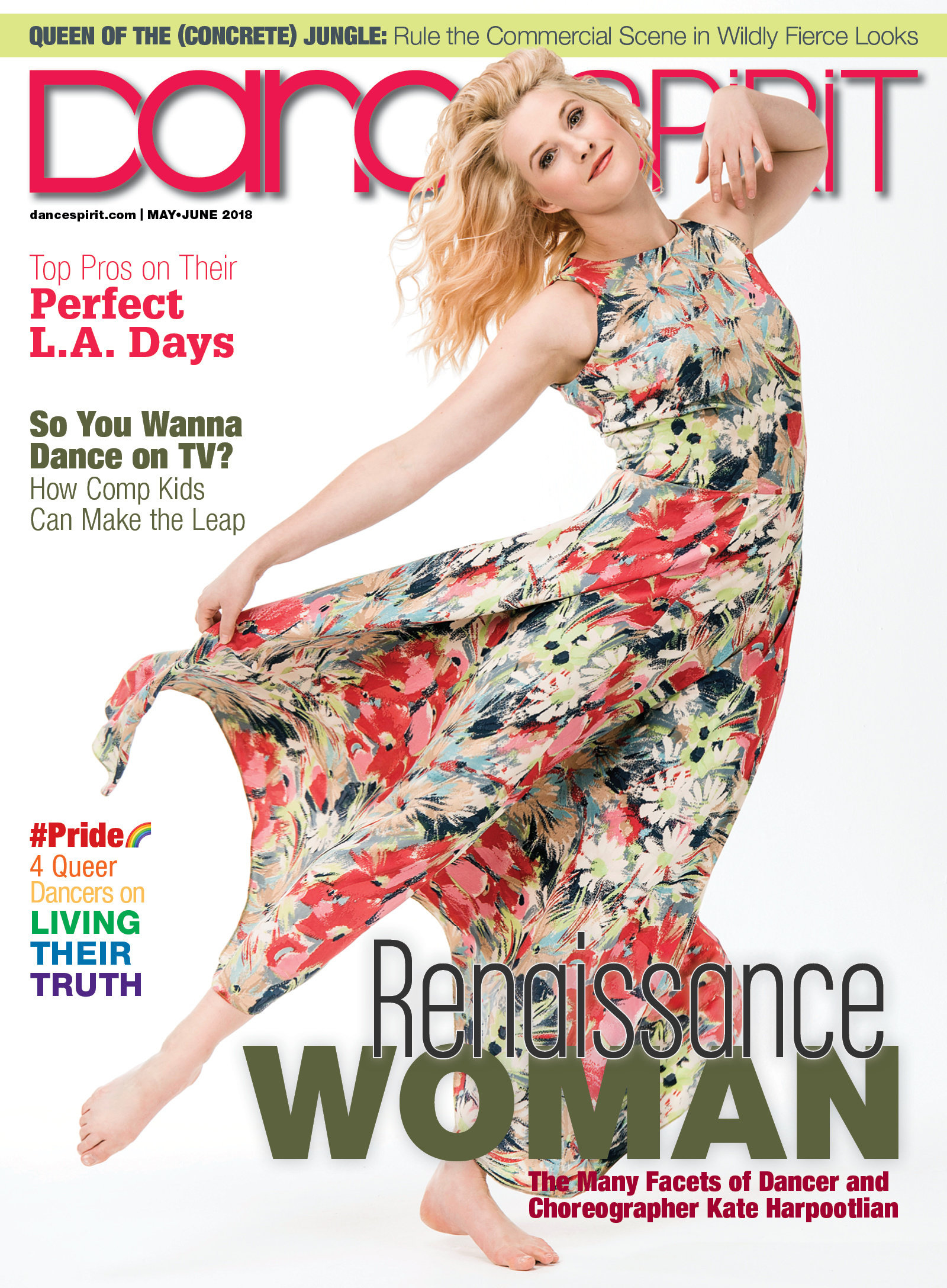 Get Dance Spirit in your inbox