Jun. 17, 2019 03:43PM EST
May. 11, 2018 11:16AM EST
Get to know your inner Amazonian queen in these truly wild ensembles.
Modeled by Starr Dee and Arielle DiSciascio
Photography by Jayme Thornton
Dance and Fashion
Apr. 27, 2018 05:06PM EST
Via @dancers&dogs on Instagram
Dance collaborations are always exciting but there's a special place in our hearts for dance projects that feature our favorite, furry, four-legged friends, otherwise known as dogs. That's why when Kelly Pratt Kreidich came up with the concept of shooting elegant ballet dancers next to the cutest creatures on earth, she decided she had to run with it. The resulting photos were so sweet and unexpected that Kreidich decided to create a project featuring 100 Dancers and 100 Dogs.
Dance News
Feb. 27, 2018 12:43PM EST
Morgan Quinn modeling ballet classwear (photo by Kenneth Edwards)
Bring serious edge to your next barre in cool-girl classwear.
Modeled by Morgan Quinn
Photography by Kenneth Edwards
Dance and Fashion
Lucy Vallely was a blast and a half to shoot with. She had some serious moves and weren't afraid to let loose. Catch all the action below!
Cover Star | Lucy Vallely | February 2019 www.youtube.com
Videos
The ABT Studio Company's Chloe Misseldine is incapable of taking a bad picture. The ballerina-in-the-making showed off her impossibly long lines and preternatural grace at her Dance Spirit cover shoot. Catch all of the ballet beauty's behind-the-scenes moves below!
Cover Star | Chloe Misseldine | March 2019 youtu.be
Videos
Ariana DeBose (photo by Quinn Wharton)
Broadway babe Ariana DeBose, who will star as Anita in next year's West Side Story remake, is about to be a HUGE household name. Below, check out DeBose's fierce, versatile improv from her cover shoot.
Videos
Feb. 09, 2018 03:02PM EST
Nardia Boodoo (photo by Rachel Neville)
"I had a unique path to dance," says Nardia Boodoo, a luminous, elegant apprentice with The Washington Ballet. She briefly studied ballet as a child, but didn't start serious training until she was 14 years old, attending Baltimore School for the Arts. "I didn't know what a pirouette was," she says. "I would wake up really early to stretch and remember my corrections." But, a focused student, she advanced quickly: Soon she was attending prestigious summer intensives, and she earned a spot in The Washington Ballet Studio Company in 2014. Now, Boodoo is working with her childhood idol, TWB artistic director Julie Kent, and dreams of someday dancing the title role in Giselle.
Boodoo is acutely aware of the power of representation. "It has only recently become OK to have a Misty Copeland," she says. "It's no longer socially acceptable to only have girls who look exactly the same, in any aspect of entertainment. But at the same time it feels like a trend, and I'm not a trend, I'm a human being." Boodoo wants to see genuine diversity, from top to bottom. "You need teachers and directors, ballet masters and répétiteurs," she says. "Diversity on every single level is progress."
Dancer to Dancer
Oct. 18, 2017 11:57AM EST
Low on dancewear inspiration? Return to the classics in bold black and elegant white.
Dancer to Dancer
Sep. 15, 2017 02:36PM EST
You probably know Ava Cota as the lovely, leggy dancer who was rejected from the Abby Lee Dance Company, on "Dance Moms," because she was "too tall." Now, that lanky frame is propelling her career as a model. Ava just made her New York Fashion Week runway debut, and we're guessing it won't be the last time the six-foot beauty graces NYC's catwalks.
Dance Videos
Get Dance Spirit in your inbox
Aug. 29, 2017 05:01PM EST
Understated classwear puts your technique front and center.
Dance Spirit photographed Mikaela, Mio, and Zoe on Juilliard's campus at the end of the 2016–17 school year.
Dance and Fashion
Mar. 04, 2014 07:00AM EST
Happy March!
Here at DS HQ, we're more than ready to be kicking off a new month (please please please tell us that March is going to finally bring us some warmer temperatures and pretty flowers...please?) and, fittingly, a brand-new issue!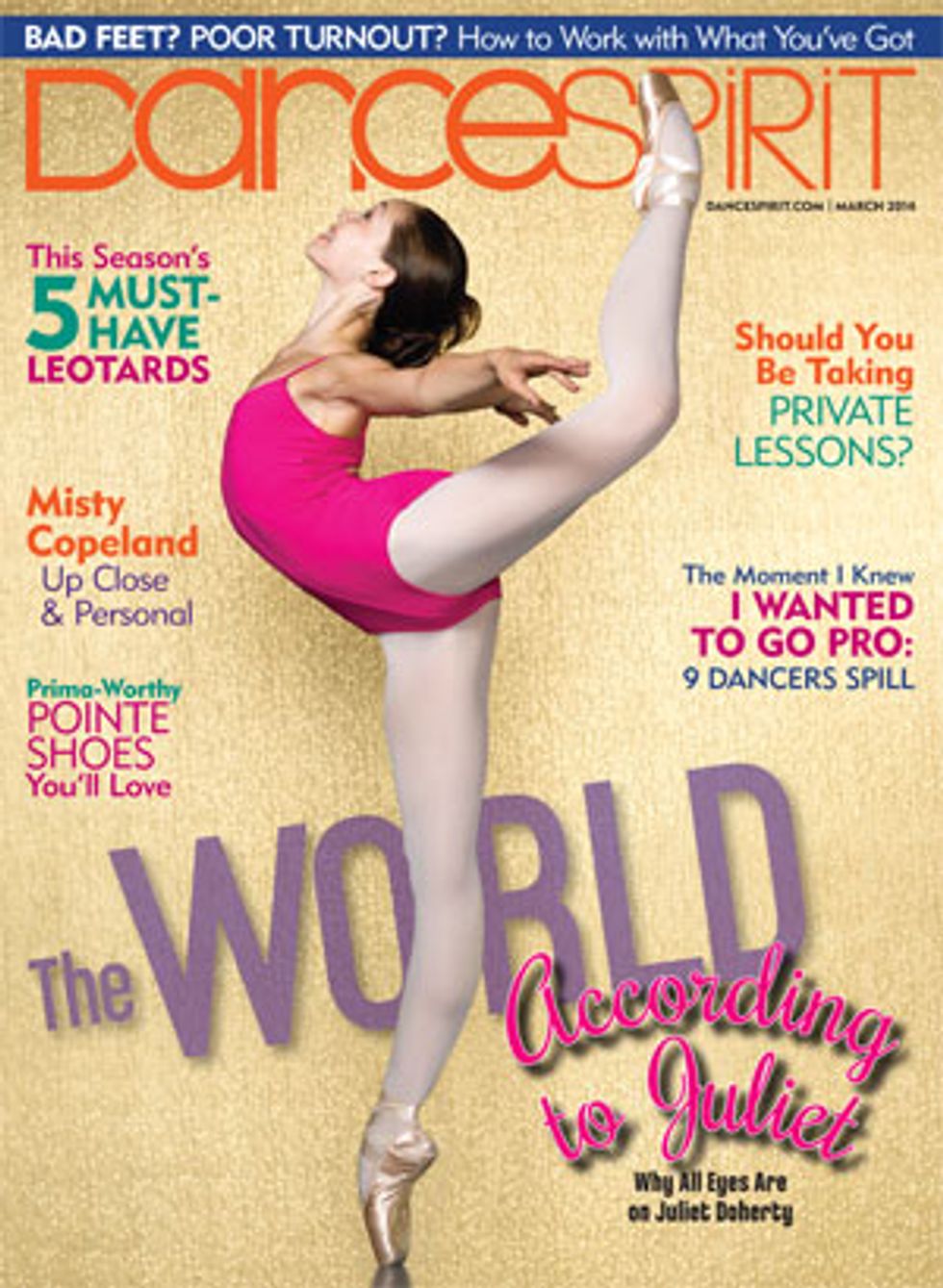 Introducing...Juliet Doherty!
The March issue of Dance Spirit is our annual Ballet Issue, and how lovely is this prima-in-the-making on the cover?
A little backstory...
I have been obsessed with Juliet Doherty for years. I saw her perform the role of Clara in the Radio City Christmas Spectacular and I fell hard for her gorgeous facility, sweet smile and perky onstage personality. At the time, Juliet was a competition dancer training at Fishback Studio of the Dance—her great-grandmother's studio—in her hometown of Albuquerque, NM. Now, at 16, Juliet's making big moves toward a serious ballet career: She's currently a level-seven student at the San Francisco Ballet School and she's performed as Clara in San Francisco Ballet's Nutcracker. Earlier this year she competed at the Prix de Lausanne in Switzerland. And let's not forget—she's a ballerina named Juliet. It's perfect.
We are so excited to feature Juliet on the cover of this issue. Not only is she a stunning dancer (as you can see from the cover—can this girl take a beautiful picture or what?), she's also super-smart (she was asked to give an inspirational TEDx Talk in 2012!), ultra-sweet and insanely humble.
Click here to read Juliet's cover story. And, as always, we've got plenty of extras for your viewing enjoyment: click here to check out a ton of outtakes from Juliet's cover shoot in L.A. with photographer Joe Toreno, and then watch a behind-the-scenes video from the shoot.
We love you, Juliet, and we can't wait to see what you do next!
Dance News