Musical Theater
Mar. 23, 2017 04:43AM EST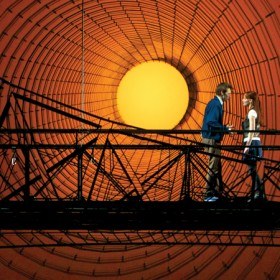 A scene from Broadway's Spider-Man: Turn Off the Dark. Before the show opened, the cast and crew took special, otherworldly precautions to ensure a safe, positive show. (Joan Marcus)
It's opening night of your big musical. You're warmed up, dressed and feeling confident—until your best friend visits you backstage. "Good luck!" she says as she gives you a big hug. You freeze. Oh no, you think. Isn't it bad luck to tell someone "good luck" before a show? You've never considered yourself a superstitious person, but suddenly you start thinking of counter-curses, like knocking on wood or spitting over your shoulder.
In The Producers, the cast sings the song "You Never Say Good Luck on Opening Night." Whether or not performers believe this, most avoid saying "good luck" and instead say "break a leg," a saying that comes from the 1600s, according to Broadway director and Producers choreographer Susan Stroman. "In Elizabethan times, when you took a bow after your performance, you bent your back leg," Stroman says. "So when they say 'break a leg,' it means take a very long bow."
Musical theater is full of superstitions and lore that date back to Shakespeare's day. But do dancers today still believe them? Read on to find out!
What Not to Do
By far, the most widespread theater superstition is that performers should never say the name of Shakespeare's play Macbeth in a theater. Instead, they refer to it as "the Scottish play." According to Joseph Whelan, theater history professor at Syracuse University, this comes from the original days of the play, when theatergoers believed in witches. "It was believed that the incantations the witches say in the play could actually produce bad spirits or work as a curse," he says. As the superstition goes, if anyone says "Macbeth" in a theater, terrible things will happen—no one involved in the show is safe.
Another superstition from Shakespeare's era is that no one should ever whistle in a theater. According to Whelan, shows at that time employed sailors backstage because they were experts at tying knots for stage rigging, and the sailors used different whistles to indicate when to raise and lower scenery. "So if you whistled backstage, you might get 700 pounds of sand dropped on your head," Whelan says.
Even though stage crews no longer communicate with whistles and most people no longer believe in witchcraft, these two superstitions have survived four centuries, and many theater professionals still follow them. "They're traditions that have been embedded in you since you were young," says Ellyn Marie Marsh, a swing in Broadway's Priscilla, Queen of the Desert. "You don't even know why you adhere to them—you just do," she adds.
"Out of respect for the people around me, I would never say 'Macbeth' in a theater," says Ari Loeb, dance captain for Spider-Man: Turn Off the Dark. "I personally don't believe in it, but I don't want to upset anybody. I saw an incident in a theater once where somebody was running around yelling, 'Macbeth! Macbeth! Macbeth!' And one of the actors got upset. Some people are really superstitious." Kate Roth, a NYC-based musical theater performer, adds, "I think it's mostly just theatrical etiquette."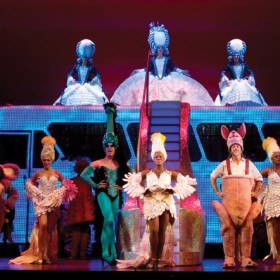 The Broadway cast of Priscilla, Queen of the Desert (Jacob Cohl)
Hauntings 
Stories of theater hauntings are everywhere. "People imagine a theater being filled with the ghosts of characters that have been played there before," Stroman says. "Even in the Broadway show Follies, it's there—composer Stephen Sondheim truly believed that ghosts of these Follies girls inhabited the theater." The show is about an old theater that will soon be demolished, and as its living actors reunite one last time, black-and-white-clad girls representing ghosts of Follies past join them in the rafters onstage.
Part of theater tradition is to appease these ghosts, both by keeping a "ghost light" on onstage in an otherwise dark theater and having one "dark day" (non-performance night) a week, according to Barbara MacKenzie-Wood, head of acting and musical theater at Carnegie Mellon University. Some say that the ghost light, a single lightbulb lit after hours, appeases the ghosts who like light, while others say the light keeps ghosts away and prevents mischief. From a more practical perspective, it keeps everyone in the theater safe, since theater auditoriums don't have windows and often have a very deep orchestra pit in front of the stage. Someone might fall if the space were completely dark. According to theater lore, theaters have dark days because the ghosts of the theater demand the stage to be dark one night a week so that they can put on their own shows. In reality, MacKenzie-Wood says, Broadway shows take one night off a week because theater unions require it.
Still, rumors abound. "In the Palace, the theater I'm performing in now, they say Judy Garland's ghost is here in the star's dressing room," Marsh says. "But I don't think I believe that one—I'm sure she has far better places to haunt."
Just a year ago, the creators of Spider-Man: Turn Off the Dark took special otherworldly precautions before their shows began. According to Loeb, when they entered the theater for technical rehearsals, a priest came in and blessed the theater, and an energy healer brought in special crystals. "We all held crystals and walked around saying what we wanted to achieve in this next year of work, and put our energy into the air," he says. "It was an opportunity to put positive energy into everything around us."
Preshow Rituals
Every dancer has heard stories of a performer with a quirky preshow ritual. Even if they aren't particularly superstitious, many dancers handle preshow jitters by developing a very precise way of getting ready every day.
Stroman has two rules for herself before a show's opening. "I follow them religiously," she says. "The first is that I never change anything on the day of the opening. The other is that I like to run the last 10 minutes or so of a theater piece or a dance piece on that day. I'd feel bad if I weren't able to do those two things." She also always plans a meeting the morning after opening night to immediately start working on her next project—a tradition passed down from Broadway director George Abbott, to Hal Prince, to her.
According to Stroman, traditions are part of a very rich theater legacy that provides continuity and grounding even though performers' and choreographers' lives are constantly changing from show to show. And performers just love stories. "Theater is a place of imagination," says MacKenzie-Wood. "When you have very theatrical people together, that imagination takes flight."
Musical Theater
Nov. 14, 2012 08:20AM EST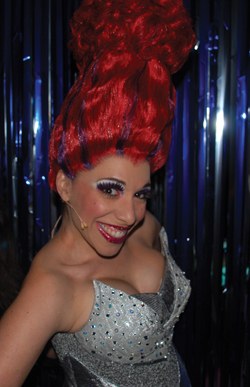 Ellyn Marie Marsh, ready to take the stage in Priscilla, Queen of the Desert
Imagine you're a swing in a Broadway show. You're backstage with nine minutes until the curtain rises. You think you don't have to go on tonight, but suddenly you hear that someone in the cast is sick and needs you to take her place—immediately! Luckily, you know all the ladies' ensemble roles, so you rush into hair and makeup and step in to save the show. Sound exciting? For a swing, it's just a regular day.
Swings are the superheroes of Broadway. Like understudies, they learn multiple parts in a show so they can step up whenever there's a man down. But while understudies usually perform an ensemble position and fill in when needed for one or two leading roles, a swing stands patiently backstage at the ready, having learned up to eight ensemble tracks.
"It's the hardest job on Broadway. Period," says Ellyn Marie Marsh, who swung six very different tracks in Priscilla, Queen of the Desert. At times, she found herself going on for five different parts in a five-show weekend. She's even had to perform two tracks at once, alternating characters from one scene to the next. "When that happens, it's like having multiple personalities," she says.
Ready for Anything
When swings aren't busy saving the day, they spend a lot of time preparing for every possible onstage scenario. Most shows have one to three female swings and one to three male swings, depending on the size of the ensemble. They arrive at the theater half an hour before show time, just like other performers. Then, they wait. In some musicals, swings sing into offstage microphones during the show, adding their voices to the mix, while in others they're free to read, train or work on personal projects. But until a swing feels confident with every nuance of each part she covers, she's likely standing just offstage, analyzing one performer at a time.
Even if the performance is already in progress, swings can be called on at any moment, and they perform more often than you'd think. In addition to filling in on a last-minute sick day, swings also cover for cast mates on vacation, vocal rest or injury leave, or for understudies who move up into a leading role. "When I swung West Side Story, I'd go on for six weeks straight, and then I might be off for two," says Lauralyn McClelland, who's also been a swing for Rock of Ages and Dirty Dancing.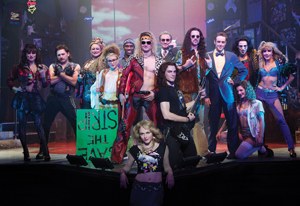 The cast of Rock of Ages (Joan Marcus)
Cues and Props and Quick Changes, Oh My!
As any musical theater pro will tell you, the ability to perform several different versions of the same show is a talent some seem to be born with. "Some performers are just cut out to be swings," says Mark Dancewicz, an ensemble member who understudies the role of Pepper in Mamma Mia! "There's a confidence there."
Andy Blankenbuehler, director and choreographer of Bring It On: The Musical, looks for specific qualities when casting a swing. "Swings have to learn quickly and have a mathematical mind," he says. "Plus, they have to be strong emotionally, because it's grueling."
Even a seasoned swing like Lauralyn admits to having felt overwhelmed. "Dirty Dancing has about 14 dance numbers, and each couple has its own set of choreography for each one. It was like learning 80-something dance numbers," she says. On top of that, she had
to memorize traffic patterns, specific blocking and even backstage choreography, including quick changes and prop pickup locations. "I had to hone in on one person at a time and learn that one track before I could move on to anybody else," she says. Generally, swings attend rehearsals and practice on the side, but they have the freedom (and responsibility) to teach themselves the show.
Swings do have a secret weapon: their show notebooks. "Everyone has a different system," Ellyn says. "I used a binder with a separate divider for each part. My dresser would hold it for me during the show, in case I needed to double-check." Lauralyn creates a large binder as well, and also makes small review sheets for each role to carry backstage. Once it's all written down, Lauralyn and Ellyn must translate that writing to the stage with little notice and less onstage rehearsal time.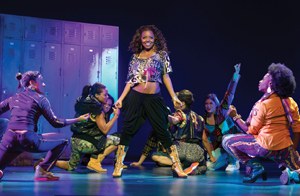 Bring It On: The Musical (Joan Marcus)
The Hard Part
Though learning the show and staying prepared are huge responsibilities, for some swings, those aren't the trickiest parts. "I don't know if everyone would admit this, but it can be really hard to take a backseat on the big things, like taking a bow on opening night," Ellyn says. "I was there and I was a part of the show, but I didn't get to bow." Swings also aren't guaranteed  opportunities like performing at the Tony Awards or singing on the cast album.
For Lauralyn, it was hard to stand back on off-nights and watch others doing what she loves to do. But she also says swinging a few shows a week in Rock of Ages was the perfect way for her to ease back into performing after an injury. "It's a good position to hold, because you know just about everything in the show," she says. "A lot of swings are dance captains, because they know the different parts already." There are also other perks, like a higher pay rate than ensemble members earn.
In the end, swings are some of the most valuable cast members in a show. So valuable, in fact, that it's difficult for a good swing to transition into a regular role. "It's easier for choreographers and directors to teach someone new one track, rather than five," Lauralyn says. But Blankenbuehler says swings are often headed towards bigger things. "Because of their mindset and ability to organize thought, many swings are working their way up to becoming choreographers," he says. "They're offstage watching the cast every night, giving notes and problem-solving. Developing this skill set is like being a choreographer-in-training."
In the meantime, swings are the glue that holds a Broadway cast together. "Swings literally keep the show open," Blankenbuehler says. "There are scenarios every week where we wouldn't go on if there weren't someone there to swing. In show business, real life never stops."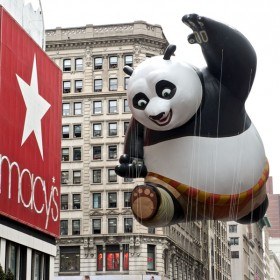 Thanksgiving is less than a week away and we're getting pretty psyched about our favorite turkey-day tradition: watching the Macy's Thanksgiving Day Parade! The entire production is always spectacular, but we're especially looking forward to the performances by Broadway casts. We reached out to Macy's to get the scoop on which shows we'll see this year. Here's a rundown:
Spider-Man: Turn off the Dark

How to Succeed in Business Without Really Trying

Sister Act

Priscilla Queen of the Desert

Newsies (It opens in March!)
Set your DVR—it's going to be a great show!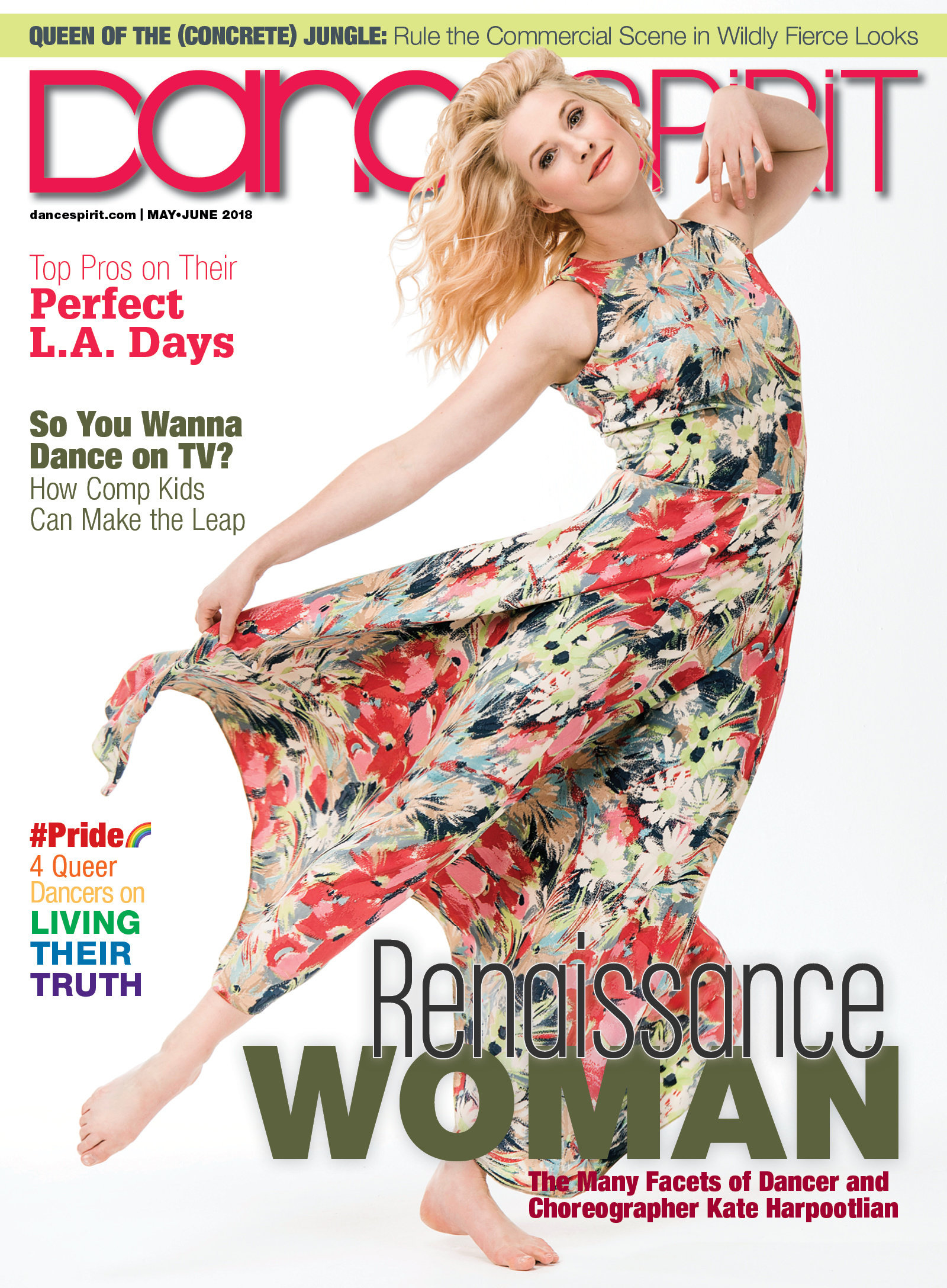 Get Dance Spirit in your inbox