Feb. 27, 2019 01:19PM EST
Mackenzie Brown competing at this year's Prix de Lausanne. Gregory Bartadon, Courtesy PDL.
Earlier this month, 16-year-old Mackenzie Brown took home the first prize at the 2019 Prix de Lausanne. Not only was the Stafford, Virginia-native the only American to place in the finals; she also won the Contemporary Dance Prize and the Audience Favorite Prize. A student at the Académie Princesse Grace in Monaco, Brown's path to the Prix was anything but smooth: The determined young dancer fought against injuries that threatened to keep her on the sidelines.
We caught up with Brown, currently taking a few weeks to recover at home with her family in Virginia, to hear all about her experience at the Prix de Lausanne.
Site Network
Feb. 01, 2016 02:54PM EST
Bunheads, rejoice: The annual Prix de Lausanne competition starts this week in Lausanne, Switzerland! And just like last year, those of us stuck stateside can still get in on the excitement by watching the live stream from today through February 6.
The daily stream promises inside looks at all the dance-y action—think footage of performances from the wings,  interviews with teachers and coaches and video of classes and stage presentations. Today's highlights include footage of the girls' presentations of classical variations—and be sure to tune in for the finals on Saturday, February 6, to see who takes home this year's top awards.
The elite competition is hosting 69 candidates from 19 different countries this year, including 4 dancers from the United States. Click here for the full list and see if you recognize any names.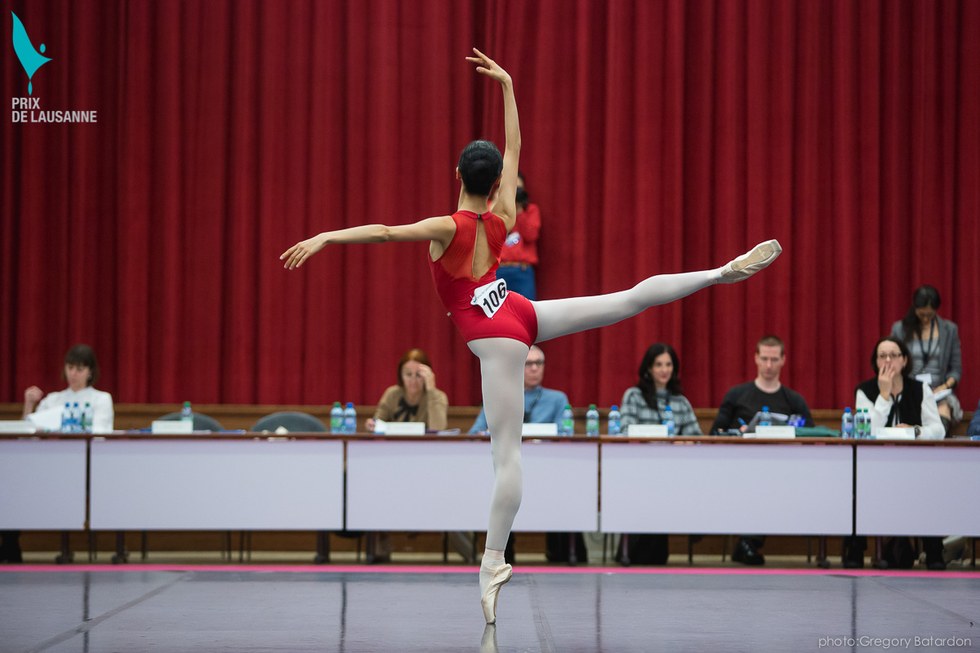 A shot from last year's competition (photo by Gregory Batard via Prix de Lausanne)
Dance News
Jan. 30, 2015 10:45AM EST
Ballet nerds like me LOVE the Prix de Lausanne. The super-prestigious competition, held annually in Lausanne, Switzerland, attracts top dancers from around the world, for starters. But it's also remarkably open about its proceedings. For the past few years, it has live-streamed the final round of competition on its website—encouraging bunheads of all stripes to keep up, even if they can't make it to Europe.
This year, the PdL is taking things a step further: It's broadcasting not just the final round, but also excerpts from each day's activities. From February 2nd to February 6th, you'll be able to watch one hour of live coverage each day at prixdelausanne.org/multimedia/live-streaming/.
What are you likely to see? The candidates rehearsing and taking class, bien sûr, plus interviews with competitors, teachers and jury members. There'll even be insider-y peeks at coaching sessions. And the whole thing wraps up with the live-stream of the February 6th "selections" and February 7th finals in their entirety, so you can witness firsthand how the dancers' hard work has paid off. (Click here for the full list of candidates—you'll probably recognize a bunch of names.)
To all the competitors: Merde! And to all the ballet fans out there: Get your popcorn ready! While you're waiting for the February 2nd to roll around, check out this slideshow of photos from last year's Prix.
All photos by Gregory Batardon, via Prix de Lausanne
[portfolio_slideshow nowrap=0 thumbs=true timeout=4000 showtitles=true showcaps=true showdesc=true]
Dance News
May. 01, 2014 02:30PM EST
Houston Ballet II's Tyler Donatelli was one of only 10 dancers from the United States accepted to compete at the prestigious Prix de Lausanne this year. To get the inside scoop on the ballet competition, DS asked Tyler to keep a diary during her week in Switzerland. —Jenny Dalzell
January 26
I just arrived in Lausanne, and it's breathtaking. It's been a long trip to Switzerland: a plane from Houston to Washington, D.C., a seven-hour flight to Geneva, and then a 30-minute train to Lausanne. Luckily, I wasn't alone. My teacher Sabrina Lenzi came with me, along with Michael Ryan, another Houston Ballet II dancer who is competing.
I had to head to the theater for a warm-up class right after I checked in at the hotel. Once there, I got to practice in a studio with a raked floor, just like the stage where we'll be performing. I didn't feel too shaky—I just had to make a few adjustments, like really leaning forward when doing turns upstage. I kept my practice session pretty short; I didn't want to overdo it. Plus, I had to head over to registration to get my number (304!) and instructions for the week. OK—off to bed now. I need some serious sleep.
January 27
The first official day of the competition! It started with a judged ballet class, with about 30 other girls in my group. I wasn't too nervous—I've competed at Youth America Grand Prix, which also judges classes, so I know how to stay relaxed.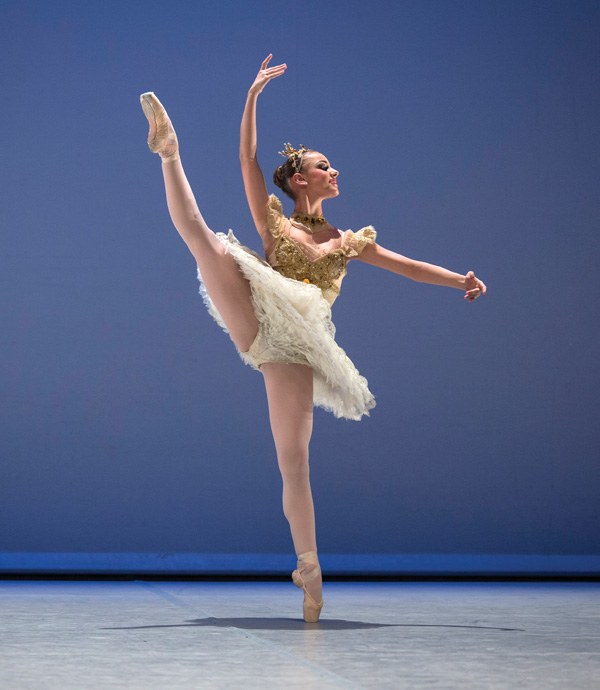 photo, Gregory Batardon/Prix de Lausanne
Next I had a stage run-through of my classical piece. I'm performing Gamzatti's variation from La Bayadère. Whenever I get onstage, I get this sensation—a burst of electricity through my body. I stop thinking, let my body do the work and live in the moment.
Next came contemporary class. I wasn't used to the teacher's style, so remembering the combinations was a challenge. But one of my goals this year has been to improve my contemporary movement quality, and I think these classes will help.
January 28
Jet lag has caught up to me, and waking up today wasn't easy. Nevertheless, I was ready for another day of dancing. First up was another judged ballet class. The teacher, Stefanie Arndt, gave corrections about placement that reminded me of my teacher at home, which was comforting.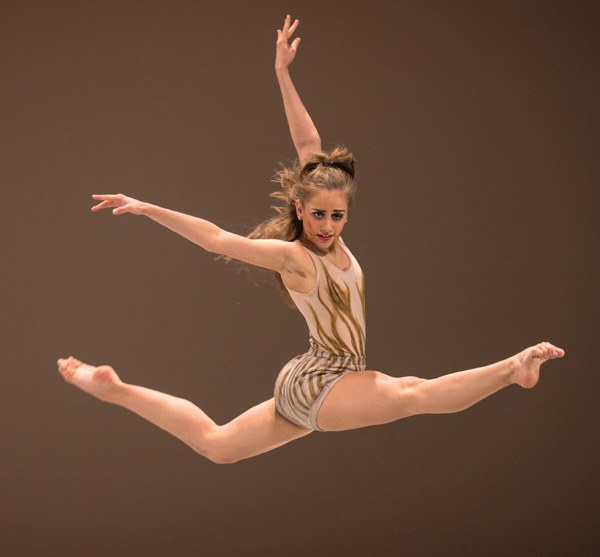 photo, Gregory Bartardon/Prix de Lausanne
I also had a coaching session for my contemporary solo, from Richard Wherlock's Le Sacre du Printemps. When I was selected to compete in Switzerland, I started learning the solo from online videos. Now, after the session, I'm relieved by how closely my teachers and I interpreted the movement. Working with Richard's assistant helped me put the finishing touches on the piece and really dig out the raw emotion behind the choreography.
January 29
Today began with a (thankfully!) non-judged class in the studio with the raked floor. It's so different taking barre on a slant—but I actually love it. The rake makes me lift up more, and it's easier to feel if my weight's too far back or forward.
After that, I had my third contemporary class of the week—this time judged. I was a little apprehensive going in: I was in the first group in the front line, and my focus had to be on point.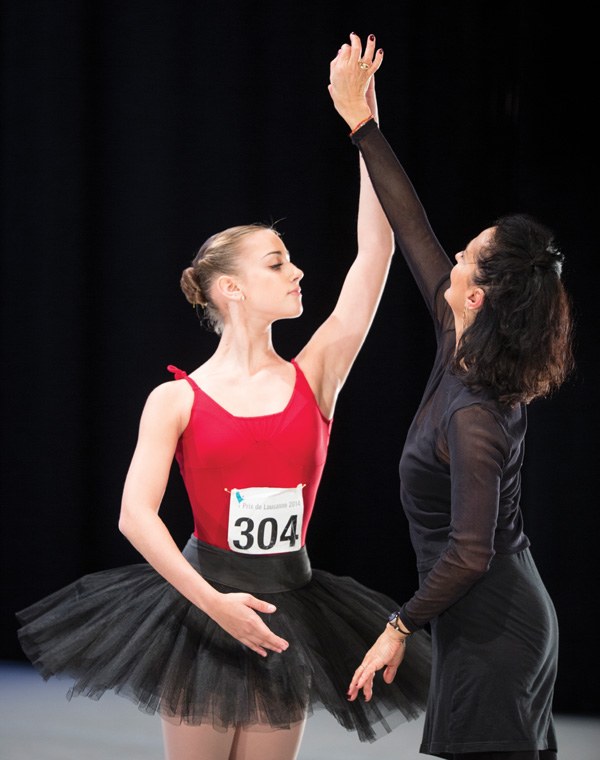 photo, Gregory Batardon/Prix de Lausanne
Next came a classical coaching session with Monique Loudières, a former Paris Opéra Ballet étoile. She stressed simplicity in positions, and gave a great tip about lifting up, which helped fix some of the difficult transitions in the variation.
January 31
After yesterday's intense contemporary and classical coaching sessions, I got a good night's sleep to prepare for today—Selection Day! When I arrived at the theater, the men and women in my group took a class on the stage. Then I put on my tutu and got pumped up—I love rocking out to Aerosmith before a performance. Before I knew it, my number was called. Leaping and turning was exhilarating—I didn't want to leave the stage!
After a quick change into my contemporary costume and a fast tease of my hair, I was back onstage. I tuned out the world behind the wings, and for the first time, I felt like I was really portraying the character and story of the dance.
Then I waited to find out which dancers would advance to the finals. To pass the time, Michael and I played endless amounts of Flappy Bird on our phones. Unfortunately, I didn't pass to the next round. I'm disappointed, but I put forth my best effort and I'm proud of myself for making it as far as I did. On a brighter side, Michael did make it through, and I'm excited to cheer him on tomorrow.
February 2
I haven't had much time to wallow—the past two days have been pretty nonstop. Yesterday, I participated in a networking class where we took ballet with school and company directors watching. Today, we got the results: I was offered two jobs—with Julio Bocca's company in Uruguay and with Queensland Ballet in Australia—and five scholarships to schools worldwide, including the English National Ballet's
summer program and the John Cranko Schule in Stuttgart. I decided to decline the offers—I'm really happy at Houston Ballet II. But I'm honored so many directors were
interested in me. And even though I wasn't a finalist, the exposure I've gotten at Prix de Lausanne has been an award in itself.
Dancer to Dancer
Apr. 10, 2014 11:54AM EST
NYC is bursting with promising ballet dancers this week, thanks to the Youth America Grand Prix finals held at Lincoln Center's Koch Theater. To all the competitors (at YAGP and beyond), we're shouting a big "Merde!!" your way.
We can't wait to see what amazing things these kids will do next. Don't believe us? Just take a look at these teens competing in the '90s and early '00s. They sure turned out (more than) OK.
Before she was New York City Ballet principal Sara Mearns, she was simply the amazingly talented 15-year-old Sara Mearns, competing at YAGP:
Recognize this guy? It's none other than the dreamiest of all American Ballet Theatre principals, Marcelo Gomes, competing at the Prix de Lausanne in 1996.
Here's international ballet superstar Alina Cojocaru at the Prix de Lausanne in 1997:
No surprises here: ABT soloist Sarah Lane's port de bras was just as glorious in 2002!
And San Francisco Ballet soloist Simone Messmer was just as regal at 16, competing at YAGP regional finals in 2001:
It's hard to imagine Diana Vishneva before she was a start of the Mariinsky Ballet and ABT. Nevertheless, here she is in 1994, competing at the Prix de Lausanne:
And finally, here's a special treat: Alex Wong in leopard booty shorts at the Prix de Lausanne in 2004. Go ahead, watch it sixteen times. We have.
Dance News