Mar. 23, 2017 01:15PM EST
Shaping Sound Dance Company first debuted its full-length production That's Where I'll Be Waiting in 2013. Two years later, the contemporary show—with explosive energy from co-choreographers Travis Wall, Nick Lazzarini, Teddy Forance and Kyle Robinson, and dancers like Jaimie Goodwin, Chantel Aguirre and Amy Yakima—is still going strong, earning nightly standing ovations. What's it like touring with one of the most popular dance productions around? Dance Spirit asked longtime company member Kate Harpootlian (whom you'll recognize from "So You Think You Can Dance" Season 12 Team Stage!) to keep a diary for a week on Shaping Sound's 2014–15 tour. —Jenny Ouellette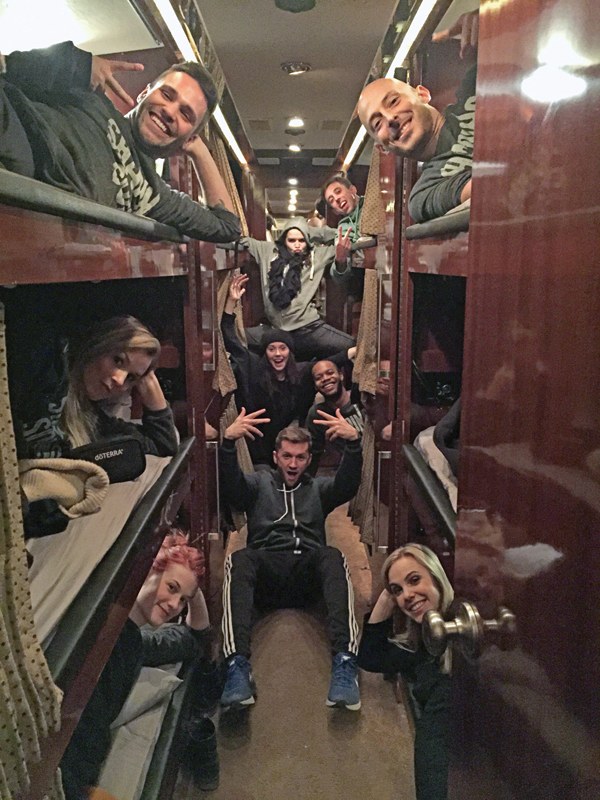 Kate Harpootlian (lower left) on the tour bus with Shaping Sound Dance Company (photo courtesy Harpootlian)
January 23: Last Rehearsal in L.A.
I was really excited to get back into rehearsals for the second half of Shaping Sound's second tour. Once in L.A., we had four days to regroup, which is usually pretty fun. I've known most of the dancers since I was teenager, so getting together is like a big family reunion.
This time, though, the week got serious after our company's morning ballet class. One of the show's dancers, Matthew Peacock, found out he'd been booked as the assistant choreographer for Madonna's Grammy performance. It's an amazing opportunity for Matthew, but it means one of our understudies, Rory Freeman, will now be taking over his part. Our limited four-day rehearsal period—which we've had to do without props, since they're in Texas already—has been pretty hectic. Rory is a rock star, though, and our last run-through went smoothly.
January 27: Tech in Fort Worth, TX
Today we flew from L.A. to Fort Worth—and we didn't waste much time before going to the theater for tech. Once we were onstage, with the lights, costumes and props (!), it really sank in that tour was starting. Our set features walls that we climb up and fall off. We move them around ourselves during the show, and remembering to lock or unlock the walls while we're performing isn't easy. So a thorough tech is absolutely necessary.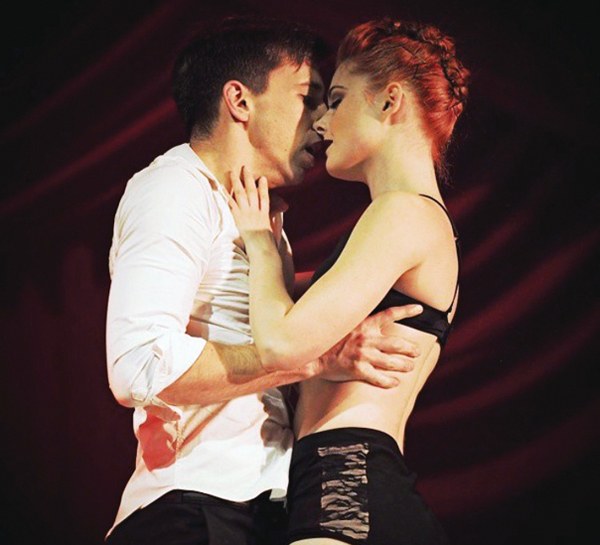 With fellow Shaping Sound dancer Ben Susak (courtesy Harpootlian)
January 28: Opening Night in Fort Worth
Tonight's performance was electric. My favorite part of the show is the duet I perform with Ben Susak in the "Wild Is the Wind" section. We have a great connection and we both really get into character. We also tend to change little things up each show, which keeps the piece fresh for us, even though we've danced it so many times. After each performance, we always do a meet-and-greet in the lobby. I love getting to speak with fans, but tonight was especially magical: My dad was there to give me a big hug!
January 29: Tulsa, OK
The grueling tour schedule has begun! We checked in to our Tulsa hotel around 4:30 am, disoriented and exhausted after our overnight drive. Believe it or not, though, it felt great to be back on the tour bus! Sometimes we're driving for up to 12 hours at a time, and, for that reason, the bus has become one of our favorite places to hang out. We usually eat dinner and watch our most recent performance while we wait for the crew to load out—and we also love playing Catch Phrase. Our competitive group gets pretty rowdy!
Luckily, we were able to go back to sleep once we arrived at the hotel, and I felt pretty good when I woke up around 10 am. I grabbed a couple of dancers for breakfast and hit the hotel gym with Channing Cooke.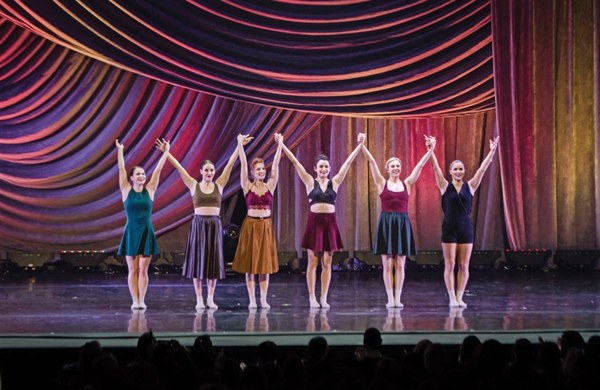 Harpootlian (third from left) during a Shaping Sound curtain call (photo courtesy Shaping Sound)
We had a 4:30 pm call time, but first we had to load all our stuff back on the bus since we'll be leaving right after the show. Three hours before every show (our call), the company meets for notes, info about our next tour stop and to get our lighting and spacing cues. An hour and 15 minutes before curtain, we take a company ballet class. Then I put my costume on, and five minutes before curtain, we regroup onstage for our company's pre-show ritual: After some words of encouragement, we take a few deep breaths. Our last exhale—a long "ahhh" sound—turns into a yell. Then we do a shake-off counting down from 8, and when we get to 1, someone shouts out "Shaping Sound" and we do a loud group clap. We like to think the better the clap is, the better the performance will be. It must have worked tonight!
February 1–2: Skokie, IL
After a four-show run in Kansas City, MO, and Minneapolis, MN, we finally have a couple days off. Some of the company stayed in Minneapolis, but the rest of us arrived to a full-on blizzard here in Skokie. It gave us a good reason to stay inside and rest.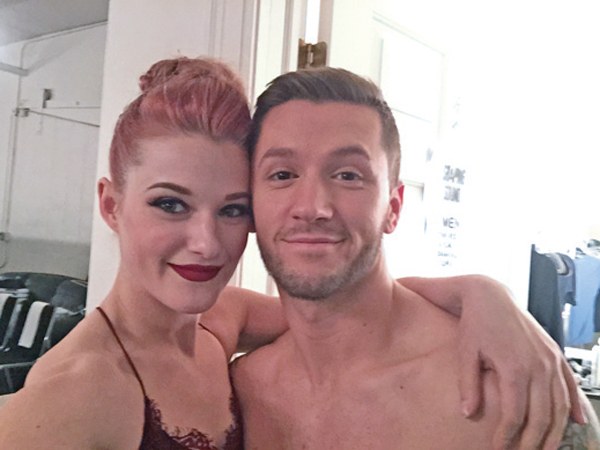 Harpootlian with Travis Wall (photo courtesy Harpootlian)
Monday in Skokie was bright and sunny, so I went into Chicago to take ballet class at the Lou Conte Dance Studio—home of Hubbard Street Dance Chicago. Then I headed to the hotel to take a quick rest before teaching a master class with Ben and Channing. I guess it wasn't much of a day off, but I love teaching. Plus, I got to reward myself afterwards by exploring Chicago one of my favorite ways—through my stomach! A lovely dinner with Travis and Nick was the perfect way to end this first week.
Shaping Sound's 2015–16 tour kicks off this month in Escondido, CA, and runs through February. Visit shapingsoundco.com/tour for details.
Fueling dancers' ever-moving bodies can be an artform in and of itself. We had three professional dancers journal everything they ate on a given day, to see how they navigate the complex world of nutrition while juggling classes and rehearsals. Then we asked Rachel Fine, registered dietitian for The School at Steps in NYC and founder of To the Pointe Nutrition, to weigh in on their choices. What she says might surprise you!
Emily Schoen
Keigwin + Company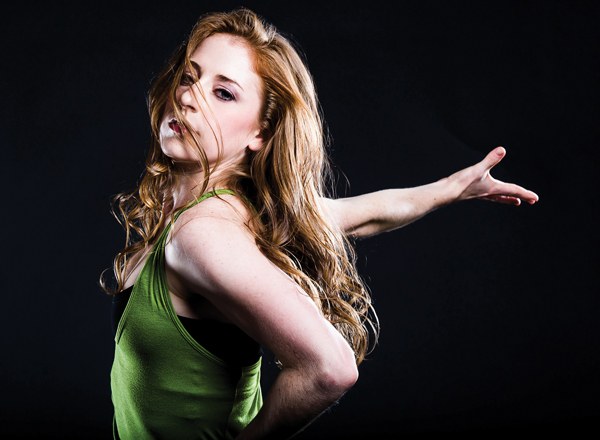 Keigwin + Company's Emily Schoen (photo by Matthew Murphy, courtesy Emily Schoen)
8:30 am, breakfast (before
10 am–12 pm ballet class):
•    1 Thomas' cinnamon-raisin English muffin
•    2–3 tablespoons Trader Joe's creamy almond butter, salted
•    homemade cold-brew coffee with a splash of half-and-half
"If I don't eat the right breakfast, I crash in class. This combo gives me a balance of fat and protein to keep me satiated, and carbohydrates for an energy kick. Plus, Thomas' English muffins are easy to find on tour!"
12 pm, snack:
•    1 apple
1 pm, lunch (eaten throughout the afternoon Keigwin + Company rehearsal):
•    a serving of honey and harissa farro salad with parsnips, carrots and feta cheese (recipe from The Smitten Kitchen Cookbook)
•    1 hard-boiled egg
"I like to munch on this grain salad throughout rehearsal. It's fresh and light, so it doesn't make me too sleepy."
5 pm, snack:
•    1 dark-chocolate almond-coconut Clif Mojo Trail Mix Bar
8 pm, dinner:
•    1 piece of homemade garlic bread
•    1 serving of spaghetti with 1/2 cup of homemade marinara sauce
•    arugula salad with lemon juice, olive oil, salt and pepper
•    1/2 scoop of Ben & Jerry's Half Baked ice cream
"I've let go of the notion that certain foods are 'bad,' and just focus on eating reasonable portions of real food. A small scoop of full-fat ice cream leaves me much more satisfied than the low-fat stuff."
FINE SAYS: I'm glad to see Emily choosing whole-food sources for her recipes. When using premade items, you should reach for those that are minimally processed. How can you tell? Look at the ingredient list on the box and see how many you recognize—and can pronounce.
To start her day, Emily makes a great choice with almond butter. It has anti-
inflammatory omega-3s, vitamin E to protect her cells, magnesium to facilitate muscle contraction and iron to oxygenate her tissues. Farro, which Emily eats throughout rehearsal, is a nutrient-packed grain, with protein, fiber and even some iron and calcium. Eating little bits of it over time will help provide a steady supply of the sugar she needs for energy—and it'll keep her from feeling too bloated.
While nutrition bars are a great grab-and-go source of fuel, many of the products
advertised as "nutrition" or "energy bars" are really just glorified candy bars, with added sugars. I'd suggest that Emily opt for a brand with more fiber and fewer processed ingredients, like Lärabars or KIND bars. And at dinner, I'd tell Emily to toss in some lean protein, like shrimp or grilled chicken breast, to help rebuild tired muscles.
Dominic "D-trix" Sandoval
Quest Crew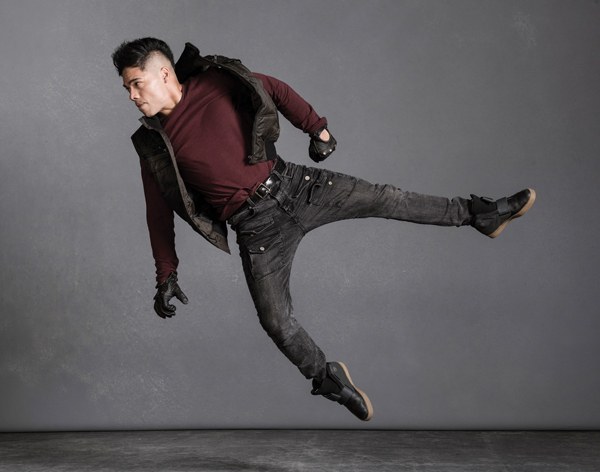 Quest Crew's Dominic "D-trix" Sandoval (Photo courtesy MTV)
9 am, breakfast (before 10 am–1 pm wardrobe fittings and camera rehearsals for "America's Best Dance Crew"):
•    16-ounce ("grande") Starbucks iced, sugar-free caramel macchiato with soy
milk
•    Starbucks reduced-fat turkey-bacon and egg-white sandwich
"I like adding soy to my morning drink because it makes it taste much sweeter—but with less sugar and fat than cream. And turkey bacon and egg whites taste just as good as regular bacon and eggs."
1 pm, lunch (before 2–5 pm rehearsal with Quest Crew):
•    chicken breast with sides of green beans, mac and cheese and corn bread
5 pm (before 5–7 pm rehearsal with Quest Crew):
•    16-ounce Jamba Juice Protein Berry Workout Smoothie
"I like drinking a protein smoothie between workouts, instead of at the end of the day."
7 pm, dinner (before 9 pm–4 am rehearsal with Quest Crew):
•    Chipotle chicken salad with rice, beans, grilled veggies, corn, cheese, sour cream and lettuce
•    pineapple-orange-mango Mountain Dew Kickstart
"Because rehearsals go so late, I'm usually hungry before bedtime. But I've found that drinking a glass of water—instead of snacking—tends to curb my late-night cravings."
FINE SAYS: When eating out, it's easy to consume excessive sugar, unhealthy fats and sodium. At Starbucks, be careful of sugar substitutes, such as those found in sugar-free syrups, as they can cause stomach discomfort. But as far as Starbucks' breakfasts go, the sandwich D-trix chooses is a good option for maximizing protein and reducing sodium and sugar.
Though a homemade version with fewer added sugars would ultimately be best, D-trix's smoothie is a solid choice before rehearsal. Protein is critical for muscle recovery, and the carbohydrates in the juice will help replenish his energy.
Overall, I'd make sure D-trix is getting enough water, especially since he's dancing all day. I'd tell him to forgo the soda—which is loaded with sugar and lacks nutritional value—and opt for seltzer or unsweetened brewed iced tea to sip on throughout rehearsal.
Liana Blackburn
Britney Spears' Britney: Piece of Me; author of DailyDancerDiet blog (dailydancerdiet.com)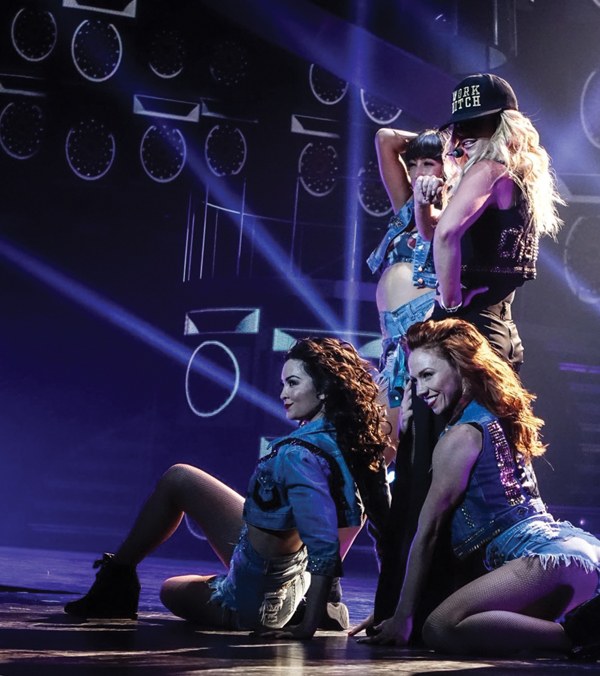 Liana Blackburn (bottom right) in Britney: Piece of Me (Photo by Jonathan Pears, courtesy Liana Blackburn)
9 am, breakfast:
•    1 glass of water
•    2 organic, pasture-raised eggs from Vital Farms, pan-fried
•    organic broccoli, zucchini and mushrooms sautéed in coconut oil and tossed with quinoa and a pinch of salt
•    1/4 avocado
"Eating veggies first thing makes me feel fresh and energized for the day. While I don't have food allergies, I've found that my body operates best when I refrain from eating gluten, dairy, refined sugar, caffeine, soy and processed foods."
11:30 am, snack:
•    homemade butternut-squash waffle with 1 tablespoon organic almond butter and organic strawberries
12 pm, snacks (eaten throughout 12–4 pm rehearsal):
•    homemade green drink with kale, cucumber, celery, lemon, water and ginger
•    Mary's Gone Crackers (original flavor)
•    organic carrots
"If I'm not fueled during rehearsal, it drags me down and I have trouble focusing. I
always bring plenty of snacks so I'm prepared in case rehearsal runs long."
4:30 pm, lunch:
•    homemade organic veggie soup with kidney beans, Swiss chard, celery, zucchini, carrots and sesame seed oil
6 pm, snack:
•    1 Lundberg Family Farms salt-free brown-rice cake topped with hummus, organic cucumbers, a drizzle of olive oil and a sprinkle of salt
8 pm, dinner:
•    3 ounces baked wild-caught Alaskan salmon seasoned with soy sauce and salt
•    steamed organic green beans lightly pan-fried with coconut oil and salt
•    1/2 cup wild rice
•    1/4 avocado
45 minutes before bed, dessert:
•    1 handful organic blueberries
•    1 piece of 80-percent cacao dark chocolate
•    herbal organic peppermint tea
FINE SAYS: I applaud Liana's use of wholesome ingredients! She's getting the most nutritious bang for her buck. Veggies for breakfast may seem like an odd choice, but they're great any time of day. That said, be careful not to fill up on veggies alone. They don't have enough protein for optimal muscle building and won't keep you satiated all day. So it's great that Liana chooses eggs to help keep her energy levels stable for the long day ahead of her.
The sodium in processed foods can really add up, so opting for low-sodium products, like Liana does, is a great way to keep it in check. But I also love that Liana adds salt back into her diet by sprinkling it on the foods she eats. Dancers need salt to replenish their electrolytes after intense rehearsals, particularly when it's hot and humid outside.
I'd suggest that Liana add some nut butter to her afternoon snack of plain crackers. While the carbohydrates from the crackers will help supply the glucose (sugar) Liana's body needs during a long rehearsal, protein will help keep her blood sugar levels stable to avoid spikes—which can cause fatigue and/or dizziness.
Jeraldine Mendoza
The Joffrey Ballet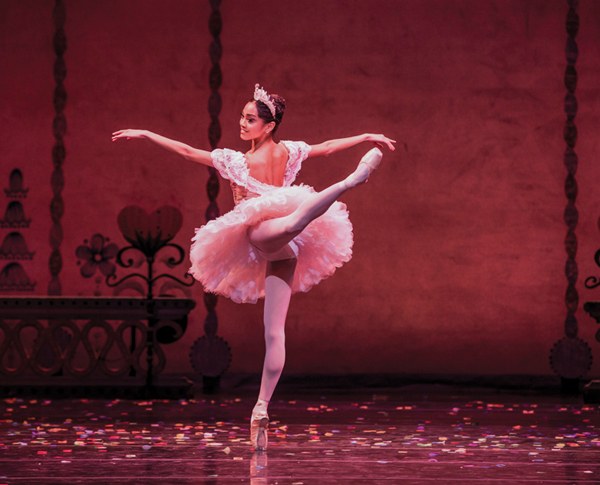 (Mendoza in The Nutcracker (Photo by Cheryl Mann, courtesy Joffrey Ballet)
7:30 am, breakfast (before 9:45–11:15 am company ballet class):
1 cup French-press coffee with a splash of cream and 2 sugars
Siggi's Fig and Lemon Zest yogurt
5 rounded tablespoons of KIND brand coconut granola
"I'm not usually very hungry when I wake up, but eating a little something before class makes all the difference in my energy and mood in the morning."
11:15 am, snack (before 11:30 am–2:30 pm rehearsal):
1 Cool Mint Chocolate Clif Bar
"If I'm even slightly hungry, I can't function! We get a five-minute break every hour of rehearsal, and I often use that time to snack on a Clif Bar, pretzels, cheese or chocolate soy milk."
2:30 pm, lunch (before 3:30–6:30 pm rehearsal):
a kid's-size cheesy chicken quesadilla with tomatoes from Freshii (a restaurant in town)
pretzels and cheese
"I like to eat something small at lunch, so I don't feel like taking a nap during our second rehearsal block."
7:30 pm, dinner:
1 slice of NYC-style pepperoni pizza from Panino's Pizzeria
1 arancini ball from Panino's
1 can of Barq's root beer
"I'm naturally a pretty healthy person, so I let myself eat what I crave. I try to listen to my body and give what it wants—and in this case it was pizza!"
FINE'S ASSESSMENT: Jeraldine starts her day with a high-protein and high-fiber meal. It's a great combination that will keep her energy levels sustained throughout the morning. I also like how Jeraldine orders the kid-sized portion of the cheesy chicken quesadilla. It helps lower the overall fat and sodium content of the meal. That said, I'd also advise Jeraldine to include more healthy fats in her daily diet. Adding flaxseeds or chia seeds to her morning yogurt; avocado or guacamole with her lunch; or olive oil to a side salad at dinner are great ways to get these in.
Sep. 16, 2015 11:46AM EST
Karen Chuang was a freshman at University of California, Los Angeles, when she was
given the opportunity to dance in a K-pop music video being filmed in L.A. "I took all my books with me and studied during any downtime I could find," says Chuang. She went on to book jobs with Brian Friedman and "Glee," and to lead UCLA's hip-hop team, NSU Modern, before graduating summa cum laude with a degree in business economics.
The whole point of getting strong dance training is to work toward a dance career—but sometimes, jobs come along before you're done with college, or even high school. While balancing homework and dance commitments with an apprenticeship or auditions can be challenging, it's not impossible. "The lifestyle isn't for everyone," Chuang says. "But if you get an opportunity you can't pass up, take the leap." Here's how to make it work.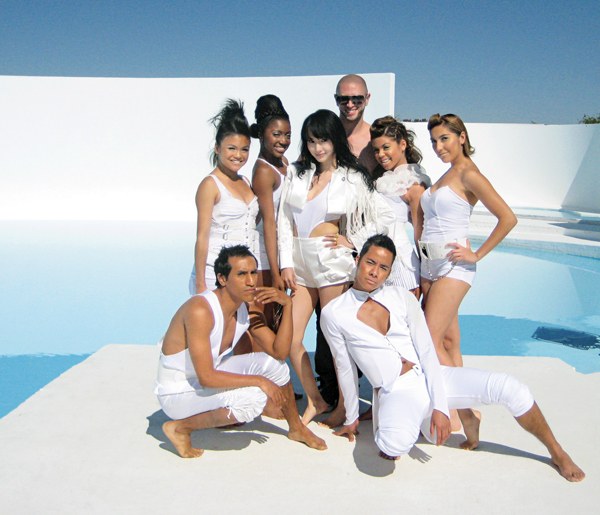 Karen Chuang (top, far left) on a music video set for K-pop star Ava in 2009 (photo courtesy Karen Chuang)
Communicate respectfully, early and often.
Since scheduling conflicts are inevitable, talk with your teachers and directors as soon as you're presented with an outside opportunity. "Be humble and as detailed as possible about upcoming conflicts with classes or rehearsals," says Joseph Giordano, who was offered a contract with Liz Gerring Dance Company during his final semester at New York University's Tisch School of the Arts.
Be sure to follow up with your teachers over the course of the job. "Professors will be so much more lenient if you keep them in the loop," Chuang says. And if you speak with them early enough, your outside work can be even more beneficial: Some directors, like Cathy Young at The Boston Conservatory, make it possible for dancers to receive credit for professional projects that take them away from school for a semester or more.
Make a schedule—and follow it.
"I map out my complete Monday-through-Friday schedule on Mac Pages and set it as the background image on my phone," Giordano says. Chuang had a similarly detailed plan. "My days were completely structured, with slots for commuting, exercising and homework," she says. But no matter how organized you are, Young adds, "someone completely overextended isn't valuable to a choreographer." Make sure you have the time before you commit to a gig.
Get your Z's.
With the strain of additional hours of dancing, part of your agenda should be devoted to rest, says Giordano. "I try to get at least six hours of sleep, stay hydrated and monitor aches and pains," he says. Irineo Cabreros, who apprenticed with Gallim Dance in NYC during his first semester in a PhD program at Princeton University, advises prioritizing sleep. "The few times I went into rehearsal dead tired, I realized I was getting the short end of both sticks—I wasn't performing well and I wasn't getting the most out of my education, either," he says.
Learn to say "no."
Doing it all comes with tough choices. "I often had to sacrifice my social life to
balance it all," Chuang says. Other times, you might have to pass up a job. Don't get discouraged, though: Sometimes opportunities will resurface at more convenient times. "Once, I couldn't audition for Lady Gaga because I had a final exam," Chuang remembers. "I was bummed, but the opportunity came around again."
You only have a few years to immerse yourself in your education, so if it comes down to missing too much school for a job, Young advises dancers to choose school. "Sometimes you have to jump when those opportunities come along, but the idea that your career clock is ticking is a dated one. The more info you get in school, the more likely you'll be working into your 60s."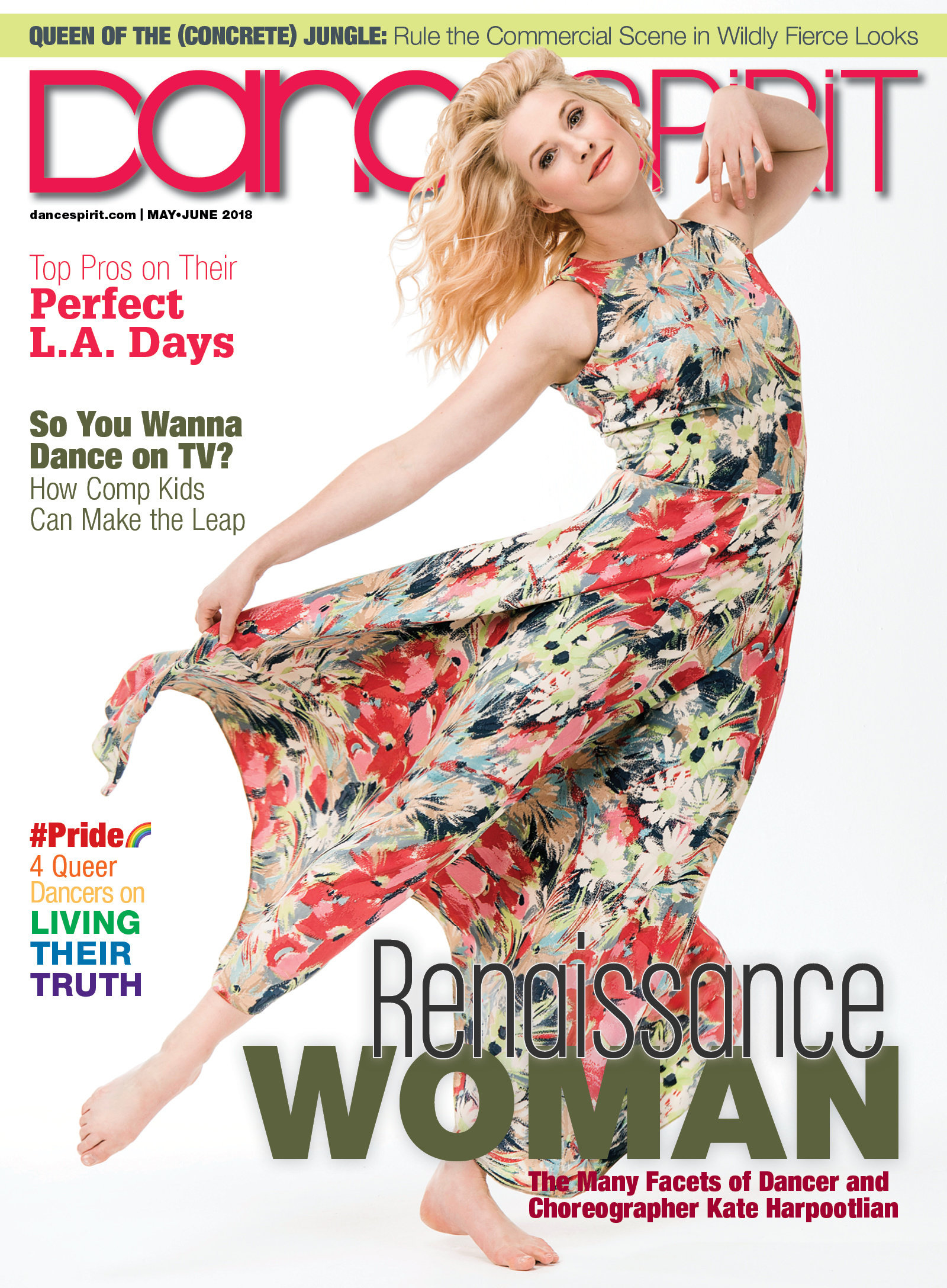 Get Dance Spirit in your inbox