via @puma on Instagram
Lauren Lovette's on 🔥 and Puma knows it. So in honor of International Women's Day, the athletic clothing brand featured Lovette in their Do You campaign. The New York City Ballet star appears in the inspiring video with WNBA All-Star Skylar Diggins-Smith, where the two talk about their mottos for success and how they're using their platforms to pay it back.
Keep reading...
Show less
Keep reading...
Show less
Breaking news, bunheads! Sportswear company PUMA just announced they're teaming up with New York City Ballet as the company's official activewear partner. PUMA has made it a goal to gain some ground in the women's training category, as well as in arts and culture, so this partnership definitely makes sense for them. And we're loving it for NYCB as well. Why? Let us count the ways.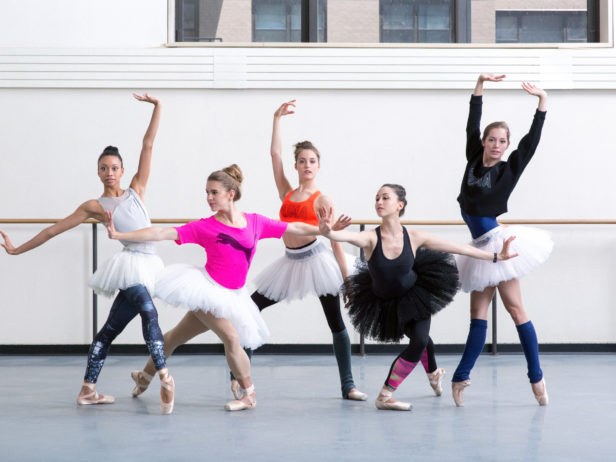 Olivia Boisson, Savannah Lowery, Mimi Staker, Meagan Mann and Unity Phelan, PUMA x NYCB. (Photo by Erin Baiano)
The partnership is giving major credit to hard-working ballerinas everywhere.
We adore the way that PUMA is praising the athleticism of ballet, and the effort that ballerinas put toward their craft each and every day. In the age old "Is dance a sport?" debate, it looks like PUMA is team "dance is definitely a sport," calling the NYCB ladies some of the most "talented athletes in the world." Also in the campaign, PUMA states that the dancers "are true athletes who train, rehearse and perform up to 12 hours a day." Yes, yes and yes. We dance nerds have always known how much hard work goes into ballet, but it's nice to get a little recognition once in a while.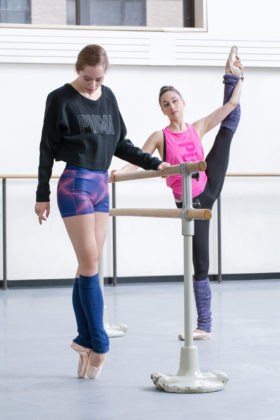 Unity Phelan and Meagan Mann, PUMA x NYCB. (Photo by Erin Baiano)
2. More athletic wear for dancers, yay!
As part of the partnership, PUMA is providing rehearsal clothes for NYCB's dancers. But the really cool thing is that the dancers will be able to provide feedback to PUMA after trying their products. (What they liked, what they'd change, what works for dancers and what just doesn't.) Long-term, we're thinking this will lead to even more athletic wear pieces designed with dance in mind, both for in-studio rehearsals and for cross-training purposes outside of the studio.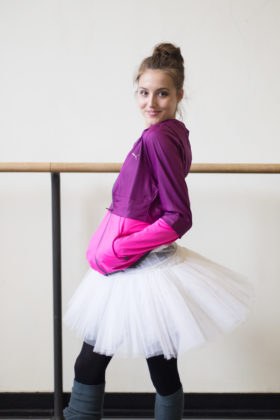 Mimi Staker, PUMA x NYCB. (Photo by Erin Baiano)
3. We'll get to see beautiful ballet dancers in advertisements across the country.
We love a good dance-themed ad. (Okay we'll admit, we're still trying to forget about this one. But when done right and cast with pro dancers, like this one and this one, we can't get enough.) As part of this new partnership, PUMA is going to feature NYCB dancers in their marketing campaigns (aka in print and digital ads). The first batch includes Savannah Lowery, Olivia Boisson, Meagan Mann, Unity Phelan and Mimi Staker posed in a rehearsal-like setting. The pictures feel super real and relatable, just like a bunch of girls hanging out before ballet class (except, well, they're NYCB girls). Look for the ads starting in October of this year.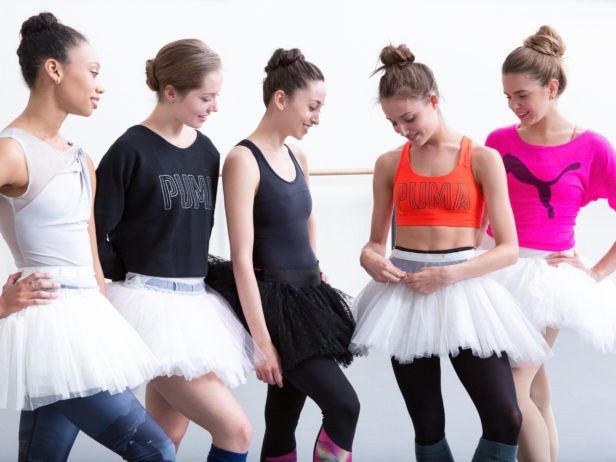 Olivia Boisson, Unity Phelan, Meagan Mann, Mimi Staker and Savannah Lowery, PUMA x NYCB. (Photo by Erin Baiano)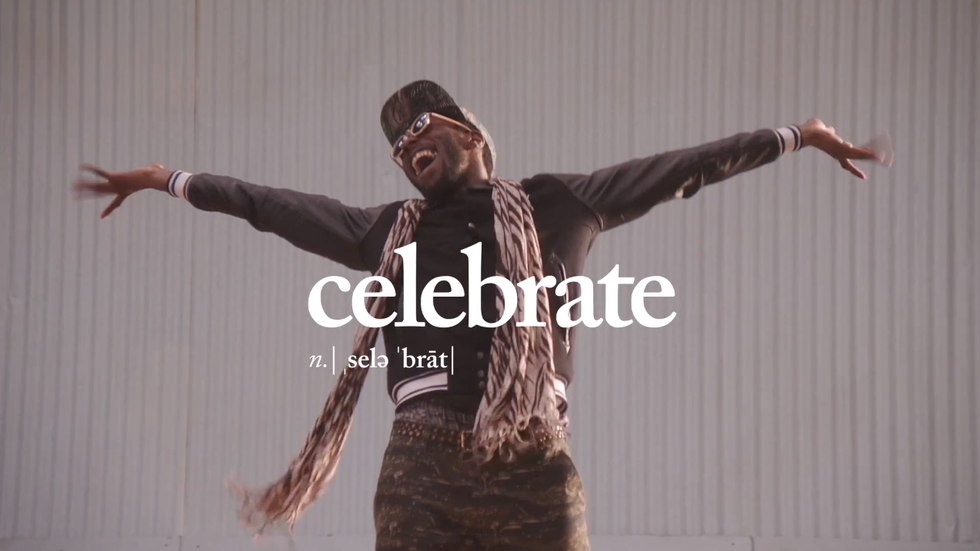 Got something big to proclaim over the Internet, but 140 characters just isn't going to cut it? The brand-new Puma Dance Dictionary has got you covered—as long as you don't mind using a slightly goofy vocabulary.
The Dance Dictionary, which Puma has launched to promote a new line of fragrances, is kind of like a mini Mad Libs—with a super-cool dance twist. First, pick one of 11 perfectly ordinary sentences, like "Come over to my house and let's get pizza." Next, fill in the blanks with ridiculous replacement words: my most random creations so far are "Please forgive my phone I'm going to jail" and "Meditation makes me want to sneeze."
Now click play and let the fun begin! Awesome commercial dancers (look out for cutie Ian Eastwood!) "interpret" your creation one word at a time through their wacky original moves. When you've come up with the perfect "phrase"—dance pun intended—you can share it via Facebook, Twitter or email, or just replay to your heart's content. With over 10,000 possible sentence combinations, you might never need to post a status again.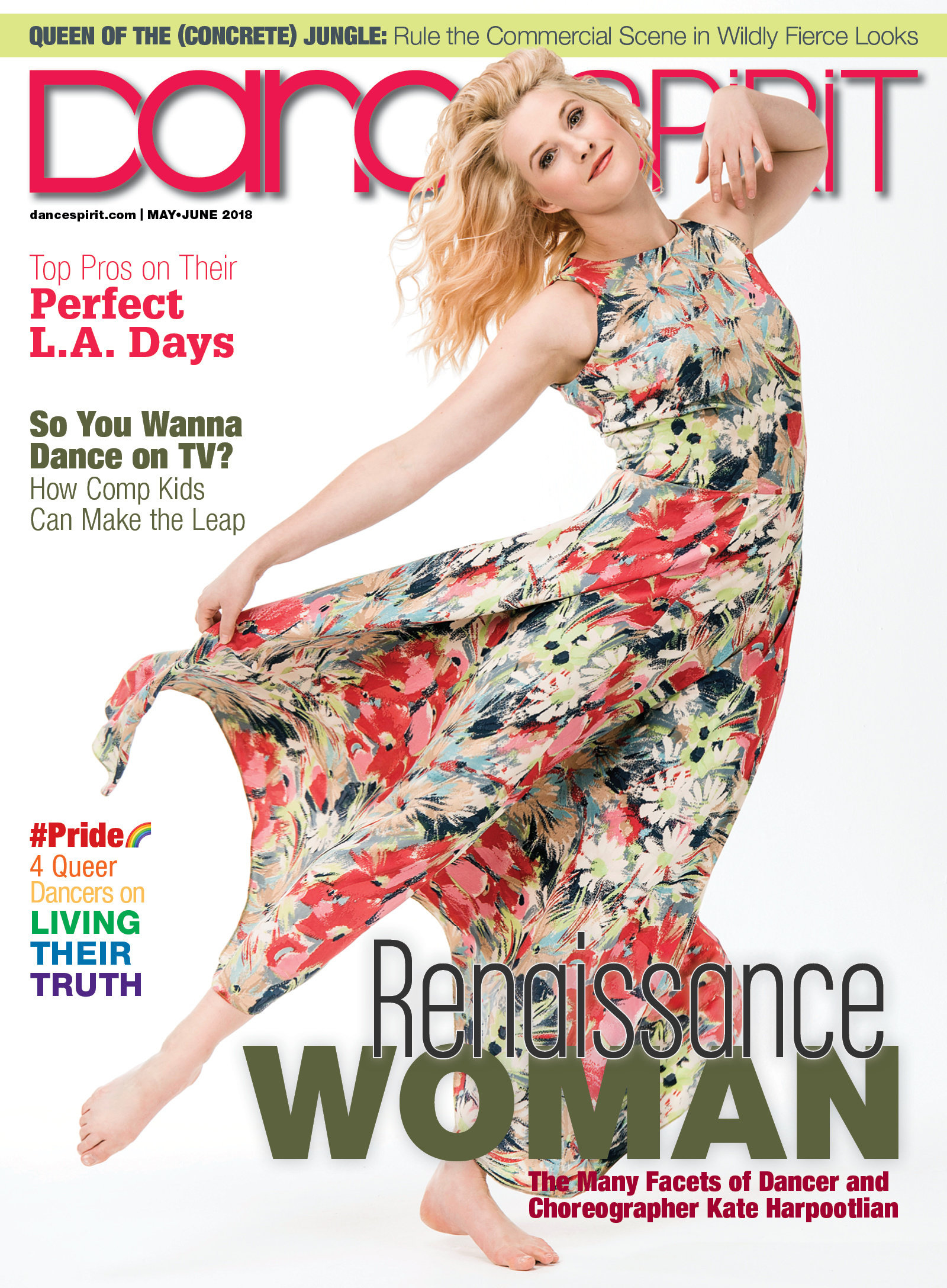 Get Dance Spirit in your inbox