Dec. 01, 2014 06:30PM EST
Putting a new spin on Annie, a show from the 1970s—which in turn was based on a comic strip from the '20s—is no easy feat. After all, it's hard to think of little orphan Annie without her signature red hair and old-timey catchphrases. When the latest film version of Annie hits theaters this month, though, it'll be a totally fresh (but equally loveable) take on the iconic musical, with the lead role played by Oscar nominee Quvenzhané Wallis. (Jamie Foxx and Cameron Diaz also star in the movie, which was produced in part by Jay-Z and Will Smith.) Choreographer Zach Woodlee, whom you know from "Glee," revamped the classic dance numbers. Dance Spirit caught up with Woodlee and Wallis to get the inside scoop.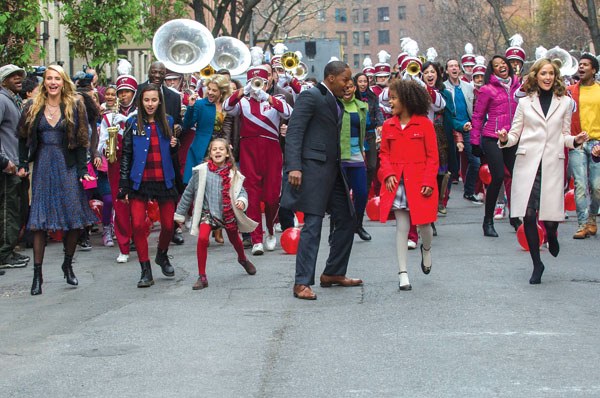 Quvenzhané Wallis (far right) and the cast of Annie (photo by Barry Wechter, courtesy Sony Entertainment
Dance Spirit: What's your favorite scene in the new film?
Zach Woodlee: Definitely "Hard-Knock Life." Director Will Gluck wanted it to be very athletic, so there's a lot of tumbling and throwing mops and brooms around. The hardest part was getting the girls to toss and catch the props while singing—and without flinching. I wish I had worn earplugs for rehearsals. There was so much clattering and banging!
Quvenzhané Wallis: That part was hard—we all kept hitting each other! Luckily, we figured it out. But my favorite part is "I Think I'm Gonna Like It Here," when I go to see where Jamie Foxx's character lives, and I sing and dance while exploring the house.
DS: What were rehearsals like?
ZW: A lot of movement came out of the girls themselves. The rehearsal space looked like someone had put a kitchen and janitor's closet inside a dance studio—it was filled with everything you could imagine, from feather dusters to hula hoops to pogo sticks. When we'd take a 10-minute break, the girls would play with all the props, and then I'd incorporate that into the choreography.
DS: Quvenzhané, what was most challenging about playing Annie?
QW: Remembering all the choreography. But I really like dancing, so it was fun. I'd love to do another role with dancing.
DS: Zach, did Quvenzhané have a lot of dance training coming in?
ZW: She didn't, though her older sister dances, and sometimes they'd practice together. Her mom also helped out: In one of Cameron Diaz's songs, the script dictated that the girls were to play double Dutch—but I didn't know how to do it. The next day on set, Quvenzhané's mom ended up teaching all of us!
DS: What do you love most about this Annie?
QW: It takes place in the present, and it's really upbeat. And I love the music—this version has hip hop and R&B. And there are new songs, too.
Save the Date!
You won't want to miss the other musical making its way to the silver screen. Into the Woods—the Tony-winning classic that weaves all of the best fairy tales into one adventure—hits theaters Christmas day. The film's cast includes the legendary Meryl Streep, Broadway baby (and former Annie!) Lilla Crawford and Pitch Perfect's Anna Kendrick. And it's directed by Rob Marshall, who's no stranger to bringing Broadway to Hollywood: He directed the Oscar-winning film version of Chicago. Visit movies.disney.com for more info.
January 5 was a sad day—it marked the final performance of Annie The Musical's Broadway revival.
But there's good news: Columbia Pictures is in the final production stage of its modern remake, which is set to hit theaters this Christmas. That's right, Little Orphan Annie is coming out of the Great Depression and into the 21st century.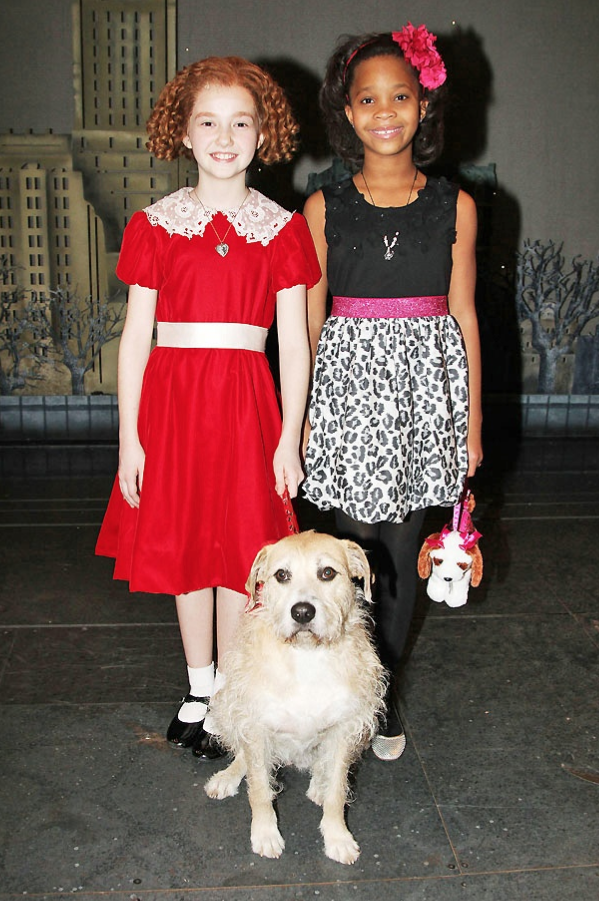 Star of the Broadway revival, Taylor Richardson (left), poses with "new" Annie, Quvenzhané Wallis, and Sunny the dog (Sandy!) (Photo by Bruce Glikas)
The new Annie, played by the Oscar-nominated Quvenzhané Wallis (Beasts of a Southern Wild, 12 Years a Slave), is a foster kid living in Harlem, who bumps into a wealthy politician (played by Jamie Foxx!) while running through the streets of NYC. Another familiar face? Cameron Diaz is Miss Hannigan.
We don't know about you guys, but we're totally sold.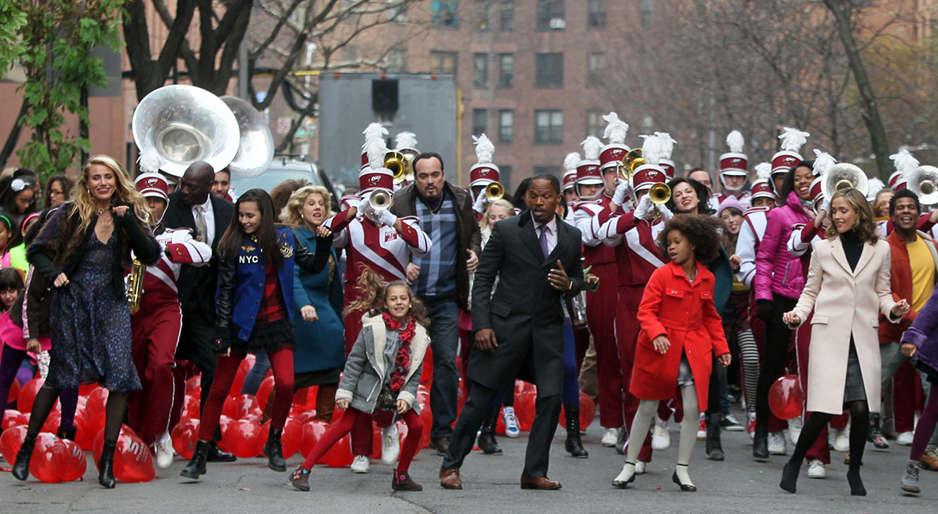 Just some casual NYC street dancing...with a full band, of course.
But if you're a little bit more skeptical (looking at you, diehard Annie fans), check this out: On Wednesday, Columbia Pictures released the movie's first trailer—and we're excited to say that it includes both singing and dancing to the original songs we all know and love.
Looks like the sun will come out tomorrow...or rather, on Christmas Day. But, you know, we can wait.
Apr. 19, 2013 09:20AM EST
It feels like the world has been falling apart this week. (Boston, our hearts are with you today.) We could all use something that might help restore our faith in humanity. So, here goes:
At an afterparty for the MTV Movie Awards on Sunday night, your 9-year-old best friend, Quvenzhané Wallis (aka the star of Beasts of the Southern Wild), got into a pretty intense dance-off with a fellow partygoer. Quvenzhané may not have won the award for Breakthrough Performance, but if you weren't in love with her already, we're pretty sure you will be after watching this video of her breaking it down.
It's your Friday moment of dance zen. Enjoy, and stay safe, everyone.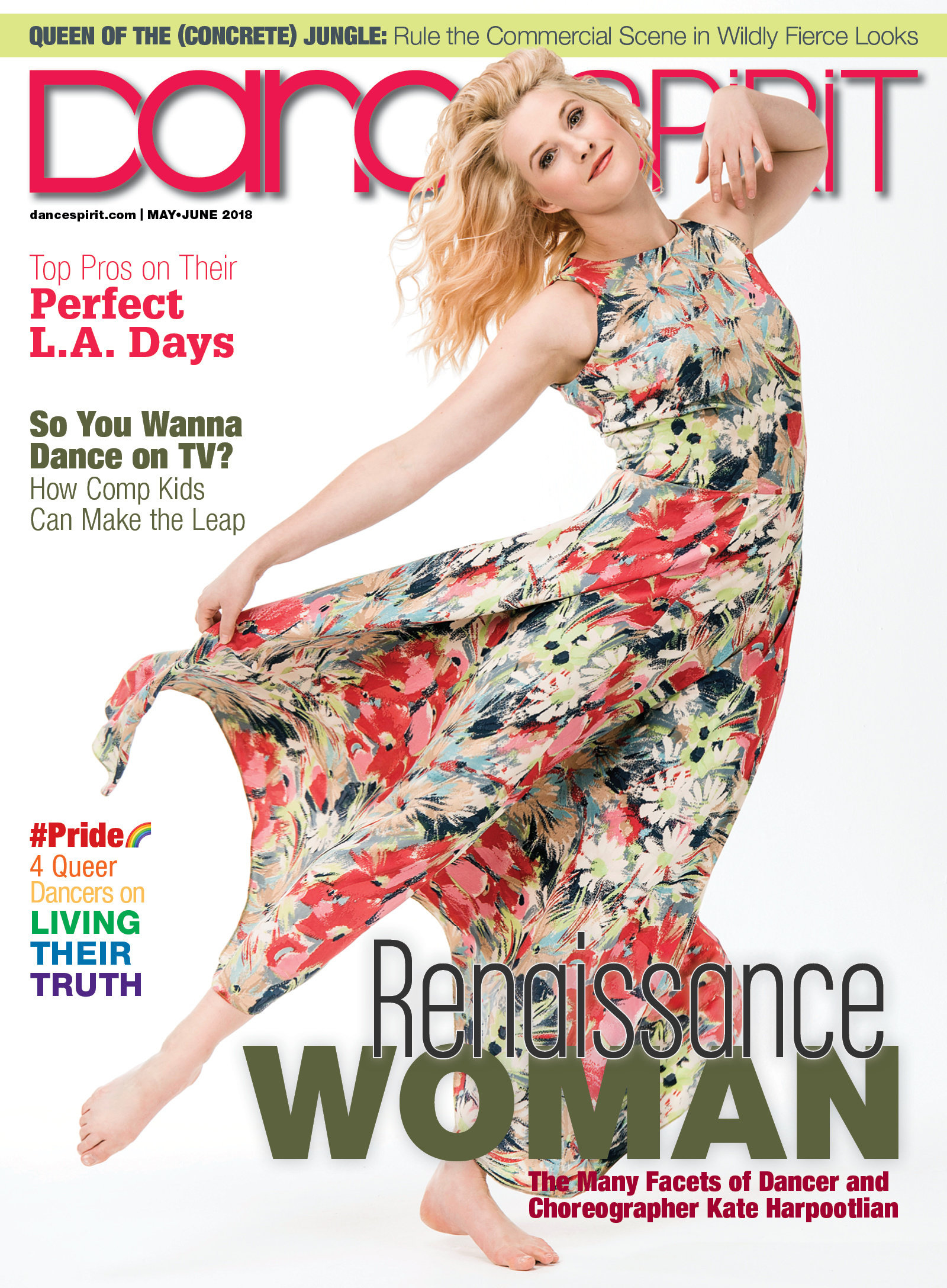 Get Dance Spirit in your inbox