Rachel Quiner performs Clara in the Christmas Spectacular (courtesy Rachel Quiner)
Think the Rockettes are the only stars of the Radio City Christmas Spectacular? Think again. Each year, a few lucky girls share the role of Clara, who appears during the Nutcracker portion of the show. Clara gets to do some real dancing, too, including solos and pas de deux. (Past Claras include Juliet Doherty and Tiler Peck!)
Dance Spirit sat down with this year's three Claras—Emerson Alexander, JoseBella Morton, and Rachel Quiner, all 12 years old—to find out what it takes to play Clara in the Spectacular, and the best parts of sharing the stage with the world's most iconic precision dance company.
Keep reading...
Show less
Courtesy MSG Entertainment
For some it's a holiday tradition, for others its an iconic spectacle, but no matter the reason, more than 1 million people will watch the Rockettes perform in the Radio City Christmas Spectacular each year. And though the production has been around since 1933, much of what goes on behind those velvety curtains and intricate sets remains a mystery. To curb our curiosity and find out what ensues when these leggy ladies aren't doling out their sky-high kicks, we got a backstage tour from the legends themselves.
From hair and makeup, to warm-up exercises, and costume quick changes (the fastest quick change in the show is a #mindblowing 75 seconds, by the way) we got a glimpse into the glamorous (and sometimes not so glamorous) world of the Rockettes.
Keep reading...
Show less
Courtesy MSG Entertainment
Watching the Radio City Rockettes perform a dazzling array of precision dance routines in their annual Christmas Spectacular show is a tradition many New Yorkers use to welcome the winter season. But how do these leggy ladies spend their off-season and what do they do to maintain their pristine technique, strength, and stamina when they're not on stage? We caught up with the Rockettes a few months before the opening night of the Christmas Spectacular to find out exactly what they do to keep those legendary leg kicks year round.
Keep reading...
Show less
It's official! Not only are the Rockettes unveiling a brand new summer show this year—titled New York Spectacular Starring the Radio City Rockettes—but they've also tapped genius Mia Michaels to choreograph and direct.
That's right: Michaels will be given full creative reign. And after the awesome opening number she created for last year's Spring Spectacular, we're super excited to see the finished product. "The Rockettes are such a special group of women, and no other dance company in the world delivers the same kind of passion, femininity and power through dance. It is going to be an epic ride!" Michaels says in a Rockettes press release.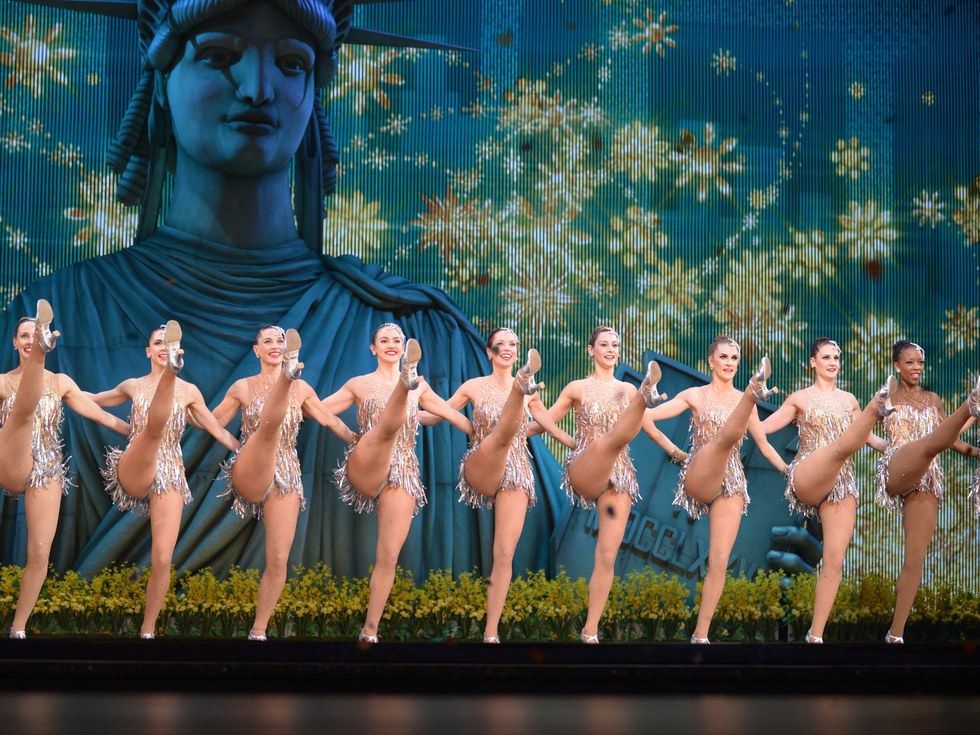 A classic kickline from last year's Spring Spectacular show (photo by Jason Allen via USA TODAY)
The show will pay tribute to NYC, following the adventures of a brother and sister who get separated from their parents during a trip to the city. The siblings will make their way through the Big Apple, receiving help from various landmarks come to life—from the Wall Street bull to the George M. Cohan statue in Times Square.
A few favorite elements from last year's spring show will make an appearance this year, too: The 26-foot Statue of Liberty puppet and the jaw-dropping tap number in real rainfall to "Singin' in the Rain" (sans Derek Hough, unfortunately) will return. What won't be included this time around? The Spring Spectacular's celeb cameos, either in person (à la DHough) or via voiceover. The leggy Rockette ladies will be the stars of the show, which we're more than OK with.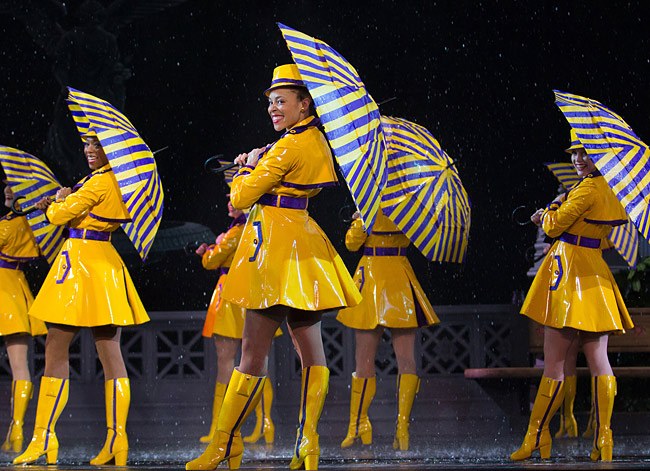 The epic "Singin' in the Rain" tap number from last year's Spring Spectacular (photo by Dan Niver via NewYork.com)
The New York Spectacular runs all summer (June 15–August 7) at Radio City Music Hall. Be sure to check it out when you're in town for Nationals or summer intensives!
Traci Reszetylo (right) in the dressing room (photo by Avi Gerver/MSG Photos)
Is she glam? Is she #goals? Then she must be a Radio City Rockette. There are tons of behind-the-scenes videos and photo shoots for the ballerinas out there, while the Rockettes remain relatively elusive. That's part of their appeal, of course. But for dance nerds like us, who crave some insider information, a Rockettes day-in-the-life segment is like Christmas come early.
When do they get up in the morning? Do they do their own makeup? What do they eat? How do they unwind after a crazy show day? Find out!
Can't get enough of the Rockettes? Check out our feature that breaks down The Christmas Spectacular by its (mind-boggling) numbers!
The news broke Friday afternoon that the brand-new Radio City Rockettes production Heart and Lights—scheduled to open this Thursday—will be postponed until 2015. This was to be the first time the Rockettes would shine outside of the winter holiday season since 1997, showing off new choreography and non-Rockette-traditional dance styles. On behalf of many dancers and Rockette fans around the globe, we are just so bummed.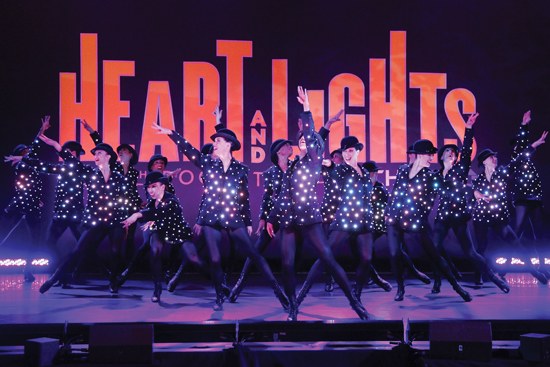 The Rockettes in a sneak peek of Heart and Lights at Grand Central Terminal.
Photo by Amanda Schwab/Starpix
Our hearts go out to the dancers, stagehands and production crew members who are now facing possible unemployment, especially since the main reason Madison Square Garden exec James Dolan pulled the plug had to do with script and story issues. Now, I may be going out on a limb here, but how many people go to see the Rockettes for the storyline? Helllloooo, we want dancing! We want the spectacle, the costumes, the puppets—like the 26-foot-tall Statue of Liberty and the New York Public Library lions—all which have been described as being totally fantastic in the new show.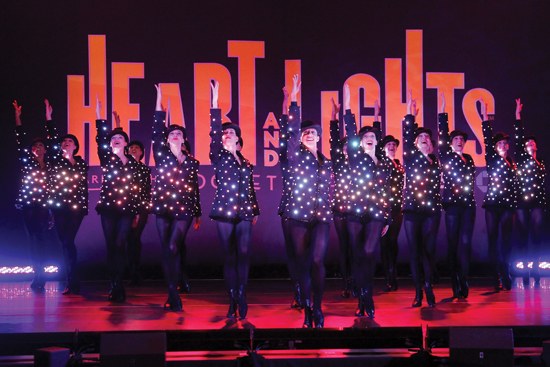 We <3 their Fosse-style jazz boots!
Photo by Amanda Schwab/Starpix
That being said, we cannot wait for 2015. We know this show will go on, eventually. And when it does, we will be front and center, cheering on those gorgeous leggy dancers, all eye-high kicking down the line in unison. Plus, we still have The Christmas Spectacular. So let's come out in droves this winter to show our support and Let Christmas Shine!
In case you haven't noticed: the DS editors get pretty excited when Radio City Christmas Spectacular season rolls around, which is why we've been writing about the sparkliest show on earth all week. Yes, our obsession with this time of year may have something to do with the promise of impending snow and holiday cheer, but it's mostly due to The Rockettes, who never cease to amaze us with their spot-on precision and perfect high kicks.
Our favorite long-legged ladies did something special to kick off the holidays this year. Yesterday, they unveiled a new costume for the Rockette figure at Madame Tussauds in NYC, which is now displayed proudly in the famous wax museum's lobby. "Project Runway" fans will recognize the sparkly new NYC-inspired look that was designed by Season 10 contestant Christopher Palu. Check it out: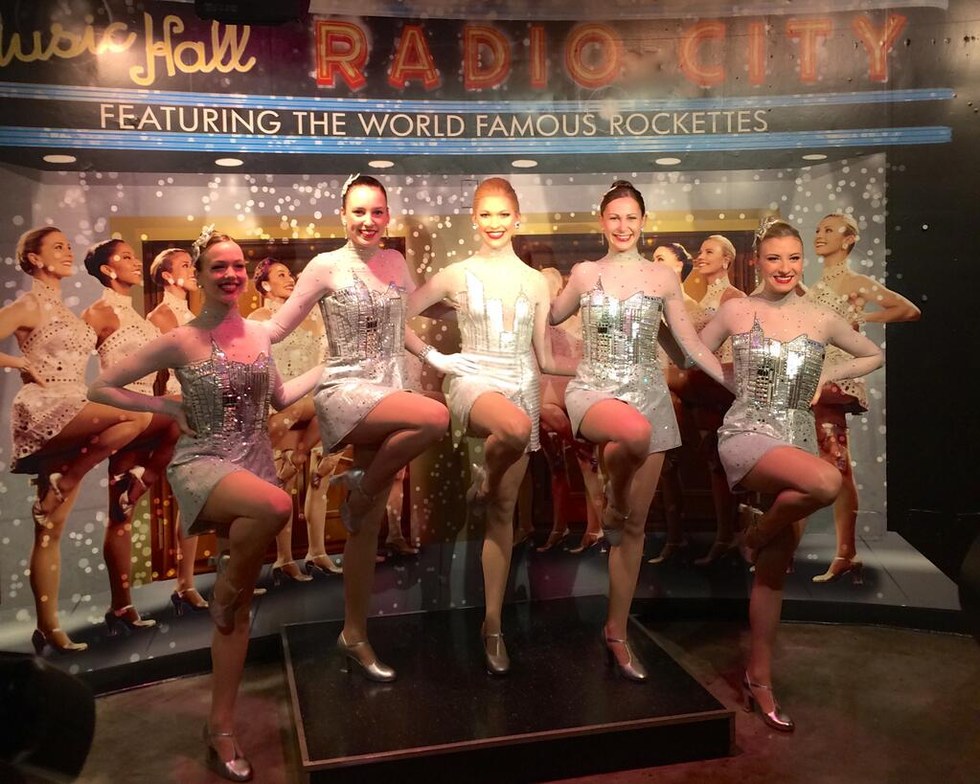 Can you tell which one is wax? (Photo courtesy Twitter.com/GetSpectacular)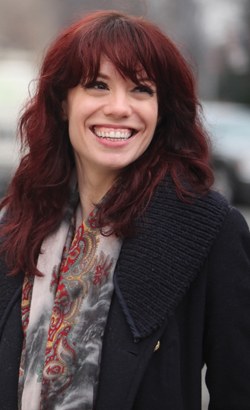 Nicole Carol Schuman
She wasn't the star of her studio, but that didn't keep Nicole Carol Schuman from having an amazing professional dance career:
I can't remember a time when I didn't want to be a professional dancer. Sure, what I actually wanted to be was an astronaut-marine-model-princess-ballerina-lawyer-writer, but dance has always been a part of my career plan.
When I was 7, my parents enrolled me at Juliana's Academy of Dance in Clinton Township, MI—this tiny storefront tucked inside a suburban shopping center next to a Weight Watchers. I started with a tap/ballet combo class once a week, then advanced to an hour each of jazz, tap and ballet. A couple years later, I started competing.
When I was 10, Juliana, the owner of the studio, gave me a solo. It was a lyrical number to "Evergreen" by Barbra Streisand. Afterward, she said she saw potential in me, and asked me to switch to her bigger studio an hour away in Troy, MI. It was an exciting but terrifying prospect, because in my mind, that studio was in the big leagues. It was where the "good" dancers went. I was so impressed with some of the girls there that I still remember their names to this day. They were rock stars.
With a great deal of pleading, I convinced my mom to start taking me to the new studio a couple days a week. Boy, was that a whole new world. I thought going there would be all sunshine and puppies, but instead, in a heartbeat, I went from doing no wrong to doing nothing right.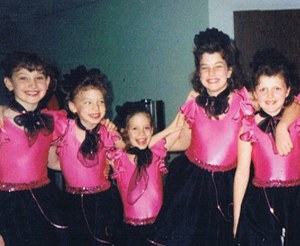 Not quite at Rockette height yet: 8-year-old Schuman (center) in a number called "Rockin' Around the Clock"
I thought at least I was good at lyrical (I'd just done a solo to Barbra Streisand!), but then, in lyrical class, I was told I looked as if I had rigor mortis. I was mortified. There were times I wanted to run back to my old studio and hide. But I also wanted to be good. I wanted to be the girl whose name other girls remembered years later. There was no way I was going back
Not getting the parts I wanted in performances and competitions was hard, to say the least. My mother was never a stereotypical stage mom, but she was honest. She'd say, "You know, that other girl is better at that part than you are." I knew I was surrounded by fabulous dancers, but getting constantly stuck in the back meant I had almost no confidence, and I always felt badly about myself.
Don't get me wrong: I had a few glorious fouetté solos (I was always a turner). But the combination of adrenaline and a bad swayback usually meant something wonky happened onstage. More frequently, I was hidden in the back corner without explanation. At the time, that felt like the end of the world.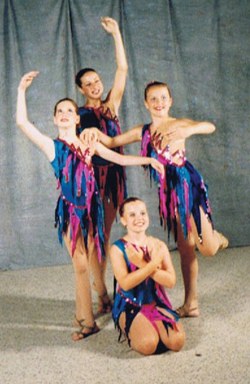 Schuman (far left) in costume for a small group lyrical number
A turning point for me was when Dee Caspary came in from L.A. to guest teach. We'd competed against his studio before, and their numbers were phenomenal. It was his first time teaching for us, and we were terrified. His movement was foreign and uncomfortable. We were doing an across-the-floor combination, and at one point, he pulled me out and made me do the combination over again by myself. He saw something special in me. When I did the combo again, it felt awful, but he had successfully given me the confidence I'd been lacking.
I didn't suddenly go from being a back-row dancer to being the star of the studio, but that was the moment I realized how big and diverse the dance world really was. There were many parts I wasn't right for, but there also had to be parts I was right for. And I was willing to put in the work to find them.
I realized I had two options: I could either resent my talented classmates or try to learn from them. And I could learn a lot more dancing in the back, able to see the talent I was surrounded by, than I ever could up in front where I could only see myself. I began to realize how insignificant my placement in the blocking of a routine was in comparison to the great training I was receiving. Every time I wasn't chosen for a part I wanted, it was just more fuel for my fire.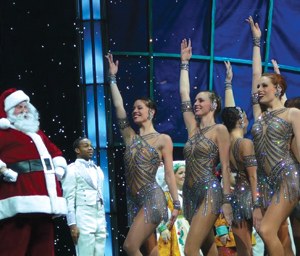 Schuman (Left) In the "Let Christmas Shine" number
I auditioned for the Radio City Rockettes during my senior year of high school, and I was offered the job that summer. The offer surprised me, but it also helped me understand that not always being in the front had made me the dancer I'd become. I'm so grateful I was given the chance to work my butt off for every opportunity instead of having things handed to me.
I've now danced with the Rockettes for 11 years, and our motto is "Together we're better." Being a part of this company is about making these beautiful pictures no dancer could create by herself. It's not about who's the best, because we're all the best.
Today I frequently judge dance competitions, and let me tell you: If you're in the back row, that's no reason to blow it off. I'm watching you!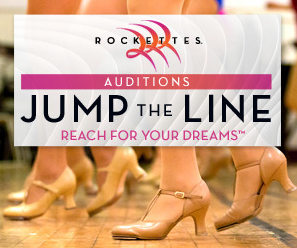 Do you dream of becoming a
Radio City Rockette
? Of course you do!
Auditions
are just a few weeks away and we've got some very exciting news. The
Jump the Line
contest is back—and with lots of great prizes. The winner will receive the following:
Roundtrip airfare to New York

Two nights hotel accommodations

$1,000 Chase gift card

$300 LaDuca gift card

$200 MAC gift card

The opportunity to "Jump the Line" and audition at Radio City Music Hall at Rockettes open auditions at the time of your choosing
Sounds pretty dang awesome, right? Here's how to enter. Simply upload a video to the Rockettes' Facebook page showing off your best skills by April 3. (Read all the specifics here.) All submissions will be reviewed by a Rockettes choreographer and the top ten finalists will have their videos posted on Facebook.
Then it's go time! Tell everyone you know to vote for your video from April 8-21. The dancer who receives the most votes wins.
The Rockette open call audition is Tuesday, April 30 in NYC. Break a leg!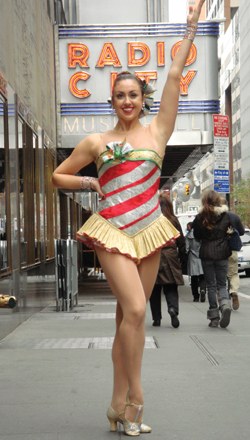 As a teen, Elizabeth Sousek didn't know high-kicking in perfect unison with dozens of long-legged beauties would be her dance dream come true. "I wanted to dance in a premier American ballet or contemporary dance company," says Sousek, who trained with Ballet Arts Minnesota and at Marymount Manhattan College. "Little did I know I would end up with one of the most legendary companies in the world, the Rockettes!" Sousek has shown off her impeccable technique as a proud Rockette for seven years. Now, she's taking the stage again in the
Radio City Christmas Spectacular
, which celebrates the Rockettes' 85th anniversary this year. Get your tickets now for performances at NYC's Radio City Music Hall through December 30, and read on for The Dirt.
Performer you would drop everything to go see: the late Michael Jackson or Freddie Mercury
Most-played song on your iPod: "Bad Romance" by Lady Gaga. It never gets old!
Must-see TV show: I love "Smash." So much inspiring talent and suspenseful drama in one great show!
Favorite movie: The Star Wars trilogy (the originals, of course).
Biggest guilty pleasure: It's a tie between homemade chocolate chip cookies and watching "The Real Housewives of Beverly Hills."
Favorite foods: Bananas and peanut butter
Something most people don't know about you: I'm fascinated with the politics and culture of the Middle East. I'm Lebanese by heritage, and I traveled to Lebanon a few years ago to visit family and learn more firsthand.
One thing you can't live without: Sleep. I need it now more than ever!
Who would play you in a movie? I constantly get compared to Miley Cyrus and Elizabeth Berkley.
Who is your dance crush? Kevin Bacon in Footloose. He's such a fantastic performer—and so cute!
What's your pre-performance ritual? I do abdominal exercises and warm up my ankles, shoulders and hamstrings to prepare for precise arms and hundreds of eye-high kicks.
Get Dance Spirit in your inbox
Each spring, young dancers from across the country travel to NYC to audition for the chance to perform alongside the Rockettes as Clara in Radio City Music Hall's Christmas Spectacular. This year, all six of the Claras (from the touring and NYC casts) are dancers from the competition scene! We caught up with them to learn a little bit more about their new roles.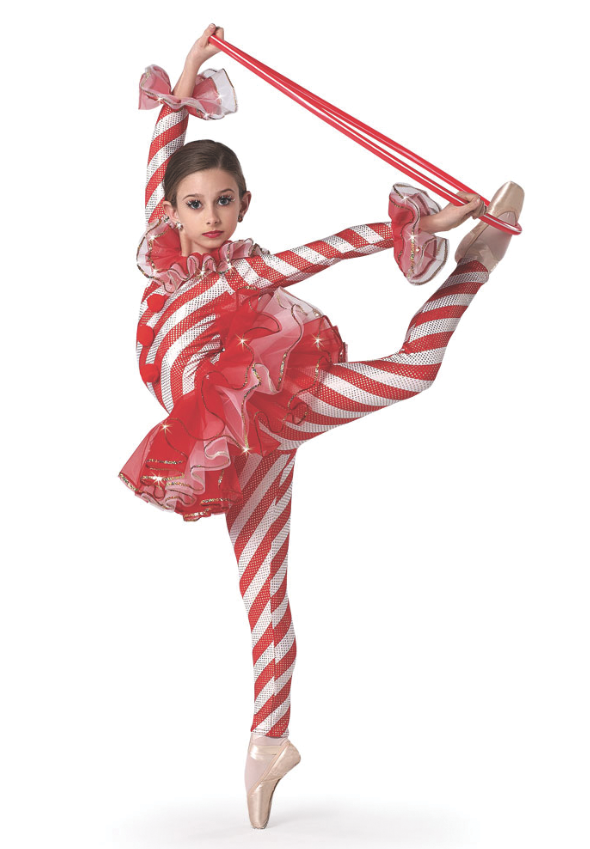 Courtesy A Wish Come True
MADELEINE GARDELLA
Age: 13
Hometown: Yardley, PA
Studio: The Dance Academy
Cast: NYC at Radio City Music Hall
What was the Clara audition like? "We were taught a combination, split into groups of three and asked to dance for the judges. It was like a convention audition—we learned a new combination and the cuts were based on our abilities to learn the combo quickly and execute it well."
What's the most exciting part about getting to dance the part of Clara? "I'll be dancing with the world-famous Rockettes in NYC! Since the Christmas Spectacular has new and old favorites, a 3-D adventure and new music and costumes this season, there are a lot of things that I'm pumped about. Being part of the show is an outstanding opportunity. It's an annual tradition for many families. I can't wait to perform and bring people the magic of Christmas."
What are you most nervous about? "My nerves get to me when I think about how huge the Radio City Music Hall stage is—it's nearly the size of a city block!"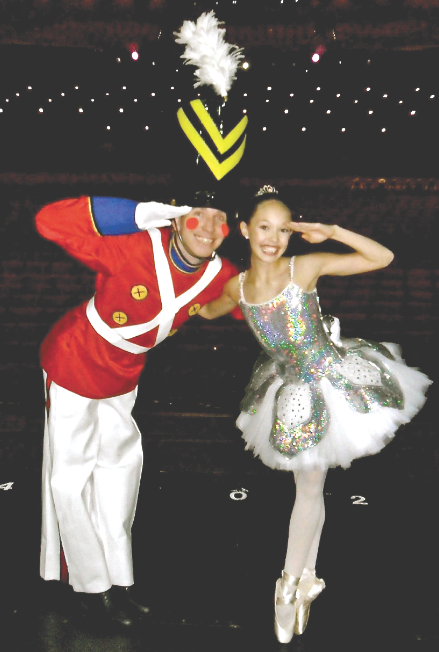 Courtesy Juliet Doherty
JULIET DOHERTY
Age: 14
Hometown: Albuquerque, NM
Studio: Fishback Studio of the Dance
Cast: NYC at Radio City Music Hall
What advice do you have for dancers who want to audition for the role of Clara? "Make sure you're comfortable dancing on pointe and, most importantly, be genuine, smile and present the choreography with confidence."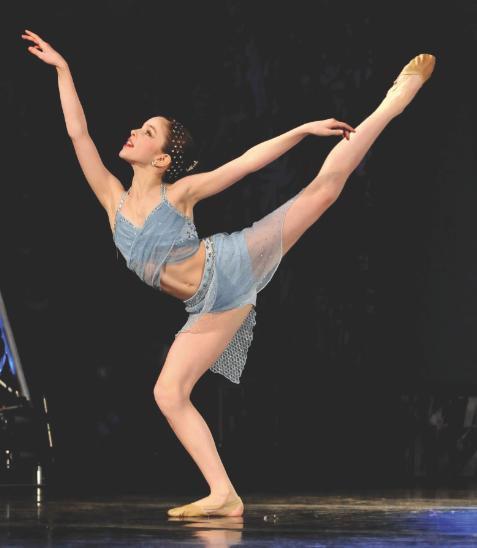 Courtesy Break The Floor Productions
SARAH SIBOLE
Age: 12
Hometown: Dearborn Heights, MI
Studio: Noretta Dunworth School of Dance
Cast: Nashville, TN, at the Grand Ole Opry
How did you feel when you learned you'd been cast as Clara? "I was in the dressing room at Nationals when I got the call from Radio City. I saw the NYC area code on my mom's cell phone, and I knew it must've been about Clara. I was thrilled, and that feeling lasted all day while I was competing."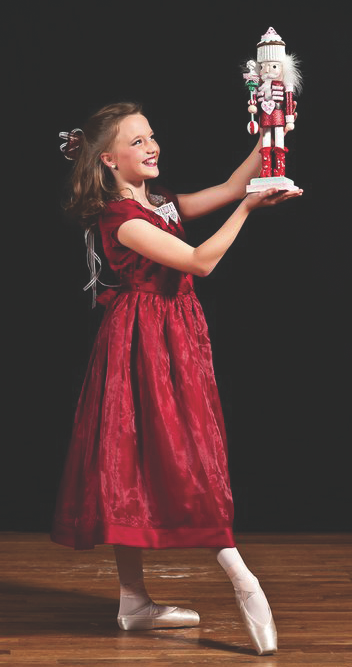 Photo by Shannon Hager/XML Photography
CHLOE ELLIS
Age: 11
Hometown: Mooresville, NC
Studio: The Academy of Dance and Fine Arts and Piedmont School of Music and Dance
Cast: Durham, NC/Boston, MA
Why are you excited to play Clara? "It's such an honor to be around these dancers and to learn from them. I'm going to be a part of this Christmas tradition!"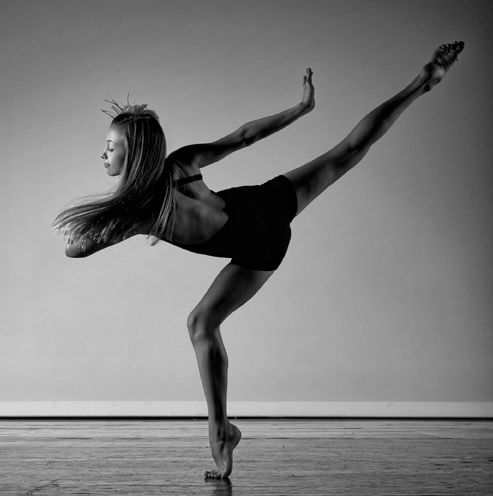 Courtesy Kalyn Berg
KALYN BERG
Age: 13
Hometown: Tucson, AZ
Studio: Tucson Dance Academy
Cast: Durham, NC/Boston, MA
What was the Clara audition like? "I was very nervous. There were a lot of girls there and everyone was so talented."
Why is this show special? "I did the arena tour last year and it's the best feeling seeing how the Christmas Spectacular makes everyone happy for the holidays! It's wonderful being a part of something that makes people smile and brings joy to their hearts."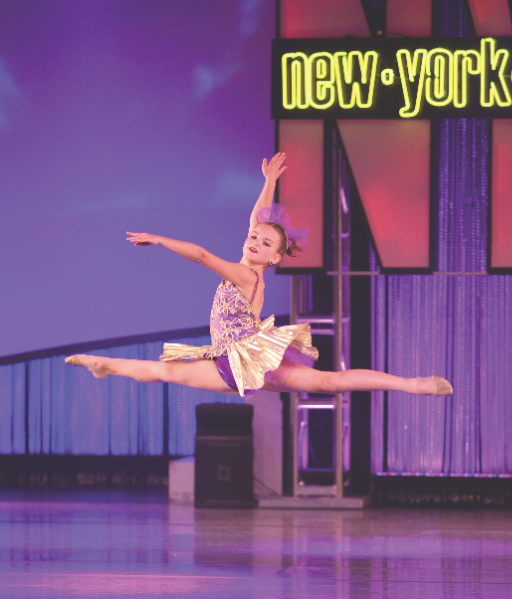 Photo by ProPix
LAUREN YAKIMA
Age: 10
Hometown: Northville, MI
Studio: Noretta Dunworth School of Dance
Cast: Nashville, TN, at the Grand Ole Opry
How did you feel when you found out you'd been cast as Clara? "I cried because I was so happy! My sister was a Clara in the Radio City show for four years and I had dreamed about doing it, too. And now I get to!"
If you're between the ages of 7 and 14, proficient on pointe and 4' 10" or shorter, you can audition to be Clara, too! Specific casting information will be posted at radiocity.com in February 2012.