Nov. 15, 2017 10:42AM EST
Via @Rockettes on Twitter
Look, guys, we know: It is too darn early for holly-jolliness. But the Rockettes appeared on the "Today" show this morning to promote the Radio City Christmas Spectacular, and we can't help it—as soon as we see that iconic kickline, we start daydreaming about sleigh bells and mistletoe and gingerbread lattes.
Dance Videos
Jan. 03, 2016 07:00AM EST
The Rockettes know a thing or two about winter—after all, their Christmas Spectacular is pretty much the pinnacle of the holiday season. And now that winter finally seems to be here with its freezing temperatures (NYC's 75 degree Christmas was only a few weeks ago, after all!), we could certainly use some tips to help guide us through another few months of snowstorms, scarves and sniffles. That's where the Rockettes come in! Not only did they help us master their iconic dance moves last month, but they've got our backs again with nine tips for beating the winter blues. Rockette Katelyn G. says to just "embrace the snowy weather," Sarah G. says to "keep busy" and avoid the urge to hibernate until warm weather graces us with its presence again. All their tips might seem like no-brainers, and I can't speak for you guys. But I know I'm guilty of using winter as an excuse to a) never leave my house, b) sleep until noon and c) use the weather as an excuse for anything and everything, so thank you, ladies—I'll most certainly be using your tips for motivation. Promise! Check out the rest of the tips here.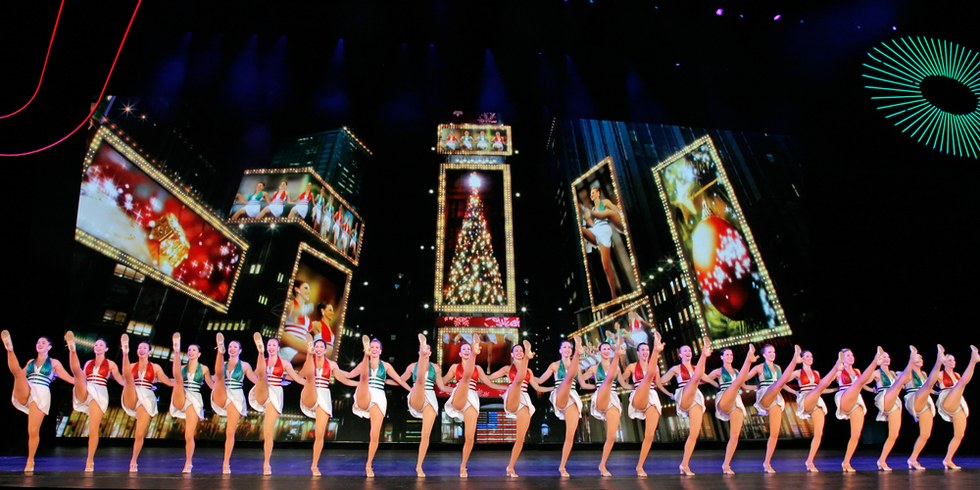 The Rockettes showing us how a high kick is truly done. (Photo via Alive Mag)
Dance News
Aug. 02, 2015 07:00AM EST
Hey, everybody! Do you dream of being a Rockette in the Radio City Christmas Spectacular? Well, now's your chance: They're holding open auditions on August 10. That's in 10 days, people! Start working those eye-high kicks now. Oh, and it couldn't hurt to go behind the scenes with us at a previous Rockette audition!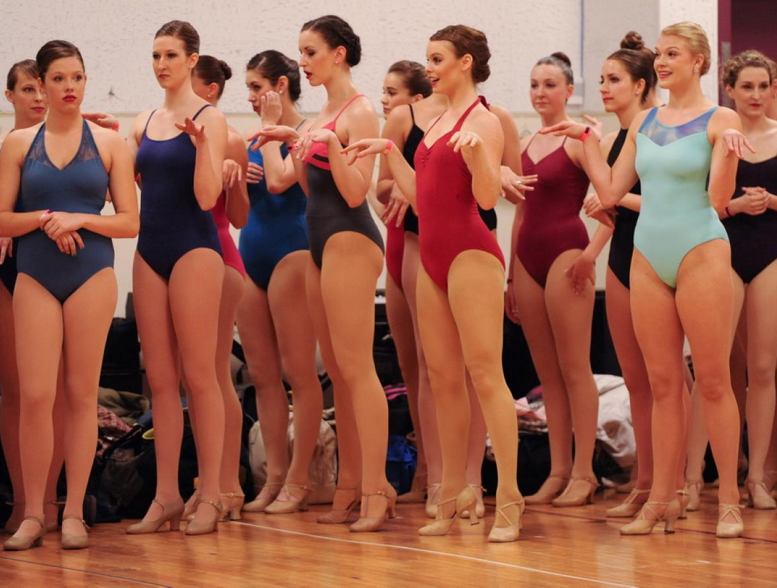 The cutest. (Ladies auditioning for the Rockettes, photo Mark Bonifacio/New York Daily News)
I've always been obsessed with the Rockettes. I mean, they're basically the definition of glamor. Alas, I've also always been waaay too short to audition. Ladies need to be between  5' 6" and 5' 10.5" tall.
So go, leggy dancers, and live your Rockette dreams. Merde!
Dance News
Dec. 01, 2014 10:30PM EST
(Courtesy MSG Entertainment)
When we watch the Rockettes perform in the Radio City Christmas Spectacular, we see a group of impeccable dancers moving in perfect unison—not a sequin or an eyelash out of place. But it takes a lot of intricate behind-the-scenes work to keep the Rockettes stage-ready. Here's a by-the-numbers look at the Rockettes' Christmas Spectacular experience, with insider information from NYC dance captain Traci Reszetylo.
Jul. 01, 2014 02:00PM EST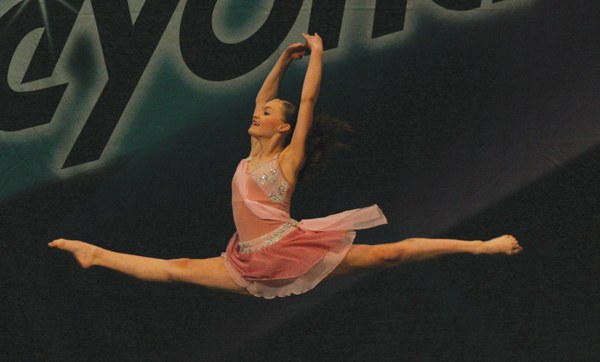 (Photo courtesy Beyond the Stars)
Michelle Quiner is the epitome of technique and artistry in perfect harmony: Sure, she makes quintuple pirouettes on pointe look like a cinch, but it's this 15-year-old's emotive quality that captivates audiences. Michelle's talent has won her such titles as National Miss Teen Onstage New York and Miss Junior Starpower, as well as first place at both Starpower and Legacy Dance Championships Nationals. It also landed her the part of Clara in the Radio City Christmas Spectacular in Nashville, TN, in 2010.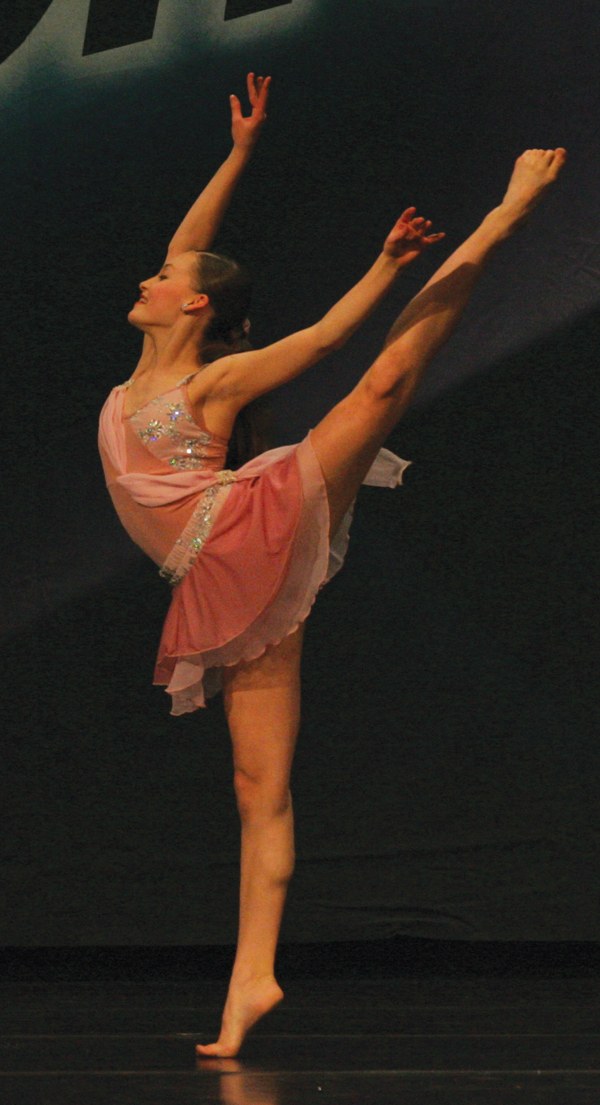 (Photo courtesy Beyond the Stars)
Fast Facts:
Birthday: April 17, 1999
Hometown: Chester, NJ
Dance studio: North Jersey School of Dance Arts
Favorite dancers of all time: Gillian Murphy, Paloma Herrera and Catherine Hurlin. "I love American Ballet Theatre!"
Favorite dance movie: First Position
If she were a superhero…"I would have an amazing memory. I'd learn all of the combos and never forget them."
Go-to stress relievers: "I like to crochet dolls for my seven siblings, and I like to read
Dance Spirit!"
Dream dance roles: Sugar Plum Fairy in The Nutcracker and Odette/Odile in Swan Lake
"In the dance world, you're gonna hear 'no' a lot. You just have to learn how to work through that without getting discouraged. Never give up on what you love to do."
Dancer to Dancer
Apr. 01, 2014 03:30PM EST
(Note: Heart and Lights was postponed until further notice after this article was written.)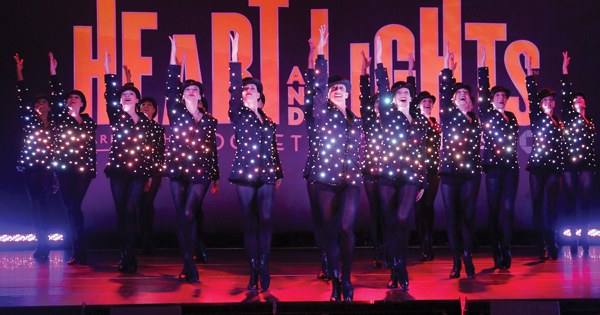 (Photo by Amanda Schwab/Starpix)
For the Rockette-obsessed, waiting to see the dancers—who have been kick-lining in perfect unison in NYC since 1932—in the annual Radio City Christmas Spectacular can feel like torture. But now the Rockettes have a springtime show, Heart and Lights, to help get you through the year. Dance Spirit asked 10-year Rockette veteran Candace Jablonski to share five reasons why you'll love it.
1. You'll see the precision of the Rockettes…
Rockette fans have come to expect extreme synchronization, and the new show doesn't disappoint. "There are 36 Rockettes down the line in eight production numbers," Jablonski says. "And we honor the signature precision technique that audiences love. In rehearsals, we were meticulous about having the same lines, down to our pinky fingers and our eyeballs."
2. …but in a whole new way.
Say goodbye to the Rockettes' signature French-twist 'do. These ladies are literally letting their hair down and showing off dance styles you've never seen them do before. "There's choreography that's more contemporary and athletic," Jablonski says. "For example, there's a number called 'High Finance,' where we're portraying Wall Street traders. The show has so much floor work—knee spins and lunges—that we actually have knee pads built into our costumes."
3. The costumes are pretty spectacular.
All-new choreography calls for all-new costumes—from rain boots with taps to light-up jackets. "In 'Electricity,' we're portraying the electric lights you see on Broadway," Jablonski says. "Each dancer's jacket has 152 LED lights that turn on as part of the choreography. It adds an extra element that's really cool."
4. The dancers share the stage with huge puppets.
"There are six animatronic puppets—one for each NYC site. We have the Wall Street bull, the lions at the public library and even a 26-foot-tall Statue of Liberty," Jablonski says. "The Statue of Liberty has 18 motors in her face, so she looks lifelike as she talks."
5. It's all about NYC.
Tourists and natives alike will love the storyline: Two cousins spend a day in the Big Apple learning about their grandmother's past in the city. "I've lived in NYC for almost 12 years now, and I'm definitely guilty of taking the city for granted," Jablonski says. "This show makes you stop and celebrate the energy, sights, smells and sounds. NYC is an amazing place to be."
Mar. 24, 2014 11:30AM EST
The news broke Friday afternoon that the brand-new Radio City Rockettes production Heart and Lights—scheduled to open this Thursday—will be postponed until 2015. This was to be the first time the Rockettes would shine outside of the winter holiday season since 1997, showing off new choreography and non-Rockette-traditional dance styles. On behalf of many dancers and Rockette fans around the globe, we are just so bummed.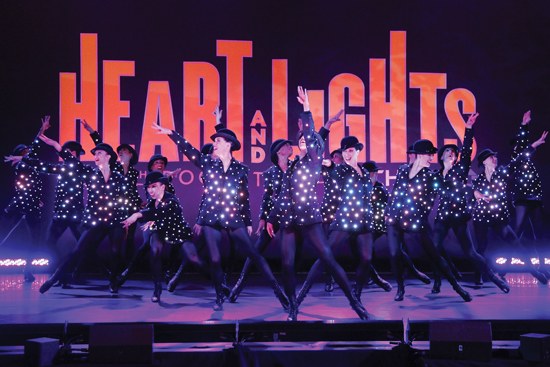 The Rockettes in a sneak peek of Heart and Lights at Grand Central Terminal.
Photo by Amanda Schwab/Starpix
Our hearts go out to the dancers, stagehands and production crew members who are now facing possible unemployment, especially since the main reason Madison Square Garden exec James Dolan pulled the plug had to do with script and story issues. Now, I may be going out on a limb here, but how many people go to see the Rockettes for the storyline? Helllloooo, we want dancing! We want the spectacle, the costumes, the puppets—like the 26-foot-tall Statue of Liberty and the New York Public Library lions—all which have been described as being totally fantastic in the new show.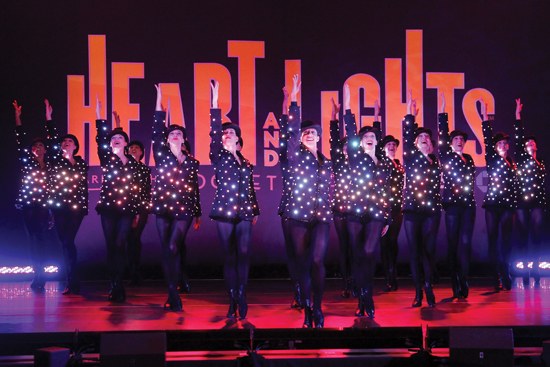 We <3 their Fosse-style jazz boots!
Photo by Amanda Schwab/Starpix
That being said, we cannot wait for 2015. We know this show will go on, eventually. And when it does, we will be front and center, cheering on those gorgeous leggy dancers, all eye-high kicking down the line in unison. Plus, we still have The Christmas Spectacular. So let's come out in droves this winter to show our support and Let Christmas Shine!
Dance News
Mar. 04, 2014 07:00AM EST
Happy March!
Here at DS HQ, we're more than ready to be kicking off a new month (please please please tell us that March is going to finally bring us some warmer temperatures and pretty flowers...please?) and, fittingly, a brand-new issue!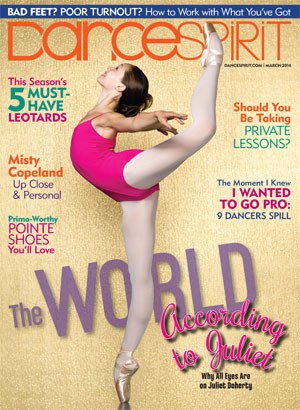 Introducing...Juliet Doherty!
The March issue of Dance Spirit is our annual Ballet Issue, and how lovely is this prima-in-the-making on the cover?
A little backstory...
I have been obsessed with Juliet Doherty for years. I saw her perform the role of Clara in the Radio City Christmas Spectacular and I fell hard for her gorgeous facility, sweet smile and perky onstage personality. At the time, Juliet was a competition dancer training at Fishback Studio of the Dance—her great-grandmother's studio—in her hometown of Albuquerque, NM. Now, at 16, Juliet's making big moves toward a serious ballet career: She's currently a level-seven student at the San Francisco Ballet School and she's performed as Clara in San Francisco Ballet's Nutcracker. Earlier this year she competed at the Prix de Lausanne in Switzerland. And let's not forget—she's a ballerina named Juliet. It's perfect.
We are so excited to feature Juliet on the cover of this issue. Not only is she a stunning dancer (as you can see from the cover—can this girl take a beautiful picture or what?), she's also super-smart (she was asked to give an inspirational TEDx Talk in 2012!), ultra-sweet and insanely humble.
Click here to read Juliet's cover story. And, as always, we've got plenty of extras for your viewing enjoyment: click here to check out a ton of outtakes from Juliet's cover shoot in L.A. with photographer Joe Toreno, and then watch a behind-the-scenes video from the shoot.
We love you, Juliet, and we can't wait to see what you do next!
Dance News
Mar. 01, 2014 11:42PM EST
Joe Toreno
In the summer of 2012, Juliet Doherty gave a talk at a TEDx conference in her hometown of Albuquerque, NM. She was the only teenager to speak that day—and, in a ballet costume and pointe shoes, the only person not wearing a suit. After her speech, during which she encouraged listeners to "be great," Juliet performed a solo. That was the day she got her first standing ovation. "The amazing thing," she says, "is that it wasn't just about my dancing. It was about the message I was trying to put out there."
It's safe to say that won't be Juliet's only standing ovation during her ballet career. Now 16, Juliet is a student in the San Francisco Ballet School's pre-professional training program, and she's already collected a handful of professional performing credits (as Clara in the Radio City Christmas Spectacular and in San Francisco Ballet's Nutcracker) and competition wins (she won gold at the Youth America Grand Prix finals when she was 14). Earlier this year, Juliet competed at Prix de Lausanne in Switzerland. She talked to Dance Spirit about ballet competitions, Broadway and "being great."
By the time this issue comes out, you will have competed at Prix de Lausanne, which was a longtime goal of yours.
Juliet Doherty: This will be my first overseas competition. When I came to San Francisco Ballet two years ago, I talked to Patrick [Armand, the associate director of the SFB School] about it. He said I could compete right away, but I chose to train for a year with the school first so I could get the full experience without the added stress of competition. After a year of training, I filmed my competition application video. In November, I found out I had been selected to compete. Since then it's been a lot of rehearsing, working on my variation, learning my contemporary solo and adding my own artistry to the pieces.
Which pieces did you prepare?
JD: My age division had 10 variations and four contemporary selections to choose from. I chose the Swanilda Scene 1 Act 1 variation from Coppélia, and for my contemporary I picked "Saraband," from Vasos Comunicantes. Most of the contemporary options were a minute long, but this one is almost three minutes. I wanted to be challenged.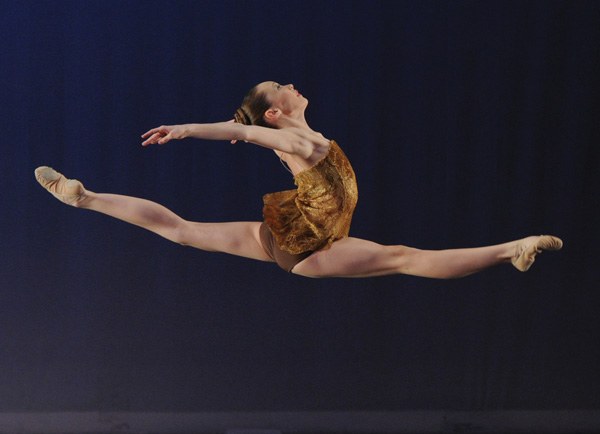 Performing at the Youth America Grand Prix finals in 2012 (courtesy Juliet Doherty)
Not everyone in the ballet world is on board with competitions. What's your take?
JD: When you're dancing in a company, you're constantly under the pressure of performing and being looked at. I think the best way to get a taste of that at a young age is through competitions. Then, down the road, you can think, "OK, this has happened before. I know how to handle it."
I try to bring everything I've learned at competitions into my performances. I have a solid technical base; my competition experiences won't hinder that.
The SFB School is a big supporter of ballet competitions. Did that factor into your decision to attend?
JD: Yes. I was competing at the YAGP finals in NYC in 2012 and took the scholarship class on the last day of the competition. That's when Patrick offered me a summer scholarship. I was 14 and starting to consider moving away from home to a pre-professional school. I got a few different offers that day, but I had a good feeling after talking to Patrick.
I spent the summer at SFB and I loved it, so I stayed for the entire year. Now I'm back for my second year. I've also been lucky enough to perform with the company for two years as Clara in Nutcracker.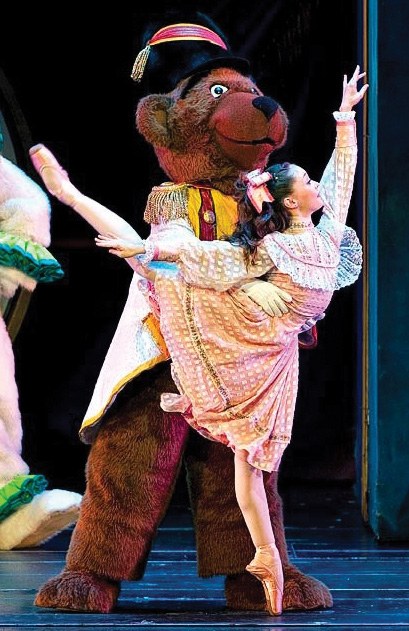 As Clara in the Radio City Christmas Spectacular in NYC (photo by Gene Schiavone)
How'd you get that role?
JD: People just came into class for five minutes with a clipboard and watched us during barre combinations. Then four of us got calls later saying we'd been cast.
It's neat because I got to work one-on-one with Helgi Tomasson [SFB's artistic director]. As a student, we're always looking at Helgi wondering, "Who is this mysterious guy?" The first time we ever danced in front of him, he said, "Are you nervous?" We were hesitant to say yes, so we just nodded, and he said, "OK, you should be."
But dancing Clara with SFB wasn't your first time being Clara.
JD: I was Clara in the Radio City Christmas Spectacular for three years—two years on tour, and one year in NYC. Dancing at Radio City Music Hall, on that huge stage, was incredible. During our first dress rehearsal, we were doing our center bows, and I had to run off after my bow. I didn't realize how far I actually had to run to get into the wings! I could hear the director, Linda Haberman, yelling at me, "Keep running, keep running!" It took me so long to get offstage.
Have you always known you wanted to be a ballerina?
JD: No! I've danced my entire life—I grew up dancing at my great-grandmother's studio, Fishback Studio of the Dance—but even when I was doing Radio City, I wasn't set on ballet. I thought I might want to sing and act more. It was my mom's idea to take me to YAGP—she was my main teacher and coach until I was 14—so I went for the first time when I was 9.
I was a brat then. I never wanted to practice my variation. But that summer, something clicked. I realized I had to change my attitude or no one would work with me. From then on, I decided I would pursue ballet, and I've become a totally different person.
"I look back at when I was 6 years old and I had no idea how to do a jazz square. I was just onstage having fun. That's what audiences enjoy. They don't come to see a perfect performance—they come to be moved and to feel something."
—Juliet Doherty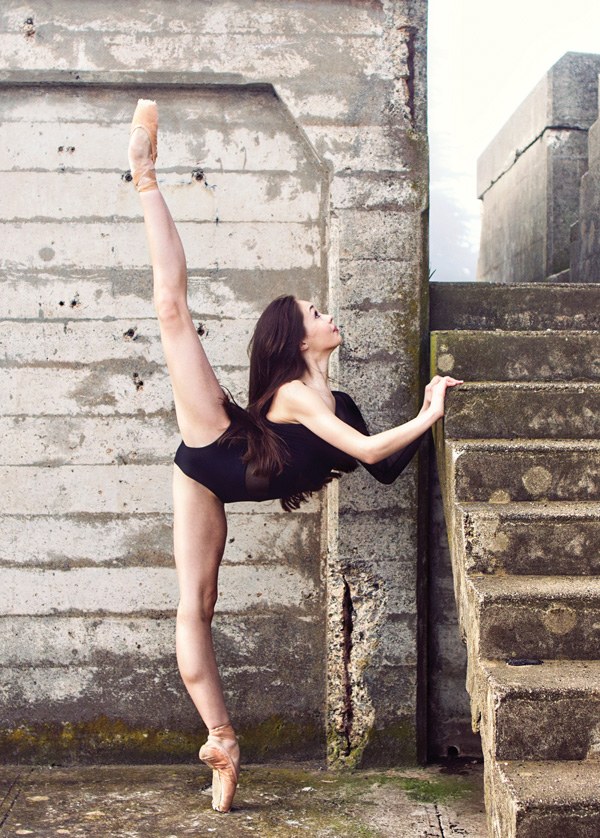 (Photo by Oliver Endahl/Ballet Zaida)
Walk us through a day in your life.
JD: I wake up around 7:30 am. I live in the student residences at the SFB School. The first thing I do in the morning is make my breakfast, which is usually a green drink.
I take the public bus to get to SFB. I usually start with technique class or floor barre, then pointe or pas de deux, or special extra rehearsals. Each class is 90 minutes to an hour and 45 minutes.
After my last class, I go about my day. I shop for groceries, do laundry or clean my room. Then I'll cook my dinner and squeeze in some schoolwork. I go to sleep between 10:30 and 11 pm. Any later than that and I can't function the next day. I have one class on Saturdays at 9:30 am, but I have the rest of the weekend free.
How do academics factor in?
JD: I'm doing an independent study online. I read a lot, and my work doesn't have due dates. I want school to be a part of my life, but it's not my main focus right now.
What's your dream role?
JD: Juliet in Romeo and Juliet!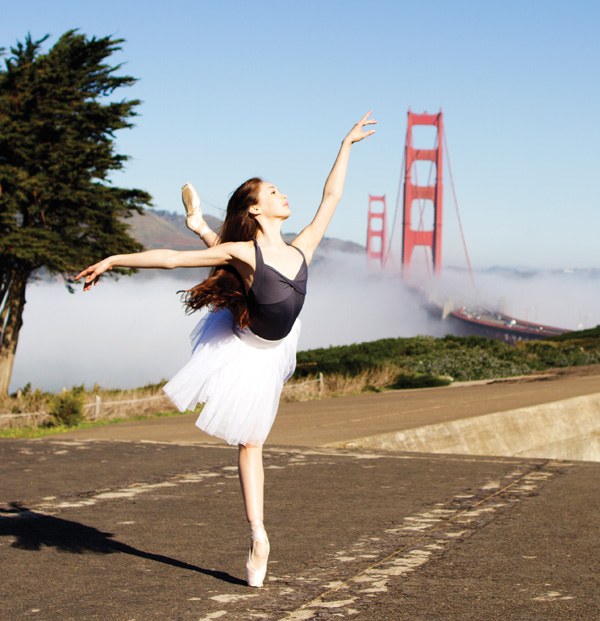 (Photo by Oliver Endahl/Ballet Zaida)
Any idea which company you'll be doing that with?
JD: I'd love to go to Europe—not necessarily with one company, but to dance on multiple stages, working with as many choreographers as possible.
You were part of the workshop for Susan Stroman's Little Dancer in 2012. Now the show is potentially coming to Broadway, starring New York City Ballet principal Tiler Peck. Might we see you on the Great White Way someday?
JD: It's really cool seeing dancers cross over into acting. I love when dancers are versatile and get opportunities to do more than just one thing. I don't think they've had auditions yet for the part I was workshopping, so I'm considering going out for it—we'll see!
What's the most valuable advice you've ever received?
JD: Every dancer struggles with being in her head. There's always that voice saying, "You're not good enough." Before competitions, my parents will remind me, "You're your own biggest competitor. Let go of everything you're holding on to. It will just get in your way. The only person trying to pull you down is the little voice in your head." Once I remember that, everything gets easier. It's an ongoing thing with me. Some days are horrible. But some days I exude all the confidence in my dancing that I want to have. It's just about quieting that voice.
"You are already good enough to get where you want to go. You have greatness inside of you and it can be discovered at any moment. You don't need to be at a certain level to say, 'OK, now I'm great,' or, 'If I add this one thing to my repertoire, then I'll be good.' You're born with greatness. All you have to do is recognize that."
—Juliet Doherty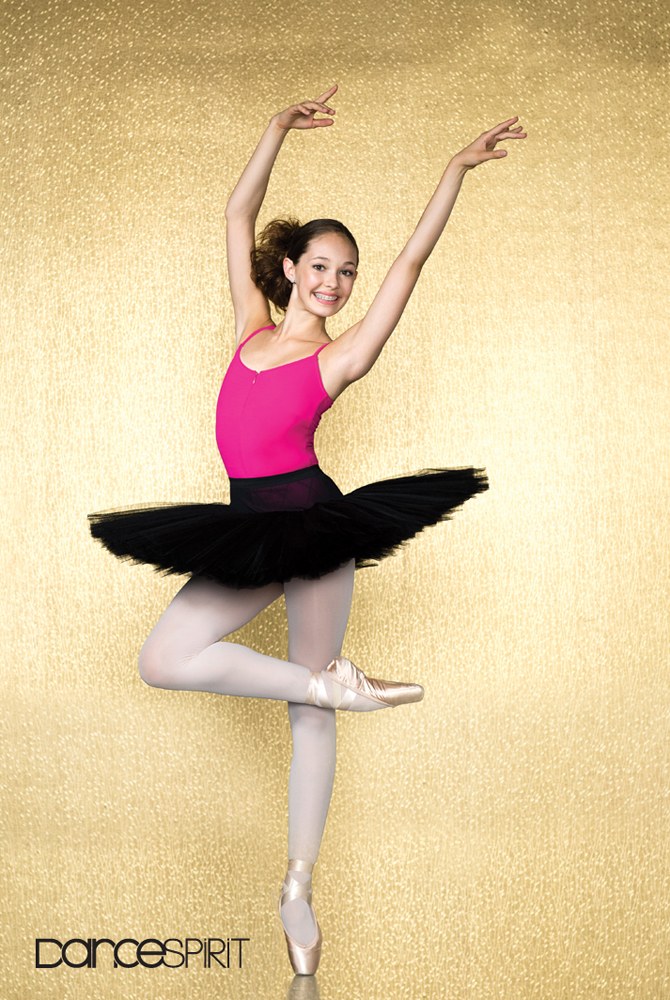 (Photo by Joe Toreno)
Ready, Set, Juliet
Must-see TV: "Even though it kind of corrupted Albuquerque, I watch 'Breaking Bad' when I miss home. But since that show is so emotionally draining, I also like to watch 'The Carrie Diaries,' 'The Mindy Project' and 'New Girl'—I don't have to get involved, I can just follow along and laugh."
If you were a superhero, what would your power be? "I just want to fly."
Your go-to stress reliever: "Calling my parents at the end of the day."
Strangest thing in your dance bag: "A banana holder. It's a hard, yellow plastic banana-shaped thing and it prevents your bananas from getting bruised. It's an amazing invention and I always have it with me."
Favorite dancer of all time: Natalia Makarova
Performer you'd die to work with: Steve Kazee, who originated the role of Guy in Once on Broadway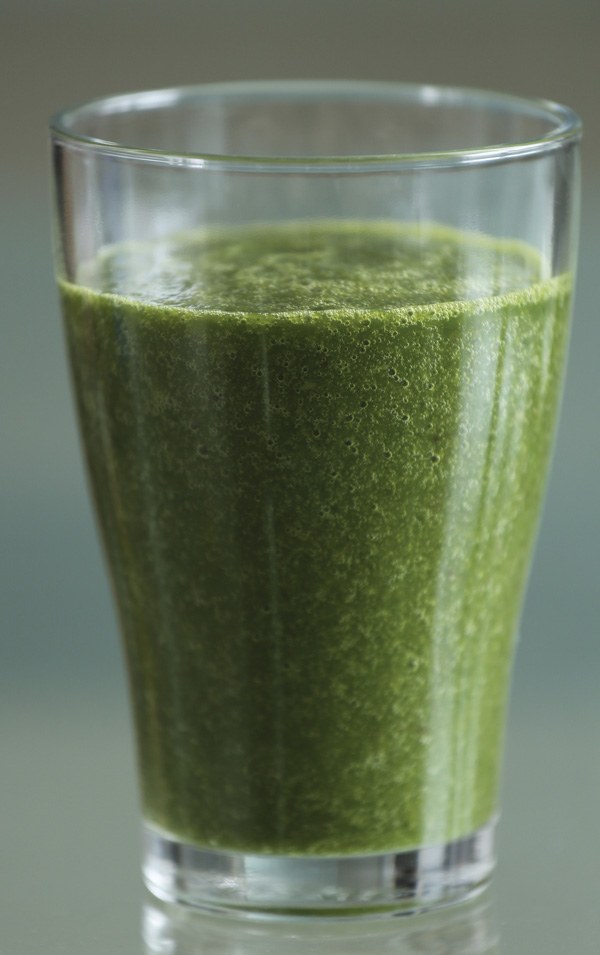 (Vasst/Thinkstock)
Breakfast of Champions
Start your day like Juliet—who follows a plant-based vegan diet—with this recipe for her "Super Green Smoothie."
Combine a handful of kale, a handful of spinach, half a cup of any frozen fruit (she likes mango or mixed berries), a banana, 4 ounces of apple juice, 8 ounces of water and some flaxseeds in a blender. "The greens may seem scary at first, but trust me, the fruit makes it naturally sweet," Juliet says. "You'll feel energized and ready for whatever challenges the day may bring.
Feb. 12, 2014 12:28PM EST
Get Dance Spirit in your inbox
Dec. 01, 2013 02:30PM EST
You know the dancer choreographers are dying to set work on because they know it'll look good—whether it's a soft contemporary piece or a jazzy 8-count for a commercial? That's 14-year-old Logan Hassel. She's danced on "The X Factor," the Nickelodeon Kids' Choice Awards and "The Ellen DeGeneres Show," performed with Gwen Stefani's Harajuku Girls in a Macy's Passport show and toured the country as Clara in the Radio City Christmas Spectacular. Last year she even had a speaking role on "Modern Family." Not bad for a small-town triple threat (yup, she sings, too)!
"There's a lot of competition in L.A. Sometimes you just need to breathe, and say to yourself, 'I got this.'"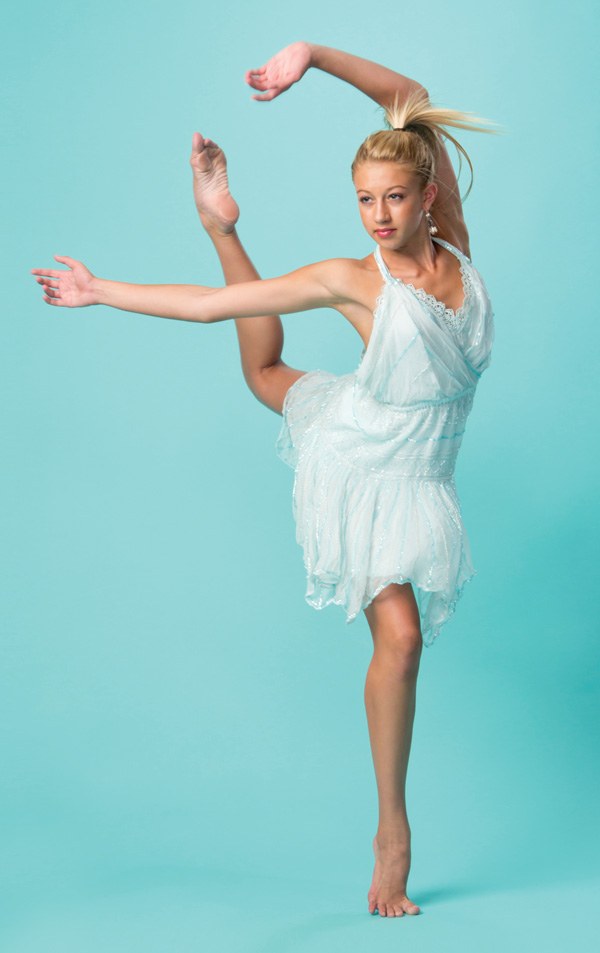 (photo by Michael Higgins)
FAST FACTS:
Birthday: June 6, 1999
Hometown: Johnston, IA
Most-played music: "I'm a Midwest girl, so you know I love my country music—my favorite is Carrie Underwood. I also like Kelly Clarkson, and Katy Perry's song 'Roar.' "
Favorite food: Sushi
Non-dance hobby: Golfing
If she were a superhero, her power would be: Reading minds
Favorite dance movie: Step Up Revolution. "I love that they added contemporary to all the hip hop, so dancers of all styles can enjoy it."
Must-see TV show: "Happy Endings"—"but it got canceled!"
Dancer to Dancer
Nov. 22, 2013 09:00AM EST
Last week I rounded up five reasons you should make seeing the Radio City Christmas Spectacular an absolute priority this holiday season.
In the very weird chance you're not totally convinced yet, here are some fun facts about the nation's #1 holiday show...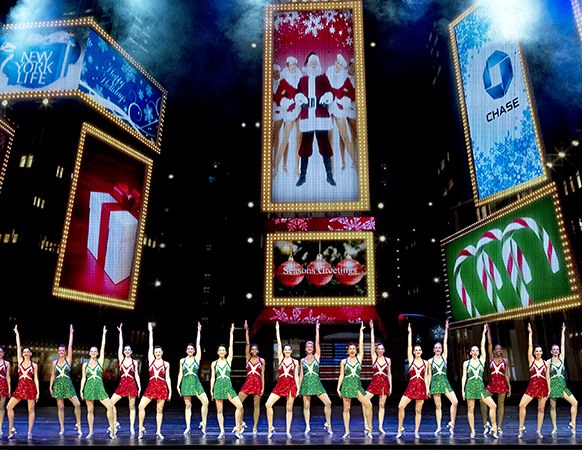 Photo courtesy Radio City Christmas Spectacular.
More than 1 million pairs of 3D glasses are distributed to patrons to experience the new "3DLive" scene featured in this year's production.
It takes more than 250 people just to stage the Radio City Christmas Spectacular, including the cast and crew.
There is a cast of 150 including Rockettes, singers, dancers, musicians and more.
More than 1,200 costumes are worn in the show. Each Rockette changes costumes eight times during the show, and in a few of the changeovers, they have as little as 78 seconds in which to change their costumes.
The double-decker bus in the "New York at Christmas" scene weighs 7 tons! It's 34 feet long and 12 feet high. In the course of the show's 8-week run, it will travel approximately 37 miles onstage. When the bus is offstage, it hangs 23 feet in the air at stage left for storage.
During the show's run, the animals from the Nativity scene drink 450 bottles of water and eat 340 bales of hay and 560 loaves of 7-grain bread.
Both the "Parade of the Wooden Soldiers" and the "Living Nativity" scenes have been part of the Radio City show since 1933.
Throughout the season, the wardrobe department will go through more than 15,000 red dots used to brighten the cheeks of the Rockettes in the "Wooden Soldier" routine.
The production staff for every show includes 23 carpenters, 20 electricians, 15 prop people, 7 sound people, 28 wardrobe people, 2 projectionists, 5 stage managers, 8 animal handlers and 40 orchestra members.
180 laundry baskets are used during each show to hold and carry the cast's shoes, laundry and costumes.
Between the Rockettes, chorus and Santa, more than 1,200 pairs of shoes are worn per show.
350 loads of laundry are done per week, non-stop most days, for 16 hours per day during the week, plus 20 hours per day over the weekend.
...and a partridge in a pear tree. 
Dance News