Via @Rockettes on Twitter
Look, guys, we know: It is too darn early for holly-jolliness. But the Rockettes appeared on the "Today" show this morning to promote the Radio City Christmas Spectacular, and we can't help it—as soon as we see that iconic kickline, we start daydreaming about sleigh bells and mistletoe and gingerbread lattes.
Keep reading...
Show less
The Rockettes know a thing or two about winter—after all, their Christmas Spectacular is pretty much the pinnacle of the holiday season. And now that winter finally seems to be here with its freezing temperatures (NYC's 75 degree Christmas was only a few weeks ago, after all!), we could certainly use some tips to help guide us through another few months of snowstorms, scarves and sniffles. That's where the Rockettes come in! Not only did they help us master their iconic dance moves last month, but they've got our backs again with nine tips for beating the winter blues. Rockette Katelyn G. says to just "embrace the snowy weather," Sarah G. says to "keep busy" and avoid the urge to hibernate until warm weather graces us with its presence again. All their tips might seem like no-brainers, and I can't speak for you guys. But I know I'm guilty of using winter as an excuse to a) never leave my house, b) sleep until noon and c) use the weather as an excuse for anything and everything, so thank you, ladies—I'll most certainly be using your tips for motivation. Promise! Check out the rest of the tips here.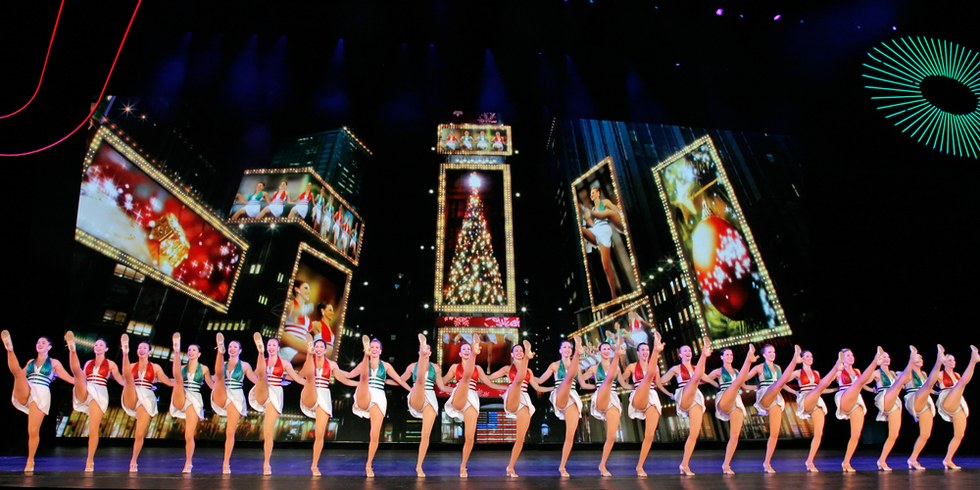 The Rockettes showing us how a high kick is truly done. (Photo via Alive Mag)
Hey, everybody! Do you dream of being a Rockette in the Radio City Christmas Spectacular? Well, now's your chance: They're holding open auditions on August 10. That's in 10 days, people! Start working those eye-high kicks now. Oh, and it couldn't hurt to go behind the scenes with us at a previous Rockette audition!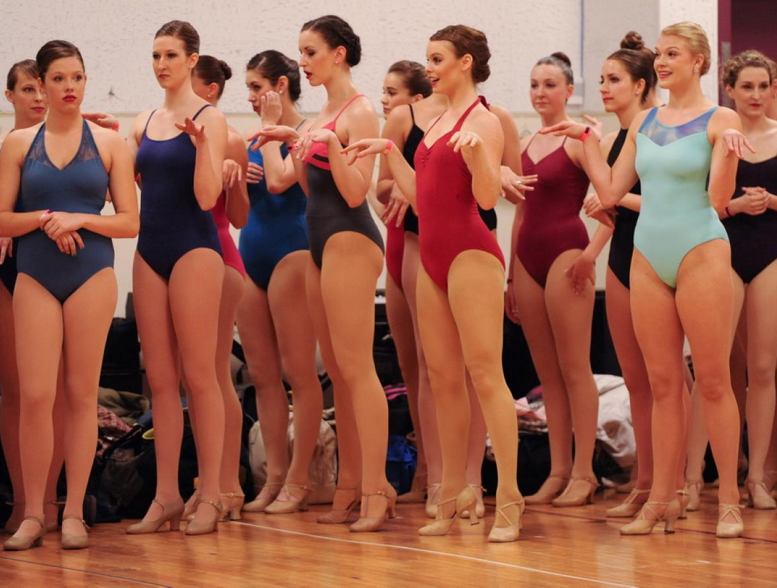 The cutest. (Ladies auditioning for the Rockettes, photo Mark Bonifacio/New York Daily News)
I've always been obsessed with the Rockettes. I mean, they're basically the definition of glamor. Alas, I've also always been waaay too short to audition. Ladies need to be between  5' 6" and 5' 10.5" tall.
So go, leggy dancers, and live your Rockette dreams. Merde!
Dec. 01, 2014 10:30PM EST
When we watch the Rockettes perform in the Radio City Christmas Spectacular, we see a group of impeccable dancers moving in perfect unison—not a sequin or an eyelash out of place. But it takes a lot of intricate behind-the-scenes work to keep the Rockettes stage-ready. Here's a by-the-numbers look at the Rockettes' Christmas Spectacular experience, with insider information from NYC dance captain Traci Reszetylo.
Over 500: Dancers who audition for the Rockettes each season. "The line wraps around Radio City Music Hall!" says Rockette Traci Reszetylo.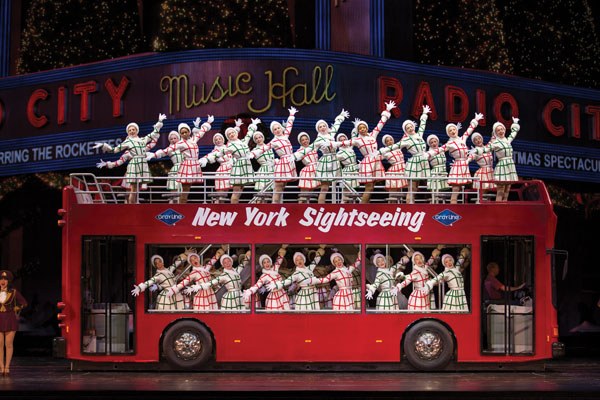 (Courtesy MSG Entertainment)
206: Christmas Spectacular performances in NYC
37: Miles the Rockettes' double-decker bus from the "New York at Christmas" scene travels across the stage during the show's run
72: Wireless microphones used to amplify the Rockettes' tap sounds. "There's one small mic on the arch of each of our tap shoes," Reszetylo says. "They catch everything, so we have to be very clean with our sounds—no extra brushes or scrapes or scuffs."
40: Rockettes in each Radio City Music Hall performance
80: NYC Rockettes
15,000: Red dots applied to the cheeks of the Rockettes each season during "Parade of the Wooden Soldiers"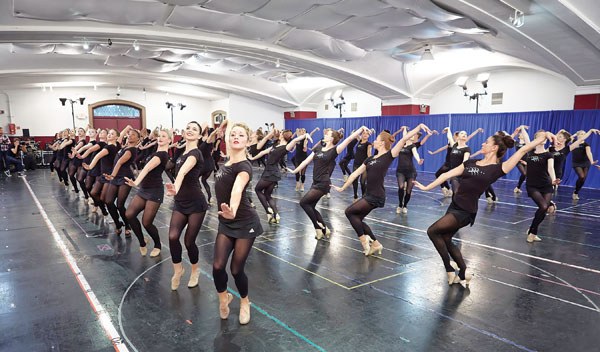 The Rockettes in rehearsal (photo by Carl Scheffel/MSG Photos)
216: Hours the Rockettes rehearse before opening night. "We go six hours a day, six days a week, for six weeks," Reszetylo says. "It's all about creating that famous Rockette precision, down to the fingertips—and that takes a lot of time."
16: Shows each Rockette does per week during busy periods, like the week after Thanksgiving and the week before Christmas—sometimes as many as five a day!
78: Seconds the Rockettes have to change costumes between "Parade of the Wooden Soldiers" and "New York at Christmas." "There's one dresser for every three Rockettes, and we have the process down to a science," Reszetylo says. "You're always putting on your earrings and your hat right as you walk onstage. I've gone on for 'New York at Christmas' with my 'Wooden Soldier' cheeks still on!"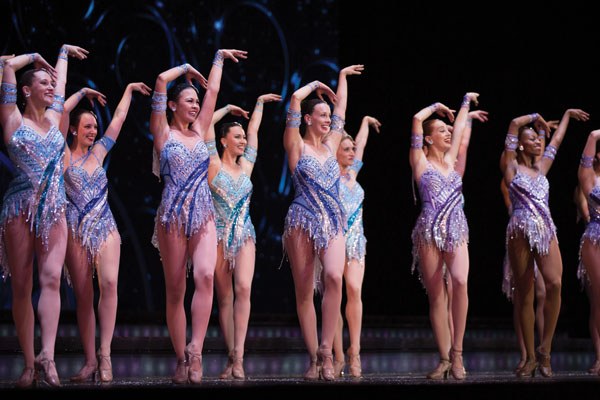 "Snow" (photo by Dan Niver/MSGE Creative)
More than 900: Swarovski crystals on the Rockettes' sparkliest costume, for "Snow." "The 'Snow' costumes are my favorite, because they embody what the Rockettes are," Reszetylo says. "Since no two snowflakes are alike, each costume is a little different—slightly different shades, slightly different designs—but they make a beautiful picture together. Similarly, while each Rockette is an individual, onstage we make a single unified line."
9: Costumes each Rockette wears during the show
102: Shows each Rockette performs in. "We have two different casts, and we split the performances pretty much down the middle," Reszetylo says.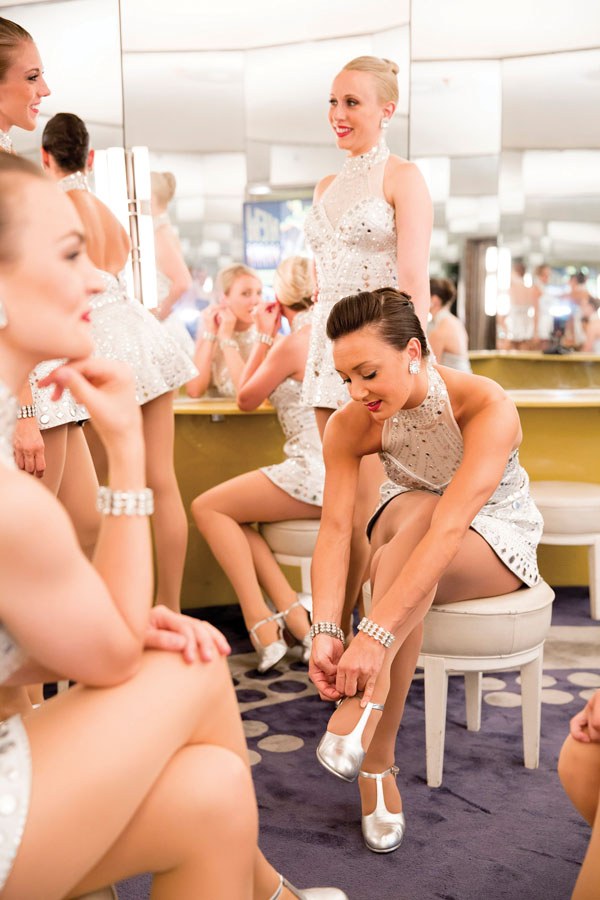 Traci Reszetylo (right) in the dressing room (photo by Avi Gerver/MSG Photos)
1,500: Kicks the Rockettes do on their busiest show days. "There are 300 kicks a show, between strut kicks, which come to the waist, and high kicks, which go to the eye," Reszetylo says. "On five-show days, that's a lot of kicking. Needless to say, we get in pretty good shape over the course of the season. We definitely earn our Christmas cookies."
"As a Rockette, you have all this onstage choreography that has to be perfect. But the choreography offstage is just as complicated, and you have to nail that, too."
—Traci Reszetylo, Rockettes dance captain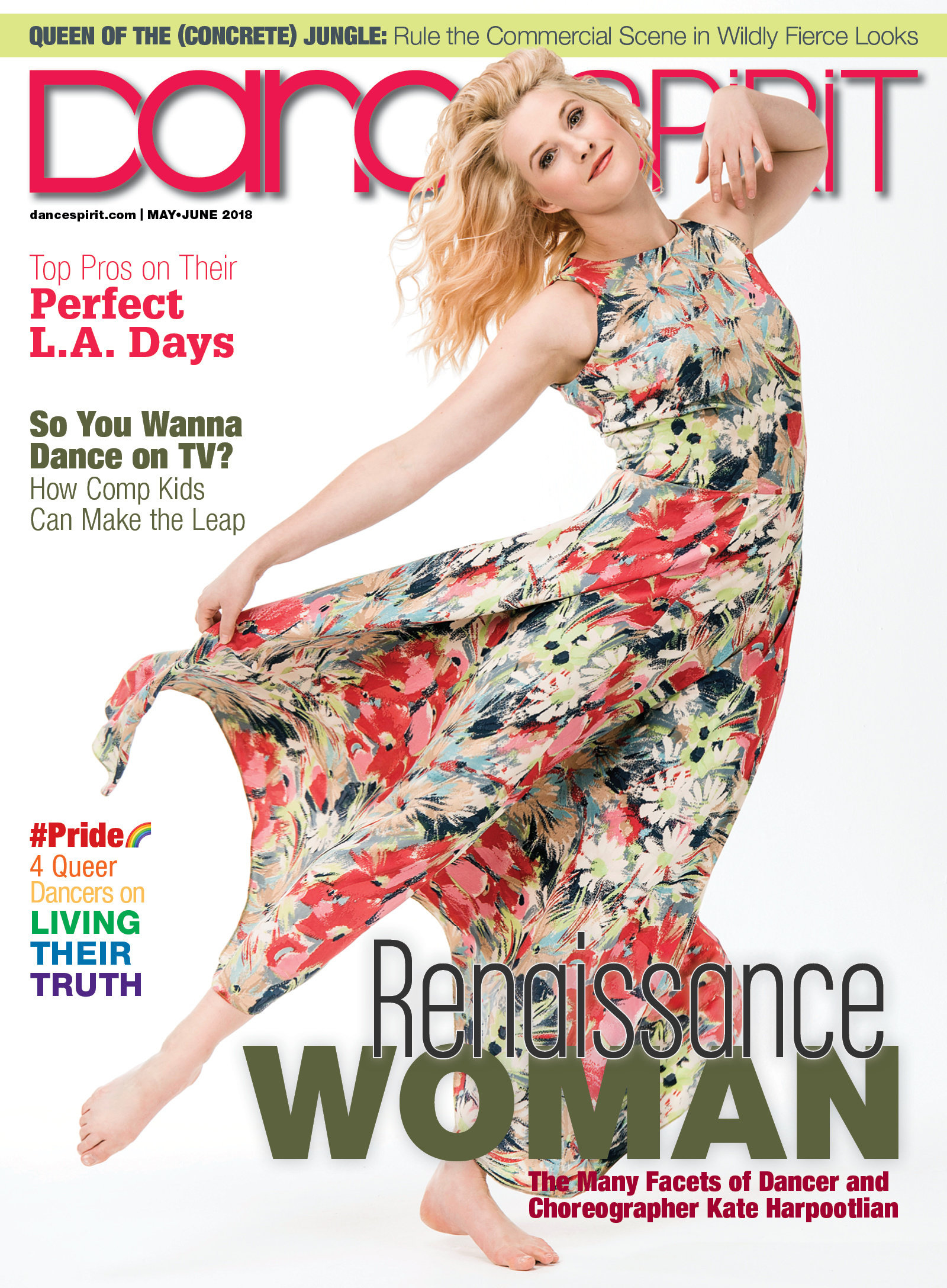 Get Dance Spirit in your inbox