Rachel Quiner performs Clara in the Christmas Spectacular (courtesy Rachel Quiner)
Think the Rockettes are the only stars of the Radio City Christmas Spectacular? Think again. Each year, a few lucky girls share the role of Clara, who appears during the Nutcracker portion of the show. Clara gets to do some real dancing, too, including solos and pas de deux. (Past Claras include Juliet Doherty and Tiler Peck!)
Dance Spirit sat down with this year's three Claras—Emerson Alexander, JoseBella Morton, and Rachel Quiner, all 12 years old—to find out what it takes to play Clara in the Spectacular, and the best parts of sharing the stage with the world's most iconic precision dance company.
Keep reading...
Show less
Courtesy MSG Entertainment
For some it's a holiday tradition, for others its an iconic spectacle, but no matter the reason, more than 1 million people will watch the Rockettes perform in the Radio City Christmas Spectacular each year. And though the production has been around since 1933, much of what goes on behind those velvety curtains and intricate sets remains a mystery. To curb our curiosity and find out what ensues when these leggy ladies aren't doling out their sky-high kicks, we got a backstage tour from the legends themselves.
From hair and makeup, to warm-up exercises, and costume quick changes (the fastest quick change in the show is a #mindblowing 75 seconds, by the way) we got a glimpse into the glamorous (and sometimes not so glamorous) world of the Rockettes.
Keep reading...
Show less
MSG Entertainment
Turkey is great and all, but the best part of Thanksgiving? It's watching some truly fantastic dancing on television, courtesy the Macy's Thanksgiving Day Parade. On Thursday, when your arms are sore from mashing potatoes and/or you need to escape crazy Aunt Linda, head to the living room to catch these super-dancey parade highlights:
Keep reading...
Show less
Via @Rockettes on Twitter
Look, guys, we know: It is too darn early for holly-jolliness. But the Rockettes appeared on the "Today" show this morning to promote the Radio City Christmas Spectacular, and we can't help it—as soon as we see that iconic kickline, we start daydreaming about sleigh bells and mistletoe and gingerbread lattes.
Keep reading...
Show less
Wanna be a Rockette? I know. We all do. But while sharing the Radio City Music Hall stage with a squad of fabulous high-kicking ladies may feel like a faraway dream (at least for the moment!), now you can learn some of the Rockettes' signature choreography right in your own living room, thanks to the Rockettes Dance Moves video series.
What's that? You've already obsessively watched every available YouTube snippet of the Rockettes, trying to absorb each chaîné turn and kick-ball-change? I know. We all have. But the Rockettes Dance Moves videos are different: They actually break down the minute details of the group's high-precision choreography, from fingertip to LaDuca-clad toe. It's a true insider's peek at the group's world-famous choreo.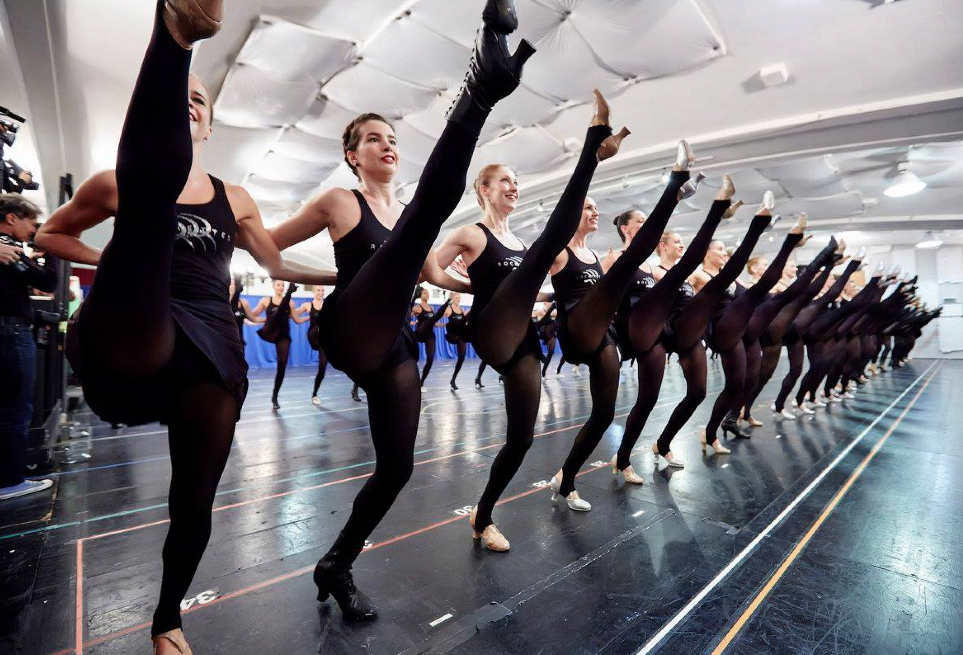 Basically, the videos take you here—inside the rehearsal studio with Rockettes. Neat. (photo via the Rockettes Facebook page)
The Rockettes are rolling out a new Rockettes Dance Moves video every couple of days. A grand total of eight will eventually grace the interwebs, so keep your eyes on the group's Facebook and Twitter accounts. But for the moment, please enjoy the first vid in the series, which breaks down the super-famous "Squad Revolve" from the "Parade of the Wooden Soldiers":
It's an indisputable fact that the Radio City Rockettes never look bad. (I mean, these ladies can even work it in toy soldier costumes.) But we've become so accustomed to seeing them dolled up in holiday-themed costumes—candy stripes, snow flakes, Santa suits and the like—it was hard for us to imagine what their looks for the New York Spring Spectacular might be.
Whelp, we are sooo not disappointed. The show that seems to have brought out all the big guns enlisted three top fashion designers—Diane Von Furstenberg, Zac Posen and Isaac Mizrahi—to each create one look for the Spring Spectacular's ode to New York Fashion Week. High fashion + dance is always a good thing, and we're thrilled to see the two worlds collide outside of ballet. (If you're listening, fashion gods, that doesn't mean we don't want more ballet couture collaborations. Please keep those coming, too. #neverenough)
You can check out the three designs below, but if you'd prefer to see them in person, we've got some fantastic news: It's still not too late to enter our New York Spring Spectacular ticket giveaway for the March 27 performance. Or, if you'd rather guarantee your spot in the audience, you can purchase tickets using the discount code DANCE and save 20 percent. You've got options!
Performances run through April 12 at Radio City Music Hall in NYC. Click here to enter the March 27 ticket giveaway, or here to purchase discounted tickets.
All slideshow photos by Angela Cranford/MSG Photos.
[portfolio_slideshow nowrap=0 thumbs=true timeout=4000 showtitles=true showcaps=true showdesc=true]
To me, Thanksgiving means three things: delicious food, quality family time and the Macy's Thanksgiving Day Parade. Nothing says "It's the holidays!" quite like wrestling a turkey into the oven, while looking over my shoulder to make sure I haven't missed the Radio City Rockettes. (This has yet to end in disaster, knock on wood.)
So each November, I begin scouring the web for hints about the year's dancetastic performers. And I'm super psyched for what 2013 has to offer.
First, there's the pre-parade show, which features an assortment of fun dance numbers to celebrate the year's new Broadway shows. Get excited for excerpts from Motown, Pippin, and Matilda: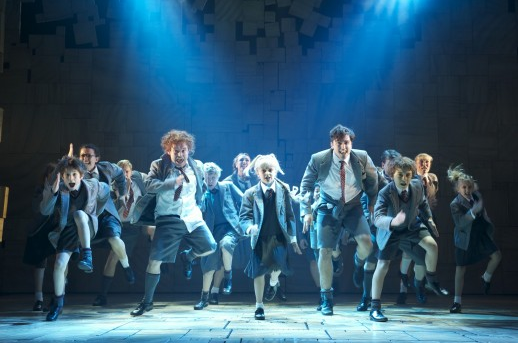 The Revolting Children from Matilda the Musical
In case that's not enough, we get a sneak-peek at The Sound of Music, Live!--an NBC telecast, airing December 5 at 8/7c, starring Carrie Underwood: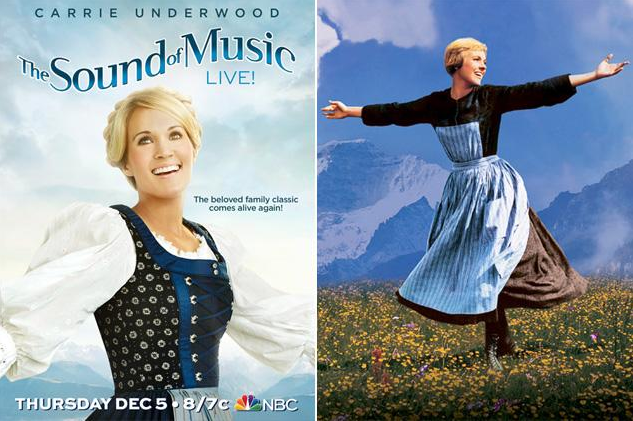 (courtesy NBC/Everett Collection)
The pre-parade show also features the world-famous Radio City Rockettes, who never fail to kick it up a notch: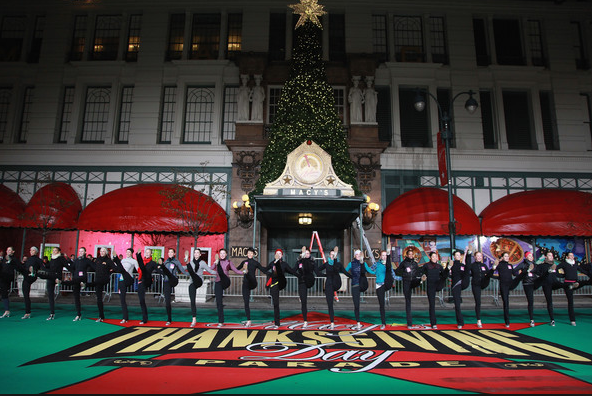 The Radio City Rockettes perform at the 86th annual Macy's Thanksgiving Day Parade (by Taylor Hill/Getty Images North America)
After that, the parade procession begins (led by those ginormous character balloons..Snoopy's coming back this year guys!).
My favorite part of the procession? The various dance teams, who travel from all over the country to show off their spirit and skill in the Big Apple. This year, we'll be entertained by the South Shore Drill Team, Varsity Spirit Cheer, Spirit of America Dance, All That! (a clogging group that appeared on "America's Got Talent") and J.U.M.P. (Jumpers United for Macy's Parade).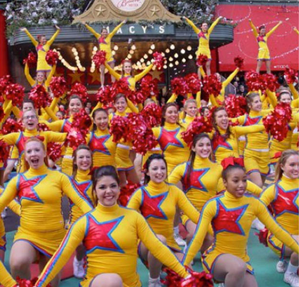 Varsity Spirit Cheer brings infectious energy to the Macy's Thanksgiving Day Parade.
Added bonus: Cirque du Soleil is teaming up with Macy's this year to debut Dreamseeker, one of the parade's largest floats (which is sure to feature some of our favorite bendy acrobats).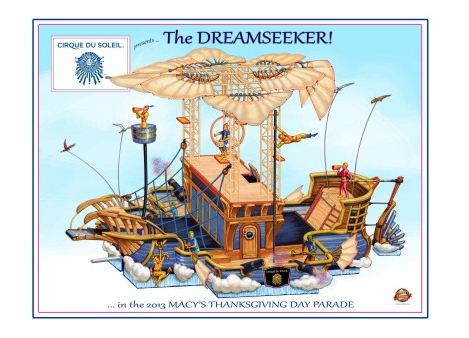 The 87th annual Macy's Thanksgiving Day Parade airs Thursday, November 28 from 9am to noon on NBC.
Get excited! (And don't forget about that turkey in the oven...)
It's official! Not only are the Rockettes unveiling a brand new summer show this year—titled New York Spectacular Starring the Radio City Rockettes—but they've also tapped genius Mia Michaels to choreograph and direct.
That's right: Michaels will be given full creative reign. And after the awesome opening number she created for last year's Spring Spectacular, we're super excited to see the finished product. "The Rockettes are such a special group of women, and no other dance company in the world delivers the same kind of passion, femininity and power through dance. It is going to be an epic ride!" Michaels says in a Rockettes press release.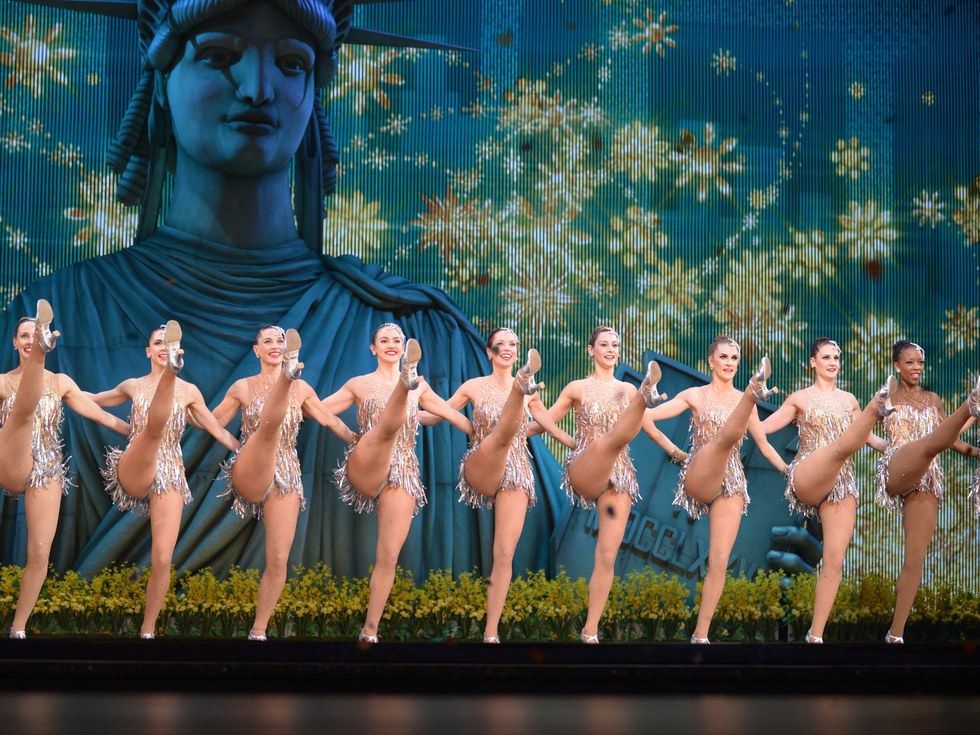 A classic kickline from last year's Spring Spectacular show (photo by Jason Allen via USA TODAY)
The show will pay tribute to NYC, following the adventures of a brother and sister who get separated from their parents during a trip to the city. The siblings will make their way through the Big Apple, receiving help from various landmarks come to life—from the Wall Street bull to the George M. Cohan statue in Times Square.
A few favorite elements from last year's spring show will make an appearance this year, too: The 26-foot Statue of Liberty puppet and the jaw-dropping tap number in real rainfall to "Singin' in the Rain" (sans Derek Hough, unfortunately) will return. What won't be included this time around? The Spring Spectacular's celeb cameos, either in person (à la DHough) or via voiceover. The leggy Rockette ladies will be the stars of the show, which we're more than OK with.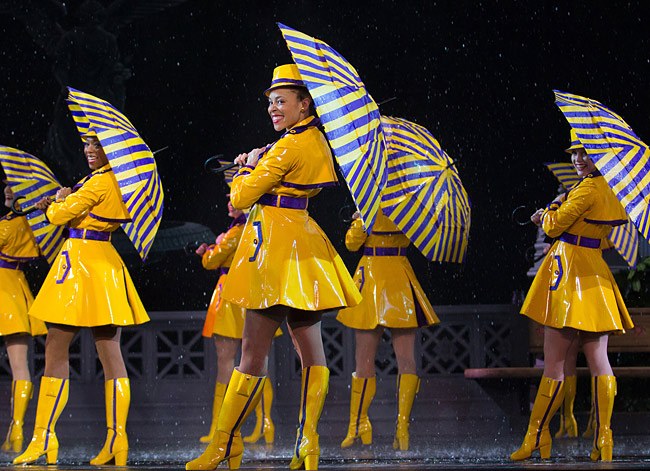 The epic "Singin' in the Rain" tap number from last year's Spring Spectacular (photo by Dan Niver via NewYork.com)
The New York Spectacular runs all summer (June 15–August 7) at Radio City Music Hall. Be sure to check it out when you're in town for Nationals or summer intensives!
It's kind of hard to fathom the fact that the Radio City Rockettes have been around since 1925. I mean, just think about the periods of American history these leggy ladies have kicked their way through! Pretty surreal.
92-year-old Eleanor Leight can tell you what it was like to be a Rockette during the 1940s, when the dancers were paid just $45 a week despite packed performance schedules. During WWII, Leight traveled to Europe with the Rockettes to perform for the American troops.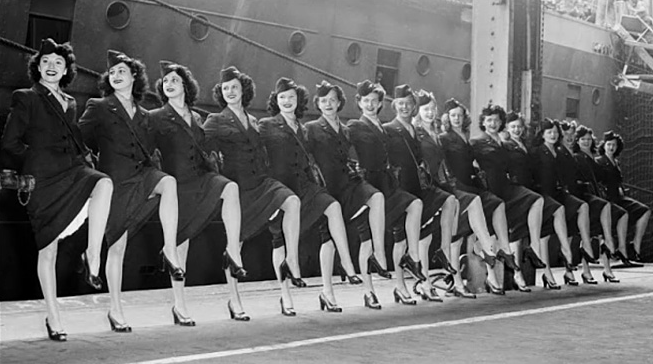 Leight (eighth from the right) traveling to France with the Rockettes as part of the USO
Now, the retired Rockette spends her free time teaching a group of seniors who call themselves the Silver Steppers. And while she may not expect eye-high kicks from her dancers (most of them are in their 80s), she does uphold the same values of precision and hard work so central to the Rockette philosophy.
If Eleanor Leight is any indication of a dancer's longevity, we're in good shape. I mean, check out those still-fabulous legs! Get it, girl.
Dec. 01, 2014 10:30PM EST
(Courtesy MSG Entertainment)
When we watch the Rockettes perform in the Radio City Christmas Spectacular, we see a group of impeccable dancers moving in perfect unison—not a sequin or an eyelash out of place. But it takes a lot of intricate behind-the-scenes work to keep the Rockettes stage-ready. Here's a by-the-numbers look at the Rockettes' Christmas Spectacular experience, with insider information from NYC dance captain Traci Reszetylo.
Keep reading...
Show less
Get Dance Spirit in your inbox
All right people, it's really happening! The Rockettes are slated to premiere their new show, New York Spring Spectacular, in 2015.
We reported back in March that Hearts and Lights—which was scheduled to open in Spring of 2014—was unceremoniously shuttered until 2015—and then we didn't hear very much more about it. It looks like Spring Spectacular has risen, phoenix-like, from the ashes of the old show and will provide the Rockettes with their first non-Christmas Spectacular production since 1997!
Spring Spectacular will take audiences on a dance-tastic tour of NYC, and will include classic Rockette kick lines and tap routines along with more contemporary numbers.
The show itself isn't the only thing that's spectacular. Check out the production dream team: co-creative director Diane Paulus (Tony-award winning director of Pippin), director and choreographer Warren Carlyle (Tony-award winning choreographer of After Midnight) and co-creative director Randy Weiner (of Sleep No More).
We can't wait to see what all these amazing artists make together! Take a sneak peak here:
We know the Rockettes work hard to achieve perfect unison, but it's rare to get a glimpse of them in rehearsal. In this brief, local NYC TV spot, reporter Ralphie Aversa went into the studio to watch the Rockettes work on those classic kick lines. It turns out they look pretty glamorous even when they're rehearsing.
Here's the thing: The spot says the rehearsal is the very first one of the season. Prepare to be blown away by how precise these leggy ladies already are—they look like they've been working together for weeks! Though it's unclear what section they're rehearsing (some of you die-hard fans might know by the choreography—tell us!), dancers Sarah Staker and Logan Reginato mention that this year, the Rockettes are bringing back "Ragdolls"—a section that showcases the personality of all the dancers.
Check it out below!
Apr. 01, 2014 03:30PM EST
(Note: Heart and Lights was postponed until further notice after this article was written.)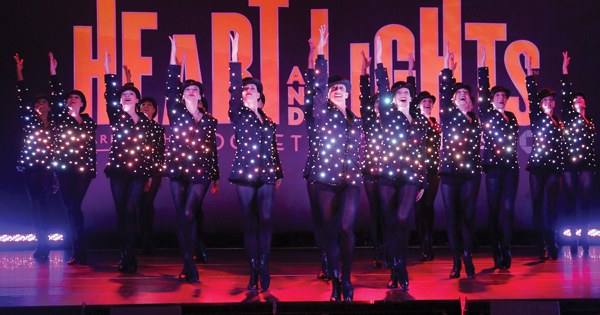 (Photo by Amanda Schwab/Starpix)
For the Rockette-obsessed, waiting to see the dancers—who have been kick-lining in perfect unison in NYC since 1932—in the annual Radio City Christmas Spectacular can feel like torture. But now the Rockettes have a springtime show, Heart and Lights, to help get you through the year. Dance Spirit asked 10-year Rockette veteran Candace Jablonski to share five reasons why you'll love it.
1. You'll see the precision of the Rockettes…
Rockette fans have come to expect extreme synchronization, and the new show doesn't disappoint. "There are 36 Rockettes down the line in eight production numbers," Jablonski says. "And we honor the signature precision technique that audiences love. In rehearsals, we were meticulous about having the same lines, down to our pinky fingers and our eyeballs."
2. …but in a whole new way.
Say goodbye to the Rockettes' signature French-twist 'do. These ladies are literally letting their hair down and showing off dance styles you've never seen them do before. "There's choreography that's more contemporary and athletic," Jablonski says. "For example, there's a number called 'High Finance,' where we're portraying Wall Street traders. The show has so much floor work—knee spins and lunges—that we actually have knee pads built into our costumes."
3. The costumes are pretty spectacular.
All-new choreography calls for all-new costumes—from rain boots with taps to light-up jackets. "In 'Electricity,' we're portraying the electric lights you see on Broadway," Jablonski says. "Each dancer's jacket has 152 LED lights that turn on as part of the choreography. It adds an extra element that's really cool."
4. The dancers share the stage with huge puppets.
"There are six animatronic puppets—one for each NYC site. We have the Wall Street bull, the lions at the public library and even a 26-foot-tall Statue of Liberty," Jablonski says. "The Statue of Liberty has 18 motors in her face, so she looks lifelike as she talks."
5. It's all about NYC.
Tourists and natives alike will love the storyline: Two cousins spend a day in the Big Apple learning about their grandmother's past in the city. "I've lived in NYC for almost 12 years now, and I'm definitely guilty of taking the city for granted," Jablonski says. "This show makes you stop and celebrate the energy, sights, smells and sounds. NYC is an amazing place to be."
...gooey cinnamon buns for breakfast, a giant mug of hot chocolate with whipped cream on top and a roaring fire in the fireplace.
OK, and a few other things. We'll get to those in a sec.
First: Merry Christmas, everyone, from all of the Dance Spirit editors!
It's arguably the most festive day of the year, and if you're a Christmas celebrator, we hope you're in the midst of a very merry day. (Pajamas mandatory all day long. Deal? Deal.)
But you don't have to celebrate Christmas in order to make a lengthy wish list, right? Here's what the Dance Spirit editors are dying for this year...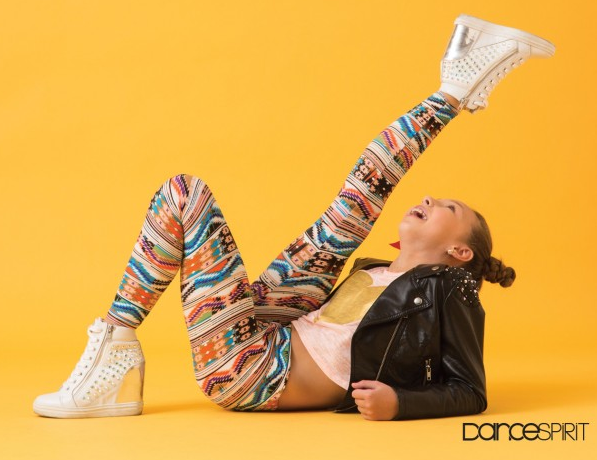 Sophia's shoes are from Steve Madden. Get 'em while you still can! (Photo by Erin Baiano)
"Sparkly wedge high-tops, like the ones Sophia Lucia is wearing on our January cover. As a fellow shorty, I understand her need for a little extra height—even when it's a sneaker day." —Rachel Zar, managing editor
"I want another live musical on TV! How about Singin' in the Rain? Ryan Steele in the Gene Kelly role? Cloud Campos in Donald O'Connor's part? Somebody get Rob Ashford on this, stat!" —Margaret Fuhrer, associate editor
"I want to go to a taping of 'So You Think You Can Dance' during Season 11 so I can scream 'judges' in a Cat Deeley-esque British accent. That, and a pair of harem pants so I can feel like less of a bunhead in hip-hop class." —Maggie McNamara, assistant editor
"In a perfect world, stores would play Nutcracker music all year long—and the rest of the world would love it as much as I would." —Meggie Hermanson, fashion editor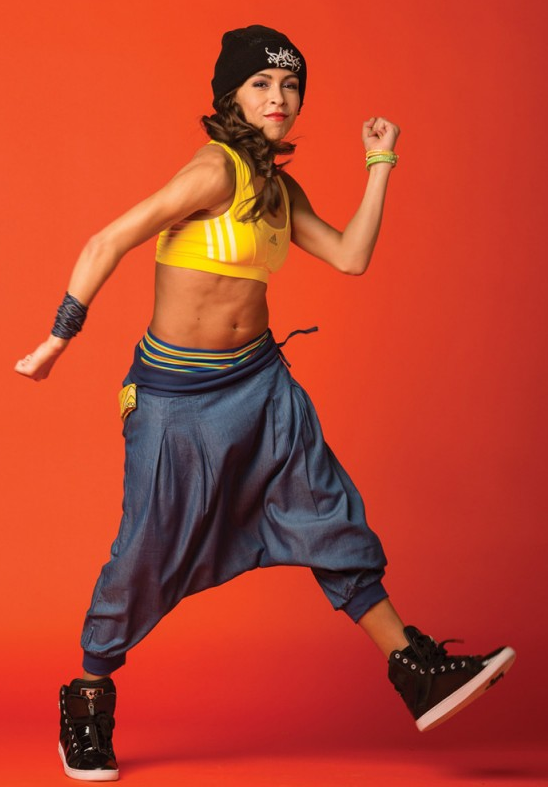 Simi! Let's be twinsies. (Photo by Erin Baiano)
As always, I've got quite the list of my own going: I want Lin-Manuel Miranda to bring something—anything—to Broadway ASAP. I want to go shopping with Simrin Player. I want to put an end to "Dance Moms" and in its place create a TV show about all the great things that happen in the competitive dance world. I want Juliet Doherty to take home the top prize at the Prix de Lausanne. I want Nick Lazzarini to be the next President of the United States. I want newlyweds tWitch and Allison Holker to have, like, millions of little dancer babies. And I want to grow just one more inch so I can be tall enough to audition for the Radio City Rockettes.
Get busy, Santa—you've got some serious work to do for us this year.
Happy holidays!
Most dancers dream of being a Radio City Rockette, right? It looks so glamorous, dancing onstage in NYC during the holidays, high kicking your heart out while snow falls outside the theater on Sixth Avenue and at nearby Rockefeller Center. Plus, those sparkly costumes. Oh, those sparkly, sparkly costumes.
But getting a job as a Rockette isn't easy, and often the toughest part is just getting seen, since hundreds of dancers audition every year.
Don't let the long audition line get you down, though—especially if you can skip it!
This year, MSG Entertainment is offering one lucky Rockette hopeful the chance to tap to the front of the line at the Radio City auditions in May.
Here's how: From March 6–26 (that's right now!), you can submit your best dance video on Facebook to compete for the chance to "Jump the Line" at the Rockettes open auditions at Radio City Musical Hall.
A Rockettes choreographer will watch all the videos and will select 10 finalists. From there, the finalists' videos will be re-posted on Facebook and open to fan voting throughout the month of April. The dancer whose video receives the most votes will be the "Jump the Line" winner.
That's not all!
The winner will also receive round-trip airfare to NYC and two nights at a hotel in addition to being part of the first group to audition.
A few things to remember if, like the song says, you "wanna be a Rockette:"
You must be between 5'6" and 5'10 1/2" tall.

You must be proficient in tap, jazz and ballet.

You must be at least 18 by May 1, 2012.
Why haven't you posted your video yet?! Go do it!