Are you a fan of all-things musical theater? Are you obsessed with listening to people talk about Broadway productions? Are you intrigued by just exactly what goes on behind the curtain?
DUH, of course you are. (That's my answer, too.)
Here's some good news: There's a podcast out there that's perfect for us. It's called The Ensemblist, and it 100 percent delivers on its tagline, "Broadway from the inside out." But the best part is that because it speaks to Broadway ensemble members about musical ensemble-y things, there. is. so. much. dance.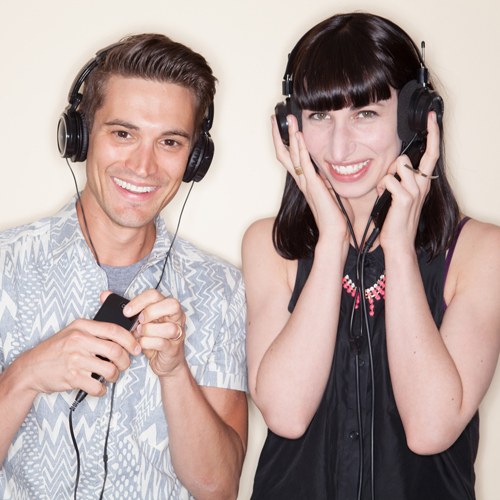 Mo Brady and Nikka Graff Lanzarone of The Ensemblist—the podcast with the cutest theme song ever (PC Kevin Thomas Garcia, courtesy Mo Brady)
A recent episode, "Ballet on Broadway," for example, talks to Sara Esty, a former Miami City Ballet soloist who's in An American in Paris; Christopher Vo, who toured with Lar Lubovitch Dance Company and now in The King and I; and Stephen Hanna, a former New York City Ballet principal who's in On the Town. There's another about the responsibilities of an associate choreographer, one about what it's like to be an understudy, one about dealing with split tracks—you get the picture. Each ep is jam-packed with info and advice for young performers. To find out more, I spoke with creators, hosts and Broadway vets Mo Brady and Nikka Graff Lanzarone.
Dance Spirit: When did you two meet and how did this start?
Mo Brady: We met around 2012. We have the same agents, so we first made contact at a Christmas party. But we actually became better friends through Twitter, tweeting to one another about sort of nerdy public radio and theater things. I had this idea for a podcast when I was in the Addams Family on Broadway. I was fascinated by the ensemble members I worked with. They were all incredibly talented and had great stories. Nikka and I have always looked up to ensemble members—we spent our childhoods tracking performers from one cast recording to the next, noting who was in which show. I was also interested in public radio, and as my idea grew, I just reached out to Nikka to see if she would be up for it—and she was!
Nikka Graff Lanzarone: I loved the idea immediately. After Mo approached me, I said, "Oh, of course—and here are 87 ideas that I didn't even know I had!"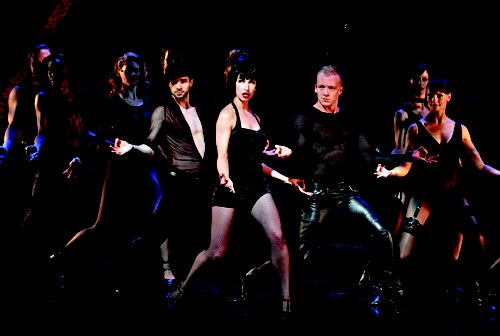 Nikka Graff Lanzarone (center) as Velma Kelly in Chicago on Broadway (Photo: Jeremy Daniel)
DS: Why a podcast?
MB: The podcast felt like the right form. We often take an aspect of a Broadway ensemble that's very important but also very small, and show just how essential and exciting it is. And with a podcast, you can add in narration and help people see the larger context.
NGL: Plus, we can tell the same story from different angles. There are so many things in a show that go largely unknown. This is our way of saying here's what it really means to be working on Broadway.
DS: What do you want listeners to get out of The Ensemblist?
MB: For someone who's hungry to be a Broadway dancer, there's a lot of information out there already about auditioning and performing. But everything else that goes on behind the scenes is sort of a mystery. Like, what does it mean to be a swing? How do you learn all those tracks? How many tracks do you have to know? What is a track?! All these things are normal, but pretty special. We're trying to add to that conversation.
Hooked? Go check out The Ensemblist's website to learn more.
I'll admit it: I'm addicted to the radio show "This American Life." I've listened to almost every one of its hour-long episodes (that's a little under 530 hours of my life); I've read countless books written by its contributors; I've watched its short-lived TV series on Showtime; and I've attended live events related to the show. I literally can't get enough.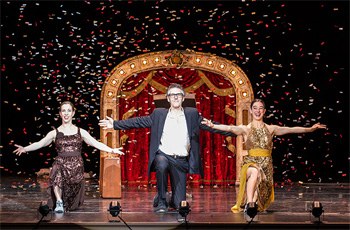 (L to R) Anna Bass, Ira Glass and Monica Bill Barnes in Three Acts, Two Dancers, One Radio Host.
(photo David Bazemore)
And much to my delight, the show has been getting even more satisfying in recent years—"TAL" is getting its dance on.
Back in 2012, host Ira Glass teamed up with downtown choreographer Monica Bill Barnes. She performed on a live episode of the show (which was then broadcast on air), and she choreographed one of the most touching dance-with-text works I've ever seen for the late author David Rakoff. (Grab a tissue before you press play.) Glass and Barnes have been collaborating ever since; the two are currently touring a stage show called Three Acts, Two Dancers, One Radio Host.
Fast-forward to 2014, and "TAL" decided to try something completely new. On June 7, the radio show took to the Brooklyn Academy of Music stage to perform a live show, complete with dance, opera, musical theater and vocal performances. Spoiler alert: The musical section was AMAZING. With help from Broadway choreographer Lorin Latarro, In the Heights' Tony winning lyricist and performer Lin-Manuel Miranda and Wicked star Lindsay Mendez, the "TAL" 2012 radio piece "21 Chump Street" came to life as a full-fledged musical theater extravaganza.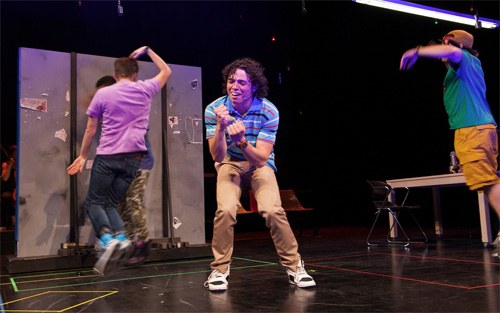 Anthony Ramos (center) and the cast of 21 Chump Street: The Musical
(photo Adrianne Mathiowetz)
21 Chump Street: The Musical follows a Florida-based high school honors student who gets into trouble with the law after he falls for an undercover cop (posing as a kid), who was stationed at the school to catch students selling drugs. You just gotta watch it. Take a look at the beginning of the musical section below:
Loving what you see? Click here to find out how to watch the full version of the performance, or click here to simply stream the radio-version online.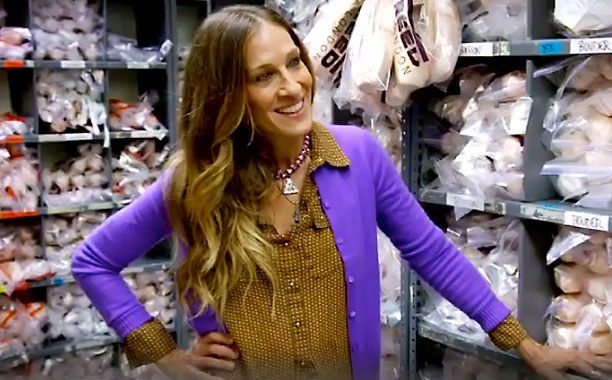 Sarah Jessica Parker on the set of city.ballet. in NYCB's shoe room.
You may know Sarah Jessica Parker as Little Orphan Annie, as Carrie Bradshaw, or as executive producer of AOL's docudrama city.ballet. (which, by the way, just announced it's getting a second season!). But today and Wednesday, SJP takes on yet another role: radio host.
From 12pm to 2pm, SJP will step in as host of WNYC's "Leonard Lopate Show," and she's booked two full days of awesome guests. Today, Jessie Mueller, star of Beautiful—The Carole King Musical, will take the mic (along with artist Alex Katz, The New Yorker journalist Dexter Filkins and playwright Terrance McNally). My guess is that Mueller—who is amazing as singer-songwriter Carole King on Broadway—might talk about the night two weeks ago, when King herself dropped by to see the production and sang with the cast following the curtain calls. (Check that out here.)
Tomorrow, however, is the day when bunheads in particular should tune their radios to 93.9 FM or AM 820, because ballet legend Gelsey Kirkland and New York City Ballet principals Ashley Bouder and Sara Mearns will all join the conversation.
Don't fret if you don't have a radio in NYC or if you're busy tomorrow afternoon. The "Leonard Lopate Show" is streamed live (and on-demand) at wnyc.org.


Get Dance Spirit in your inbox