If you've been following NBC's "America's Got Talent" this season, you know that dancers are having a tough time. Out of 11 dance acts in the quarterfinals, only two are headed to the semifinals: Blue Journey, a multimedia dance piece created by Dutch choreographer David Middendorp, and Baila Conmigo, a Latin dance company from New Jersey.
We've had to say goodbye to some outstanding performers, including members of the Dragon House Crew and Florida's Extreme Dance Company. And on Tuesday night, even Adrienne Canterna and her Bad Boys of Ballet (from Rasta Thomas' Bad Boys of Dance) were sent packing. What gives, right?
But I always knew Mel B. was my favorite Spice Girl. After the show, Mel used her Wild Card to save the Bad Boys from elimination! They'll appear on the show this coming Tuesday, August 26 in the semifinals. In case you missed their performance from last week, you can watch it here (look out for dreamboat Jacob Karr!):
Bonus video! Check out David Middendorp's Blue Journey below—the Bad Boys have some stiff competition.
Be sure to tune in to "America's Got Talent" on Tuesday at 9 pm EST and cast your vote for your favorite act. Save the dancers!
Dec. 18, 2012 11:42AM EST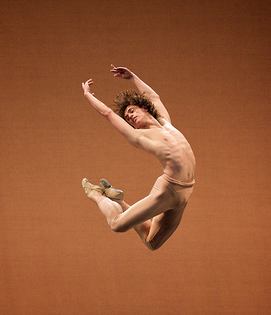 It seems like the ballet world always has one or two James Dean-y bad boys, super-talented men who buck convention—not always the easiest thing to do in ballet—and do things their own way. Rudolf Nureyev, Mikhail Baryshnikov, Carlos Acosta, Rasta Thomas (who founded, fittingly, the Bad Boys of Dance): They're all amazing performers who, thanks to their skills and charisma, have been able to break away from the prince-in-tights stereotypes—or at least to play the princes they want, whenever they want.
Ballet fans have had their eyes on the newest member of the bunch, the phenomenal Sergei Polunin, ever since he left London's Royal Ballet earlier this year. (And if you're wondering whether he's a true bad boy: He not only has about a dozen tattoos, he also owns a share in a tattoo parlor. Legit!) The 23-year-old has been bouncing around from gala to gala and guest appearance to guest appearance since then, but he's made allusions to his big plans for the future.
Well, a few days ago, it was announced that he'll play the lead in the UK premiere of choreographer Peter Schaufuss' Midnight Express next April. It's definitely not your grandma's ballet: The work is based on the true-story book by Billy Hayes about an American stuck in Turkish prison after he's  been convicted of drug smuggling. Marius Petipa would turn over in his grave—and I'm guessing that's exactly the kind of effect Polunin was hoping for.
Here's to Polunin and all of his fellow bad boys, for keeping the ballet world exciting!
Aug. 10, 2012 05:40PM EST
In honor of Dance Spirit's 15th birthday, we decided to check in with a few of our favorite past cover stars. They wrote to us about how being on the cover changed their careers. Memories!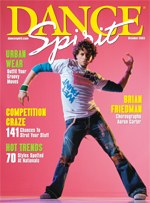 Brian Friedman,
October 2003
"When I was asked to be on the cover, I was thrilled. I felt like I'd finally made it. Looking back, it was only the beginning of my choreography career, and so much has happened since. My work has evolved in a beautiful way, and that cover so many years ago gave me the confidence to chase my destiny. Thank you, Dance Spirit, for believing in me and my dreams!"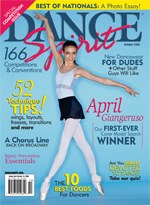 April Giangeruso,
October 2006 and March 2011
"Never in my wildest dreams did I believe I would be on the cover of a magazine. When I learned I had won the first Cover Model Search contest—and that so many people had supported me—I got a huge confidence boost. Six years later, I feel blessed to be dancing for my dream company, American Ballet Theatre, where I'm surrounded by inspiration."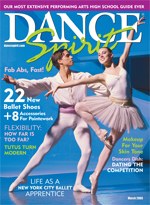 Tiler Peck,
March 2005
"Dance Spirit was the first cover I'd ever been on, so it opened many doors for me. It made me a recognizable face and name, and gave me the confidence to continue reaching for my dance goals. It humbles me to think I share the cover of this special magazine with so many other inspirational and talented artists."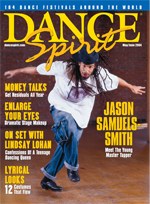 Jason Samuels Smith,
May/June 2004
"It was extremely humbling and gratifying appearing on the cover—it was my first appearance in any major publication. I felt as if not only I, but tap dance as a genre, had won a victory in the fight for visibility and acknowledgement."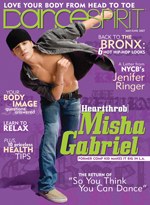 Misha Gabriel,
May/June 2007
"I grew up reading Dance Spirit, so it was an honor to be recognized by my community and by such a strong voice in the dance world. Thanks, DS!"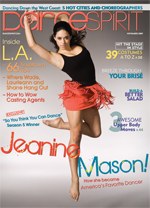 Jeanine Mason,
November 2009
"I remember first appearing in DS in a tiny photo from Nationals—it was the most exciting moment of my life! Then, seeing my "So You Think You Can Dance" cover was the realization of my dream to be a role model and to inspire others as I have been inspired. Being a part of DS has been one of the greatest honors of my life. The magazine will always be an integral part of my journey."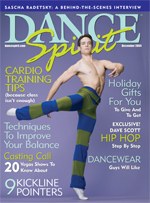 Sascha Radetsky,
December 2004
"I'm grateful to have appeared on the cover of Dance Spirit. The magazine is relevant, influential and, most of all, a lot of fun. Congratulations to the DS staff on reaching this milestone!"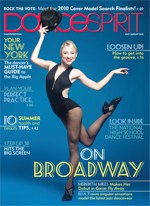 Meredith Miles,
July/August 2010
"Being on the cover gave me exposure to a large group of people I might not have reached otherwise. The media attention I received helped document an exciting time in my career."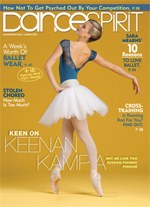 Keenan Kampa,
March 2012
"Being on the cover was such an honor. It afforded me the opportunity to reach a huge dance readership beyond the ballet world. The amount of support and encouragement I've received has been overwhelming. I'm leaving for Russia with a support system I never imagined."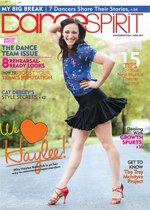 Haylee Roderick,
April 2011
"Being able to reach out to younger dancers, to inspire or guide them, is very rewarding. DS does an incredible job staying current with what's going on in the dance world—and it has the sweetest staff there is. [Editor's note: We're blushing!] Being a cover girl is an honor I will always remember and be proud of."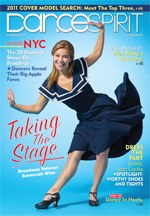 Savannah Wise,
July/August 2011
"My dancer friends from when I was young couldn't believe it. 'You're on the cover of what?!' was a pretty common response. When you're a performer, your work is primarily onstage. Since most of my family lives far away, it's really cool when I get to share what I'm doing with them from miles away. That cover is framed in my living room."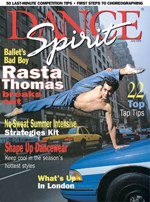 Rasta Thomas,
June 2000 and September 2007
"Dance Spirit reaches a younger generation of dancers as well as seasoned professionals, so being on the cover twice was exciting because that's what my show, Rock the Ballet, is all about. My wife, Adrienne [Canterna] (a DS cover girl in November 1998), and the Bad Boys of Dance are dedicated to sharing our love for dance around the world, and that's exactly what DS does. Keep doing what you're doing, DS—you're the best!"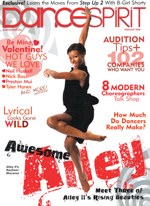 Rachael McLaren,
February 2008
"I was over the moon when I learned I'd been selected for the cover! It gave me the boost I needed to believe in myself. It also helped me realize how much support I had from family, teachers and friends who were proud of my achievements."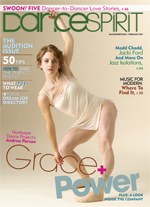 Andrea Parson,
February 2011
"My experience on the cover taught me that you don't have to be a perfect dancer to be on the cover of a magazine. You just have to be honest and happy with who you are and how you move."
Nov. 15, 2011 11:45AM EST
Comets soar across the stage's video backdrop to intense orchestral music that sounds like it's from a superhero action scene. One by one, seven tap guys hoof and slide through the virtual galaxy, creating rhythms of cosmic proportions. If they look like Bad Boys, that's because they are: Tap Stars: A Dance Revolution is the newest project by Rasta Thomas and his Bad Boys of Dance, best known for their show Rock the Ballet. "The essence of what makes this a Bad Boys production is the same—the performers are versatile and born to dance," Rasta says. "But these Bad Boys have the exceptional superpowers of tap dancing."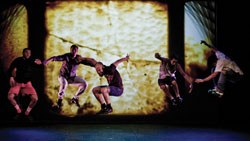 The Tap Stars in action.
We know Rasta Thomas as the rebel ballet star—the original Bad Boy—whose show Rock the Ballet has gotten new audiences excited about ballet since it opened in 2008. "With Rock the Ballet, we've disproved the stereotype that ballet is boring," he says. "And we're hoping to do the same thing with tap." The Tap Stars' mission is to entertain audiences—even non-theatergoers who know nothing about tap—while paying homage to the strong legacy and tradition that longtime tap lovers embrace. Last summer, Tap Stars premiered with a nine-week run in Hamburg, Germany. Now, the newest Bad Boys are looking to the future: What will become of the new show? Will American audiences embrace it like they did Rock the Ballet?
"We're doing some of the most ridiculous steps we can"
Though he doesn't tap himself, Rasta has been hoping to create a tap show for a long time. Tapping has even made its way into Rock the Ballet, with dancer Michael Keefe using it in solo sections. "I've been a fan of tap dancing ever since I saw Gregory Hines in White Nights," Rasta says. He knew many tap dancers who didn't have the performance outlets that dancers of other styles have. So when the producers of Rock the Ballet asked Rasta about ideas for a new show, he didn't waste any time. Together, he and Michael called the best tap dancers they knew, who then suggested the best tap dancers they knew, and within a few months they had a cast, a title and a show concept.
"I wanted to find a common theme that united all tap dancers," Rasta says. "And they all had a teacher that inspired them. So the idea of master and apprentice is the theme of the first half of the show." Joseph Webb plays The Entertainer, who represents hoofers of the past and teaches his apprentices about their heritage. According to Tap Star Anthony Russo, "We give people what they expect in the first act—they expect classic top hats and tails. Then in the second act, we give them 2012, tap today, doing some of the most ridiculous steps we can."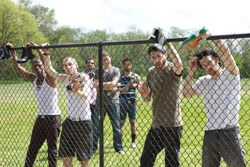 The Tap Stars.
"It's like a good stew or a good lasagna"
Rasta knew he wanted to create an all-guy show—a "boy band" for dancers. "There's something about the male bravura that's exciting and electrifying, like Sunday night football," he says. "It's undeniable that these guys are athletes."
When it came to setting his ideas on the dancers, however, Rasta had a tough decision to make. He could direct the show, but he needed a tapper to choreograph it. The solution? Giving each dancer an opportunity to choreograph and collaborate, creating one of the most diverse and unique tap shows today. In March 2011, Jason Janas and Michael Keefe arrived at the Bad Boys house in Linthicum, MD, to begin experimenting with choreography. Jason set the largest portion of the show, but each of the dancers took turns adding his own personal style. "It's like a good stew or a good lasagna," Jason says. "All the different ingredients mixed together make it so great."
As director, Rasta was an active part of rehearsals. "His way of describing things kept us laughing on a pretty regular basis," Anthony says. "He'd say, 'I want something like this,' and start kicking his feet around. And we'd say, 'Oh, there's a tap step like that!' " According to Michael, "Every day we would come in and someone would do some choreography. Then Rasta would set the formations and tell us what looked good—he knows what makes a show successful." Adds Jason, "Everybody learned, everybody taught. And I think everybody grew from it."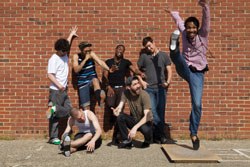 The Tap Stars.
"America and tap dance, they go together"
The resulting collaboration—the tappers' choreography together with Rasta's direction—couldn't have found a more excited audience than the crowd last summer in Hamburg. "The audiences in Germany were incredible," says Tap Star Christopher Erk. They would applaud for so long that it literally stopped the show. "Every night after the first number there'd be a point when we'd have to just stop and look at each other. It was a confidence builder that what we were doing in the studio was valid—people liked it," he says. During the first week of shows, the group learned that their six-week engagement would be extended another three weeks—Hamburg just couldn't get enough.
Now, the group is looking ahead. Next year, the boys will bring the show to tap festivals around the world. Their dream is to follow Rock the Ballet's path and have multiple touring companies performing at the same time with year-round contracts.
The guys have high hopes that their revolutionary tap collaboration will earn fans in the U.S. and around the world. "I believe that a great product will prevail," Rasta says. "I'm a firm believer in these talented dancers." And if you ask Jason Janas, it's a no-brainer: "America and tap dance, they go together."
MEET THE GUYS:
MICHAEL KEEFE
Age: 24
Hometown: Westwood, MA
Superpower: Versatility—he brings other forms of dance into tap.
Fun fact: Michael wears green and white shoes in the show because he's a die-hard Boston Celtics fan.
JASON JANAS
Age: 30
Hometown: Hopatcong, NJ
Superpower: Clean, sharp sounds. Shuffle wings are his specialty.
Fun fact: If he weren't a tap dancer, Jason would be a writer. He's currently writing a children's book.
CHRISTOPHER ERK
Age: 30
Hometown: Southington, CT
Superpower: His right foot is the "money foot"—"it's wicked fast," he says.
Fun fact: Christopher knows kung fu.
ANTHONY RUSSO
Age: 27
Hometown: St. Charles, MO
Superpower: Sense of humor. "I got in trouble for it in school, but now it's an appreciated trait," he says.
Fun fact: He's also a singer/songwriter and plays the guitar and the drums.
JOSEPH WEBB
Age: 33
Hometown: Upper Marlboro, MD
Superpower: The ability to draw the audience in and make them feel his emotions as if they were "in his shoes."
Fun fact: Joseph loves to visit local farmers' markets when traveling. He also studies energy healing modalities.
JUMAANE TAYLOR
Age: 25
Hometown: Chicago, IL
Superpower: Improvisation
Fun fact: The guys call Jumaane "The Bearded Hoofer."
CARTIER WILLIAMS
Age: 22
Hometown: Washington, DC
Superpower: Toe stands
Fun fact: On the side, Cartier directs horror and dance films.
JASON LUKS (swing)
Age: 24
Hometown: Mendham, NJ
Superpower: Tap turns/pirouettes
Fun fact: Jason won the title of adult World Tap Champion in Riesa, Germany, at
the age of 16.
CHRISTOPHER BROUGHTON (swing)
Age: 25
Hometown: L.A.
Superpower: Vibrant stage presence
Fun fact: He's a major St. Louis Rams fan.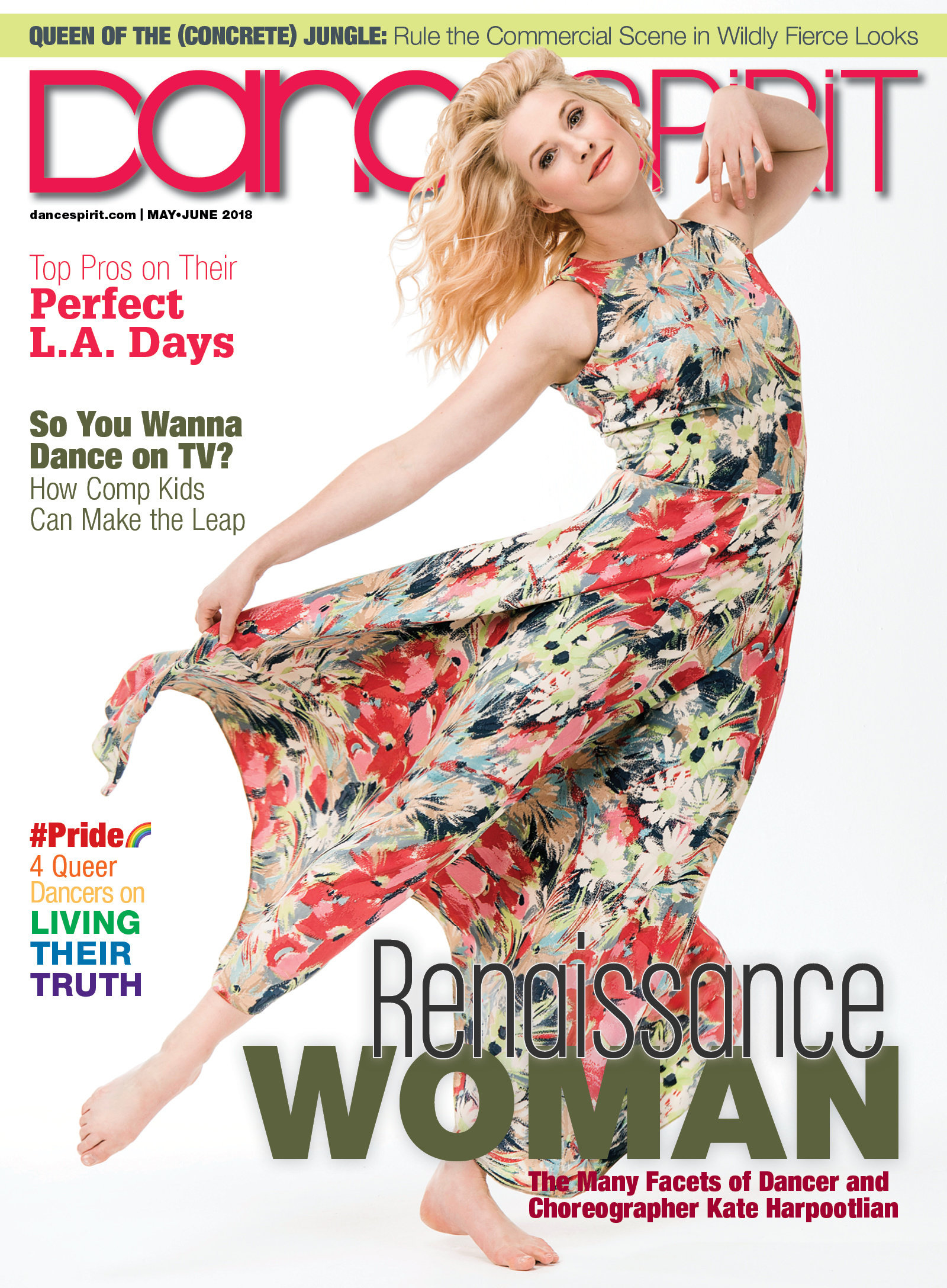 Get Dance Spirit in your inbox