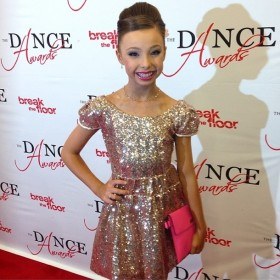 Dance Spirit's January cover girl, Sophia Lucia, on the red carpet before the Dance Awards in NYC (photo via @sophialucia5678)
Chock full of utterly amazing dance talent, silly jokes and wild choreography, the 2014 Dance Awards closed out its NYC event last night at the Hammerstein Ballroom. The three-and-a-half-hour celebration really had it all—from spectacular Mini performances to archival footage of a young, tap dancing Gil Stroming to awards for seemingly every category known to dancerkind. The Dance Spirit editors certainly had a blast. Here are my top five highlights of the evening:
1. The Mini and Junior Male Best Dancers. Mini Brady Farrar from Stars Dance Studio stole my heart with his solo "You." And later in the evening, Junior winner Findlay McConnell from Elite Danceworx (the big winner of the night!) brought the house down with his performance of "Dance with Me." Seriously, you need to watch these guys, stat.
Here's Brady:
And here's Findlay (the picture is a little blurry, but just know his facial expressions are perfect):
2. DanceMakers of Atlanta's "Take Me Out." This routine was fierce at New York City Dance Alliance Nationals a week ago, and it was even fiercer onstage last night. These teens aren't only amazing performers, but each dancer also brings something of herself to the choreography—all while maintaining perfect synchronicity with her peers. Moreover, these girls are versatile, going from style to style with ease. Case in point? Senior Brianne Sellars won the title of Best Dancer for her contemporary solo "Movement"—a total departure from the hard-hitting moves in "Take Me Out." Here's Brianne in "Movement," which also earned a 1st runner up title for Senior Female Outstanding dancer at NYCDA Nationals:
3. Dance Town's "Ballroom Girls." These Minis can sure move those hips! I can hear Mary Murphy screaming in the distance as she hands out Hot Tamale Train tickets. Watch these little firecrackers go:
4. Sophia Lucia's "All This to Say." Dance Spirit's January cover girl—who was crowned Junior Female Best Dancer—did not disappoint last night. With extensions, emotions and moves like these (choreographed by none other than Stacey Tookey), it's pretty easy to see why she's insta-famous. One thing we can all take away from this rising star's stellar performance? Wearing two shoes—or none at all!—can help mask a serious case of one-sidedness, unlike the one-shoe approach in this clip:
5. The Kenny Wormald as Kevin Bacon Ren McCormick–inspired opening number. Gosh darn it, I just love a good Footloose throwback. And what's better than one Footloose number? Two! Mandy Moore and Nick Lazzarini's crowd-pumping choreography for both the opening and closing routines left the night on such a high note. Take a look at the Footloose footage from the 2014 Dance Awards in Las Vegas. It will surely motivate you to tackle the rest of your day.
Feb. 01, 2014 06:57PM EST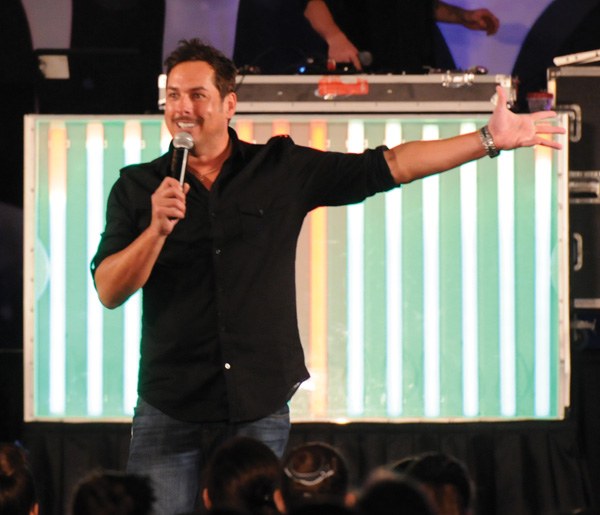 (Break the Floor Productions)
If you're a convention kid, surely you know Ray Leeper. As executive director of NUVO Dance Convention and co-director of The Dance Awards, Leeper is immediately recognizable for his awesomely spiky hair and his fabulous year-round tan. But he's more than just a good-looking guy: Leeper is a sought-after choreographer and master teacher, whose jazz pieces are powerful, provocative and sassy.
Beyond the comp world, Leeper has worked with Elton John, Cher and Queen Latifah, and choreographed commercials for Pepsi, Hyundai, Saks Fifth Avenue and Levi's. Most recently, he's created pieces for "Dancing with the Stars," "The X Factor UK," "America's Got Talent" and "So You Think You Can Dance" (he's the mastermind behind Amy Yakima and Aaron Turner's Season 10 jazz fusion routine). —Alison Feller
Dear Ray,
I know you're freaking out because you're not sure you have what it takes to make it in the dance industry. But deep down, your heart is telling you that you do. GO FOR IT!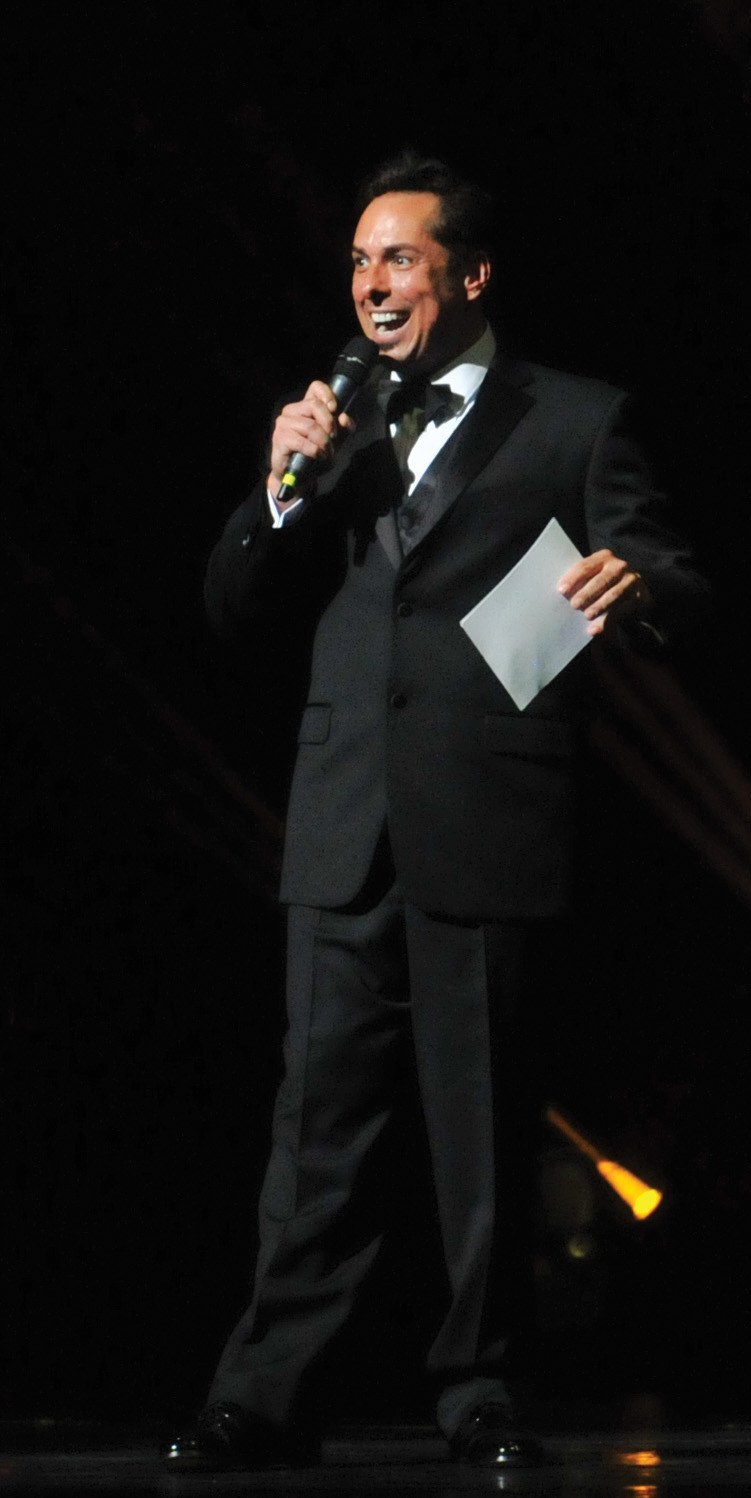 (Break the Floor Productions)
Although it might seem overwhelming right now, please know that if you work really hard, stay focused and take in everything your mentors (or "angels," as you like to call them now) have so graciously offered you along the way, you will certainly go far.
As you begin your journey, you'll be recognized for your talent. But you'll learn that it's equally important to approach your work with professionalism, tenacity, grace, a great attitude and kindness. You will find that these attributes will contribute to your longevity in "the business."
As you progress, you'll be surrounded by the most amazingly talented people, who have the same goals and ambitions as you. Try not to be intimidated! Realize that you are uniquely you, and that everyone has something different to offer. Stick to what you do best. Be authentic to who you are.
When your career picks up, remember to thank the "angels" who helped you achieve success. You didn't get there alone.
Don't freak out, buddy. You got this!
Ray
Competition
Jan. 01, 2014 06:30PM EST
It's not easy being a competition judge. These dedicated dance lovers sit on a panel for hours at a time, carefully analyzing every move onstage. Sure, it's a rewarding job—they get to see so much incredible talent—but it can also be frustrating making the same comments all weekend long. So what are these judges tired of saying? We got industry pros Mandy Moore and Ray Leeper to spill.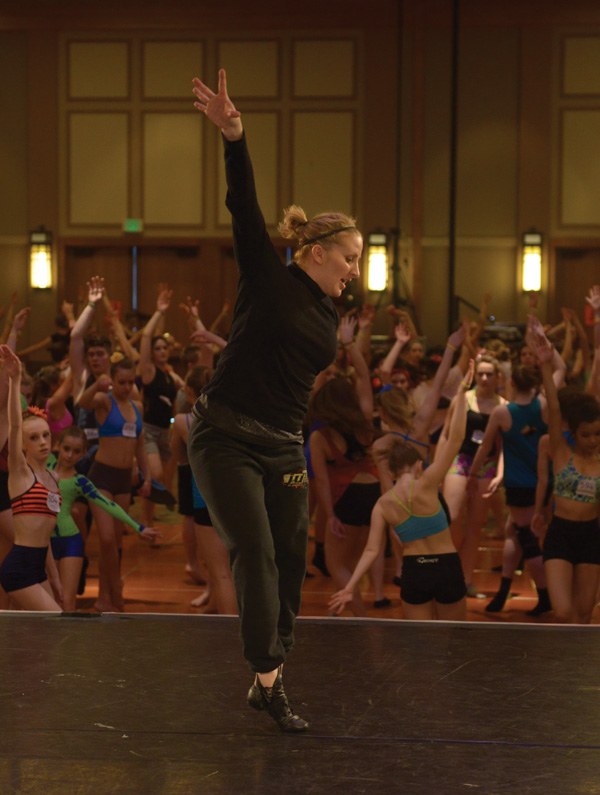 (Photo by Break the Floor Productions)
Mandy Moore's Most Common Critiques
What emotion are you trying to convey?
"What am I supposed to feel from this routine? If I turned off the music, would I be able to understand what you're doing? So many times, dancers rely on a great song or concept and fail to bring any artistry to the routine themselves. Just because it feels good to you doesn't mean the audience is feeling the same thing. Be a storyteller, not just an athlete."
Learn how to dance together.
"One of the best things a dancer can learn is spatial awareness. If you can move in a formation onstage, that will help you stay on your mark when you're on set for a TV show or a movie."
Listen to your music.
"Get into the music and swim around in those accents. Find the beat and don't rush. Learn how to count music—not just boom, boom, KA! There are always counts, and when you find them, they'll help everyone stay in sync."
Clean your routine.
"Please don't perform a routine for the judges until you've put in the time to make it great. Sharpen your skills together so you can understand when something is off. If everyone understands where the movement is coming from, the routine will almost clean itself."
Work on your basics.
"I feel silly saying this: You and your teachers pay too much money to get to competition only to have me tell you to point your feet, lengthen your necks and pull up out of your hips. All that should be mastered before you hit the stage. I want to make you better artists—I don't want to have to spend my time discussing things you should already know."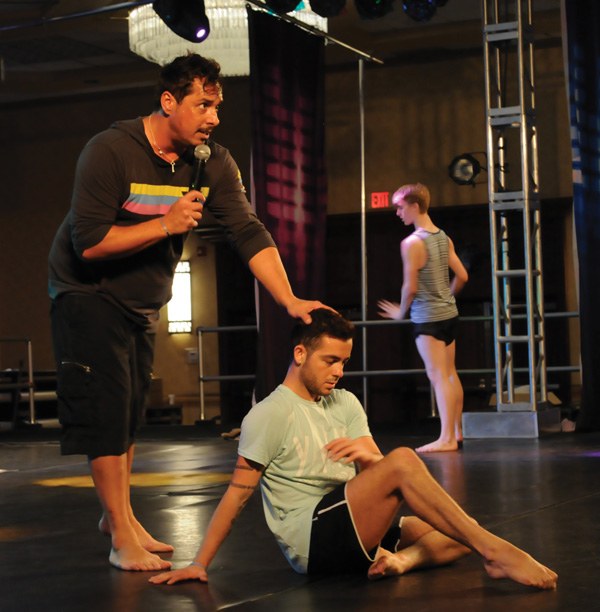 (Photo by Break the Floor Productions)
Ray Leeper's Most Common Critiques
Use your props.
"I've seen routines where the dancers began on a prop that was placed upstage center. They did the intro of the routine on the prop, came forward to dance and didn't go back to the prop until the ending pose. It's important to remember that if you bring a prop or a large set piece onstage, it should be integrated into the entire routine. Otherwise, the judges will begin to wonder why you aren't using it—and to lament the wasted time, energy and effort it took to build the prop and preset it at competition."
Work your feet through your transitions.
"Dancers are trained to point their feet and turn out when doing an extension, pirouette or any position where the foot is off the floor. But I find dancers aren't paying enough attention to their feet when they're actually on the floor. For instance, when stepping out of an extension or battement, you should be turning your foot or leg out as it's placed back on the floor. This attention to detail during transitions is the true mark of a dancer who is aware of her technique."
There's too much stuff.
"I see so many routines that are overchoreographed. There's no need to create movement for every accent, lyric and syllable in a song. It's important to leave time to breathe—not just for the dancer, but for the audience, too. As dancers, we express ourselves with our bodies—but if too much is being said movement-wise, it's difficult for the audience to understand. Sometimes our strongest statements onstage come from moments of stillness."
You voted last night, right? I hope so, because it was your last chance!
Last night, Season 10's Top 4 contestants—Amy, Fik-Shun, Jasmine and Aaron—duked it out dance-style for the title of America's [Latest] Favorite Dancer, a $100,000 prize and, what we think is the best part, a spot on the December cover of Dance Spirit.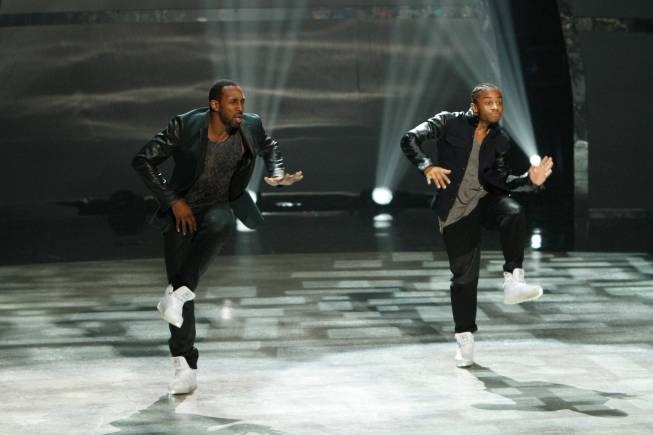 These two...I can't get enough! (Photo courtesy FOX)
As always, the evening included plenty of highs (Gabby Douglas didn't have much to say as a guest judge, but she's the cutest ever and rocked that yellow dress!) and a few lows (the moment when tWitch and Fik-Shun's duet ended and I was sad because I wanted it to go on forever).
Here are my Top 5 Moments from last night's performance finale:
1. Aaron and Amy's jazz fusion routine. Ray Leeper, where did this choreo come from?! I adore Ray and I think he's one of the greatest men in the entire competition and convention industry. (Seriously, sweetest, most genuine guy ever, plus he's always so beautifully tan.) This was a total deviation from his usual jazzy stuff and it really worked on these two. Hot Amy killed it in that costume and is Aaron a dream partner or what?
2. Jasmine and Comfort's hip-hop routine. Fun fact: The entire DS staff watched last night's episode together. And we're a chatty bunch, so we sort of missed the intro to this routine and all the rehearsal footage. By the end, after watching All-Star/my hip-hop alter ego Comfort booty pop her way through this piece, we all looked at each other and asked, "Wait, who choreographed this?" We were psyched to see NappyTabs giving their piece a standing O from the audience. This routine was all about girl power and Jasmine worked it hard, keeping up with Comfort juuuuust fine.
3. tWit-shun/Fik-witch. Oh my godddddd. You're familiar with my love for tWitch by now. And then these two together? It was just so good. One of the DS editors said tWitch and Fik-Shun looked like Will and Jaden Smith up there, having the best time ever. Right? Right. This piece was the funnest.
4. Amy and All-Star Robert falling in contemporary love. Thank you for this, Stacey Tookey. I love Amy. I looooove Robert. I loved them together and enjoyed being taken into the happy-magical world they created onstage.
5. Mark Kanemura's back! Mark Kanemura's back! His choreography for his piece with Jenna a few weeks ago was possibly my favorite of the entire season. And while I actually didn't adore last night's piece for Jasmine and Amy quite as much, I do love that Mark is potentially becoming a regular choreographer on the show. I also love that he used Jasmine and Amy to "tell the age-old story of Siamese twins from the fierce jungles of Saturn." What? Doesn't matter. Mark, you are the quirkiest and we love you for it.
Bonus #6: No one was eliminated last night! It was just a fun, enjoyable show where everyone was safe and got to dance full-out. Though is it just me or are these dancers starting to look tired? Get them massages, stat, Nigel!
Fess up: Who got you to pick up the phone last night? Any predictions for next week? I've got mine, but I'll keep them a secret for now. OK fine, I won't: Looking at last night's performances as well as the entire season leading up to the performance finale, I think Amy and Fik-Shun are worthy of the America's Favorite Dancers title.
Agree? Disagree? Tell me in the comments!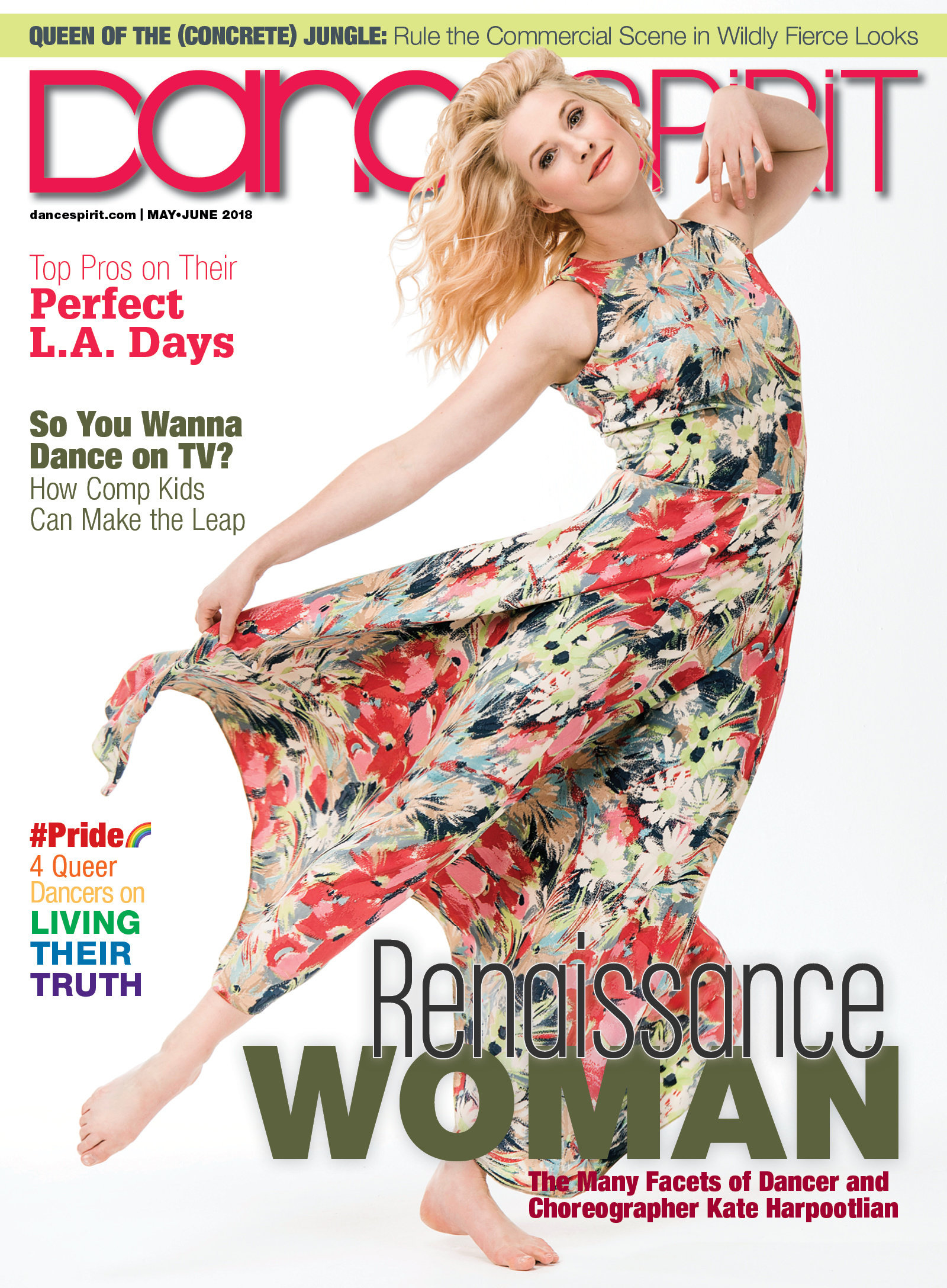 Get Dance Spirit in your inbox