Sky Brown and JT Church perform the tango (via @dancingabc on Instagram)
We're nearing the end of "Dancing with the Stars: Juniors" and we're more than a little sad about that. But as the end of the competition nears, the dancing has been taken to the next level. The technique is pretty close to perfect and the performance quality from these little dance darlings is equal to that of the pros! We'll admit we're not jealous of the judges as they score these dance prodigies. It was hard enough to pick one stand-out performance of the night. These kids are talented dancers and the winner is anyone's guess at this point!
Keep reading...
Show less
Seconds after the big reveal! (FOX)
Some people say summer is officially over after Labor Day. Others say the end of summer is the day everyone goes back to school. Officially, summer is over after September 21st. But in our world and yours, the end of summer is marked only by one thing: the "So You Think You Can Dance" finale.
Last night, to wrap up Season 15 and, along with it, another summer, Nigel, Mary, Vanessa, and tWitch crowned one lucky dancer as the season's winner. But before getting to that, there was the usual dance down memory lane.
Keep reading...
Show less
News
Sep. 06, 2018 01:16PM EST
We're only a week away from finding out who will be the champion of "World of Dance." But we're getting ahead of ourselves because this week's episode was lit. With the help of guest judge and all-around-wonder-woman Misty Copeland, the field of talented dance acts was narrowed from 12 to four. Read on to find out which acts won their division and who will be competing in the World Final next week.
Keep reading...
Show less
The finalists await their results (Adam Rose/ABC)
What a week in the "Dancing with the Stars" universe, amirite? After we bid farewell to Drew Scott and Emma Slater on Monday (in a surprise to pretty much nobody, despite the duo's strong performance in a super-fun freestyle that evening), it was time, last night, for Season 25's Grand Finale. And goodness, I don't know if we've ever seen quite so many perfect scores thrown around the ballroom. The final three—Frankie Muniz and Witney Carson, Jordan Fisher and Lindsay Arnold, and Lindsey Stirling and Mark Ballas—performed a total of six routines on Tuesday, and five of them earned straight 10s. Yes, those scores were well-deserved; the finalists danced their bedazzled behinds off. But it also felt like the judges were channeling Oprah. YOU get a 10, and YOU get a 10, and YOUUUU get a 10!
Keep reading...
Show less
Frankie Muniz and Witney Carson perform a salsa routine on "Dancing with the Stars" (via @dancingABC on Twitter)
We're coming down to the wire on "Dancing with the Stars," and it's getting harder and harder to decide which of the remaining couples should hang up their dancing shoes. This week, the contestants were put to the test with two routines: one required the pros to choreograph a dance to a song that they felt best represented their partner; the other required them to redo an old "DWTS" routine that'd received a perfect score (talk about setting the bar high). The five celeb semifinalists didn't disappoint–but some had a better night than others.
Keep reading...
Show less
The Top 9 in a Chris Baldock routine (Adam Rose/FOX)
Before we get into this week's recap, let's all show some love for Travis Wall, who had a day yesterday. Just hours before "So You Think You Can Dance" was set to air, Wall was at Disneyland (with friend and "Modern Family" star and aspiring Shaping Sound member Jesse Tyler Ferguson, NBD), where he found himself at a bit of a standstill—literally. "Not gonna be able to make 'So You Think' tonight...because I'm stuck on Indiana Jones," Wall shared on Instagram yesterday afternoon.
But hooray! He eventually did get off the stalled ride, and was in the audience alongside Mandy Moore. We're glad you made it, Travis!
On to the show:
This week, the Top 9 performed solos and duets with their All Stars. You know the drill. As always, we'll skip the solos and get right to the good stuff. (Though the solos were, like last week, so good.) Here's how it all went down.
Keep reading...
Show less
Dancers auditioning for "SYTYCD" Season 14 in NYC (Adam Rose/FOX)
This week, we're in the Big Apple: home of Broadway, New York City Ballet, and Dance Spirit HQ! They say if you can make it here, you can make it anywhere. So who made it to The Academy this week? Pretty much everyone—with lots of amazing Vanessa Hudgens one-liners along the way. (We love you, Vanessa!)
Keep reading...
Show less
Yo current "Dancing with the Stars" competitors, we're really happy for you, and we're gonna let you finish, but last night Alfonso Ribeiro and J.T. Church had one of the best "DWTS" opening numbers of ALL TIME.
Keep reading...
Show less
Get Dance Spirit in your inbox
Guys, it's only week 2 and this season is already one to remember. ICYMI, last night's "Dancing with the Stars" episode had so many ups and downs it's hard to keep track.
Keep reading...
Show less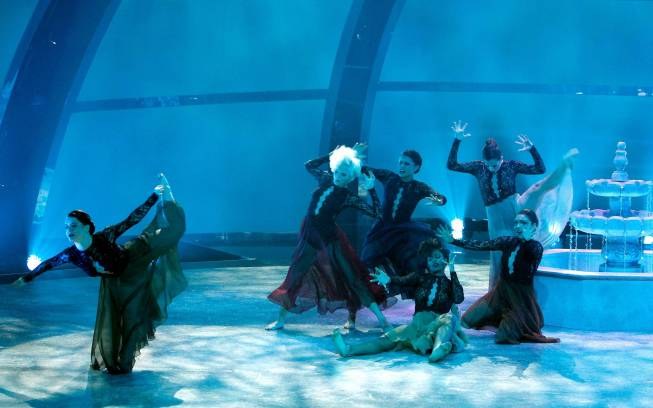 Stacey Tookey transforms the girls. (Adam Rose/FOX)
This episode didn't start off well: For the second week in a row, it was bad news bears for the boys. Tucker (no!) has an infection in his knee and can't compete this week. Then, who's in danger? Almost all of my favorites! Amy, Malece, Jenna, Tucker, Nico, Alan. Sigh… As soon as the dancing started, though, the episode got much better. This group is the Top 12 for a reason, and number after number just looked amazing! It was hard to choose, but here are my top 5 moments from this week's show:
1. The battle-for-your-life solos. Not that I ever want to see amazing dancers in the bottom, but one perk is that we got to watch them dance! Tucker, it seems, had made a miraculous recovery and danced flawlessly. Amy showed off her firecrackery self. Malece was beautiful, and Alan was just too cute. Can't we keep them all?! (P.S. Can we discuss how the judges saved Jenna AGAIN? Not that I don't love me some Jenna, but this is getting a little predictable.)
2. Hayley found her inner Gypsy. It's no secret that Hayley is one of the most technically perfect dancers on the show, and when combined with Nico's charm and Sean Cheesman's choreography, it's magical. Then there was that leg grab/lift/throw/flippy thing. Whoa!!! I'm going to go ahead and dub that the best leg grab/lift/throw/flippy thing on "SYTYCD" ever. But seriously, it was amazing. Standing ovation!
3. Pirates of the Paso Doble. Jenna and Tucker (who apparently coats himself in Axe body spray before rehearsals. All bad.) were paired up for this striking Jean-Marc Genereax number. Due to Tucker's injury, Alex Wong (yay!) fills in. Jean-Marc is certainly at his best when he's choreographing a paso. And I missed you Tucker, but these two made a great pair. Fierce pirate fun, I say. And, as if it couldn't get any better, Nigel told the Best. Joke. Ever. "Why are pirates called pirates? Because they argghhhhh." I'll be giggling at that one all day.
4. Fik-Shun and Amy waltzed it up. Confession: When a couple pulls the Viennese Waltz, it's often my cue to take a break and get a snack. But these two kept me captivated. As Amy said, it was the perfect way to rap up their partnership. So lovely—and so different from their kooky personalities! Mary said there were technical issues, but I certainly didn't notice them. And we knew after this piece (because Nigel and Kenny Ortega essentially told us so) that Amy would be saved, and we'd say goodbye to Malece. Way to ruin the surprise, guys!
5. Stacey Tookey turned the girls into women. My goodness, I love Stacey Tookey. You know who else I love? These girls! The final six formed such a cohesive, technically strong group, and as Mary said, there was no weak link. This fountain of youth-inspired dance will go down as one of my favorite group routines. I couldn't take my eyes off the TV. Another well-deserved standing ovation!
When it came down to elimination time, Nigel gave Malece and Alan the boot, but told them he still wanted them to go on tour. So here you have it, boys and girls, your TOP TEN DANCERS! Amy, Aaron, Jasmine, Hayley, Fik-Shun, Makenzie, Jenna, Nico, Paul and Tucker will kick off the tour on October 1! We'll be there. Will you?
We can't wait for the All-Stars to join the show next week. But in the meantime, enter our "SYTYCD" finale sweepstakes contest—you could win a trip to the Season 10 finale! And don't forget to let us know what you thought of this week's episode in the comments!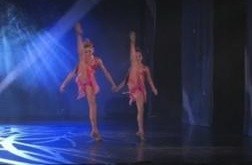 Bam!
"Dance Moms," I've missed you this last month. In fact, I've missed you so much that the fact that this episode was full of Cathy and her fame-hungry dance dads, way too much crying and almost no Mackenzie moments only mildly upset me. (But don't do it again!) At least it was also chock full of dancerly romance! Here are my top three AWESOME and AWKWARD moments.
AWKWARD: Maddie and Gino sitting in a tree… While this little crush is the cutest thing in the whole wide world, the way the adults handle it is pretty disgusting. Apparently, Gino gave Maddie a kiss on the cheek at the last competition. While this was no make out (Mom Melissa makes that very clear), it was definitely the most scandalous kiss in "Dance Moms" history. At least Abby and Cathy can finally agree on one thing: no kissing the enemy!
AWESOME: The "group" dance—although you can hardly call this the group without Paige, Brooke or Mackenzie. Still, Maddie, Chloe, Nia and Kendall make an excellent foursome of "bad girls." They couldn't have been more in sync if they were clones of each other, and the choreography was so cute! Even if Candy Apples' bicycle/unicycle dance hadn't been kind of all over the place, I still think the girls would have nailed the top score.
AWKWARD: Gino and Zack do an emotional dance about Anthony's late father. While I generally love when choreographers use their own emotional experiences to inspire movement, this was probably not the best venue to honor your dad who died only one week earlier, Anthony. Plus, this routine, while sweet, was pretty darn boring. Only Candy Apples would bring in fabulous dancers from all across the country and then give them choreography that's mostly just hugging and caressing each other. Where's the dancing?! Abby, as usual, was honest about not liking the dance, and the Apples freaked out. It all ended in a ridiculous fight where Cathy cried because no one had her back. The dads get all awkward and uncomfortable, except for Jalen's dad, who has clearly decided that his life goal is to live up Cathy's butt. Then Gino's dad asks to join the ALDC. Sigh… In case you haven't noticed, I'm not the biggest fan of the adults associated with Candy Apples.
AWESOME: Chloe and Maddie dancing together. Thank goodness we get to take a break from this little battle (although it looks like it's coming back in full force on the next episode…). Again, their synchronization was insane. That first place win was no surprise. Now the question is: How is Abby going to decide who goes on the top of the pyramid next week?
AWKWARD: Mom Kelly, for this entire episode. I don't even know where to start. First, Abby told her that both Brooke and Paige would be featured at competition, which upset her for a reason I must have missed. Then Mom Jill stirred up trouble and Mom Christi yelled in Paige's face. So now Kelly has an actual reason to be upset, but says she's not upset. Then both her daughters do really well, so she cries and says she's leaving the ALDC. I'm confused…
AWESOME Brooke gets to dance with the seniors! Oh, was Brooke too old for this group of munchkins? Of course she was! She's not quite at the seniors' level yet, but at least she's finally being challenged. And holy beautiful dancers, Abby. It's eye opening to see how well-trained and professional Abby's kids grow up to be (yup, she knows what she's doing!). To make this little twist even better, cute 17-year-old Kevin is a part of this dance, and he takes Brooke on a date (because Abby makes him). Turns out, Kevin can eat a lot of dessert. I think these two are just precious together. Can I be invited to their wedding, please?
Time for the QUOTE OF THE WEEK:
"Miss Abby always says, no boys, no boys. But this is the second date she's set me up on!" – Brooke
And, just for kicks, here's a fun fact that will blow your mind: ALDC dancer Kevin (Brooke's date) and Candy Apples dancer Gino (Maddie's crush) are BROTHERS! Both beautiful dancers, they study at Dance Attack in Miami, FL. (Apparently, Kevin's been competing this piece with ALDC as a guest all season.) Oh Lifetime, as if this show wasn't scripted enough…
That's all for this week. Tune in next week for more "Dance Moms" fun and, of course, another recap.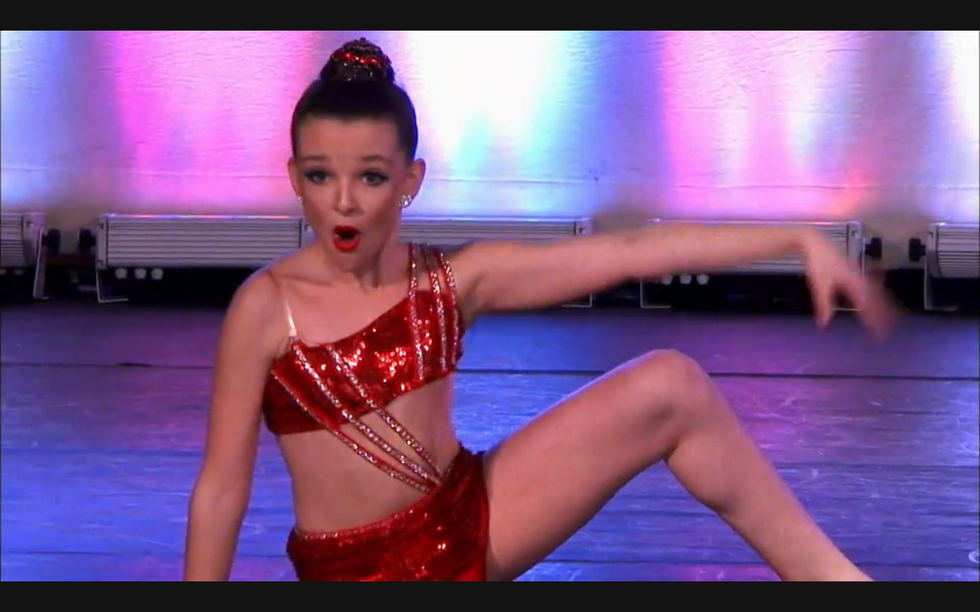 Looks like those private lessons on facial expressions really stuck with Kendall.
Nothing thrills me more than a two-hour episode of "Dance Moms"—unless that means two hours of Cathy. This week's "Candy Apple Showdown" had no shortage of the scheming leading lady, not to mention uncomfortably long catfights and confrontations. However, double the "Dance Moms" does mean double the dancing, and I couldn't wait to see the routines we'd been teased with in last week's pyramid. Here are my top three AWESOME and AWKWARD moments.
AWESOME: Cathy's dream team. I hate to admit it, and I credit none of this to Cathy herself, but her group of "Apple Cores"—three incredible boys (including Zack from Abby's Ultimate) and new girl Victoria—is a force to be reckoned with. I can already tell from rehearsal footage that their level of technique paired with Anthony Burrell's choreography is going to be stunning.
AWKWARD: The Christi/Kristie showdown. These two share a bad attitude as well as a name. As soon as Kristie Ray was introduced to the moms, I knew this face-off was in the works…but I was hoping it wouldn't be this awful. Colorful (to say the least) insults flew, making me eager for the scene to end. Unluckily for me, the two were at it again multiple times throughout the episode. The topic? Whether or not 7-year-old Asia Ray ever cried. Abby overhears them fighting and deems it wise to revive the argument in the dressing room in front of all of the girls. She mentions (in front of Chloe) that she hopes mom Christi gets slapped in the face. Nice.
AWESOME: The moms take Brooklyn! At a local bar, Kelly and Christi recap their subway experience, explaining their fear of being trapped forever beneath the city streets, forced to "eat bugs" to survive. A very skeptical Dr. Holly replies: "I do want to remind you that a subway is not in a rainforest or a jungle. It is in an urban environment." Great to see the moms having fun together amidst all the drama (even if Jill is unsure if it's NYC or L.A. that's known as "the city that never sleeps").
AWKWARD/AWESOME: Jalen and Vivi. I may not be a fan of Cathy, but Vivi-Anne seriously cracks me up. Last week, Cathy interrogated a reluctant Vivi about a possible budding romance with breaker Jalen. This week, we see the youngsters exchanging deep personal information, including (but not limited to) their favorite colors and video games. Things get a bit more serious as they share their sentiments regarding the drama between their parents in the studio—an awkwardness Vivi quickly counteracts by finding a quarter on the floor.
AWESOME: SOLOS! Asia's turn as a fierce and feisty robot (in a Buzz Lightyear-esque costume), Maddie's flawless lyrical piece, Chloe's elegant and sharp contemporary number, and Kendall's sassy jazz dance were all on point this week. Asia and Maddie took first in their divisions, Chloe third (tied with Zack) and Kendall fourth.  All received hugs and congratulations from Abby—a reward that's probably harder to earn than a first-place trophy!
AWKWARD: Anthony and Cathy ripping poor Paige to shreds. Everyone knows that talking about another dancer at a competition is a huge mistake—not only are you poorly representing yourself and your studio, but you're probably sitting only a row or two away from that dancer's family, friends and teammates. The looks on Paige and Kelly's faces were heartbreaking—but I must say I was incredibly impressed with Paige for having the courage to face the perpetrators. We love you, Paige!
QUOTE OF THE WEEK: "Cathy didn't beat me. One little girl who she stole, three little boys who she stole, and a guest choreographer beat me. That, I can handle." -Abby
We're left with a horrifying cliffhanger: Abby warns the moms that she's looking for property in L.A., perhaps to relocate and open a new studio. After that, I had no choice but to sit through the first 15 minutes of "Preacher's Daughters" in order to see the promised "exclusive sneak peek at the 'Dance Moms' summer premiere"—and it didn't disappoint.
Be sure to tune in next week for more drama (and hopefully full dances!) in a mid-season reunion special, and mark your calendars for the return of new episodes on June 4th!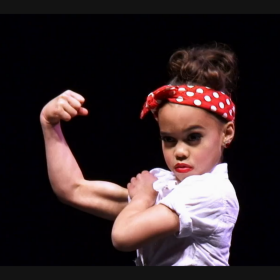 You had muscles like that at seven years old, right?
It's week two of Asia with the ALDC, and the drama surrounding this little firecracker has just begun. Here are my three most AWKWARD and AWESOME moments from last night's episode:
AWKWARD: Asia vs. Mackenzie. New girl Asia gets on top of the pyramid in her first week. Uh oh, looks like she's just earned a big fat target on her back. But no, the moms are still ganging up on Mackenzie, claiming that she's faking her injury. She loves to dance, people. She would not fake this injury! Plus, now she really wants to kick little Asia's butt. I'm going to assume that, healed or not, Mac will be back next week. Team Mackenzie!
AWESOME: Asia's solo. This is just so much better than her puppy dance from last week. She's playing Rosie the Riveter, a tough cookie just like she is. Holy muscles, Batman! This girl is fierce. Everything about the choreography is super cute—and her costume is appropriate! Can I be Team Mackenzie and Team Asia?
AWKWARD: Flaggate (a.k.a. the group number). Asia isn't doing most of the choreography, but she does get to run across the stage with an American flag. Essentially, Abby's tacking a young kid on at the end to bring the overall age of the routine down. Isn't this the same kind of thing we used to make fun of Vivi for in Cathy's choreography? But the real drama comes when apparently the flag is held up the wrong way onstage. Someone must be blamed! Was it Paige's fault or Asia's fault??? We never find out, but I'm going to go with: Who cares? They looked great.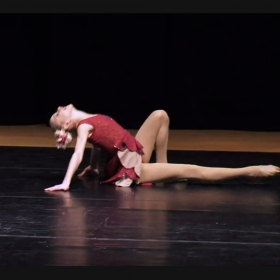 So pretty. And so not deserving of what Abby put her through this week.
AWESOME: Maddie's solo and Chloe's solo. My goodness, I love these two. This rivalry isn't anything new. We spent most of Season 1 wondering if Chloe would ever be triumphant over Maddie (spoiler alert: she was!). After months of no head to head competition, they're both onstage this week. Yippee! Chloe is elegant and clean and gets second place; Maddie is emotional and striking and gets first. Just goes to show, a little healthy competition goes a long way…
AWKWARD: I spoke too soon. Abby takes this Maddie vs. Chloe thing way too far. She kicks things up a notch by asking everyone (moms and kids) to vote for either Maddie or Chloe after watching them perform. Sigh. This does not seem like a productive activity. Maddie wins the vote by a landslide, leaving Chloe feeling terrible. Best moment: Mom Kelly votes for Paige. Hahaha. In your face, Abby.
AWESOME: Holly's defense of getting an education. Mom Melissa has decided that Maddie and Mackenzie should be home schooled, and the other moms are not pleased. Yes, sometimes home schooling is the best option, but this is clearly not one of those times, especially with little Mackenzie, who's too young to have decided whether she even wants a career in dance. Plus, she'd miss her friends! Holly does a remarkable job of explaining the seriousness of pulling kids out of school: "School's not just about busy work. It's about: Can you think? Can you be a citizen of the world and think for yourselves?" Yes, Holly! In the end, smart dancers are successful dancers.
And now (drum roll please) the QUOTE OF THE WEEK:
"Asia might be a big deal on the Internet, but so is a dog who can bark his ABCs." —Mom Christi
A dog who can bark his ABCs!? Where is this dog? Will someone send me a link, please?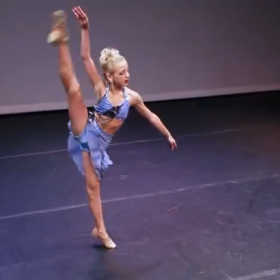 Abby Lee Dance Company goes to Nationals! Considering how awesome everyone dances, there's an awful lot of crying in this episode that I could live without. I've also chosen to ignore the Candy Apples in this recap, because they were just too annoying. (Although I did think the thirty seconds of Cathy's creepy cackle perfectly illustrated her personality.) With that said, on with my top five moments:
5. Not that Abby generally holds back when insulting her students, but Abby calling Paige stupid was below the belt. Kelly storms out. Silver lining? This means she's outside and free when she gets a call offering Paige a photo shoot. Yay Paige! We're not really sure what this photo shoot was for, but it was a nice moment in the spotlight. She really is a beautiful kid.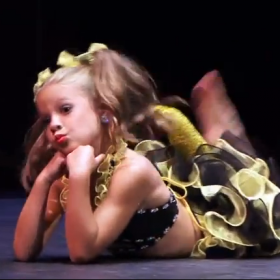 4. So there's this new trend on "Dance Moms" where Abby waits until the last minute to cast a routine. It's not fun for the girls, it's not fun for the moms and it's really not fun for me. This week, the routine in question is a solo, and the three contenders for the spot are Chloe, Kendall and Nia. In an unexpected twist, Abby makes the moms be the judges. Shocker of shockers, all the moms choose their own kids to win the part. Who will break this three-way tie? Mom Melissa, of course. (Do we think producers were upset about the lack of mom drama last week?) Melissa picks Nia! Yay Nia! I'm so proud of… wait, Abby doesn't want Nia. You mean this whole letting-the-moms-choose idea was just a ruse?! Abby convinces Melissa to choose Chloe, which makes Kendall cry. "We already knew who was going to get it," says sad-face Kendall. Excellent point. Chloe's happy to get the part, but she's feeling the pressure. And now Chloe's crying, too. I told you there was a lot of crying in this episode. Well done, Abby. Well done.
3. Maybe I'm still coming down from the excitement of meeting Maddie and Chloe last week, but I love that these two are constantly cheering each other on instead of pulling each other's hair out. They both competed solos this week, danced beautiful, and (most importantly) beat Justice! As Abby so eloquently says, "Justice has been served!" Maybe the judges were as turned off by all the fake blood in his routine as I was. Anyway, back to the girls. Chloe's beaming smile backstage while Maddie performed was just priceless. Time for crowning: Maddie got second place, and Chloe got first! Maddie was so happy for her. Mom Christi was a mess. So was I. Go Chloe! Cue the victory music.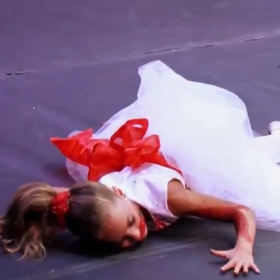 2. Remember how nothing makes me happier than seeing Mackenzie dressed up like an animal? So obviously I was thrilled when Abby announced that this week, little Mac would be a killer bee. Wait, is that the same solo music that Vivi once used? Uh oh, I sense impending drama… Luckily, Mackenzie was so darn cute that nobody stayed angry for long. Basically, she put Vivi's sad shimmying to shame. A well-deserved first place. "She's not Maddie. She's Mackenzie, and she's an amazing little dancer," said mom Melissa. Truth.
1. A moment of silence at a dance competition is a very rare thing, but Abby manages to inspire one with this week's group routine. "My Last Text," about a group of kids who die because they're on their phones in the car (creepy!) was well danced, mature and super poignant. The audience was in tears and even Cathy called it "absolutely brilliant." Not surprisingly, this number wrapped up the Abby Lee Dance Company's clean sweep. All in all, an excellent way to end the season.