Hey, "SYTYCD" fans: Want to win a trip to see the finale episode LIVE in L.A.? Of course you do! Click here to enter our "SYT" finale sweepstakes.
Season 12 of "So You Think You Can Dance" is upon us, you guys! Can you believe this is the twelfth time we've done this? It seems like only yesterday we were hearing Cat Deeley Lauren Sanchez introduce Nick and Melody and Blake...
Actually, no: That feels like 100 years ago, and it was literally 10. TEN YEARS.
During "SYTYCD"'s decade of dance-television dominance, a kind of "traditional" contestant has emerged: hugely talented (of course), but also attractive and appealing in a mainstream way. And yes, the Memphis and Dallas audition footage we saw last night included plenty of those types of beautiful dancers dancing beautifully. But the episode actually spent the majority of its runtime highlighting far-from-cookie-cutter artists. It celebrated dancers who stood out not because of their technique—or, rather, not JUST because of it—but because of some ineffable charisma. It was a big uniqueness celebration, and I was buh-da-buh-buh-buh lovin' it.
The change might have been tied to the new format, which pits Stage dancers against Street dancers—led, respectively, by captains Travis Wall and Stephen "tWitch" Boss—up until the finale. Maybe the judges had to broaden their thinking a little to come up with approximately equal numbers of dancers for each category, rather than just a gaggle of gorgeous contemporary movers and a few b-boys to spice things up? I don't know, but if so, let's stick with this formula! I like where it's taking us.
Here are my top five highlights from the Memphis and Dallas auditions: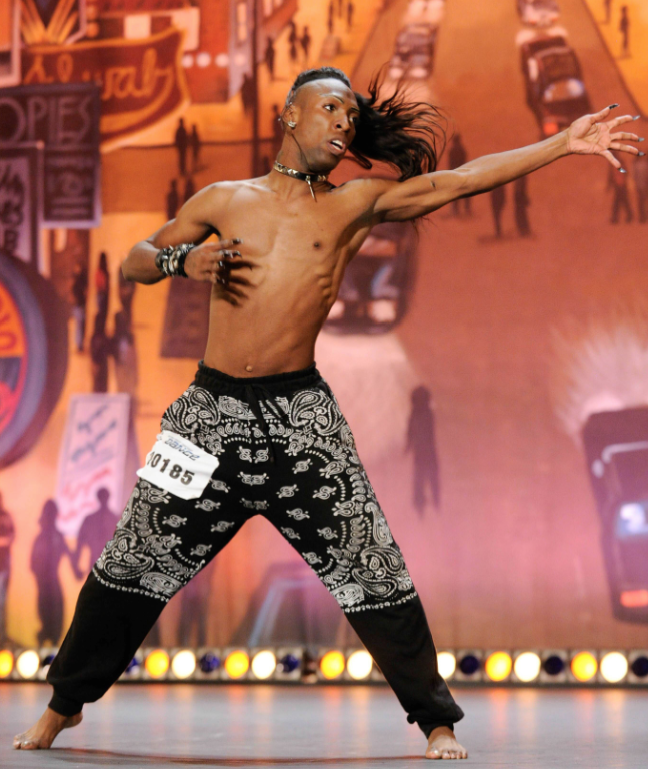 How you doin', Courtney? (photo Jeffrey Neira/FOX)
1) Courtney Barnes came back! Do you remember Courtney? Because I sure do. The infinitely fierce, gender-bending, "How you doin'"-ing dancer auditioned unsuccessfully last season, but his on-air Wendy Williams impression was apparently enough to make him a local star. Like (brand-new judge!) Paula Abdul, I just want him and his fabulousness around me at all times. His flamboyance made (also brand-new judge!) Jason Derulo visibly uncomfortable, but look: In addition to all the flash, Courtney has something very real going on, dancewise. There's crazy presence there. And it was enough to earn him—just barely, thanks to Jason's "no thanks" vote—a ticket to Vegas.
2) Vishonda Sims gave an incredibly emotional performance. The 18-year-old hip-hop dancer has had a tragic life: Her grandmother was paralyzed in a car accident when Vishonda was 10, and Vishonda cared for her until her death last year. "I really put what I go through in my life into my dancing," she says. Her freestyle felt raw, exposed, like she was peeling off her skin to show us the self underneath. "I felt alive inside from watching you," Jason said (instantly redeeming himself after the Courtney incident). Vishonda went through to Vegas, and I can't wait to see more of her.
3) We met Steven Ban, aka the hip hop Bill Gates. Nerds! Doing hip hop! ALL THE LOLS! I mean, look: After 12 seasons of "SYTYCD" auditions, I feel like I've seen the geeky-guy-trying-to-break-it-down thing several times already. But there was something different about Steven, the Bill Gates (or Beaker? I'm also seeing Beaker) lookalike who happens to be an awesome bone-breaker: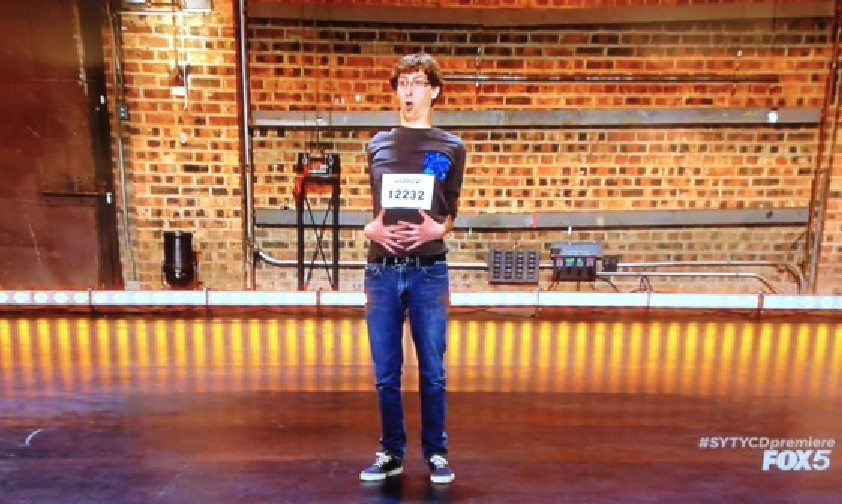 I mean, what?
His was one of the best "SYT" bait-and-switch reveals in a while, and I'm happy he made it through to Vegas—although not before they did this to him: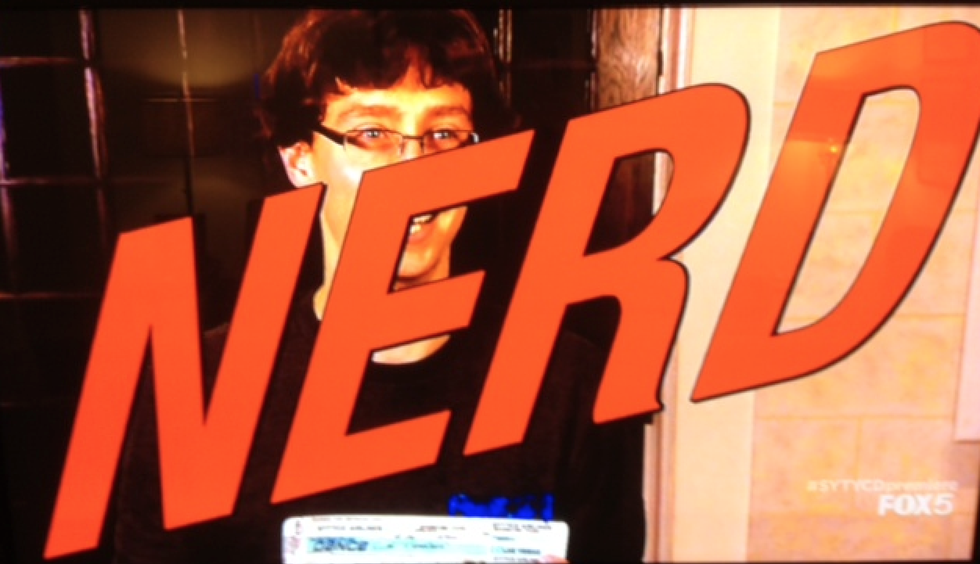 Ouch.
4) Kiosh Monroe, and his awesome wardrobe, won everything. Well, except a ticket to Vegas. But, strangely enough, that didn't really matter. Kiosh's eclectic, joyful, high-energy style wasn't up to the show's technical level—but in a moment of genius, Jason IDed what it was perfect for: the world of workout videos. Cue an impromptu Kiosh-led workout session for the ladies of the audience (and Jason, of course). And then Paula made serious magic happen by placing a call to—who else?—Richard Simmons! I hope Simmons' enthusiasm about Kiosh was real, because I would totally buy a Richard Simmons–Kiosh Monroe workout video. I would WEAR that video OUT.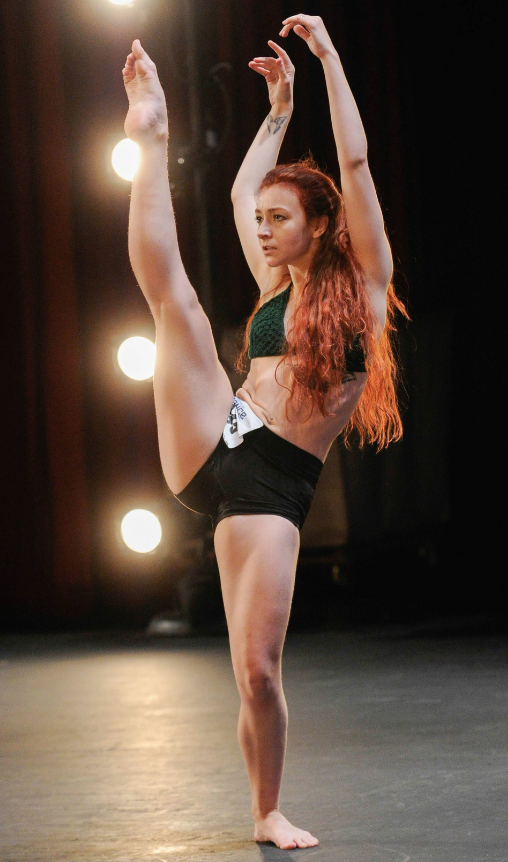 Hello, Jordan's legs. (photo Jeffrey Neira/FOX)
5) A few more conventional auditionees showed off truly fantastic technique. Not everybody has a heart-wrenching story or a quirky persona, but that doesn't mean they can't be darn impressive! I'm especially excited about two gifted ladies, Jordan Hilgenberg and Jaclyn Hamric, who reassured us that the technical level of the show this season will be as high as ever. Both instantly made it through to Vegas, of course, and I'm calling them early as Team Stage frontrunners.
A lot, and I mean a lot, of other stuff happened this episode, too. There was a blackout in Memphis and it was the DRAMA OF THE CENTURY; Cat injured her arm and it was sad but she managed, as always, to keep her fashion totally on point; the "SYTYCD" All-Stars performed at the White House Egg Roll and it was adorable; Cat interviewed Michelle Obama and it was...actually, sorry. I don't really know what that was like, because I passed out from sheer happiness.
After Memphis and Dallas, the tally of Vegas-bound dancers is 43 for Team Stage, 36 for Team Street. Next week, we'll head to Detroit and, hopefully, even out those numbers a little. Check back here next week for the recap!
You GUYS. "DWTS" was SCANDALOUS this week! I guess it's only natural for there to be a bunch of drama in the lead-up to a double elimination. But we also have ourselves to blame for some of it—because it was "America's Choice" week, and that meant "DWTS" turned to us for direction on things like costumes, music and dance styles. The result was a lot of exposed chest acreage, especially on Chris Soules' part, and, um, some serious kissing. KISSING! SCANDAAAAAAAL.
Yes, Robert Herjavec planted a giant smooch on partner Kym Johnson during their contemporary routine Monday night, "confirming" (ahem) the swirling rumors about a budding relationship between the two. Or maybe they were just playing along with the crowd to earn votes in the spirit of fun. Either way, it was a heck of a kiss.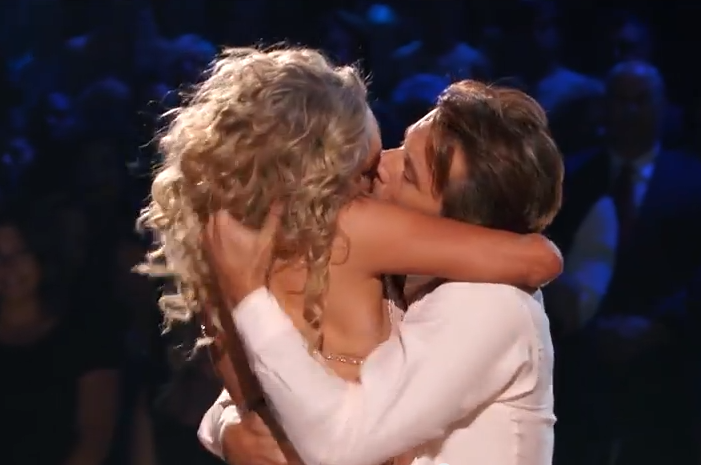 I mean.
But let's get back to the actual dancing, shall we? We're at the point in the competition where we know who the frontrunners are—that'd be Riker Lynch and Allison Holker, Nastia Liukin and Derek Hough/Sasha Farber and (especially) Rumer Willis and Val Chmerkovsky—and, unsurprisingly, they turned in the strongest performances of the week.
Nastia looked stinking adorable in her retro jive trio with Sasha and Derek, which involved some impressive workarounds for the still-injured Derek...
...Riker got in touch with his sensitive side in a passionate Viennese waltz with Allison...
...and Rumer burned up the dance floor in her paso doble trio with Val and Artem, which involved actual flames and, even more impressively, actual technical ballroom dancing:
Because we're back to the two-nights-a-week format, there was also time, on Tuesday night, for a few awesome bonus dance performances.
Our friends in Shaping Sound had a lot of fun with The White Stripes and a bunch of brick walls...
...the pro ensemble did a sweet little routine we really, really, really, really, really, really liked to accompany Carly Rae Jepsen's performance of "I Really Like You"...
...and none other than Maddie Ziegler danced some swoony-sweet choreography (alongside Jaycee Wilkins and Brynn Rumfallo) as Josh Groban crooned "Somewhere Over the Rainbow":
In the end, despite the shirtlessness and the kissing, Chris and Robert were sent home. Ah, well—so much for scandal.
What did you guys think of the two-night "DWTS" extravaganza? Will Derek be able to think of yet another creative way to camouflage his bum feet next week? Can we all just agree right now that Rumer is going to win this thing and call it a day? Let us know your thoughts in the comments!
Let's talk about the incredible power of Michael Jackson, shall we? First off: How many artists boast a collection of hit songs so large that it includes tracks appropriate for every dance style imaginable, from Broadway jazz to samba? And how many artists' songs can elevate every single one of those dances to a different plane?
"So You Think You Can Dance" made last night's episode a tribute to MJ, and the show's energy level was off the charts—because the energy of Jackson's music is insane. It's a current of electricity that seems to spark dancers' and choreographers' passions and imaginations. Even choreo that might otherwise have been ho-hum got a giant Jackson jolt.
Here are my top five highlights from a pretty darn extraordinary show (with a pretty darn shocking ending).
1. Travis Wall made full use of Ricky's gumby-ness. Set to Jackson's moving take on Charlie Chaplin's classic song "Smile," Wall's contemporary routine featured Ricky as a good friend helping Jaimie through some tough times. Wall described Ricky as a "positive light," which is pretty much how I've felt about Ricky throughout this whole season. He also asked Ricky to "make his bones escape his skin," which loosely translated to "do as much of this piece as possible in a full split"—and I'll never say no to a good Ricky leg show. It was refreshing to see a contemporary routine that depicted a sweet friendship rather than a maybe-they'll-actually-make-out-at-the-end romantic relationship, too.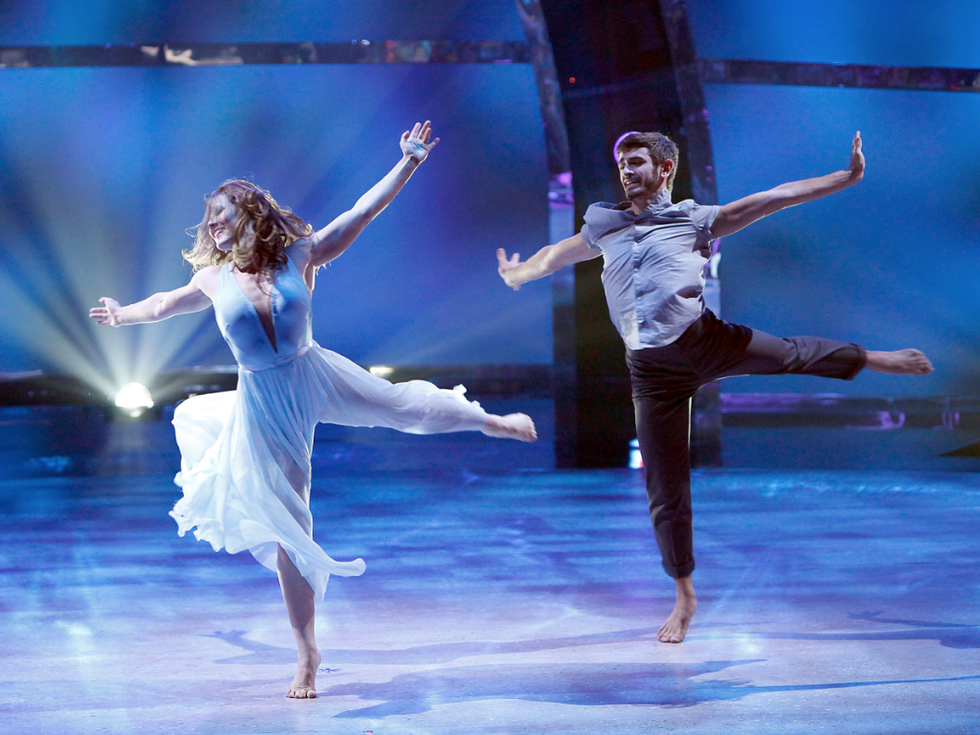 (Photo Adam Rose/FOX)
2. Casey finally brought the drama. I'd been a tad underwhelmed by Casey up until last night; he'd always seemed like a brilliant technician who, when it came to stage presence, got by on his pretty Ken-doll face alone. But before #teamcasey starts screaming, let me state for the record: Do I ever I stand corrected. In yet another brilliant Pharside and Phoenix routine, Casey was the prey literally trapped in femme-fatale spider Comfort's web, and the crazy concept brought both his body and his face to life in a way I'd never seen before. He got to be a true dramatic performer, instead of just that cute boy who can turn like nobody's business. (Seriously, though—can we talk about that turn at the opening of his solo? Like fifteen pirouettes à la seconde that then spiraled into plié?? Unreal.)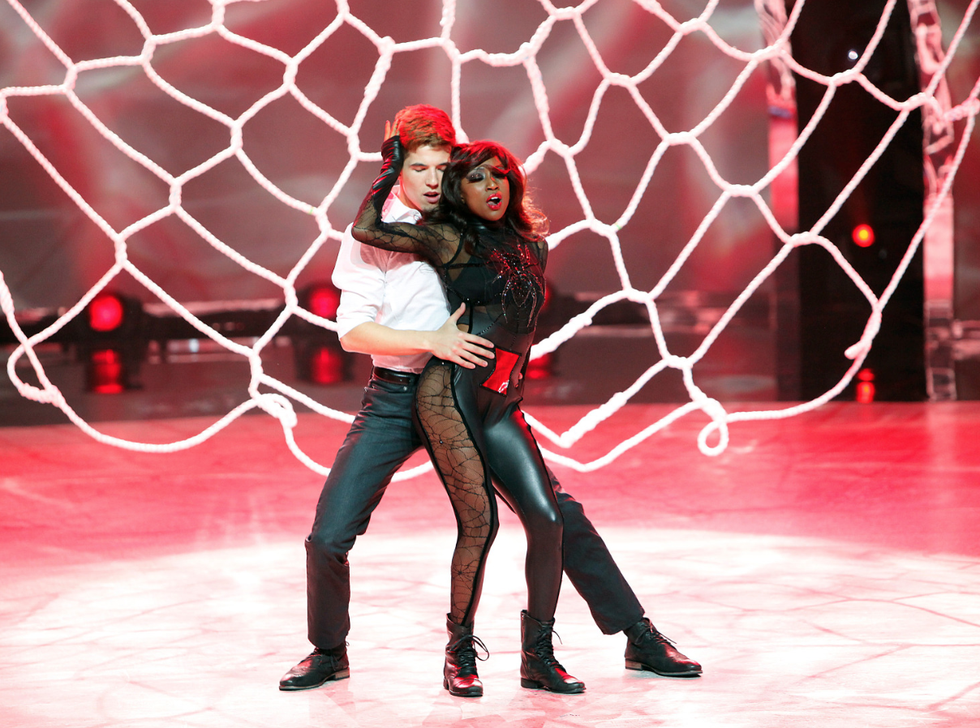 (Photo Adam Rose/FOX)
3. Rudy! Rudy! Rudy! In a way, Rudy is the anti-Casey—he's all heart and relatively little technique. But in the right routine, that big ol' heart can utterly transport you. Ray Leeper's violently angsty piece about an obsessed woman—the always-wonderful Allison—and Rudy's efforts to push her away was the perfect showcase for Rudy's brand of over-the-topness. If anyone can rival Rudy when it comes to intensity, it's Allison, who brought out the charming goofball's darker side. (Also, Allison, may we suggest you try out that fabulous '80s superperm IRL?)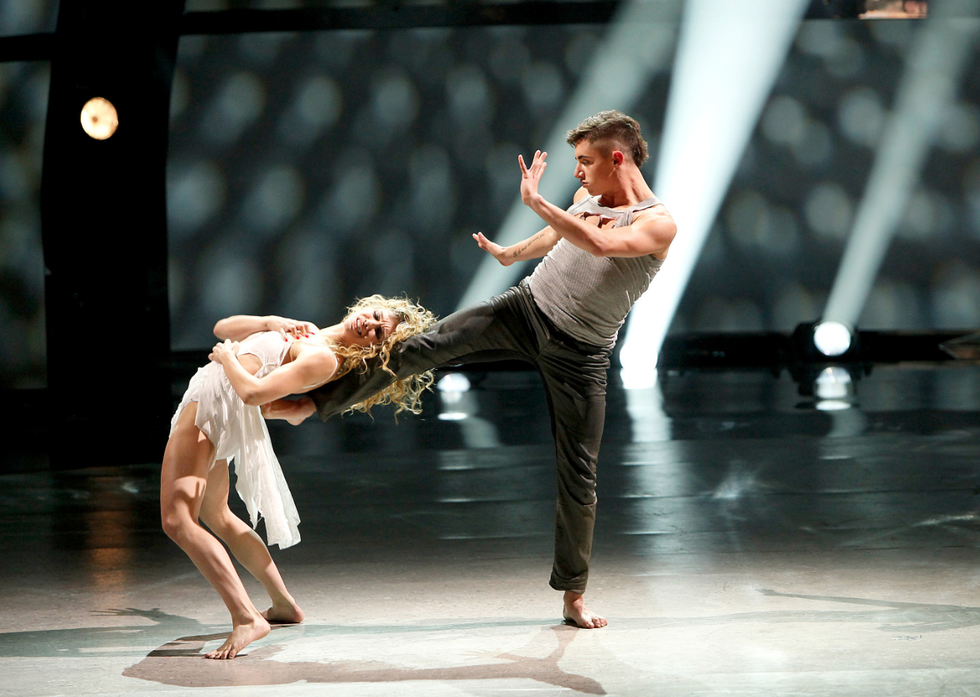 (Photo Adam Rose/FOX)
4. Jacque was unrecognizable, and I mean that as high praise. I'm still a bit confused about the premise of her Dave Scott hip-hop routine—we're in a post-apocalyptic world? and dancing all nasty is the way those left behind are dealing with it?—but I kind of don't care, because oh my gosh it was faaaaantastic. tWitch is always great at bringing hardcore classical dancers up—or, if we're speaking literally, down—to his level (see: Alex Wong). With his help, Jacque was able to leave all traces of her pretty pretty princess side behind. She was gettin' it, and this bunhead was lovin' it.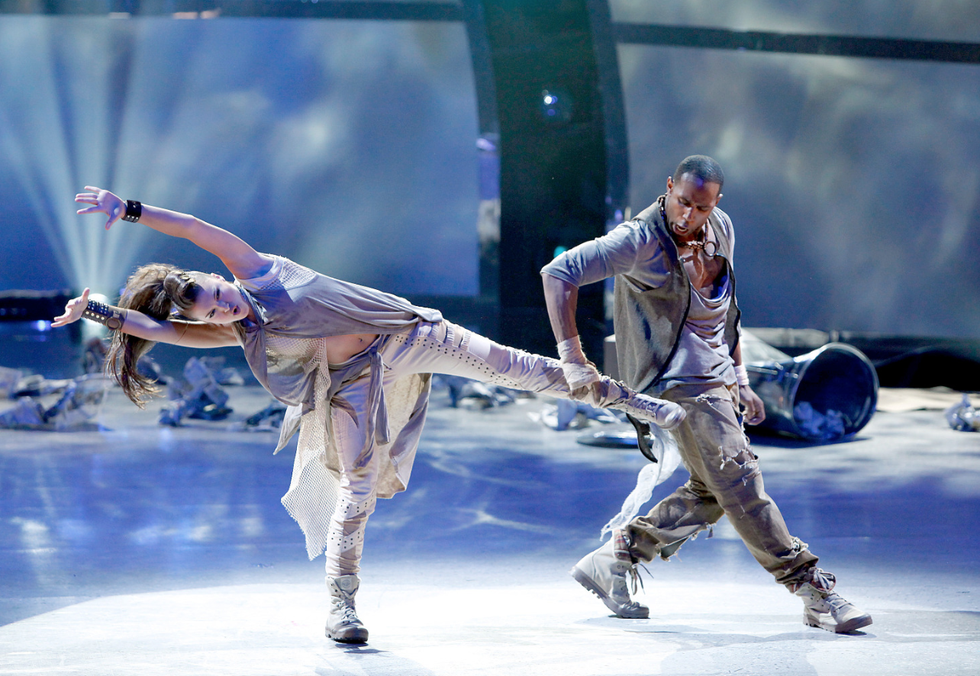 (Photo Adam Rose/FOX)
5. Control. Freakz. Period. We're used to seeing poppers as superlative soloists, but the members of Control Freakz have mastered the incredibly difficult art of popping in unison. They're working in a virtuosic style, but they aren't look-at-me virtuosos; they're a cohesive team. The effect is so good it's positively eerie. I bow down to you, you amazing freakz of nature.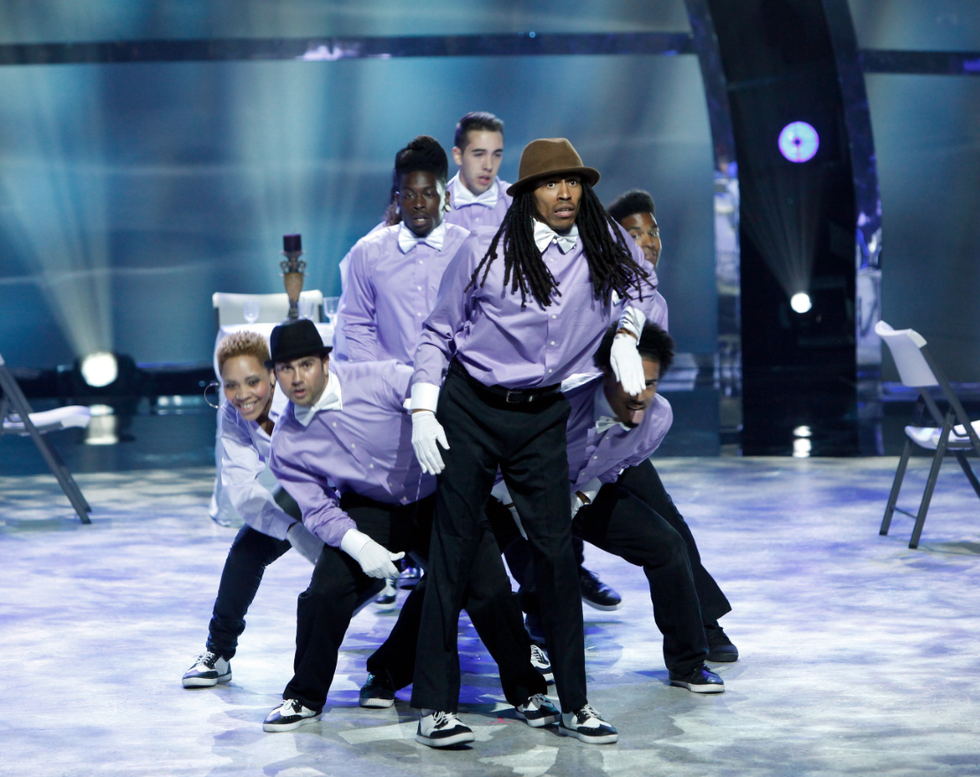 (Photo Adam Rose/FOX)
At the end of the show we were all sucker-punched right in the gut, because Nigel announced that both Rudy and Tanisha were going home. Seriously, I'm glad our office didn't actually do a "SYTYCD" bracket, because in my mental version I had these two going all the way to the finale. I'll miss you crazy kids.
What did you all think? Were you as shocked as I was about last night's eliminations? We're coming to the bitter end here—be sure to check back in next week for our recap of the Top 6 performance!
The "So You Think You Can Dance" Top 10: By definition, that's a pretty rarefied crowd. At this point in the competition there are no obvious weak links in the contestant lineup, so eliminations are starting to feel...weird. We're invested in all the remaining dancers, which means, to horribly misquote Sheryl Crow, now every cut is the deepest.
The good news? None of these dancers are going down without a fight—and last night's episode included some of the best dancing we've seen this season. Here are my top five highlights from the show.
1. The opening number made "neon cowboys" a thing. I was a tad confused, initially, by Jamal Sims' concept. The dancers were supposed to be "getting a drink at the Last Chance Saloon"—but the Last Chance Saloon is a place where everyone wears highlighter-hued crop tops and carries parasols? Once the whole updated-take-on-the-Wild-West thing clicked, though, the piece was good cheesy fun. I especially liked that it gave each contestant a moment in the sun—even the tappers, who frequently get shafted in group pieces like this. (And Mr. Sims: Props to you, sir, for wearing a neon suit in solidarity with your dancers.)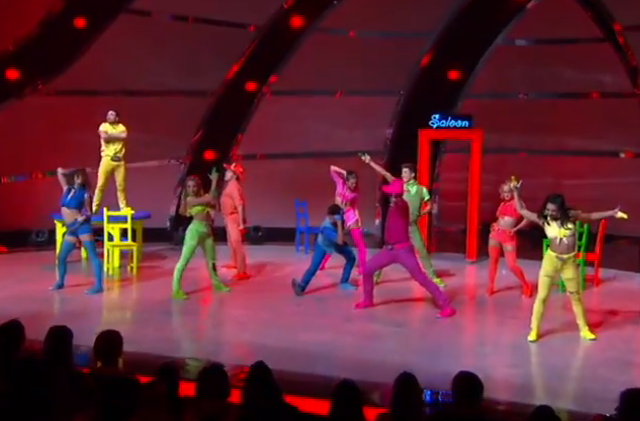 It's a hip-hop hoedown, y'all.
2. Nappytabs absolutely dominated. Tabitha and Napoleon's absence so far this season had created a gaping hole in my heart—a hole they promptly filled last night with two fantabulous hip-hop routines. First we had Emilio as an Egyptian king alongside Jasmine as a slinky pet snake with royal asp-iriations. I swooned for Emilio's tutting at the opening of the piece—and I love Nappytabs for never being afraid to go on-the-nose literal in the best way possible (tutting for King Tut, naturally!). Next up, the dynamic duo gave us tWitch as an old-fart creeper creepin' on pinup girl Jessica, and my mind pretty much exploded. #grandpatwitch forever. (Maybe the "bench test" should be a way to determine choreographic personality? I.e., give Mia Michaels a bench and she makes this; give Tabitha and Napoleon a bench and they make the world's greatest dirty old man jokes.)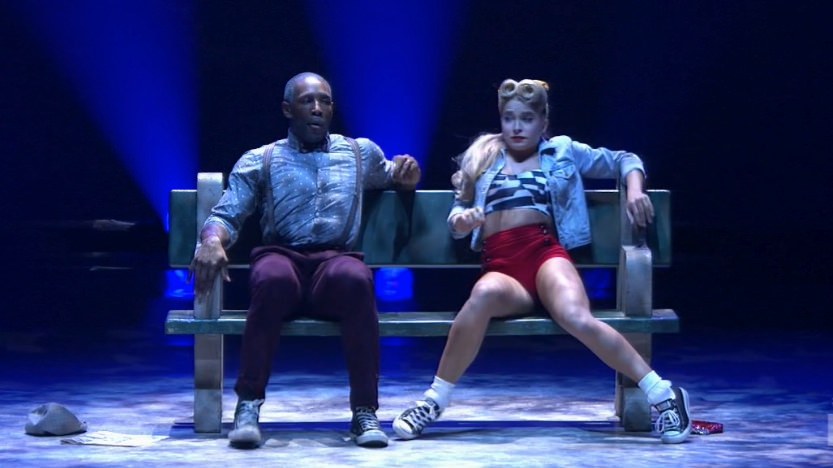 Creepers gonna creep.
3. #TeamBallroom. I think I have a ballroom problem, you guys, and "SYTYCD" is not helping. Tanisha smoldered in her Argentine tango with Ryan; the two of them nailed all of the routine's leg-flicking intricacies. And the lifts that choreographers Leonardo Barrioneuvo and Miriam Larici incorporated? Mind-boggling. (At one point Tanisha balanced on Ryan's neck. His neck!) I was thoroughly impressed by Rudy's ballroom skills in his cha cha with Jenna, too. I'll put it this way: When Jenna is wearing a super-naked hot pink dress trimmed with feathers and yet your eyes still occasionally flicker to Rudy, Rudy is doing a darn good job.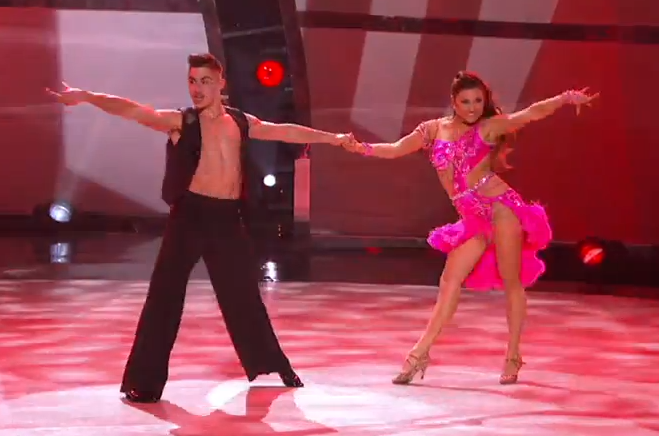 We see you, Rudy!
4. Travis Wall made the show's first-ever contemporary ballet piece, and...don't hate me, but I'm feeling conflicted about it. On the one hand, I'm a ballet freak and a half—in my eyes, anything ballet is always a DO. On the other, much as I love Travis (and think that his routine for the Top 7 guys last week will go down as one of the greatest in "SYT" history), why not choose a choreographer who specializes in contemporary ballet? Where's someone like Dwight Rhoden, whose company literally has "Contemporary Ballet" in its name, when you need him? The piece was successful in some ways; Jacque and Chehon were utterly committed, and I loved the super-dramatic lighting. But I'm not sure what pointe shoes added to the overall picture. This wasn't just a one-off experiment for TWall—he's made work for the Los Angeles Ballet, too—and it's exciting to see his curiosity leading him down different dance paths. My official verdict? Let's all keep a close eye on Ballet Travis.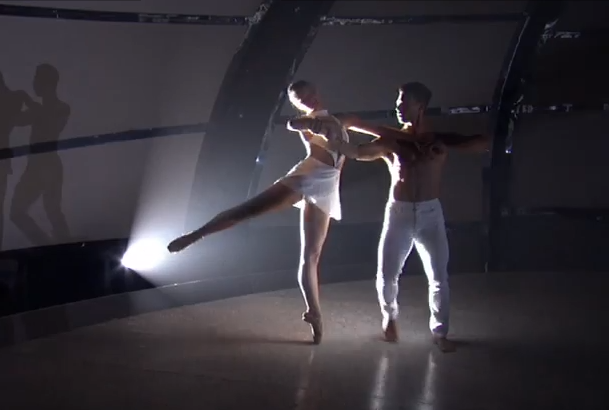 That lighting, though.
5. Sonya Tayeh dug deep. Sonya began the rehearsal process by telling Zack and Amy that their routine was a tribute to a friend of hers who'd passed away suddenly—and right away, I knew we were in for a teary ride. The resulting work was intense and moving, thanks in part to the beautiful, atmospheric music by Max Richter. While I was touched by how involved Zack and Amy became in the story, I have to admit that the choreography didn't scream "Sonya" to me. It felt strangely...generic. But I think I must just be a grump, because everyone in the audience gave it a big old standing O. And excuse me—Sonya's making a piece for the Martha Graham Dance Company? Now that I can't wait to see.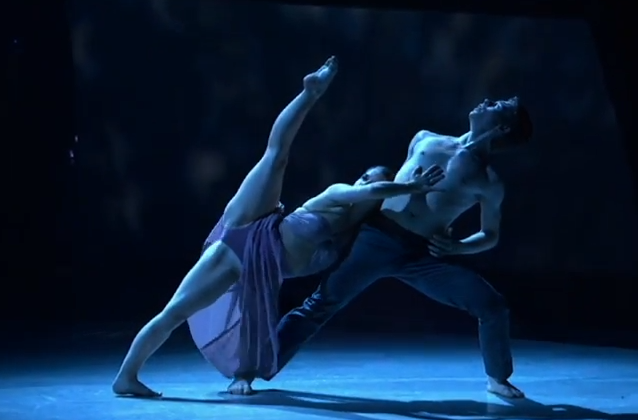 Zack and Amy, hauntingly lovely
Ultimately, we were forced to say a painful goodbye to Emilio and Bridget. Our consolation prize? Next week's show will celebrate the work of—ahem—Michael Jackson. Color me verrrry intrigued. 'Til then!
Hello, friends! Last night the Top 18 performed on "So You Think You Can Dance," and that means we had to narrow the group down from the super great to the incredibly, phenomenally great. I won't lie: Letting two contestants go was a little painful. But there were plenty of things to enjoy along the way. Here are my top five moments from last night's episode.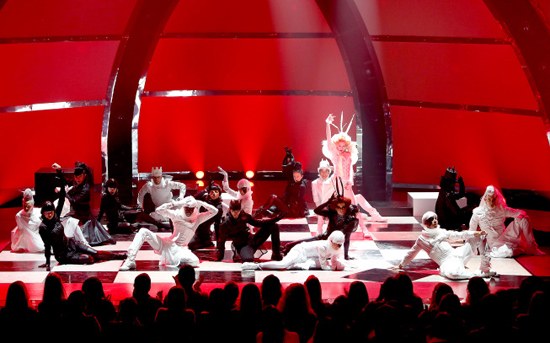 The Top 18 in Pharside and Phoenix's "How It's Done"
(photo Adam Rose/FOX)
1. The crazy-brilliant Elizabethan chessboard opening number. Top 18 dancers in funkified corsets and neck ruffs? Yes, please! The delightful little piece was choreographed by Pharside and Phoenix of Academy of Villains, and if that last name sounds familiar, it's because AOV is one of the finalists in this season's crew battle. (Speaking of the crew battle—can we get a Syncopated Ladies–choreographed number next week? But seriously?)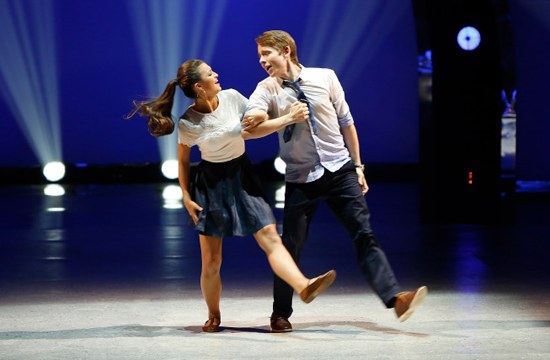 Jacque LeWame and Zack Everhart, Jr. in Keone and Mari Madrid's "Stay with Me"
(photo Adam Rose/FOX)
2. Keone and Mari are back! Oh my goodness, we cannot get enough of hip hop's cutest couple ever. Loved their routine for Jacque and Zack, who may or may not have nailed all of its technical intricacies, but definitely captured its earnest, joyful spirit.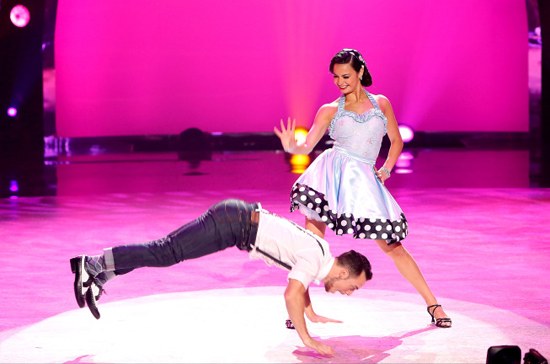 Emilio Dosal and Bridget Whitman in Anya Garnis and Pasha Kovalev's "Happy"
(photo Adam Rose/FOX)
3. Oh hey there, jive. There are few things better than a really, really good jive. Luckily for us, "SYT" superstars Anya and Pasha returned to choreograph a super-cute one for Bridget and Emilio. Since the jive is the happiest dance in the world, naturally they set it to Pharrell's "Happy," which made us feel...well, you know. And while Bridget and Emilio's leg action wasn't perfect, their performance was totally wonderful. (Shades of the fabulous jive Anya did with Danny during Season 3, am I right?)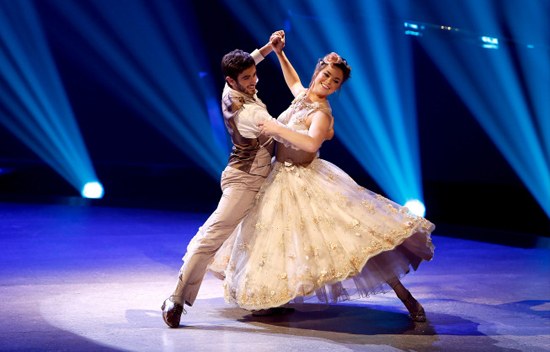 Ricky Ubeda and Valerie Rockey in Lacey Schwimmer's "I Won't Give Up"
(photo by Adam Rose/FOX)
4. Ricky and Valerie dominated the Viennese waltz. Yes, I felt a faint sensation of dread when I heard that these two were doing the Viennese waltz, which in past seasons has been the kiss of death. And yet Lacey Schwimmer—in her first time choreographing for "SYTYCD"!—pulled some amazing magic out of her ballroom hat. The routine was just lovely, and this charismatic pair sold the heck out of it.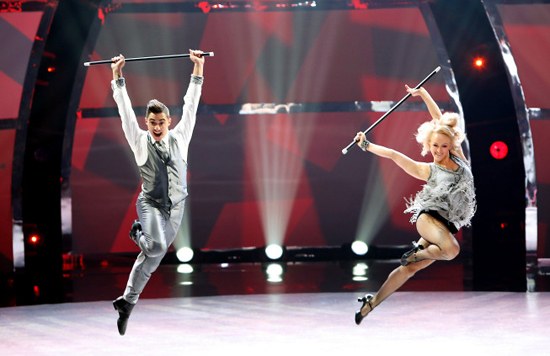 Rudy Abreu and Tanisha Belnap in "Sing, Sing, Sing," choreographed by Warren Carlyle
(photo Adam Rose/FOX)
5. War-ren Car-lyle (clap, clap, clap-clap-clap). Look: When you hear that Warren Carlyle, the 2014 Tony award winner for best choreography (that'd be for the showstopping After Midnight) is going to make a piece for "SYT," you know it's going to be darn good. But holy mother of Broadway, it was fantastic! Tanisha and Rudy lit up dancing Carlyle's soft-shoe-inflected number. They roared through the '20s, those two, and we loved every minute of it.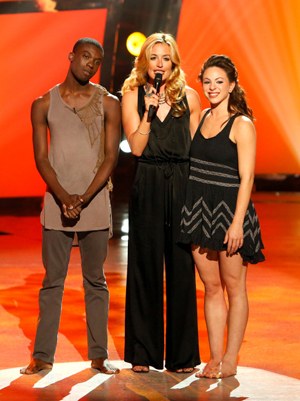 Hello, Cat Deeley in that fabulous jumpsuit. Goodbye, Stanley and Jourdan. We'll miss you!
(photo Adam Rose/FOX)
In the end, Stanley and Jourdan went home. I don't know about you all, but I am legitimately sad to see these great performers go. Particularly Jourdan—I've witnessed her fabulousness in person many a time at Complexions Contemporary Ballet. But [*sob*] I know they'll both go on to great things. You have bright futures ahead of you, Stanley and Jourdan!
What did you all think? Did the right people get booted? Let us know in the comments, and come back here next week for the recap of the Top 16 episode!
Last night brought us round three of "SYTYCD" Season 11 auditions, a two-hour smorgasbord of delectable dancers that totally renewed my faith in the show. Confession time: I was a tad disappointed with the level of talent we saw during the first two episodes. I'd even started to wonder if the "SYT" talent pool might be drying up. But tons of auditionees totally knocked my socks off last night, and from the looks of the in-between-featured-dancers montages, there were dozens more impressive hopefuls we didn't even get a good look at. Plus, lovely American Ballet Theatre soloist Misty Copeland came to Philly to guest-judge a round of auditions. Great dancers evaluating other great dancers? Yes. Yes please. (And continued kudos to the producers for celebrating the standouts rather than bullying the not-so-greats.)
Without further ado, here are my Top 5 moments from the episode:
1. #TeamBallroom was in the house... Whoa, you guys: The level of ballroom talent this season is staggering. First up were partners Serge (a Season 10 audition vet) and Alla, who, despite the romantic awkwardness between them—that "will you be my girlfriend" post-performance stunt was cringe-inducing—burned up the floor with their cha-cha. Next we saw Marlena and Armen (another Season 10 auditionee, perhaps best known as the guy who dropped Malece on her head); thankfully, their intense chemistry seemed totally real. Finally, there was Landon, my new favorite ever. With his extremely pinchable babyface, he looks like the most unlikely ballroom dancer in the world—and yet boy can work those hips. It didn't hurt that his partner was Season 10 ballroom favorite Jenna (whom Nigel promptly asked to return as an All-Star, of course).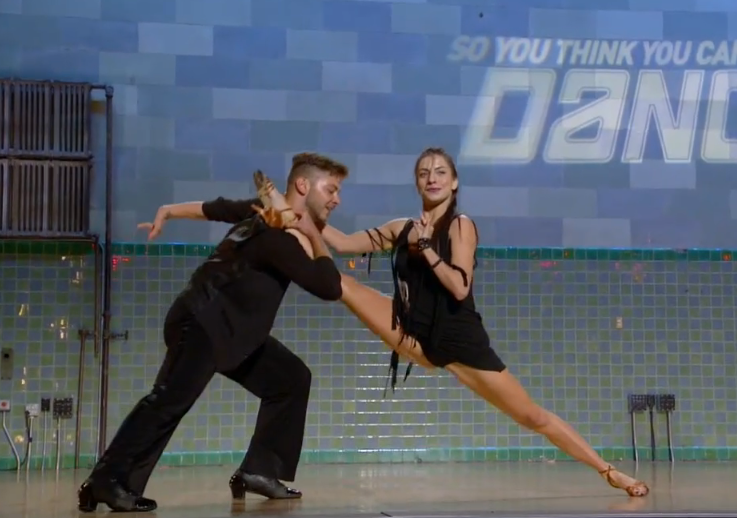 Alla and her LEGS and Serge and OH MY GOSH ALLA'S LEGGGGS
2. ...and so was #TeamBallet. The ballerinas came out to play last night! I was thrilled to see Jourdan Epstein, one of my favorite members of Complexions Contemporary Ballet, nail her powerful solo. (Hey, Complexions co-directors Desmond Richardson and Dwight Rhoden—does this mean we can expect to see you back on the show this season? SAY YES.) And I fell in love with Amir, the "funky ballerina," who, despite the small holes in her technique, showed so much charisma in her eclectic pointe piece to Beyoncé's "Flawless." Also, jeez louise, super-duper props to you ladies for dancing on pointe on waxed wooden floors, a.k.a. ice.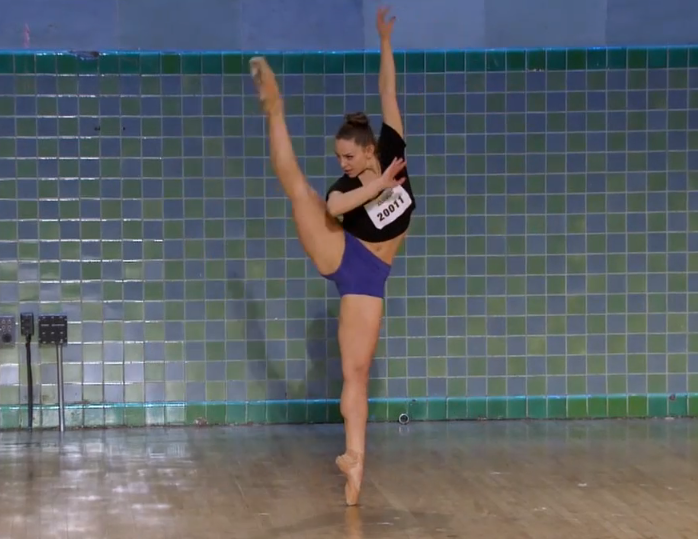 Jourdan Epstein being beautiful, as she does
3. Johnny Waacks came back! I couldn't get enough of Johnny during his Season 9 audition, when he introduced the judges to the art of waacking. (A sidenote for you, judges: Waacking is amazing and has been around for literally decades, so A. you should really know what it is by now and B. you should really, really, really stop giggling and making dirty jokes every time someone brings it up. K? Thanks.) This time around, Johnny rocked an incredibly fabulous skirt and waacked to WHITNEY HOUSTON and the world was filled with flowers and unicorns and happiness. Dance gods, hear my prayer: Please let this man make it through to the Top 20.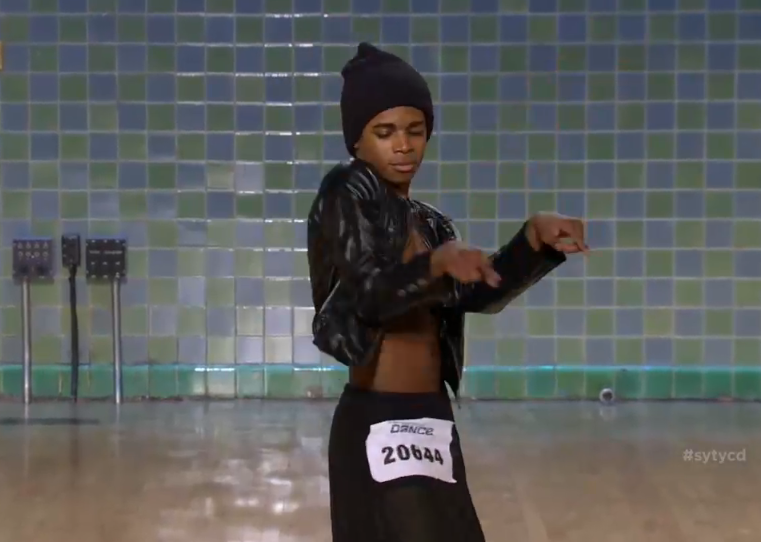 Get it, Johnny.
4. J-4 became the new frontrunner for the winner of "SYTYCD" Season 20. He's 9 going on "18 and a half," in his words, and he is just the cutest, most talented little b-boy. Naturally Nigel called Cyrus and Fik-Shun up onstage to freestyle with him, and while I'm getting a little tired of seeing past contestants hogging the spotlight, it was, I admit, a priceless moment. See you in nine years, J-4!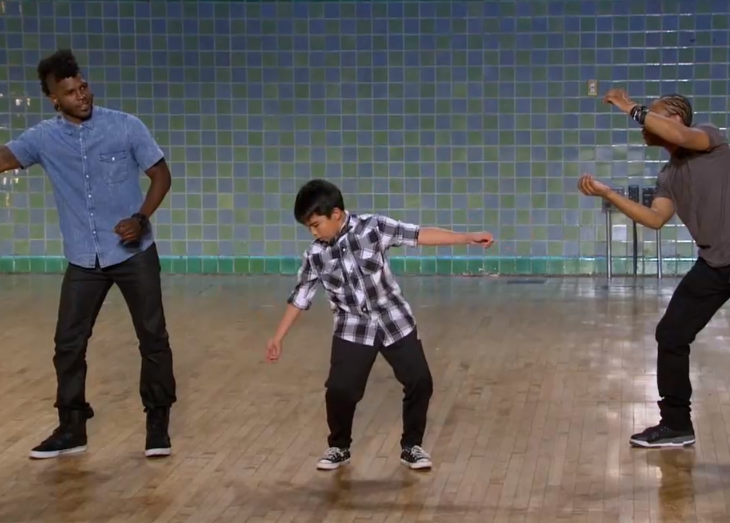 Never let those big kids steal your thunder, little guy.
5. We heard some truly powerful stories. Sometimes I get frustrated when audition episodes focus on dancers with tragic pasts. There's an exploitative quality to that kind of thing that makes me vaguely uncomfortable. But last night, the stories we heard were so moving that I repeatedly found a strange, watery substance leaking from my hard, cynical eyes. Contemporary dancer Bridget lost her father in a car crash when she was just 12; her last memory of him is the two of them watching "SYTYCD" together, and him telling her, "If you follow your dreams you can get there one day." Krumper James was shot in the knee and nearly lost his leg, which gave him a new appreciation for life and dance. Shy, gentle Stanley lost his mom when he was 4, and was raised by a friend of hers after nobody from his father's side of the family claimed him. (That weird eye-liquid—it was just pouring out of me during his segment.) A beautiful technician, Stanley was also able to channel the hurt and anger he's felt in the past into an astonishing, "creaturelike" solo.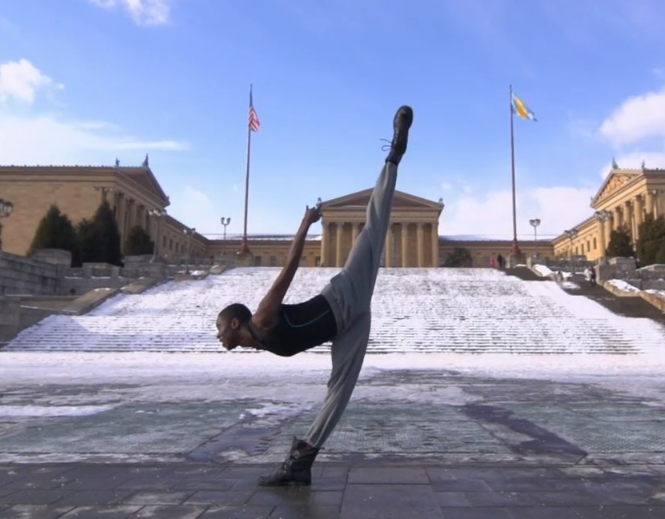 Stanley is absolutely one of my early favorites for the Top 20.
What did you guys think? Let us know in the comments—and come back next week, same time, same place, for our recap of the final auditions episode. We're heading to Atlanta, and from the looks of the preview footage, things are about to get real intense, y'all.
Aug. 21, 2013 09:27AM EST
This week, the Top 8 were choreographed by—and partnered with—eight "So You Think You Can Dance" All Stars. I kind of love it when "SYTYCD" throws us a curveball like that. And it's a risky premise: Artists are usually at the top of their game as either dancers or as choreographers, but rarely as both at the same time. So what, I wondered as the show began, would we get? Mediocre dancing of beautiful pieces? Or vice versa? Something in the middle?
Well, a little of all of the above, it turns out. Read on for my Top 5 highlights from last night's episode.
1. Guest judge Jenna Elfman was kind of meh—but hey, she started out as a dancer! I love these kinds of discoveries. According to Wikipedia, she was in a Depeche Mode video and was also a "legs girl" for ZZ Top, whatever that means. We need concrete evidence of all this, STAT. (Wait—is she the girl on the left at 2:33 in this video? Please, please say yes.)
2. Fik-Shun and Allison's contemporary routine. It was based on society's prejudices about interracial couples—a not-so-veiled reference to Allison's relationship with a certain other "SYTYCD" All Star. Was it earth-shattering choreography? No, not really. Was the lantern theme—meant to represent the two of them "being in the dark"—especially effective? Nope. But it was a solid routine with a powerful message, and I like that Allison let Fik-Shun be himself at critical moments, playing to his strengths while carefully hiding his flaws.
3. Hayley and Dmitry's rumba. (Was Aaron's self-unbuttoning shirt earlier on actually Dmitry foreshadowing? Discuss.) There's nothing better than a good ballroom number, and it's rare that we get one that actually tells a story—in this case, the story of a woman who's just discovered her fiancé is cheating on her. The rumba suits Hayley's laser-focused technique well, though I do agree with Jenna that she could loosen up a tad. And I looooove when Mary talks dirty ballroom technique to me: "The international Latin rumba is so difficult, mainly because you can fall off-balance so easily with that type of leg action, but you [Hayley] did it beautifully." Don't stop, Mary! Don't ever stop.
4. Jenna and Mark's jazz number. Direct Mark quotes from the rehearsal footage: "I want to pull inspiration from so many different places that it's just an explosion of my head." "I'm totally not a vegetarian when it comes to dancing. I literally want it bloody. I just want it raw." "So bring out your inner Indian, and let's go to space." Somehow, all that translated to "Rich Man's Frug" by way of Lady Gaga (fitting, since Mark has been a Gaga dancer since forever) with that ineffable Markness layered over the top, and I loved every crazy moment of it. The red carpet/tongue! Amazing. And yes, Jenna looked great, although frankly it took serious effort to tear my eyes away from Mark. (Which is theoretically a problem in a routine that's supposed to be showing off the contestant...but I don't care. I love it.)
5. Amy and Travis' contemporary piece. This was Travis at his best: A classic, not-too-complicated story, with admirable, if not groundbreaking, choreography. I've also missed Travis as a dancer (at least since the end of "All the Right Moves"—R.I.P.!). And Amy is just so ridiculously great. I mean come on, those synchronized triple pirouettes that extended to second—good grief, kids!
In the end, Tucker and Jenna went home. Sad news. But at this point in the competition, every elimination is sad news.
What did you all think of the show? Did the right people go home? Let us know in the comments—and tune in next week, same time, same place for our recap!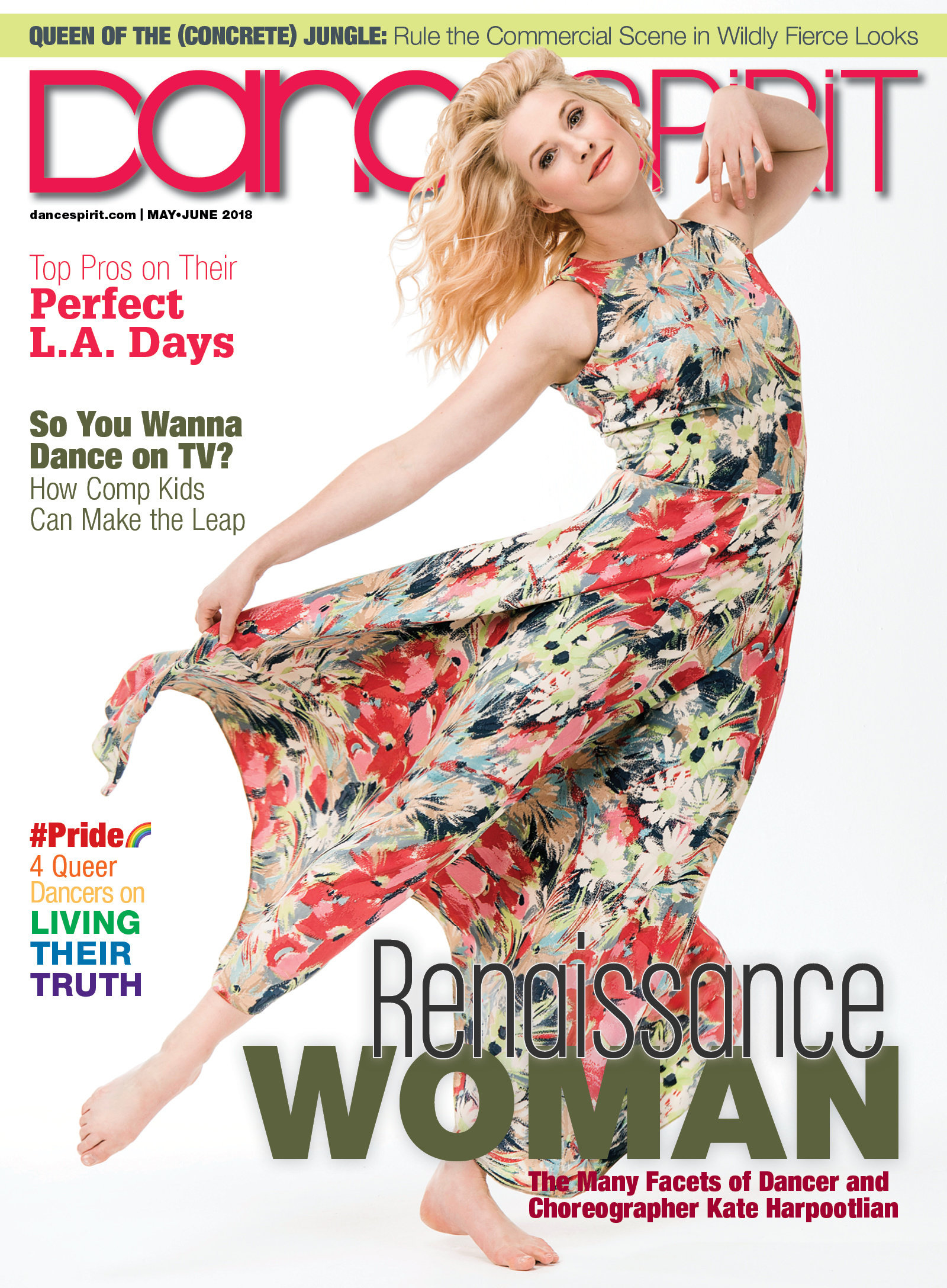 Get Dance Spirit in your inbox