Thinkstock
Back to school means back to dance full-time. But while you might be excited to spend every evening in the studio, your body likely isn't—and it'll let you know with some killer soreness the next morning. When should you push through the achiness and when should you take it easy? Dance Spirit looked to Natalie Imrisek, MSPT, CSCS, for advice.
Keep reading...
Show less
Thinkstock
Dancers are rightfully proud of the battle wounds on their feet! But not all bad-looking things are good. Case in point: ingrown toenails, which can be debilitating for dancers. DS spoke with podiatrist Dr. Bryan Hersh, DPM, of the Center for Podiatric Medicine in Chicago, IL, about this all-too-common condition.
Keep reading...
Show less
Yesterday we reported that Adrianne Haslet-Davis, the ballroom dancer who lost part of her leg in the Boston Marathon bombings, would take the stage at the TED2014 conference in Vancouver. And take the stage she did—well, more like burned a hole through it!
The special performance came Wednesday afternoon during a session given by Hugh Herr, a double amputee and director of biomechatronics at MIT. He spoke about his path to bionics and the new technologies his team is working on. (It's pretty fascinating stuff—read the TED2014 wrap-up for more.) Before the session ended, Herr invited Adrianne to the stage to exhibit a prosthetic limb he built after meeting her last year in the aftermath of the bombings: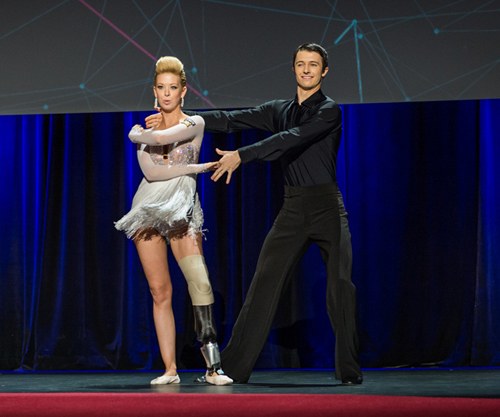 Adrianne performed a rumba with Christian Lightner.
Photo by James Duncan Davidson/TED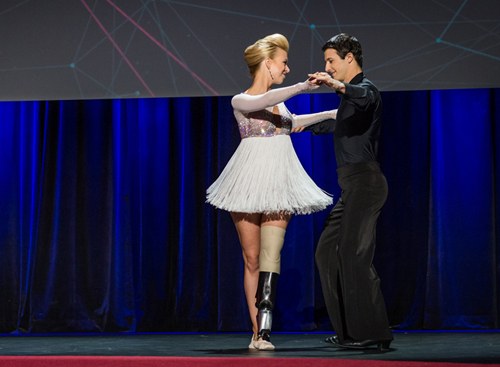 To design Adrianne's limb, Herr's team studied dance for a 200-day research period, looking at how dancers move and the forces applied to a body in motion.
Photo by James Duncan Davidson/TED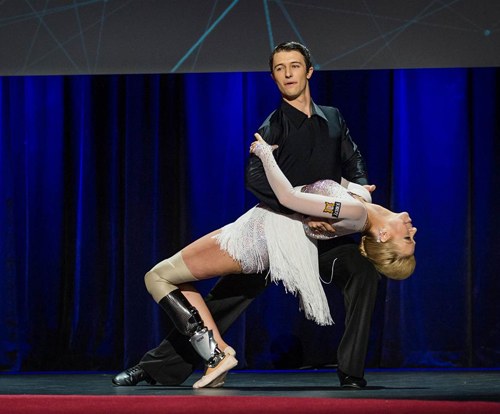 "Bionics are not only about making people stronger and faster," Herr said yesterday. "Our expression, our humanity can be embedded into our electromechanics."
Photo by James Duncan Davidson/TED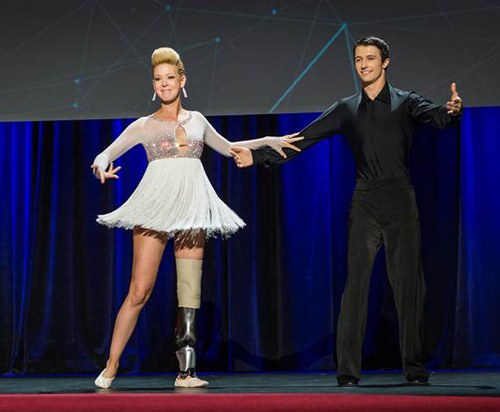 We love how happy she looks. You go, Adrianne!
Photo by James Duncan Davidson/TED
It's said that Adrianne is scheduled to perform on an upcoming episode of "Dancing with the Stars." We can't wait to cheer her on.
Dance Spirit receives tons of letters from readers, and we love it! You tell us about your struggles with and accomplishments in dance and about the dancers on our magazine's pages who inspire you. And often, those letters inspire us. Recently, we got an email from 14-year-old Kayla, whose story of her battle with a devastating knee condition was so heartfelt and brave. I've posted it here, so we can all learn something from her strength.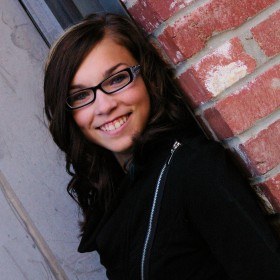 Dear DS,
Dance is my life. I've danced since the age of 3, but this year I lost it.
Since grade five I've suffered from knee pain. At first, doctors said I had too much cartilage, so I had to do a lot of physical activity to wear it down. But they were wrong, and that actually made it worse. That didn't stop me, and I continued to dance.
In early October 2011 I saw a new doctor who diagnosed me with osteochondritis of the knee. This means my cartilage was cracked, and fluid was pushing my bone out from behind my knee. Basically, my bone was about to break off. The disease has four stages (four being the worst), and I was at stage three. I was rushed into surgery on November 22 and had three screws put in my knee to push the fluid out. I was on crutches for 11 weeks, and I was told that I couldn't dance for an entire year. I go into surgery again on March 22 to take out the screws. That's when I will find out if my knee is healed and if I will be able to dance again.
For Christmas I got a subscription to Dance Spirit, and it's how I keep up with dance. I love receiving a new magazine every month, and I spend as long as possible reading it because it's the closest I can get to dancing.
One day soon, I hope to attend dance camps and conventions and improve my dancing enough to try out for "So You Think You Can Dance." I'm excited to see what my future brings!
Sincerely,
Kayla G, 14, Saskatoon, Saskatchewan, Canada
Thanks for sharing, Kayla! Your positive attitude and genuine love for dancing is contagious. DS wishes you all the best for a full recovery and a future filled with dance.
Want to get in touch with DS? Click here to send us an email.
For most dancers, the joys of dancing are coupled with inevitable aches and pains. You've probably heard about a bunch of alternative healing therapies, but how do you tell them apart and choose which one is right for you? Each of the therapies described here is meant to treat musculoskeletal injuries, but they're also great for preventative, ongoing care. Keep in mind that if you've broken a bone or struggle with a serious injury or illness, you should head straight to your doctor! Finding the right therapy for your body might take time, so be patient and have fun with the process.
MASSAGE THERAPY
What Is It?
The practitioner massages soft tissues (muscles and tendons) in order to increase the body's blood flow and circulation. According to massage therapist Caroline O'Connor, "Massage enhances movement and flexibility in the joints and muscles, and promotes the release of toxins from the body." Two common forms of massage are Swedish and Shiatsu.
What to Expect:
While receiving a Swedish massage, you lie beneath a sheet on a table. A therapist uses his or her "palms, thumbs, elbows and forearms to deliver strokes," O'Connor explains, which might feel long and flowing (covering the length of your muscle), or like focused pressure on a specific muscle.
Shiatsu massage originated in the practice of acupressure, an Asian therapeutic technique based on the belief that there are energy centers in the body called meridians. Meridians correspond to various muscles and organs. During an appointment, you lie on a futon-like mat or on the floor. The therapist "taps, squeezes and rubs energy centers to release blocked energy," O'Connor says. Practitioners may ask you to breathe with the pressure and provide verbal feedback.
Swedish
Pro: For many people, the experience of getting a Swedish massage is very relaxing.
Con: If being unclothed in front of other people is uncomfortable for you, this may feel too intimate.
Shiatsu
Pro: Being so involved in the process can increase your body awareness.
Con: Shiatsu's effectiveness relies on your feedback and body awareness. If you want to tune out, this is not for you.
CRANIOSACRAL THERAPY
What Is It?
Craniosacral therapists believe that we all have fluid in the spine that moves at a rhythm unique to each person; this rhythm must be maintained for the body to move with ease. Injuries cause the fluid to become restricted, so a therapist works to balance this flow by very gently touching around the base of the head and along the spine towards the sacrum.
What to Expect:
During craniosacral therapy, you lie on your back and a practitioner massages areas around the base of your skull and sacrum very lightly. You may feel very little, but the hand pressure is gently encouraging spinal fluid to move. Afterwards, you may feel light-headed, deeply relaxed or more aligned in your spine.
Pro: Gentle and noninvasive, craniosacral therapy provides an opportunity to connect with a complex and very subtle system in your body.
Con: The minimal level of sensation may be frustrating if you like deep tissue massage. It also requires mental focus.
ACUPUNCTURE
What Is It?
Like Shiatsu massage, acupuncture focuses on a system of meridians, or energy centers. Practitioners insert extremely fine needles very shallowly into specific meridians on the body. This allows energy to flow, relieves tension and aids in healing muscle soreness.
What to Expect:
The acupuncturist takes a full medical history (from your sleep patterns to the regularity of your period). Once you're lying down, he inserts needles into the skin near the injured area—but don't be surprised if needles are also inserted elsewhere, like in your head. These points correspond to various energy channels. You may feel a prick or muscle surge when the needle is inserted—this means the energy is flowing. You then lie still for 30 minutes or so while the needles do their thing. It's normal to fall asleep or feel relaxed during and after a session.
Pro: Acupuncturists often offer holistic counseling about many areas of your life, including your diet, sleep, exercise and mental health.
Con: If needles make you queasy, acupuncture probably isn't your thing! Also, the sensation can be quite subtle, so if you like deep tissue work, this isn't for you.
CHIROPRACTIC THERAPY
What Is It?
Chiropractic care deals with the spine's relationship to the rest of the body. Chiropractors apply controlled manual pressure to the spinal vertebrae. These are called adjustments and they release stress and tension in the body.
What to Expect:
You lie down on a table and the chiropractor adjusts your spine. You'll hear a series of popping sounds—this is the release of blocked spinal fluid. The release may help you feel more open, aligned and limber in your movements. Chiropractors often ask for a health history (including neurological and orthopedic information) before providing treatment, and they may take X-rays, do massage therapy and suggest strengthening exercises.
Pro: Many insurance companies cover the cost. For some people, it provides immediate relief.
Con: The popping sound can be overwhelming and the adjustments may feel aggressive to some people. Treatments also involve multiple visits.
CUPPING THERAPY
What Is It?
During cupping therapy, a small glass is heated and the rim is placed face-down on the injured, blocked area of the body. The pressure beneath the cup creates suction that pulls skin up, around and under the cup. Chinese medicine doctor Thomas Droge says, "This draws heat and 'dead' blood out of the tissue, freeing restrictions and increasing blood flow and function to the area. This results in better movement and greater breathing capacity."
What to Expect:
You lie down on a table and the practitioner places the cups directly onto your skin. "It feels like a massage therapist is giving you a very deep tissue massage," Droge explains. Sometimes the cups stay stationary and other times they're moved in a rhythmic manner.
Pro: Immediate pain relief and increased breathing capacity.
Con: This aggressive treatment is not for everyone and it shouldn't be done frequently. It leaves dark round marks on the skin for a few days, so if you're performing in a backless costume anytime soon, try something else!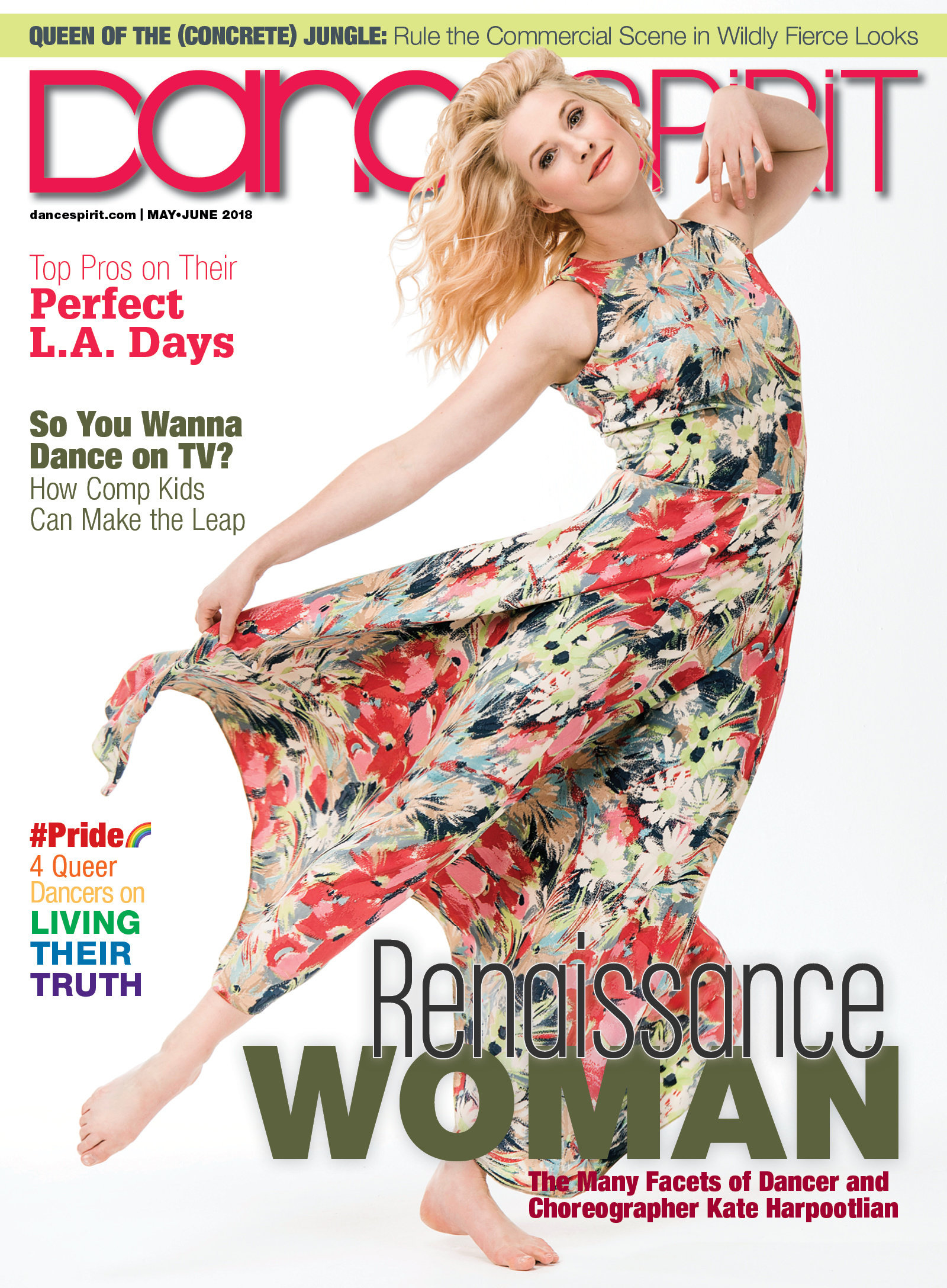 Get Dance Spirit in your inbox