Applying for a college dance program can feel like a guessing game. Should you highlight all your competition titles and awards? How important are your academic grades? And how should you act in the audition? Here's advice from admissions officers from some of the top dance programs in the country about how to make your application stronger.
Keep reading...
Show less
Feb. 01, 2015 11:36AM EST
Like most dancers, Alexandra Badgett spent the majority of her high school nights and weekends in the studio. And though she knew how to craft a resumé for dance auditions, putting one together for college applications was another story. "It was hard to express the commitment and dedication it takes to be a dancer, especially since I knew the admissions officers reading my resumé wouldn't be in the dance industry," she says.
Whether you're applying for college, an internship or a part-time job, the non-dancers evaluating you won't be interested in the Nutcracker roles you've performed or all the summer intensives you've attended. (Save those for your artistic resumé.) But as Badgett learned, there are several ways to spin your time inside the studio to help you get hired outside of it. Today, Badgett's a freshman at the University of South Carolina, and she's used her dance-infused resumé to apply for positions on the Freshman Council and as a university ambassador.
Looking to beef up your professional resumé? Read on for tips to make it as impressive as possible.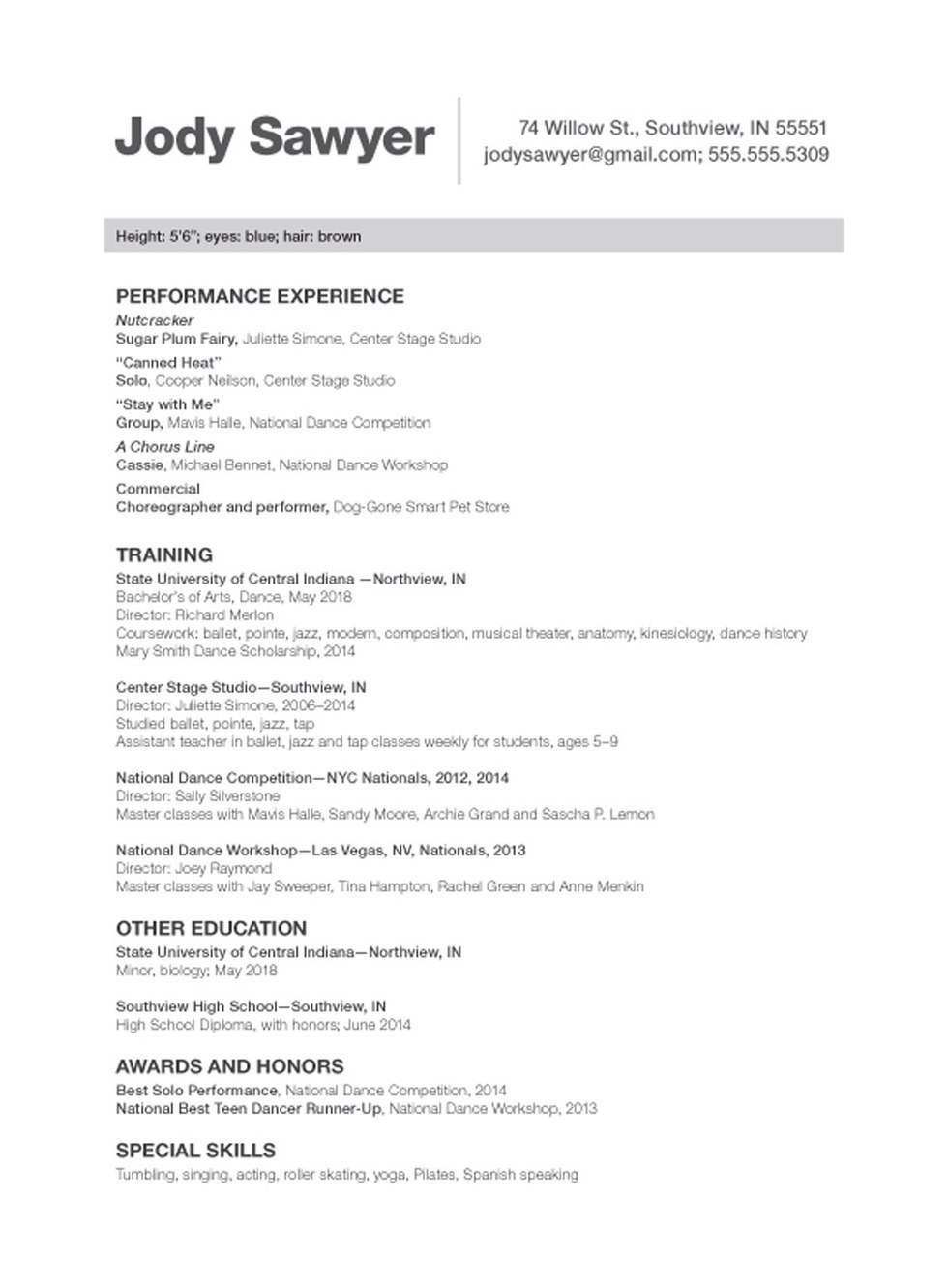 An example of a dance resumé
Translate Your Achievements
If you already have a dance resumé, you don't necessarily have to start at square one. Instead, says Chris Chesley, director of education programs and student academic support at Interlochen Center for the Arts in Michigan, translate some of what you've already highlighted into terms people who aren't familiar with dance can understand.
While a dance resumé might list the names of the choreographers you've worked with or the workshops you've attended, a non-dance resumé should emphasize what you've gotten out of those experiences. "Don't get into technique specifics or how your turns improved this year," Chesley says. "Instead, look at those same ideas from a different angle." Are you a choreographer? That can translate to being a leader and a problem solver. Do you perform a wide range of styles? You're probably attentive to detail. And don't forget to mention how your sense of artistry affects your school work and your ability to collaborate with others.
Everything Counts
It may seem like all you've done at your studio is take class and rehearse, but chances are you've actually done a lot more. When Badgett first started working on her college resumé, she made a list of everything she'd been involved with—like assistant teaching and helping out backstage at recitals. Have you sat at the front desk answering phones or checking in people for class? That's customer service experience. Did you perform at senior centers or hospitals on weekends? That's volunteering for community outreach. Those are the kinds of experiences employers love to see on resumés.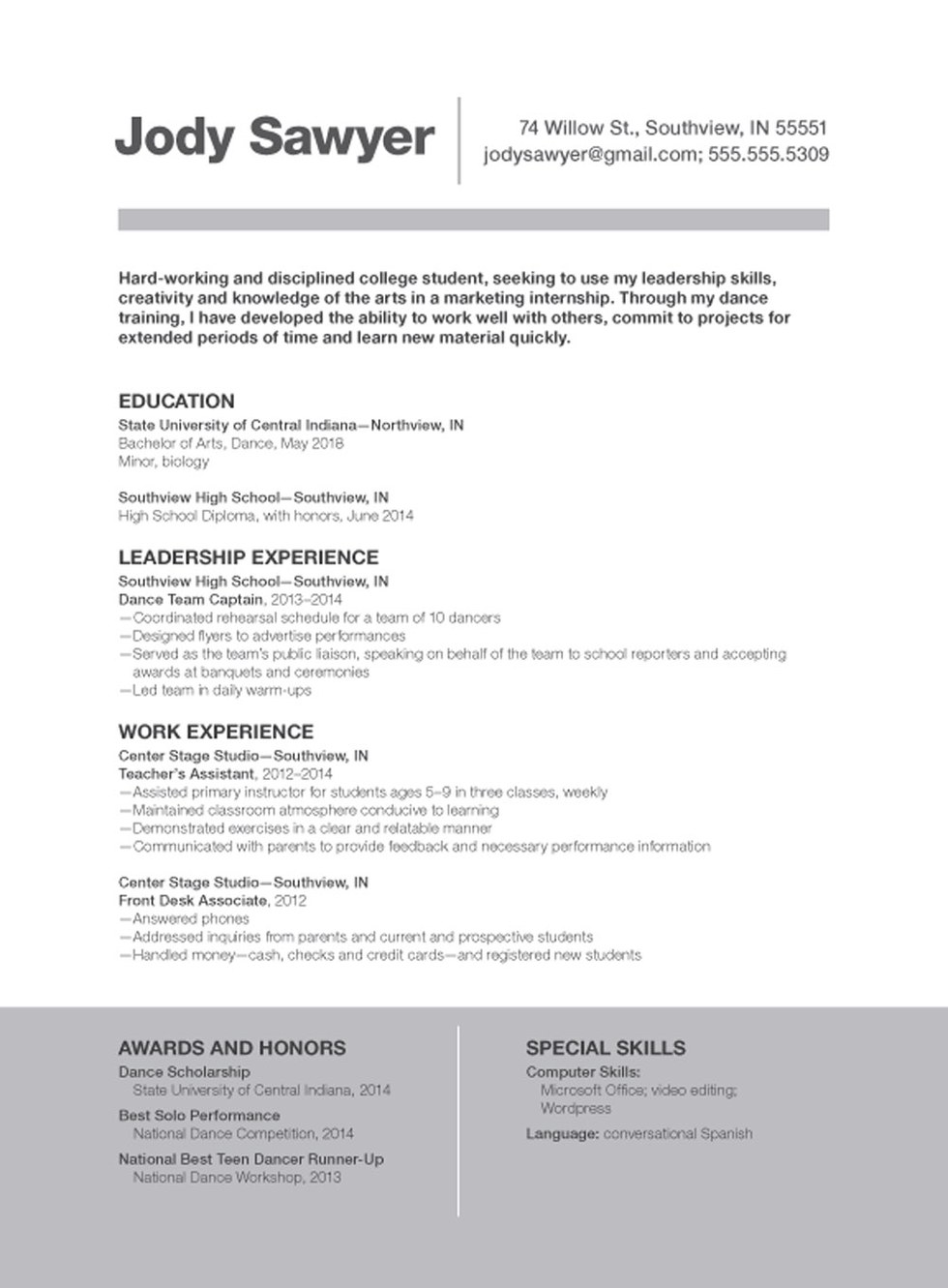 An example of a non-dance resumé
Organization
Next, think about ways to present those experiences that will best show them off. Badgett organized her resumé using three categories: "Scholastic Honors" for in-school achievements, "Leadership Roles" for work in the studio and "Accomplishments" for competition titles and other awards. Depending on which qualifications you want to highlight or the type of job you're applying for, you can vary the order of these categories. For example, if you're looking for a part-time position in an office, you'll want to list your experience at the front desk first. On the other hand, if the resumé is for a scholarship, you'll want to lead with your education.
Confidence Is Key
Above all, don't underestimate the real-life skills you've gained as a dancer. "You have the ability to work with others for long, grueling periods of time," says Amanda Hankes, a former New York City Ballet and Miami City Ballet corps member. "Dancers also understand the benefits of a good presentation, being organized and being prepared."
Today, Hankes is a real estate agent in NYC, and though she remembers struggling with her first non-dance resumé, she learned to appreciate what dance
offers. "I realized I'd done a lot—and my time had been well spent."
Jan. 15, 2012 05:00PM EST
Your on-paper persona can be just as important as your dance skills. Here's what you need to know about making your dance resumé audition-ready.
When you're headed to an audition, you'll need to have a few things on hand: your best moves, your favorite I've-got-all-the-confidence-in-the-world outfit, a professional headshot—and your dance resumé. That's right: Resumés aren't just for people working 9-to-5 office jobs. If you want to get hired, whether it's for a studio teaching job or a commercial, you'll need to hand over a rundown of your dance achievements.
Compiling a resumé is a daunting task—what should you include and what should you leave off? DS consulted Shayna Brouillard, a top dance agent with Clear Talent Group in L.A., to find out how you can build your best resumé. —Alison Feller
Don't include an objective or qualifications. Keep it simple. If you're auditioning, you obviously want the job!
The format of your resumé should include headers, columns and sections. Don't use paragraphs or bullet points.
Mention conventions you've attended and significant awards or recognition you've received, but remove these once they're outdated.
List your training by style and then list the people you have trained with. Include people who know you and your abilities, not people you've taken class with once or twice. If the hiring choreographer checks your references, it'll be embarrassing if the choreographer you listed can't remember who you are!
Only include your school or community performances as part of your stage credits when you're building your resumé. Once you start getting more professional jobs, you can leave the early ones off.
References are not necessary. Choreographers just want to know who you've worked and trained with. You don't need to provide their contact info.
Your contact information isn't necessarily your personal e-mail address and phone number. If you have an agent, include his or her information, not your own. If you don't have an agent, that's fine—just include the best ways to get in touch with you directly.
Include a "stats" section with your height, weight, hair color and eye color. Don't lie! If you say you're 5 feet tall and you're, well, not, it's going to be obvious. This is also the section where you can include any union memberships you may have.
Each section should feature the name of the project you worked on, what your role was on that project and who hired you (choreographer, director or company—whichever is most applicable).
Don't include dates unless you're specifying the year you won a particular award or if you're mentioning a job that happens annually, such
as The Academy Awards or the MTV Video Music Awards.
A "special skills" section will highlight any non–job-specific abilities that can give you an extra boost in the hiring process. This includes workout skills (yoga, Pilates, etc.), sports you can play well, languages you speak, if you have a valid driver's license, if you have a valid work permit (for dancers under 18), musical instruments you can play or gymnastics training.
Make sure your resumé is no longer than one page. No one wants to flip to a second page. A clean way to present your resumé is with your headshot stapled to the back, facing out.
Aug. 30, 2007 01:40PM EST
Who you are:

The heading of your resumé should always contain your most up-to-date contact information. This includes your name, phone number, e-mail, date of birth and height. When listing your height, avoid using fractions and round off to the nearest inch. Also remember that your e-mail address should be professional. Employers and agents might be hesitant to contact you at "sexylittlebabygirl@aol.com."
Performance experience: This section should contain your career highlights, including commercials, music videos, industrials, movies and cruises. Include the names of shows you were in, followed by the name of the show's choreographer (in parentheses), the company that did it and the role you performed. Show titles should always be in italics. While your performance experience may include anything from the annual recital at your local studio to your spotlight performance as Clara in The Nutcracker, you should list only the performances most relevant to the job you're seeking or the most recent. There is no need to include your role as a bluebird in your preschool performance of Cinderella.
Awards: This part of the resumé is the place to do some bragging. Highlight your distinctive assests in this section, like the first-place medal you received at Nationals or the exceptional score you received on your Royal Academy of Dance examination. Don't list every competition you've attended or the score of every dance you've performed. Employers and agents don't have time to read all that, and probably won't be impressed to learn that your elementary school tap routine to "Please Mr. Postman" got a silver medal. Keep this section brief.
Dance training: Here, create a chronological list, starting with the most recent, of all schools and/or academies where you've studied dance. Include the name of the school, the teachers you trained with, the time you spent there, the forms of dance you studied and any scholarships you received. If you attended a workshop or summer program that was particularly interesting and pertains to the job you're applying for, list it. For example, if you're auditioning for the Rockettes, mention if you've attended the Rockette Experience Workshop.
Education: If you've been a dancer since you were young but have performed only once in your studio's annual recital, it would be a good idea to indicate your current school or any organization from which you've received a diploma or degree. This would include where you went to high school and the degree you received, as well as the college you've been accepted to and your anticipated major or degree. Always start with the most recent and work backwards. However, if you have a large range of experience, a potential employer won't be as concerned with your non-dance education.
Special skills: This is a non-dance-specific section, but it could be what separates you from other candidates in your field. This part of your resumé can include anything from special movement training, such as martial arts or contortion, to a foreign language you're fluent in. Once again, make sure that what you list is important to the job you're after. A performance company won't be interested in the fact that you like reading poems in your free time.
The Do's and Don'ts of Resumé Writing:
Do…
Proofread and spell check.

Keep your resumé objective. Avoid describing yourself as the best or a top dancer.

Make sure all of the information you provide is relevant to the job you're applying for.

Limit your resumé to one page.

Get rid of what you've outgrown and highlight what is recent.

Keep the language in your resumé simple.

Choose a font that is readable.

Make sure your resumé is standard letter size and is stapled to the back of your most recent headshot.
Don't…
Lie.

Go overboard. If you're asked to submit your resumé and headshot, don't include a 3-ring binder of photos and reference letters.

Correct your resumé in pen or white-out after it's printed.

Fold your resumé. If you have to mail it, buy a large envelope.

Overuse "cutesy" things like asterisks or exclamation points.

Include the word "resumé."

Make your resumé a numerical list.

Include information that comes from anyone else, like a message from your parents. If a company requires references, you can provide those after your resumé has been submitted.

Write in paragraph form. Instead, use bullets to distinguish each point from the next.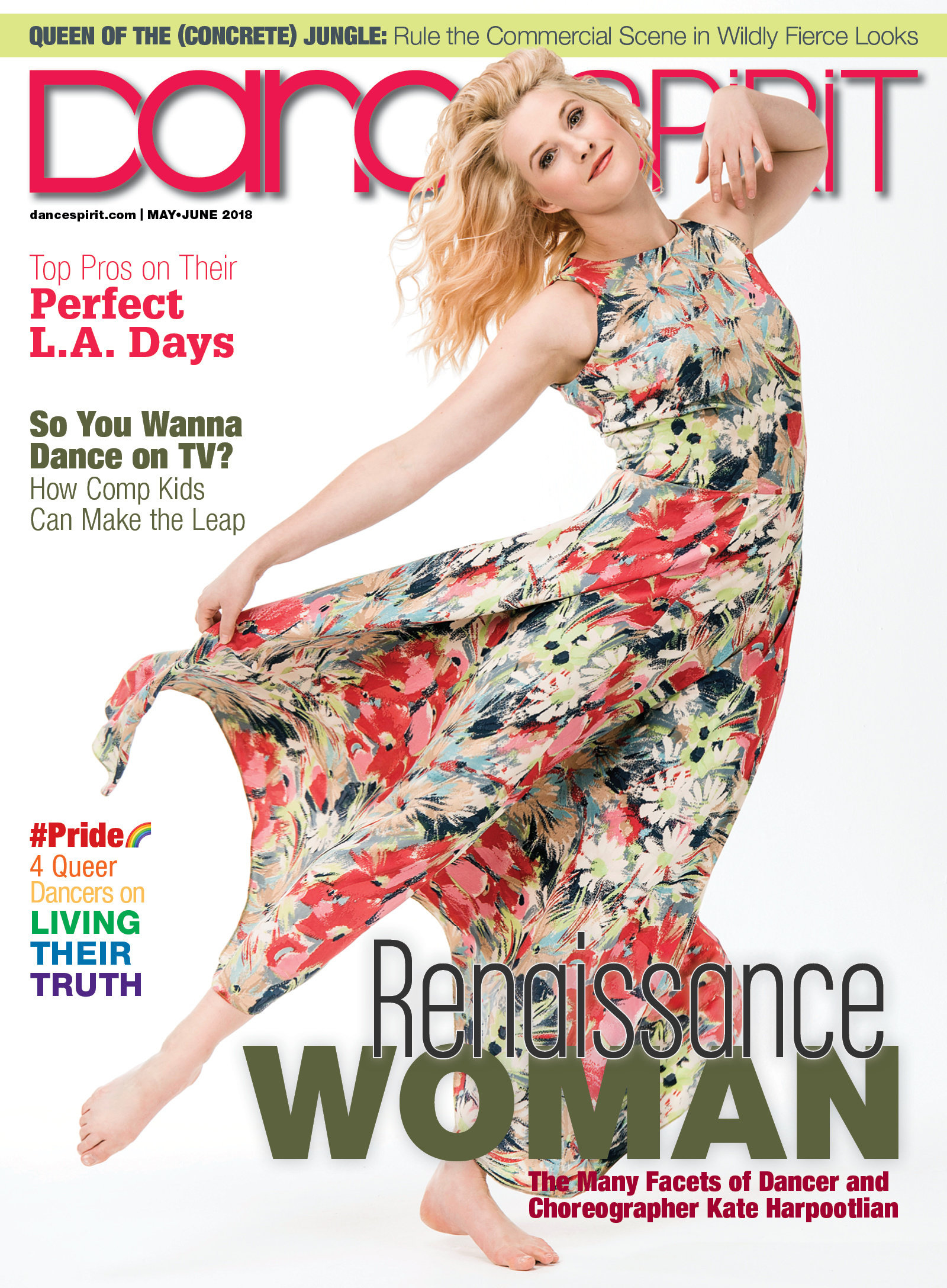 Get Dance Spirit in your inbox