OK, there wasn't as much dance as we would have liked to see at this year's Grammy Awards. But the night still included a few awesome dance-y moments.
One word, guys: Hamilton! It's always great when Broadway gets some love and recognition outside of the musical theater scene, so when the folks from Hamilton appeared via satellite to perform the opening number from the show, we did our own little happy dance. And then sat transfixed. Minutes later, to pretty much no one's surprise, the show scored the Grammy for Best Musical Theater Album.
Then there was Kendrick Lamar's amazingly poetic performance of "Alright" and "The Blacker the Berry," featuring glow-in-the-dark costumes, a giant bonfire and virtuosic dancers. Choreographed by Fatima Robinson with Charmaine Jordan and Adrian Wiltshire, it was one of the night's most powerful—and beautiful—moments.
Target and Gwen Stefani made history with the first-ever live music video, in which Stefani channeled Marilyn Monroe as she gamely lip-synced along to her single "Make Me Like You" throughout various sets and costume changes. The dancing was fabulous and full of fun moments—choreo on salon chairs and Vespas, a chorus of cheerleaders decked out in Gwen masks, even a roller-rink scene complete with impressive moves on skates.
Lady Gaga's David Bowie tribute was, naturally, epic, and complete with jumpsuit-clad dancers (we see you, Marquis Cunningham!) who pulled out everything from perfect pirouettes to sassy struts and flawless tilts.
And last but not least was Pitbull's finale performance, which featured a surprise appearance from "Modern Family" star Sofia Vergara during his song "Taxi." We loved Rhapsody James' fierce, Latin-inspired choreography, and dancers Sophia Aguiar and Amandy Fernandez slayed as per usual.
Whoa, guys. We're kind of still recovering from the incredible intensity of The PULSE on Tour's Final Night Gala, held yesterday in NYC.
The thing is, we came in thinking we were prepared for the awesomeness. We know how great The PULSE faculty is. When you have the likes of Cris Judd, Dave Scott, Ian Eastwood, Dee Caspary, Gil Duldulao and Tricia Miranda (to name just a few!) putting together pieces for some of the country's most talented dancers, you know you're in for a good time.
But we weren't prepared for just how good it would be. The PULSE dancers had less than a week to learn their routines, but they performed with the polish of experienced pros. We particularly loved the old-school romance of Judd's piece, set to Billy Joel's "Scenes from an Italian Restaurant," and the ferociousness of Duldulao's hard-hitting (literally—baseball bats were involved) number set to some classic '90s hip hop. (As you've probably figured out by now, we're all about a good #throwback.)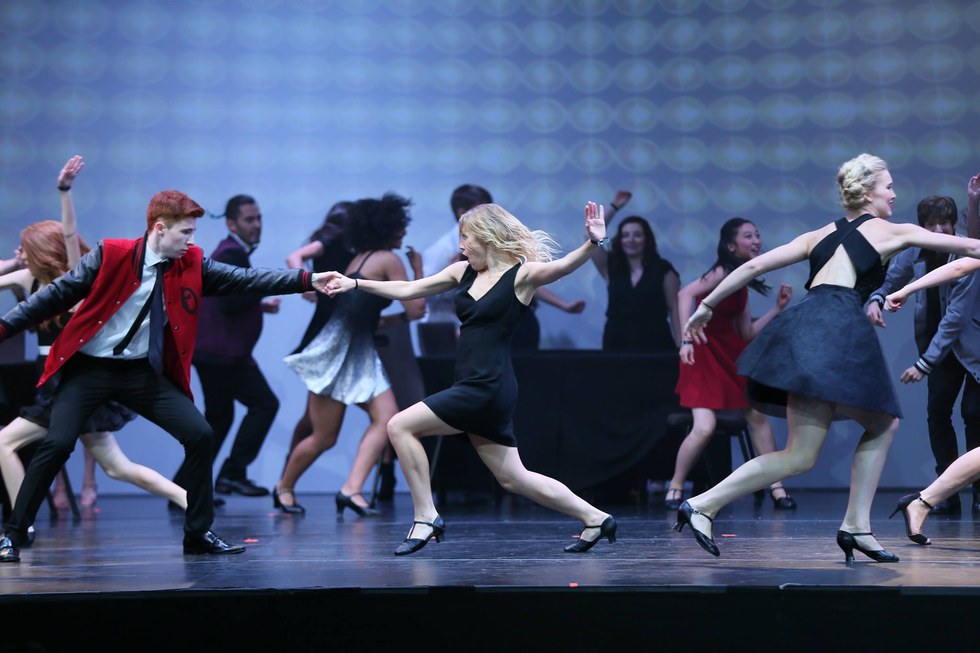 Rocking out to Billy Joel in Cris Judd's piece (photo via The PULSE)
There were also several knockout guest performances. Zendaya, one of our favorites of the moment, showed off some impressive dance skills while performing her hit song "Replay," backed by a crew of PULSE dancers. Flight Crew, a jump-roping (!) team currently competing on "America's Got Talent," did some unbelievable things with jump ropes. And a remarkable group of Elite Protégé alums celebrated The PULSE's 10th anniversary by reuniting for a piece by the fabulous Rhapsody James. (One of the sweetest moments of the night was the faculty's outsized reaction to that performance. Those dancers were once their students, and now they're earning A-list jobs all over the world.)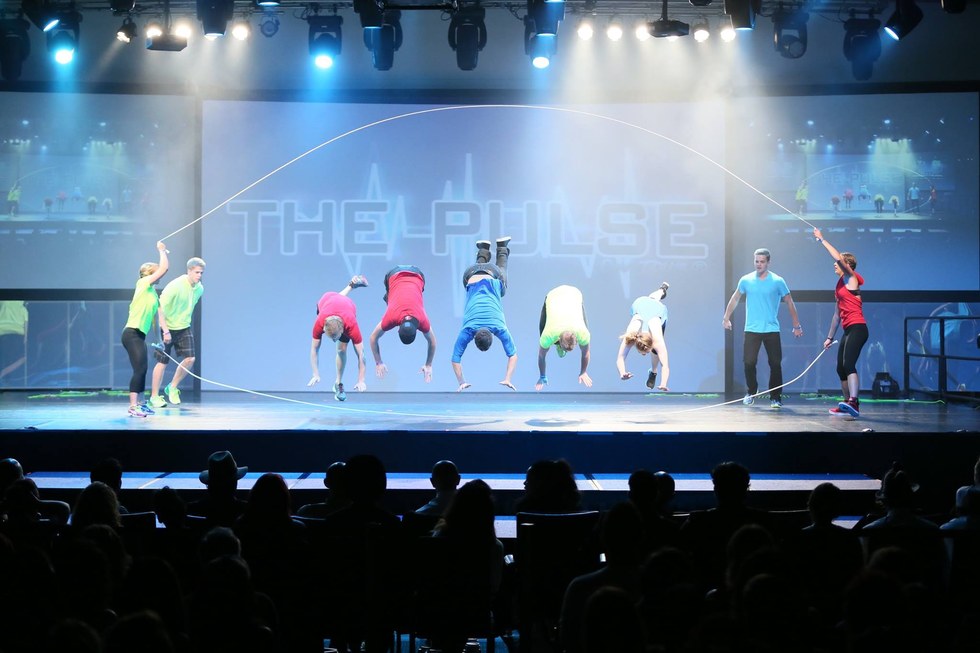 Flight Crew mid-flight (photo via The PULSE)
Emotions ran high as it came time to announce the 2014-2015 crop of Elite Protégés. 13 talented dancers—including Charlize Glass, Kierstyn Tupa, Elyssa Cueto and Trevor Takemoto—earned yearlong scholarships to The PULSE, plus opportunities to assist the convention's faculty. Congrats, everyone! We're so excited to see what amazing things you'll get up to this year.
Jul. 17, 2013 11:35AM EST
Here's the understatement of the year: Daisha Graf and Alicia Graf Mack aren't your average sisters.
Daisha is a commercial dance and music success story who's worked with the likes of Beyoncé and Rihanna. Alicia is a celebrated concert dancer who's performed with Dance Theatre of Harlem and Complexions Contemporary Ballet and is currently a member of Alvin Ailey American Dance Theater.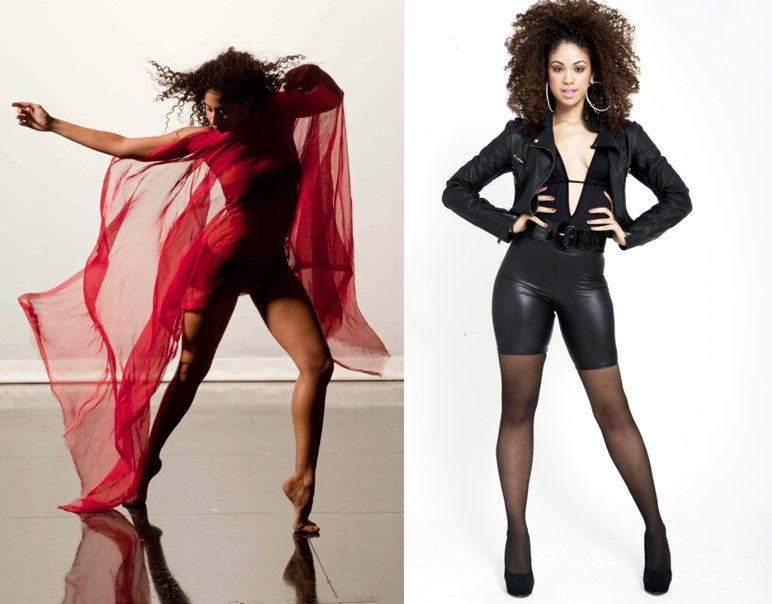 The Graf sisters: Alicia (left) photographed by Bob Morrison; Daisha photographed by Hao Zeng
The dynamic duo recently decided to join their impressive forces to create the Daisha and Alicia Graf Arts Collective, aka D(n)A Arts. The new company's goal is to present dance, music and other arts workshops—and its first program, the one-day Made to Move dance intensive, will take place on August 31 in NYC. (There are still a few spaces available—apply here!)
DS talked to the sisters about their new organization and how they hope to help aspiring performers.
Dance Spirit: What was the inspiration for D(n)A Arts?
Alicia Graf Mack: Daisha and I have both been dancing professionally for several years, but we'd never had a chance to work together. We wanted to give back to the dance community, because we've been so inspired by the mentors we've worked with.
Daisha Graf: We both have such a passion for the arts that we figured, why not keep it in the family, do something together, and have a bigger impact? And we purposely didn't call it "dance collective," but "arts collective." We're both very dance-heavy, but I'm also a recording artist, and both of us played piano our whole lives. We're hoping to do more intensives that explore music, or photography, or theater—all of that is important.
DS: How do the two of you complement each other?
DG: We're kind of the perfect yin and yang, because we're in two completely different dance worlds. In this intensive we're hoping to show all the different ways you can blend them both to be a well-rounded dancer—and in the end, get more work.
AGM: We both have the same sense of responsibility. We've received so much information during our journeys in the dance world, and it's our responsibility to share that information with others. And we both want to figure out a way to make the dance community tighter. Dancers are special, and we should know and feed off each other. Just as we can teach and inspire them, these students can inspire us.
DS: How did you put together the Made to Move intensive? You have such an amazing list of teachers—Renee Robinson, Ronald K. Brown, Rhapsody James...
AGM: We thought about the people who have made the largest impacts on our own lives.
DG: We decided it'd be really interesting to have all types of styles in a single day—instead of a hip-hop intensive or a ballet intensive, you're studying ballet, contemporary, African, hip hop and singing! Normally you'd have to go to five different places to get all of that.
AGM: The overall theme of the Made to Move intensive is the transition from student to professional, so we also assembled a professional panel that will discuss that process with the students for an hour. The list isn't set in stone yet, but so far it includes American Ballet Theatre's Misty Copeland, E! Entertainment founder Alan Mruvka, Antonio Douthit of Alvin Ailey and some agents from Clear Talent Group.
DS: What are you hoping participants will take away from the Made to Move intensive?
AGM: Number one, we want them to have a relationship with us. We want to start a dance family. I love students; I love the energy they bring. I want them to feel like my door is open to them. I also want dancers to know they shouldn't limit themselves to one style. You have to learn how to wear many hats and change them out quickly.
DG: We want the students to open their minds over the course of the day—because they might end up falling in love with a totally new style of dance. We're also going to extend some personal mentoring to a couple of the exceptional dancers, so they have a sort of big sister to talk to about their careers.
Dec. 13, 2012 10:50AM EST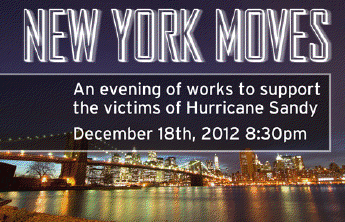 Last week, we gave Marylanders the heads-up about the Jam for Sandy, taking place this Saturday in Capitol Heights. Now there's a chance for New York dance lovers to give back to the Big Apple communities still reeling from Superstorm Sandy.
On Tuesday, December 18 at Manhattan Movement and Arts Center, more than a dozen New York-based choreographers will present works in a concert titled "New York Moves." 100% of proceeds from the evening's ticket sales will go to Sandy relief, specifically to the New York families affected by the storm.
It's a seriously impressive list of artists—including DS favorites Lauren Adams and Rhapsody James—which means it's pretty much guaranteed to be a great show, as well as a big-hearted one. Tickets are $15 ($12 for students); click here to get 'em, and to see the full list of choreographers.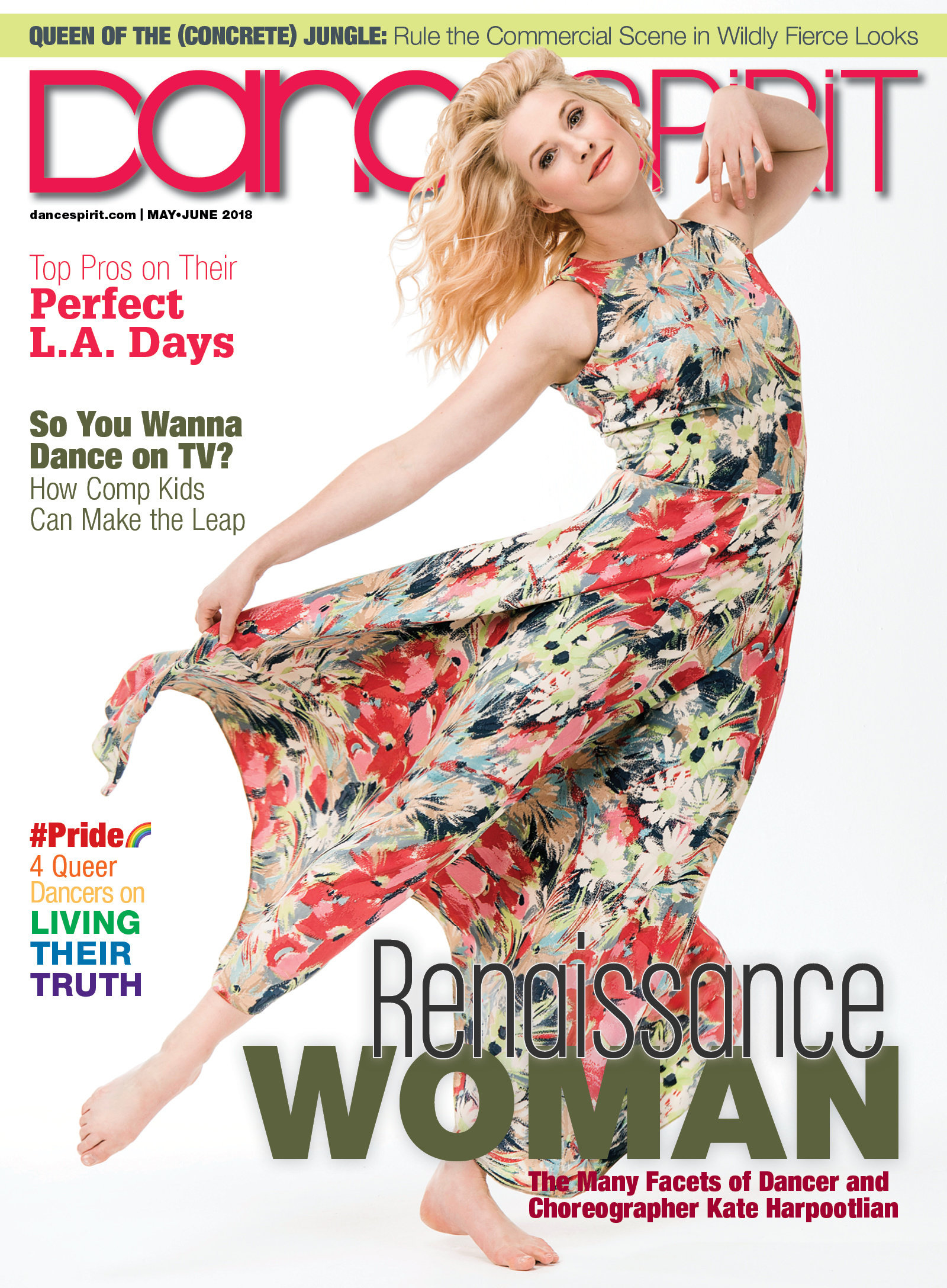 Get Dance Spirit in your inbox