Apr. 15, 2015 04:37PM EST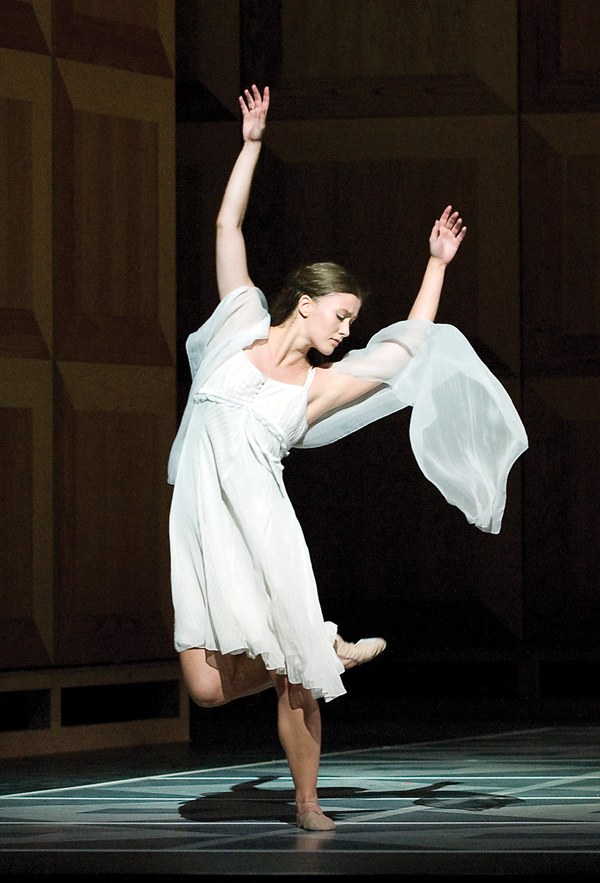 As Juliet in Mark Morris' Romeo and Juliet, On Motifs of Shakespeare (photo by Gene Schiavone, courtesy Mark Morris Dance Group)
It takes a special dancer to perform Mark Morris' rhythmically and spatially dynamic choreography. But Rita Donahue more than fits the bill: She moves with precise musicality and unabashed physicality, gliding through Morris' challenging works with ease. The Virginia native, who grew up studying ballet, jazz and tap at her local studio, first performed Morris' Marble Halls as a dance and English double major at George Mason University. In 2003, shortly after graduation, Donahue auditioned for the Mark Morris Dance Group in NYC and was offered a contract. In addition to touring with MMDG roughly six months a year, Donahue teaches with the company's Dance for PD program, leading movement classes for people with Parkinson's disease and their caretakers. This month, catch Donahue in a Morris premiere at the Brooklyn Academy of Music. —Jenny Dalzell
Dear Rita,
You're not going to believe this, but someday you'll get to do what you love for a living!
I know right now all you want to do is focus on ballet, but don't be too strict with yourself. Don't get me wrong: You're definitely going to need all the ballet technique you can get. But listen to the dance teachers who encourage you to try other styles, too. The dance world is much wider than you think, and there are many paths to take to keep you dancing and happy.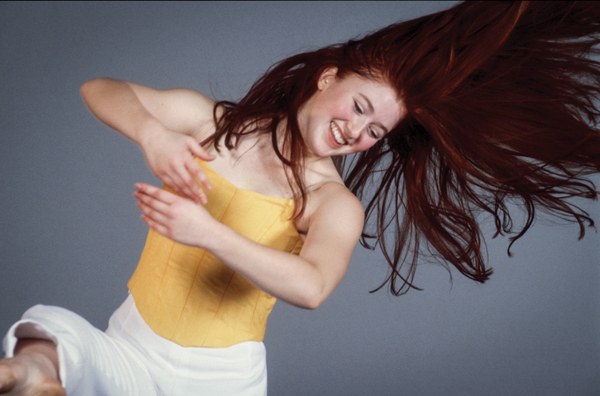 As a George Mason University student (Evan Cantwell, courtesy George Mason University)
The competition for a career in dance and the pressures of performance can be intense. Make sure to take care of your mind and body. Trying to be the thinnest or the most flexible dancer won't make you the best dancer. It certainly won't make you the strongest!
And don't worry if you choose a different path than your friends who are already in dance conservatories. You'll be glad you decided to study academics as well as dance in college. There's so much in life that will add to your performances besides honing your ballet technique. Read, listen to music, see shows and engage with the world you live in. It's a beautiful journey you're about to embark on—try to enjoy every minute of it!
Love,
Rita
Sep. 13, 2012 10:52AM EST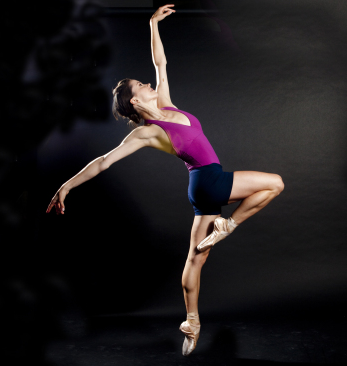 It is a truth universally acknowledged that dancers are hot.
But seriously. Yes, there's a heck of a lot more to dancers than their hotness, but since their lives are their bodies, those bodies are generally in pretty amazing shape. And not like I-hit-the-gym-6-hours-a-day-check-out-my-muscles shape. Studying dance creates this uniquely amazing look—long, lean and elegant, like a racehorse.
Time Out New York just put out a fun "Hot Dancers" series, featuring dancers talking about how dancing keeps them fit and what else they do to stay in shape. Each mini-profile also has a bunch of beautiful photos playing up the gloriousness that is the dancer body. Shameless objectification? Well, yes. But these are also bodies that can do totally amazing things. Why not celebrate the happy side effect of hotness?
Read (and see) all about the hot bods of Megan Fairchild, Melissa Toogood, Michael Apuzzo, Rita Donahue and Joey Kipp.


Get Dance Spirit in your inbox