Sep. 20, 2018 11:08AM EST
Robert Fairchild and Leanne Cope in An American in Paris (courtesy Trafalgar Releasing)
Dance News
Jul. 23, 2018 10:51AM EST
It's just so beautiful. (via Instagram)
It made us so, so happy just to type those three very bold-faced names into a single title. So you can imagine how excited we are to share this clip from the performance that group of legends put together for the Fire Island Dance Festival this weekend.
Dance Videos
Apr. 21, 2017 11:59AM EST
As far as musical theater news is concerned, this week has been liiiiiiiiit. On Tuesday, we reported that Carousel is coming back to Broadway next year in a production featuring several New York City Ballet favorites. Now there's word that two more of our ballet/Broadway baes are at the helm of a new City Center Encores! production of the classic Brigadoon.
Dance News
Apr. 18, 2017 10:44AM EST
Mar. 23, 2017 12:34PM EST
The New York Dance and Performance Awards—known fondly as the Bessies—are back! They're the dance world's Academy Awards, if you will. Named after dance pioneer Bessie Schonberg, the Bessies are more and more impressive each year. 2015's nominees are no exception.
The list is huge and sparkling. There's all the ballet that made headlines this year, from Alexei Ratmansky's production of The Sleeping Beauty (nominated for Outstanding Revival), to New York City Ballet principals Robert Fairchild and Amar Ramasar (both nominated for Outstanding Performer), to NYCB Resident Choreographer Justin Peck's Rōdē,ō: Four Dance Episodes (nominated for Outstanding Production).
Gillian Murphy and Marcelo Gomes in Alexei Ratmansky's The Sleeping Beauty (Photo by Andrea Mohin)
There's also a ton of fascinating work that really highlights what the Bessies are about—truly performing and pushing boundaries. Talya Epstein's performance in Star Crap Method is one to note, as is Xavier Le Roy's Outstanding Production nomination for Retrospective, which took place at MoMA PS1 last winter.
Outstanding Performer nominee Talya Epstein in Larissa Velez-Jackson's Star Crap Method (Screenshot via Vimeo)
The Bessies take place on October 19th and it's going to be a magical night for all of these deserving artists.
Mar. 23, 2017 06:59AM EST
Dancers (including director Damian Woetzel, right) rocking out at the Vail International Dance Festival. Photo by Caitie Kakigi.
National Dance Day is this Saturday, July 27—and the town of Vail, Colorado, home of the awesome Vail International Dance Festival, is celebrating in style with a three-hour dance-a-thon fundraiser. (It'll benefit four dance-y organizations, including the Festival.)
While anyone and everyone is invited to participate, the event boasts some serious dancelebrities, too. There'll be performances by Vail IDF artists Tiler Peck, Robert Fairchild and Lil Buck, and internet sensation Matt Harding (from the great/hilarious "Where the Hell is Matt?" series) will be filming for his next video during the event. Not sure your moves are up to par? Lessons in everything from hip hop to line dancing will also be given throughout the day.
The dance-a-thon will run from 4-7 pm at the Solaris Plaza in Vail Village. But non-Coloradans can get in on the National Dance Day fun, too! Click here to learn the official NDD routines, and visit the NDD Facebook page to find dance-y events happening near you.
Mar. 23, 2017 06:27AM EST
New York City Ballet's awesome media department strikes again!
The company just posted a series of "screen test" videos to its YouTube channel, featuring interviews with eight of the company's most charismatic dancers. What do they talk about? Well, everything, from their pre-show rituals to their adventures in scuba diving. It's pretty fun to see the glamazons we worship onstage as normal, down-to-earth people (who love Center Stage, just like us!).
Here are a few of our favorites.
Principal Robert Fairchild:
Principal Ashley Bouder:
Corps member Marika Anderson:
Mar. 08, 2016 02:26PM EST
Virgil Gadson (Lee Cherry, courtesy FOX)
Forget the sugary hearts and boxes of chocolate—what's Valentine's Day without a little eye candy? In lieu of long-stemmed roses, here's our gift to you: seven of our favorite male dancers, who are equal parts gorgeous and gifted, sounding off about everything from their favorite roles to their first kisses.
Jul. 20, 2015 02:00PM EST
We've been talking a lot about Christopher Wheeldon's An American in Paris, and for good reason—the show's 14 Tony nominations might have something to do with it, as well as Wheeldon's genius choreography.
Robert Fairchild and Leanne Cope of An American in Paris performing on "Live! With Kelly and Michael." (Screenshot via YouTube)
Obviously with all the buzz around An American in Paris, we want to relive the magic again and again, but only short clips are available online. Luckily though, the stars of the show, New York City Ballet's Robert Fairchild and the Royal Ballet's Leanne Cope, were guests on "Live! With Kelly and Michael" this past Friday. The duo performed a lovely bit of choreography, and it was amazing to see how both dancers' ballet backgrounds translated into the world of musical theater. They performed a very Wheeldon pas de deux: Cope's legs-for-days extended in high développés as Fairchild whisked her around the stage. We were even treated to Fairchild's singing voice, and it didn't disappoint. While the clip isn't front row on Broadway, it'll certainly do! Watch the entire segment below:
Jun. 04, 2015 11:10AM EST
Pop quiz! Who's getting really excited for this Sunday's Tony Awards?
a) The Broadway community.
b) Your grandma.
c) Anybody who loves dance.
d) ME ME OMG ME.
e) All of the above.
The correct answer, of course, is E. But let's put special emphasis on C here for a minute, shall we? Because the official lineup of Tony Award performers was recently announced, and holy LaDucas is it ever jam-packed with dance.
Oh yeah. There's gonna be a LOT of this. (Robert Fairchild and Leanne Cope in An American in Paris; photo Sara Krulwich/New York Times)
First of all, there'll just be more performers on stage, period, than at any previous Tony Awards. And since this was a particularly glorious year for dance on Broadway, a lot of them are going to be world-class dancers.
Top highlights include:
-the American in Paris mashup of "An American in Paris (pas de deux)," "'S Wonderful" and "I Got Rhythm," featuring Tony nominees Leanne Cope and Robert Fairchild doing fellow nominee Christopher Wheeldon's choreo;
-On the Town's medley of "Lucky to Be Me," "New York, New York" and "Times Square Ballet," with choreography by Josh Bergasse performed by Tony nom Tony Yazbeck and the stellar ensemble (hi Ricky Ubeda!);
-"Stronger" from Finding Neverland, featuring Mr. Schue Matthew Morrison and Kelsey Grammer doing Mia Michaels' oh-so-Mia choreography.
In case you're wondering what Mia choreo on Broadway looks like, here's a sneak preview. (The cast of Finding Neverland; photo Sara Krulwich/New York Times)
Also, Kirstin Chenoweth and Alan Cumming—whom I'd like to present with a pre-Tonys award for Broadway People I'd Like to Be Best Friends With (prize is a selfie with yours truly; COME FIND ME TO CLAIM IT!)—will be hosting. So, that'll be great, obviously.
Click here for the full list of performances, and be sure to catch all the musical theater action this Sunday at 8 pm ET on CBS.
Get Dance Spirit in your inbox
Apr. 28, 2015 11:52AM EST
The Tonys are coming, the Tonys are coming! It's like musical theater Christmas!
The 2015 Tony Award nominations were announced this morning by the ever-glamorous Broadway (and TV and movie) star Mary Louise Parker and Bruce Willis (whom you know as "Dancing with the Stars" front-runner Rumer Willis' dad). And guys, there are so many amazing things to report. Because, well, ballet.
Robert Fairchild and Leanne Cope in Christopher Wheeldon's An American in Paris (Photo by Angela Sterling, courtesy Boneau/Bryan-Brown)
New York City Ballet principal Robert Fairchild and Royal Ballet first artist Leanne Cope received Tony nominations for their lead performances in An American in Paris. Christopher Wheeldon—ballet choreographer extraordinaire—earned TWO nominations for the show, for both best direction and best choreography of a musical.
Joshua Bergasse also earned a nom for his choreography of On the Town. Remember when he taught us 16 counts of the number "New York, New York"? You might want to revisit that combo before June 7—if the cast performs it at the awards ceremony, you can dance along with them in front of your TV. (Y'all know I certainly will be.)
Joshua Bergasse (front) rehearsing the cast of On the Town (Photo by Jenny Anderson, courtesy Matt Ross Public Relations)
Other choreographers nominated include Casey Nicholaw (Something Rotten!), Christopher Gattelli (The King and I) and Scott Graham and Steven Hoggett for Frantic Assembly (The Curious Incident of the Dog in the Night-Time).
Chita Rivera—as in West Side Story, Fosse and OVERALL BROADWAY LEGEND CHITA RIVERA—received a nomination as best female lead performer in a musical for her role in The Visit. She plays an aging bajillionaire who returns to her small hometown to seek revenge on a former boyfriend—and the town itself. And while she doesn't do a whole lotta dancing in the show, I think we can expect a pretty stellar performance at the Awards. After all, it's her 10th Tony nomination, so...go big or go fun home, amirite?
All in all, An American in Paris racked up 12 Tony nominations—the most this year, tied with Fun Home. Get the full list of nominees here, and start placing your bets now! Who do you think should win for best choreography? Was anyone (or any show) snubbed? Let us know what you think in the comments!
Dec. 03, 2014 12:46PM EST
The musical theater gods have showered us with love—or, rather, with two behind-the-scenes videos from Christopher Wheeldon's new An American in Paris! And their timing is perfect: The show opens tonight in The City of Lights.
I prefer the video with Wheeldon (the show's director) and Craig Lucas (the show's writer) talking about the production—because in addition to highlighting Wheeldon's delightful British accent, it also gives us a peek at the choreography. I mean, who doesn't love watching dancers (like the show's star, and New York City Ballet principal Robert Fairchild) in rehearsal? Plus, Wheeldon discusses remaking the classic movie, and the challenges that come with both leaving the original behind and maintaining the integrity of the story and score. Check it out:
The second video is all photos, taken by dancer-turned-photographer Matt Trent. They're lovely, and set to Gershwin 's timeless score (naturally):
An American in Paris runs at the Théâtre du Châtelet through January 4. And luckily for Americans not in Paris, the musical is slated to open on Broadway this April. Get tickets here.
Jul. 14, 2014 04:01PM EST
We're already incredibly excited about the fact that New York City Ballet principal Robert Fairchild has a starring role in Christopher Wheeldon's new stage production of An American in Paris—which debuts this November à Paris. But a new set of photos is getting us even more revved up.
Opposite Fairchild's Jerry Mulligan (the role played by Gene Kelly in the 1951 film) will be Royal Ballet first artist Leanne Cope as Lise, and the duo will surely light up the Théâtre du Châtelet stage. Just look at the chemistry in these images by Sylvain Gripoix!
C'est magnifique!
Could they be any cuter?
Loving the throwback to "Our Love is Here to Stay" in the film!
I bet he's imagining his new wife, Tiler Peck. Awwwww.
In Montmartre
Swoon.
Booking your flight to Paris? Click here for An American in Paris ticket details. (And if you can't make it to the City of Light, don't worry: The show is coming to Broadway next spring!)
Jun. 20, 2014 10:39AM EST
Megan Fairchild in ballet mode in Robbins' Dances at a Gathering (photo by Paul Kolnik)
We love, love, love ballet dancers who are decidedly not bunheads. There's nothing cooler than a world-class ballet professional who's excited to take on other dance styles—or other sides of the dance world entirely.
Yesterday, it was announced that beautiful New York City Ballet principal Megan Fairchild will make her Broadway debut this fall in the revival of On the Town, playing Ivy Smith. You know she's going to be great: Not only is she one of NYCB's most charismatic actresses, but On the Town is also a sort of expanded version of the Jerome Robbins ballet Fancy Free, and as a NYCBer, she's well-versed in the Robbins style.
Tiler Peck and Robert Fairchild in Robbins' Fancy Free—a.k.a. the ballet on which the musical On the Town, which Robert's sister Megan is about to star in, is based. It's like an endless loop of too-good-to-be-trueness! (photo Sharen Bradford/The Dancing Image)
What makes this news even more exciting? Megan's brother Robert, also an NYCB principal, is about to take on Broadway, too. He'll star as Jerry Mulligan—the Gene Kelly role—in Christopher Wheeldon's stage production of An American in Paris, which is set to premiere in Paris (of course) this fall before coming to Broadway next spring.
But wait! There's even more cuteness/awesomeness. Robert's fiancée, fellow NYCB principal Tiler Peck (they're getting married this weekend!) is also about to star in a major musical: Susan Stroman's Little Dancer, based on the Paris Opéra Ballet student who posed for Degas' famous sculpture. The new show premieres at the Kennedy Center in Washington, D.C., this October.
Now that's what we call a Renaissance family. Merde/break a leg, all of you!
Feb. 11, 2014 11:57AM EST
It's time for yet another installment of Tiler Peck and Robert Fairchild Are Awesome! And this round involves the great Paul Taylor Dance Company.
Recently, Paul Taylor announced that PTDC—which until now has performed exclusively Taylor-made (see what we did there?) works—will be transitioning to a repertory model. What does that mean? It means that in addition to performing Taylor's dances, the company will bring back older, non-Taylor masterpieces, as well as works by contemporary choreographers. Basically, the PTDC doors will be open to an even wider range of talented artists.
And here's the good news for those of us who love both ballet and Taylor: That new open-door policy starts next month, when brilliant New York City Ballet principals Tiler Peck and Robert Fairchild will perform parts of Taylor's Airs at the PTDC NYC gala.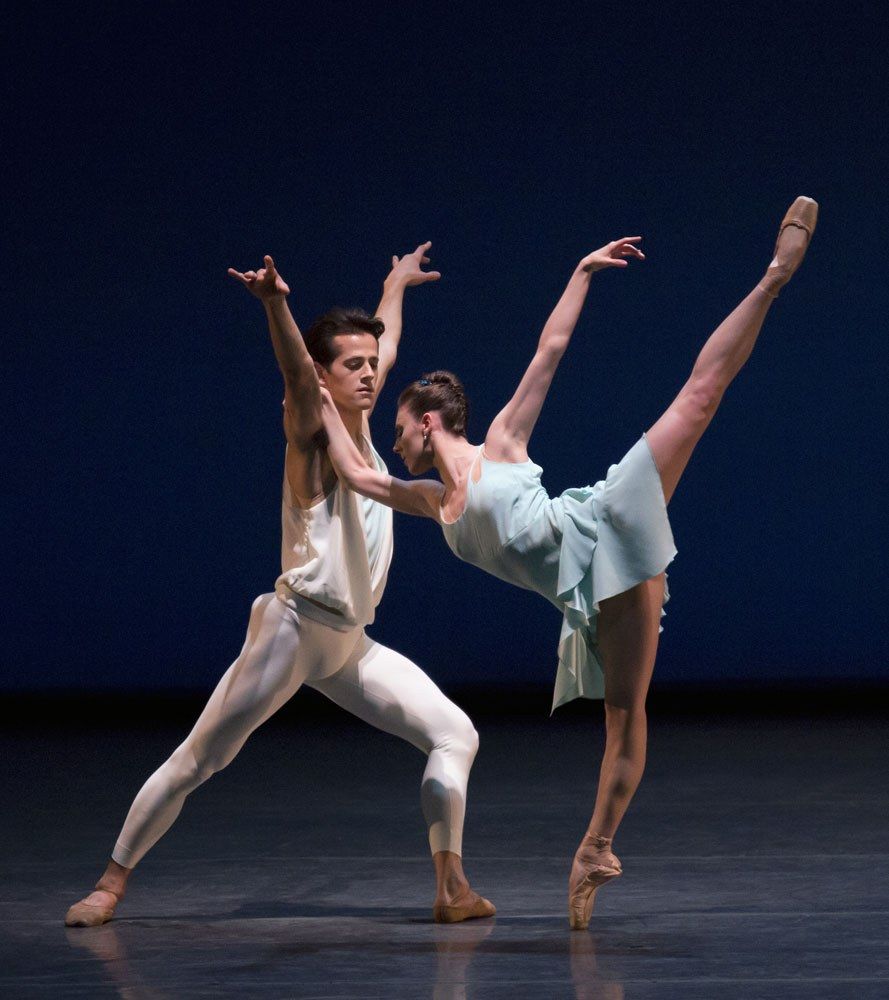 Here's the dynamic duo in Christopher Wheeldon's "A Place for Us" (photo by Paul Kolnik).
Normally we feel a little weird about ballet dancers tackling Taylor. Though plenty of ballet companies dance Taylor works, ballet peeps tend to look dainty doing his choreography. But seeing as Peck and Fairchild can dance pretty much anything, this performance promises to be fun for dance fans of all stripes.
Catch the Taylor gala at NYC's Koch Theater on March 13—it's part of the PTDC Lincoln Center season that runs March 11-30.