Feb. 12, 2018 12:42PM EST
(Front) Kali Grinder (photo by Daniel Robinson, courtesy Grinder)
Former comp star Kali Grinder's stellar stage presence and graceful lines have served her well in her new life as a Broadway baby. She performed in Wicked on Broadway for one year, appeared on the show's national tour, and was a Rockette during The Radio City Christmas Spectacular. Currently, she's an ensemble dancer in the new musical Frozen. A Las Vegas, NV, native, Grinder started training at The Dance Zone at age 6. She briefly studied dance at Point Park University before heading to NYC to pursue her dreams. Catch her dancing with Anna and Elsa this month during the show's previews—and read on for the dirt!
Dancer to Dancer
Dec. 15, 2017 02:48PM EST
Courtesy MSG Entertainment
For some it's a holiday tradition, for others its an iconic spectacle, but no matter the reason, more than 1 million people will watch the Rockettes perform in the Radio City Christmas Spectacular each year. And though the production has been around since 1933, much of what goes on behind those velvety curtains and intricate sets remains a mystery. To curb our curiosity and find out what ensues when these leggy ladies aren't doling out their sky-high kicks, we got a backstage tour from the legends themselves.
From hair and makeup, to warm-up exercises, and costume quick changes (the fastest quick change in the show is a #mindblowing 75 seconds, by the way) we got a glimpse into the glamorous (and sometimes not so glamorous) world of the Rockettes.
Dancer to Dancer
Jan. 13, 2015 07:00AM EST
It's kind of hard to fathom the fact that the Radio City Rockettes have been around since 1925. I mean, just think about the periods of American history these leggy ladies have kicked their way through! Pretty surreal.
92-year-old Eleanor Leight can tell you what it was like to be a Rockette during the 1940s, when the dancers were paid just $45 a week despite packed performance schedules. During WWII, Leight traveled to Europe with the Rockettes to perform for the American troops.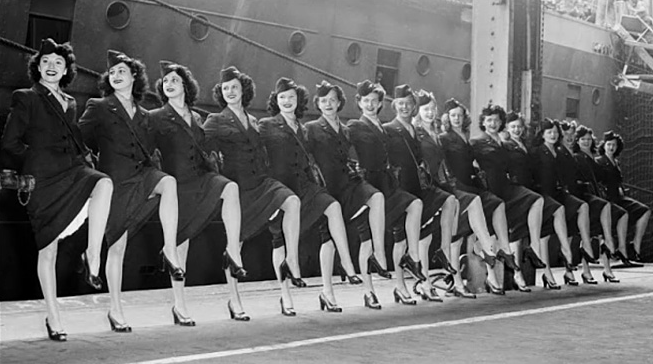 Leight (eighth from the right) traveling to France with the Rockettes as part of the USO
Now, the retired Rockette spends her free time teaching a group of seniors who call themselves the Silver Steppers. And while she may not expect eye-high kicks from her dancers (most of them are in their 80s), she does uphold the same values of precision and hard work so central to the Rockette philosophy.
If Eleanor Leight is any indication of a dancer's longevity, we're in good shape. I mean, check out those still-fabulous legs! Get it, girl.
Dance News
Oct. 22, 2014 02:57PM EST
All right people, it's really happening! The Rockettes are slated to premiere their new show, New York Spring Spectacular, in 2015.
We reported back in March that Hearts and Lights—which was scheduled to open in Spring of 2014—was unceremoniously shuttered until 2015—and then we didn't hear very much more about it. It looks like Spring Spectacular has risen, phoenix-like, from the ashes of the old show and will provide the Rockettes with their first non-Christmas Spectacular production since 1997!
Spring Spectacular will take audiences on a dance-tastic tour of NYC, and will include classic Rockette kick lines and tap routines along with more contemporary numbers.
The show itself isn't the only thing that's spectacular. Check out the production dream team: co-creative director Diane Paulus (Tony-award winning director of Pippin), director and choreographer Warren Carlyle (Tony-award winning choreographer of After Midnight) and co-creative director Randy Weiner (of Sleep No More).
We can't wait to see what all these amazing artists make together! Take a sneak peak here:
Dance News
Dec. 01, 2013 09:29PM EST
Linda Haberman leads hopefuls through the audition routine. (photo by Amanda Schwab/Starpix)
It was a warm day in April, but at Radio City Music Hall people were already getting into the holiday spirit: Nearly 500 dancers were about to audition for a chance to perform as a Rockette in the Radio City Christmas Spectacular. Members of the staff greeted each other with "Merry Christmas!" as they herded the nervous, LaDuca-shod auditionees through the theater's maze of hallways and rehearsal studios.
For the Rockette hopefuls, the day was a whirlwind. After learning and performing four 8-counts of the Rockettes' signature precision jazz choreography in just 30 minutes, they found out whether they'd made the audition's first cut. What does that kind of intense pressure feel—and look—like? Dance Spirit went behind the scenes to find out.
Dancers came from all over the country to audition for the Rockettes—many of them for the second, third or even fourth time.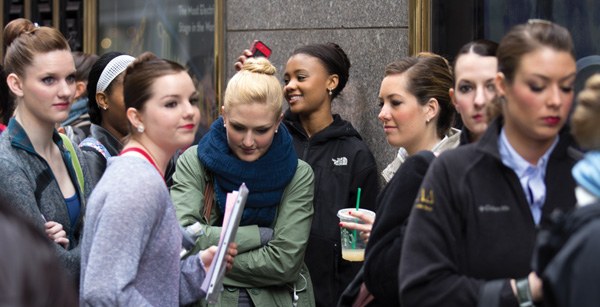 Rockette auditionees line up outside Radio City Music Hall. (photo by MSG Entertainment)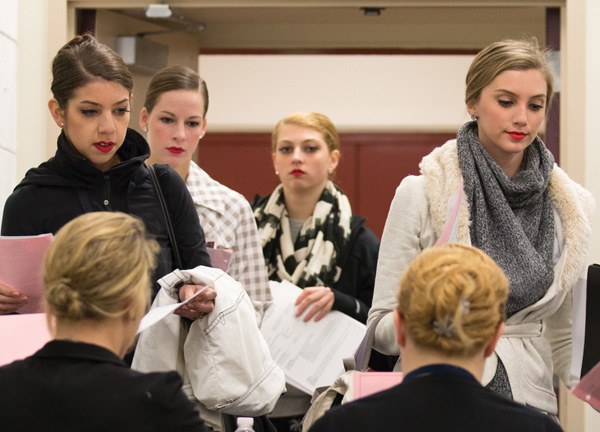 (photo by MSG Entertainment)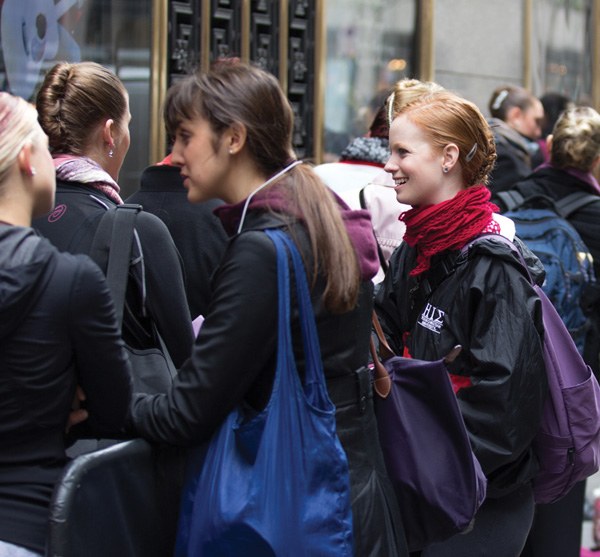 (photo by MSG Entertainment)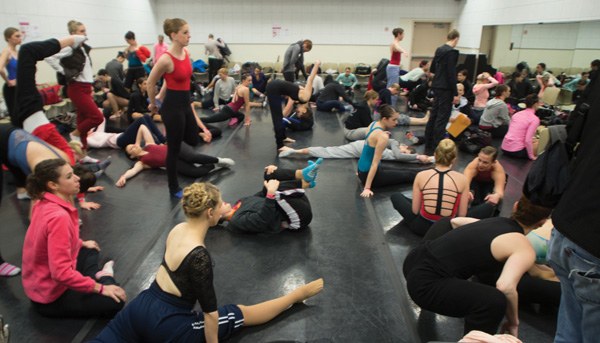 (photo by MSG Entertainment)
After posting her dance video on the Rockettes' Facebook page, Paige Melanson, from Las Vegas, was voted the winner of the Rockettes' "Jump the Line" contest, which earned her a trip to NYC for the audition.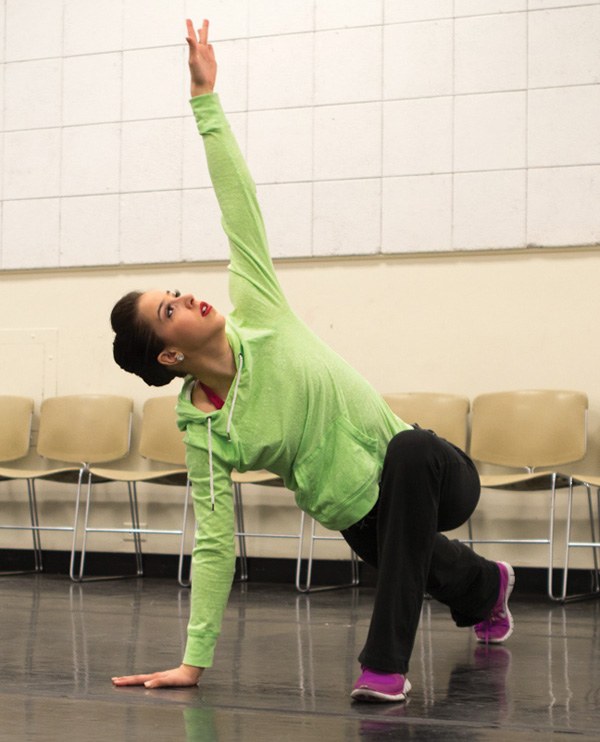 Paige Melanson (photo by MSG Entertainment)
"Our nerves were going!" Paige says of the audition's first round. "Linda was very precise about where your arms had to be, where your foot had to be, where your fingers had to be."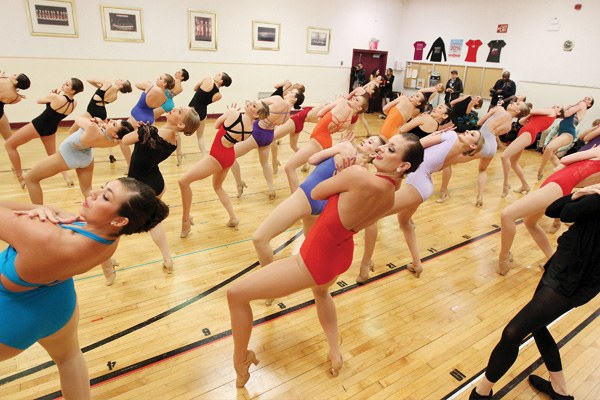 (photo by Amanda Schwab/Starpix)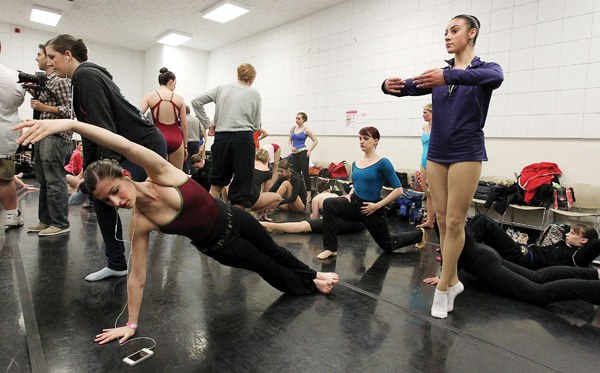 (photo by Amanda Schwab/Starpix)
"The Rockette style is all in the details. Precision dance isn't like anything else. You can be a great dancer and not be good at this." --Linda Haberman, director and choreographer of the Radio City Christmas Spectacular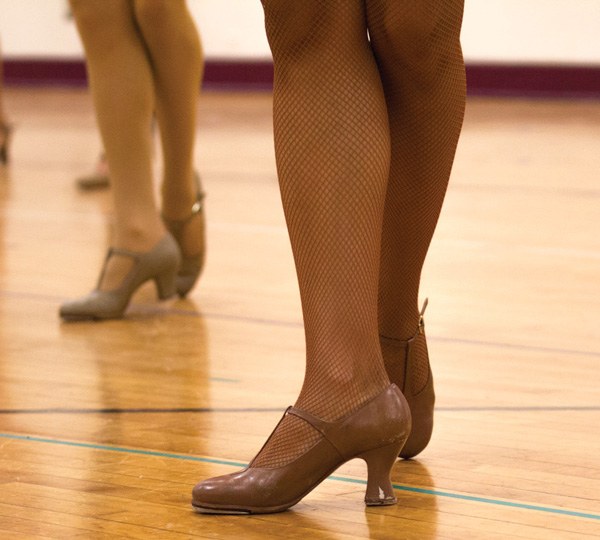 (photo by MSG Entertainment)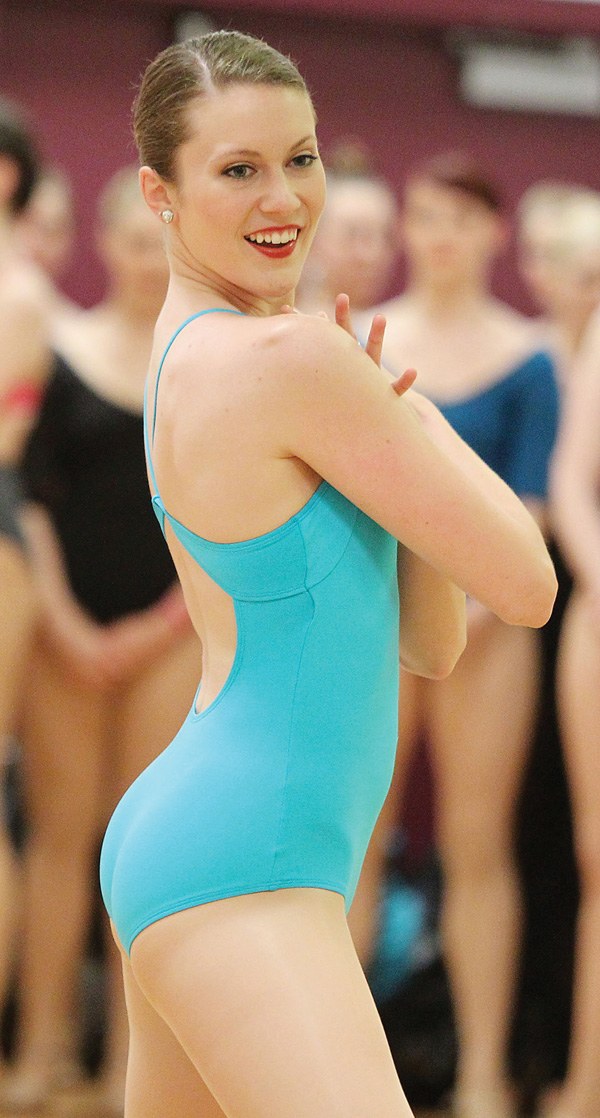 (photo by MSG Entertainment)
The dancers learned the routine in one large group, practiced a few times in smaller groups and then performed for the creative team in trios.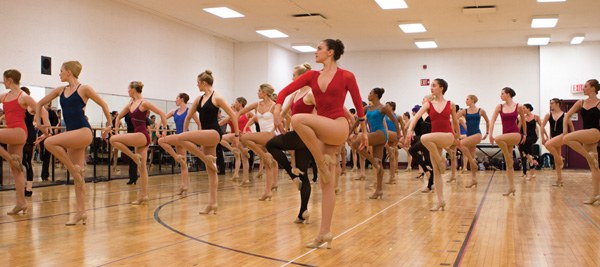 (photo by MSG Entertainment)
Paige made it through the first cut, but was not called back after the second round. "Of course I felt a little disappointed," she says. "But there's always next year."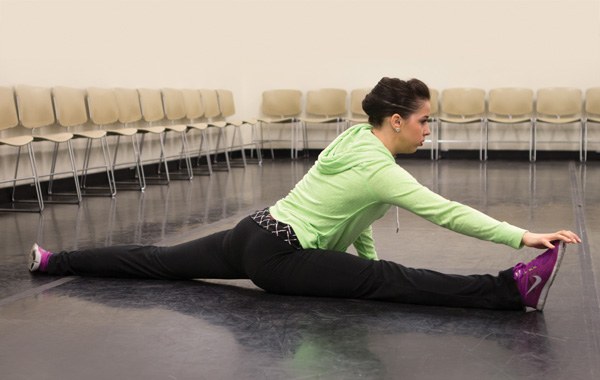 (photo by MSG Entertainment)
Dec. 17, 2010 02:40PM EST
In April 2009, Keltie Colleen graced the cover of Dance Spirit with the headline "She's Got It All: Keltie Colleen on booking gigs, keeping it real and dating her rock star boyfriend." She had been dating Ryan Ross, the front man of Panic at the Disco, for three years, and the article was filled with adoring quotes from him about their relationship. But by the time Colleen got her much-anticipated issue in the mail, the two had split in dramatic Hollywood fashion.
Colleen took to her blog "High Kicks and High Hopes" to write about the breakup, among other things. Now, she's turned her story—about making it as a professional dancer and her relationships through the years—into a book, Rockettes, Rockstars & Rockbottom.
Dance Spirit: Why did you decide to write a book?
Keltie Colleen: I expected being a professional dancer to be one thing, but it turned out to be totally different. People say follow your dreams, never give up, but they don't talk about the things that are going to make you want to give up.
After my DS cover came out, I was devastated because Ryan and I had broken up. But I fell back on my love for the stage—I knew dance would never leave me. The book follows me through three seasons as a Rockette, three rocker boyfriends and my time working in Las Vegas on Peepshow, where I fell in love with dance all over again.
DS: What do you hope this book will accomplish?
KC: This book is for the back-row competition dancers, like me, who never won a gold medal. I want this book to inspire dancers and give them an honest look at what life is like as a working professional. There were a million times where I walked into an audition and was cut in the first round; for each amazing job that I got, there were 25 awful rejections leading up to it.
DS: After everything you've learned, what's your best advice for DS readers?
KC: Be yourself and love the things that make you unique. There is a place for everyone, even though sometimes it doesn't feel like it.
Dec. 17, 2010 01:40PM EST
As a serious dancer, it's easy to let your favorite genre become your identity, whether you're a contemporary queen, tapper, comp kid or ballerina. Yet it's no coincidence that shows like "So You Think You Can Dance" reward well-rounded dancers; after all, breaking out of the mold often enables you to reach your full potential. Summer study programs provide the perfect opportunity to do just that. So consider trying something different this summer—you might surprise yourself. Meet four dancers who pushed their limits to discover their own unlimited potential.
The Rockette Experience
Imagine a Latin dancer and a Rockette standing next to each other—it's like fire and ice. Latin dance is all about fast footwork and flair, while the Rockette kickline is known for its rigid precision and uniformity. So why would Ashlé Dawson, a Latin dancer, want to check out The Rockette Experience, a daylong workshop with the legendary dance group? "Every young girl thinks at some point, 'Maybe I could be a Rockette!' " Ashlé says.
So she decided to attend. The day began with a two-hour master class in one of the Radio City Music Hall rehearsal studios, where she learned tap and jazz choreography from the Radio City Christmas Spectacular plus a Rockette audition routine; a mock audition and tour of Radio City followed. "It was a great opportunity to have access to the Rockettes, and it was so neat to watch their performances later and say, 'I learned that!' " Ashlé says.
But learning the Rockette style didn't come without its share of challenges. "Everyone's hands had to be completely the same way, which was a struggle because I like to accentuate everything," she says. "It's nowhere near as easy as it looks."
Ashlé's efforts paid off and she was asked to assist on the Experience the next two years. The third year, she scored a coveted Rockette audition but ended up having to miss it after being picked for the first season of "SYTYCD." (She placed fourth!) Since then, she's danced everywhere from the Latin Grammys to "American Idol," but Ashlé still has one big goal: Broadway. "There's magic on Broadway, and getting to work with the Rockettes put me in that mentality," she says.
New York City Dance Alliance Summer Dance Intensive
Growing up with a dance teacher mom usually means attending lots of competitions and conventions, and Dennis Davis was no exception. "I've been dancing since I was little—I just fell into it," he laughs. And Dennis was a natural: As a high school sophomore, he earned the Triple Threat Award at New York City Dance Alliance and was subsequently offered a spot at the convention's annual summer intensive. "The idea of going to NYC by myself for a few weeks was scary," Dennis remembers. But he couldn't refuse the chance to work with faculty including Joey Dowling, Lauren Adams and Jason Parsons, and soon he was en route from Michigan to the Big Apple.
What lay ahead resembled dance boot camp. Every day of the two-week intensive began at 7 am and was packed with classes in ballet, lyrical, jazz, hip hop, samba, partnering, modern and more. For Dennis, it was the intensity of the ballet curriculum that resulted in a bit of culture shock: "I didn't start training seriously in ballet until age 11, and I'd only taken one class a week. Having ballet every day, first thing in the morning, was a big adjustment," says Dennis, who ended up doing the intensive two years in a row. "It was definitely the most challenging part for me. It was also way more intense than a regular convention, as the classes are smaller and the teachers can really see you and give corrections."
Also stretching Dennis beyond his comfort zone were the program's vocal requirements. Though he'd participated in choir at school, he'd never sung solo, so doing it on his audition tape and at the intensive was intimidating. "I went in the room by myself, stood in front of Joe Lanteri [executive director of NYCDA] and sang for him," recalls Dennis, who sang 16 bars of "Somewhere Over the Rainbow." But Dennis pushed through the fear, and ended up joining show choir upon his return to school.
Now a freshman in the dance program at Point Park University, Dennis marvels at how much his NYCDA experience prepared him for college. (He hadn't even heard of the school until he went to the intensive!) Today several intensive alums are his classmates, and Dennis is showing off his newfound ballet prowess as a member of Point Park's Youth America Grand Prix competition group. "I've gone from my little hometown studio in Michigan to one of the top dance schools in the country," says Dennis happily.
Jacob's Pillow
As a diehard hoofer, Caleb Teicher always had a laser-like focus on the tap world. "I never intended to go into other dance styles," says Caleb, who started tapping at age 10. "So when I heard Jacob's Pillow was going to have a tap program, I knew it was perfect for me." When auditions were held in NYC, Caleb was front and center—and when they were over, he stuck around to audition for the Jazz/Musical Theatre program as well.
For that audition, Caleb had to dance and sing—a prospect that "terrified" him—but he couldn't help being captivated by the possibilities. Caleb had to wait several months to find out his fate, but the wait was worth it: He was accepted to both programs!
After completing the tap program in early July, Caleb returned in August for Jazz/Musical Theatre. The three weeks that followed were filled with singing, acting and dance classes. "It was everything I'd never tried before," Caleb says. When not taking class—which he did for up to 12 hours daily—Caleb ushered the nightly dance shows featuring performers like Trey McIntyre Project, Kyle Abraham and Camille A. Brown. Not only did the work afford him a glimpse into the workings of the festival, he also got access to these dance tastemakers. "I remember roasting marshmallows with Camille and talking about her work," Caleb says. "It was much closer than I ever would have gotten to any of these choreographers."
Caleb also performed on the "Inside/Out" stage, an outdoor setting that attracted hundreds of spectators nightly. There he overcame his singing fears to do an onstage solo during the second week of the program. "It's a one-of-a-kind experience—the atmosphere the festival creates is unlike anything else in the world," Caleb says.
A recent high school graduate, Caleb's now in NYC taking up to five dance classes daily in everything from Horton technique to flamenco. "I no longer train just in tap—I try everything," he says. "Because of The Pillow, I'm not afraid to do that."
Pacific Northwest Ballet School
Ever since she was 6 years old, Megan Skalla has been turning heads at conventions like JUMP, West Coast Dance Explosion and New York City Dance Alliance. So what's a comp kid to do when she gets bitten by the ballet bug? For Megan, it meant auditioning for the six-week summer study program at Seattle's Pacific Northwest Ballet. "My teacher told me about the camp," says Megan, who studies at Barlow Arts Conservatory and The Dance Club in Utah. "I was shocked she thought I could get in, but she pushed me and made me believe I could do it."
At the intensive, Megan studied pointe, ballet, jazz, modern and character six days a week, and took weekly field trips to baseball games and local landmarks. Classes with Le Yin, then a principal dancer with PNB, were her favorite part. "I couldn't sleep at night because I was so excited to attend his classes," she says.
Megan also relished the chance to observe company rehearsals. "It was amazing to see how good they are and how talented we can become," Megan says. "I grew so much as an artist, and being there made me realize I can do anything I set my mind to." Among those new goals? A spot with a professional ballet company. To get there, she's now training before school as early as 5:30 am and taking private lessons with former Rocky Mountain Ballet principal Jacki Ford and former Indianapolis Ballet Theatre ballet mistress Yi-Qi Cheng. Adds Megan, "I gained a greater understanding of how much I need to train to someday be in a company—it would be a dream come true!"
Get Dance Spirit in your inbox