courtesy Pandora Jewelry and The Madison Square Garden Company
You don't know the true meaning of "holiday spirit" until you've watched the Radio City Rockettes and Ciara co-teach a dance class.
Keep reading...
Show less
Photo by Zack Lane, courtesy MSG Entertainment
Natalie Reid's precise technique and bubbly personality have earned her veteran status with the Radio City Rockettes—this is her eighth season! A Seattle, WA, native, Reid attended Chapman University, majoring in public relations and advertising. While in school, she also trained with Mandy Moore and at Edge Performing Arts Center. She's danced with companies including Justin Giles' SoulEscape, Anaheim Ballet, and Odyssey Dance Theatre, and she joined the Rockettes in 2011. Catch her on the Radio City stage this season—and read on for The Dirt! —Courtney Bowers
Keep reading...
Show less
Rachel Quiner performs Clara in the Christmas Spectacular (courtesy Rachel Quiner)
Think the Rockettes are the only stars of the Radio City Christmas Spectacular? Think again. Each year, a few lucky girls share the role of Clara, who appears during the Nutcracker portion of the show. Clara gets to do some real dancing, too, including solos and pas de deux. (Past Claras include Juliet Doherty and Tiler Peck!)
Dance Spirit sat down with this year's three Claras—Emerson Alexander, JoseBella Morton, and Rachel Quiner, all 12 years old—to find out what it takes to play Clara in the Spectacular, and the best parts of sharing the stage with the world's most iconic precision dance company.
Keep reading...
Show less
Courtesy MSG Entertainment
For some it's a holiday tradition, for others its an iconic spectacle, but no matter the reason, more than 1 million people will watch the Rockettes perform in the Radio City Christmas Spectacular each year. And though the production has been around since 1933, much of what goes on behind those velvety curtains and intricate sets remains a mystery. To curb our curiosity and find out what ensues when these leggy ladies aren't doling out their sky-high kicks, we got a backstage tour from the legends themselves.
From hair and makeup, to warm-up exercises, and costume quick changes (the fastest quick change in the show is a #mindblowing 75 seconds, by the way) we got a glimpse into the glamorous (and sometimes not so glamorous) world of the Rockettes.
Keep reading...
Show less
MSG Entertainment
Turkey is great and all, but the best part of Thanksgiving? It's watching some truly fantastic dancing on television, courtesy the Macy's Thanksgiving Day Parade. On Thursday, when your arms are sore from mashing potatoes and/or you need to escape crazy Aunt Linda, head to the living room to catch these super-dancey parade highlights:
Keep reading...
Show less
One of the most beautiful things social media has brought us is the ability to feel like we're up close and personal behind-the-scenes with all our favorite dancers. And one of our favorite stars to Insta-stalk are actually two casts of 36 scintillatingly synchronized precision dancers. I'm talking, of course, about my mild obsession with the legendary Radio City Rockettes.
Keep reading...
Show less
Via @Rockettes on Twitter
Look, guys, we know: It is too darn early for holly-jolliness. But the Rockettes appeared on the "Today" show this morning to promote the Radio City Christmas Spectacular, and we can't help it—as soon as we see that iconic kickline, we start daydreaming about sleigh bells and mistletoe and gingerbread lattes.
Keep reading...
Show less
Courtesy MSG Entertainment
Watching the Radio City Rockettes perform a dazzling array of precision dance routines in their annual Christmas Spectacular show is a tradition many New Yorkers use to welcome the winter season. But how do these leggy ladies spend their off-season and what do they do to maintain their pristine technique, strength, and stamina when they're not on stage? We caught up with the Rockettes a few months before the opening night of the Christmas Spectacular to find out exactly what they do to keep those legendary leg kicks year round.
Keep reading...
Show less
Auditions are like vegetables: Are they the most delicious food? Probably not. Are they essential for your growth as a dancer? Definitely.
We love asking the pros for their advice, because we know the important role auditions play in every dancer's career. Whether we're breaking down the basics for first-time auditionees, giving you real talk on mistakes you don't know you're making or keeping it light with stories of pros' worst audition mistakes, we're always looking for tips to help you make it to the final round.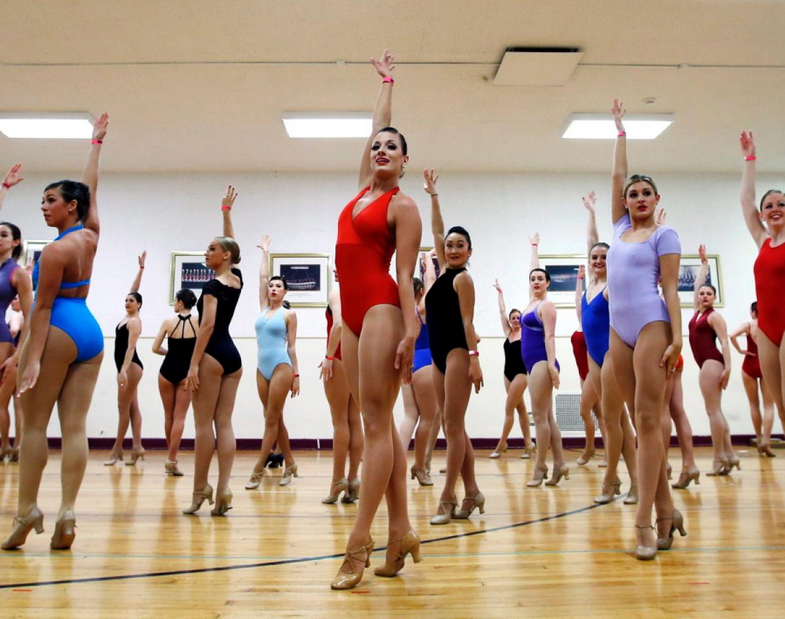 A Rockette audition (photo via New York Daily News)
With audition season almost upon us, who better to share advice than our favorite leggy ladies, the Radio City Rockettes? We love that they hold auditions every year and are always on the lookout for new performers. Here are some of their top tips for a solid audition experience:
Review all of the audition requirements and guidelines...more than once. (You do NOT want to be that girl who brought black shoes when tan ones were required.)

Use a folder or envelope to hold all your paperwork, like application forms, audition fees, headshots and resumes (and extra headshots and resumes).

If you're asked a question or interviewed, listen carefully, take a breath and then speak. (It's not a great feeling to blurt out an answer, accidentally interrupt someone and then have literally no idea what you just said.)
Get Dance Spirit in your inbox
It's an indisputable fact that the Radio City Rockettes never look bad. (I mean, these ladies can even work it in toy soldier costumes.) But we've become so accustomed to seeing them dolled up in holiday-themed costumes—candy stripes, snow flakes, Santa suits and the like—it was hard for us to imagine what their looks for the New York Spring Spectacular might be.
Whelp, we are sooo not disappointed. The show that seems to have brought out all the big guns enlisted three top fashion designers—Diane Von Furstenberg, Zac Posen and Isaac Mizrahi—to each create one look for the Spring Spectacular's ode to New York Fashion Week. High fashion + dance is always a good thing, and we're thrilled to see the two worlds collide outside of ballet. (If you're listening, fashion gods, that doesn't mean we don't want more ballet couture collaborations. Please keep those coming, too. #neverenough)
You can check out the three designs below, but if you'd prefer to see them in person, we've got some fantastic news: It's still not too late to enter our New York Spring Spectacular ticket giveaway for the March 27 performance. Or, if you'd rather guarantee your spot in the audience, you can purchase tickets using the discount code DANCE and save 20 percent. You've got options!
Performances run through April 12 at Radio City Music Hall in NYC. Click here to enter the March 27 ticket giveaway, or here to purchase discounted tickets.
All slideshow photos by Angela Cranford/MSG Photos.
[portfolio_slideshow nowrap=0 thumbs=true timeout=4000 showtitles=true showcaps=true showdesc=true]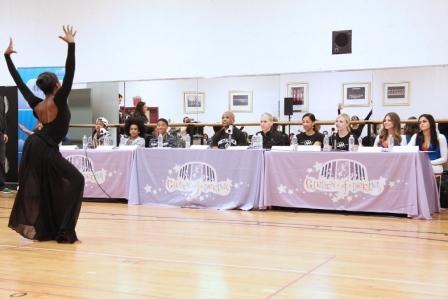 Alexis Stewart of Elmont, NY, rehearses her performance to "He Lives in You" from The Lion King in front of celebrity guest mentors Mindless Behavior, Darryl McDaniels of Run DMC, Broadway actor Tony Vincent, Rockettes Karilyn Surratt and Tara Dunleavy and Knicks City Dancers Alyssa Quezada and Ana DeMatos. (by Kristina Bumphrey/Starpix)
Rockettes are famous for their lengthy legs, perfect time steps and star quality—but what many don't know is what they're up to when they're not on stage. Each spring, the Rockettes, alongside other divisions of the Madison Square Garden Company, give children their own shining moment on the Radio City stage through non-profit charity Garden of Dreams.
Established in 2006, Garden of Dreams turns dreams into realities for children facing adversities from illness to homelessness. The Rockettes serve as judges, mentors and inspirations for children who audition for the charity's talent show, which takes place on the Radio City Music Hall stage. So far, Garden of Dreams has provided magical and memorable opportunities for over 225,000 children and their families!
Here's how it works:  Last month, contestants auditioned for a rotating panel of expert judges including Broadway stars, Knicks City Dancers and, of course, Rockettes. Then, those who were chosen presented their acts twice more before the final performance while getting pointers from the judges on how to fine-tune their acts and eliminate their nerves. The final talent showcase, called "Dare to Dream," is this Tuesday, April 16, and it will include approximately 200 children from across the tri-state area.
What are the highlights? There are too many to count! But Rockette and judge Tara Dunleavy told DS: "A 5-year-old boy will sing Bruno Mars. He's so cute and fearless, and so much fun to watch."
If you're in NYC, there's no reason to miss this touching event, because it's open to the public and free of charge! For more info, check out gardenofdreamsfoundation.org 
It's kind of hard to believe that the #MannequinChallenge has only existed for about two weeks. Because it is absolutely EVERYWHERE. There is no better thing to do right now than to film you and your friends not moving for an uncomfortably long period of time. And we're not saying that sarcastically—we're actually obsessed with it. The results are frequently, for some confusing reason, mesmerizing.
When the Rockettes do the #MannequinChallenge, though? There's less confusion as to why that's awesome. First, the Rockettes can do no wrong; second, they're precision dancers, for goodness' sake, which means holding a pose is literally in their job description and they're darn good at it; and third, their take on the meme gives us a fascinating behind-the-scenes peek at Radio City Music Hall.
Major bonus points, by the way, go to the Rockette who chose to freeze herself mid-foam roll: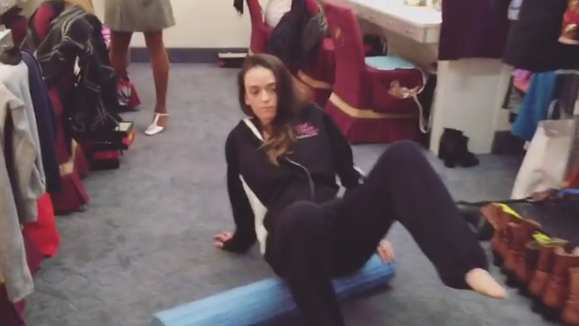 That is commitment. Ouch.
Happy Friday!
It is November 7, ladies and gentlemen. It is two-and-a-half weeks before Thanksgiving and a full 48 days before Christmas. It is objectively too darn early for anything related to mistletoe and jingle bells and chestnuts roasting on open fires. (Especially for us dancers, who have already been drowning in Nutcracker rehearsals for two months and just want to plug our ears and "lalalalala" our way to oblivion whenever we hear the Trepak music at the mall because NO LORD NOT YET.)
But! Here's the thing: We can't be cynical about anything to do with the Christmas Spectacular Starring the Radio City Rockettes, because it is real holiday magic of the highest order. Those leggy ladies could perform "The Parade of the Wooden Soldiers" in the dead of August—which totally happens every year, btw—and we would still clap and giggle and squee with delight. They are that wonderful.
Since the Christmas Spectacular opens this Friday, the Rockettes have been out and about in the world a lot recently. This morning, they stopped by "The Today Show" in all their sparkly glory to give us a taste of the holiday goodness that'll be on offer at Radio City up to five times a day (seriously!) for the next two-plus months. The full video isn't available online, boo, but even this preview snippet will be enough to get you in the ho-ho-holiday spirit. (Also, it was like 40 degrees in NYC this morning and those ladies were gettin' it in halter dresses and tights, which, hello, #MotivationMonday.)
See the world-famous Radio City Rockettes perform one of their classic numbers LIVE on the plaza on the @TODAYshow! pic.twitter.com/jrJDQuqHQj

— 12 News (@12News) November 7, 2016
Get your Christmas Spectacular tickets here, and be sure to check out our behind-the-scenes look at a newbie Rockette's first show in the December issue!
Megan Levinson prepping her Rockettes look (Rana Faure/MSG Photos, courtesy MSG Entertainment)
There are zillions of makeup goodies out there, and just as many ways to wear them. Rather than spending the rest of your life trying to find that perfect black eyeliner pen, take a cue from these pros, who have streamlined their prep routines to get the job done night after night.
Keep reading...
Show less
It's official! Not only are the Rockettes unveiling a brand new summer show this year—titled New York Spectacular Starring the Radio City Rockettes—but they've also tapped genius Mia Michaels to choreograph and direct.
That's right: Michaels will be given full creative reign. And after the awesome opening number she created for last year's Spring Spectacular, we're super excited to see the finished product. "The Rockettes are such a special group of women, and no other dance company in the world delivers the same kind of passion, femininity and power through dance. It is going to be an epic ride!" Michaels says in a Rockettes press release.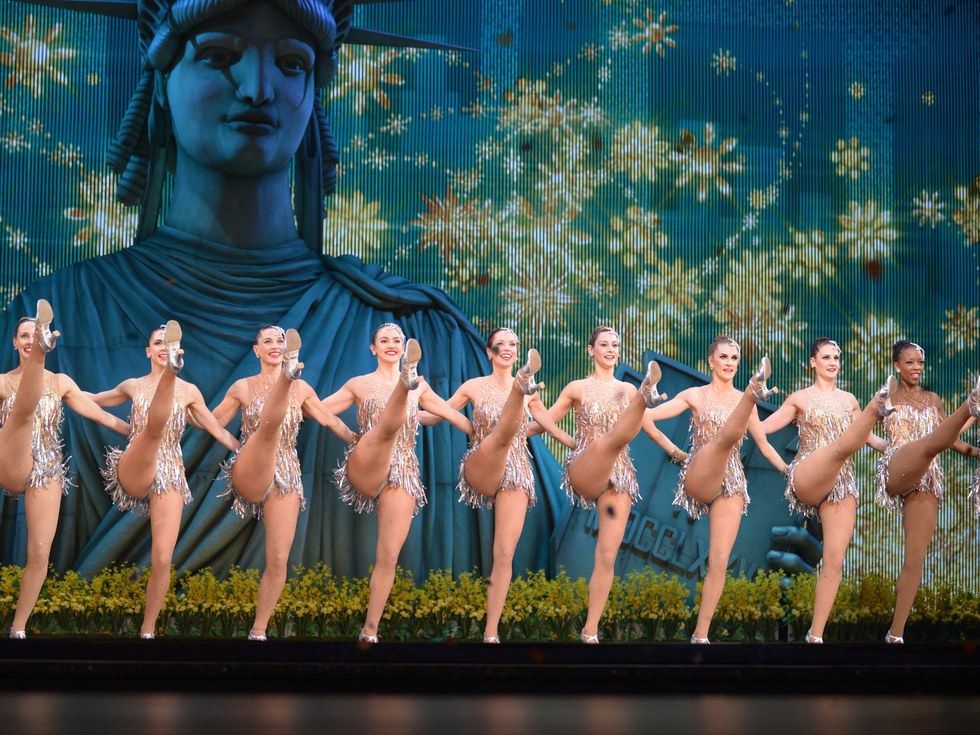 A classic kickline from last year's Spring Spectacular show (photo by Jason Allen via USA TODAY)
The show will pay tribute to NYC, following the adventures of a brother and sister who get separated from their parents during a trip to the city. The siblings will make their way through the Big Apple, receiving help from various landmarks come to life—from the Wall Street bull to the George M. Cohan statue in Times Square.
A few favorite elements from last year's spring show will make an appearance this year, too: The 26-foot Statue of Liberty puppet and the jaw-dropping tap number in real rainfall to "Singin' in the Rain" (sans Derek Hough, unfortunately) will return. What won't be included this time around? The Spring Spectacular's celeb cameos, either in person (à la DHough) or via voiceover. The leggy Rockette ladies will be the stars of the show, which we're more than OK with.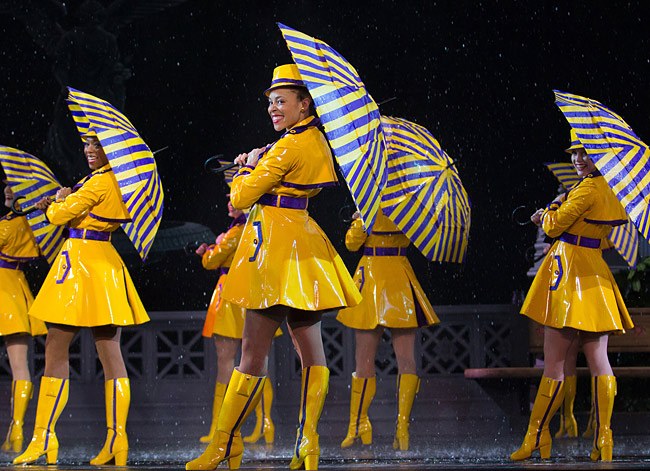 The epic "Singin' in the Rain" tap number from last year's Spring Spectacular (photo by Dan Niver via NewYork.com)
The New York Spectacular runs all summer (June 15–August 7) at Radio City Music Hall. Be sure to check it out when you're in town for Nationals or summer intensives!