Principal Character Artist Gary Avis as Drosselmeyer in the 2013 production (Bill Cooper, courtesy The Royal Ballet)
As December 2018 is finally winding down, you've probably had "Waltz of the Flowers" stuck in your head since October—at least. If just reading that sentence made you want to scream, you're welcome to stop reading here. (And we really are sorry that it's stuck in your head for the umpteenth time now.)
We're actually talking here to the diehard Nutters. Yes, you, who feel a little less dead inside every single time that tree starts to grow, you who gasp with suspense when Clara bends back to hurl the slipper, you who "awwwwwwwww" at every last adorable polichinelle or angel. If you still need more Nutcracker in your life, The Royal Ballet is HERE. FOR. YOU. (At least through December 30!)
Keep reading...
Show less
A moment from the Australian Ballet's live stream (via YouTube)
Bunheads, the day you've all been waiting for is FINALLY here: World Ballet Day! ✨✨✨
Keep reading...
Show less
Company class at the Royal Ballet during 2017's World Ballet Day livestream (via YouTube)
Bunheads everywhere, rejoice! It was just announced that the always-epic World Ballet Day will be back for round five (FIVE) this year. And the big moment's going to be here faster than you can say "gargouillade."
Keep reading...
Show less
No, she didn't just relevé up to that perfectly placed retiré—this is MID-TURN. (via Twitter)
Do you know a "Xerox" turner? The kind of dancer whose crazy multiple pirouettes are so perfectly balanced that they look like a single turn, carbon-copied two (or four, or eight, or thirty-two) times?
Royal Ballet superstar Marianela Núñez is one of those rare, perfect pirouette beasts, a fact you definitely already know if you follow her fouetté-filled Instagram account. But the Royal just posted a Black Swan pas de deux fouetté video that's a whole new level of impressive.
Keep reading...
Show less
A still from "Sink or Swim" (via YouTube)
Many who suffer from depression describe feeling like they're drowning, desperately trying to keep their heads above water. In "Sink or Swim," a poetic new short film, Royal Ballet principal Francesca Hayward embodies that struggle in a haunting underwater ballet.
Directed by filmmaker Louis-Jack, choreographed by Charlotte Edmonds, and supported in part by the mental health charity Mind, the video "hopes to raise awareness and understanding of depression in a compelling new way," according to its description.
Keep reading...
Show less
Popular
Oct. 04, 2017 10:33AM EST
A screenshot from San Francisco Ballet's 2015 World Ballet Day live stream
World Ballet Day is BACK, dance friends! Tomorrow, October 5, five top-notch ballet companies—The Australian Ballet, the Bolshoi Ballet, The Royal Ballet, The National Ballet of Canada, and San Francisco Ballet—will host a 22-hour (!) live stream, bringing viewers inside their classes, rehearsals, and backstage preparations. Ten additional ballet companies will join the hosting orgs for guest appearances. It's the fourth year we've been gifted this ballet present, and 2017's version looks to be bigger and more beautiful than ever before.
Keep reading...
Show less
You guys know how obsessed I am with Insta meetups. These genius events unite passionate photographers with compelling subject matter, and then leverage the power of social media technology to give people multiple perspectives on the same idea, object or place.
May I then call your attention to The Royal Opera House's #balletbeauty meetup? Home of The Royal Ballet, ROH organized the event as a way to invite top London 'grammers to take a peek inside the dressing rooms of the company dancers. And while #balletbeauty pretty much spells out the theme of the images, there's a whole lot more performance face mirror selfies. Take a look:
Click here to see all the images!
Mar. 23, 2017 07:49AM EST
As the Sugar Plum Fairy in The Royal Ballet's Nutcracker (photo by Johan Persson/ROH)
Royal Ballet principal Sarah Lamb is an unlikely mixture of softness and steel. In photographs she looks like the archetypically delicate ballerina. Watch her move, though, and you'll see the strength that grounds each refined pose.
Born in Boston, MA, Lamb began training at the Boston Ballet School at age 6. She joined Boston Ballet in 1998, and won silver medals at the Japan International Ballet and Modern Dance Competition in 1999, the New York International Ballet Competition in 2000 and the USA IBC in 2002. In 2003 she was promoted to principal at BB, but a year later, looking to broaden her repertoire, she accepted a first soloist contract with The Royal in London. Lamb became a principal dancer in 2006, and has since danced nearly every classical lead. She'll be onstage at Covent Garden this month in The Nutcracker and George Balanchine's Jewels. —Margaret Fuhrer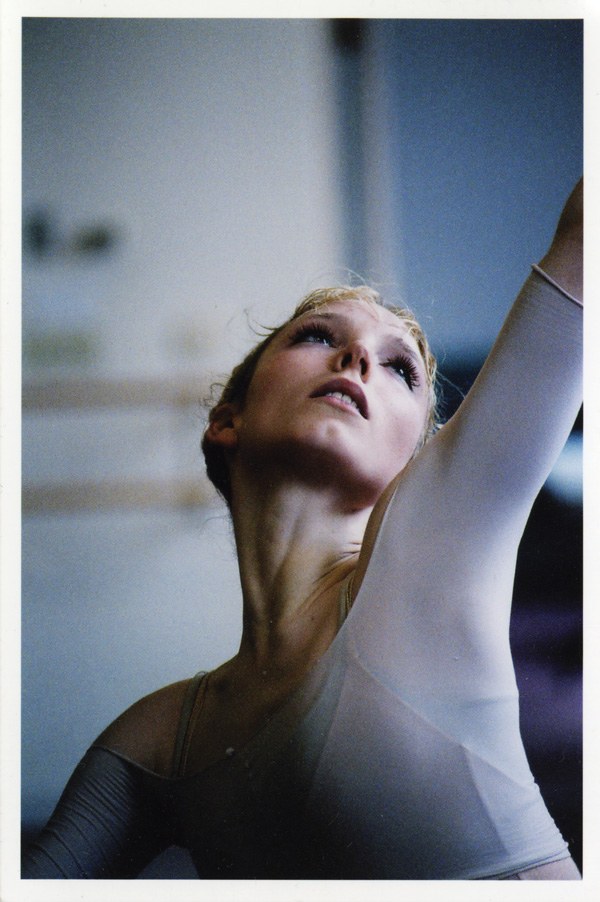 Lamb as a teen (courtesy Sarah Lamb)
Dear Sarah,
Before I preach all the wisdom one gains simply through living and experiencing life, I want to say I am quite satisfied with the way you're living your teenage years. You're serious about your academic studies, and I cannot emphasize enough how strong a foundation that will give you to continue to learn and seek knowledge. You're not consumed by one goal—to be a ballerina. Rather, you know what you want and are working incredibly hard at it, whilst taking Advanced Placement French and government and having many friends who don't even know what ballet is.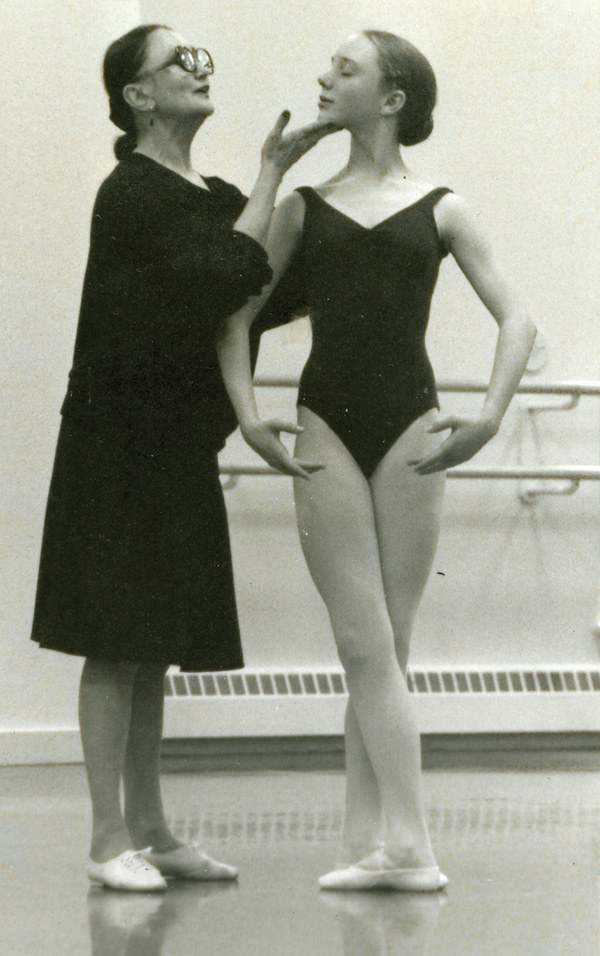 A young Lamb with her mentor, Tatiana Legat (courtesy Sarah Lamb)
Keep being skeptical and believing you have the intelligence to question people and truisms, but know when to be polite and keep it to yourself. Value your self-assurance. That is one thing that can disappear as you become more and more aware of the scrutiny and criticism that is intrinsic to our art. Be sure to use criticism to your advantage, not detriment. Right now you're not overly self-critical, and that fearlessness is serving you well. Hold on to it, even as you gain knowledge of what it's like to fail.
Everyone has highs and lows in life, so resilience is one of the most important characteristics to cultivate. Your tenacity and diligence will combine with desire and "talent" (however one wants to define that) to foster the best artist you can be.
Love,
Sarah
Dusty Button In class onstage (Mitchell Button)
If you're one of Dusty Button's 146,000 (and counting) Instagram followers, you know this ballerina doesn't fit any molds. Because while she holds down a job as a Boston Ballet principal dancer and takes the stage in ultimate classical roles like Odette/Odile (which she performed this past April), she's just as comfortable in a fast-paced contemporary Jorma Elo piece or in a thin pair of socks working a hotel ballroom floor.
Keep reading...
Show less
We know you're obsessed with extraordinary ballerina Alessandra Ferri—because EVERYONE is obsessed with extraordinary ballerina Alessandra Ferri. (Non-bunhead friends: Even if the name doesn't ring a bell, the feet definitely will.) Ferri's brilliant artistry has been inspiring dancers ever since she was named the Royal Ballet's youngest-ever principal dancer at age 19.
That was in 1983. Today, Ferri is 52—and more inspiring than ever. Though she officially retired in 2013, Ferri recently returned to the stage, showing off still-solid technique (pointework included) and her singularly intoxicating perfume. This June, she'll even dance Juliet in Kenneth Macmillan's Romeo and Juliet—one of her signature roles—with American Ballet Theatre. She's pretty much the only 52-year-old who can make a convincing Shakespearian teenager.
British makeup company Boots just put out an ad that highlights Ferri's impossible youthfulness in a jaw-dropping way: It has her dancing alongside a hologram of her baby self. And here's the thing: "Now" Ferri? She's even more luminous than "Then" Ferri.
It's #MotivationMonday amazingness, and come Wednesday it'll be #WCW everything, and on Thursday we'll watch it again because it's also kind of #TBT perfection. But no hashtag is going to do this thing justice. Just watch it:
Get Dance Spirit in your inbox
Raise your hand if you're a dance nerd! Cool, me too. The Royal Ballet is hyping Romeo and Juliet like crazy right now, since the company is launching the 50th anniversary of Kenneth MacMillan's timeless production. All this promotion is especially great for those of us outside of the UK because it means tons of gorgeous photos, livestreamed rehearsals, dancer Tweets and official behind-the-scenes footage. If you're like me, and you can't get enough, check out this video of principals Sarah Lamb and Steven McRae in rehearsal. Enjoy!
We're willing to bet that if you asked any bunhead about her favorite dance videos, the Royal Ballet's rehearsal clips would most definitely be on the list. It's no secret that in order to maintain such a level of amazingness, the company members have to practice as passionately as they perform. Our hearts flutter a little bit every time a new video is uploaded, and today's installment is all we could've hoped for.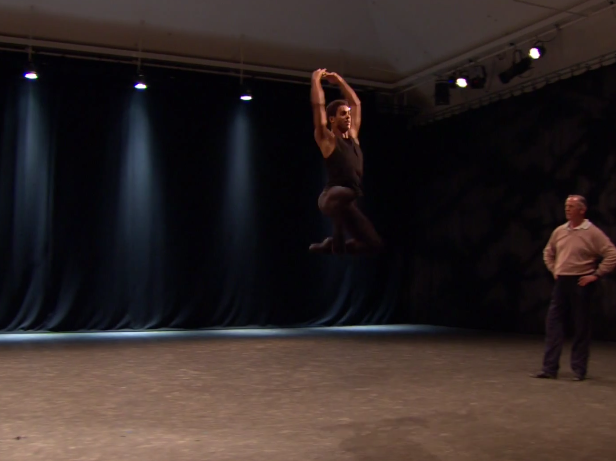 The Royal Ballet's Marcelino Sambé flying high over Ballet Master Christopher Carr. (Screenshot Royal Ballet Youtube)
Watch as newly promoted company members Marcelino Sambé and Luca Acri work with guest Principal Ballet Master Christopher Carr on Frederick Ashton's The Dream. A perfect distraction and little bit of inspiration to tide us over until the weekend!
Way back in 1949, Sadler's Wells Ballet (which later became The Royal) had its first North American tour. A ballerina named Margot Fonteyn was introduced to America, became an international star and changed the face of dance. Fortunately for us, there are photos and mementos from those early touring days to show us what it was like.
Thanks to a recent donation from Robert Dunn, a former musician in the Orchestra of the Royal Opera House, the archivists at the ROH were able to show some ephemera from that tour. There are also items from the company's third North American tour in 1953. Nothing like calf liver on a brunch menu to really make you thankful for healthy dancer food nowadays, amirite?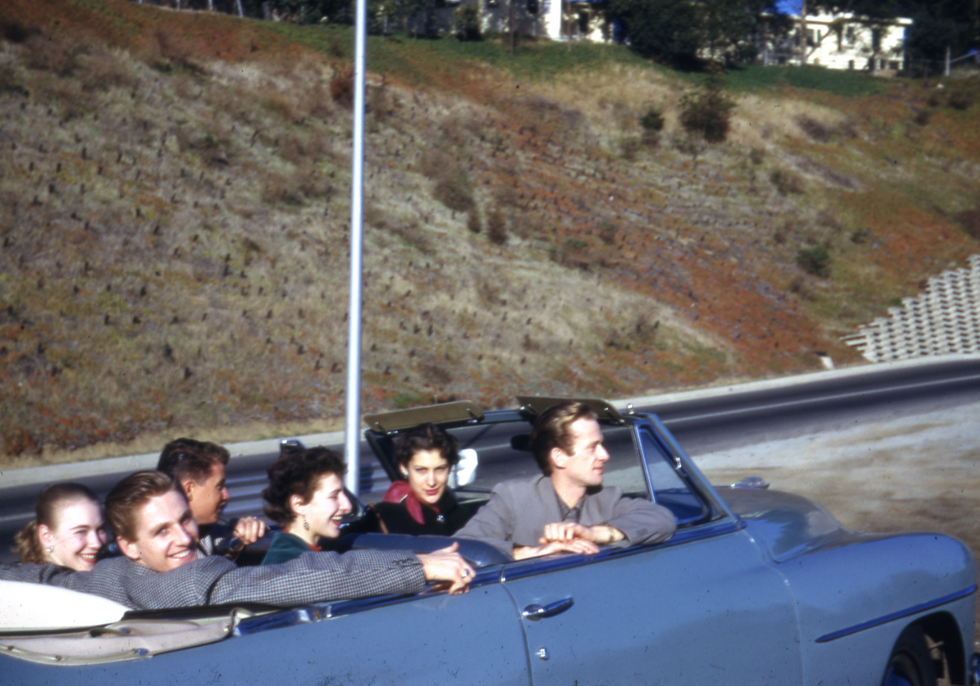 Just look at these cool cats. (Photo via ROH archives, donated by Robert Dunn)
Btw, The Royal Ballet is touring the U.S. RIGHT NOW! The company hasn't graced us with its presence since 2009, so this summer tour is long-overdue. Indulge in some #throwback nostalgia, and then, if you can, get your tickets! The Royal has already hit Washington D.C., but Chicago and NYC audiences still have a chance to see the company.
We told you it was coming—and now it's finally arrived!
Today is the first-ever World Ballet Day, which means it's time to watch dancers from five of the world's greatest companies—the Australian Ballet, the Bolshoi Ballet, the Royal Ballet, the National Ballet of Canada, and San Francisco Ballet—taking class and rehearsing. The up-close-and-personal experience is provided by an ongoing live stream. Each company is taking over the stream in turn, with the feed beaming first from Australia and then traveling across the world until it reaches San Francisco.
Actually, my tenses are a little off here: As I write this, the Australian, Bolshoi and Royal Ballets have already had their moments of live stream glory. But never fear: The whole thing will be available to watch on YouTube for 48 hours once SFB's section concludes. And even after that grace period, various highlights from the extravaganza will remain up online.
Right now The National Ballet of Canada is up at bat—take a look! And please apologize in advance to your teachers, because I'm guessing it's going to be hard to get any work done today...
Raise your hand if it's your dream to have a private tour of your favorite opera house. Right, so everyone.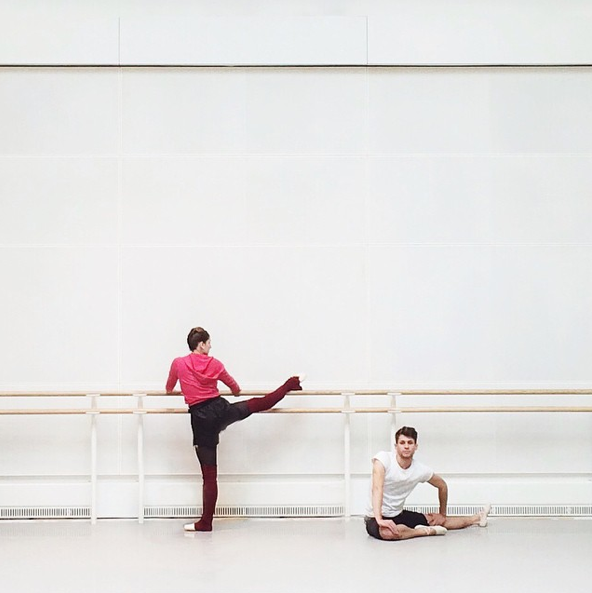 (Photo by @whatalexloves, via Instagram)
Thanks to Instagram, we can come pretty close. Following the success of the #emptymet campaign on the Metropolitan Museum of Art's Instagram account, the Royal Opera House revealed its behind-the-scenes operations to a lucky group of London Instagrammers. The hashtag? #EmptyROH.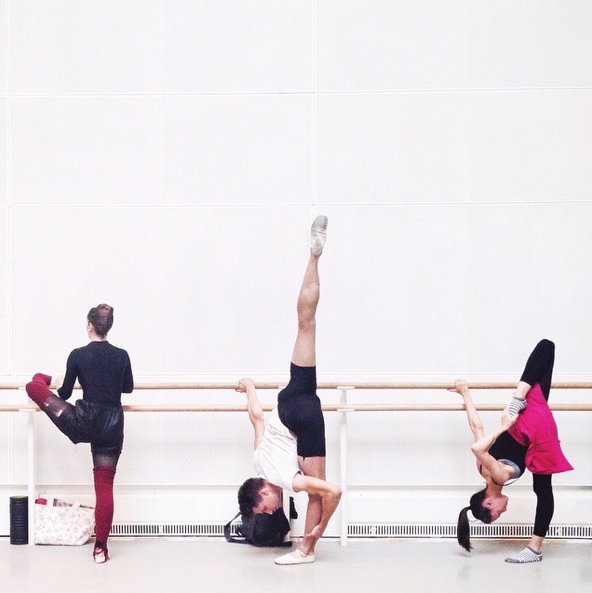 (Photo by @geerhee, via Instagram)
The 'grammers were treated to a morning tour of the opera house, capturing images of the dancers in company class and the costume shops before the daily hustle began.
There's something so special about the quiet stillness captured in these images—especially since we know how much work and effort is about to take place. Here's one 'grammer's take on photographing the Royal Ballet dancers: "It was a very intense moment, and it actually gave me chills."
We couldn't agree more. And remember, you can spend even more time behind the scenes with the Royal Ballet on October 1—#WorldBalletDay!
So, this is super-duper awesome: October 1st will be the first ever World Ballet Day! I know, I know—it's not like you need another reason to celebrate the most elegant of art forms. But this is going to be a pretty amazing celebration.
Five of the world's biggest ballet companies have teamed up to offer a crazy-good live streaming event on the 1st. Each of the troupes—the Australian Ballet, Bolshoi Ballet, Royal Ballet, National Ballet of Canada and San Francisco Ballet—will host a four-hour stream, with the link passing across time zones from Melbourne to San Fran. We'll get peeks at all kinds of classes and rehearsals—windows into what ballet company life is like around the world. We'll see, in other words, how all these companies speak the same ballet language with different accents.
Where did this idea come from? Well, remember last year, when the Royal Ballet hosted a nine-hour behind-the-scenes live streaming marathon? This is a replication of that idea on a larger scale. And don't worry about waking up in the middle of the night to watch what's happening in Melbourne: The whole day's stream will be repeated on YouTube, just as the Royal's broadcast was, for catch-up purposes. (And if you really miss the boat, select highlight clips will still be available after that.)
More information about World Ballet Day is apparently coming soon—stay tuned! In the meantime, check out the official trailer below, and read a little more about the project here, here, here and here.