If you're like us, we're guessing you're counting the days until Step Up: All In—the fifth installment in the still-chugging Step Up series—hits theaters. (For the record: 59 days to go! It opens August 8.) Crazy dance sequences featuring alllll the stars of the past movies, including Alyson Stoner, Briana Evigan, Ryan Guzman, Adam Sevani, Misha Gabriel, tWitch and the Lombard Twins? Yes. Yes PLEASE.
Well, good news for the impatient: There's a brand-new trailer for this extravaganza, and it's a solid two-and-a-half minutes of dance-y goodness. Cheesy goodness, too—Step Up films are never hesitant about layering on the cheese—but honestly, we wouldn't have it any other way. (Would we even recognize a Step Up movie if it didn't include lines like, "There's a magic that happens when you dance...for one perfect moment, you feel totally alive"?)
Enjoy!
Here at DS, we live for the Step Up movies. Whether Channing Tatum is romancing Jenna Dewan with his slick dance moves, or Alyson Stoner and Adam Sevani are sweetly tap dancing through the NYC streets, every Step Up movie is just the best.
OK, so maybe the plot lines leave a bit to be desired, but who cares? The dancing is so good.
This summer, the mega-hit dance franchise gets back to the big screen with Step Up: All In, and we couldn't be more psyched. This time around, all of our past favorites are back: Alyson Stoner (as Camille), Ryan Guzman (as Sean), Adam Sevani (as Moose), Misha Gabriel (as Eddy), plus the Lombard Twins, tWitch, Christopher Scott (who also choreographed) and so many more.
The official trailer for the film was released last week and we can't. stop. watching.
Here ya go:
Step Up: All In hits theaters this summer. We'll race you to the theater!
Oct. 08, 2012 12:17PM EST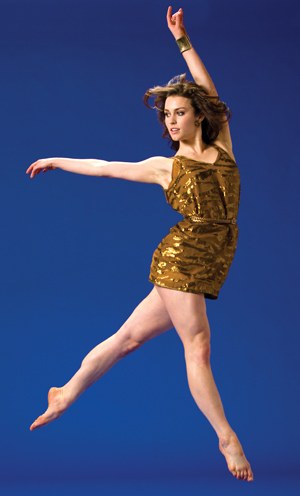 Photography by Joe Toreno
Kathryn McCormick's dance life seems pretty fairytale-esque: The 22-year-old native of Augusta, GA, was the top girl on "So You Think You Can Dance" Season 6, which earned her a gig on the Academy Awards. She later nabbed a recurring All-Star role on "SYTYCD," and this past summer she made her big-screen debut as the leading lady in Step Up Revolution.
But despite the eventual successes, the beginning of McCormick's life in L.A. was anything but a dream. Her first gig on the movie Fame turned out to be a bust, and it took a series of failed auditions before she finally won the hearts of the judges on "SYTYCD." Still, she refused to give up on her dance dreams—and she told us why in this exclusive Q&A.
How did you get started dancing?
Kathryn McCormick: I started before I was even born—my mom danced while she was pregnant with me! A few years later, she opened a dance studio, The Dance Connection, in Georgia, and I started taking lessons there when I was three. Later, my mom closed the studio, so I switched to the studio she grew up at, Augusta West.
Eventually I got into competitions and conventions. I remember taking class from [Step Up Revolution co-star] Misha Gabriel and thinking, "He's so hot!" After graduation, I traveled as a Tremaine Dance Convention apprentice.
At what point did you decide you wanted to make dance a career?
KM: When I turned 18 I didn't even know if I was capable of dancing professionally because I didn't know anyone who'd done it. I decided not to go to college, which was hard. But I didn't want to waste that time when I could be pursuing something I really wanted to do. It was a leap of faith, but I wanted to dance.
How did your parents feel about your decision?
KM: They were supportive. My mom had wanted to dance professionally but didn't because she had kids so young. My dad had gotten close to becoming a pro golfer, but he had to support our family, so he went into the cable industry. My parents wanted me to pursue my dreams since they didn't get to pursue theirs.
What did you do to get closer to your dream?
KM: I decided to train at a ballet school and teach at my studio to save money to get to L.A. I knew my technique wasn't strong enough—there was so much I didn't know about my body that I needed from ballet. I was the oddball in class with a ponytail and tan tights.
When did you get your big break?
KM: Keith Clifton, a choreographer I'd met doing competitions, offered to recommend me to his dance agency, McDonald/Selznick Associates in L.A. I didn't even know what a dance agent was!
I met with them and they gave me a contract right away. I didn't realize it was going to be the beginning of something huge. Two weeks later, I got an audition for Fame.
Very appropriate! Did you book it?
KM: I booked a gig as one of 30 featured dancers, which meant I had to move to L.A. for four months. My first week in L.A., I found out they'd cast too many dancers, and I was only going to have one day of work. I hung up the phone so discouraged. I had no friends, no car and no reason for being there.
How did you deal with that disappointment?
KM: I started riding the bus to EDGE Performing Arts Center every day, taking as many classes as I could in hip hop and other styles in which I didn't have much experience. But I didn't book any jobs for six months, so I did extra work on movies like Couples Retreat while my family continued to help me financially.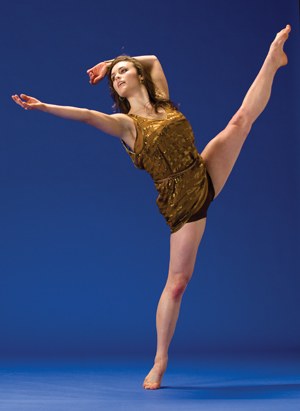 Perseverance seems to be a recurring theme in your dance journey—you auditioned for "SYTYCD" three times before you made it. 
KM: The first time, I went with a group to audition for Season 5 just for fun. When I got in front of the executive producers, I was a mess. I got cut right away. Then my mom invited me to join her on a trip to Denver, adding, "By the way, 'SYTYCD' is having an audition while we're there. You should try again." This time, I got further and danced for the judges. When I got cut, I never thought I'd audition again.
What changed your mind?
KM: A few months later, my mom convinced me to audition for Season 6. When I got on the floor, the music kept messing up. I remember standing on my mark and getting so anxious. I told myself, "Don't do this. Get out of your head." I said a prayer, and when I opened my eyes, the music came on. After I danced, the producer said, "We want to see more of that!"
You made the show and got paired with Jonathan "Legacy" Perez. What was your reaction?
KM: My first thought was, "Oh no, he's a B-boy. We're so different." But I couldn't have asked for a greater partner. He changed me as a performer. I used to be so technical—
I didn't like to freestyle. Legacy taught me to let the moment take over. He'd do things like throw his keys at me to try to get me to react spontaneously. He'd say, "I'm going to press play and you're going to dance." I was so uncomfortable. Finally, when I let myself go and freestyled, he was in tears. He showed me how to trust myself.
And then you came back to rock it as an All-Star.
KM: I didn't expect to be the last Season 6 girl standing. After the show, I auditioned for Burlesque and was cut right away, which was humbling. So when "SYTYCD" asked me to be an All-Star, that blew my mind.
How does being an All-Star differ from competing?
KM: People think you must not be nervous anymore. Not true! As an All-Star, the pressure's on: You have to be confident to support your partner. It's about learning to be selfless in your dancing, which is a different mindset, but it's just as challenging.
When did you get word of the Step Up Revolution role?
KM: In July 2011 my agent said they wanted me to audition for the role of Emily. I went in and hit it off with the casting director, and then I met with the director and producers. It's a different energy than a dance audition—all eyes are on you in this tiny shoebox. I left feeling like I didn't get the part, but ended up getting a callback where I had to pair up with the male lead, Ryan Guzman.
What was the final audition like?
KM: There were just two chairs and some cameras, and we had to do a scene while they shot different angles and tested our chemistry. Before Ryan and I went in, I was shaking, but once we got inside, everything clicked. We had a moment, and I felt so connected to Ryan and so comfortable.
How did you find out you got the part?
KM: Two days later, I got a call from [director] Scott Speer, Adam Shankman and Jen Gibgot on three-way. Scott was like, "Hey, I wanted to thank you for coming out. We appreciated your time. I'm sorry, but…you got the role of Emily!" He tricked me and I was speechless.
I freaked out. Auditioning alone was conquering a fear—I never even thought about actually getting the part.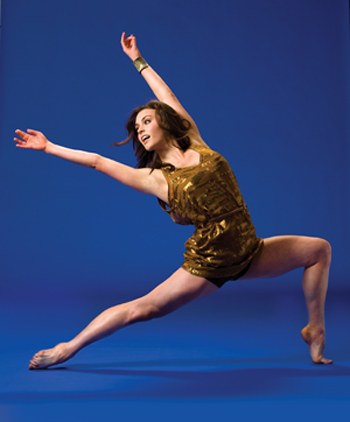 Did you do anything to prepare once you knew you'd been cast?
KM: Two days after I found out, I texted Scott asking, "What do I do now?" I thought you had to memorize the whole script right away! He told me to eat healthy and get in the best shape possible. I thought, "That's it?" But when he said the 3-D could be unforgiving, I put on my running shoes and ran around the block!
What were rehearsals like?
KM: The first month was dance training, from 9 to 5 every day. The mob would be in a room with Ryan, then Ryan would run over and do a duet with me, and then I'd go back and learn mob choreography. It was crazy having so much time to learn something. It allowed me to dive into the character more.
Which scene was the most real for you?
KM: When Emily is doing her final audition and it's supposed to be a duet but winds up being a solo. Emily's not always 100 percent in her dancing, so I had to let myself wobble or fall, which was hard with my perfectionist mentality. [Choreographer] Travis Wall would say, "No, that's too spot-on. You have to mess up." I needed to have that insecurity because that's how Emily was feeling.
What was it like seeing yourself on the big screen?
KM: The first time I saw the movie I was with Ryan, Misha and Scott. My heart was pounding. I didn't let myself be critical—I was just like, "I'm going to enjoy this."
Is acting part of your career plan now?
KM: The film definitely pushed me in a new direction. I'm dancing and taking acting classes and trying to do it all. Along with being a "SYTYCD" All-Star again, I just did a music video for a group called Vienne to bring awareness to human trafficking, and I have a few more projects in the works. I'm trying to train so I'll be ready for whatever comes next.
KATHRYN'S CO-STARS DISH
Stacey Tookey ("SYTYCD" choreographer and friend): "Kathryn is always at the top of my list when I'm looking for a dancer or assistant. She's completely invested in whatever she's doing—a quality I don't often find in young dancers. She's the perfect mix of passion, talent and beautiful spirit—you could say
she's my muse."
Jonathan "Legacy" Perez ("SYTYCD" partner): "We carried each other into the Top 10—as soon as I saw she was my partner, I was like, 'Let's go all the way.' She looks ahead and doesn't let anything discourage her."
Misha Gabriel (Step Up Revolution co-star): "I was completely inspired by Kathryn's work ethic on set. She pushed everyone around her to become better. Even though her technique is exquisite, Kathryn works at it like she doesn't have it yet. Watching her dance in the film is mind-blowing."
Commercial
Jun. 15, 2012 11:00AM EST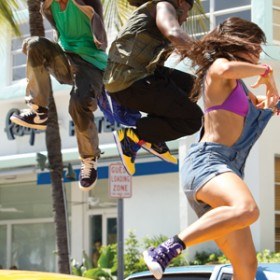 The Mob takes Miami in Step Up Revolution
The wait is over: The fourth Step Up installment (in 3-D, of course) is here! Step Up Revolution takes the fiercest dancers to the streets of Miami. Calling themselves The Mob, these hip hoppers, breakers, poppers and lockers use flash mobs to take down a wealthy businessman who's threatening to destroy their neighborhood. Dance celebrities on set included Mia Michaels, tWitch, Misha Gabriel, Phillip Chbeeb and more. And one of our favorite former "So You Think You Can Dance" contestants, Kathryn McCormick, makes her acting debut as leading lady Emily! She dances opposite hunky Ryan Guzman, also a Hollywood newcomer. DS caught up with McCormick about her exciting first experience starring on the big screen.
Dance Spirit: How'd you land this awesome role?
Kathryn McCormick: It was the first acting audition I'd ever been on, and it was intimidating. When I get nervous, I ramble on and on, so afterward I felt completely embarrassed. But I kept getting callbacks! When I got the call saying I'd won the part, I was on the way to assist "So You Think You Can Dance." I was in shock. I called my mom crying. She was like, "Did you get in a wreck? Are you okay?" I said, "I got the lead in the movie!" Then she started crying, and we had to hang up because we couldn't understand each other. It was funny.
DS: Tell us about your relationship with co-star Ryan Guzman.
KM: Before this movie, Ryan had acted, but he had never danced. I think my time on "SYTYCD" helped me, because I've been in the position of working with someone who isn't as experienced in a certain style. We connected as soon as we met, and we came to be really comfortable with each other. I helped him dance, and he helped me act.
DS: Do you have a favorite scene? 
KM: My heart is in the contemporary duet with Ryan choreographed by Travis Wall, because that's my style. But the most fun day for me was when we filmed Emily's initiation into The Mob. It's when you see her rebellious side come out for the first time. She's dancing on tables in a restaurant, and she has a dress, mask and heels on. It was so much fun to be tossed around from dancer to dancer.
DS: What's next for you? More movies?
KM: I don't know where my life is going, but it will always have dance in it. I'm in acting classes, and I'm going to both acting and dancing auditions. On top of that, I've been doing a little motivational speaking. I'm not one to make too many plans, because so often, the things that actually happen are greater than anything I could have imagined. If you had asked me five years ago what I'd be doing, this wouldn't have been on my list. I just put in the work, leave my heart open and see how it all lines up.
Mark your calendars! Step Up Revolution hits theaters July 27.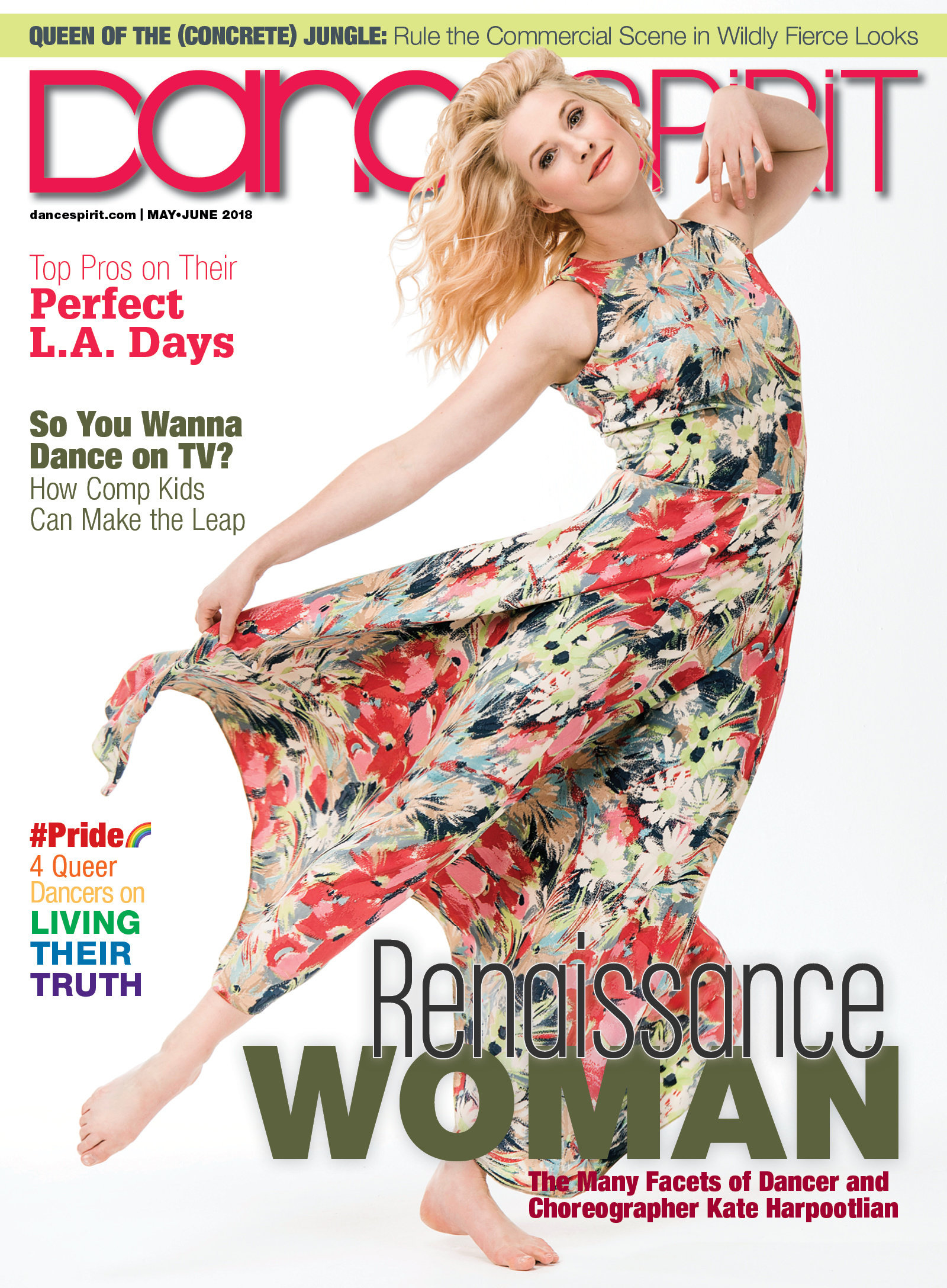 Get Dance Spirit in your inbox