Amar Ramasar (second from right) and some of Carousel's incredible ensemble men (Julieta Cervantes)
The Broadway community was #shook on Tuesday morning as "Smash" alums Leslie Odom Jr. and Katharine McPhee announced the 2018 Tony Award nominations. (We were so happy to see our friends from Mean Girls honored with 12 noms!) But—sadly—there's no Tony Award category for ensemble dancers. Which feels especially unfair right now because this season's dancers are, in a word, killer.
So we went ahead and chose 7 of 'em who deserve Tony Awards of their own. Ladies and gentlemen, our picks for 2018's Best Ensemble Dancers:
Keep reading...
Show less
Photo by Lee Gumbs, courtesy Ryan Steele
Ryan Steele has become a Broadway mainstay, thanks to his powerful technique and commanding stage presence. He's been a part of the original casts of hit shows, including Newsies and Matilda, played a Lost Boy in Peter Pan Live!, and performed in the first national tour of An American in Paris. A Walled Lake, MI, native, Steele started dancing at Dance Dynamics Performing Arts Center at 6. He began studying ballet seriously at 11, and was about to sign with Ballet Austin when he was offered a role in the 2009 revival of West Side Story on Broadway. This spring, you can catch him dancing in the Great White Way revival of Carousel. —Courtney Bowers
Keep reading...
Show less
Happy Friday, ladies and gents! Did you, like me, wake up this morning thinking, I could really use more beautiful Broadway dancers in my life? Granted, that's pretty much how I feel EVERY morning. But today, the need was especially strong.
Well, the musical theater universe has answered our prayers in pretty spectacular fashion: Meet "Stormy Monday," a little gem of a clip that may have Monday in the title but is pretty much tailor-made for Friday video break time.
Masterminded by Broadway performer and choreographer Grady McLeod Bowman, it features two of the Great White Way's most talented—not to mention most attractive—dancers: Samantha Sturm (you know her from Matilda, On the Town and your leg/feet fantasies) and Ryan Steele (Newsies, Matilda, your pirouette dreams...really just your dreams, generally).
Pretty people doing steamy choreo set to a blues classic? Yes. Yes, please.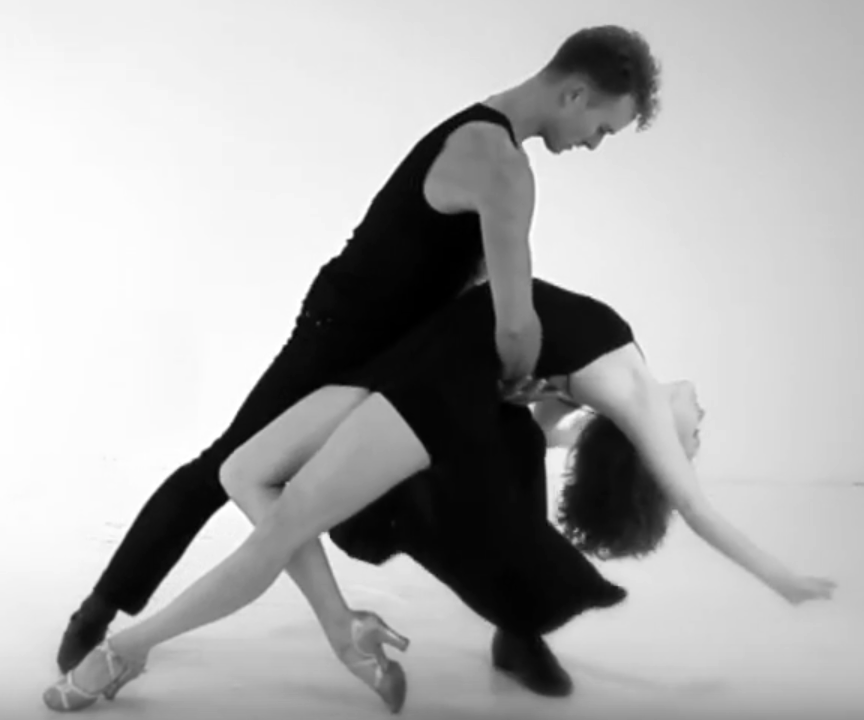 Screenshot via YouTube
It is hands down the best two-and-a-half minutes you can spend on YouTube today. (And that is a SERIOUS CLAIM, because there is also an all-hamster remake of the "Friends" theme song circulating right now). Enjoy!
Our longtime fave Ryan Steele and the lovely Garen Scribner are pretty busy at the moment, traveling the world in the touring company of An American in Paris. But they took some time out of their nutso schedule to film a video for the indie band Moondrunk's "Sold My Soul." And we are SO GLAD they did.
Choreographed by Lorin Latarro, a Broadway vet who most recently made dances for Waitress, the video has a powerful message. We see an older man—played by dance/theater artist Yehuda Hyman, a beautiful mover himself—ruminating on his loveless life, stunted by his religious beliefs. Steele and Scribner's ardent portrayal of his inner turmoil just might make you a little teary.
Less than two months until Peter Pan Live! on NBC! So far, we've been pretty excited about the cast: Christopher Walken as a tap-dancing Captain Hook? Obviously. Allison Williams ("Girls") as Peter Pan? Yes, please.
But OMG, you guys, it gets so. much. better. This week, NBC made the full casting announcement, and Newsies alums are taking over: Ryan Steele, Jacob Guzman, David Guzman, Daniel Quadrino and Garrett Hawe will play The Lost Boys. Alex Wong will be repin' the Newsies in the "Islanders, Pirates, Litter Bearers and Mermen" category. And Jake Lucas will play John Darling.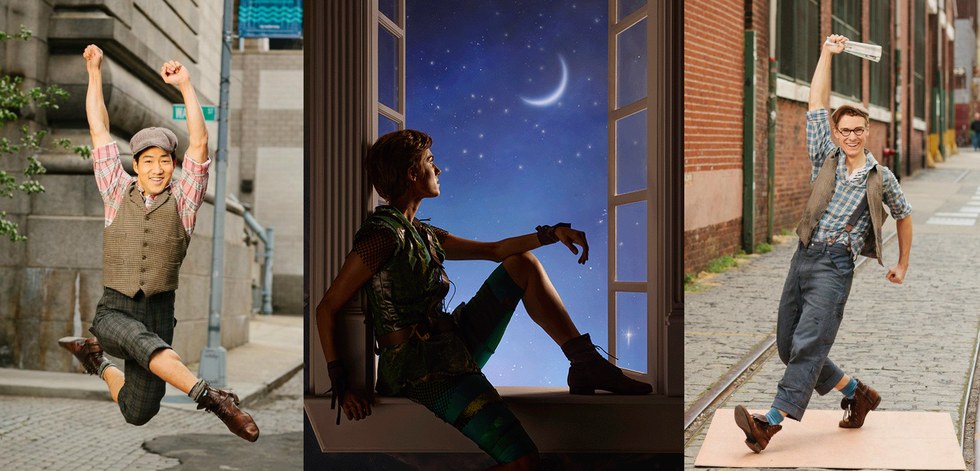 (L to R) Alex Wong poses for our Newsies cover (photo by Jacob Pritchard); Allison Williams in a new production shot for Peter Pan Live! (photo courtesy NBC); Ryan Steele poses for our Newsies cover (photo by Jacob Pritchard)
If pulling a bunch of alums from one of the danciest shows to hit Broadway is any indication of the amount of dance in Peter Pan Live!, count us the most in. Remember to tune in to NBC on December 4 for the live event!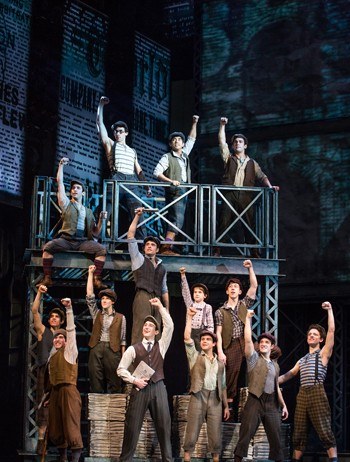 The Newsies boys will be seizing the day in 25 cities across the U.S. (photo Matthew Murphy)
Today brings both good and bad news. Go grab a tissue, because the bad news is first.
Got one? OK. This just in: Newsies is closing. In two months. After a final show on August 24, the Disney musical extravaganza will leave it's home at the Nederlander Theater on Broadway, meaning there are only 72 performances left.
Ready for some good news? The 2-year-old show isn't gone for good. Newsies will embark on a 25-city national tour, beginning this October in Schenectady, NY. As of now, the tour plans to finish next August in Toronto. But when Newsies opened on Broadway back in 2012, it was only scheduled to have 101 performances. By August 24, 2014, it will have exceeded that number by 904 shows—and 904 standing ovations. Something tells me this musical isn't going away quietly in a year.
For now, the on-sale date for Newsies tour tickets hasn't been announced. But click here to see if the show is coming to a city near you, and sign up to get emailed ticket alerts.
Every now and then, we come across a dance video that's so lovely, so breathtaking, so special that we just let it roll on repeat for days at a time.
The latest video we can't stop reloading and re-watching is "Silhouette" starring three of our favorite roommates: Ryan Steele, Jakob Karr and Grace Buckley. Set to hauntingly beautiful music by Active Child featuring Ellie Goulding and choreographed by Buckley, this piece is nothing fancy—it's just clean, simple, elegant dancing. Plus, the three dancers are best friends, making it even more fun to take a trip into their little world. Bonus: The video was shot and edited by Andrew Keenan-Bolger, one of Steele's castmates in Newsies!
For your viewing pleasure...
This is totally what you and your roommates do in your spare time, right?
...gooey cinnamon buns for breakfast, a giant mug of hot chocolate with whipped cream on top and a roaring fire in the fireplace.
OK, and a few other things. We'll get to those in a sec.
First: Merry Christmas, everyone, from all of the Dance Spirit editors!
It's arguably the most festive day of the year, and if you're a Christmas celebrator, we hope you're in the midst of a very merry day. (Pajamas mandatory all day long. Deal? Deal.)
But you don't have to celebrate Christmas in order to make a lengthy wish list, right? Here's what the Dance Spirit editors are dying for this year...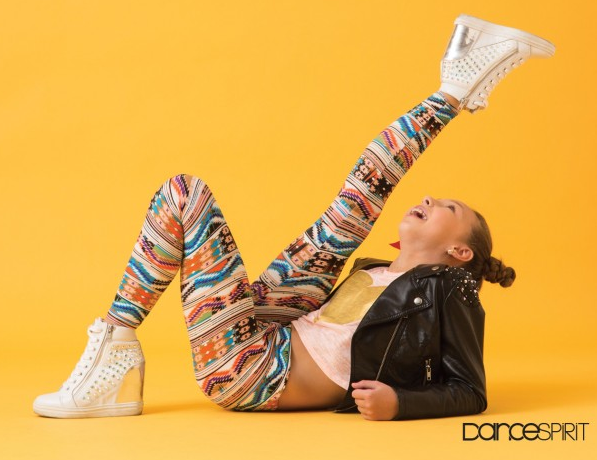 Sophia's shoes are from Steve Madden. Get 'em while you still can! (Photo by Erin Baiano)
"Sparkly wedge high-tops, like the ones Sophia Lucia is wearing on our January cover. As a fellow shorty, I understand her need for a little extra height—even when it's a sneaker day." —Rachel Zar, managing editor
"I want another live musical on TV! How about Singin' in the Rain? Ryan Steele in the Gene Kelly role? Cloud Campos in Donald O'Connor's part? Somebody get Rob Ashford on this, stat!" —Margaret Fuhrer, associate editor
"I want to go to a taping of 'So You Think You Can Dance' during Season 11 so I can scream 'judges' in a Cat Deeley-esque British accent. That, and a pair of harem pants so I can feel like less of a bunhead in hip-hop class." —Maggie McNamara, assistant editor
"In a perfect world, stores would play Nutcracker music all year long—and the rest of the world would love it as much as I would." —Meggie Hermanson, fashion editor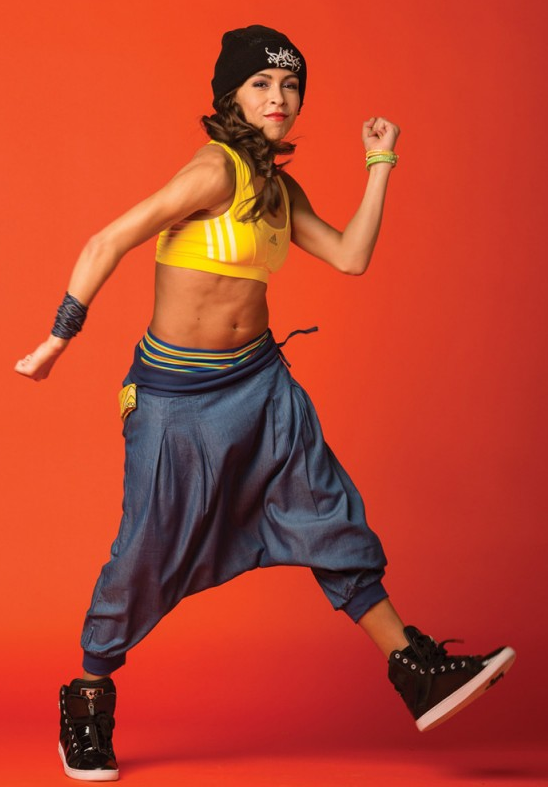 Simi! Let's be twinsies. (Photo by Erin Baiano)
As always, I've got quite the list of my own going: I want Lin-Manuel Miranda to bring something—anything—to Broadway ASAP. I want to go shopping with Simrin Player. I want to put an end to "Dance Moms" and in its place create a TV show about all the great things that happen in the competitive dance world. I want Juliet Doherty to take home the top prize at the Prix de Lausanne. I want Nick Lazzarini to be the next President of the United States. I want newlyweds tWitch and Allison Holker to have, like, millions of little dancer babies. And I want to grow just one more inch so I can be tall enough to audition for the Radio City Rockettes.
Get busy, Santa—you've got some serious work to do for us this year.
Happy holidays!
Nov. 01, 2013 05:59PM EST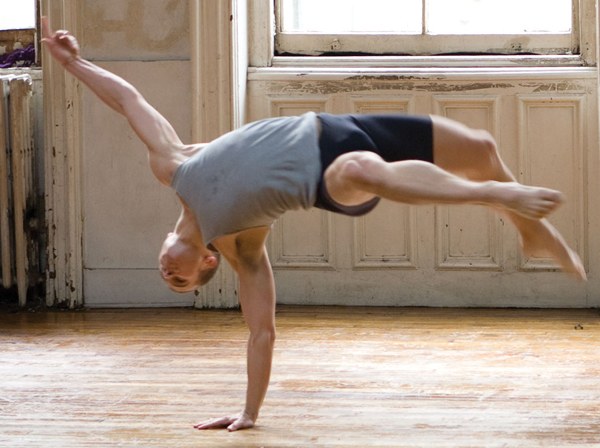 (by Peter Ross/Paladin)
In Five Dances, which opens nationwide this fall, 18-year-old Chip (played by Ryan Steele) moves to NYC with nothing but a sleeping bag and a love for dance. Cast in his first professional dance job, Chip struggles to find himself—and, ultimately, find love. This heart-wrenching tale, full of incredible dancing, will transfix you. (Though be warned: It deals with content that may be too mature for young viewers.) Steele's performance is both intense and quirky—it's hard to believe this is his first foray into film. He's been captivating audiences onstage for years, first as an aspiring ballet dancer, and then in featured roles on Broadway. (He even graced our July/August 2012 cover while in Newsies.) Now a star of both stage and screen, Ryan chatted with DS about the making of Five Dances.
Dance Spirit: You started working on Five Dances more than a year ago. Can you tell us about the filming process? 
Ryan Steele: The first things the cast learned were the five dances that are in the movie. We had three days of rehearsal with choreographer Jonah Bokaer, for 12 hours each day. Then we had a week or so break before filming. We filmed for only two weeks total—it was really quick.
DS: What was the hardest part of making the movie?
RS: The schedule. As a dancer, I'm used to rehearsing for weeks or even months before performing. But we would look at some scenes for the first time at 2 am and then film them at 8 the next morning. We also shot out of order, so I'd do a happy scene and then for the next scene on the schedule, I'd have to cry. That was a challenge.
DS: Your character, Chip, has a hard time as he enters the world of professional dance. Could you relate to his experience?
RS: Definitely. I think it's realistic. My character is new to NYC and doesn't really know what he's getting himself into. That was my experience when I was 18 and first moving to the city. But Chip is very serious, and I'm a generally happy person. Having to do most of the scenes without cracking a smile was tough.
DS: What makes Five Dances different from other dance movies?
RS: During our initial rehearsals, director Alan Brown really paid attention to the way us dancers interacted in the studio—the relationships we formed and the things we said and did, down to putting on deodorant while talking to each other. Dancers have a level of comfort with each other that other people don't. Five Dances does a great job of diving into the world of dance and staying true to it.
Aug. 23, 2013 10:49AM EST
Happy Friday, everyone: It's been announced that Five Dances, starring our friend Ryan Steele (of Newsies and Matilda and super-cute club fame), will be coming to theaters this fall!
The film tells the story of a young dancer—that'd be Ryan—growing up and falling in love in NYC. (We've seen a screener, and there may or may not be love-filled fouettés involved.)
Not only is Five Dances Ryan's film debut, but it also features four other talented dancers—Reed Luplau, Catherine Miller, Kimiye Corwin and Luke Murphy—and choreography by downtown dance star Jonah Bokaer. In other words, its dance credentials are totally legit.
Five Dances opens October 4 in NYC, and will have a nationwide release later in the fall. Click here to find out more about the film, and check out the trailer below.
Get Dance Spirit in your inbox
Summer's winding down and while you prepare to head back to school and the studio, we're busy gearing up for the 2014 issues of Dance Spirit. But before we decide who will grace next year's pages (and covers!), we want to hear about the dancers and choreographers you're loving right now.
To get you started, we've shared who we're currently obsessing over: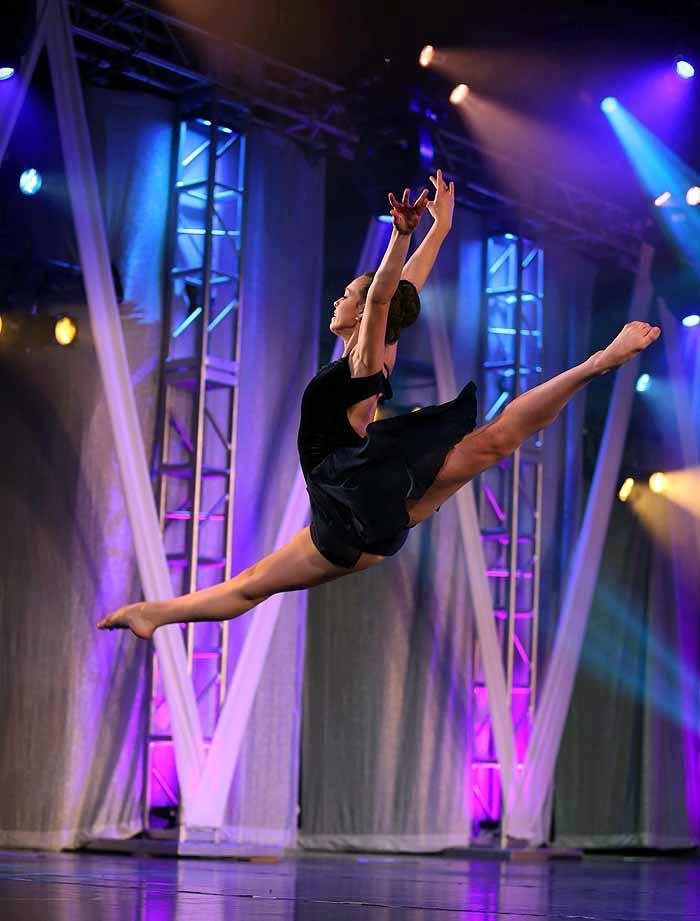 Jayci Kalb.
After a summer spent at Nationals, I'm all about the comp kids right now. No matter how crowded the stage, my eyes were glued to Jayci Kalb of The Dance Centre in Tuscaloosa, AL, and Rachel Parkinson from The Dance Club in Orem, UT. On the professional side, I can't get enough of Chantel Aguirre. That girl personifies the meaning of "stunning." Oh and Misha Gabriel. He moves, and I swoon. —Alison Feller, editor in chief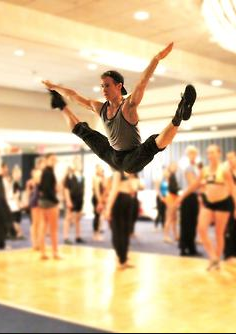 Ryan Steele.
I recently sat in on a rehearsal for Alexander Ekman's Episodes 31 at Joffrey Ballet, which rekindled my love for his high-energy, kooky choreography. (This piece was originally choreographed on The Juilliard School's class of 2012—and they all wore stick-on mustaches!) In terms of dancers, I will now and forever say Ryan Steele. I could watch him in Matilda the Musical a million times and never get bored. —Rachel Zar, managing editor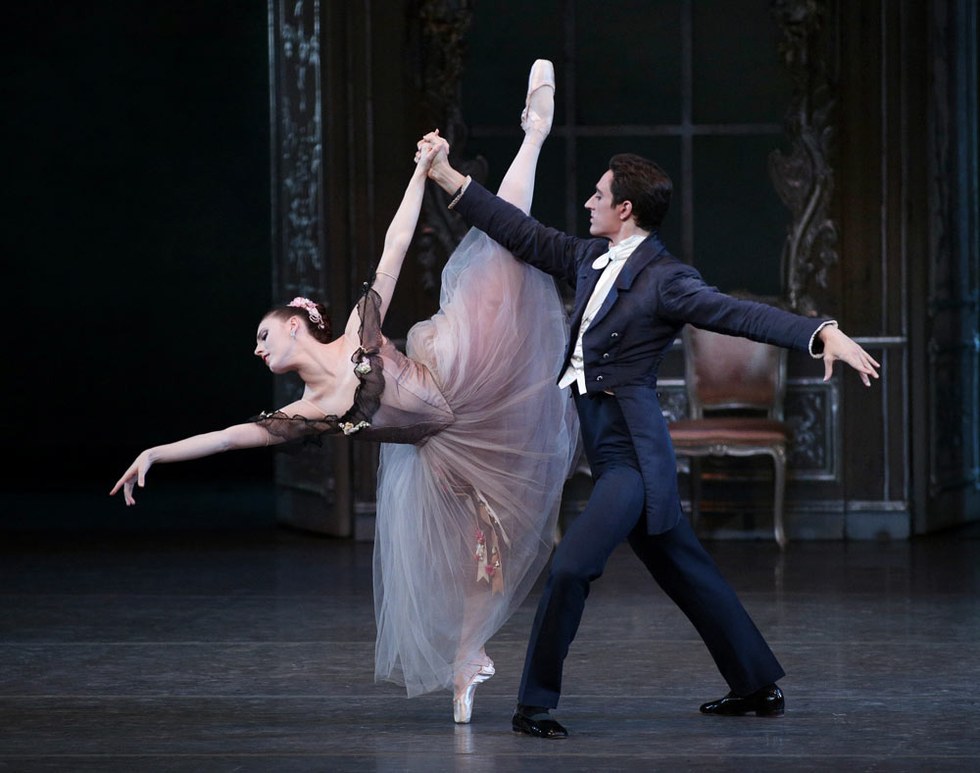 Tiler Peck and Justin Peck.
I'm a New York City Ballet girl through and through, and right now I'm obsessed with the company's two (unrelated) Pecks: principal Tiler Peck and soloist/choreographer Justin Peck. Not that either of them are all that new to the scene, but have you seen what they've been up to recently? In addition to being a gorgeously musical ballerina, Tiler held her own with jookin' star Lil Buck at the Vail International Dance Festival last weekend. And Justin's kinetically geometric, corps-centric ballets have been wonderful showcases for some of NYCB's most exciting young dancers. —Margaret Fuhrer, associate editor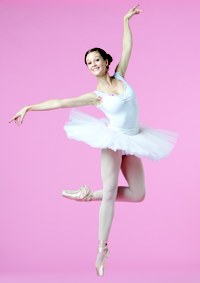 Lauren Lovette.
Every time I open a New York City Ballet program and see the name Lauren Lovette, I get giddy with excitement. Lauren was featured on the September 2010 cover of DS when she was just a NYCB apprentice, and I remember thinking she was so sweet, down-to-earth and drop-dead gorgeous at her shoot. Now a soloist, I can't take my eyes off her whenever she's onstage. She has stunning technique and an almost addictive performance quality—I just can't stop watching her. —Michael Anne Bailey, assistant editor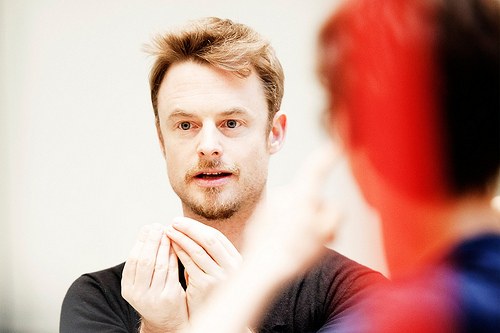 Christopher Wheeldon.
Right now, I am obsessed with Christopher Wheeldon. His choreography is incredibly musical and romantic, and he creates shapes out of his dancers that I've never, ever seen before. Oh yeah, and his Carousel (A Dance) is set to my most favorite music of all time: "The Carousel Waltz"! —Helen Hope Rolfe, DS intern
Now it's your turn. Tell us which dancers and choreographers you're currently loving in the comments section below. You may just see them in DS!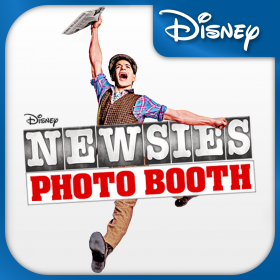 This goes out to all of you who are just as ridiculously obsessed with
Newsies
as I am. Seriously, what's not to love about the show? An über-cute cast bursting with former comp kids (hey,
John Michael Fiumara!
), jaw-dropping Christopher Gattelli choreo and those soaring Alan Menken songs… It all adds up to utter perfection on a Broadway stage.
Plus, half the fun of going to see Newsies happens after the curtain falls, when you can meet the dashing newsboys at the stage door. What's that? You can't make it to NYC any time soon? Never fear—there's an app for that. You can make all your meet-the-Newsies dreams come true in just a few simple steps:
Search "Newsies Photobooth" in iTunes, Google Play or the Amazon Appstore to download the free app for your iPhone or Android device.

Snap a picture or choose one from your gallery.

Use the app, copy-and-paste style, to add up to three cast members (Jack Kelly! Specs!) to your photo.

Save that new and improved creation to your device, or make sure "the world will know" by sharing via email, Facebook or Twitter—don't forget the hashtag #NewsiesPhotobooth!
Be sure to check out this adorable how-to video about the app!
Now if you'll excuse me, I'm going to add Ryan Steele to every single one of my prom photos…
Apr. 23, 2013 11:03AM EST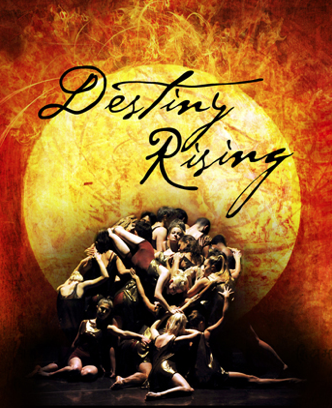 The annual Destiny Rising gala benefits the awesome New York City Dance Alliance Foundation, which is dedicated to helping young dancers fund their college educations. So how fitting is it that at last night's Destiny Rising performance, it was a college dance company that stole the show?
That would be the Conservatory Dance Company of Point Park University, which performed Garfield Lemonius' Memoirs. I have this terrible stereotype in my head of college dance groups doing sedate, solemn, stuffy pieces, but Memoirs allowed Point Park's beautiful dancers to show us the full range of their talents. Clad in flowing red dresses, the company's guys and girls tore through the intricate, emotionally wrenching choreography.
The best part? The cast included two of our favorite NYCDA alums, Kali Grinder and Victoria McWilliams, both recipients of NYCDA Foundation scholarships. And they were in top form. It looks like college has allowed them to both grow as dancers and mature as artists—and that's what the college dance experience is all about, Charlie Brown.
That's not to mention all of the evening's other fun performances. For the bunheads, there was the ABT Studio Company's exceptional Catherine Hurlin and Oliver Oguma in the kicky Flames of Paris pas de deux, followed by New York City Ballet's Brittany Pollack and Jonathan Stafford (real-life couple alert!) in the White Swan pas. For the contemporary buffs, there was Cedar Lake standout Jon Bond's lush The Devil Was Me, featuring several other CL dancers (including our baby-who's-all-grown-up-now, Ida Saki). And for everyone, there was Grace Buckley's gleeful Sing, Sing, Sing, starring the likes of Amber Jackson, Corey Snide, Ryan Steele and Jakob Karr. They dared us to stop smiling. I couldn't.
Want to find out more about the NYCDA Foundation and how you can apply for scholarships? Take a look at the organization's website.
Apr. 11, 2013 11:58AM EST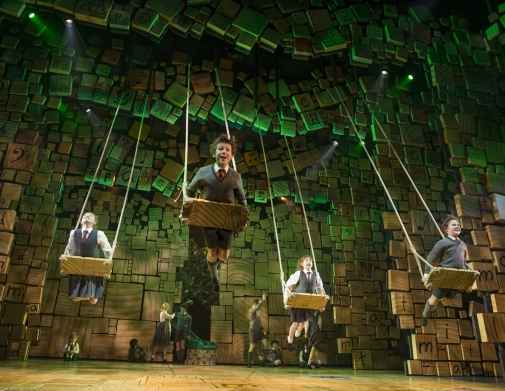 Some of "Matlida"'s amazing kid stars swing it out. Photo by Joan Marcus.
I was a tad nervous when I walked into the the Shubert theater to see Matilda: The Musical, the Broadway adaptation of Roald Dahl's story that officially opens tonight. The book manages to present this weird, perfect mix of cynicism and hopefulness—it walks that line only Roald Dahl can really walk—and I was worried that a big musical production might iron all of its nuances right out.
Was I ever wrong. There's nothing super-Disney about this show (though the kids in the audience still went absolutely wild for it), and thank goodness. Tim Minchin's music and lyrics don't drown the story in pounds of sugar—they keep the book's sharp edge and wit, even during the naturally mushier moments.
And the CAST, you guys! First of all, there are the four little wünderkinds who alternate playing Matilda, the kid genius with telekinetic powers. For anyone under the age of 12 to carry a show is pretty darn impressive (see: Billy Elliot's Billys), but the Matilda I saw, Milly Shapiro, was already holding the stage like a seasoned veteran. That's not to mention the other youngsters who play Matlida's classmates, all of whom manage to develop memorable characters.  (Jared Parker, aka Nigel: You are my hero. I'll hang out with you in Chokey anytime.)
And then there's Miss Trunchbull. Oh, man, Miss Trunchbull. Let's put it this way: She's played by a he (Bertie Carvel). She's the most delightfully nasty, icky, terrifying school headmistress you'll ever meet. And she totally steals the show.
Oh, and there's a TON of very dance-y dancing—which isn't a surprise, given that the choreographer is Billy Elliot's Peter Darling. You get everything from a flashy spoof on competitive ballroom dance to a sweet number involving playground swings. And that explains why the rest of the cast is filled out with some of our favorite Broadway dancers—including cutie Ryan Steele, of newspaper-fouettéing Newsies fame.
The short version of this rant? Matilda is a musical that brings Roald Dahl's crazy world to sharp, hilarious, wonderful life. See it!
Joy to your worlds, friends!
If you're celebrating Christmas today, we hope you're snuggled up in holiday PJs with your families, opening presents, drinking hot chocolate and eating pancakes (no one ever said Christmas was a day for being healthy).
In the spirit of the holiday, we thought we'd share what's on each of our Christmas lists this year...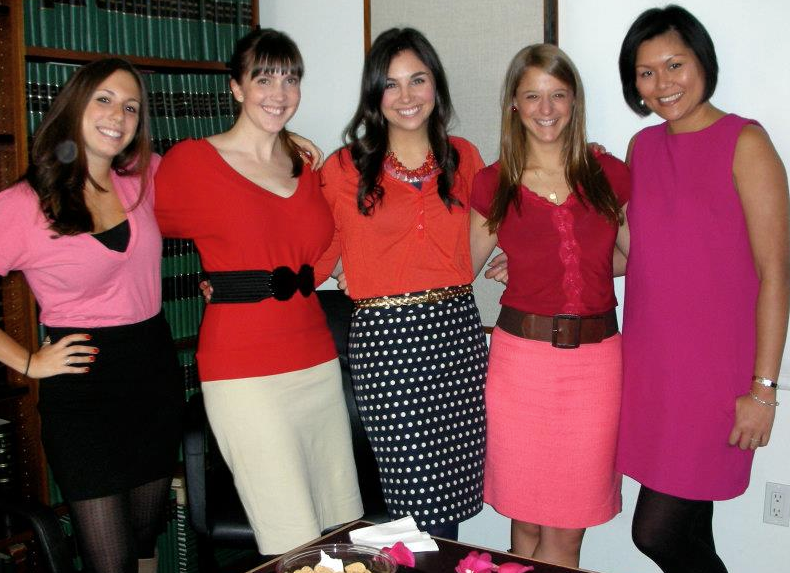 "All I want for Christmas is to have a DanceMedia [our parent company] talent show. Each magazine's staff—Pointe, Dance Magazine, Dance Retailer News and Dance Teacher—could put together a dance routine. The DS staff would rock. (In rhinestoned costumes, naturally.)" —Michael Anne Bailey, assistant/fashion editor and in-house bedazzler
"I want Misty Copeland to get promoted at American Ballet Theatre, already. It's long overdue—just ask Prince!" —Margaret Fuhrer, associate editor and resident ballet guru
"I want a walk-on role in Annie (I'm short enough to be an orphan, right?) and lots of airline miles so I can travel to see my favorite dancers perform across the country. L.A. and Las Vegas, here I come!" —Rachel Zar, managing editor and DS shorty
As for me? I want In the Heights to return to Broadway forever. I want Ryan Steele to be my best friend. I want to salsa dance (well) with Luis Salgado. I want to be able to sing "So Much Better" from Legally Blonde: The Musical, and I want to actually hit—and hold—that crazy-long high note at the end. I want Chantel Aguirre to be mega-famous. I want fouette turns to be banned from competitions for one year—let's see what happens—and I want to go on a shopping spree with Cat Deeley.
Let me know how that list works out for you, Santa. I know I'm asking a lot, but I think my requests are pretty reasonable.
Have a safe, wonderful holiday, everyone!
Dec. 20, 2012 10:35AM EST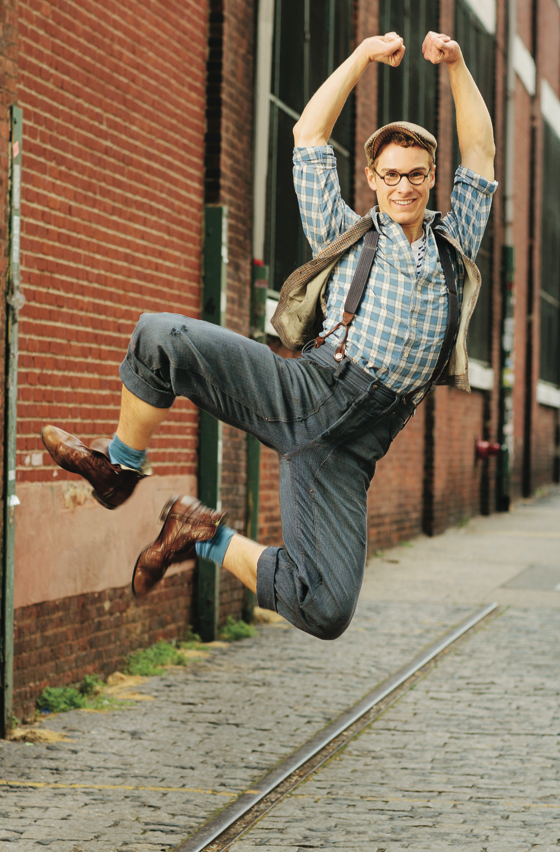 Oh my gosh, you guys—we have been on a roller coaster ride of emotions today.
This morning, we heard that dancer (and cutie) extraordinaire Ryan Steele was leaving the cast of Newsies, where he's wowed audiences with his newspaper fouettés ever since the show opened on Broadway. Ryan! Nooooo!
Then, just a few minutes later, a bit of Twitter research revealed he was going to join the cast of Matilda the Musical, which opens March 4 and promises to be totally amazing. RYAN! YAYYYYYYYY!
Ahem.
Anyway, just thought you all should know. Now we're off to dream sweet daydreams of Mr. Steele in Roald Dahl land. What? Did we type that out loud?
(By the way—if you're a Matilda fan, get excited for our March issue!)


Get Dance Spirit in your inbox