Apr. 23, 2019 03:05PM EST
Alvin Ailey American Dance Theater's Samantha Figgins (Andrew Eccles)
Samantha Figgins is currently in her fifth season with the Alvin Ailey American Dance Theater (and was a Dance Spirit cover girl back in 2013!). But what many people don't know is that the gorgeous dancer suffers from single-sided deafness. As a baby, Figgins contracted spinal meningitis, which caused her to lose all hearing in her right ear. She never gave up on her dance dreams, though, and fought her way through uncomfortable situations, never missing an opportunity to learn and grow. Now, after getting her first pair of hearing aids, she opens up about her path to success. —(As told to Courtney Celeste Spears)
Off the Record
Jul. 18, 2016 12:21PM EST
While Alvin Ailey American Dance Theater dancers were on tour in Saratoga a few weeks ago, company member Sean Aaron Carmon noticed his fellow dancers were hurting. Spurred by the recent violence plaguing our nation (and our world), Carmon and other Ailey dancers (like Jacqueline Green, Yannick Lebrun, Daniel Harder, Samantha Figgins and Jacquelin Harris) decided to hit the studio to work through their emotions in the best way they know how: dance.
The result is a powerful performance to Beyoncé's "Freedom" featuring Kendrick Lamar. Originally created for his students, Carmon choreographed the piece and told The New York Times that "As the dance progressed, it allowed me to release a lot of my emotions, so I proposed it to the company: If anyone wants to come and dance whatever you're feeling out, we have 30 minutes—let's have that moment so we can leave it in the studio and take our fresh selves to the stage."
As for the ending improv section, Carmon simply told the dancers "I'm going to put the music on. Give me everything you have." And that's exactly what they did.
It's a great example of how dance, and its healing power, can bring people together in strength and unity. Watch the full video below, it's seriously #flawless.
Have a fabulously motivated Monday—and keep dancing for what you believe in!
Jun. 07, 2014 07:00AM EST
Back in October, we told you about all the gloriousness that is Enemy Within—you know, the United Artists Initiative dance film featuring New York City Ballet's Tiler Peck, Complexions Contemporary Ballet's Samantha Figgins, Alvin Ailey American Dance Theater's Matthew Rushing, and Dragon House Crew Member Marquese "Nonstop" Scott? Yeah...it's kind of a big deal.
At the time, the film was still in the fundraising stage. But now we're delighted to announce: Enemy Within is available for download on iTunes! And you guys, it's everything we've hoped for, and more. These four powerhouses—each from a distinct movement background—come together seamlessly, blending their superhuman abilities to communicate something very human: insecurity. Best of all? The film totally relies on dance to tell the story. The dancing isn't an accessory—it's everything.
For example, Matthew Rushing dramatizes the insecurities surrounding love:
And Tiler Peck juxtaposes her effortless technique with raw emotion to demonstrate insecurities of appearances and beauty:
Breathtaking, right?
Now, before you rush off to download your digital copy, check out a few beind-the-scenes interviews: Find out what it was like for a ballerina and a contemporary dancer to learn and rehearse a pas de deux, and hear from Rushing and Peck about why dancers, in particular, struggle with insecurities.
But wait—there's more! We're giving away 10 digital copies of Enemy Within. Click here for a chance to win. Happy watching!
Oct. 23, 2013 12:09PM EST
What's better than watching a bunch of great dancers perform? Watching a bunch of great dancers from different genres perform. When the collective force of all that diverse awesomeness is applied to a single project, the result tends to be pretty incredible.
The United Artists Initiative is an organization designed around that collaborative principle. And its new film, The Enemy Within, features four dancers we can't get enough of individually: New York City Ballet's Tiler Peck, Dragon House Crew member Marquese Scott, Alvin Ailey American Dance Theater's Matthew Rushing and Complexions Contemporary Ballet's Samantha Figgins (our February 2013 cover star!). They're like the dance version of the Captain Planet team, right? It's almost hard to imagine what their crazy powers combined will create.
The Enemy Within's title refers to self-doubt, and the 20-minute film apparently dramatizes dancers' journeys to overcome their insecurities. It's scheduled for release in December of this year, but you can get a sneak peek in the trailer below. Then click here to see more behind-the-scenes footage and contribute to the movie's Indiegogo fundraising campaign.
Jan. 10, 2013 03:00PM EST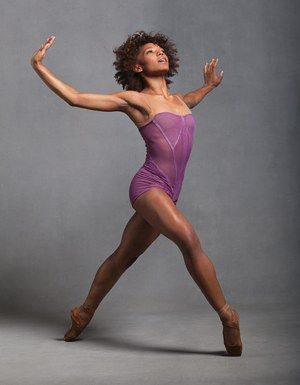 Photography by Erin Baiano
New Complexions Contemporary Ballet dancer Samantha Figgins is a showstopper. During the company's recent Joyce season in NYC, she wowed critics and audiences alike with her impeccable technique, emotional intensity and ability to layer a hip-hop sensibility on top of classical training. She bopped through Camille A. Brown's hip-hop piece Memories with boundless energy and joy. In company co-founder Dwight Rhoden's The Curve, Samantha's movement filled every musical phrase to the brim. Throughout the performances, her face was a palette of emotion—but whenever  she broke into her huge smile, her love of dancing was undeniable. Personality plus crazy skills? Check!
Rhoden says he just had to have Samantha's style and passion in his company. "When I first saw Samantha in a master class, I thought, 'Wow.' She has a majesty and elegance about her that doesn't take away from her being able to interpret grounded movement," he says.
Now, the 23-year-old Washington, D.C., native is enjoying being a standout in a company of stars. So how'd she get so cool and talented? DS sat Samantha down to find out.
The Take-Charge Twins
Samantha and her "built-in best friend," identical twin sister Jenelle, jumped into ballet classes at age 5, following their older sister Dionne's lead. Though she enjoyed it, Samantha admits she wasn't thrilled by the discipline. So she didn't mind when they left classical dance behind three years later and started to run track and perform with their school's dance team instead.
But by the time they were 13, the girls were back on the ballet path, auditioning for the Duke Ellington School of the Arts, a performing arts high school. "Though we hadn't had formal classes for a few years, dance was still there for me," Samantha says. "Watching my sister Dionne travel the world as a soloist with Dance Theatre of Harlem had shown me that I wanted to be a dancer. I knew Ellington would be the place to start honing my craft because it's focused on shaping potential, not teaching kids who are already formed artists."
At Ellington, Samantha developed a serious work ethic and fell further in love with the art and athleticism of classical ballet. Later in high school, she discovered modern dance. "I wanted to do them together even though I hadn't quite seen it done yet," she says. "When we choreographed on our own, I explored combining the two."
And despite the inevitable comparisons and occasional friendly competition, Samantha says having her twin there to encourage and bolster her was invaluable. "Sometimes it would get tense at home, because as twins we're constantly compared to each other," she says. "But we would be upset for five minutes and then realize how much we appreciated each other. If she got a role, I'd learn it as an understudy and vice versa. It was a challenge sometimes, but it made our relationship stronger. She's fierce."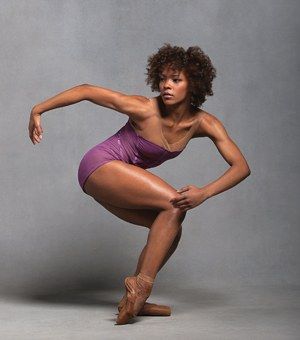 The Point of Purchase
When college choices were on the table, Samantha looked for universities that would fulfill both her academic and artistic ambitions. SUNY Purchase fit the bill.
College turned out to be a time for Samantha to expand her artistry. "I had always thought I wanted to go off and dance hard all the time," she says, with her trademark giggle. "But at Purchase I was able to bounce ideas off people and figure out who I was as an artist. I learned I don't just want to be a dancer. I want to make a statement, have a process, use ideas and feelings."
It was also at Purchase that Samantha honed her exceptional performance quality. "I worked on being a chameleon, being able to adapt to the choreographer and add my perspective to his or her vision," she says. "Dance is a human artform and I wanted that to stand out in my dancing—that there's something to relate to beyond legs and lines. It's not just about tricks. It's about a story and the emotions behind the dance."
Samantha adds that she also came into her own socially at Purchase, enjoying a "normal" college life, even though she stayed focused on dance. "The person you are outside of dance is the person you are as a dancer," she says. "If you don't know who you are and you're not comfortable with yourself, you'll have a hard time becoming different characters onstage."
Complexions Calls
After graduation, Samantha weathered a few hard knocks, like getting cut from Broadway auditions and not making the Dance Theatre of Harlem main company (where Jenelle is currently a member). But her determination and belief in her abilities to "do it all" kept her driven. "I came to NYC and didn't quite know what I was going to do," she says. "But I networked, took classes and asked Dionne to help point me in the right direction." (Dionne is a former Complexions company member herself and recommended Samantha to the Complexions founders.)
Partly following Dionne's recommendation and partly obeying her own instinct, Samantha decided to take a Complexions master class at Steps on Broadway in June 2011. "Desmond [Richardson, one of the company's co-founders] saw me in the master class and we exchanged information right there," she says. "Later that week, he invited me to attend the summer intensive on scholarship, and I started that three weeks later." Complexions was a fit for Samantha right away. "I saw that the company did what I was looking for," she says. "The dancers perform every style."
During the intensive, Samantha was offered an apprentice spot with the company and started learning the repertoire the final week. "She was cast in things immediately," Rhoden says. "After she came to our summer course, I thought, 'As soon as I have a slot for a woman, she's in.' My work fit her and I'm always looking for that inexplicable quality of being just right. I knew I wanted to find a place for her. Samantha is versatile, bubbly and animated, but also focused and professional."
Later in 2011—much to her delight—Samantha was made a full Complexions company member. "The company's work is that perfect mix of ballet and modern I've always dreamed of," she says.
"Samantha's only challenge might lie in the fact that she's a perfectionist," Rhoden says. "Sometimes you just have to let it go in the studio, and she's learning to let the process be. But it's a good problem—she wants results!"
Samantha eventually hopes to choreograph, dance backup for her favorite singer Rihanna and perform more commercial work (she has already danced in the movie Bolden!). Whatever she does, Samantha is set on being "the strongest artist I can be—in my own way."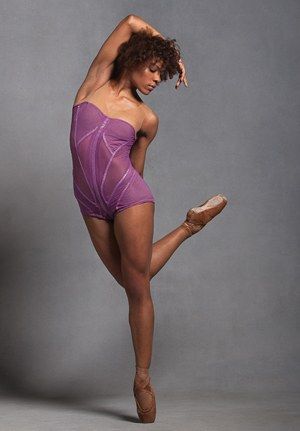 FAST FACTS 
Birthday: August 31, 1989
Most-played artist on her iPod: Rihanna
Who would play her in a movie: Zoë Saldana
Favorite dancer of all time: Sylvie Guillem
Favorite Class: Andrea Long's ballet class at Dance Theatre of Harlem
Something people don't know about her: "I can sing jazz and soul music."
Strangest thing in her dance bag: "I have a stamp that says 'Every little thing counts.' I put it on my hand to help me remember that sometimes."
Dance crush: Danny Tidwell
Her idol: Michael Jackson
Performer she'd have loved to work with: Josephine Baker
Dance BFF: Jenelle Figgins
Dance mentor: Dionne Figgins
The best advice she's ever received: "Trust your gut. Don't be afraid of your instincts."
Advice for DS readers: "Approach everything you do with positivity, love and faith."
Complexions Contemporary Ballet: Daring to be Different
Interested in Samantha's new home, Complexions Contemporary Ballet? Here's the scoop on the daring troupe:
•Complexions was formed in 1994 by Dwight Rhoden and Desmond Richardson to "create a forum where dancers could explore and be created on," Rhoden says. "We wanted a place where the differences between dancers—backgrounds, training and outlook—could be celebrated and serve as contagious inspiration." Diversity, versatility and energy are the troupe's trademarks.
•The repertoire of Complexions is largely Rhoden's work, which requires extreme athleticism. Pieces by William Forsythe, Camille A. Brown, Jodie Gates and Jae Man Joo are also performed.
•Rhoden says he looks for dancers who demonstrate impeccable ballet
technique, versatility, passion and a desire to explore.
•If you're interested in being part of Complexions, make sure your ballet
technique is top-notch. Explore contemporary and jazz styles, too, and try to attend the company's summer intensive before the annual audition, which
is usually held in late March or early April.
Get Dance Spirit in your inbox