Mar. 23, 2017 06:45AM EST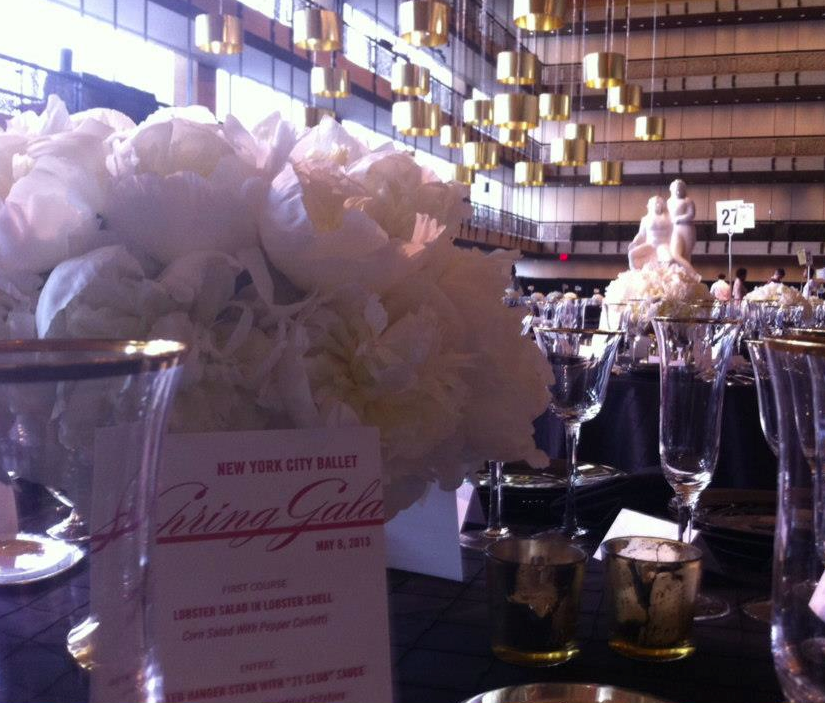 Plus, the gala dinner setup was gorgeous! (photo via NYCB)
For ballet nerds like me, there are few things more exciting than watching young dancers develop into beautiful, authoritative artists. Last night, New York City Ballet's spring gala opened with a work that let some of my favorite rising stars prove just how much they've grown up.
That'd be Christopher Wheeldon's Soirée Musicale, an alternately elegant and playful little ballet that gives nearly every cast member a moment in the spotlight. And what a cast it was!
We got Brittany Pollack, Lauren Lovette, Taylor Stanley and Chase Finlay, recently-promoted dancers I've followed since their apprenticeships. And then there were the newbies I've just begun to pick out of the corps: Sara Adams, Harrison Ball, Indiana Woodward and Peter Walker.  Nearly all of them are under the age of 25—many have only been in the company for a year or two—but they danced with the confidence of seasoned pros. A special highlight came toward the end: a poignant, romantic pas de deux for Lauren and Chase that signaled what might be the beginning of a beautiful partnership.
The gala was packed with many other fun treats too, of course. There was a second premiere by Wheeldon, a pas de deux in homage to Jerome Robbins' West Side Story danced by the sublime Tiler Peck and Robert Fairchild. There was the exhilarating nonstop acceleration of the final section of Robbins' Glass Pieces, featuring what seemed like the entire company. Queen Latifah stopped by to serenade Sterling Hyltin and Amar Ramasar as they glided through Balanchine's "The Man I Love" pas de deux from Who Cares?. And Ashley Bouder and Andrew Veyette had a jaw-dropping "anything you can do, I can do better" competition in the cheeky Stars and Stripes pas de deux.
But it was those young, newly-minted stars that stuck with me as I left Lincoln Center last night. In a gala that was all about high-wattage brilliance, they shone brightest.
New York City Ballet sure knows how to finish a production with a bang. Just as the company's whirlwind two weeks of The Sleeping Beauty came to an end, ballet master in chief Peter Martins announced the promotion of eight dancers: Sara Adams, Harrison Ball, Emilie Gerrity, Joseph Gordon, Unity Phelan, Troy Schumacher and Indiana Woodward were all promoted to soloist, and Russell Janzen was promoted to principal!
It's no surprise—NYCB's roster is bursting with talent and personality, and all these dancers have stood out in one way or another over the years (and shoutout to Woodward's shining face in our "Shades of Spring" fashion feature!). Congratulations to everyone on their well-deserved promotions!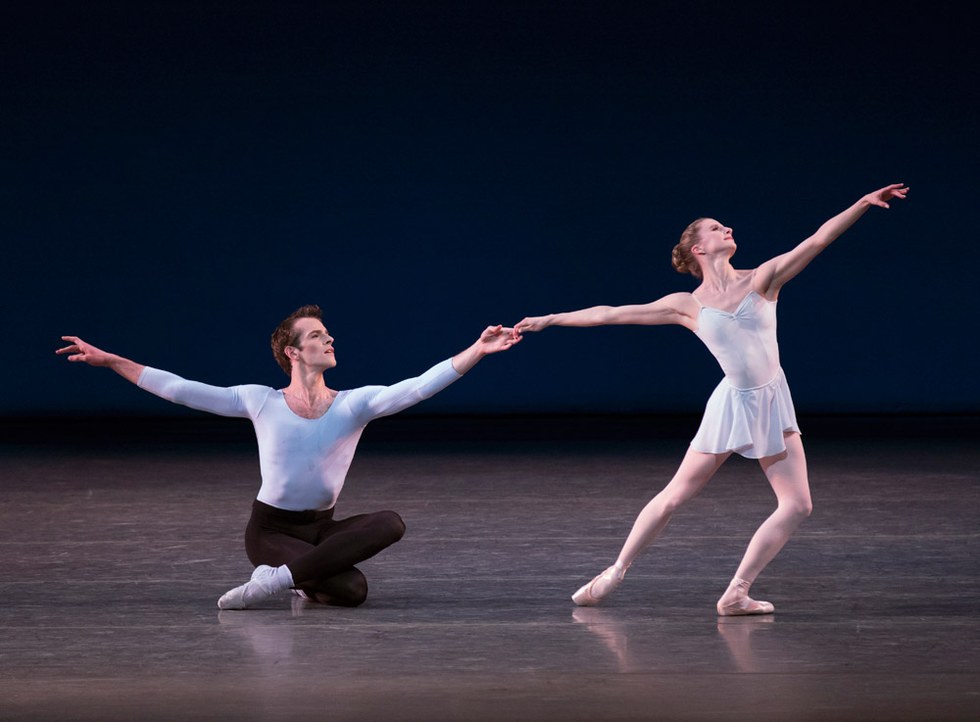 Russell Janzen and Sterling Hyltin in Balanchine's Duo Concertant (photo by Paul Kolnik)
Apr. 04, 2013 10:40AM EST
"Sesame Street" is on a roll these days!
Just a couple of weeks ago, they had Melissa McCarthy doing the "flap-a-waddle-boom-boom" dance in honor of a very special word of the day, "choreographer." And in today's episode, things got even dancier.
Muppets Murray Monster and Ovejita took a trip to Lincoln Center to visit some of the "people in their neighborhood": ballet dancers. They talked to New York City Ballet corps members Kristen Segin, Alina Dronova, Callie Bachman and Sara Adams about the five ballet positions and how pointe shoes work, and then watched them perform the "Little Swans" quartet from Swan Lake. Predictably, it's adorable. Take a look!
[Side note: Remember when the "people in your neighborhood" theme song wasn't a rap ("Who are the peeps that you meet when you're walkin' down the street?") but instead a boppy little easy-listening tune? Man, I feel old. I guess I'll just listen to the original while doing my needlework or the Sunday crossword...because those are not just old-people stereotypes but also things I actually do. Ohhh dear.]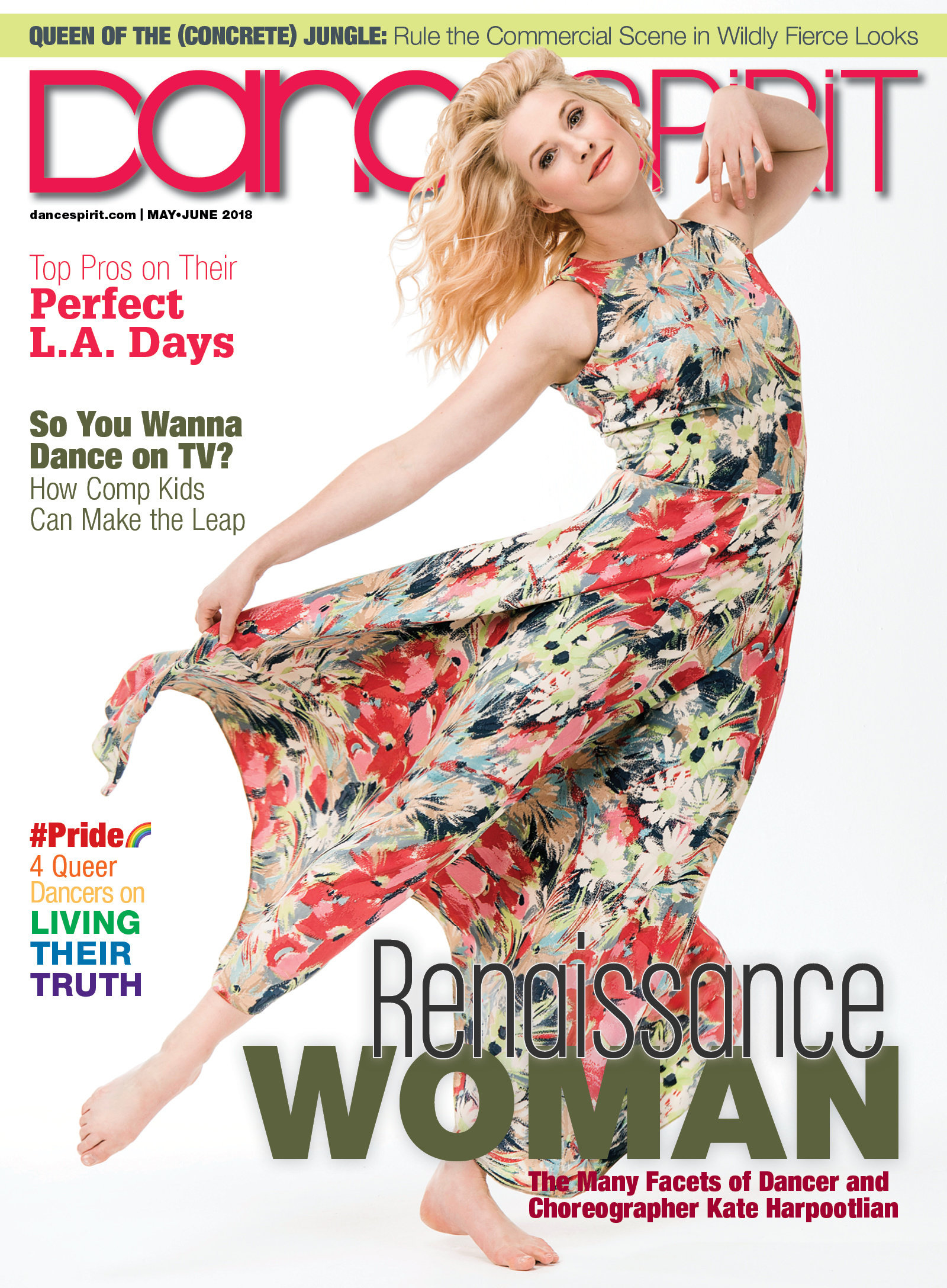 Get Dance Spirit in your inbox