(Clockwise from top left) Taylor Lautner, Alicia Vikander, Jennifer Garner, and Mia Wasikowska all studied dance.
You love watching your favorite stars light up the screen—but did you know that many of them studied dance, too? Here are 10 celebs you had no idea were also dancers.
Keep reading...
Show less
Last night was New York City Ballet's fall gala, which is basically prom night for NYCB and its most stylish fans. The highly anticipated evening merged fashion and ballet, featuring collaborations between the industries' most talented designers and choreographers. And while the performance was exceptional, we were as obsessed with what we saw on the red carpet as what we saw onstage.
Though the event attracted some of Hollywood's most fashionable celebs (we bow down to NYCB gala queen Sarah Jessica Parker), we thought many of the most stylish ladies of the night were the NYCB dancers and choreographers themselves. (Dancers clean up pretty well!) Check out some of our favorite styles of the "'rinas" who traded their tights and leos for heels and a gown.
Keep reading...
Show less
For the past few years, New York City Ballet galas have been alllll about fashion, showcasing not only dance premieres but also custom-made costumes by some of the world's top designers. Last night's fall gala was no exception: We got three premieres (by Troy Schumacher, Liam Scarlett and Justin Peck) and four sets of new designer costumes (by Carolina Herrera, Thom Browne, Sarah Burton and Mary Katrantzou).
We also got the one and only SJP in this AMAZING gown by Katrantzou—let us take a moment to soak in its gorgeousness: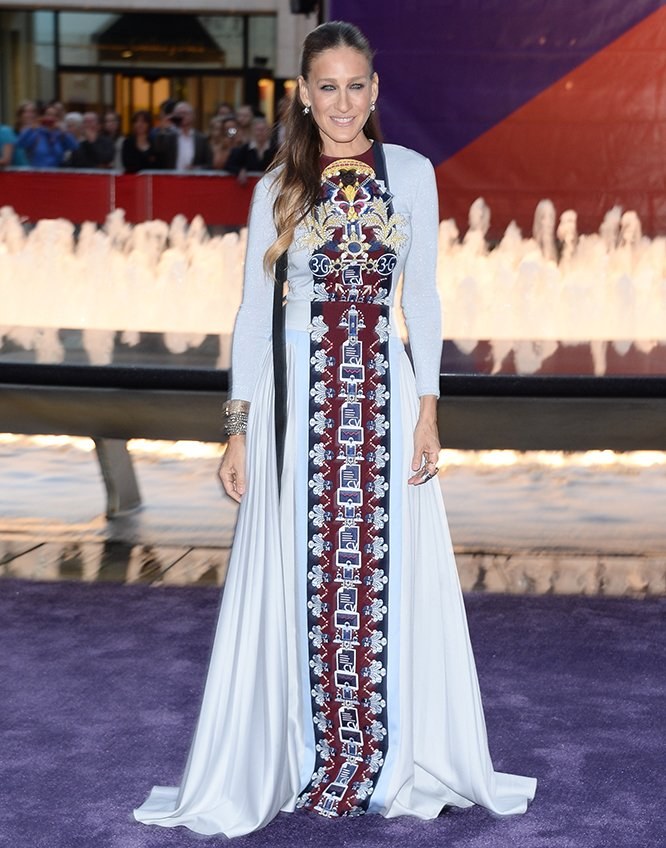 Photo Evan Agostini/Invision/AP
These galas raise interesting questions about the relationship between dance and dance costuming. While costumes can make or break a ballet (more on that in our November costume issue!), normally, the choreography comes first, and the clothing later on. At these galas, though, it seems like the costumes are frequently the starting point, with choreographers shaping their visions around the designers'. And I think sometimes that can make things trickier than usual.
Case in point: Corps dancer Schumacher's premiere, Clearing Dawn. Schumacher has his own company, BalletCollective, which has been getting kind of fantastic reviews, so I was excited to see this piece, his first for NYCB. And the opening moment didn't disappoint: The five dancers shuffled onstage in hugely oversized overcoats—which, in a beautifully surreal twist, rose from their shoulders and ascended to the rafters, where they hovered for the rest of the ballet. Their disappearance revealed Browne's schoolgirl-chic costumes—classically Browne-esque shrunken jackets and pleated skirts and knee shorts—and the contrast was kind of delightful: Immediately, we saw the dancers as children, free from the weight of adult responsibilities...or, you know, something along those lines. The problem was that the schoolkids theme seemed to bog Schumacher down. While there were some spectacular daredevil passages for Ashley Bouder (goodness, that girl is ALWAYS on fire) and Andrew Veyette, things got real literal, real quick: We saw playground fights and anything-you-can-do-I-can-do-better showdowns straight out of Matilda. I think Schumacher has a good choreographic mind—it just might be the kind of mind that works better when left to its own devices. (I can't wait to see what he's cooking up for his own company, which has a performance in NYC at the end of October.)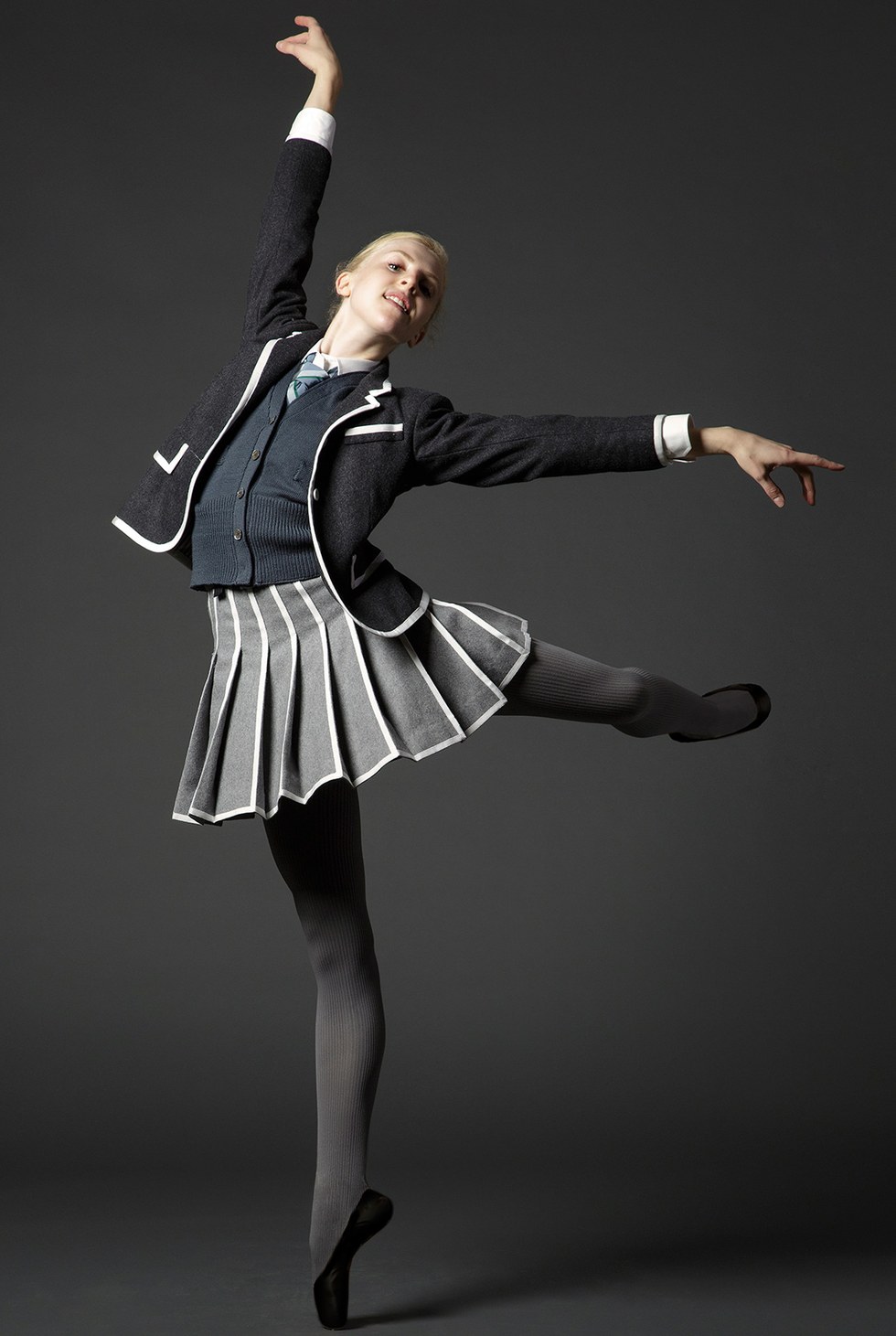 Claire Kretzschmar in costume for Clearing Dawn (photo Erin Baiano/style.com)
Liam Scarlett's Funérailles—a pas de deux for my favorite ballet couple, Tiler Peck and Robert Fairchild—also took a lot of cues from its Burton costumes. But Scarlett was able to mesh the choreography and the design in a way that allowed both to shine. Maybe that's because Burton gave him truly gorgeous costumes to work with: a strapless brocaded ballgown with a huge ombré skirt for Peck, and a matching coat for Fairchild. Immediately things felt very bodice-rippy, very Interview with the Vampire, and Scarlett crafted a dark, seductive pas de deux that amplified the gothic mood. Unsurprisingly, Peck and Fairchild danced the heck out of it, and their natural chemistry made the whole thing delicious.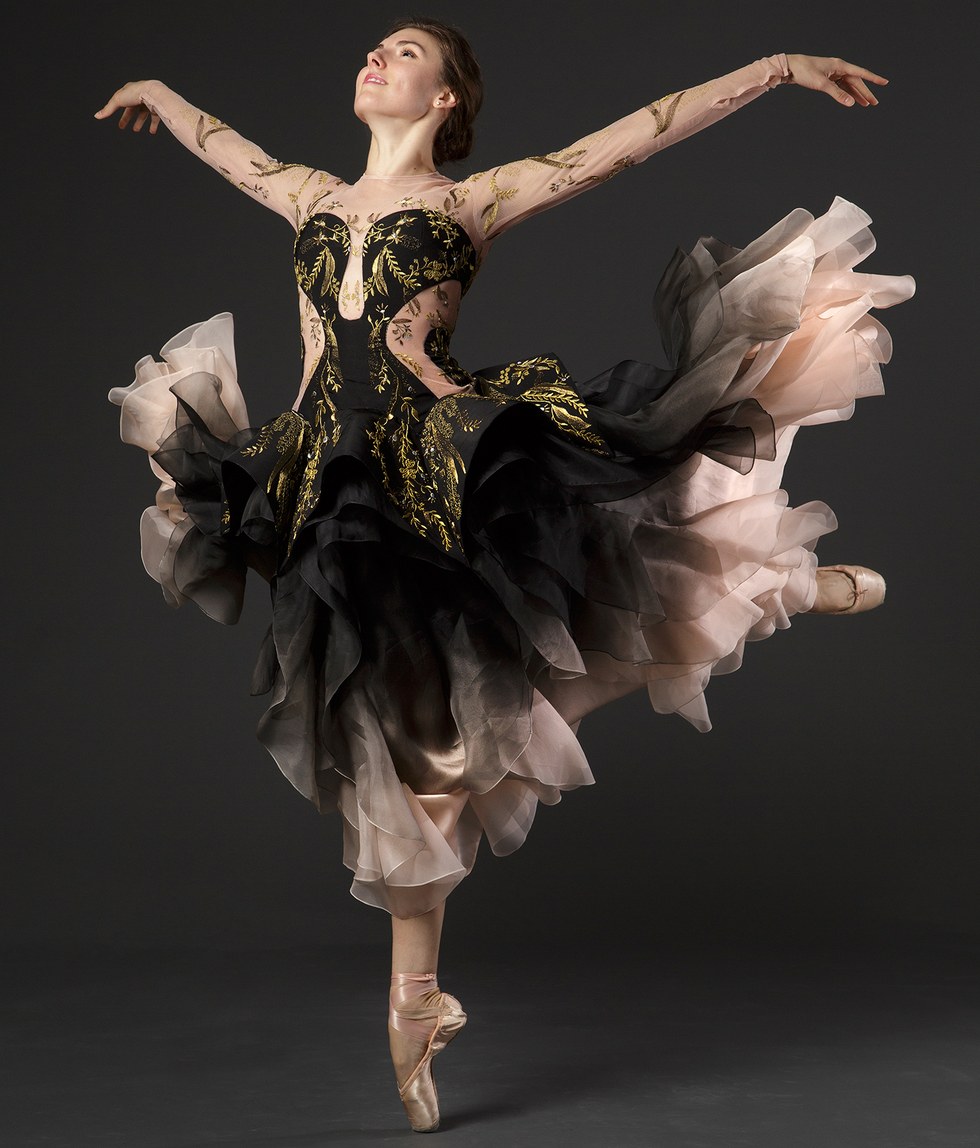 Tiler Peck in costume for Funérailles (photo Erin Baiano/style.com)
Justin Peck hasn't made a bad ballet yet—and that's saying a lot of a 27-year-old who's choreographed more than 20 ballets. This is a guy who's established a distinct choreographic language, but that language seems to take on a different accent in each piece. We've seen him as a playful experimenter in Year of the Rabbit, a dry analytic in In Creases, an epic poet in the 40-minute Everywhere We Go. Last night's premiere, Belles-Lettres, showed him as a swooning romantic—who knew? Katrantzou's appliquéd costumes made the women into 1920s nymphs and the men into harlequins, and Peck responded with a parade of pas de deux that swung from soft and tender to violently passionate. Anthony Huxley, the only man not coupled up, became a kind of court jester, or maybe a narrator—a vaguely tragic outsider, in any case, wishing for a love of his own. And framing all that romance was Peck's signature geometry—abstract daisy chains and kaleidoscopic patterns that lent a bit of coolness to a piece that could easily have overheated. It was an enchanting ending to a mixed-bag of a night.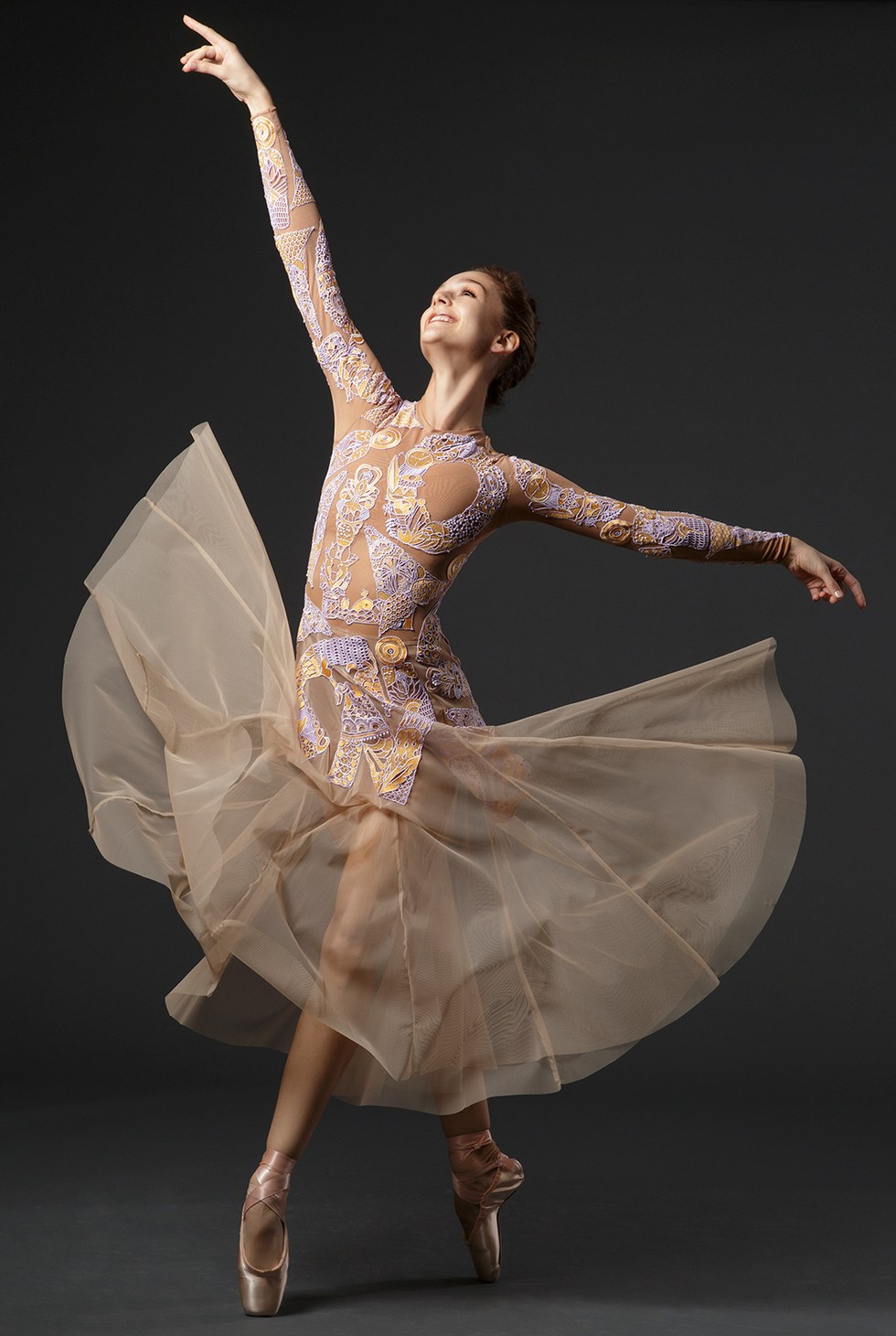 Lauren Lovette in costume for Belles-Letres (photo Erin Baiano/style.com)
Successful or not, partnerships between choreographers and fashion designers are always fascinating to see in action—and NYCB's on-it media department made a lovely video documenting the collaborative process for this gala. Take a look!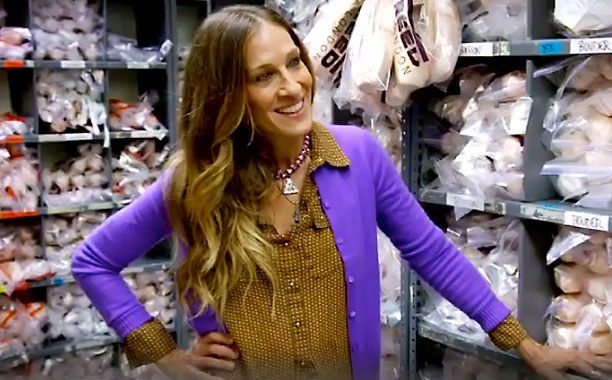 Sarah Jessica Parker on the set of city.ballet. in NYCB's shoe room.
You may know Sarah Jessica Parker as Little Orphan Annie, as Carrie Bradshaw, or as executive producer of AOL's docudrama city.ballet. (which, by the way, just announced it's getting a second season!). But today and Wednesday, SJP takes on yet another role: radio host.
From 12pm to 2pm, SJP will step in as host of WNYC's "Leonard Lopate Show," and she's booked two full days of awesome guests. Today, Jessie Mueller, star of Beautiful—The Carole King Musical, will take the mic (along with artist Alex Katz, The New Yorker journalist Dexter Filkins and playwright Terrance McNally). My guess is that Mueller—who is amazing as singer-songwriter Carole King on Broadway—might talk about the night two weeks ago, when King herself dropped by to see the production and sang with the cast following the curtain calls. (Check that out here.)
Tomorrow, however, is the day when bunheads in particular should tune their radios to 93.9 FM or AM 820, because ballet legend Gelsey Kirkland and New York City Ballet principals Ashley Bouder and Sara Mearns will all join the conversation.
Don't fret if you don't have a radio in NYC or if you're busy tomorrow afternoon. The "Leonard Lopate Show" is streamed live (and on-demand) at wnyc.org.
May. 01, 2013 11:36AM EST
I'm going to start this post with a disclaimer: I love me some "Breaking Pointe." I feel like it's one of the few mainstream portrayals of ballet that gets the feel of company life right. (Could I use a tad less drama? Definitely. But this is a show that airs on The CW, the network that brought us "Gossip Girl." I'll cut them a little slack.)
That said, when it was first announced that the show would follow Utah's Ballet West, a teeny part of me wished it were about one of the big NYC ballet companies. Casting controversies in Salt Lake City are one thing; casting controversies in the Big Apple, the center of the U.S.'s ballet universe, are quite another.
Readers: My dreams have just come true.
Yesterday, New York City Ballet announced that AOL On, AOL's online video platform, would begin airing an original docuseries following the company in September. "city.ballet" is produced and narrated by none other than Sarah Jessica Parker, a longtime NYCB fan (she studied at the School of American Ballet) and a member of the company's board.
And just watch this preview. Just. Watch. This. Preview. Drama? Glamor? Bloody foot close-ups? Pensive shots of NYCB dancers pacing the city's streets? Check, check, check and check. I can't wait.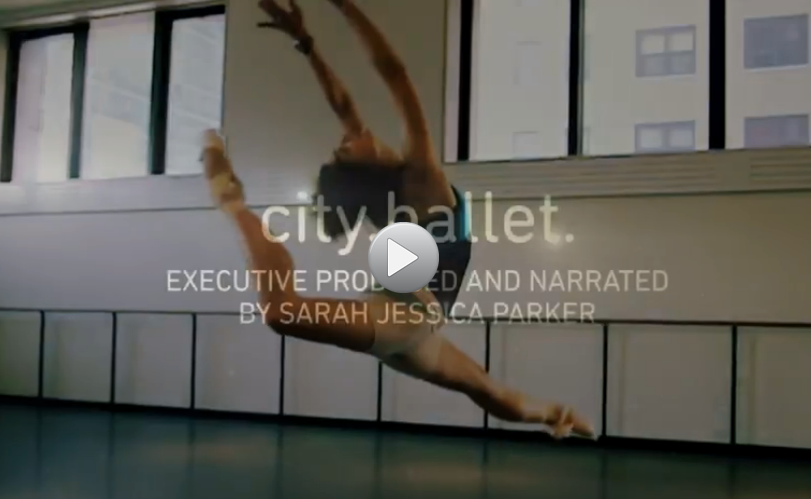 Sep. 21, 2012 11:04AM EST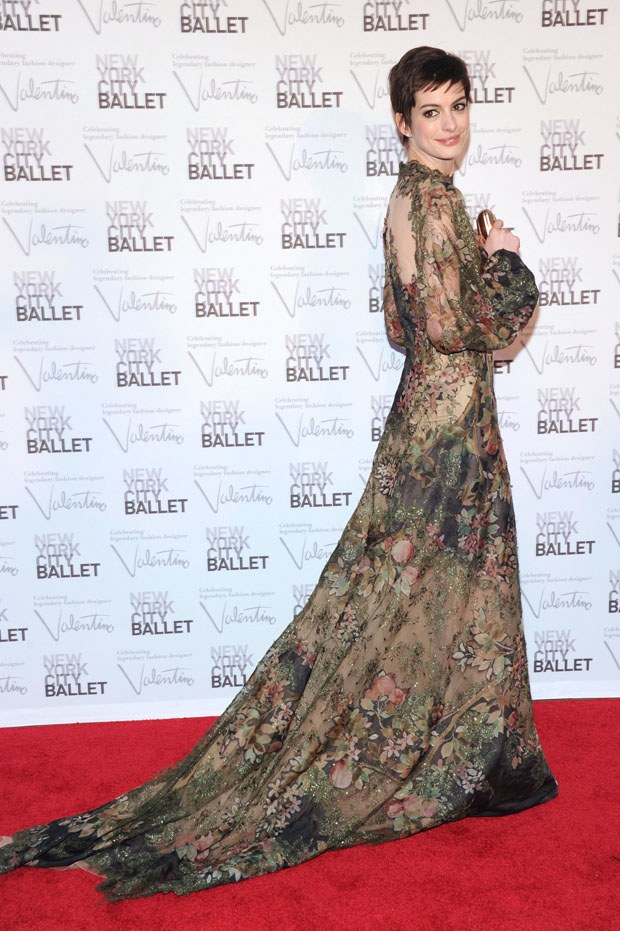 I think I'm still recovering from the glamor overload that was the New York City Ballet gala last night. Since I go to the ballet frequently (rough job, right?), most of the time, arriving at Lincoln Center for an NYCB performance feels like coming home. But last night? It was like landing on some beautiful alien fashion planet.
The gala paid tribute to legendary designer Valentino, who costumed four of the five ballets on the program. (More on that later.) While NYCB galas generally tend to be star-studded events—Sarah Jessica Parker is on the board, after all—nobody brings out the celebs quite like Valentino. We spotted SJP, Anne Hathaway, Sophia Loren (it was her birthday!), Anjelica Huston, Mikhail Baryshnikov, Tory Burch, Karolina Kurokova, Martha Stewart and more working it on the red carpet, which extended all the way around the Lincoln Center fountain. And everyone, naturally, was in their most fabulous Valentino. A few of the NYCB dancers who didn't have to perform strutted their stuff, too. Sara Mearns looked especially lovely in an ethereal long-sleeved gown—Valentino red, of course.
While gala programming is sometimes a bit "let's just get this over with so everyone can go eat," there were dance highlights last night, too. Former DS cover star Lauren Lovette wowed in the "Rubies" pas de deux from George Balanchine's Jewels; Robert Fairchild tapped (!) up a storm in Peter Martins' Not My Girl; Wendy Whelan and Tyler Angle exuded quiet gravity in a new Christopher Wheeldon pas set to Max Richter's remake of Dinah Washington's "This Bitter Earth" (a song you might recognize—it's been popular on the comp scene, too. Crossover!).
And the Valentino costumes? There are no words. Well, there are many words. But the company actually said them best, in this amazing (and kind of hilarious) video, which played right before the final piece. Enjoy!
Jul. 05, 2012 01:18PM EST
We celebrated the nation's birthday yesterday, and DS is about to turn 15 (more on that in our September issue), but there's another big birthday happening this year: Dirty Dancing was released 25 years ago this summer!
To honor everyone's favorite '80s-tastic dance film about the '60s, I've compiled a bunch of fun Dirty Dancing facts. Did you know that...
...Val Kilmer was initially offered the role of Johnny, and Sarah Jessica Parker auditioned for the role of Baby?
...many members of the cast have serious dance and theater cred? Kelly Bishop (Marjorie Houseman) originated the role of Sheila in A Chorus Line; Jerry Orbach (Dr. Jake Houseman) started out in Broadway musicals; Jennifer Grey (Frances "Baby" Houseman) is the daughter of Tony- and Oscar-winner Joel Grey; and Patrick Swayze (Johnny Castle) studied at the Joffrey Ballet School and was a replacement Danny Zuko in Grease on Broadway.
...Swayze co-wrote and performed the song "She's Like The Wind"?
...choreographer extraordinaire Doriana Sanchez danced in the film? (Look for her "Letter to My Teenage Self" in our September issue!)
...Swayze really didn't like the line "Nobody puts Baby in the corner"? The director, Emile Ardolino, had to sweet-talk him into saying it.
...rehearsals for the movie always devolved into giant dance parties involving almost every cast member, non-dancers included?
And because it's just necessary, I'll leave you with Johnny and Baby having the "time of their lives." Happy 25th, Dirty Dancing!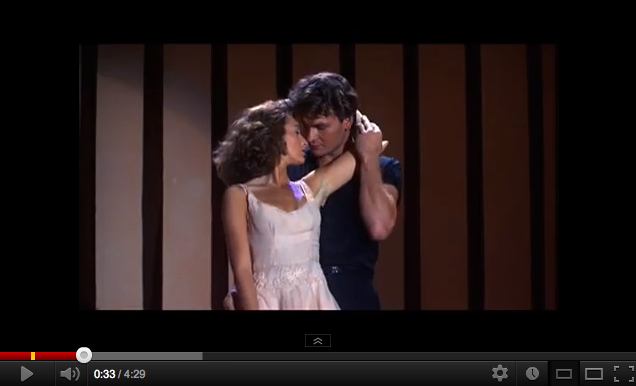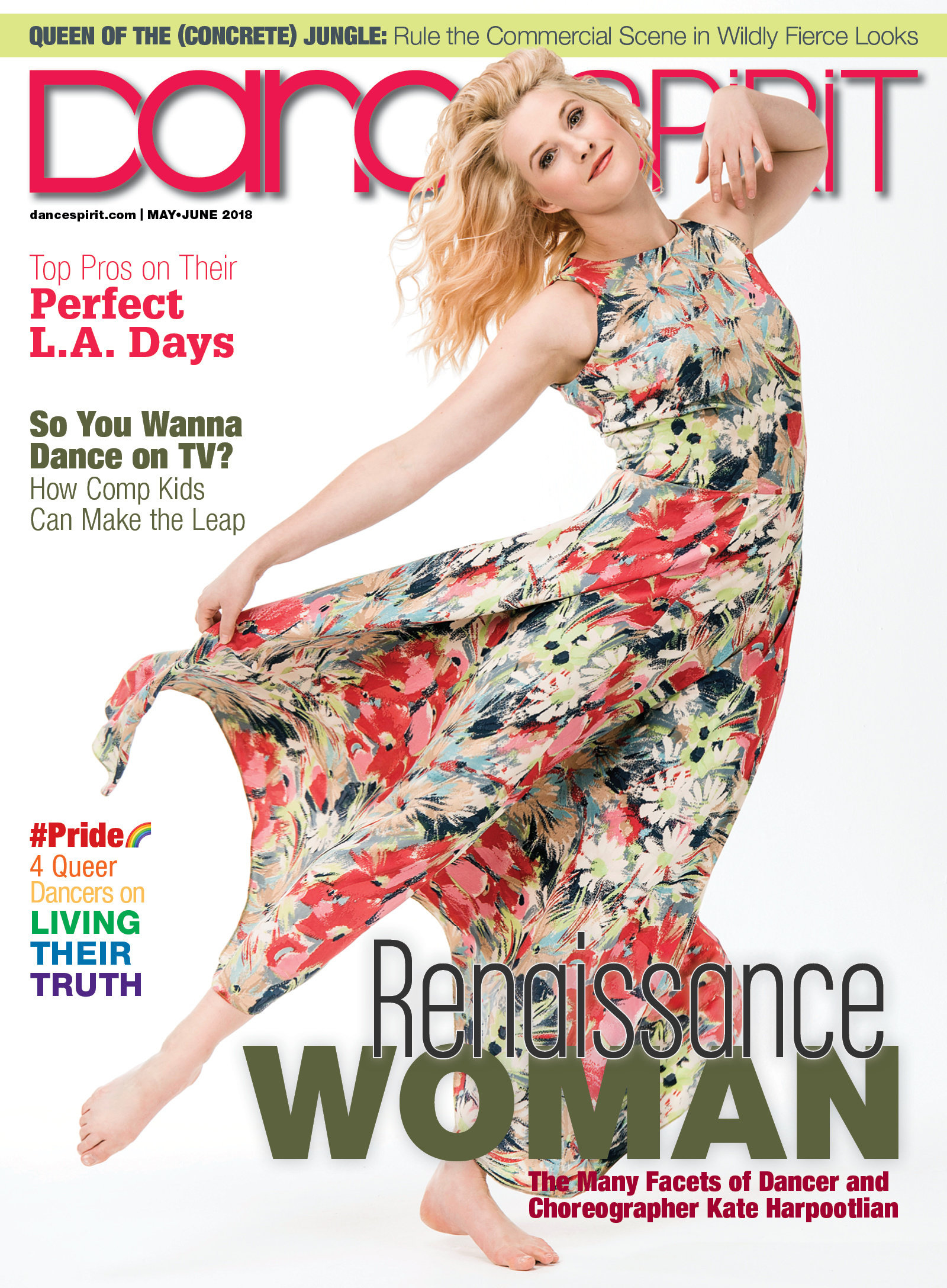 Get Dance Spirit in your inbox