Aug. 10, 2012 05:40PM EST
In honor of Dance Spirit's 15th birthday, we decided to check in with a few of our favorite past cover stars. They wrote to us about how being on the cover changed their careers. Memories!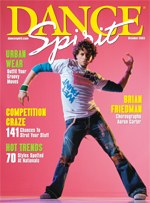 Brian Friedman,
October 2003
"When I was asked to be on the cover, I was thrilled. I felt like I'd finally made it. Looking back, it was only the beginning of my choreography career, and so much has happened since. My work has evolved in a beautiful way, and that cover so many years ago gave me the confidence to chase my destiny. Thank you, Dance Spirit, for believing in me and my dreams!"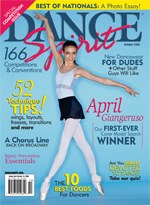 April Giangeruso,
October 2006 and March 2011
"Never in my wildest dreams did I believe I would be on the cover of a magazine. When I learned I had won the first Cover Model Search contest—and that so many people had supported me—I got a huge confidence boost. Six years later, I feel blessed to be dancing for my dream company, American Ballet Theatre, where I'm surrounded by inspiration."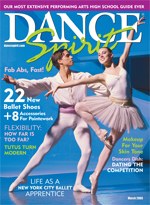 Tiler Peck,
March 2005
"Dance Spirit was the first cover I'd ever been on, so it opened many doors for me. It made me a recognizable face and name, and gave me the confidence to continue reaching for my dance goals. It humbles me to think I share the cover of this special magazine with so many other inspirational and talented artists."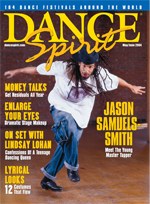 Jason Samuels Smith,
May/June 2004
"It was extremely humbling and gratifying appearing on the cover—it was my first appearance in any major publication. I felt as if not only I, but tap dance as a genre, had won a victory in the fight for visibility and acknowledgement."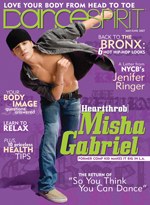 Misha Gabriel,
May/June 2007
"I grew up reading Dance Spirit, so it was an honor to be recognized by my community and by such a strong voice in the dance world. Thanks, DS!"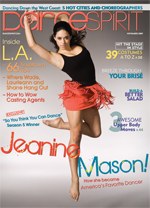 Jeanine Mason,
November 2009
"I remember first appearing in DS in a tiny photo from Nationals—it was the most exciting moment of my life! Then, seeing my "So You Think You Can Dance" cover was the realization of my dream to be a role model and to inspire others as I have been inspired. Being a part of DS has been one of the greatest honors of my life. The magazine will always be an integral part of my journey."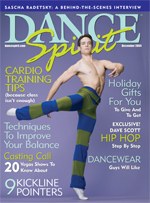 Sascha Radetsky,
December 2004
"I'm grateful to have appeared on the cover of Dance Spirit. The magazine is relevant, influential and, most of all, a lot of fun. Congratulations to the DS staff on reaching this milestone!"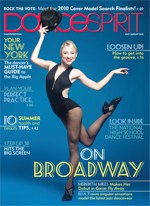 Meredith Miles,
July/August 2010
"Being on the cover gave me exposure to a large group of people I might not have reached otherwise. The media attention I received helped document an exciting time in my career."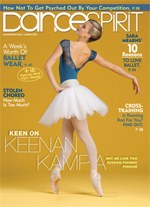 Keenan Kampa,
March 2012
"Being on the cover was such an honor. It afforded me the opportunity to reach a huge dance readership beyond the ballet world. The amount of support and encouragement I've received has been overwhelming. I'm leaving for Russia with a support system I never imagined."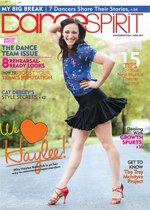 Haylee Roderick,
April 2011
"Being able to reach out to younger dancers, to inspire or guide them, is very rewarding. DS does an incredible job staying current with what's going on in the dance world—and it has the sweetest staff there is. [Editor's note: We're blushing!] Being a cover girl is an honor I will always remember and be proud of."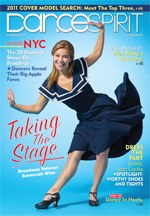 Savannah Wise,
July/August 2011
"My dancer friends from when I was young couldn't believe it. 'You're on the cover of what?!' was a pretty common response. When you're a performer, your work is primarily onstage. Since most of my family lives far away, it's really cool when I get to share what I'm doing with them from miles away. That cover is framed in my living room."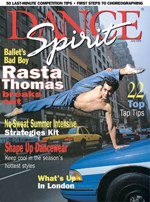 Rasta Thomas,
June 2000 and September 2007
"Dance Spirit reaches a younger generation of dancers as well as seasoned professionals, so being on the cover twice was exciting because that's what my show, Rock the Ballet, is all about. My wife, Adrienne [Canterna] (a DS cover girl in November 1998), and the Bad Boys of Dance are dedicated to sharing our love for dance around the world, and that's exactly what DS does. Keep doing what you're doing, DS—you're the best!"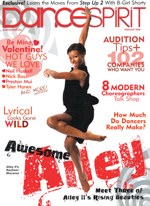 Rachael McLaren,
February 2008
"I was over the moon when I learned I'd been selected for the cover! It gave me the boost I needed to believe in myself. It also helped me realize how much support I had from family, teachers and friends who were proud of my achievements."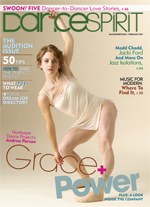 Andrea Parson,
February 2011
"My experience on the cover taught me that you don't have to be a perfect dancer to be on the cover of a magazine. You just have to be honest and happy with who you are and how you move."
Jun. 23, 2011 01:05PM EST
"I usually play the crazies, or I'm dancing around onstage in my underwear," says Savannah Wise of her Broadway career. From Sherrie, a small-town girl turned rocker babe in Rock of Ages, to the seductive Evelyn Nesbit in Ragtime, Savannah has a penchant for playing off-the-wall characters. But this year, her stage personality shifts as she plays Wanda Clark in the quirky new off-Broadway musical Lucky Guy. "I love bringing sweetness and heart to insane roles," she says. "And now I bring some funk to a sweet ingénue."
It's no wonder Savannah owns every role she plays: She was born into showbiz. Mom and dad, dancer Kiel Junius and Tony Award-winner Scott Wise, met onstage during the first national tour of A Chorus Line. (Her stepmother, Elizabeth Parkinson, also boasts an impressive Broadway resumé—she starred in the original cast of Fosse.) But Savannah's parents never pushed their daughter to follow in their footsteps. "They'd say, 'You're so smart—don't you want to be a doctor or a lawyer?' " Savannah says. Though she had short-lived dreams of being a fashion designer or a chemist, Savannah felt destined for the stage. Once she'd made that choice, her parents were adamant that if she was going to do it, she was going to do it right. So, starting at a young age, Savannah took voice lessons and trained in ballet and tap at Debbie McCann's School of Dance in New Jersey.
Her big Broadway break came when she was only 8 years old, playing Young Cosette in Les Misérables. "I had a blast," she remembers. "I was with a bunch of other kids every night, running around a Broadway theater. Every day we would come up with something new to do, like playing Blind Man's Bluff in the bathroom."
After she finished her two-year run in Les Mis, Savannah's parents divorced, and she moved from New Jersey to New Orleans to live with her mom. Though Savannah hated the strict ballet classes she enrolled in at Loyola Ballet, she loved taking hip hop, tap and even ballet classes at Broadway Dance Center when she visited her dad in NYC. But it wasn't until college, at the University of Cincinnati College-Conservatory of Music, that Savannah started considering herself a "real" dancer and not just a recreational one. "Both of my parents are ridiculously talented, so I never thought of myself as a great dancer like them," she says. When she was cast as Maggie in the school's production of Brigadoon, Savannah decided to add extra dance classes to her curriculum. "The part was all dance, and I thought, 'Really? Me?' " she says. "It was at that point that I really started believing in my dancing abilities."
After graduation, the triple threat went straight to the stage, performing in regional productions of The Wizard of Oz and The King and I at The St. Louis Muny, an outdoor musical theater stage. She moved to NYC and promptly landed a part in GOGO BEACH, a show at the New York Musical Theatre Festival based on the classic 1960s beach party movies. After that, Savannah toured with High School Musical on Tour, and then settled back on the east coast playing Joanie Cunningham in Happy Days at Connecticut's Goodspeed Opera House. While there, she heard about an audition for Rock of Ages, a rock musical that was opening off-Broadway. Savannah used a rare day off to attend the huge dance call in NYC. "I was all decked out in my '80s gear," she remembers. "People looked at me like I was nuts, but dressing up for auditions makes it so much fun, and apparently the creative team and casting directors were at least mildly entertained by it." When she got the call offering her a spot in the show's dance-heavy ensemble, Savannah returned to the Big Apple and performed with the musical as it moved on to Broadway, eventually transitioning into the lead role of Sherrie.
A huge moment for Savannah was getting to perform at the 2009 Tony Awards with Rock of Ages. "I've watched my dad at more than a few Tonys and always wanted to be doing what he was doing," she says. "That was the moment when I thought, 'I'm really doing it. I got here.' "
After spending nearly two years in Rock of Ages, Savannah moved on to another Broadway musical, this time grabbing the spotlight as Evelyn Nesbitt in Ragtime. The show didn't stay open long, but Savannah managed to score an Astaire Award nomination for her work.
Now, as Savannah switches gears to originate the role of Wanda, she's excited to start something new. "Lucky Guy is so precious," she says. "The cast is a motley crew of people. I get to sing an angry girl number with a drag queen! It's one of the most hilarious, fun things I've ever done on a stage."
Though Savannah didn't have a dance audition for the show, choreographer AC Ciulla knew he wanted to take advantage of her talent as soon as he saw her name on the cast list: "She has the dance gene in her body," he says. "There are so many performers who just have technique, but her natural instincts and impulses are always right on." Wanda wasn't originally a dancing part, but Ciulla transformed "Needle in a Haystack," a duet with Savannah and her love interest in the show, Kyle Dean Massey, into a playful song-and-dance number. And Savannah brings her own flair to every two-step and do-si-do.
As for Savannah's future in showbiz: "There will be shows written in my lifetime that are going to be better than anything I could imagine," she says. "I'm just excited to see what's next."
Fast Facts
Dream role: Polly in Crazy for You. "I did this part in college, and I want them to revive the show on Broadway so badly it hurts."
Favorite NYC activity: "Just walking around and exploring with my Zagat guide. I love being outside and hanging out in Central Park in the summer."
Favorite food: "Cheese makes my toes curl. It's the way to my heart. I always have a block of brie in my refrigerator. It's one of my favorite things to indulge in at the end of the day."
Favorite book: East of Eden by John Steinbeck
Dating life: "Everyone has a type—I date dancers. My boyfriend, Tony Yazbeck, is wicked talented. We dance around my living room a lot. I could never be with someone who I felt uncomfortable dancing around my living room with."
Guilty pleasures: "Every once in awhile, sleeping in until 2 or 3 pm feels delicious. I also love dropping money at Lee's Art Shop—I could spend hours in there. And I'm an avid book buyer. I read during all my breaks."
Siblings: "My stepbrother is 6. He's learning how to dance, and he has my stepmom, Elizabeth Parkinson's, feet. I'm so envious. He has this dry sense of humor, which is hysterical. People think I'm his mom when we're together by ourselves, and I don't correct them. I think he's the coolest kid ever."
Who would play her in a movie: Rachel McAdams. "People say I look like her, and we have a similar quirkiness. But if I were casting the movie of my life, I would want to pick somebody who wasn't a star, who was just starting out."
Rachel Zar is an editor at Dance Teacher magazine.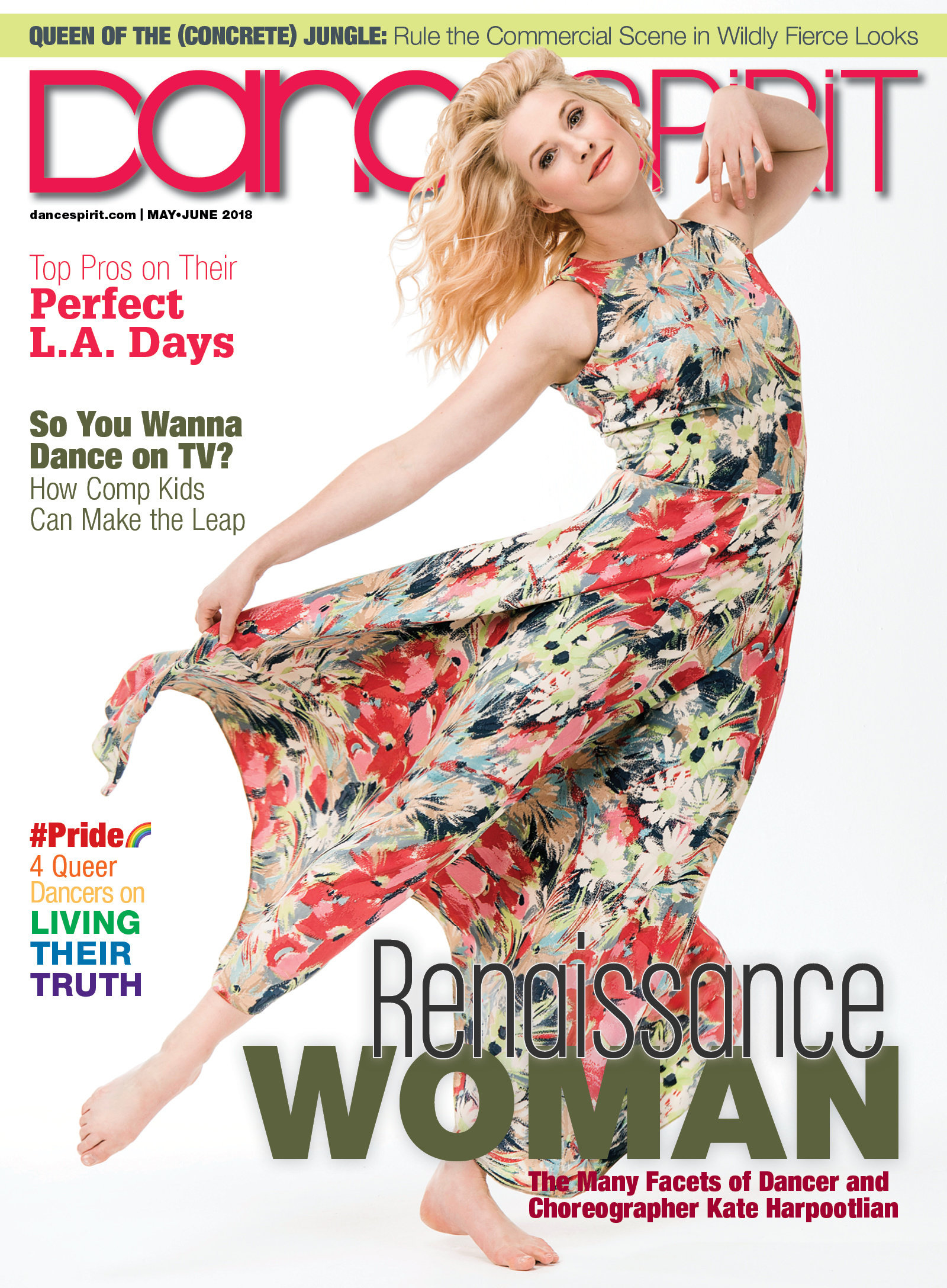 Get Dance Spirit in your inbox