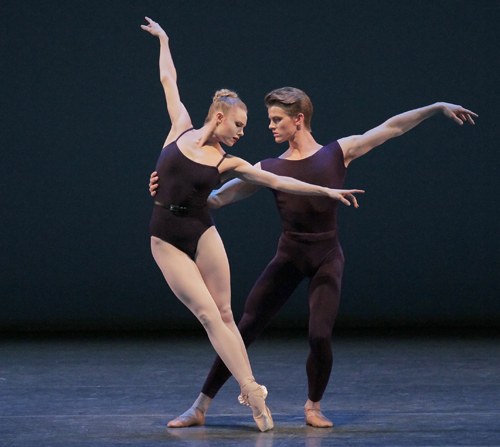 Sara Mearns and Chase Finlay in Polyphonia
Photo by Paul Kolnik
There's a saying for dancers: Our bodies are our instruments. But what's one thing dancers do that musicians rarely do? We beat up our instruments. We sometimes forget—or even neglect—the daily maintenance necessary for a long and healthy career. But we only get one body, right? So let's take care of it.
This Sunday (April 6) at 6:30 pm, The School at Steps in NYC is hosting an injury prevention workshop. There's going to be a whole panel of experts—including a Pilates instructor, a professor of orthopedic surgery and a representative from The Harkness Center for Dance Injuries—who will give plenty of tips for taking care of our bodies. Plus, New York City Ballet principal Sara Mearns(!!) will also be there!
So come with your questions and bring a notebook to jot down all the advice. You can purchase event tickets here ($10 for students, and teachers receive a 20 percent discount if they purchase five or more tickets). Can't make it? Look out for a recap of the event next week.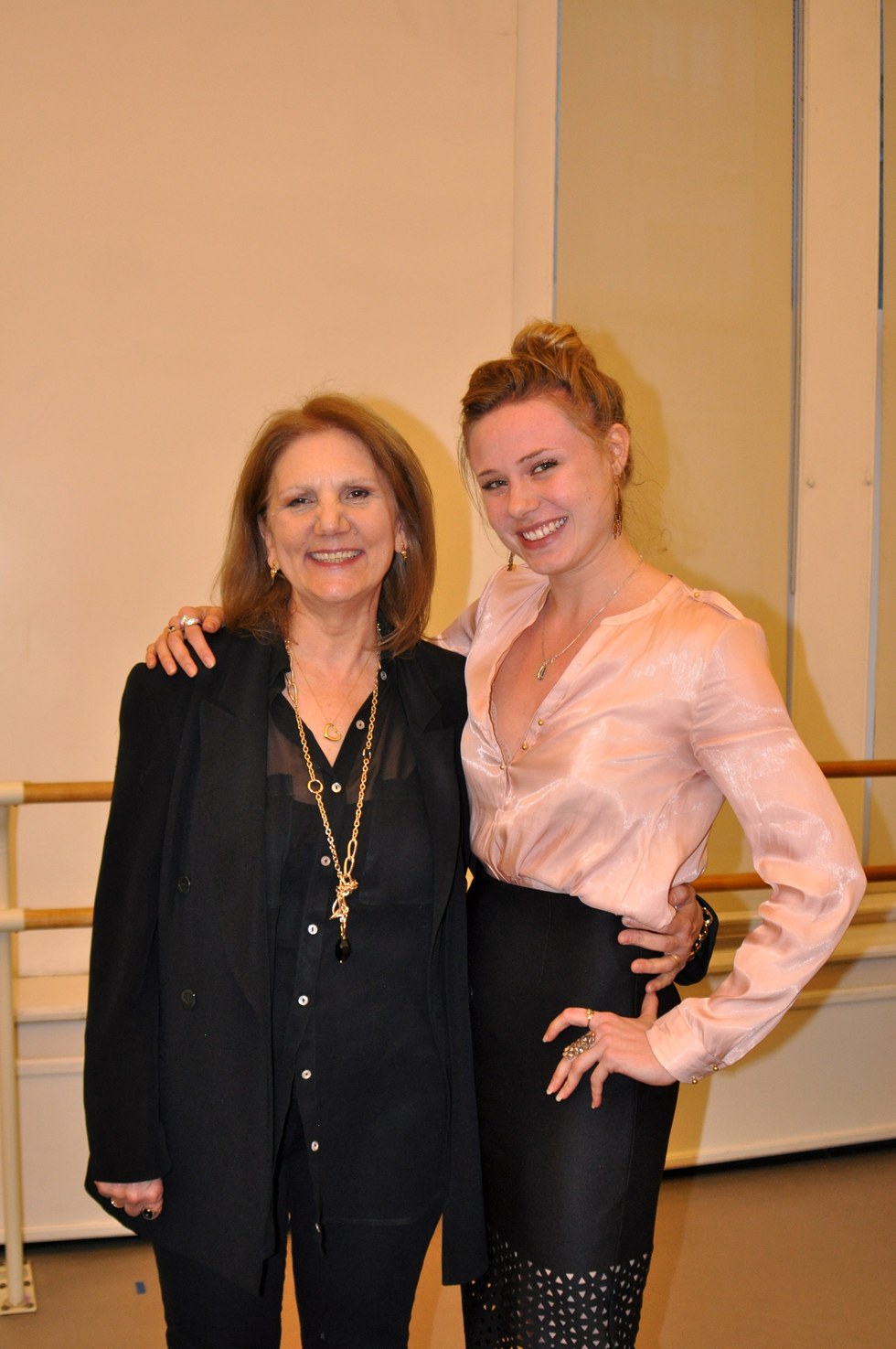 School at Steps director Kate Thomas with NYCB principal dancer Sara Mearns (courtesy The School at Steps)
Taking time off to recover from a stress fracture or strain can be unbearable for a dancer. That's why it's so important to do everything you can to prevent that dreaded injury.
On Sunday, The School at Steps in NYC hosted the "Injury Prevention Workshop," part of The Complete Dancer Series. Dance Spirit sponsored the event, and we were so excited to learn about taking care of our bodies from pros in the know.
The panel included clinical psychologist Linda Hamilton, pediatric orthopedic specialist Dr. Andrew Price, Dr. Marijeanne Liederbach of the Harkness Center for Dance Injuries, Pilates instructor Robin Powell, physical therapist Rebecca Blanchard and, a special treat, Sara Mearns, principal dancer with New York City Ballet. That's a whole lot of experts! And, boy, did they have a ton of useful information to dole out. Here's just a taste of the helpful hints attendees were privy to:
1. Don't dance to get in shape. Get in shape to dance. Improving your strength and stamina outside of the studio will improve your dancing in the long run.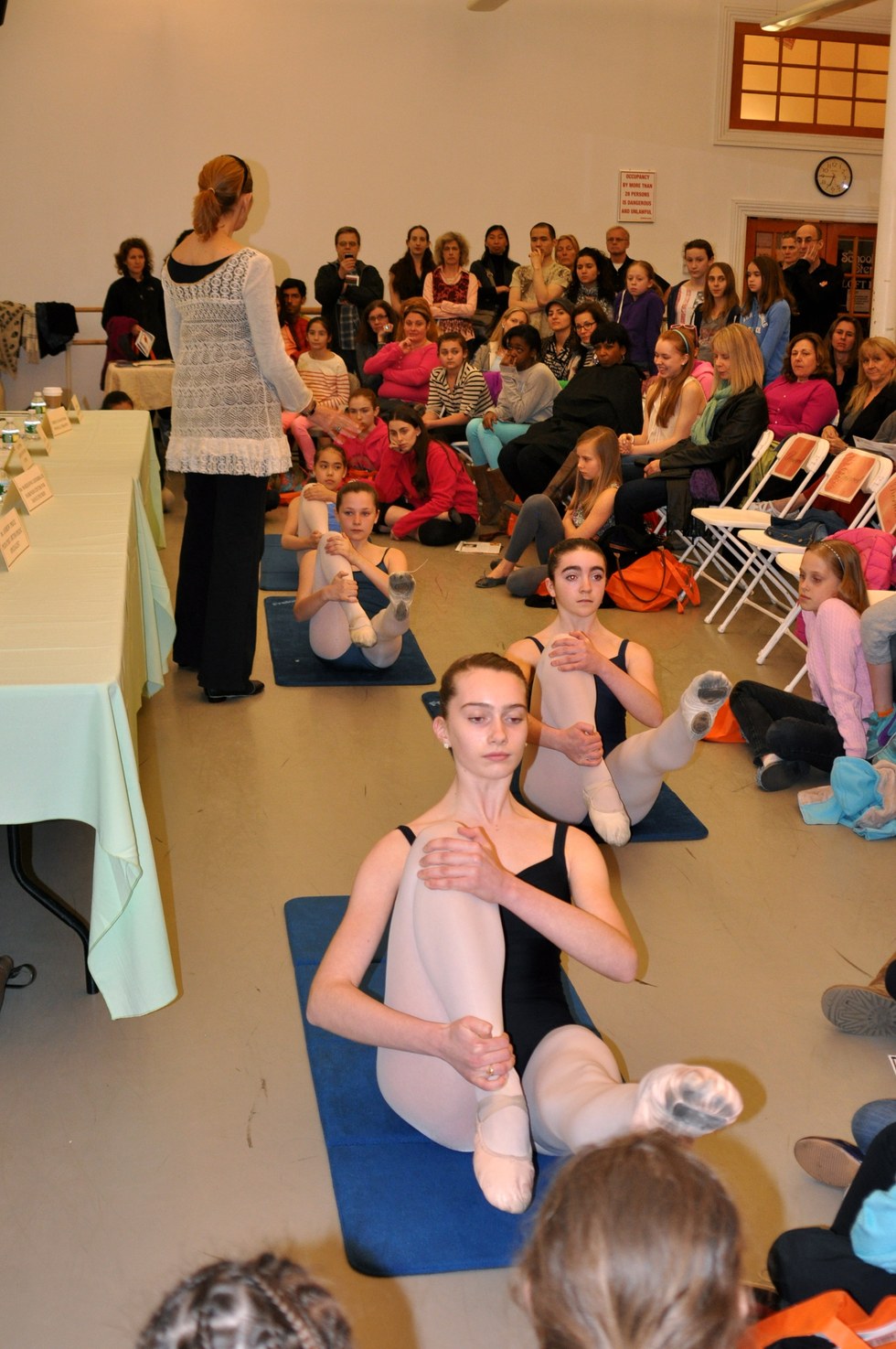 Pilates instructor Robin Powell gives a demonstration with School at Steps dancers Maria Edmond, Grace Sautter, Liza Berg and Bridget Scanlon. (courtesy The School at Steps)
2. That signature ballerina duck-walk is actually bad for you! Give your turnout muscles a break by cross training in parallel.
3. The two biggest contributors to injury are faulty dance technique and bad posture (not just while you're dancing, but while you're standing and walking around). So listen to your mom when she tells you to stand up straight.
4. 85% of all injuries happen in a previously injured joint. Give that ankle sprain the time it needs to heal, or you may be rocking a boot again before you know it.
5. Do you feel like your dance schedule is wearing on your body? Say something! Sara Mearns didn't, and she ended up with a bad back injury that took her away from dancing for eight months.
Want to know more about the most common injuries for dancers? Click here. 
Apr. 20, 2012 11:03AM EST
Want the scoop on what it's really like to be a dancer in the Big Apple? You're in luck, because "Dance212" is back on the web for a sixth season. Starting this month, cameras watch as five young dancers traverse class, rehearsals and the NYC streets. DS caught up with the stars of the show so you could learn a little about them.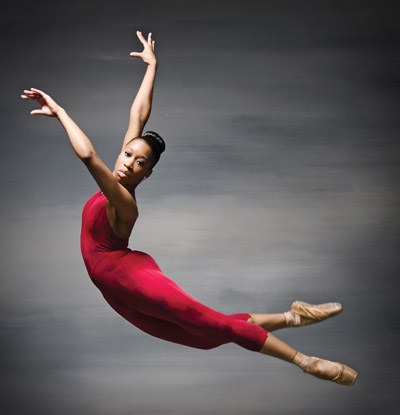 Daphne Lee (Photo by Kyle Froman)
Daphne Lee, 21, is a junior in the Ailey/Fordham BFA program and an apprentice with Ailey II.
Guilty pleasure: Cupcakes and gummy bears. "I have a really big sweet tooth."
Fun fact: Daphne appears shy at first, but don't be fooled. "When hanging out with my friends, I tend to be the clown of the group, doing silly things that no one would ever think I was capable of."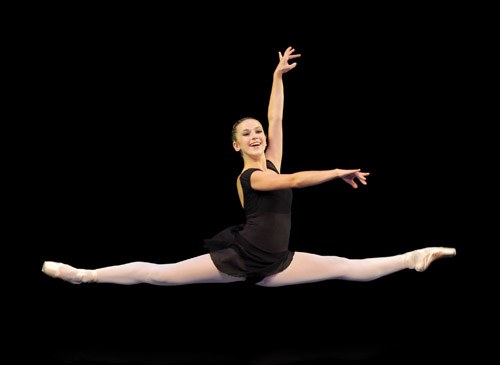 Victoria Grempel (Photo by Eduardo Patino)
Victoria Grempel, 18, is a senior at the Professional Children's School and studies at The School at Steps.
Favorite NYC activity: Victoria has great style and loves shopping at thrift stores in Brooklyn. "There are so many hidden treasures!"
Non-dance talent: "I was a competitive ice skater. I competed all around the metropolitan area, winning first place in Lake Placid two years in a row."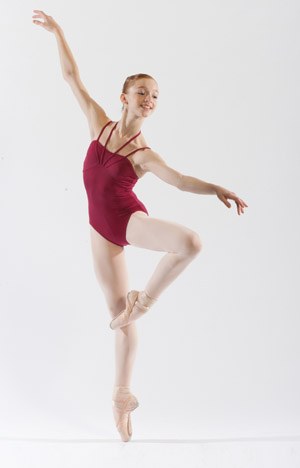 Catherine Hurlin (Photo by Rosalie O'Connor)
Catherine Hurlin, 16, is a student at The Jacqueline Kennedy Onassis School at American Ballet Theatre.
Non-dance talents: "I can do a mean manicure and pedicure. I'm not really allowed to wear nail polish in class, but I collect it and do my nails when I have time off."
Guilty pleasure: Shoes. "When I get my first paycheck from any job, I try my best to keep it away from my mother so I can shop for shoes instead of putting it in my bank account."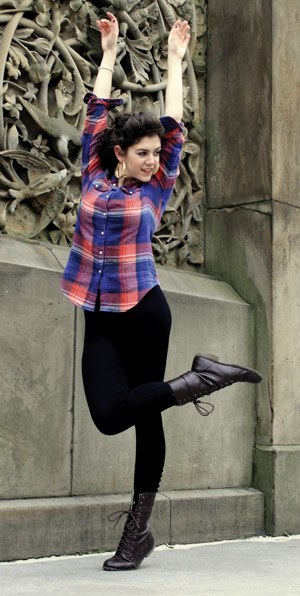 Simone Gunderson (courtesy Simone)
Simone Gundersen, 20, is part of the Professional Semester at Broadway Dance Center, concentrating on both hip hop and jazz.
Non-dance talent: Photography. "I've done headshots, family portraits, senior photos and decorative wall art."
Fun fact: "I am a European soccer super-fan."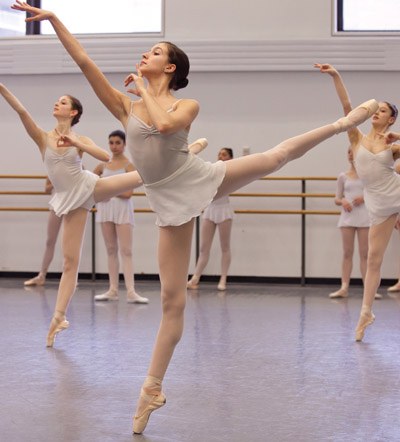 Ashley Hod (courtesy School of American Ballet)
Ashley Hod, 16, is in level C2 at the School of American Ballet.
Favorite NYC activity: "I love watching NBA basketball games with my dad and brother. The New York Knicks are my favorite team."
Fun fact: "I can sing like The Chipmunks. I'm always singing the latest pop hits with my chipmunk voice. My friends and family find it very entertaining."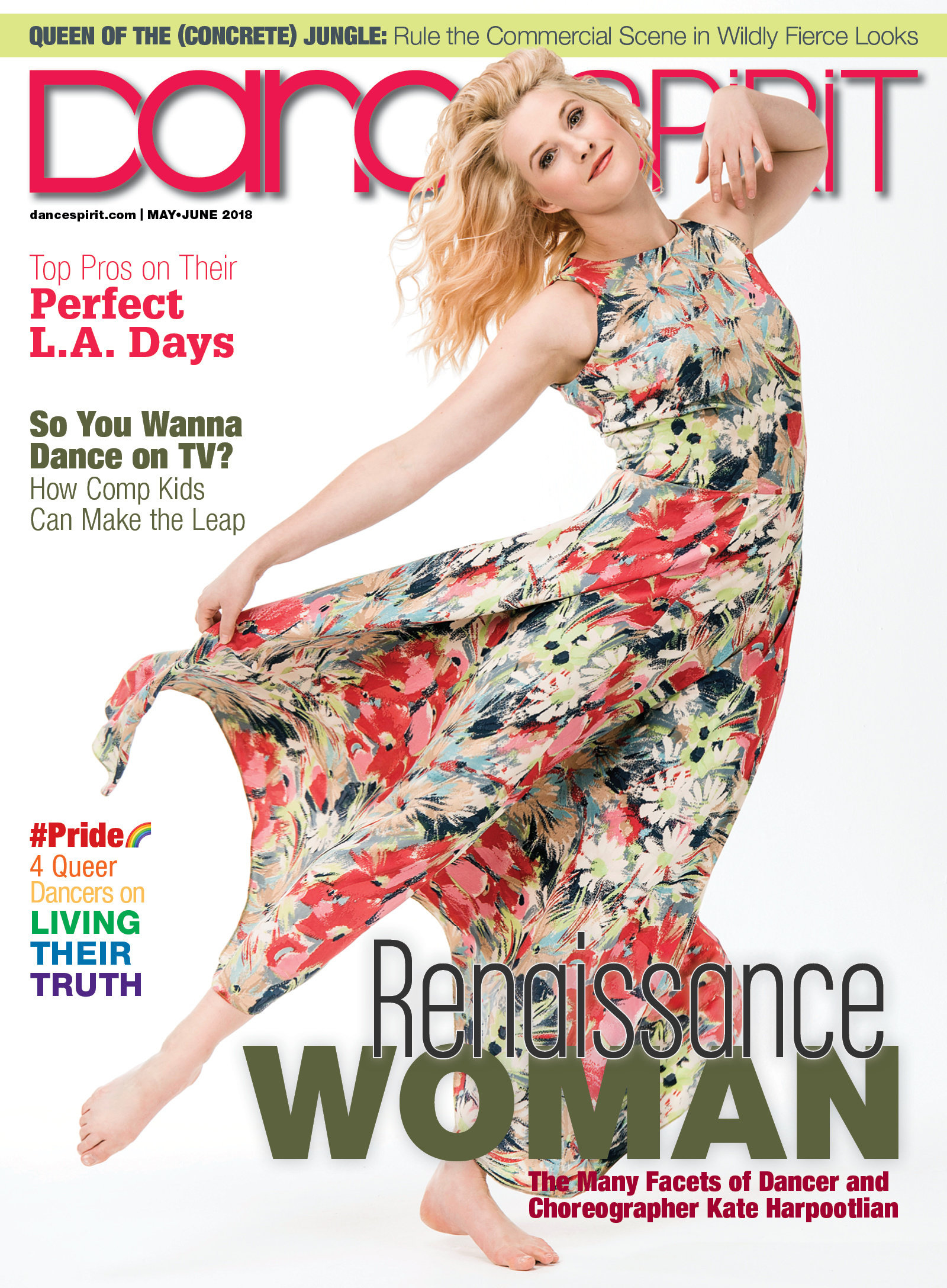 Get Dance Spirit in your inbox