Oct. 09, 2019 01:28PM EST
Photo by Joe Toreno
It was fall 2016. Gianna Reisen—then 17 and in her final year at the School of American Ballet, New York City Ballet's official training school—had just been made the offer of a lifetime: the chance to choreograph a work for the company's fall gala. She would be the youngest person ever to do so.
Two weeks later, Reisen went from an all-time high to an all-time low: She found out she wouldn't be getting an apprenticeship with NYCB. "I absolutely deflated," she remembers. "Imagine if, after seven years of working towards something, it simply doesn't happen. It's sort of heartbreaking."
Cover Story
Sep. 16, 2019 10:52AM EST
May. 21, 2019 01:00PM EST
School of American Ballet students (Rosalie O'Connor, courtesy SAB)
Do you have a "Strictly Ballet"–sized hole in your heart? Good news: The upcoming docuseries "On Pointe" just might fill it.
The School of American Ballet is teaming up with Imagine Documentaries and DCTV for the project. Though it's not yet clear where "On Pointe" will air, we do know that it'll follow talented SAB students preparing for professional ballet careers—much as Teen Vogue's popular "Strictly Ballet" web series did back in the day. But "On Pointe" marks the first time documentary filmmakers have been allowed access to the school, and it sounds like it'll paint an even more complete picture of the dancers' lives inside and outside the studio.
Dance News
Jun. 08, 2018 12:14PM EST
Screenshot via YouTube
In 2014 Teen Vogue came out with one of our favorite dance series yet: "Strictly Ballet." From NYC's School of American Ballet to Florida's Miami City Ballet School, we got to follow dance students through the rigorous, glamorous, and sometimes intense ups and downs that are the norm for most serious ballet students. Though the reality web series only lasted two seasons, we love the intimate look it gave into the ballet world and the students whose lives it followed. We loved it so much that by the end of each season we were almost as invested in those dancers' careers as they were.

Now, four years later, we're dying to know what some of our favorite dancers from the series are up to. Keep reading to find out where the blood, sweat, and blisters have gotten them.
Dance News
Mar. 05, 2018 12:44PM EST
Addie Tapp in Jorma Elo's Creatures of Egmont (photo by IGOP Photography, courtesy Boston Ballet)
Boston Ballet second soloist Addie Tapp immediately stands out onstage thanks to her impressively long lines, precise technique, and mature presence. A Glenwood Springs, CO, native, Tapp started dancing at age 6 at the Glenwood Dance Academy. At 14, she attended The School of American Ballet summer course, and afterwards was accepted into the year-round program. She joined Boston Ballet's corps in 2014, and was promoted to second soloist last year. Catch her dancing this month in the company's Parts In Suite program and Romeo & Juliet.
Dancer to Dancer
Feb. 09, 2018 02:56PM EST
Jasmine Perry (photo by Reed Hutchinson, courtesy Los Angeles Ballet)
Most of us first met Jasmine Perry back in 2014, during her turn on Teen Vogue's web series "Strictly Ballet." At that point, Perry was a coltish teenager finishing up her last year at the School of American Ballet. Since then, she's taken a job with Los Angeles Ballet and matured into a dancer of refinement and charm—but fans still relate to her 18-year-old self. "Doing 'Strictly Ballet' was great because it taught me how to be professional, how to work with public relations teams, how to communicate with adults," she says. "But it's funny because, especially when I come back to NYC, people always recognize me from the show. There's this one part of my life on the internet—once it's out there, it never disappears!"
Perry, who trained at North Carolina Dance Theatre (now called Charlotte Ballet Academy) before enrolling at SAB, grew up in a diverse home, with a black father and a Filipino mother. "My whole family is from different places, so I didn't really see color until I went to school," she says. "Realizing that I was one of the only kids at SAB who wasn't white was eye-opening. But I used that as motivation to work harder." She admires Misty Copeland's groundbreaking advocacy, and hopes to follow her example. "It's heartwarming to come out after a show and have kids asking for autographs because I look like them," she says. "There's someone onstage they can relate to, and that's progress."
Dancer to Dancer
Sep. 27, 2017 03:08PM EST
After most dancers graduate from The School of American Ballet they have lots of "firsts": first company contract, first performance with that company, and maybe even first solo role. But 2017 SAB grad Gianna Reisen is experiencing a different kind of "first" during her inaugural year in the professional ballet world: She's making her first choreographic debut at Lincoln Center. At just 18, Gianna Reisen is the youngest person ever to create a piece for the renowned New York City Ballet (NBD!). Her new work, Composer's Holiday, set to music by Lukas Foss, will premiere at the company's fall gala on September 28th.
Reisen impressed NYCB ballet master in chief Peter Martins with the ballets she made for SAB's Student Choreography Workshop and The New York Choreographic Institute, prompting Martins to invite her to create a piece for the main company. And though the pressure of such a proposal would intimidate even the most seasoned choreographer, Reisen's pragmatic poise about the whole thing assures us that she's up to the task.
Dancer to Dancer
Sep. 22, 2017 02:58PM EST
New York City principal Lauren Lovette has become an icon thanks to her emotional maturity and exceptional musicality. The 26-year-old quickly rose through the ranks after joining the company as an apprentice in 2009, reaching principal status in 2015. A Thousand Oaks, CA, native, Lovette started studying ballet seriously at age 11, at the Cary Ballet Conservatory in Cary, NC. After attending two summer courses at the School of American Ballet, she enrolled as a full-time student in 2006. Last year, she made her choreographic debut with For Clara, her first piece for NYCB. Catch her latest work this month during the company's fall season. —Courtney Bowers
Dancer to Dancer
Apr. 07, 2017 04:21PM EST
Jan. 22, 2016 01:35PM EST
Today, let's take a moment to reflect on the legacy of George Balanchine, the father of American ballet.
He was an innovator, who took his Russian training and tweaked it to match the frenetic pace of his adopted home. Now, Balanchine dancers are known for their speed, precision and musicality. He was an entrepreneur, who created his own ballet education program and founded his own company. We still look to the School of American Ballet and New York City Ballet to preserve his legacy. He was a visionary, whose first ballet created in America (Serenade, in 1934!) looks as fresh today as it did 82 years ago.
Now, not only is his work exported to companies around the globe, but several other American companies are noted for their relationship to his training and choreography, including Pacific Northwest Ballet, Miami City Ballet and Pennsylvania Ballet. Balanchine really is everywhere.
Bolshoi Ballet principal Olga Smirnova in George Balanchine's "Diamonds" from Jewels (photo by Elena Fetisova)
His legacy isn't without controversy, though, and many people think Balanchine's preference for waif-like ballerinas helped normalize extremely thin bodies in the ballet world. Others don't like his style at all, and consider Balanchine technique to be too affected.
Fortunately, his body of work is so large and varied—and is now danced by so many companies—we can look at it and make decisions about its merit for ourselves. But there's no denying the lasting impact of his work. Who do you think will be the choreographers we still remember in another one hundred years?
Get Dance Spirit in your inbox
May. 07, 2015 10:38AM EST
There's been a pointe shoe-sized hole in our hearts ever since the first season of Teen Vogue's "Strictly Ballet" wrapped up last spring. The web series, which went inside the prestigious School of American Ballet, did such a beautiful job depicting the pressures and joys of life as an aspiring professional dancer. It showed us a familiar world in an eye-opening way. (And obviously we love a good dance-y web series.)
Dancers from the first season of "Strictly Ballet" (via teenvogue.com)
Well friends, get your popcorn ready, because "Strictly Ballet" Season 2 is officially a thing! The next installment of the series, which premieres May 20, will follow talented students at Miami City Ballet School. It's an interesting tack to take, because SAB and MCBS actually share a connection: They both come from the same Balanchine tradition. But NYC has significantly fewer beaches than Miami, and oh my gosh we can't WAIT for the dancing-on-the-beach montages that are inevitably headed our way.
To tide us crazy fans over until May 20, Teen Vogue put together a little video featurette on Mimi Staker, one of the gorgeous stars of the first season. Staker's now a full-fledged member of New York City Ballet, and the vid gives us a peek at what her professional life looks like. It also concludes with some pretty enticing sneak-preview Season 2 footage of MCBS students (including dance-y beach shots, yippee!). Take a look:
Dec. 06, 2014 07:30AM EST
The School of American Ballet Spring Workshop, one of the dance world's most famous end-of-year performances, is almost like a rite of passage. Each year, SAB's most talented and advanced dancers are chosen to perform. Many of them go on to join major ballet companies nationwide—including New York City Ballet.
Addie Tapp, now in Boston Ballet, and Preston Chamblee, now an NYCB apprentice, in George Balanchine's Serenade at SAB's 2014 Workshop Performance (Paul Kolnik, courtesy Live From Lincoln Center)
Attending SAB's workshop is pretty darn cool, too. It's like witnessing a little slice of history—you're seeing prima ballerinas in the making, the stars before they become stars. Yet for those who don't live in NYC, chances to see the workshop performance are pretty rare.
Thankfully, that all changes next Friday, December 12*, when PBS' "Live From Lincoln Center" presents "Curtain Up: The School of American Ballet Workshop Performances."
Taped this past spring, the TV special will show the entirety of the most recent SAB Workshop performance, which featured George Balanchine's Serenade and excerpts from his Coppélia, Swan Lake and Western Symphony. The program will also include rehearsal footage and interviews with dancers. And if this preview is any indication of what the whole 90 minutes will be like...I suggest you set your DVR now:
*Be sure to check your local listings for air dates and times, because not all PBS stations will be showing the special on the 12th. NYC's PBS station, for instance, won't air it until that Sunday, and Philadelphia's station isn't slated to show it until Thursday, December 18 at 3:30 pm. To find your local schedule, click here.
May. 16, 2014 11:45AM EST
Jasmine Perry with Alec and Victor of "Strictly Ballet"
Photo Will Davidson/Teen Vogue
You already know just how much we love it when the fashion world enters ours (excluding the recent Free People, um, snafu). So it's no surprise that we're ecstatic about Teen Vogue's newest venture: a web series (premiering today!) following six students at the School of American Ballet. Also awesome? The show lets us catch up with Jasmine Perry, who, since making her debut on "Dance212," has shed her braces and continued to develop into an utterly gorgeous dancer.
"Strictly Ballet" is an online companion to Teen Vogue's print feature, "Rhythm Nation," which highlights some of the freshest faces in dance today (including Lil Buck)—all of them dressed to the nines, naturally. Hopefully this dance-in-the-mainstream streak continues. And it just might: Turns out dancers have an unexpected advocate in Teen Vogue editor in chief Amy Astley, who's responsible for the magazine's latest foray into the world of intense ballet training. As a teen, she was a bunhead herself, studying at the Joffrey Ballet in NYC and at Central Pennsylvania Youth Ballet's summer program. Dance Spirit caught up with Astley to get the inside scoop on "Strictly Ballet." (You can watch the extended trailer and first episode below!)
SAB student Emily wears a Rebecca Taylor dress.
Photo Will Davidson/Teen Vogue
Dance Spirit: Why did you want to make "Strictly Ballet"?
Amy Astley: I've been asking myself what I can give back to ballet, since I got so much from it. And I thought that the best thing I can do is promote it.
Ballet dancers should get a lot more attention in pop culture than they get. They're so beautiful! And I find dancers to be insanely grateful. Their humility is refreshing.
DS: What did your ballet training teach you that you still use today?
AA: In ballet, you can never say "I can't." You have to work through everything, so you learn how to do your best even when you're extremely challenged. I say this to my kids and to the people I work with. The moment I find myself thinking I can't, I'm like, "Wait a second. You can! What's wrong, what's the problem, and how can I work through it?"
DS: What's your goal for the series?
AA: I really hope that people—who aren't necessarily all bunheads—will get engaged with this series. I've definitely spent enough time in my life watching movies about baseball, and I don't know much about that sport. I think ballet should be the same way: It should be fascinating on its own, even to people who don't know a lot about it.
(Watch the extended trailer for "Strictly Ballet" above.)
DS: How will "Strictly Ballet" be different from AOL's "city.ballet." or The CW's "Breaking Pointe"?
AA: I didn't want a reality show that dug into the super-personal aspects of the dancers' lives. It's just meant to celebrate the kids as aspiring artists, and highlight their extreme dedication and talent. It's amazing to be interviewing kids who are 14 and 17 who know exactly what they want to do.
(L to R) Victor and Alec of "Strictly Ballet"
Photo Will Davidson/Teen Vogue
DS: As a ballet fan, what has been your favorite part about this process?
AA: I got to meet Peter Martins, which was such a great thrill since I grew up watching him dance with Suzanne Farrell. Peter Martins was one of my all-time favorite dancers, along with Suzanne, Natalia Makarova, and Baryshnikov, of course.
SAB's Mimi wears a Louis Vuitton jacket and headdress in Teen Vogue.
Photo Will Davidson/Teen Vogue
DS: In your editor's note this month, you write that you quit ballet at 18. How did you make that decision?
AA: During my summers at CPYB, I saw what the talent was like out there since I was dancing with girls from NYC and SAB. I was in their level, but I was never really as good—I was sort of at the bottom of the top. I didn't have what it took to be in the companies I wanted to join, and the regional ballet scene wasn't as strong then as it is now. It was an extremely hard time for me. I had barely even applied to colleges. I did end up going to school back in Michigan, but I can relate to students who aren't sure if they're ready for professional life, as well as to those who aren't sure if they even want it.
DS: Knowing what you know now, what would you tell those dancers?
AA: Whatever you decide, remember that studying your art has been time well spent. You get so much from those years. And keep dancing if you love it. Whether you're studying modern, tap, jazz or ballet, the training is great for your brain and your body. You'll probably grow up to be one of the people supporting the arts and keeping ballet companies alive—I go to the ballet very regularly, to see both NYCB and American Ballet Theatre. I just love it. I never got ballet out of my system.
Watch the first episode here:
Sep. 01, 2013 01:22PM EST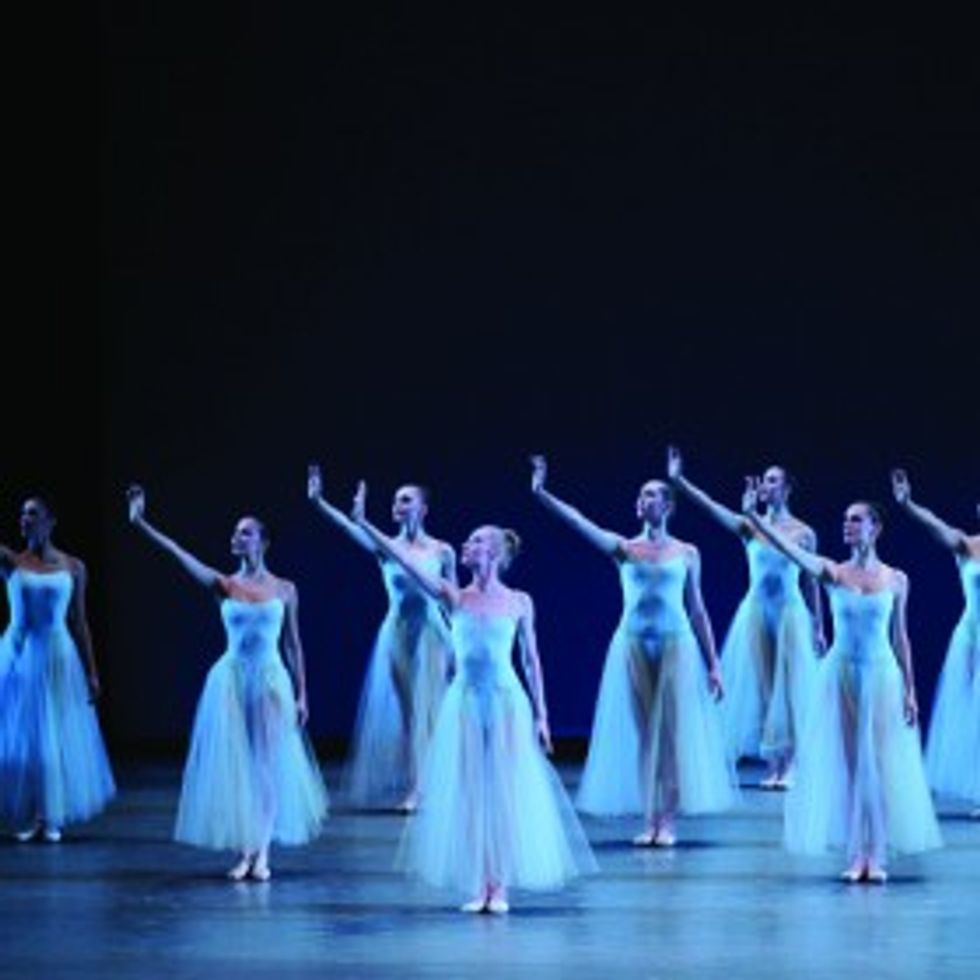 New York City Ballet in George Balanchine's Serenade (by Paul Kolnik)
It's a thrilling moment: My fellow corps members and I rise to our toes and begin hopping on pointe in time to a beautiful Bach violin concerto. As we merge into two lines, we start an intricate canon with our arms—the first line opens one arm every four counts, and the other line opens it every three counts. The result is a visually stunning effect: You can literally see the music. And it happens during the last movement of George Balanchine's Concerto Barocco.
Feeling molded to the music is one of the biggest perks of dancing a Balanchine ballet. But his prolific repertoire (more than 400 works!) ranges from tutu ballets like Symphony in C to neoclassical masterpieces like Agon—and getting the hang of their fleet petit allégro, elongated, off-balance positions and innovative pointework can be tricky. Here's how you can find the freedom in Balanchine's ballets without sacrificing his signature style.
The Man Behind the Moves
Born in St. Petersburg, Russia, Balanchine studied at the Imperial Theater Ballet School and danced for the Maryinsky Ballet before turning his focus towards choreography. After serving as ballet master for Europe's Ballets Russes in the 1920s, Balanchine moved to the United States in the '30s and opened the School of American Ballet with the help of patron Lincoln Kirstein. He choreographed for Broadway, Hollywood and several small ballet troupes before founding the New York City Ballet in 1948, which he directed until his death in 1983.
"Balanchine was a musician who choreographed," says former NYCB principal Jacques d'Amboise. In fact, Balanchine was an expertly trained pianist. He would often stay up late breaking down a musical score into its different components, so that when he choreographed to it he knew, as d'Amboise says, "the orchestration's DNA."
"The work just flowed out of him," says Allegra Kent, one of his foremost ballerinas at NYCB. "He created very quickly and quietly—he never yelled. It was just about the work."
And that work forever changed classical ballet. Many of his ballets lacked a specific story; he wanted to let the dancing speak for itself. For that reason, he frequently did without elaborate costumes and sets, having his dancers perform in simple practice clothes. His choreography often incorporated elements of jazz and unconventional partnering never before seen in the ballet world. Today, Balanchine's ballets are performed in companies worldwide, and he continues to influence choreographers everywhere.
Balanchine's Style
Balanchine developed a distinct technical style to accommodate his choreography. He stressed precise musical timing, and emphasized phrasing and syncopation in his classes. "For example, Balanchine's fondu doesn't have the same timing on the way down as on the way up," says Suki Schorer, a longtime instructor at SAB. "It goes down slower and comes up a little faster. Frappé isn't even—its accent is out and out, while ballonné is in and in."
Balanchine wanted dancers to gobble up space, and gave classical technique a more streamlined look. He asked for longer lines, deeper lunges and a more open arabesque. "He disguised all his preparations," says NYCB principal Teresa Reichlen. "He tried to make the in-between stuff look just as fantastic as the bigger steps."
"There are no boundaries with his technique," says Miami City Ballet soloist Sara Esty. "Everything is stretched to the maximum."
How to Dance It
Speed and musicality are some of the hardest elements of Balanchine technique. "Be in time and on time—that's the most important thing," Schorer says. Developing speed starts at the barre during tendus and dégagés. "You need to stop in fifth position fully each time you close," Schorer says. For greater efficiency, cross your working leg so that it's directly in line with your body's center line, instead of the standing heel. And keep your weight forward over the balls of the feet, "so you're ready to move in an instant," Schorer says.
Rather than preparing for pirouettes with two bent legs in fourth position, the Balanchine style requires a straight back leg to create an element of surprise. "From two bent legs, it's a dead giveaway you're going to pirouette," says Schorer. "But from an elongated fourth you could be about to do anything." During turns traveling on a diagonal, Balanchine dancers spot the front instead of the corner so the audience can see their faces and the turnout of their legs.
In Balanchine works, it's OK to let your elbows and wrists bend and sweep up through the center of the body, and there should be space between each of your fingers. "The elbow picks up the wrist and the wrist brings the fingers," says Schorer. "The arms aren't one unit, but many pieces in motion, responding to the air."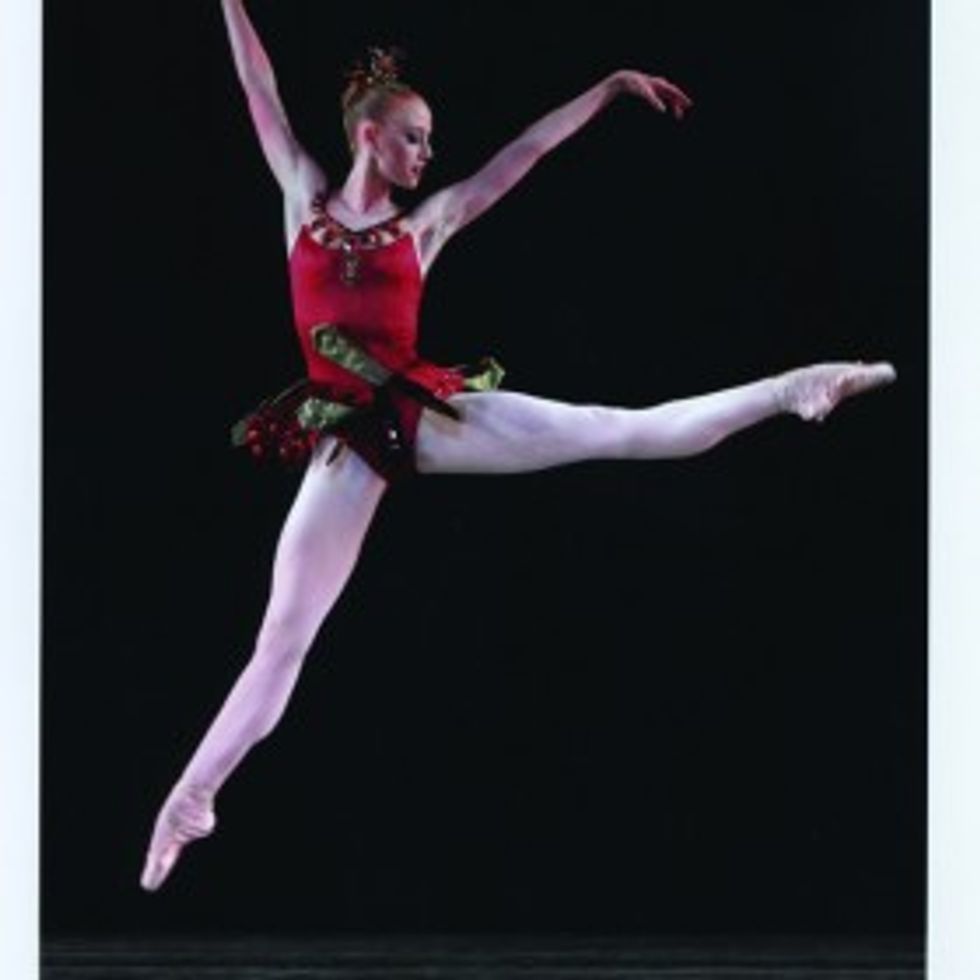 NYCB principal Teresa Reichlen in "Rubies," from Balanchine's Jewels (by Paul Kolnik)
Grasping Balanchine's style requires time and consistent training. "It's a process," says Reichlen. "You have to work to develop the specific muscle groups that his technique stresses." Most importantly, though, don't forget to listen. "Every step he choreographed has a musical purpose," says Esty. "If you really dive into the music, it will lead the way."
How To
Apr. 20, 2012 11:03AM EST
Want the scoop on what it's really like to be a dancer in the Big Apple? You're in luck, because "Dance212" is back on the web for a sixth season. Starting this month, cameras watch as five young dancers traverse class, rehearsals and the NYC streets. DS caught up with the stars of the show so you could learn a little about them.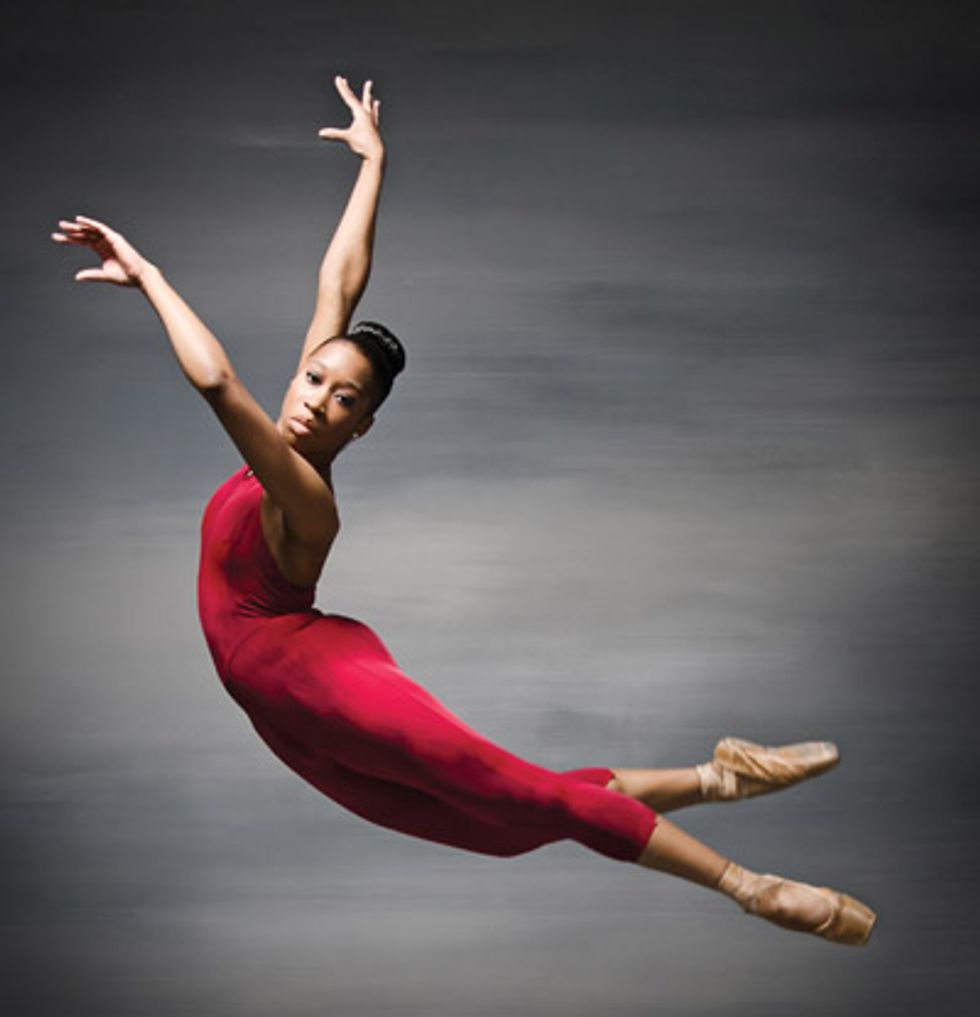 Daphne Lee (Photo by Kyle Froman)
Daphne Lee, 21, is a junior in the Ailey/Fordham BFA program and an apprentice with Ailey II.
Guilty pleasure: Cupcakes and gummy bears. "I have a really big sweet tooth."
Fun fact: Daphne appears shy at first, but don't be fooled. "When hanging out with my friends, I tend to be the clown of the group, doing silly things that no one would ever think I was capable of."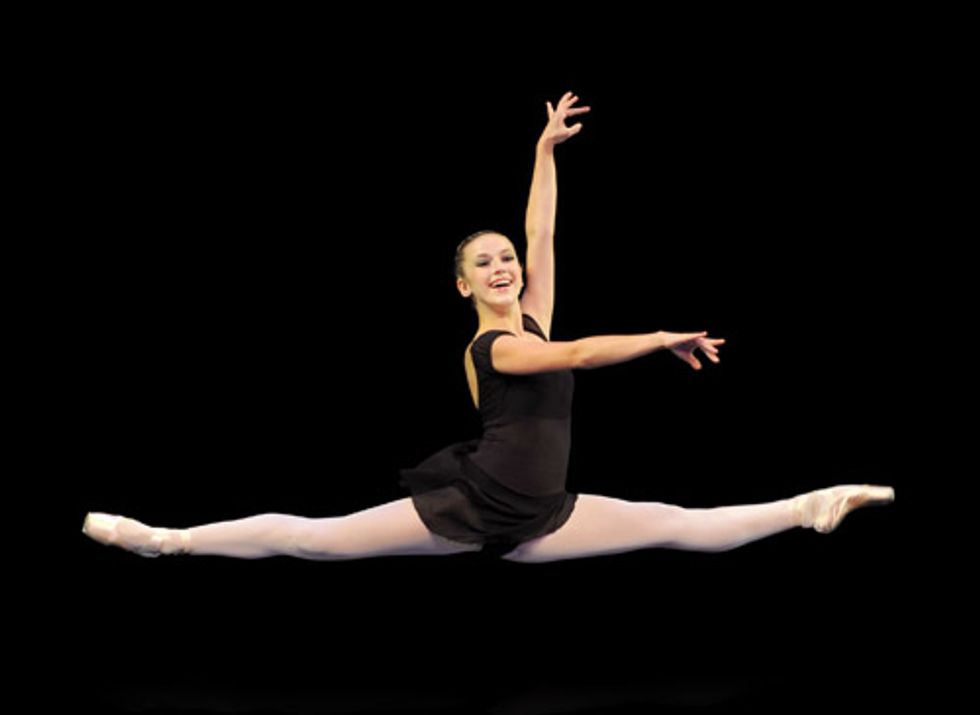 Victoria Grempel (Photo by Eduardo Patino)
Victoria Grempel, 18, is a senior at the Professional Children's School and studies at The School at Steps.
Favorite NYC activity: Victoria has great style and loves shopping at thrift stores in Brooklyn. "There are so many hidden treasures!"
Non-dance talent: "I was a competitive ice skater. I competed all around the metropolitan area, winning first place in Lake Placid two years in a row."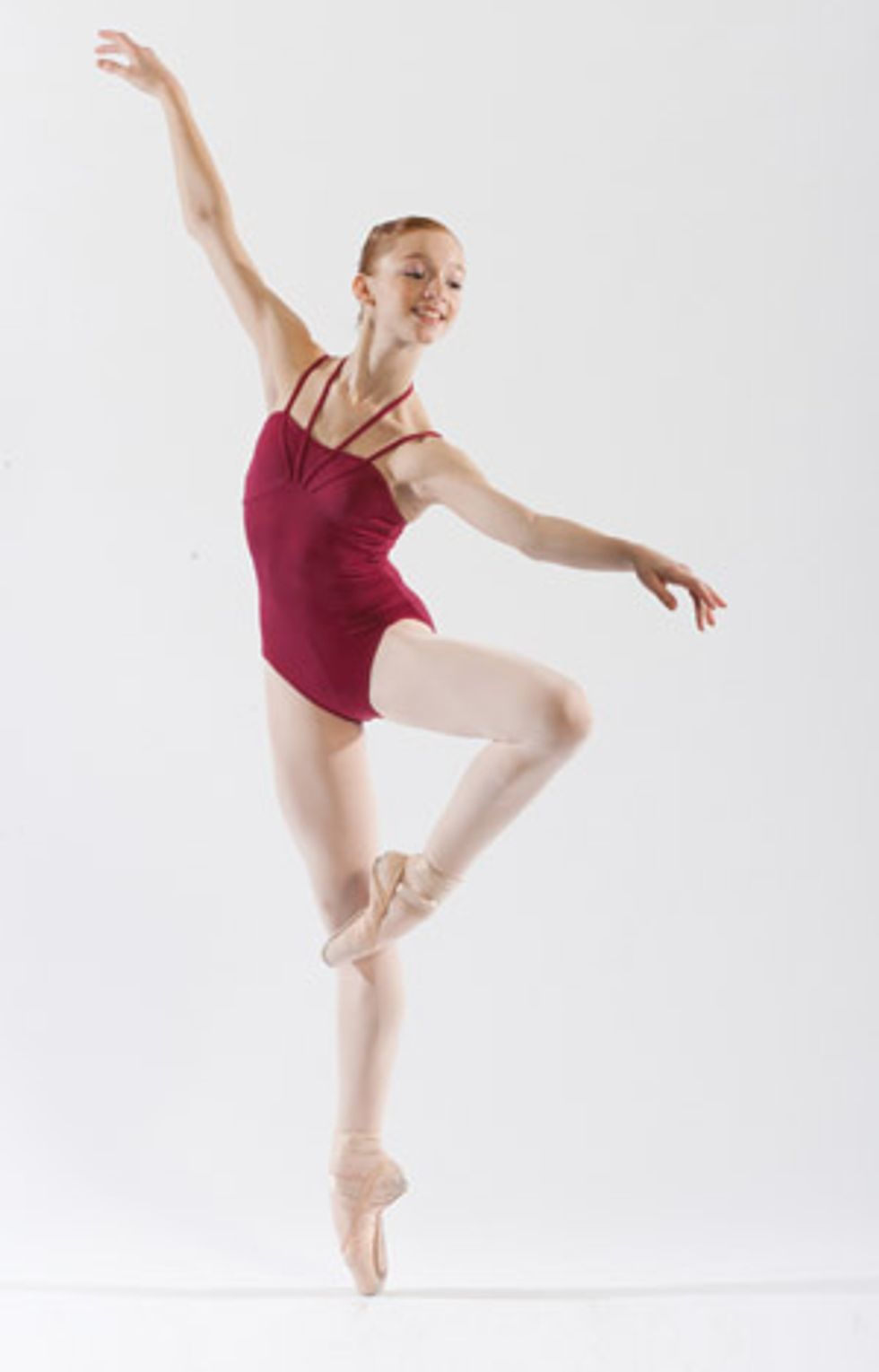 Catherine Hurlin (Photo by Rosalie O'Connor)
Catherine Hurlin, 16, is a student at The Jacqueline Kennedy Onassis School at American Ballet Theatre.
Non-dance talents: "I can do a mean manicure and pedicure. I'm not really allowed to wear nail polish in class, but I collect it and do my nails when I have time off."
Guilty pleasure: Shoes. "When I get my first paycheck from any job, I try my best to keep it away from my mother so I can shop for shoes instead of putting it in my bank account."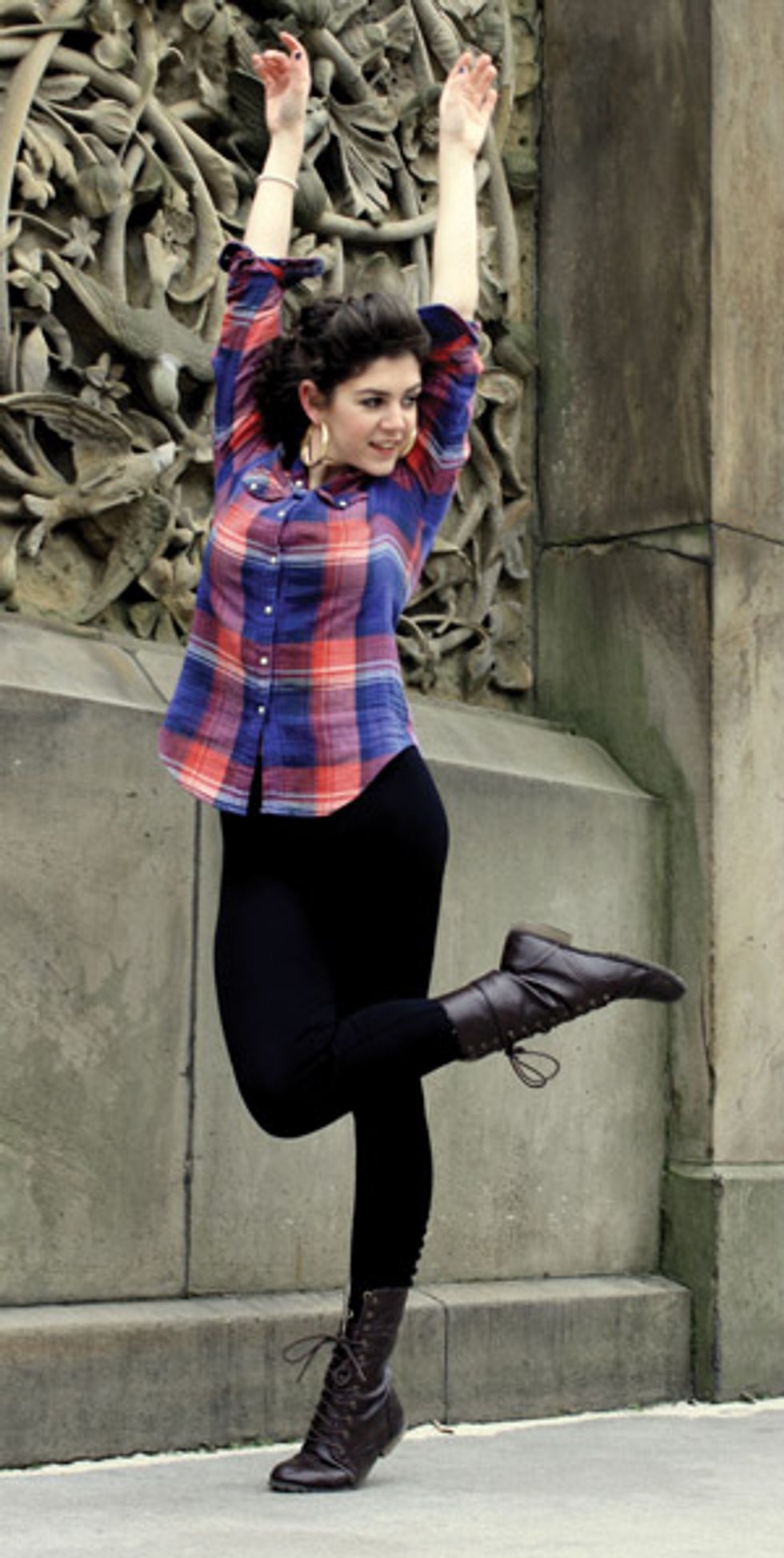 Simone Gunderson (courtesy Simone)
Simone Gundersen, 20, is part of the Professional Semester at Broadway Dance Center, concentrating on both hip hop and jazz.
Non-dance talent: Photography. "I've done headshots, family portraits, senior photos and decorative wall art."
Fun fact: "I am a European soccer super-fan."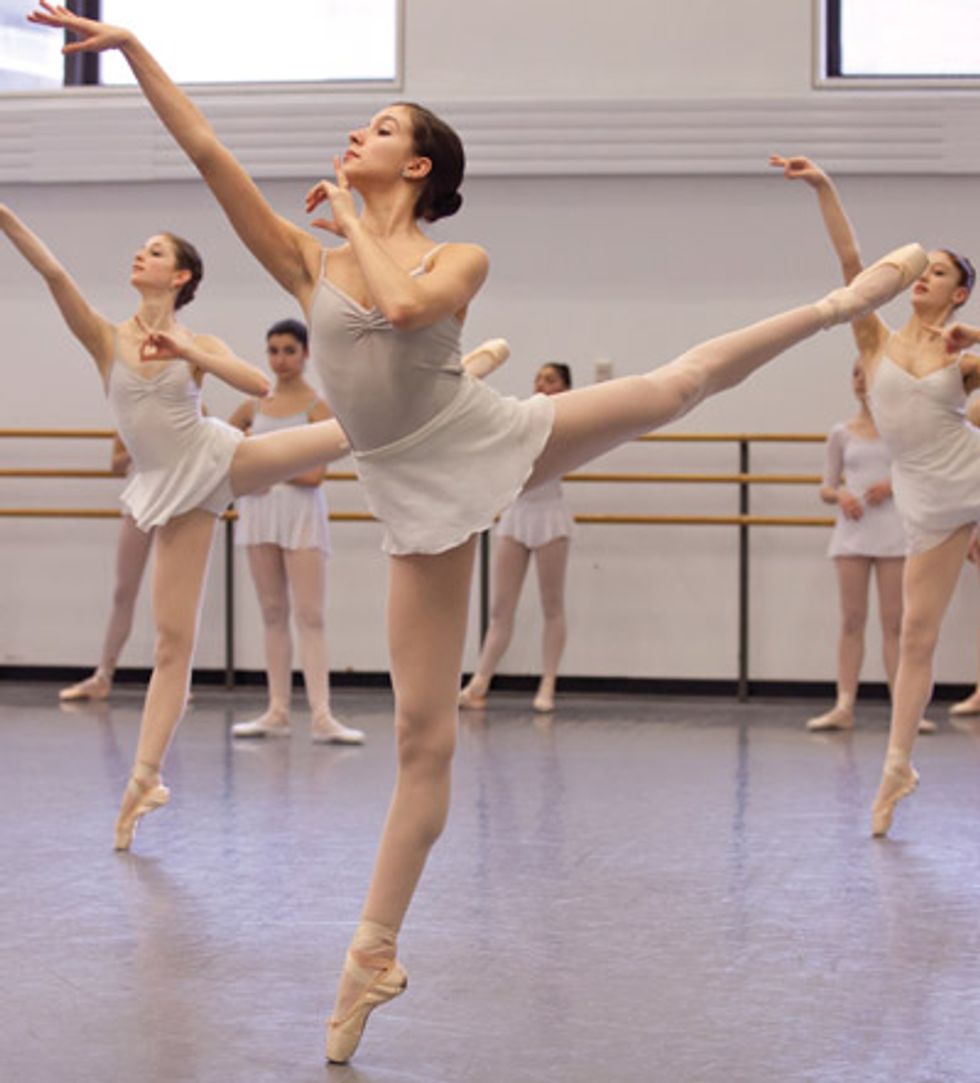 Ashley Hod (courtesy School of American Ballet)
Ashley Hod, 16, is in level C2 at the School of American Ballet.
Favorite NYC activity: "I love watching NBA basketball games with my dad and brother. The New York Knicks are my favorite team."
Fun fact: "I can sing like The Chipmunks. I'm always singing the latest pop hits with my chipmunk voice. My friends and family find it very entertaining."


Get Dance Spirit in your inbox