Screenshot via YouTube
One Sergei Polunin is great but two, three, or four Polunins, that's something we can really get behind. And now we don't even have to go to an alternative universe to enjoy multiple Polunin clones. In Hozier's latest music video, "Movement" the legendary ballet dancer's drool-worthy technique is on full display as multiple versions of Polunin break out dancing. And though this isn't the first time the ballet superstar has teamed up with Hozier, this performance is even more haunting than the pair's 2013 collaboration in the "Take Me to Church" video.
Keep reading...
Show less
Just for Fun
Nov. 02, 2018 12:49PM EST
Sergei Polunin and Misty Copeland lead a corps of 18 dancers in choreography by Liam Scarlett. Photo courtesy Walt Disney Studios Motion Pictures
The wait for Disney's reimagining of The Nutcracker is over. Although The Nutcracker and The Four Realms is not a full-length ballet, woven into the plot is a five-minute performance by megastars Misty Copeland and Sergei Polunin alongside 18 supporting dancers, with a CGI Mouse King moved by jookin sensation Lil Buck (aka Charles Riley). Royal Ballet artist in residence Liam Scarlett led the film's choreography in his first major motion picture experience. "It was a call I didn't expect to get," says Scarlett. "I really am the biggest Disney fan, so I couldn't believe it!"
Keep reading...
Show less
Misty Copeland in the final trailer for The Nutcracker and the Four Realms (Disney)
Well, we knew from the first we heard of it that Disney's The Nutcracker and the Four Realms would be a far cry from the sugary-sweet holiday ballet we all love. And each trailer we've seen in the lead-up to the film's November 2nd premiere has confirmed that we're in for a very wild, very nutty ride.
But the final Nutcracker and the Four Realms trailer, which just dropped, is next-level spooktacular. Gothic techno remixes of Tchaikovsky's score? Check. Helen Mirren, aka evil Mother Ginger, unleashing armies of not only mice, but also what appear to be devilish nesting dolls? Check. Keira Knightley, aka the Sugar Plum Fairy, doing a voice that'll make your hair stand on end? Check. This film is DARK.
Luckily, to sate our dance-related curiosities, the trailer also gifts us a few more glimpses of the much-talked-about appearances by Misty Copeland and Sergei Polunin. Take a peek—and be sure to look for our interview with jookin star Lil Buck, who also dances in the film, in the upcoming November issue!
Keep reading...
Show less
Just for Fun
Aug. 08, 2018 04:43PM EST
Misty Copeland as the Ballerina Princess in The Nutcracker and the Four Realms. Photo Courtesy Disney.
It's August—the sun is shining, summer intensives are winding down, and Nutcracker seems very far away. But this new trailer for Disney's The Nutcracker and the Four Realms is already getting us in the holiday mood. While this modern take on classic holiday story, in theaters November 2, is not a dance film, it does include mega-stars Misty Copeland and Sergei Polunin as the Ballerina Princess and Nutcracker Prince.

Keep reading...
Show less
Screenshot via YouTube
Ukrainian ballet dancer Sergei Polunin doesn't appear to have completely shed his bad-boy skin. A new video from Rankin Hunger Magazine, "Sergei x Rankin," shows us what happens when Polunin is given total freedom to explore his tendency for raw, emotional movement. Paired with British photographer Rankin, the duo creates a captivating video that explores our primal need for unrestrained expression set to an alternative rock soundtrack by Husky Loops.
Keep reading...
Show less
Misty Copeland in the trailer for The Nutcracker and the Four Realms (via YouTube)
When we first heard about Disney's live-action film The Nutcracker and the Four Realms, we honestly weren't sure what to expect. Would it bear any resemblance to the ballet story we know alllllllll too well? Would it be light and fun, or dark and dramatic? Most importantly, would it involve dancing?
Well, the first trailer for Disney's Nutcracker has arrived, and it appears that the answers to those questions are 1) barely, 2) the latter, and 3) YES—more specifically, dancing by the one and only Misty Copeland. 🙌 🙌 🙌
Keep reading...
Show less
It is, to put it verrrry mildly, a great time for dance-y movies. We already knew we had Ballerina and The Nutcracker and the Four Realms and La La Land and Sia's Sister and the special screening of Newsies to look forward to. And now—kind of out of left field!—comes the announcement that a) there's a Russian ballet thriller named Red Sparrow in production, and b) it stars not only your best friend Jennifer Lawrence, but also your beautiful ballet boyfriend Sergei Polunin.
Let's take a minute to break that down: Sergei Polunin, the former Royal Ballet principal whose performance in that Hozier video earned him the true love of 16,885,063 (and counting) hearts, is going to be in a ballet movie. A ballet SPY movie. A ballet spy movie ALSO STARRING JENNIFER LAWRENCE.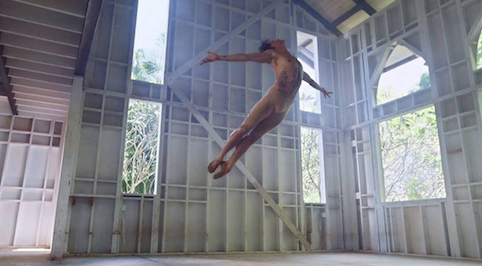 This screenshot from "Take Me to Church" perfectly encapsulates our feelings about that news.
Do we know a whole lot more about Red Sparrow? Not really. Apparently it's set in modern-day Russia, and involves a young dancer (presumably J. Law) recruited against her will to operate against a CIA officer (presumably Joel Edgerton, the other big Hollywood name involved in the project). And, at some point, we will see Polunin. Hopefully Polunin dancing. Hopefully Polunin dancing with Lawrence.
Of course, this isn't Polunin's first big-screen exposure. The documentary Dancer, following his extraordinary rise-and-fall-and-rise-again career, came out earlier this year. And it sounds like he's also scored a role in another starry Hollywood project, the upcoming Murder on the Orient Express.
If Polunin's even a tenth as talented an actor as he is a dancer, this is going to be major. Need a new happy mantra to chant when you're feeling stressed? Try "Oscar winner Sergei Polunin." Should do the trick!
There are few things ballet nerds love more than discovering that two of their favorite dancers are a real-life couple. (Gillian and Ethan! Tiler and Robbie! Johan and Alina!) Ballet relationships can seem like destiny. When acting out beautiful love stories together is part of the job description, it just feels right when that chemistry colors dancers' offstage lives, too.
Late last week, we got official confirmation of a romance rumor that's been making the rounds for a bit now: Natalia Osipova and Sergei Polunin, two of the world's most incredible ballet dancers, are an item. And they'll be dancing a fascinating contemporary program together at London's Sadler's Wells next year. Eee!!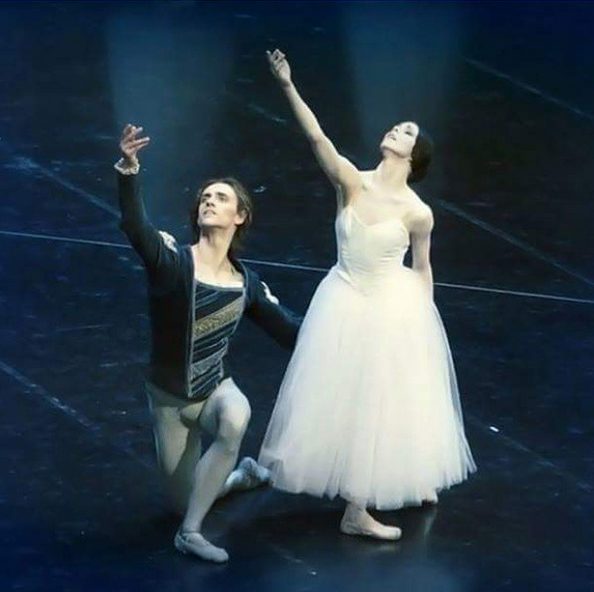 Osipova and Polunin in Giselle (via @sergeipolunin_)
Osipova (currently a principal with the Royal Ballet and a guest star with American Ballet Theatre) and Polunin (whom you know from that amazing Hozier video) are dance-world rebels. Osipova made waves when she left Russia's famous Bolshoi Ballet back in 2011; Polunin was dubbed the "bad boy of ballet" when he abruptly quit the Royal Ballet the following year. They're both sparkplugs—and sparks were flying between them when they danced Giselle in Milan earlier this year.
Never one to shy from controversy, Polunin has complained that it's been difficult for the two of them to perform classical works together since they became a couple, suggesting that ballet directors have been trying to keep them apart. But the Sadler's Wells program, while primarily a showcase for Osipova, will give the duo a chance to flex their contemporary muscles. It'll include a duet by Russell Maliphant, as well as a "dramatic theater" prequel to the famous Tennessee Williams play A Streetcar Named Desire, choreographed by Arthur Pita.
Ah, ballet romance! Here's to you, Natalia and Sergei: May your offstage chemistry lead to all kinds of onstage magic.
(By the way—Osipova's former fiancée, the equally amazing Russian star Ivan Vasiliev? Don't cry for him: He married Bolshoi ballerina Maria Vinogradova this summer.)
Few things make us happier than watching Sergei Polunin, that beautiful bad boy of ballet, dance shirtless.
Actually—what really makes us happy is when brilliant director David LaChapelle has Polunin dance shirtless for his camera:
Which is why we were immediately on board when we heard that Diesel's new campaign, "Make Love Not Walls," featured LaChapelle as director and, yes, a shirt-free Polunin as star.
But then we actually saw the spot, and WHOA. It is a whole lot more than an ode to Polunin's fabulous dance body. (Although there's certainly plenty of that.)
Showing Polunin as the leader of a diverse cast of dancers and models, the campaign is a celebration of inclusiveness—and a not-so-subtle dig at a certain president's fixation on wall-building. It's a powerful message, wrapped in some visually arresting packaging.
Watch the whole clip:
Obviously, dancers make natural muses for sculptors. (Just ask Degas or Rodin.) What artist wouldn't want to capture their singularly beautiful bodies—bodies that serve as instruments, bodies that speak? And when the sculpt-able dancer body in question belongs to Sergei Polunin—ballet bad boy, star of the upcoming film Red Sparrow, muse to David LaChapelle, *cough* your boyfriend *cough*—things get even more interesting.
British sculptor Frances Segelman, who's known for her busts of Queen Elizabeth and Prince Philip (nbd), recently live-sculpted Polunin in London. Yes, live-sculpted—as in, he sat for her, shirtless, for two hours, in front of an audience, while she modeled him in clay. (The sculpture will later be cast in bronze.) "I saw a photograph of him and I just thought he would make such a wonderful subject, the fact that he has these tattoos and it's unconventional," Segelman told Reuters. "It excited me."
Luckily for us, Reuters captured the event on tape. (The video also includes Polunin's thoughts on the state of his dance career and the dance world generally—thoughts that are, as ever in Sergei Polunin-land, very frank.)
Happy Friday, friends:
Get Dance Spirit in your inbox
If you're a devoted Jennifer Lawrence fan—and if you're not, really, we're not friends—you've probably noticed that J. Law has been in Budapest recently, filming her new ballet spy movie Red Sparrow. If you're also a devoted Isabella Boylston fan—and if you're not already, you need to be—you've probably noticed that the American Ballet Theatre principal has also been hanging out in Budapest for the past few days. And she posted an Insta shot of her partnering with ballet bad boy Sergei Polunin, one of Lawrence's Red Sparrow co-stars.
Sooooo what does that all mean? It means that, as IMDB confirms, Boylston is Lawrence's dance double for the film. Which is, obviously, FABULOUS news. With Polunin and Boylston on board, it's pretty much inevitable that Red Sparrow will include some spectacular dancing.
Here's another tantalizing tidbit: Last week, one Mr. Justin Peck posted some gorg shots of— yup—Budapest. Sure, it could just be a coincidence. But Sergei Polunin and Isabella Boylston doing Justin Peck choreo in a major motion picture? YES. YES PLEASE.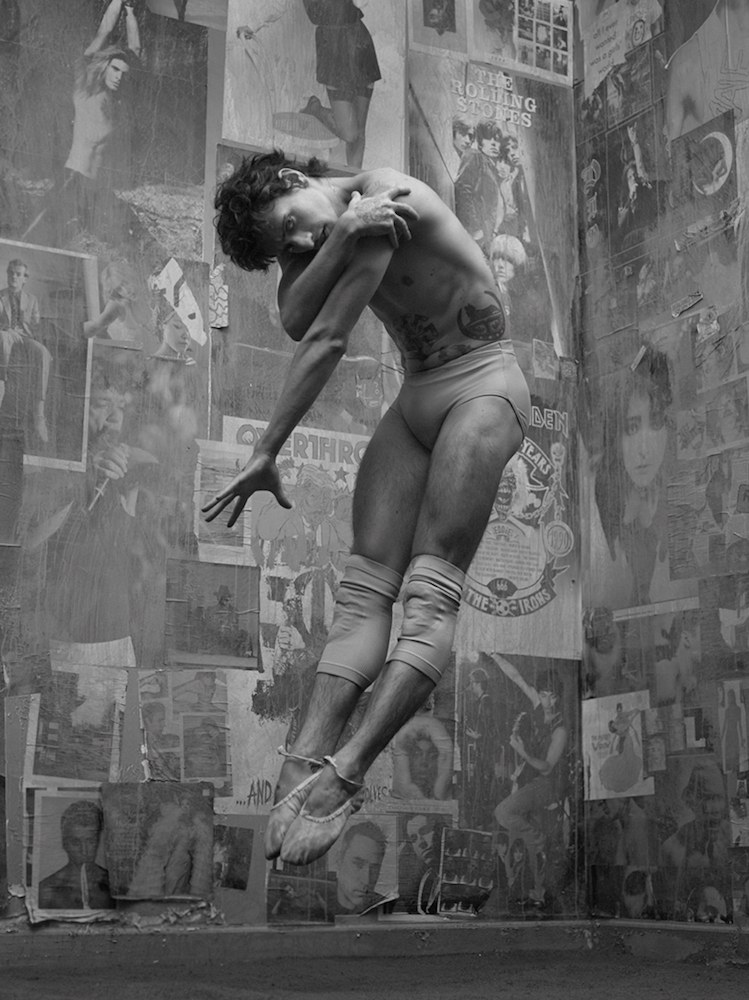 (Photo by Thomas Whiteside for Interview)
Sergei Polunin, AKA everyone's dream ballet boyfriend, is something of a rarity in the world of classical ballet—super outspoken, honest and always looking ahead to the next move, he made a name for himself as the "James Dean of the ballet world." It's always exciting to hear what Polunin has to say (and we'll be getting plenty of that from his upcoming film, Dancer!), and this conversation with Interview magazine doesn't disappoint. Complete with some stunning photos, Polunin gets real (as per usual) with his answers. Check out some favorite quotes below, and be sure to catch the whole interview here.
 

Interview's Emma Brown: Dancer goes through key events in your life, like moving to London to study ballet, quitting the Royal Ballet, moving to Russia. Do you have any regrets about any of those decisions?

Sergei Polunin: If you ask about regrets, I normally don't regret. I enjoy everything, even if it's bad or good. But I wish I could, instead of destroying things like that, I wish I could build, build, build. Maybe if I'd had the right advisors—mentors—I probably would have done it differently. But that's the way I act out, and that's the way I knew how to do it. I could only destroy to build. That was just my way. I wish I could have built without destroying things.

EB: Do you still dance everyday?

SP: I do. I have to. I wake up and I do class straight away, so that gives me a free day to do things. I do it by myself. I do it at home.

EB: Do you think you're still getting better?

SP: I do. Not many people understand that, but if you open yourself to listening—you don't even have to exercise—you get better with time. If you open yourself as an artist, as a human being to this experience of growing, you grow anyway. You don't have to be every day doing the same thing—practice, practice, practice—you can grow. I feel like I'm getting stronger and stronger, and I don't practice as much as I used to.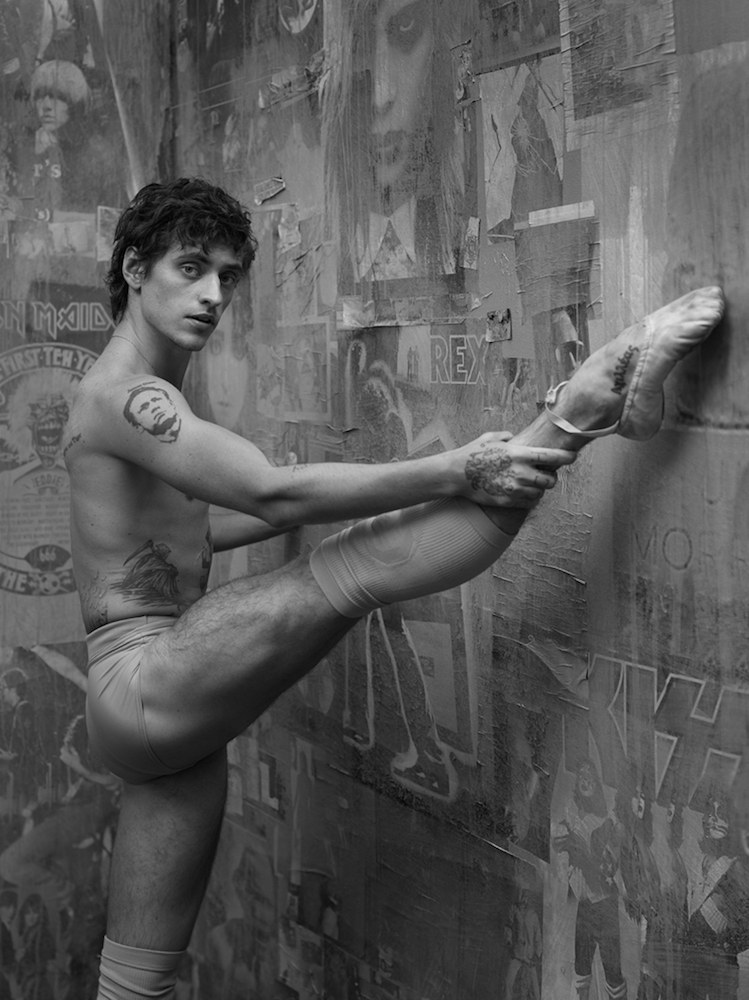 Oh, hello. (Photo by Thomas Whiteside for Interview)
There are few better ways to celebrate Friday than with a gorgeous, phenomenally talented ballet dude. Which is why the new trailer for Dancer—the upcoming documentary about Sergei Polunin, "the James Dean of the ballet world"—is just what you need today.
You know Sergei Polunin. He's the one who had an insanely rapid rise to fame at The Royal Ballet, where he was named the company's youngest-ever principal in 2010. He's the one who then quit the company at 21, in a fit of what seemed like self-destruction, becoming one of ballet's bad-boy rebels. He's the one who starred in that hauntingly beautiful Hozier video that exploded the internet last year. And he's the one who is now, tentatively, returning to ballet—with the support of his new girlfriend, ballerina extraordinaire Natalia Osipova.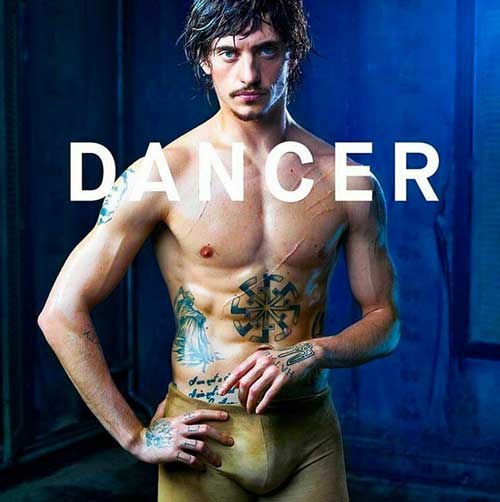 Did we mention that he's really pretty? (via @sergeipolunin_)
Polunin is a natural documentary subject; there's a already a heck of a lot of story in his life. That makes us especially eager to see Dancer, which is produced by West End Films and directed by Oscar-nominated Steven Cantor. The film is currently slated for release sometime this summer. In the meantime, please enjoy the trailer, which has sweet (and impressive) footage of Polunin as a very young dancer, as well as some fantastic footage of his more recent performances.
Happy Friday, friends:
You probably know Sergei Polunin as the "bad boy of ballet," the guy who made the dance world raise its collective eyebrows when he peaced out of his cushy principal contract with The Royal Ballet. No? Well, you definitely know him as the gorgeous man from the Hozier video that broke the internet a few months ago.
Polunin is amazing—and fascinating. What motivates an artist who reached the highest level of the traditional ballet world, only to abandon it? Where does his restlessness come from? Where does he see himself going? He's mysterious, and that mystery captivated film producer Gabrielle Tana when she met Polunin back in 2012.
Tana, who knows a good story when she sees it (she got an Oscar nom for her work on Philomena), decided to produce a documentary about Polunin's extraordinary life. The result, Dancer, follows Polunin as he hopscotches across the U.S., Britain, Russia and his native Ukraine. And it includes clips by David LaChapelle, who also masterminded that Hozier video.
We dance fans owe this movie a lot: It was basically the defibrillator that restarted Polunin's dance career. Apparently, that Hozier video was to be his farewell to all things ballet. But "thanks to the influence of Gabby and David," he told Variety, "I realized that I loved dance. They are so cool and influential, and they love dance, so I was like: 'It might be something I should come back to.' " (The whole Variety story is definitely worth a read.)
Dancer is about to get shopped around at the Toronto Film Festival; hopefully somebody will pick it up for distribution. In the meantime, take a look at this clip, which shows Polunin flying onstage as Spartacus—and, later, sweaty and exhausted in his dressing room.
Oh man, do we ever miss Sergei Polunin. The baddest of ballet's bad boys, he's been on and off the dance radar for the past few years—ever since he caused something of a scandal by leaving his principal position at The Royal Ballet in 2012.
Look, we get it; sometimes you just need a while to sort your stuff out. But we need more of Polunin's amazing dancing in our lives. Which is why we were so excited to hear that David LaChapelle—the artistic mastermind behind projects like krumping documentary RIZE—had made a new video starring Sergei the Great. And we were even more excited when we heard it was set to Hozier's powerful "Take Me to Church."
The result is, unsurprisingly, THE BEST. Polunin is technically brilliant (and shirtless—never a bad thing!); the setting, a light-filled church stripped down to the studs, is breathtaking. It's a hypnotizing four minutes of dance and film perfection. And to that we say: Amen.
The only thing that could make this better is if Annie Lennox were singing it, amirite?
Aug. 06, 2013 10:56AM EST
You guys already know how much we love Lil Buck. (Our friends at Dance Magazine love him so much they put him on their August cover.) And one of the reasons the jookin' sensation is so awesome is that his super-smooth, super-musical style incorporates an incredible be-sneakered version of pointework. Nobody can match Lil Buck's moves.
Nobody, that is...except New York City Ballet principal Tiler Peck? In actual pointe shoes?
Yup. Last weekend at the Vail International Dance Festival, Peck and Lil Buck danced a duet that had the ballerina riffing on the jookin' star's style—and pretty much pulling it off. The result is crazy and silly and totally joyful. Team Puck FTW!
Here's some adorable (and impressive) footage from a rehearsal for the piece...
And here are clips of the finished product—coupled with, as a little bonus, video of Peck fouettéing her way through the Corsaire pas de deux with ballet bad boy Sergei Polunin. Enjoy!