Apr. 27, 2018 12:40PM EST
James Whiteside (photo by Nisian Hughes, courtesy Whiteside)
The world isn't always a welcoming place for LGBTQIA+ people. But for those figuring out their sexuality, dance can provide welcome opportunities for expression. We talked to five star dancers about their experiences coming out and growing up, and how dance helped them live their full truth.
Dancer to Dancer
Apr. 17, 2018 03:25PM EST
Photo by Lucas Chilczuk
Watch Kate Harpootlian discuss her dance idols and her transition from dancer to choreographer in an exclusive interview with Dance Spirit.
Dancer to Dancer
Apr. 11, 2018 12:16PM EST
Photo by Lucas Chilczuk
With several Shaping Sound tours and TV credits like "So You Think You Can Dance," "Dancing with the Stars," and "Boardwalk Empire" to her name, you wouldn't expect Kate Harpootlian to be refreshingly down-to-earth. But that's exactly how she is: As soon as you start talking to the gifted dancer and choreographer, it becomes clear that she doesn't take herself too seriously. And she's happy to tell hilarious stories to prove it. (Ask her about the time she did a Mr. Peanut impression when Mia Michaels asked her to improvise, or the time she starred in a Japanese makeup commercial and had to do grand pliés wearing one pointe shoe and one flat shoe.)
That mixture of humor and grace is evident in Harpootlian's growing body of choreographic work. Her one-act show Better Late Than Never, for example, which premiered last summer, has a jazzy, West Side Story vibe, offsetting heavier moments with touches of whimsy. "There's always a balance in my work," Harpootlian says. "I want to use humor to balance out the darker aspects. It's like one of my friends once said: 'You make me laugh, and then you make me feel bad for laughing.' "
Cover Story
Jan. 11, 2018 07:00AM EST
Gaby Diaz showing off her diverse dance skills (photos by Lucas Chilczuk)
"So You Think You Can Dance" Season 12 winner (and Season 14 All Star winner!) Gaby Diaz is a dance powerhouse. She can perform at a crazy-high level in seemingly any style, from tap to jazz to contemporary to hip hop. Want to improve your own dance versatility? Diaz took a break from Shaping Sound rehearsals to give us her top 10 tips for doing so.
Dancer to Dancer
Nov. 28, 2017 09:20AM EST
Via @chantelaguirre on Instagram
Chantel Aguirre is a member of Shaping Sound, a newlywed, and a former Dance Spirit cover girl. And if you happen to follow her on Instagram (which you obviously do, right?), you know that the ballerina-turned-contemporary-dancer seems to permanently rock the dreamy, ethereal glow of a well-rested goddess. How does she take care of herself, even while touring the country in Shaping Sound's newest show, After the Curtain? "My overall goal every day is finding balance," Aguirre says. "I try to fuel myself with all things pure—in foods, in the people I surround myself with, and in my overall mindset." Here are 11 more ways Aguirre keeps her mind and body at peace on the road.
Dancer to Dancer
Aug. 10, 2017 10:05AM EST
Well, OK: It's not an audition per se. But Jesse Tyler Ferguson—"Modern Family" star, frequent "So You Think You Can Dance" guest judge, and #1 member of the Travis Wall Fan Club (we're #2, for the record)—just made a video in which he shows off his best dance moves in a Shaping Sound t-shirt. Is it exactly as hilarious as you think it'll be? Yes. Is his dancing also surprisingly impressive? Um, yes!
GET IT, JTF:
Dance Videos
Mar. 23, 2017 02:09PM EST
So, Shaping Sound rounded out its 2015-2016 tour Monday night with one last stop in NYC. And we're already majorly bummed it's over. (Pleaseeee can we get another reality show or something in the works Hollywood?!)
Per usual, the show was INSANELY awesome. And although the plot and choreo was essentially the same as their last tour, it was certainly no less incredible seeing it again. The company's main men (Travis Wall, Nick Lazzarini, Teddy Forance and Kyle Robinson for those of you living under a rock) always promise jaw-dropping choreography, super raw emotion and almost physically impossible stunts—and they delivered.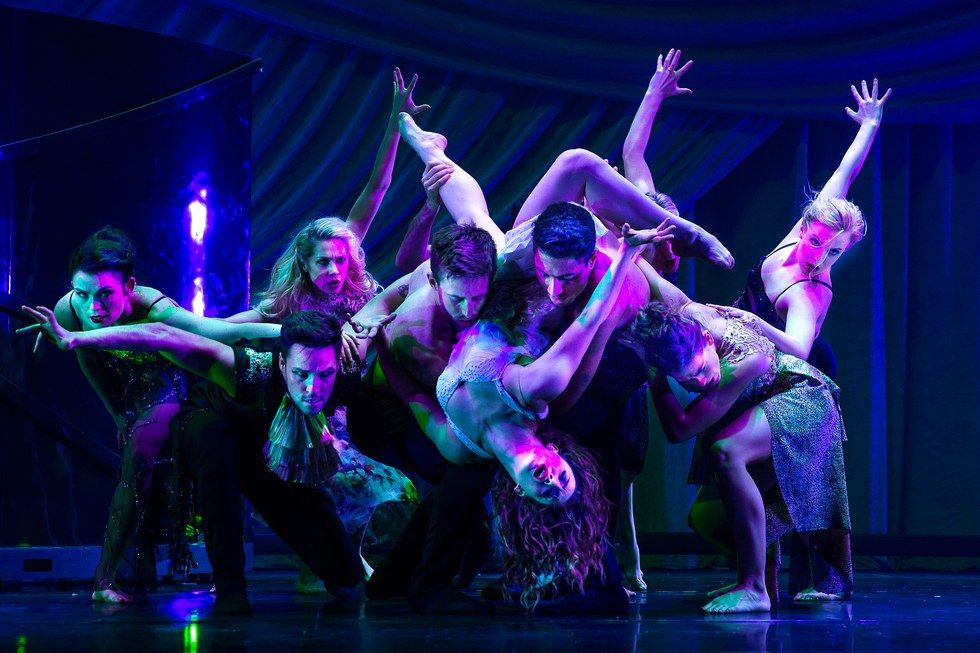 (via Shaping Sound)
A few updates this year included new cast member "So You Think You Can Dance" alum and former cover star Ricky Ubeda, which we were not mad about at all. Ricky gave us one of our favorite moments of the whole show: a gorgeous, loving and emotional duet with Travis. Seriously, it was powerful and got the biggest applause of the night by far.
Another update had Mallauri Esquibel (another SYTYCD alum and former cover star) dancing the leading role usually played by Jaimie Goodwin. We have to say, she killed it. She was vulnerable, sultry, strong and #flawless in every single number.
And we loved seeing the rest of the cast (Chantel Aguirre! Channing Cooke! Kate Harpootlian! to name a few...) back in action, too. And clearly, so did the audience as the whole cast received a roaring standing ovation at the end of the night.
The coolest part? Watching the all the dancers have #allthefeels during the last number and bows as they came to terms with closing the curtain on their last show and a super successful tour. You could totally see how much they all love to dance, and more importantly, how much they all love to dance with each other. Awww.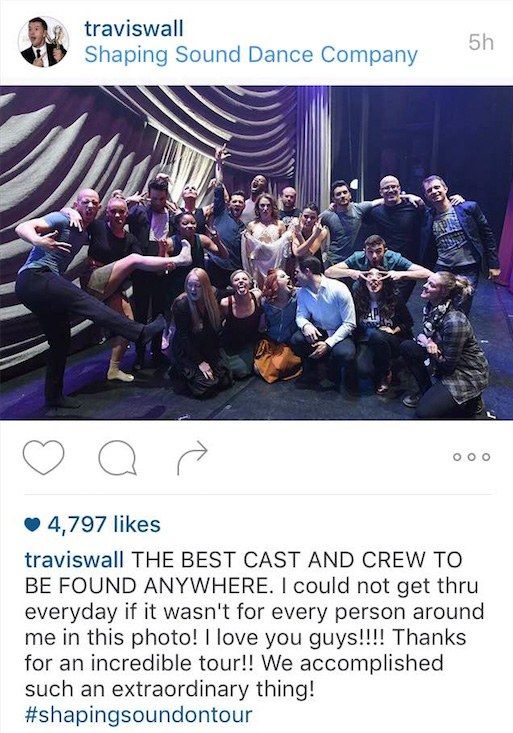 (via @traviswall)
And shoutout to the famous audience members we fan-girled out over. Oh heyyyyyy Robbie Fairchild and Tiler Peck, aka the cutest couple of all time, who just happened to be sitting a few rows over from us. Casual.
Dance News
Mar. 23, 2017 01:15PM EST
Shaping Sound Dance Company first debuted its full-length production That's Where I'll Be Waiting in 2013. Two years later, the contemporary show—with explosive energy from co-choreographers Travis Wall, Nick Lazzarini, Teddy Forance and Kyle Robinson, and dancers like Jaimie Goodwin, Chantel Aguirre and Amy Yakima—is still going strong, earning nightly standing ovations. What's it like touring with one of the most popular dance productions around? Dance Spirit asked longtime company member Kate Harpootlian (whom you'll recognize from "So You Think You Can Dance" Season 12 Team Stage!) to keep a diary for a week on Shaping Sound's 2014–15 tour. —Jenny Ouellette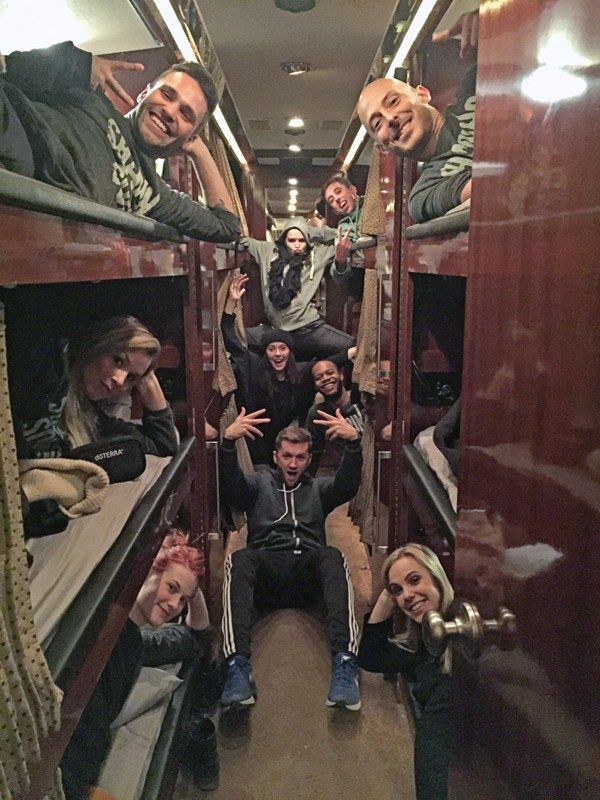 Kate Harpootlian (lower left) on the tour bus with Shaping Sound Dance Company (photo courtesy Harpootlian)
January 23: Last Rehearsal in L.A.
I was really excited to get back into rehearsals for the second half of Shaping Sound's second tour. Once in L.A., we had four days to regroup, which is usually pretty fun. I've known most of the dancers since I was teenager, so getting together is like a big family reunion.
This time, though, the week got serious after our company's morning ballet class. One of the show's dancers, Matthew Peacock, found out he'd been booked as the assistant choreographer for Madonna's Grammy performance. It's an amazing opportunity for Matthew, but it means one of our understudies, Rory Freeman, will now be taking over his part. Our limited four-day rehearsal period—which we've had to do without props, since they're in Texas already—has been pretty hectic. Rory is a rock star, though, and our last run-through went smoothly.
January 27: Tech in Fort Worth, TX
Today we flew from L.A. to Fort Worth—and we didn't waste much time before going to the theater for tech. Once we were onstage, with the lights, costumes and props (!), it really sank in that tour was starting. Our set features walls that we climb up and fall off. We move them around ourselves during the show, and remembering to lock or unlock the walls while we're performing isn't easy. So a thorough tech is absolutely necessary.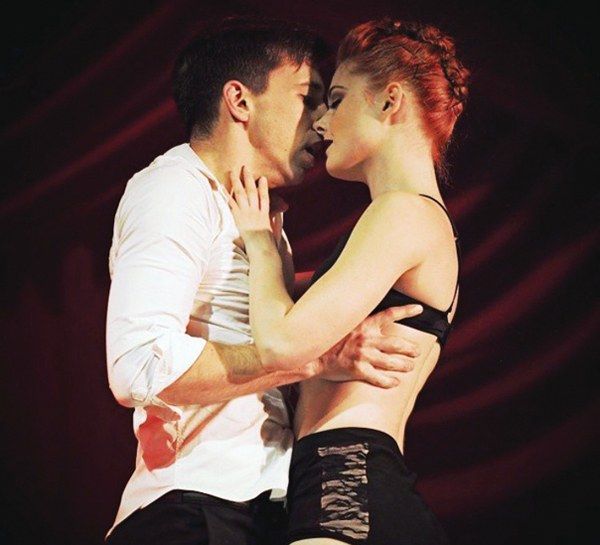 With fellow Shaping Sound dancer Ben Susak (courtesy Harpootlian)
January 28: Opening Night in Fort Worth
Tonight's performance was electric. My favorite part of the show is the duet I perform with Ben Susak in the "Wild Is the Wind" section. We have a great connection and we both really get into character. We also tend to change little things up each show, which keeps the piece fresh for us, even though we've danced it so many times. After each performance, we always do a meet-and-greet in the lobby. I love getting to speak with fans, but tonight was especially magical: My dad was there to give me a big hug!
January 29: Tulsa, OK
The grueling tour schedule has begun! We checked in to our Tulsa hotel around 4:30 am, disoriented and exhausted after our overnight drive. Believe it or not, though, it felt great to be back on the tour bus! Sometimes we're driving for up to 12 hours at a time, and, for that reason, the bus has become one of our favorite places to hang out. We usually eat dinner and watch our most recent performance while we wait for the crew to load out—and we also love playing Catch Phrase. Our competitive group gets pretty rowdy!
Luckily, we were able to go back to sleep once we arrived at the hotel, and I felt pretty good when I woke up around 10 am. I grabbed a couple of dancers for breakfast and hit the hotel gym with Channing Cooke.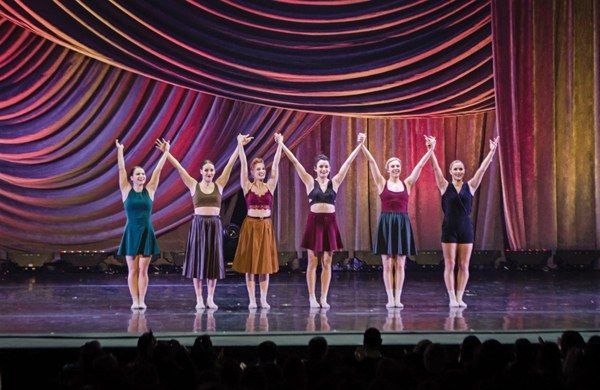 Harpootlian (third from left) during a Shaping Sound curtain call (photo courtesy Shaping Sound)
We had a 4:30 pm call time, but first we had to load all our stuff back on the bus since we'll be leaving right after the show. Three hours before every show (our call), the company meets for notes, info about our next tour stop and to get our lighting and spacing cues. An hour and 15 minutes before curtain, we take a company ballet class. Then I put my costume on, and five minutes before curtain, we regroup onstage for our company's pre-show ritual: After some words of encouragement, we take a few deep breaths. Our last exhale—a long "ahhh" sound—turns into a yell. Then we do a shake-off counting down from 8, and when we get to 1, someone shouts out "Shaping Sound" and we do a loud group clap. We like to think the better the clap is, the better the performance will be. It must have worked tonight!
February 1–2: Skokie, IL
After a four-show run in Kansas City, MO, and Minneapolis, MN, we finally have a couple days off. Some of the company stayed in Minneapolis, but the rest of us arrived to a full-on blizzard here in Skokie. It gave us a good reason to stay inside and rest.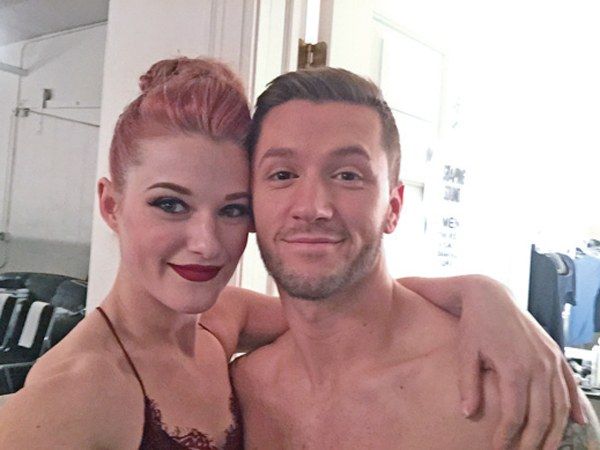 Harpootlian with Travis Wall (photo courtesy Harpootlian)
Monday in Skokie was bright and sunny, so I went into Chicago to take ballet class at the Lou Conte Dance Studio—home of Hubbard Street Dance Chicago. Then I headed to the hotel to take a quick rest before teaching a master class with Ben and Channing. I guess it wasn't much of a day off, but I love teaching. Plus, I got to reward myself afterwards by exploring Chicago one of my favorite ways—through my stomach! A lovely dinner with Travis and Nick was the perfect way to end this first week.
Shaping Sound's 2015–16 tour kicks off this month in Escondido, CA, and runs through February. Visit shapingsoundco.com/tour for details.
Mar. 23, 2017 10:14AM EST
To quote my grandma: Goodness gracious, the members of Shaping Sound are busy busy bees! It feels like we just saw the company give an amazing performance in NYC as part of a super-intense tour—and now it's about to begin yet another tour cycle.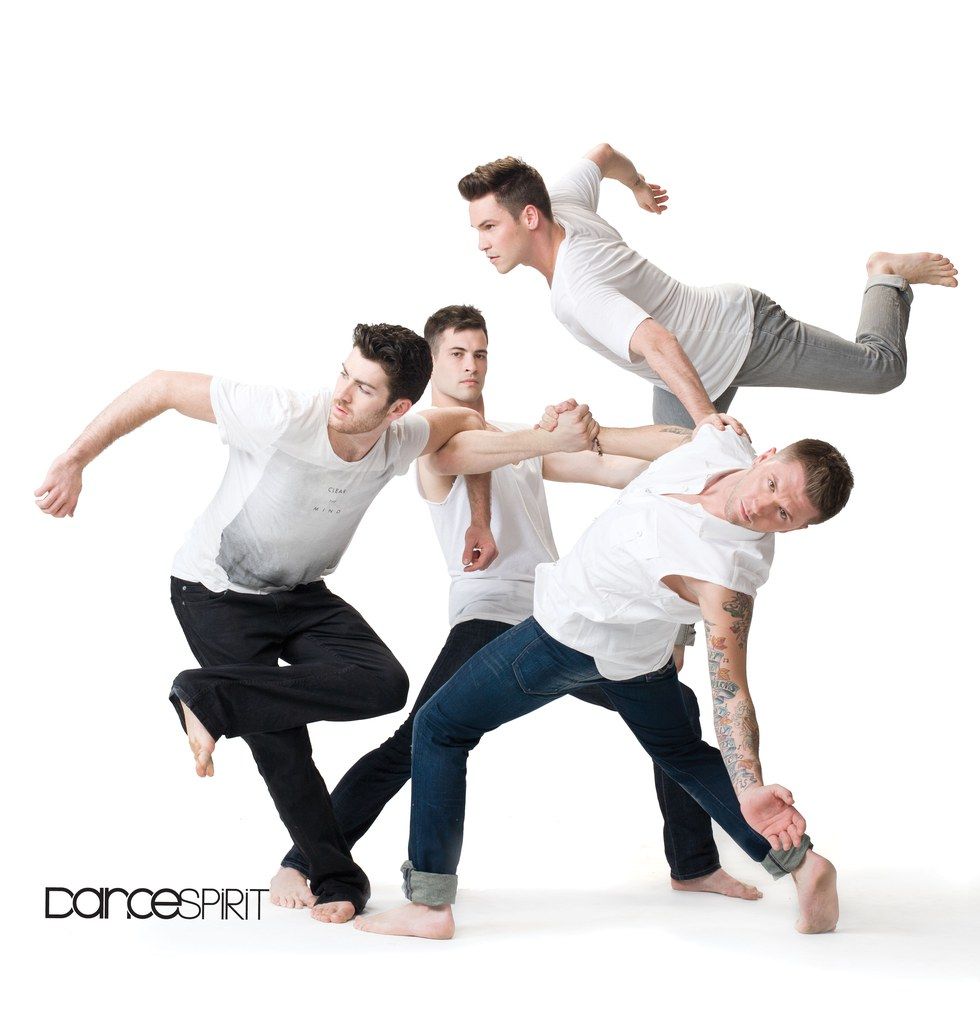 Shaping Sound's (from left) Teddy Forance, Kyle Robinson, Nick Lazzarini and Travis Wall (photo by Joe Toreno for Dance Spirit)
What can we expect from this latest round of Shaping Sound? Well, as co-founder Travis Wall told us a few weeks back, the production will have "the same outline as our first...but it will be an overall cleaner and better show," with two new numbers and a lot of small-but-important improvements. Obviously, TWall will be performing, as will fellow co-founders Nick Lazzarini, Teddy Forance and Kyle Robinson. A lot of our other favorite SS dancers are also back, including Jaimie Goodwin, Chantel Aguirre, Chelsea Thedinga and Channing Cooke. And there are some exciting new additions to the company, too—notably "So You Think You Can Dance" Season 10 champ Amy Yakima (YAY!).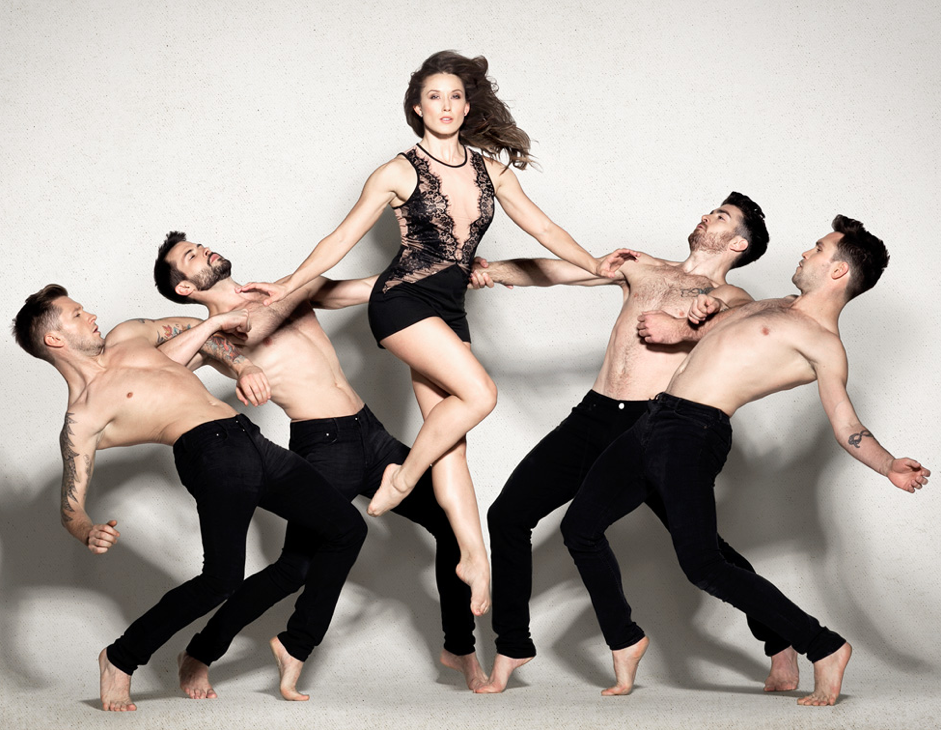 Um, how stunning does Jaimie Goodwin look in the company's latest campaign image? (via shapingsoundco.com)
The tour will hit 20 cities across the U.S. between October 11 and February 15. Is your city one of them? Click here to find out—then take a look at the high-drama preview video:
Dance News
Mar. 23, 2017 05:26AM EST
"The swaggiest thing I have is like, kick-ball-change. It's a really good kick-ball-change."
—Nick Lazzarini, Voice of Reason, "All the Right Moves"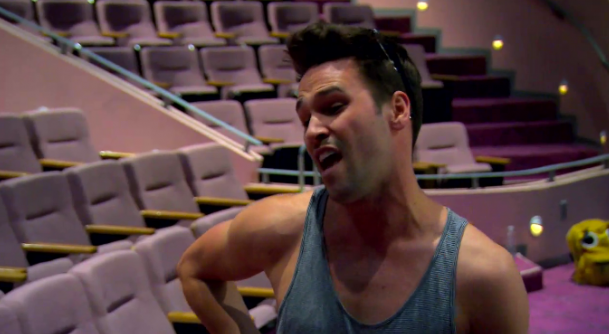 Last night's episode of "All the Right Moves" was mostly hilarious (Nick compares riding a bike with "Toddlers & Tiaras") with a tiny touch of boy drama (don't kiss your best friend's girl, people) and, naturally, an explosive blow from Taja, who threatened to leave the company. There wasn't enough dancing for my liking, but there was still plenty of action, so let's talk about that, OK?
The 10 Lessons We Learned From "All the Right Moves" Episode 3: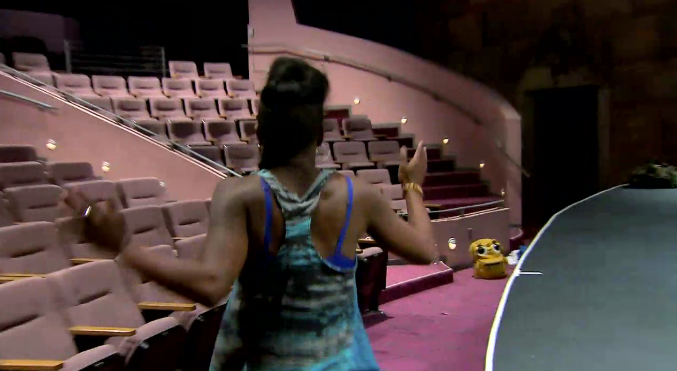 1. The backpacks on this show continue to be amazing. I realize that during the first scene I was supposed to be focused on the blowout between Travis and Taja and the whole "this needs to squash" drama. But really, all I could think was that last week, Travis rocked a black sequined backpack (which appeared again this week before he did his solo), and this week Taja made her exit wearing a yellow fur backpack thing. I would like to pitch a spin-off to Oxygen called "Backpack Shopping with Shaping Sound." I will gladly let Travis and Taja hook me up.
Oh yeah, and Taja quits the company. She says her work ethic is "misunderstood," and this makes Travis sad because he feels like he and Taja have such a long-standing relationship and she would never do this to him. Luckily the other female dancers in the company are pretty much awesome, so I think everyone will be OK.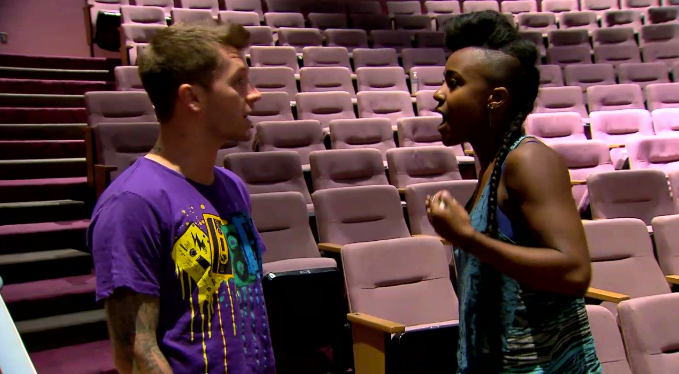 2. At some point, you have to make a decision: Are we best friends or are we professionals? Obviously leading a company of your peers is going to be challenging, and this came to a head in last night's episode with the Taja/Travis stuff. I think Travis could have come down on Taja a bit harder, honestly, which I know is tough. But by saying, "Enough is enough, shape up or you're out," he would have maintained the upper hand instead of letting her be the one to leave.
Travis made a great point later when he was talking with Jaimie, and it's a point I wish he had made directly to Taja: "You would have never done that with Brian Friedman. You would have never done that on 'X Factor.' " It's so true. Look, I like Taja, I really do, and I get where she's coming from sometimes. But she does act differently around Travis than she does around Nicole Scherzinger, I'm sure, and that's not fair.
Also, Taja's hair bouf gets bigger every week.
3. Jaimie and I have the same bunny onesie. I got it for Christmas. It's really snuggly and wonderful. It's no sequined backpack, but it's still pretty cool.
4. Travis doesn't want to be a dancer. "It may be hard for people to believe, but I don't like dancing as much as I like choreographing," he said last night. I like that he's evolved, and that he's done it consciously and at his own will. It wasn't like he stopped growing as a dancer or got injured or dried up. Travis was always a really good performer. But he realized it wasn't what he wanted to do, and so he took action to transition into choreography, and ultimately he wants to be a director. I give him a lot of credit there.
"My life as a dancer, to me, means nothing," Travis said. It's kind of a bummer because he's really talented and he can do something like 4,200 pirouettes, but hey, if he's not digging all that spinning, why do it? Power to you, Trav, for doing what you want and not just doing what you're already good at.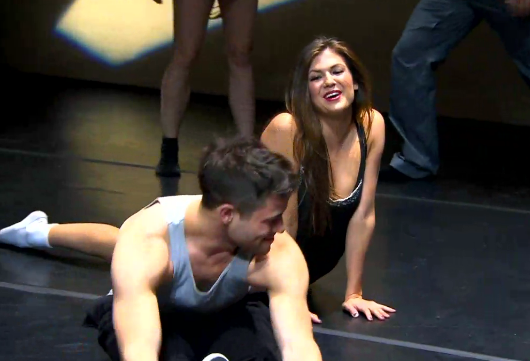 5. Kyle and Noelle together should be illegal. It's just too much good-looking-ness happening.
6. Chantel Aguirre is my favorite female dancer right now. She doesn't even have to dance. I just think she's so stunning.
7. The whole "Teddy kissed Kyle's girlfriend" thing from the episode previews was just slightly blown out of proportion, don't you think? First of all, it didn't really seem clear to me that Noelle and Kyle were actually dating. Were they? Did I miss that? I don't know. So yeah it's a bit shady that Teddy and Noelle kissed (where were the Oxygen camera crews for that one?), and Teddy says it was all "intense," but the bro code didn't seem quite as broken as the previews indicated.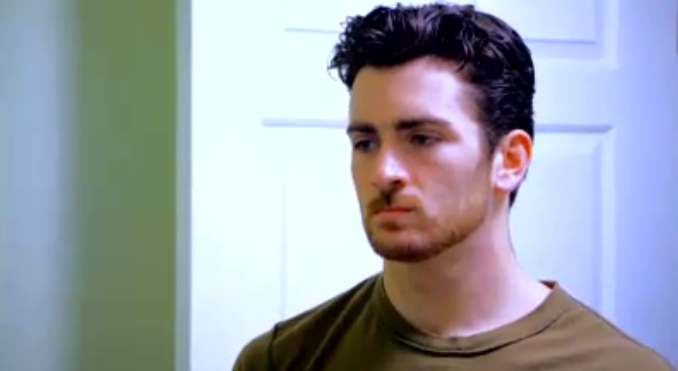 What have we learned from all this, dancers? Don't drink tequila. It's evil and it ruins lives and friendships.
Also, in the "morning after everyone got drunk and kissed the wrong people" scene, Teddy's Gatorade matches his bright-green shirt. I realize this has little relevancy, but it's something I noticed and appreciated.
8. Nick taking hip hop is the best ever. He walks into Bryan Tanaka's class with a sideways hat and a greeting of "What up, gangsters?" Nick claims he's terrible at hip hop. "I'm stressed out about this!" he exclaims. He says he doesn't like doing hip hop because he's not good at it. I get that—but I thought he looked pretty good! Granted, he was dancing next to Teddy, who crushed the choreography effortlessly, but Nick held his own. Still, Nick doesn't want Shaping Sound to do hip hop in its show, and then he drops a "You go, Glen Coco." Just...yes. Yes, Nick.
Then, Nick and Travis have a heart-to-heart back at the house, which is great. Nick recounts his day of hip hopping, dropping great lines like "Not to mention, Teddy was like DJ Swagaroo." He tells Travis that when he's not good at something, it stresses him out. And that brings us to knee pads...
9. Travis teaches Nick how to ride a bike, but it's about so much more than that. This was, hands down, the most excellent part of the episode. To summarize: Nick agrees to learn to ride a bike (which he refers to as "a machine") if, in turn, Travis will overcome his fear of performing a solo. Travis is practically giddy about getting Nick into knee pads, elbow pads and a helmet and it's so ridiculous to watch.
Nick in a helmet is cute enough, but Travis wanting to teach him to help him "overcome his control issues" is even more precious. Then Nick slams his head into the ground to make sure his helmet works. Now, we all realize this scene wasn't just about learning to ride a bike, right? There's deeper contextual meaning here as Nick "takes one for the team, bites the bullet and tries not to break his face" on the bike. This was about Nick pedaling around ("pushing like a mom from 'Toddlers & Tiaras' ") and overcoming his own fears so Travis could take that energy onstage with him to perform a solo. That's friendship, man. Bromance—brodance—at its best.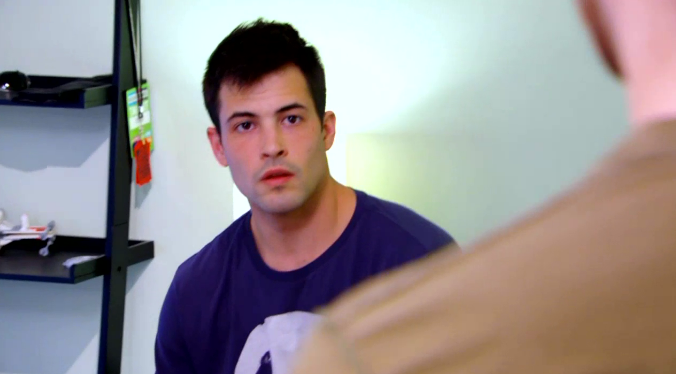 10. Kyle is angry. Luckily, anger looks good on him. Everything looks good on him. Teddy confesses that he and Noelle kissed, and Kyle seems a little "kicked while I'm down." He tells Teddy he's "been lost the past couple weeks" and ultimately snaps that he's "over L.A. and over Shaping Sound." But considering he's in the previews for next week's episode, I don't think he's going too far. And I predict he forgives Teddy, because they are besties.
Next week: tWitch is back! Plus, the boys plan to go to NUVO to perform a Shaping Sound piece, but then everyone bails and it is scandalous. 
Until then, tell us what you thought of this week's episode!
Dance News
Get Dance Spirit in your inbox
Mar. 23, 2017 05:17AM EST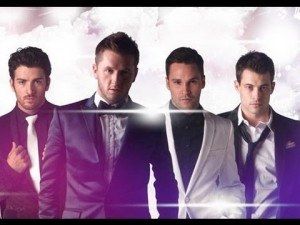 Today's the day! "All the Right Moves" premieres tonight at 9/8c on Oxygen. Get the popcorn ready and set your DVRs, people, because you're going to love this show. I mean, come on: a docu-series starring Travis Wall, Teddy Forance, Nick Lazzarini and Kyle Robinson, along with the other super-hot members of contemporary company Shaping Sound? What's not to love?
And if you're looking for a little pre-premiere reading/viewing to psych yourself up, we're here to help. Learn all about Shaping Sound in Alison Feller's May/June cover story. Check out these kind of hilarious highlights from a conference call with Travis, Teddy, Nick and Kyle. Get a sneak peek at clips from the show on the "ATRM" website. And watch the fab foursome banter on Pix 11 News below. Enjoy!
Mar. 23, 2017 05:15AM EST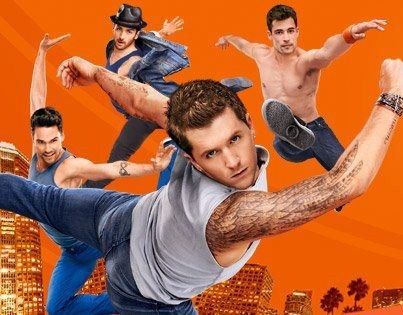 T-minus two weeks until the premiere of "All the Right Moves" on Oxygen! Us DS editors were lucky enough to get our hands on a preview copy of the first episode of the dance reality show—starring Travis Wall, Nick Lazzarini, Teddy Forance, Kyle Robinson and the other members of Shaping Sound—and we can assure you that it's packed with all the amazing dancing (and drama) you're hoping for. (It also, by the way, features a cameo by Editor in Chief Alison Feller's arm, from the footage the show's crew shot at our photo shoot with Shaping Sound.)
Travis, Nick, Teddy and Kyle, who live together as well as dance together in L.A., did a conference call on Monday to discuss the show. They were, of course, their usual awesome, outspoken selves. Here are some of the highlights.
[When asked what they've learned about each other from living together:]
Nick: With Kyle, I learned that he's...very handy. I mean, the first week he moved into our house, he literally fixed everything that was wrong in it. It was incredible. It was like having Tim "The Toolman" Taylor in our house.
[On the dynamic of two straight guys living with two gay guys:]
Travis: We don't even think about it, because it's our life and it's been our lives. This is who we are and this is who we've always been. Our sexuality has never ever been a factor in our relationship.
Kyle: I mean, they know that I'm straight and they respect that. Do they crack jokes and everything? Yes, all the time. They're always like—you know, grabbing at me. But, you know, you fend them off and then you're like, "All right, come on."
Nick: Kyle, I've never grabbed you before.
Kyle: Oh no, never, Nick.
[Their advice for aspiring dancers:]
Teddy: Have your own voice. Give that style and that flavor—find your own creative juices. All of [Shaping Sound's] dancers can take the stage and be amazing.
Travis: Train, train, train. Take your ballet seriously. Do everything technically that you can do to make your body better....We also look for that something special. All the girls that dance in our company, especially—they sparkle. They're really cool girls, and that comes across in their dancing.
Kyle: And it helps if you can get the leg up.
Tune in for the first episode of "All the Right Moves" on July 31 at 9/8c!
Feb. 20, 2017 07:00AM EST
Unless you live under a rock, you've probably heard that Shaping Sound is coming back on tour with a brand new show this spring. (Remember that brilliant sneak peek on "Ellen"?!) Although the tour doesn't actually kick off for a few weeks, March 1 to be exact, the company has been sharing some lovely behind-the-scenes tidbits. And they're getting us VERY excited.
While no specific plot lines have emerged, the show seems to feature a '20s, Gatsby-esque vibe with lots of fringe-tastic costumes—which is all kinds of 👌—and lots and lots of exciting choreo, as per usual. Plus, it has a stellar cast, aka all our faves (Chantel Aguirre! Gaby Diaz! Kate Harpootlian!), including the original founding trio of heartthrobs: Travis Wall, Nick Lazzarini and Teddy Forance.
Check out the recently released official commercial below, plus a few of the other #bts gems cast members have been posting:
Dance News
Jan. 12, 2017 11:39AM EST
We love it when world-class dancers visit "Ellen"—which, given Ellen Degeneres' delightful dance obsession, happens just about every day. But a Shaping Sound "Ellen" performance? That's next-level stuff. Especially when it features a number from the company's new show, After the Curtain, and stars Travis Wall himself.
It happened this week, and it was exactly as good as you'd imagine. Set to Son Lux's "This Time," the number included an old-timey typewriter, a creepy light-up book, some very fabulous 1920s wigs and a whole lotta paper. Basically it was Chicago meets Newsies meets The Great Gatsby, as re-imagined by crazy-genius TWall.
Take a look!
Dance News
Nov. 22, 2016 03:31PM EST
Rob Daly, courtesy Teddy Forance
Whether he's onstage with Shaping Sound—the company he helped co-found with Travis Wall, Nick Lazzarini and Kyle Robinson—or performing with artists like P!nk, Janet Jackson, Lady Gaga or Usher, contemporary dancer Teddy Forance never delivers anything less than jaw-dropping performances. His technique is flawless and he leaves everything he has on the stage, every single time. The Easthampton, MA, native grew up dancing at the Hackworth School of Performing Arts, which was founded by his great-grandfather and has been owned by his family for more than 80 years. At 17, Forance toured Greece as a dancer with pop star Anna Vissi. He later assisted on Céline Dion's Taking Chances world tour and was a lead dancer in Cirque du Soleil's Delirium. He's performed on and choreographed for "So You Think You Can Dance" and "Dancing with the Stars," and starred in the Step Up Revolution film. Currently, he choreographs for Shaping Sound and is on faculty with JUMP Dance Convention.
Dancer to Dancer