May. 01, 2018 10:28AM EST
GET IT, ADAM. (Kelsey McNeal/ABC)
Excuse us for a sec—we're still recovering from extreme whiplash.
Approximately five minutes after we watched the 10 couples of "Dancing with the Stars: Athletes" perform for the first time, we were forced to say goodbye to two of those dynamic duos. During the premiere.
Such are the perils of this accelerated, 4-week season of "DWTS." But on the plus side, Olympic figure skaters make darn good ballroom dancers—on the sliding reality-TV scale, at least—and since no fewer than three of them took to the ballroom floor last night, we were treated to a highly entertaining show.
Dance News
Apr. 16, 2018 10:35AM EST
A-DAM RIP-PON [clap, clap, clap clap clap] (with his equally gorgeous partner Jenna Johnson; Craig Sjodin/ABC)
Team USA is totally taking over "Dancing with the Stars" this season! Casting for the upcoming athletes-only "DWTS" cycle, which kicks off April 30, was just announced. And the roster includes a whole bunch of Olympic favorites—including not one, not two, but three figure-skating standouts.
Dance News
Aug. 24, 2017 11:00AM EST
Oct. 25, 2016 11:58AM EST
If it wasn't already clear that a decades theme is never wrong, this week's "Dancing with the Stars" episode officially proved it. Eras Night was just so fun to watch (the costumes! the stories! the group dances!). The couples performed pieces based on various time periods—from the Roaring Twenties alllll the way to the 90s—and it was everything you'd hope a time-traveling "DWTS" ep would be. Let's take a look at the historical highlights:
Our fave of the night was the adorable and bubbly 1940s jitterbug from James Hinchcliffe and Sharna Burgess. Hinchcliffe has had a tendency to be a tad flat acting-wise throughout the season, but last night he wowed the crowd (and the judges) with his believable commitment to the dance's love story. (Those insane somersault lifts he pulled off didn't hurt either.) Also, major props to Burgess for pushing through an injury.
Next on our best-of-the-night list is Calvin Johnson Jr. and Lindsay Arnold's '50s-inspired jive. Long story short: When Len Goodman calls your dance a "polished, high-octane performance," you know you've done something right.
Our eternal faves Laurie Hernandez and Val Chmerkovskiy grooved their way to prom with a '60s-style quickstep, which was adorable, technically on point and super high-energy. Hernandez also sweetly admitted that this was her first prom because she's been home schooled. Aww.
Then there were those insanely awesome group dances. The dancers were split into Team Past and Team Future—and Team Past (Maureen McCormick, Artem Chigvintsev, Hinchcliffe, Burgess, Johnson, Arnold, Ryan Lochte and Cheryl Burke) ultimately stole the night with their haunting, soft and graceful Viennese waltz to the "Outlander" theme song.
Alas, someone had to be sent packing—and last night that was Maureen McCormick and Artem Chigvintsev. What do you think? Did the right pair go home? Let us know!
Dance News
Nov. 03, 2015 10:00AM EST
We're already eight weeks into "DWTS," and the competition never ceases to surprise us. Case in point: last night's emotionally-charged, immunity-granting, baby-gender revealing episode. Each star dedicated their dance to an important person or icon in their life. But when it came down to the judging, there was a twist! The highest scoring couple received immunity and three extra points toward their score during the next elimination, while the other six couples competed in three dance-offs voted on by the judges and viewers at home. The winning pair from each of those received two extra points to add to their score. Whew! That's a lot. On to the highlights!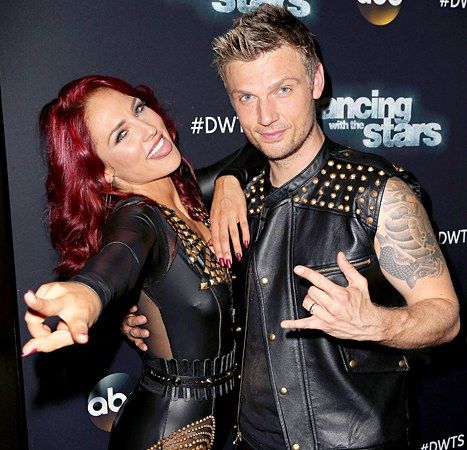 Sharna Burgess and Nick Carter upped the stakes last night. (Photo by David Livingston/Getty Images)
Nick Carter dedicated his dance to his wife, Lauren, who is 16 weeks pregnant with their first child. The emotional routine with pro Sharna Burgess brought out Carter's sensitive side—enough to bring judge Carrie Ann Iba to tears. They didn't stop there, though, because not only was the couple granted immunity thanks to their performance, but Carter found out during the show that he and his wife would be welcoming a baby boy!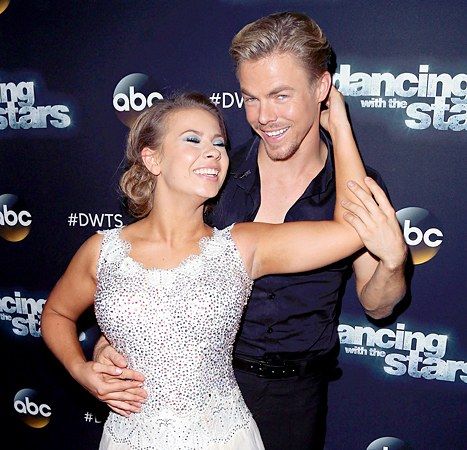 Keep smiling Bindi! (Photo by David Livingston/Getty Images)
America's falling in love with Bindi Irwin (it goes without saying our love for Derek Hough is #forever), and this week was no exception. She chose Grace Kelly as her icon, and turned in a wonderful performance—something we've come to expect from her each and every week. Julianne Hough commented a bit on her posture, but admitted that she was looking for literally anything to critique her on so that it would motivate her to keep being amazing and growing as a dancer.
Andy Grammar and pro partner, Allison Holker, won their dance-off and two extra points against Alek Skarlatos and Lindsay Arnold, but in the end, they won't do Grammar any good—he was eliminated last night, but exited in true "DWTS" fashion: with a handspring AND a worm. #Winning.
Dance News
Aug. 22, 2015 11:00AM EST
Pretty much the entire universe can agree that Mondays are #theworst. But Mondays starting September 14th? Nope, Mondays are gonna be the best. Why? Season 21 (!!!) of Dancing with the Stars! And to get you even more pumped than you already are, the list of returning "DWTS" pros was just announced—it's as good as it gets, people.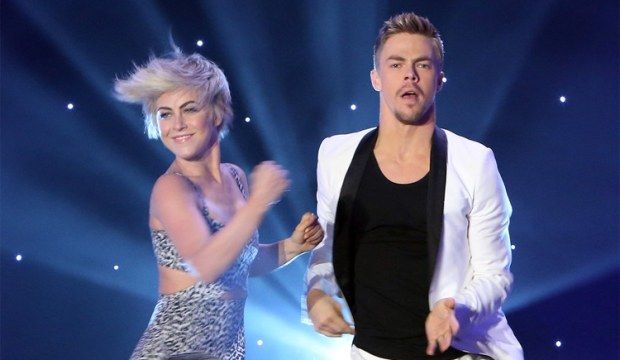 Derek's baaaaack (screenshot via EllenTV)
First of all, we've got Derek Hough, Karina Smirnoff, Witney Carson and Mark Ballas, all of whom have previously won the coveted Mirror Ball. Already, the stakes are HIGH. Throw defending champ Val Chmerkovskiy into the mix and things get even more interesting. To round out the insanely talented field, we've got Allison Holker, Sharna Burgess, Peta Murgatroyd and Artem Chigvinstsev. Omg.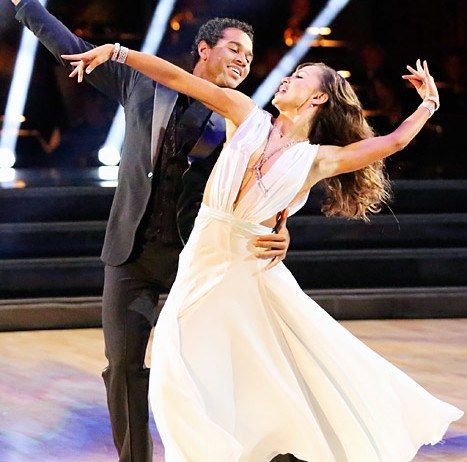 Dancing with the Stars pro Karina Smirnoff, with her Season 17 partner, Corbin Bleu, shows us how it's done (Photo ABC/Adam Taylor)
We'll anxiously be awaiting the announcement of the celebrity cast on September 2nd, but in the meantime, relive some of the more jaw-dropping moments of last season here.
Dance News
Feb. 24, 2015 11:41AM EST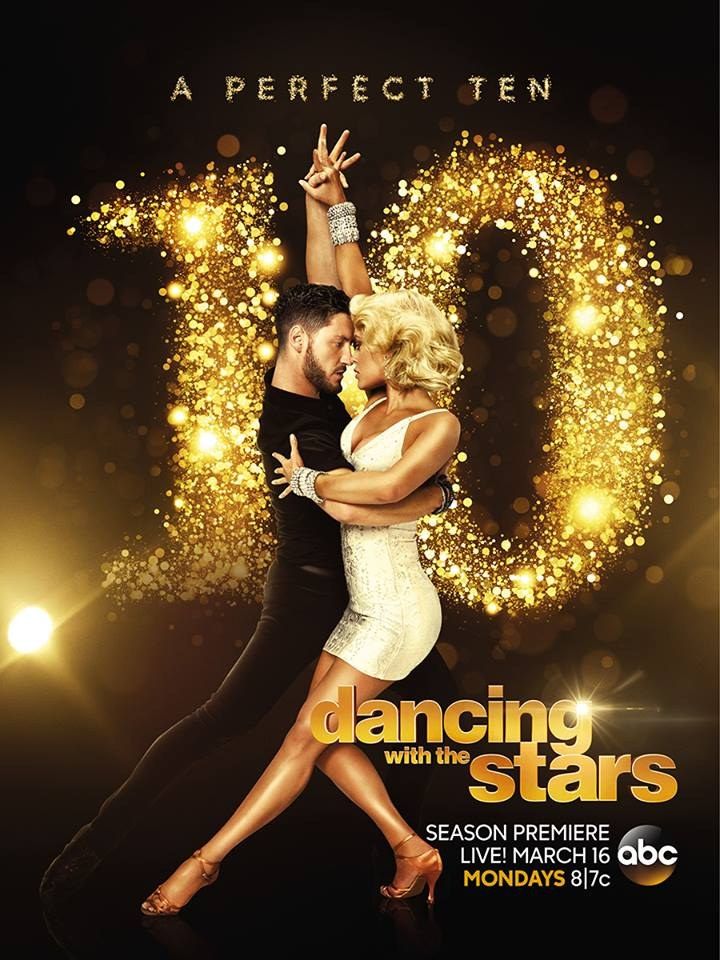 Just to be clear, the giant sparkly "10" is for "perfect 10," not Season 10. There have been TWICE that many seasons. Which is both awesome and insane.
Whoa whoa whoa: It's SEASON 20 of "Dancing with the Stars"? Can we talk about this? I was finally wrapping my head around the fact that "So You Think You Can Dance" is gearing up for its 12th (!) season—and then, BOOM, the press release for the Season 20 "DWTS" cast landed in my inbox. Time flies when you're having dance-y fun, apparently!
Anyway, yes: Everyone's favorite ballroom extravaganza is gearing up for another bedazzled run, and we now know (almost) all of the celebs and dancers who'll be competing. Highlights of the celebrity lineup include Olympian Nastia Liukin (whom I've always wanted to slap pointe shoes on—doesn't she look like she'd make a beautiful ballerina?), TV star Suzanne Somers, music legend Patti LaBelle, The Hunger Games' Willow Shields and actress Rumer Willis.
For us nerds, though, the pros are the true celebrities. So the happiest news of all is that many of our favorite superdancers will also be taking the floor this season—among them Derek Hough, Allison Holker, Mark Ballas and Sharna Burgess. Last season's champ, the fantabulous Witney Carson, will be returning, too, though her partner is TBD.
Here's the complete list. Tune into ABC on Monday, March 16 at 8 pm EST for the "DWTS" premiere!
Noah Galloway with Sharna Burgess
Robert Herjavec with Kym Johnson
Patti LaBelle with Artem Chigvintsev
Nastia Liukin with Derek Hough
Riker Lynch with Allison Holker
Charlotte McKinney with Keo Motsepe
RedFoo with Emma Slater
Michael Sam with Peta Murgatroyd
Willow Shields with Mark Ballas
Suzanne Somers with Tony Dovolani
Rumer Willis with Valentin Chmerkovskiy
Witney Carson with TBD
Dance News
Sep. 08, 2014 11:36AM EST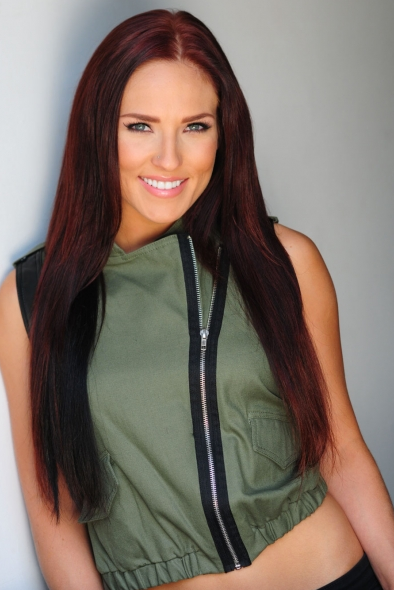 The beautiful Burgess (courtesy Turk Entertainment PR)
It's that time again: "Dancing with the Stars" kicks off its 19th (19th!) season next Monday, September 15th. The latest group of celebs and their professional dance partners are already deep into rehearsals of their first routines.
While most "DWTS" coverage focuses on the blood, sweat and tears the stars put into the show, let's face it: Pretty much nobody works harder than the "DWTS" pros. Every single week, they create and polish new routines for people with zero, or almost-zero, dance experience—a singularly challenging task.
This season marks Aussie beauty Sharna Burgess' fourth turn as a "DWTS" pro. She's been paired with Tavis Smiley—a respected PBS host and political commentator known more for his reporting and writing than for his dancing skills. I talked with Burgess about what the "DWTS" experience is really like.
You're a "DWTS" vet now! What have you learned since your first season on the show?
You can prepare as much as you want, but to be honest, you can't control everything, so the best thing to do is relax. It's easy to get caught up in the competitive side of the show and to push your partner really hard. But at the end of the day, the goal is to give him a wonderful experience. You want to get to know your celebrity and enjoy watching him learn.
You have a lot of choreographic experience. How does choreographing for non-professionals compare to choreographing for professionals?
When I'm creating dances for a celebrity, it's a different type of creativity. Throughout the season we build a vocabulary of steps that he's good at, and the key is to find ways to make them look fresh each week by changing the intention, or the story the dance is telling. When I was working with Andy Dick in Season 16, he had a pretty small vocabulary, but he's such an amazing character and funny person that he was able to transform those few steps into 10 different dances.
When I'm choreographing for pros, it's more about looking for that groundbreaking thing that nobody's done yet. Usually that involves listening to a song over and over again—to the point of driving myself insane—until I get a vision of what the theme will be, and then of how the movement will flow. Whenever I choreograph, the intention comes first and the steps come later.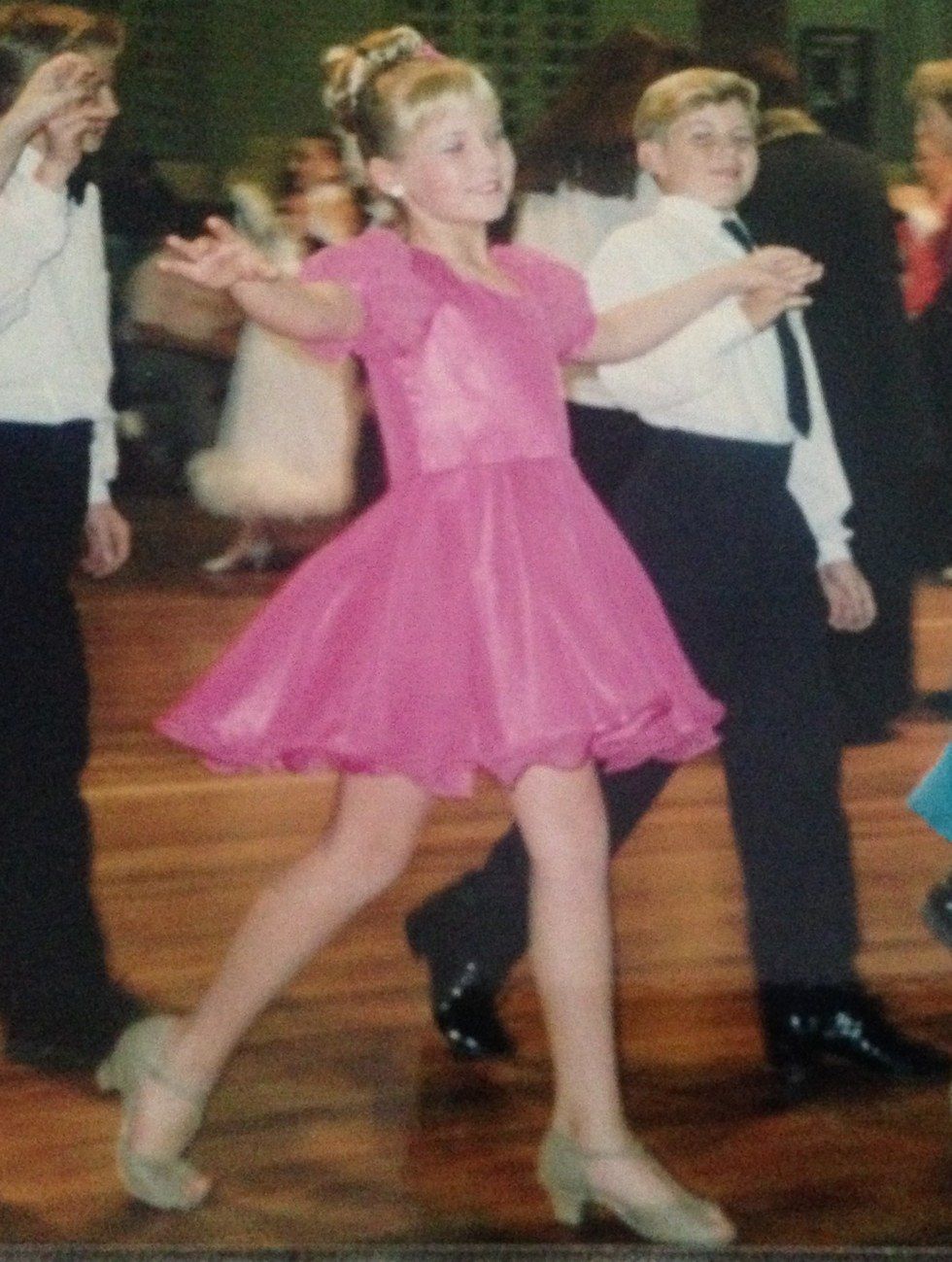 Baby Sharna! Even at age 8, Burgess (here with partner Michael Butt) had the moves. (courtesy Burgess)
How have your rehearsals with Tavis Smiley been going?
Tavis has an amazing story. He grew up in a church that didn't allow him to dance—he didn't even get to go to the prom! But while his dance experience is very minimal, he's been wonderful to work with. He said something that really resonated with me: "Just because you know some of me doesn't mean you know the sum of me." We all think of him as this serious person, a political activist deeply involved in world affairs—the guy who's interviewed Obama three times. Yet beneath that is a fun, happy-go-lucky man, and it's been a pleasure getting to know that side of him. That's what I'm excited for America to see.
If you could partner any celebrity, who would you choose?
Hugh Jackman! I've always wanted to dance with him. He already has dance talent, and I think he'd be amazing. But to be honest what I look for in a partner isn't necessarily talent. I want someone who's wiling to both work hard and have fun. It's important that they take it seriously—dancing is my job and the love of my life—but it should be a good time, too.
What's most challenging about being a "DWTS" pro, and what's most rewarding?
The challenge is that for a little more than three months, you don't get a single day off. Your relationships are put on hold, because the show consumes every hour of the day: When you're not teaching your celebrity, you're having wardrobe meetings or planning your group numbers. But that's also what's so amazing about it. I keep reminding myself that I'm one of those lucky people who get to do what they love 24/7. It's a double-edged sword, but I'd never wish it away.
Dance News
Feb. 26, 2013 10:25AM EST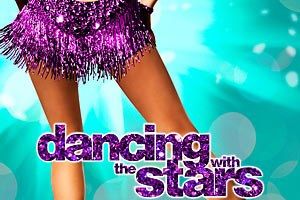 The season of sequined fringe is upon us.
The season 16 cast of "Dancing with the Stars" was announced today on "Good Morning America." Yay?
Sorry. I'm sure the latest season of this weirdly fascinating cultural phenomenon will be just as entertaining as the last 15. I'm just feeling a little sad that one Chelsie Hightower isn't involved in the proceedings this time around. Chelsie! We'll miss you!
The happier news is that Aly Raisman, the awesome surprise hero of last year's U.S. Olympic women's gymnastics team, will be competing for the mirrorball trophy. And there are some newbie pros—including "So You Think You Can Dance" alum Lindsay Arnold—on the list who might spice things up a little. Real yay!
Here's the lineup:
Wynonna Judd and Tony Dovolani

D.L. Hughley and Cheryl Burke

Jacoby Jones and Karina Smirnoff
Lisa Vanderpump and new dancer Gleb Savchenko
Andy Dick and new dancer Sharna Burgess
Victor Ortiz and new dancer Lindsay Arnold

Zendaya Coleman and Val Chmerkovskiy

Aly Raisman and Mark Ballas

Ingo Rademache and Kym Johnson
Kellie Pickler and Derek Hough

Dorothy Hamill and Tristan MacManus
Tune in for the premiere of "DWTS" on March 28 at 8/7 central on ABC.
Get Dance Spirit in your inbox