You turned out the light hours ago, but you're still tossing and turning in bed. Every time you're about to doze off, the corrections you got in class today pop into your mind—and just like that, you're wide awake again.
If you have trouble falling or staying asleep, and you often wake up feeling less than refreshed, you may have insomnia. And the reasons are often connected to your mental and emotional well-being, which means there are few quick fixes. But there are some things you can do to get the rest you need to dance your best.
Keep reading...
Show less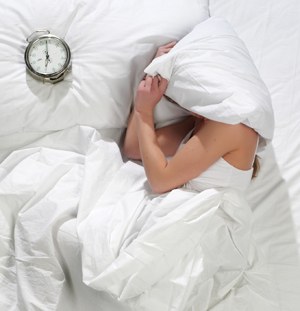 School, dance classes, rehearsals, homework, family activities—a million things can push your daily wake-up time earlier and your bedtime later. You might feel like getting a good night's sleep is an impossible dream. But you shouldn't just accept sleep deprivation as a fact of life. Sleep is one of the things that keeps your body at its best.
"Over time, poor sleep can limit your ability to learn and concentrate," says Lauri Leadley, a sleep technologist and president of Valley Sleep Center in Arizona. "You can forget important information, like homework or choreography. Lack of sleep can lead to aggressive or inappropriate behavior, like yelling at friends or family. It can also cause you to eat too much, contribute to acne problems and even lead to illness."
It takes conscious effort to improve your sleep habits, but if you decide to sleep smart, you'll find yourself not only feeling better, but also performing better.
Sleep Time
Most sleep experts agree that teens need eight to nine hours of sleep a night. The busier your schedule, the harder it can be to get those hours. But that's not the only factor conspiring against you getting the sleep you need. According to Dr. Alon Avidan, director of the UCLA Sleep Disorders Center, your circadian clock—the timekeeper in your brain that determines when you want to naturally wake up and fall asleep—shifts forward by about two hours during your teen years. That means you might not feel tired until after midnight, and you definitely won't want to get up for school at 6 am.
Unfortunately, you can't "make up" lost sleep—an eight-hour night is not the same as a six-hour night plus a two-hour nap later in the day. "For every hour of lost sleep per night, you need a full 24-hour period that includes good sleep to recover," Avidan says. So how are you supposed to fit sleep into your busy life?
Set a schedule. Do your best to go to bed and wake up around the same time every day—even on the weekends. Sleeping until noon on Saturday will only confuse your body and make it harder to get up on Monday morning.
Strengthen your routine. Do the same activities, such as taking a shower or reading, before bed every night. "A nightly routine signals to your body and your brain that it's time to sleep," Leadley says.
Stop snoozing. "The more you press the snooze button, the more your brain falls back asleep," Leadley says. "To feel more awake in the mornings, get moving right away."
Stick to power naps. If you feel sleepy by mid-afternoon, it's OK to take a nap—but keep it short. "With power naps, you get a burst of energy and alleviate sleepiness," Avidan says. "If you go beyond 15 or 20 minutes, you're more likely to fall into deep sleep and wake up groggy."
Sleep Position
Does the position you sleep in affect the quality of your sleep? It can—especially if you tend to snore when you sleep on your back. But for dancers, the proper sleep position can also set your body up to perform at its best, pain-free. "Sleeping in the right position can aid in recovery from injury and fatigue," says Dr. Jamie Blau of Upper Westside Chiropractic in NYC.
"Dancers should try to sleep either on their sides or on their backs, with one pillow under their necks," Blau says. "This encourages proper spinal and muscular alignment, which means less stress on the body overall." Blau strongly discourages stomach sleeping. "When you sleep on your stomach, your neck is very rotated," she says. "You can develop neck and shoulder pain that can eventually radiate down the arm. If you sleep half on your stomach with one leg up, you might also see lower back problems."
If you're a lifelong stomach sleeper, fear not: Bad sleep habits can be broken. "Use
pillows to prop yourself in the right position," Blau advises. "For side sleep, put a pillow between your knees to keep yourself from rolling over. If you wake up on your stomach, shift onto your side or back again." Your body will thank you in the morning.
Sleep Environment 
Good sleep isn't just about timing and position. Leadley recommends making your bedroom a "sleep haven"—cool, dark and quiet during sleep hours. "Avoid too much light and noise at bedtime, because those things stimulate the brain," she says. "Even your computer or cell phone can make your brain think it's time to wake up." (So save the iPad and Kindle reading for daytime, and opt for easy-on-the-eyes books and magazines at bedtime.) Meanwhile, maximizing light exposure in the morning can make it easier to get out of bed.
"In general, don't watch TV, talk on the phone, play video games or do homework in bed," Avidan adds. "Use the bed only for sleep." It's crucial to teach your brain that your bed—and the bedroom environment as a whole—is a calm, restful place.
Despite all of these guidelines, sleep needs can vary from person to person. If you're not sure what sleep strategies work best for you, try keeping a sleep diary. Jot down what time you go to bed, when you wake up and how (by alarm clock or naturally), your sleep position and how rested you feel. When you find a set of variables that work well together, stick with them. Better nights mean better days.
It's January 1. We all just want to snuggle up and wait until spring. And I know you all stayed up really late  fell asleep at 8:00pm last night like I did, so you have no reason to be tired. But just in case you are, here's a roundup of ballerinas who need to stay in bed more than you do.
Aurora from The Sleeping Beauty. Duh. Though, I guess she's been asleep long enough.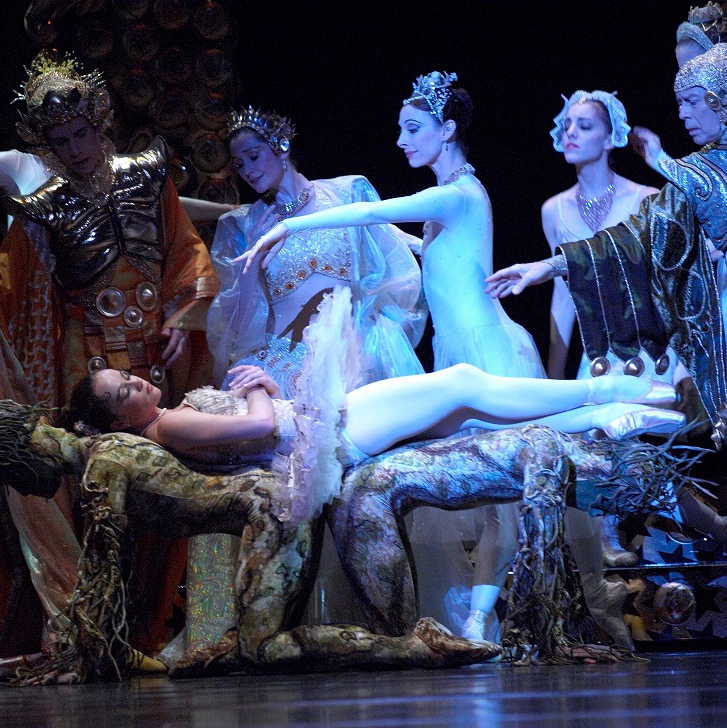 Members of The Australian Ballet in the company's older version of The Sleeping Beauty (photo by Jim McFarlane)
The ballerinas of Jerome Robbins' The Concert (Or, The Perils of Everybody). Dance is hard. Sometimes you need a booty to snooze on.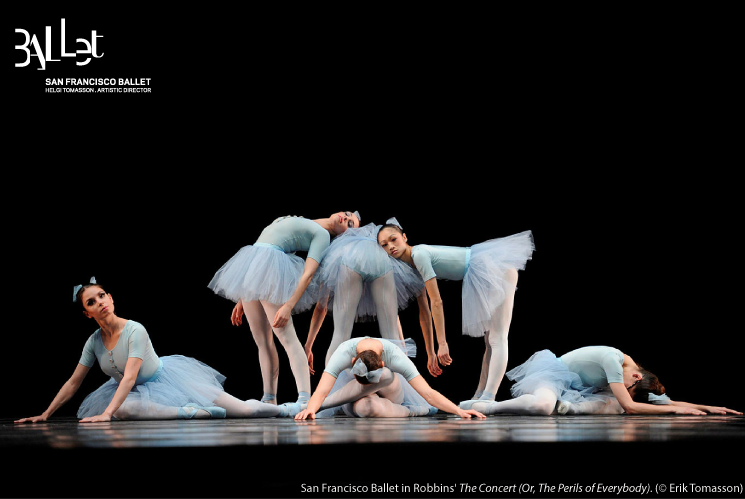 San Francisco Ballet in The Concert (photo by Erik Tomasson)
The Sleepwalker in La Sonnambula. She's totally creepy but sleep is what gives her that mysterious quality.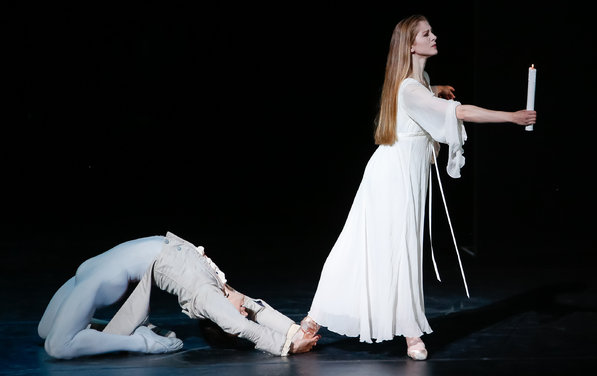 Carla Körbes and Robert Fairchild in George Balanchine's La Sonnambula (photo by Erin Baiano for The New York Times)
Alice, of Alice's Adventures in Wonderland. Did she dream up Wonderland, or did she really go there? We'll never know.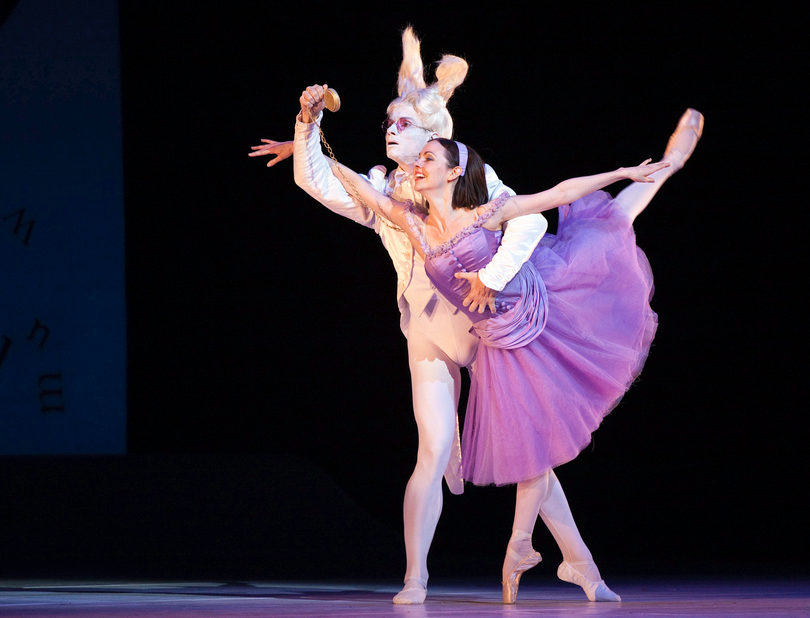 Jillian Vanstone and Aleksandar Antonijevic in Christopher Wheeldon's Alice's Adventures in Wonderland (photo by Cylia von Tiedemann)
Here's to a year full of big dreams and good rest!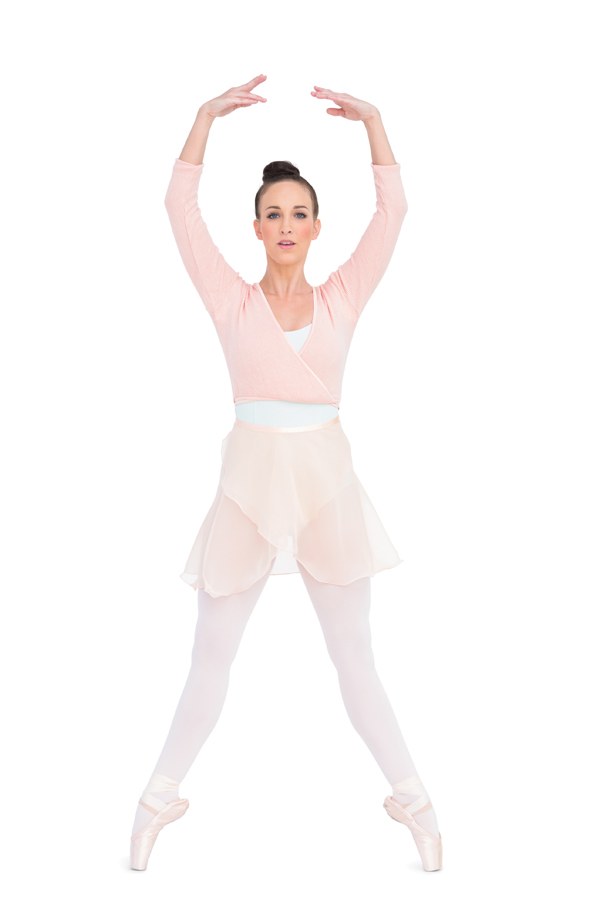 (Photo courtesy Wavebreakermedia LTD/Thinkstock)
Excellence > Perfection
The annual post-holiday self-help craze is upon us—cue the gym memberships, health books, relationship advice columns and extra pointe classes. While committing to a New Year's resolution can be a positive choice for many, it starts being harmful when taken too far. Perfectionism "becomes destructive striving when the goal, or resolution, is unattainable," says Dr. Sharon A. Chirban, a sports psychologist and consultant to Boston Ballet company members.
Perfectionists come in all shapes and sizes, but certain dancers are more susceptible than others. Perfectionism is most common among what Chirban calls "precision dancers"—dancers involved in styles that require strict adherence to a set of standards, like ballerinas or dance-team dancers. "Forms that prioritize spontaneity and expression are less likely to breed perfectionist dancers," Chirban says.
Try ringing in the New Year with an excellentist mentality, instead. Whereas a perfectionist seeks absolute perfection, an excellentist strives to be her most excellent self, which is an ever-changing target. (Are double pirouettes tricky for you? Be proud of yourself when you nail 'em, and don't obsess over triples until doubles are no longer challenging.) An excellentist works toward self-improvement, understanding that the process—including mistakes and setbacks along the way—is more important than any end result. Instead of fearing criticism, an excellentist seeks it out, knowing that the only way to improve is to understand her weaknesses. "Excellentist dancers are usually more successful in the long run," Chirban says. "They're less likely to burn out or succumb to self-hate."
Are you a perfectionist? Take this quiz to find out.
True or false:
1. You're very worried about what others think of you.
2. You don't enjoy the process of reaching your goals.
3. You criticize yourself when assessing your progress.
4. Even after you achieve a goal, you're still afraid of failing.
5. When it comes down to it, you feel like you're just not good enough.
If you answered "true" to most of these questions, it's time to get your perfectionism in check.
Did You Know?
Crying can be good for your health. Beyond the obvious cathartic release of emotions, crying also flushes out built-up chemicals—such as manganese, a mood-altering mineral—leading to reduced stress and improved mood.
It can also boost your friendships. According to a study published in Evolutionary Psychology, tears are an evolutionary response, designed to draw others to you for compassion and support. So while you probably don't want to become that girl who always cries in class, when the feelings hit, don't be afraid to have a good sob.
Massage Tips
Soreness in the ischial tuberosity, or sitz bone, is (literally) a pain in the butt. In dancers, it's often caused by a hamstring strain, and it can make it difficult to lift your leg to the front or side.
Try this self-massage trick: Sit on the floor with a tennis ball centered on one of your sitz bones. Use your feet and hands on the floor to balance as you swivel your hips in a circular motion, releasing any knots in the muscles and ligaments that attach to that area (including those oh-so-important adductor and  abductor hamstring muscles).
Eat This, Not That: The Common Cold Edition
When you're dealing with a stuffy nose, sore throat and cough, you probably don't feel much like eating. But your body needs fuel to fight off that pesky bug. Here are five foods to reach for—and five to avoid—when battling the common cold.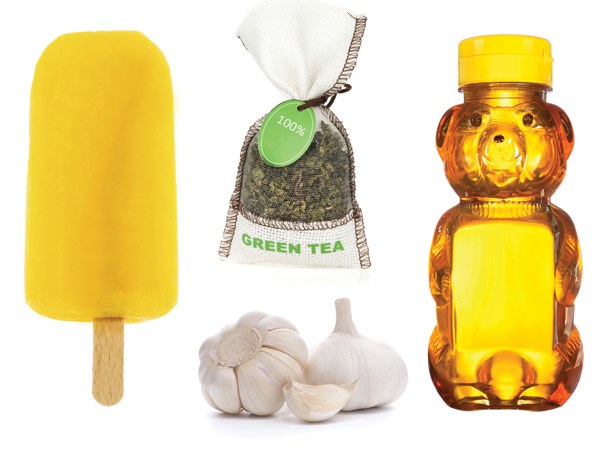 (Photos courtesy Thinkstock)
The Nice List
These foods will soothe your cold symptoms and get you back on your feet:
Chicken soup has a whole lot to offer. An electrolyte-dense fluid, it'll keep your body hydrated. It also contains the amino acid cysteine, which relieves mucus buildup in your lungs. Most important, it's easy to digest.
Garlic has antibiotic properties, and it's been shown to lessen the severity of cold symptoms.
Green tea contains infection-fighting antioxidants, and its warmth can relieve a sore throat and ease congestion.
Honey has antibacterial and antimicrobial properties and can serve as a cough suppressant.
All-natural fruit popsicles can help you stay hydrated, and the coldness can help numb a sore throat. They're also a great way to get some extra vitamins when fibrous whole fruits are too tricky to digest.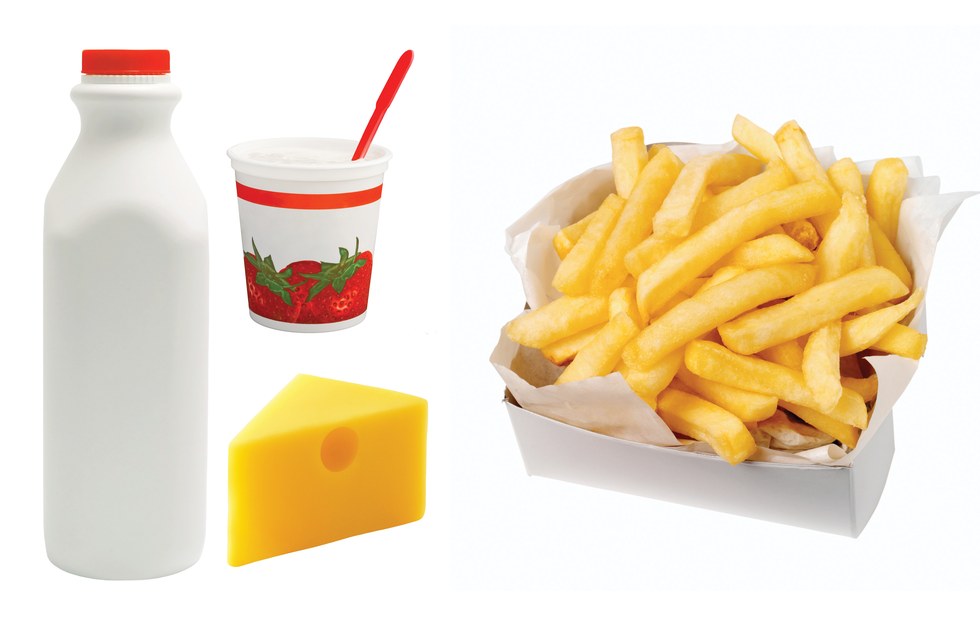 (Photos courtesy Thinkstock)
The Naughty List
These foods may irritate your cold symptoms or hinder your recovery:
Spicy or acidic foods may temporarily clear your sinuses, but they can also irritate your mucous membranes, leading to increased pain and discomfort in your nasal passages, throat and lungs.
Juice and other beverages with lots of added sugar can cause inflammation and weaken your immune system.
Fatty meats and deep-fried foods are difficult to digest, and your body can't spare the extra energy. Plus, they can lead to increased inflammation.
Caffeine is a diuretic and a stimulant. What you need is hydration and rest, so steer
clear of soda.
Dairy may thicken the mucus in your throat, adding to your discomfort.
The jury's still out on whether dairy is a true member of the naughty list. Some doctors say its protein and vitamin D can help boost the immune system.
Can't Sleep? Take a Breather.
After a day jam-packed with school, dance and homework, you probably feel exhausted by bedtime. But that doesn't always mean sleep comes easily. Insomnia—persistent difficulty falling asleep and/or staying asleep—can be incredibly frustrating and stressful, especially for busy dancers.
While the age-old trick of counting sheep may be effective for some, others can get to sheep 1,000 and still be wide awake. The key is to quiet your thoughts so you can begin to drift into dreamland. Different tricks work for different people, but for many, breathing patterns are important. Next time you find yourself burning the midnight oil, try this simple breathing exercise:
• Exhale completely through your mouth.
• Close your mouth and inhale through your nose for four counts.
• Hold your breath at the top for seven counts.
• Exhale through your mouth for eight counts.
• Repeat the entire sequence three times.
Why Focus on breath?
When you're stressed or anxious, deep breathing can activate the parasympathetic nervous system, which calms you down. Plus, focusing on counting the length of your breaths can distract you from whatever's on your mind.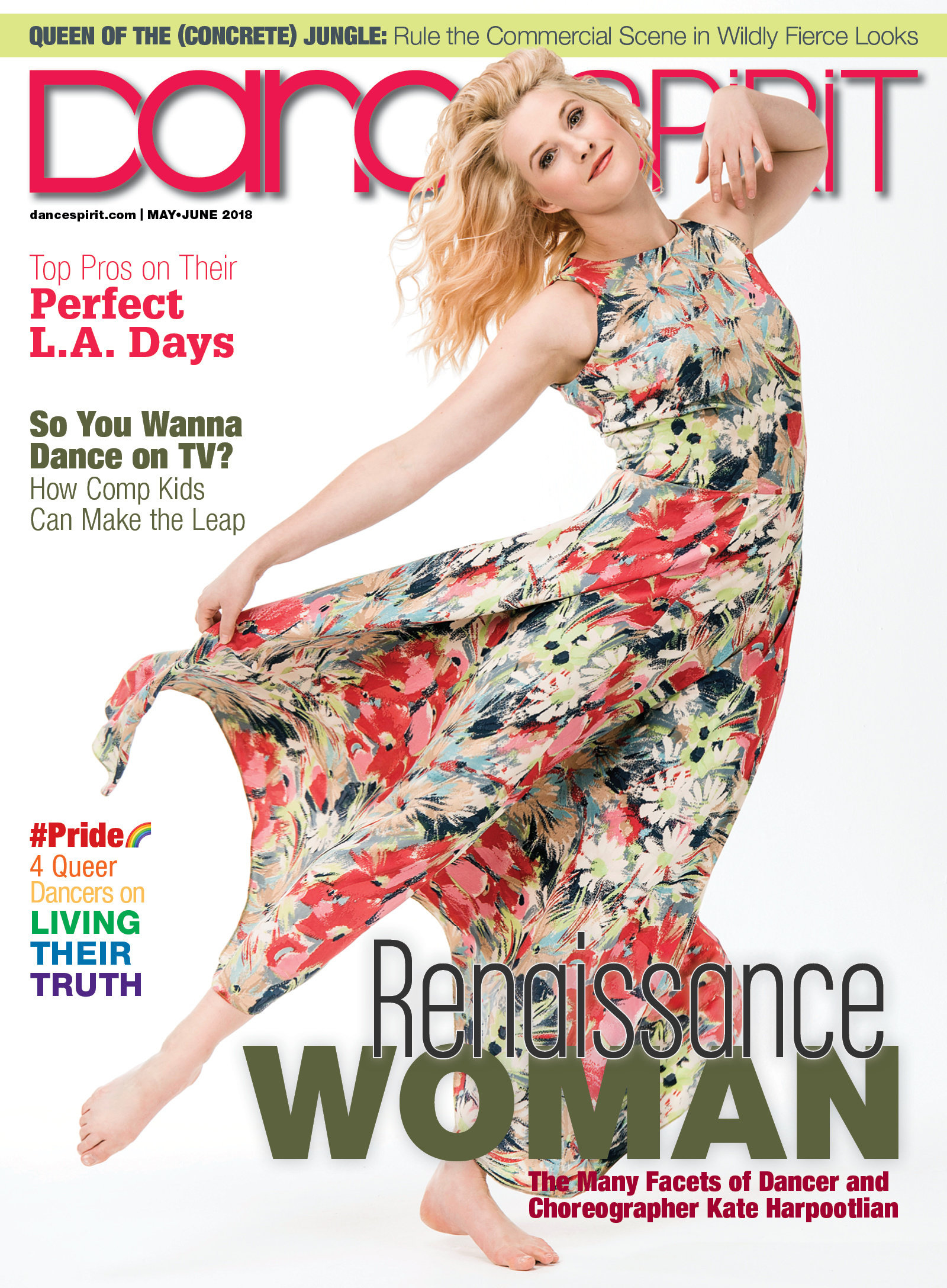 Get Dance Spirit in your inbox