Jan. 10, 2019 03:51PM EST
Screenshot via YouTube
Every once in a while, the stars align, things fall precisely into place, and the perfect marketing campaign is born. Such is the case with New York City Ballet's new trailer for their upcoming run of The Sleeping Beauty, which was conceived and directed by company soloist Sean Suozzi.
Dance Videos
Mar. 23, 2017 11:43AM EST
American Ballet Theatre's latest production of The Sleeping Beauty premiered last night at the Segerstrom Center in California. And you know what that means: The company's dancers are currently flooding Instagram and Twitter with tantalizing behind-the-scenes photos and videos. Which is the best.
World Premiere Day! All very best to dear colleagues/friends @ABTBallet. t my prince @marcelogomes47 #Sleepingbeauty pic.twitter.com/0KmOSiTRvr

— Diana Vishneva (@dianavishneva) March 3, 2015
This new Beauty is especially interesting because it's actually...old. Choreographer Alexei Ratmansky reconstructed it from dance notation recorded more than 100 years ago, making it about as close to the original Petipa choreography as you can get. And though ballet companies around the world have been performing Beauties "after Petipa" for generations, this super-authentic production looks remarkably different from the SB ballet nerds know and love. Legs and lifts are lower; the overall feel is more genteel.
For example—to get reeeeal nerdy for a minute—look at 1:47–2:07 in this video of  Marianela Nuñez and Thiago Soares dancing the Act III pas de deux with The Royal Ballet. Legs galore! But in the ABT production, as this clip from principal Isabella Boylston's Insta shows us, that moment has a totally different feel:
So elegant and refined, right? It's almost disorienting for those of us accustomed to the "higher is better" school of thought.
The new Beauty's costumes also have a vintage-y feel. They're inspired by the designs of Leon Bakst, the artist who famously costumed many productions for Sergei Diaghilev's Ballets Russes in the early 20th century. Tutus are longer, headpieces are more extreme, colors are brighter and bolder:
One down & costumes ready! Excited to dance Sapphire tonight, come see us #SleepingBeauty @ABTBallet @SegerstromArts pic.twitter.com/eF4wegAjxv

— Paulina Waski (@PaulinaWaski) March 4, 2015
thank u for waking me up after 100 years...photo: Gillian Murphy #sleepingbeauty #marcelogomes #dianavishneva pic.twitter.com/eGF9JKGIDD — Diana Vishneva (@dianavishneva) March 2, 2015
If you're lucky enough to be in the L.A. area, you can catch ABT's Beauty now through March 8; East Coast peeps, you'll have to wait until the company performs it at Lincoln Center in a few months. In the meantime, let's all of us bask in the glory of this SB Insta post by principal Gillian Murphy, which wins everything:
Dance News
Nov. 21, 2016 07:00AM EST
It's no secret that we're as obsessed with pretty costumes as we are with the pretty dancers who wear them. There's just something so magical about following the life of a tutu, or going behind the scenes to see how costume shops take their creations from the page to the stage. Costumes also hold a special place in every dancer's heart.
Which is why, when we stumbled upon this Fashion magazine article, we did a little happy dance. Fashion followed National Ballet of Canada principal Greta Hodgkinson (who's celebrating her 25th year with NBoC and her 20th year as a principal in the company) into the wardrobe room—and had her round up her favorite costumes of all time. Which was no small feat, considering Hodgkinson has danced pretty much every principal role in NBoC's classical repertoire. NBD.
Dance and Fashion
Jun. 16, 2016 07:00AM EST
Everyone knows it's not only the steps or technique that make a ballerina memorable. It's the emotion—and the ability to tell a story—that truly captivates an audience. And American Ballet Theatre's latest video is here to help. It takes us inside this season's production of The Sleeping Beauty, complete with luscious footage of the ballet itself and a few wise words on really getting inside Aurora's head, straight from some of ballet's leading ladies.
Because let's face it, getting into character is easier said than done. I mean, it's a little tricky to relate to a princess who sleeps for 100 years when you can't even squeeze in a power nap. And who has time for a prince when you've got rehearsals? It takes a lot of focus and imagination to play a convincing character, especially in a fairy tale story like The Sleeping Beauty.
In the video, principal Gillian Murphy talks about all the famous Auroras she looks up to and says: "Be inspired by that huge history of iconic Auroras and ballerinas, but also you have to make it your own." Cassandra Trenary, a soloist, credits Artist in Residence Alexei Ratmansky with helping the dancers dive deep into their roles. "He (Ratmansky) is able to give you a story behind every single movement. Whether it's a variation or a pas de deux, you're not just taking your partner's hand. It's like, that's the love of your life! Just keep that in the back of your mind."
Note taken. So long story short, don't be afraid to ask your teacher or director for guidance if you're struggling, take inspiration from others who have played the role and always trust your gut to make your portrayal authentically you.
As for the production itself, this Sleeping Beauty is absolutely dreamy (pun intended)—principal Stella Abrera (also featured in the video) says it's "kind of like watching a very old painting from the Louvre slowly come to life." This "new meets old" ABT Ratmansky version of SB premiered last season, but if you missed it check out the video for an exclusive behind-the-scenes look. Or, see it live when it runs at the Met June 27-July 2!

Dance News
Mar. 31, 2015 11:57AM EST
American Ballet Theatre's gorgeous new-old production of Sleeping Beauty—you know, the one with the gloriously old-fashioned tutus—got us thinking about the history of the tutu. Tutus have evolved a heck of a lot since their debut in 1832, but the basic premise of the costume has persisted. Their hemlines rise and fall, their circumferences increase and decrease, but tutus never go out of style.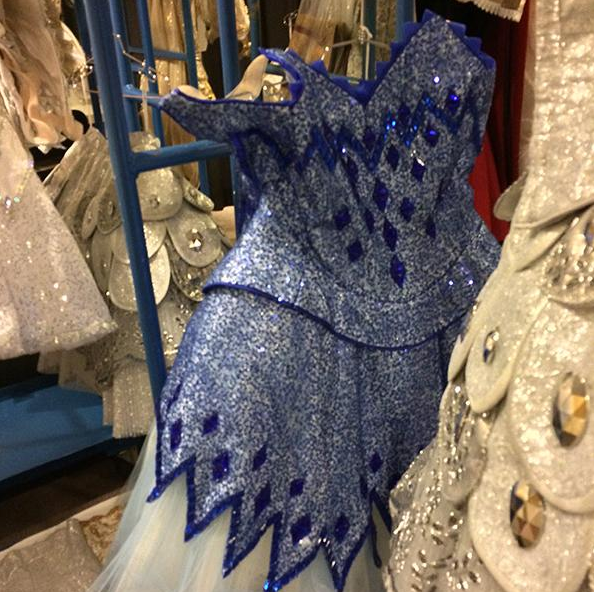 Some of the beautiful tutus from ABT's Sleeping Beauty (via @PaulinaWaski on Instagram)
Partly that's because the workmanship required to construct a tutu, even a simple tutu, is so extensive that each one becomes a work of art. In fact, many museum exhibits have treated tutus as just that: precious artwork.
A tutu has a special power onstage, but in a museum setting, it acquires a different kind of magnetism. Seeing one of these costumes up close—close enough to acknowledge not only the incredible detailing and  craftsmanship, but also the sweat stains, the tiny tears in the tulle, the missing beads—is almost overwhelming. It becomes at once more magical and more real.
In honor of #TutuTuesday, we've rounded up some of our favorite photos from museum exhibits honoring the tutu. Take a look!
[portfolio_slideshow id=34865]
Dance News