May. 03, 2018 11:22AM EST
Aaron Tveit! Chandeliers! Mysterious fog! SWOON. (via YouTube)
How excited are you for the musical version of Moulin Rouge!, choreographed by Sonya Tayeh and set to begin a pre-Broadway run in Boston next month? 💃💃💃 excited?
Well, you'll be 💃💃💃💃 excited once you see the very swoon-y new trailer for the show, starring the very swoon-worthy Aaron Tveit (possibly the only person who could make us forget about Ewan McGregor's Christian). And you'll be 💃💃💃💃💃💃💃💃 excited after seeing the full cast list—because it includes a ton of talented dancers.
Dance News
Mar. 23, 2017 09:29AM EST
(Before we begin—have you heard that we're giving away tickets to the "So You Think You Can Dance" season finale?! GO. ENTER. NOW.)
Wow. "SYTYCD" Season 11 is going to be pretty darn spectacular. This week, we watched 157 dancers travel to L.A. to duke it out for a spot in the Top 20. Guest judges this week included tWitch, Tara Lipinski, Adam Shankman and ballerina Irina Dvorovenko. It was pretty hard to know who would advance and who would be sent packing—the level of talent was just that high. There were also A LOT of cuts: Dancers had to make it through seven rounds, and there were even a couple dance-for-your-life performances. I'm not sure how the show's editors managed to get the entire week of callbacks into one jam-packed, action-filled episode—but they did. Here are my top five moments from last night:
1. Cameron. OK, OK, he's not a competitor, he's a newborn. But he was definitely part of one of my favorite "SYTYCD" stories of all time: Steven, a phenomenal hip-hop dancer from New Orleans, got news that his girlfriend had gone into labor right as callbacks began. Obviously, Steven was a little distracted. I mean, THERE WAS A BABY ON THE WAY. Somehow he managed to pull it together for the first few rounds…and then, Cameron arrived! Steven didn't make the cut after Sonya Tayeh's choreography, but I think he's already won, regardless.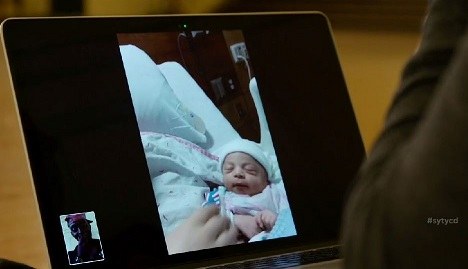 Awwwwwwwww
2.  Jaja, the red-headed wildcard. So, OK, she didn't make Top 20. But to see this girl go from crazy krumper to slinky ballroom dancer just made me smile.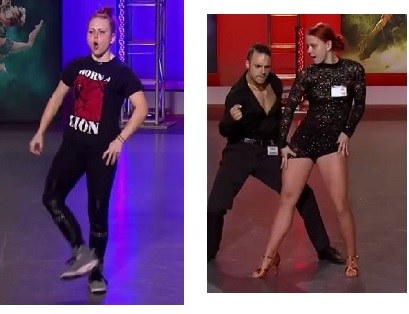 Let's hope Jaja auditions again next year. I know I'd love to see more of her transformations.
3. All the awkwardness. First, there was contestant Amanda's, um, hiccup, when she said she felt lucky to have Marcquet as a hip-hop partner because, duh, he's there for hip hop. Well, sorry Charlie, he's a ballroom expert, and you've just learned what happens when you assume things—on national TV. Oops! (Disclaimer: In Amanda's defense, Marcquet can do it all—amazingly. My prediction? Top 4, easily.)
Next, we said goodbye to poor contestant Christopher's front tooth. During the ballroom routine rehearsals, Chris got smacked in the face by his partner's elbow. She lost quite a bit of skin and blood, and he lost half a tooth. OUCH.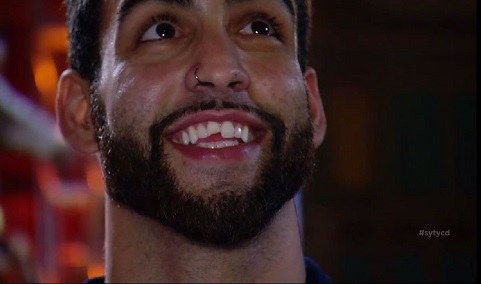 Thankfully, the judges were kind to this (partially) toothless wonder of a dancer. He made it through the ballroom round.
And finally, did anyone else feel just a little guilty for laughing at the judge's nasty comments during the group choreography round? Over the first four episodes this season, we've applauded the judges for not berating the auditionees who gave sub-par performances. Apparently, though, their snide remarks have been brewing, and after One Love's group debacle, there was a firestorm of snark. My favorite zinger came courtesy of Adam Shankman: "I see you got your routine from those children on 'Dance Moms.' " BOOM, roasted.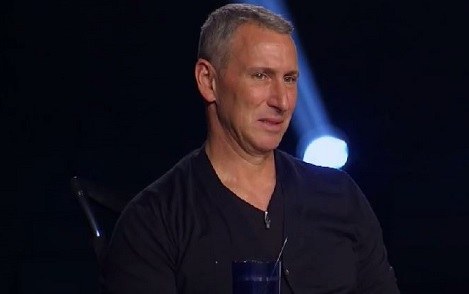 This face.
4. The surprise endings. A lot of our favorites from the audition rounds didn't make it. This week, we unfortunately—and unexpectedly—bid adieu to Trevor Bryce, Marie Poppins, Megan Marcano, Erik "Silky" Williams, and DS cover beauty Kamille Upshaw.
5. The TOP 20, REVEALED! Without further ado, may we present—in the order they were introduced during the show's credits—the 20 candidates vying to be America's Favorite Dancer: Malene, Zack, Emily, Serge, Carly, Emilio, Tanisha, Stanley, Valerie, Nick, Bridget, Marcquet, Jacque, Rudy, Brooklyn, Teddy, Jessica, Casey, Jourdan and Ricky. Congrats, dancers! We can't wait to see what you bring this season!
What did you guys think? Are you happy with this season's Top 20? Was anyone sent home unfairly? Let us know in the comments—and check back here next week for our recap of the first live episode!
Dance News
Mar. 23, 2017 08:45AM EST
Cole Horibe and Chehon Wespi-Tschopp (aka "Cx2") have a lot in common: They were both on "So You Think You Can Dance" Season 9, they both dance with incredible technique and masculinity and they're both complete goofballs.
So it's no wonder these two developed an adorable friendship. If you want a cuteness overload, check out their video, Cx2 NinjaBallet, where they document their "NinjaBallet" training. (Chehon is supposed to be helping Cole with his technique while Cole teaches Chehon some ninja moves, but it basically dissolves into a debate about whether jedis or ninjas are cooler—love these guys.)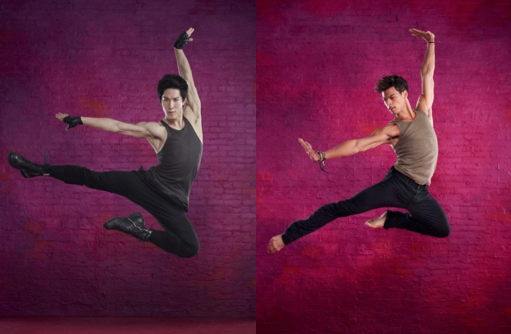 Cole (left) and Chehon (photos by Mathieu Young/FOX)
But we're not here today to talk about Cx2's goofy side. Instead, we want to talk about a Chehon's new video—which he directed and filmed himself—introducing us to Cole's Bruce Lee persona. This video is epic, guys. It shows off everything we love about Cole: His flashy martial arts tricks, his simultaneously graceful and powerful movement, his intensity, his technique...
Just watch—you won't regret it:
Huge kudos to Chehon for his cinematography skills—as if being a freakishly gorgeous ballet dancer wasn't enough talent for one guy!
(The off-Broadway production, Kung Fu, featuring Cole Horibe as Bruce Lee, runs until April 6, 2014, at The Irene Diamond Stage at The Pershing Square Signature Center in NYC. Get your tickets here!)
Dance News
Mar. 23, 2017 08:18AM EST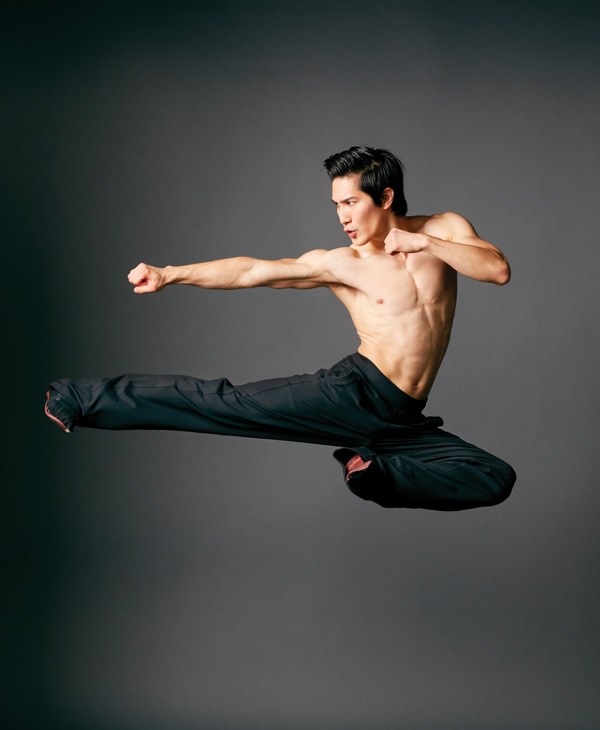 (Photo by Gregory Constanzo)
Cole Horibe first made his mark on the dance world on "So You Think You Can Dance" Season 9, where he showed off his unique "martial arts fusion" style. But Horibe actually grew up dreaming of a future as an actor. Now, he gets to combine his three passions—martial arts, dance and acting—for the role of a lifetime: martial arts legend Bruce Lee in the off-Broadway play Kung Fu. Dance Spirit chatted with Horibe about this exciting career step. —Rachel Zar
Dance Spirit: How did you get the part of Bruce Lee?
Cole Horibe: Kung Fu writer David Henry Hwang had been looking for an actor to play Bruce Lee. Then his wife saw me on "SYTYCD," where I referenced the fact that I was an aspiring actor. They reached out, and I sent in a video audition. They brought me to NYC for callbacks, and I got the part!
DS: "SYTYCD" choreographer Sonya Tayeh is creating the movement for the show. What's it like working with her again?
CH: It's fantastic. I loved working with her on "SYTYCD." We have similar spirits, and we work well together. As a "SYTYCD" choreographer, Sonya was so good at catering to contestants' strengths, and that's what she's doing with me now.
DS: What's the choreography like?
CH: It's a mixture of martial arts and dance, but it's not like what I auditioned with on "SYTYCD." My style on the show was contemporary dance with a martial arts flavor. This is more martial-arts–based jazz or Broadway-style dance. There's a fight scene Sonya choreographed that I love—it's a father/son epic showdown, and we battle each other with staffs. It's really interesting.
DS: Are you a big Bruce Lee fan?
CH: When I was a kid, I was a bigger fan of Jean-Claude Van Damme. As I got older, I realized it's because of Bruce Lee that people like Van Damme even have a market. Bruce Lee paved the way for martial arts in cinema. He's the one who came up with the whole concept of mixing martial arts—taking different styles and putting them together. That's something I've learned as a dancer and an actor, too. I pick and choose the things that work for me—and the things that don't, I leave behind. If I step back and think about representing Bruce Lee, this huge icon, it's a heavy responsibility.
Oct. 12, 2016 04:04PM EST
Sonya Tayeh's choreography journal (courtesy Sonya Tayeh)
A choreographer's notebook can be a very private thing. After all, it's where she crafts concepts, scribbles formations and documents her dancers' rehearsal processes before anything is ready to be seen by an audience. And while many artists use video cameras to record phrases and set movement on dancers, others choose to stick with good, old-fashioned pen and paper. Here, three choreographers give us a peek into their notebooks and explain just what their notes mean.
Dancer to Dancer
Mar. 08, 2016 02:32PM EST
Lee Cherry (courtesy Break the Floor Productions)
Al Blackstone is one of the fastest-rising choreographers in the industry, creating one successful piece after another. After making his Broadway debut as a dancer in Wicked, Blackstone won the 2011 Capezio A.C.E. Award for Choreographic Excellence, which gave him the opportunity to direct and choreograph a full-length production, Happy We'll Be. For the last three years, he's worked as Sonya Tayeh's associate choreographer, and his work, which often has a musical-theater slant, has also been featured on "So You Think You Can Dance." DS caught up with Blackstone to see what inspires his thoughtful and dynamic choreography.
How To
Aug. 11, 2015 07:00AM EST
Hey, "SYTYCD" fans: Want to win a trip to see the finale episode LIVE in L.A.? Of course you do! Click here to enter our "SYT" finale sweepstakes.
And then there were 10. We said goodbye to four of the loveliest ladies on last night's "So You Think You Can Dance"—Team Stage's Kate and Alexia, and Team Street's Yorelis and Ariana. And while it's always bittersweet to see these incredibly talented dancers go, at least Derek (Team Stage) and Neptune (Team Street) were spared. The (unintentional) theme of this week's episode became clear about 30 minutes in—fake it till you make it. There was a lot of very smart criticism offered to the dancers last night, mostly having to do with appearing confident even if they were completely out of their comfort zone. All in all, there was some good and some bad, but mostly a lot of meh, especially after last week's awesomeness.
Here are the top 5 highlights from the episode:
1) Jim's triumphant return from injury. Okay well it wasn't really a return, seeing as he was only prevented from participating in the group dance. BUT being teased like that (Cat Deely: "Jim was injured this week." Me and all of America: Stopped breathing. Cat: "JK just for the group dance! Here he is for his duet!") was enough to make me truly appreciate his dancing. Nigel is right—he is an extraordinary technician, and WHEN (not if) his artistry gets to the same level, he'll be unstoppable.
2) The honesty bombs dropped during Alexia and Ariana's critique. One of our favorite things about "SYTYCD"? When the judges really use it as a platform to help the dancers. They're performing for more people than they could've ever imagined, with super high stakes, but sometimes it seems like the audience prevents the judges from saying what the dancers really need to hear. This wasn't the case tonight—Nigel, Paula and Jason agreed that Tracy Phillips and Dominic Carbone had great intentions with their piece (fish-themed, jazzy and a very different vocabulary than what either dancer was used to). Unfortunately, though, Nigel literally said that Ariana's presence was like "a dead fish on a slab" (omg). Luckily, Paula (and the rest of the world) realized that was a bit harsh and counter-productive. She saved the day with her constructive words, offering another solid piece of wisdom for all dancers: "I can tell you're scared to attack it. So, imagine how it would feel if you actually could attack it. If you think you can, then you act as you would if it were true." Fake it till you MAKE IT, PEOPLE. #PaulaKnows.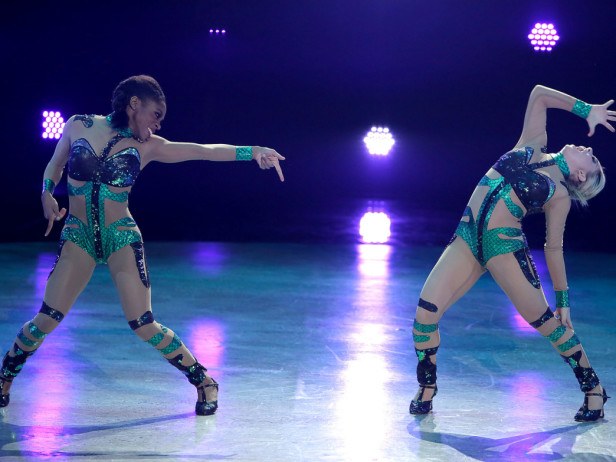 Alexia and Ariana trying to stay afloat in their routine (Photo Adam Rose/FOX)
3) Megz just bein' Megz. LOL at Megz's secret trumpet skills. Even though this Dave Scott number was not that remarkable, it was important because it showcased the best traits of Megz—her absolute devotion to this competition and growth as a dancer. She knew her facials were a little out of control and forced. She was the first to admit this was not her forte, and the first to take any and all advice to make her dancing better. Nigel recognized this as he sung her praises even though the routine wasn't one of his faves.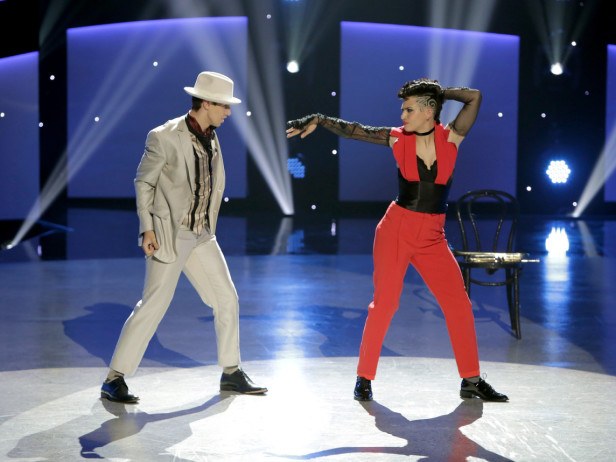 Megz doesn't let fear of an unknown dance genre phase her (Photo Adam Rose/FOX)
4) Stacey Tookey's mesmerizing number for Neptune and Gaby. Time and again, Gaby outdoes herself. Her feet are stunning, she's got insane diversity to her dancing and she is one of the most sincere dancers to grace the SYTYCD stage. This was honestly a goosebump-inducing routine, and it's safe to say everyone in the audience agreed. Neptune gave an admirable performance, and the most beautiful part was how he just trusted Stacey and Gaby to help him through the piece. They both danced with a sense of abandon, and it was inspirational to watch. The judges rewarded them with a well-deserved standing ovation and nothing but praise. They were blown away by the performance aspect and that nothing was forced. That definitely spoke to something that's been missing this season—rawness, realness and the ability to lose yourself in the choreography.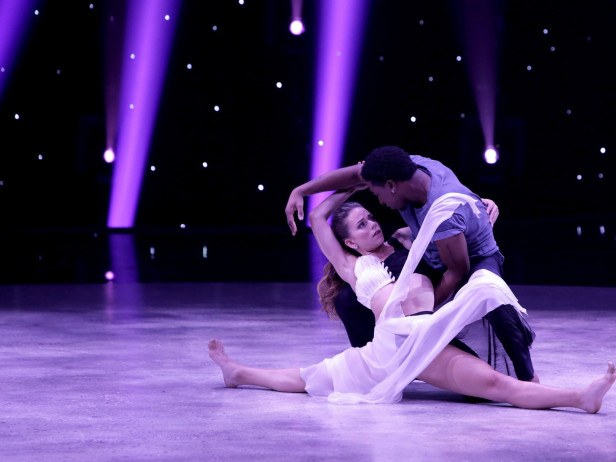 They are LIVING IT (Photo Adam Rose/FOX)
5) The lovely Team Stage group routine choreographed by Sonya Tayeh. After last week's amazing Travis Wall group number, Tayeh created another win for Team Stage. There was a lot of disappointment in the air during this episode, but it was refreshing to see these gifted artists put everything behind them and feed off each other's energy—something that was necessary to get through this tense and heavy routine. The premise was the sensation of agony you experience moments after hearing tragic news, and it seemed almost everyone from Team Stage had a life event to pull from. This upped the realness factor by 1000%, and the results were breathtaking (as were the costumes!).
With four gone and 10 remaining, it's almost impossible to predict what the future holds for these dancers. What did you think of last night's episode, and whose time has come to go home? Tell us in the comments below! And be sure to check back next Tuesday morning for our next recap!
Dance News
Feb. 01, 2015 07:29PM EST
As a student at Wayne State University, Sonya Tayeh had one of those experiences that seem to change everything: She saw Martha Graham's seminal solo, Lamentation. Fast-forward a decade or so, and Tayeh is revisiting that defining moment. Fresh off another groundbreaking season on "So You Think You Can Dance," Tayeh was one of four choreographers chosen by the Martha Graham Dance Company to create a new addition to Lamentation Variations—a series of four-minute pieces inspired by the original.
Several other choreographers, including Larry Keigwin, Aszure Barton and Yvonne Rainer, have made their own Lamentation Variations in the past, and this year's crop of commissioned dancemakers are Tayeh, Kyle Abraham, Michelle Dorrance and Liz Gerring. Each choreographer is given just 10 hours to complete his or her piece and must start from scratch—pre-planned ideas aren't allowed.
Dance Spirit caught up with Tayeh to talk about her Variation, which premieres this month at the Joyce Theater in NYC.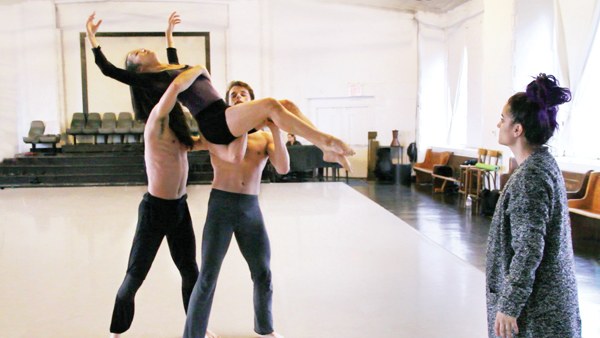 Sonya Tayeh working with Martha Graham dancers (photo by Brigid Pierce, courtesy Martha Graham Dance Company)
Dance Spirit: Can you talk about the first time you saw Lamentation?
Sonya Tayeh: My dance history teacher Georgia Reid showed me a video in class. Seeing all the restriction, grief and constraint in the piece—along with its pounding aggression—made me cry. I felt such a visceral connection to the work and to Graham's idea that dance should make you feel something.
DS: What are you trying to convey in your variation?
ST: This year, I've lost two close friends. I've been feeling a sense of intense anxiety about getting as much done as I can before everything ends. I'm inspired by the moment when you're in mourning and you feel stifled, but you tear away all that constraint and say, "Enough is enough." I see it as a Part 2 of Graham's Lamentation—if she tore away the fabric and all that weight lifted, what would happen? It's like being shot out of a rocket.
DS: What is the music?
ST: I'm using a piece by Meredith Monk that consists of all these crazy breathing sounds. When I watch Graham's original, I feel myself making those kinds of sounds, like my body can't breathe and I need air. I want my piece to feel like the dancers are out of breath from the beginning. They're exhausted, running around, trying to get so much done. I've been telling the dancers to let the music drive them.
DS: Everyone fell in love with your "SYTYCD" piece for Ricky Ubeda and Jessica Richens, which used Meredith Monk's "Vow." What's your connection to Monk?
ST: I've been a huge fan of hers forever. And when my friends passed away, I just kept listening to one of her albums with "Vow" on it. I knew I wanted to use the song for "SYT," and the producers agreed. I was also looking for music for my Graham piece, and I wrote a letter to Meredith explaining my situation and how I'd love to use her music. She gifted me the two scores. I'd love to work directly with her one day.
DS: What's next for you?
ST: When I moved to NYC, my plan was to start anew, pay my dues and build my voice as a concert and theater choreographer. So this project, and being mentioned in the same breath as people like Kyle Abraham and Michelle Dorrance, is amazing. I also have a crew of dancers I've been working with, and I'd love to get some work commissioned. I'm just really honing in on the NYC dance environment.
Sep. 12, 2014 01:00PM EST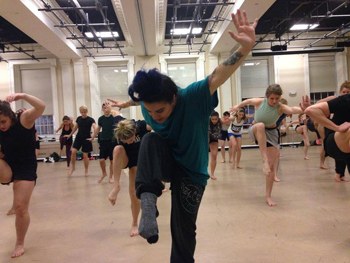 Sonya Tayeh led a master class for Pace students in May.
(photo courtesy Pace)
Calling all high schoolers: Pace University's Commercial Dance BFA program will host a weekend intensive for prospective students on its campus October 17–19. (And yes, you read that correctly: You can get a degree in commercial dance.)
Unlike a typical college tour, Pace's weekend experience will get you moving. You'll take class with members of the university's dance faculty, including Jess Hendricks and Ginger Cox. If you're a high school senior, you'll have an opportunity to audition for the university's dance department that Friday. There will be two Q&A sessions with the program's administration and students, and you'll get to see Pace dancers perform work by guest faculty members Andy Blankenbuehler and Mandy Moore. Registration begins September 17.
Busy that weekend? Many college dance programs host summer or winter intensives for prospective students. Our September issue includes essential information for more than 150 college and university dance programs, including the degrees offered and contact information. You can also get the latest college dance news delivered right to your inbox by signing up for the free DanceU101 newsletter.
Dance News
Sep. 04, 2014 02:45AM EST
The Season 11 finale of "So You Think You Can Dance" had it all: Amazing performances, musical guests, guest dancers and guest judges, and plenty of cute Cat Deeley hijinks to last until #SYTYCDSeason12. Oh, and we got the RESULTS! But before we get to the big reveal (hint: Chace Crawford's twin!), let's talk about the rest of the show. Here are the Top 5 moments of last night's spectacular episode: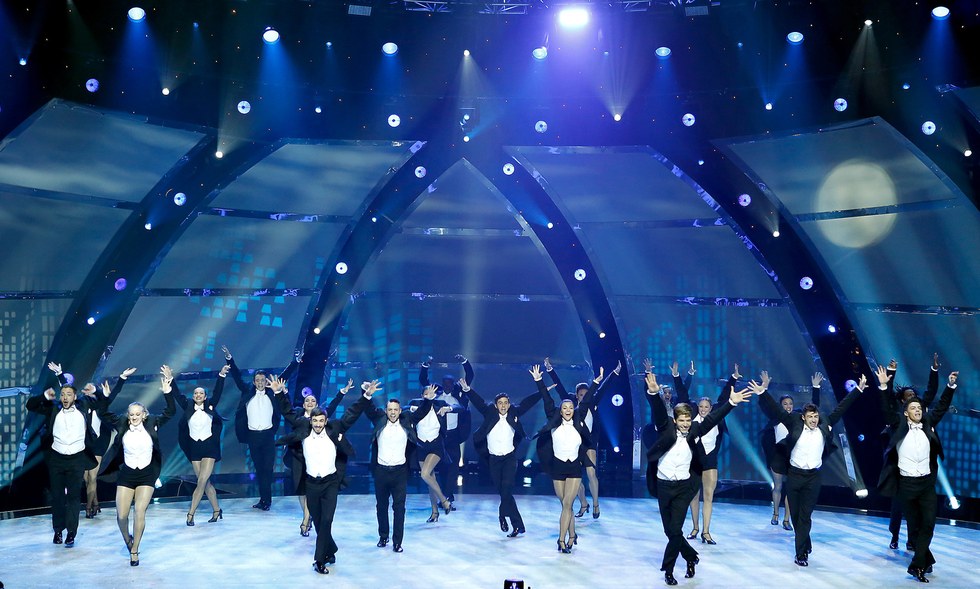 The Top 20 in Warren Carlyle's "Doctor Jazz" 
(photo by Adam Rose/FOX)
5. The opening group number. The evening started on a high note with Warren Carlyle's choreography to "Doctor Jazz" from Jelly's Last Jam. It was so great to see all the Top 20 dancers again (I'm still #TeamMarcquet)! And despite the vast amount of unison, the piece smartly showcased the Top 4 dancers without relegating the other 16 to the back of the corps, waving roses back and forth (I'm also still #TeamJodySawyer).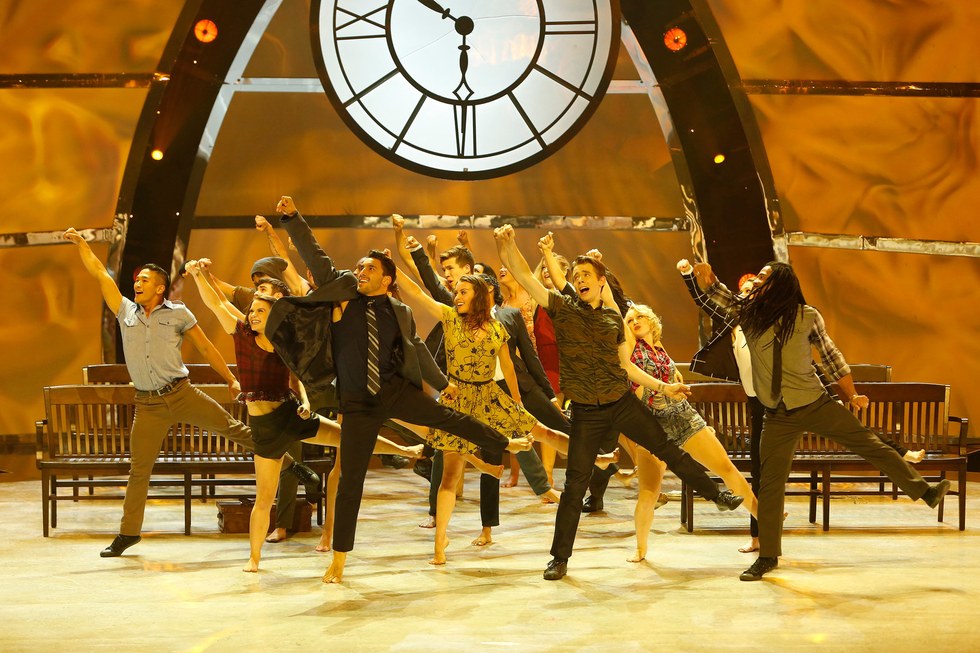 Sonya Tayeh and Christopher Scott's "Sweet Disposition"
(photo by Adam Rose/FOX)
4. Everything by Sonya Tayeh. The judges and the Top 4 dancers were asked to request encores of their favorite routines from the season, and three of them were from #TeamTayeh: Guest judge Jessica Dewan-Tatum chose Tayeh's "You Need" with Tanisha and Rudy; Zack selected to perform "Europe, After the Rain," the powerful duet with Amy Yakima; and Ricky brought back "Vow," his duet with Jessica. And as if that weren't enough, the group number, "Sweet Disposition," co-choreographed by Tayeh and Christopher Scott, really brought down the house. Set in a bustling train station, the piece combined Scott's ingenious use of storytelling with Sonya's impeccable eye for composition. Plus, we got to see the Top 10 dancers—and a few favorite All-Stars.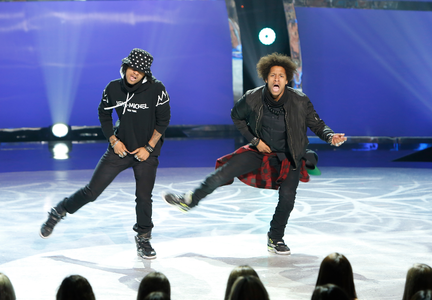 Les Twins being Les Twins
(photo by Adam Rose/FOX)
3. Les Twins' guest performance. These two. What can we say? We've been in love with Les Twins for a long time, and we're so happy they could take a quick break from killing it onstage with Beyoncé to appear on the show. Their duet was humorous, joyous and probably a little overheated—they were wearing so many layers!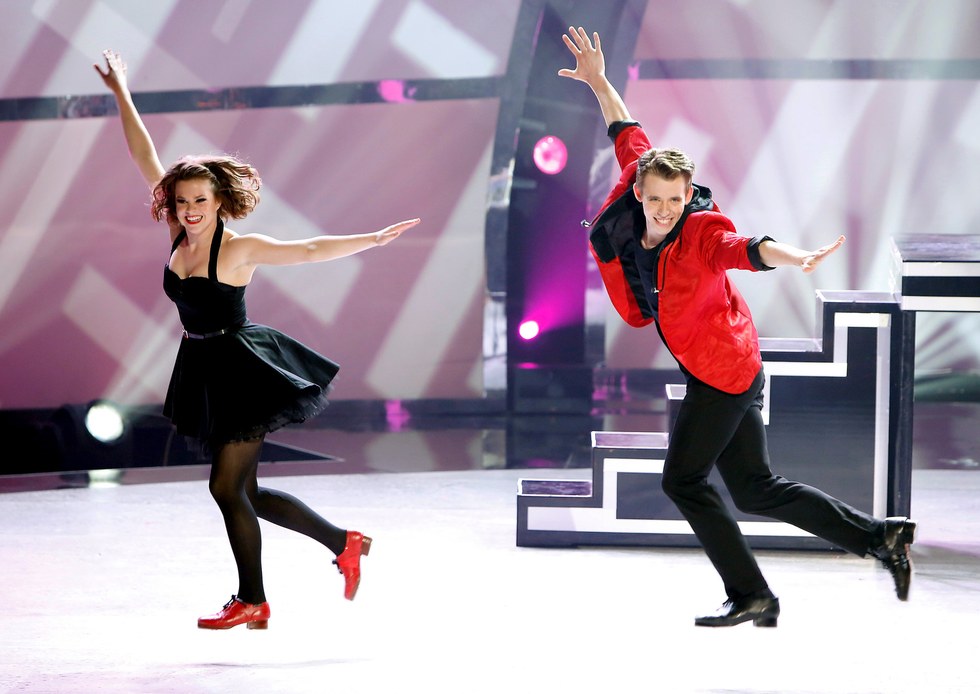 Valerie and Zack in Anthony Morigerato's tap routine "Sing"
(photo by Adam Rose/FOX)
2. #Teamtap's epic transformations. Zack and Valerie may not have been crowned America's favorites, but they earned a special place in our hearts for so daringly stepping out of their comfort zones and championing other disciplines. All the Top 4 dancers matured over the course of the season. (Jessica really developed and finessed her lines, as shown in tonight's soulful rendition of Travis Wall's "Like Real People Do" from earlier this season.) But Valerie and Zack didn't come into the competition with super-strong contemporary or hip-hop technique. So I'd like to take a moment to applaud their tenacity and their accomplishments on the "SYTYCD" stage.
OK, here it is! Drum roll, please...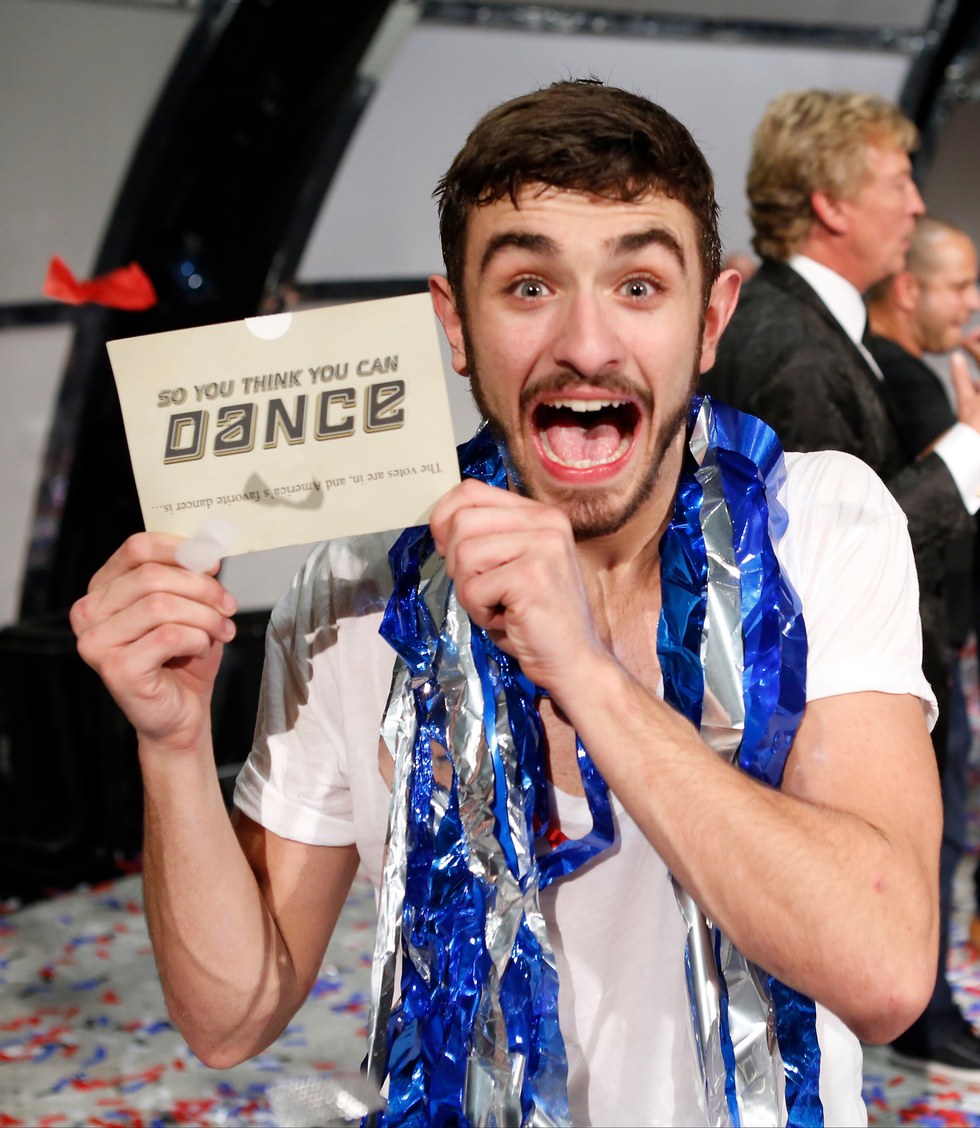 Ricky Ubeda!
(photo by Adam Rose/FOX)
1. Ricky Ubeda's moment of glory. From Dance Spirit Future Star winner to America's Favorite Dancer, 18-year-old Ricky Ubeda has grown into one heck of an amazing artist. We're so thrilled to celebrate his work and his spirit on the cover of our December issue, and we can't wait to see what awesome things he'll do next—that is, after dancing on Broadway in On the Town! Yay, Ricky!
Of course, we're sad to see Season 11 come to a close. Yet taking a cue from Nigel Lythgoe's on-screen and cross-network plug for #DWTS, we're happy dance won't be gone from TV too long—the ballroom competition starts September 15 on ABC! In the meantime, let us know what you thought of tonight's episode. And stay tuned for Dance Spirit's December issue. With Ricky on the cover, it's going to be an issue you don't want to miss. 
Dance News
Get Dance Spirit in your inbox
Aug. 07, 2014 07:00AM EST
The "So You Think You Can Dance" Top 10: By definition, that's a pretty rarefied crowd. At this point in the competition there are no obvious weak links in the contestant lineup, so eliminations are starting to feel...weird. We're invested in all the remaining dancers, which means, to horribly misquote Sheryl Crow, now every cut is the deepest.
The good news? None of these dancers are going down without a fight—and last night's episode included some of the best dancing we've seen this season. Here are my top five highlights from the show.
1. The opening number made "neon cowboys" a thing. I was a tad confused, initially, by Jamal Sims' concept. The dancers were supposed to be "getting a drink at the Last Chance Saloon"—but the Last Chance Saloon is a place where everyone wears highlighter-hued crop tops and carries parasols? Once the whole updated-take-on-the-Wild-West thing clicked, though, the piece was good cheesy fun. I especially liked that it gave each contestant a moment in the sun—even the tappers, who frequently get shafted in group pieces like this. (And Mr. Sims: Props to you, sir, for wearing a neon suit in solidarity with your dancers.)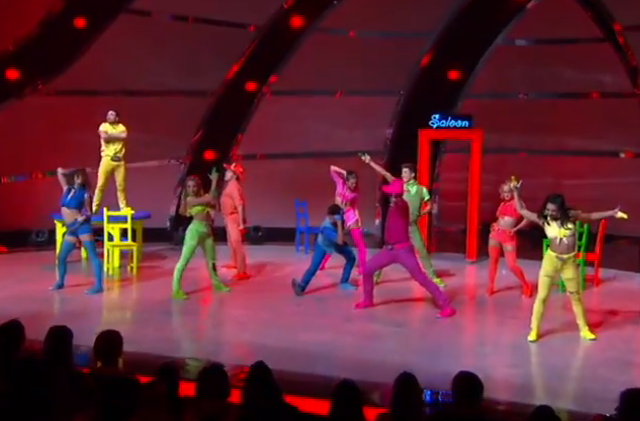 It's a hip-hop hoedown, y'all.
2. Nappytabs absolutely dominated. Tabitha and Napoleon's absence so far this season had created a gaping hole in my heart—a hole they promptly filled last night with two fantabulous hip-hop routines. First we had Emilio as an Egyptian king alongside Jasmine as a slinky pet snake with royal asp-iriations. I swooned for Emilio's tutting at the opening of the piece—and I love Nappytabs for never being afraid to go on-the-nose literal in the best way possible (tutting for King Tut, naturally!). Next up, the dynamic duo gave us tWitch as an old-fart creeper creepin' on pinup girl Jessica, and my mind pretty much exploded. #grandpatwitch forever. (Maybe the "bench test" should be a way to determine choreographic personality? I.e., give Mia Michaels a bench and she makes this; give Tabitha and Napoleon a bench and they make the world's greatest dirty old man jokes.)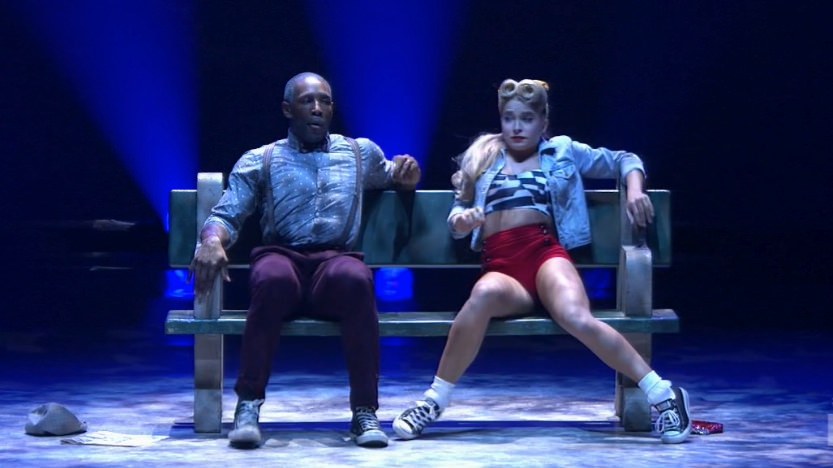 Creepers gonna creep.
3. #TeamBallroom. I think I have a ballroom problem, you guys, and "SYTYCD" is not helping. Tanisha smoldered in her Argentine tango with Ryan; the two of them nailed all of the routine's leg-flicking intricacies. And the lifts that choreographers Leonardo Barrioneuvo and Miriam Larici incorporated? Mind-boggling. (At one point Tanisha balanced on Ryan's neck. His neck!) I was thoroughly impressed by Rudy's ballroom skills in his cha cha with Jenna, too. I'll put it this way: When Jenna is wearing a super-naked hot pink dress trimmed with feathers and yet your eyes still occasionally flicker to Rudy, Rudy is doing a darn good job.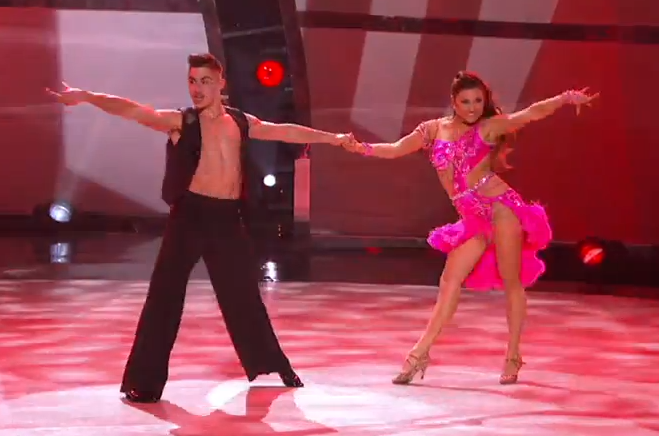 We see you, Rudy!
4. Travis Wall made the show's first-ever contemporary ballet piece, and...don't hate me, but I'm feeling conflicted about it. On the one hand, I'm a ballet freak and a half—in my eyes, anything ballet is always a DO. On the other, much as I love Travis (and think that his routine for the Top 7 guys last week will go down as one of the greatest in "SYT" history), why not choose a choreographer who specializes in contemporary ballet? Where's someone like Dwight Rhoden, whose company literally has "Contemporary Ballet" in its name, when you need him? The piece was successful in some ways; Jacque and Chehon were utterly committed, and I loved the super-dramatic lighting. But I'm not sure what pointe shoes added to the overall picture. This wasn't just a one-off experiment for TWall—he's made work for the Los Angeles Ballet, too—and it's exciting to see his curiosity leading him down different dance paths. My official verdict? Let's all keep a close eye on Ballet Travis.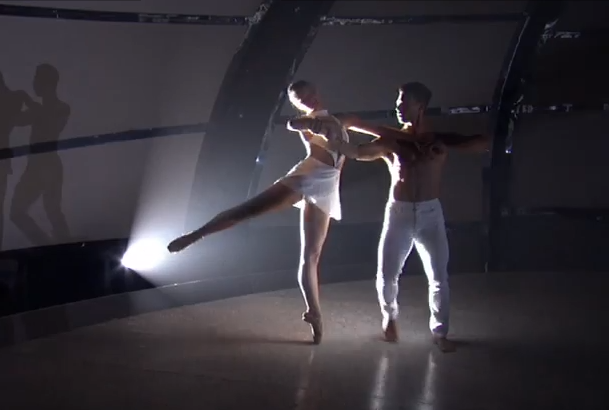 That lighting, though.
5. Sonya Tayeh dug deep. Sonya began the rehearsal process by telling Zack and Amy that their routine was a tribute to a friend of hers who'd passed away suddenly—and right away, I knew we were in for a teary ride. The resulting work was intense and moving, thanks in part to the beautiful, atmospheric music by Max Richter. While I was touched by how involved Zack and Amy became in the story, I have to admit that the choreography didn't scream "Sonya" to me. It felt strangely...generic. But I think I must just be a grump, because everyone in the audience gave it a big old standing O. And excuse me—Sonya's making a piece for the Martha Graham Dance Company? Now that I can't wait to see.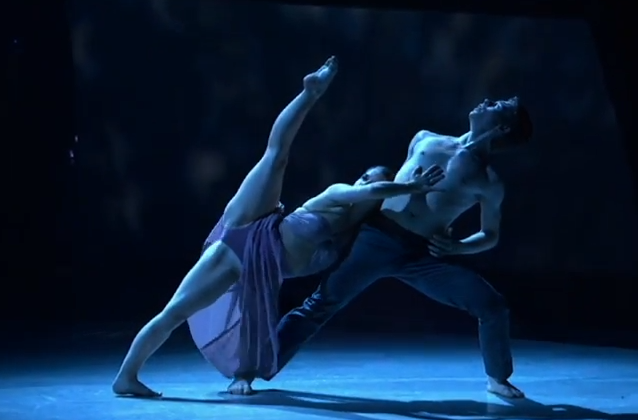 Zack and Amy, hauntingly lovely
Ultimately, we were forced to say a painful goodbye to Emilio and Bridget. Our consolation prize? Next week's show will celebrate the work of—ahem—Michael Jackson. Color me verrrry intrigued. 'Til then!
Dance News
Aug. 04, 2014 12:03PM EST
It's that late-summer time of year when a lot of you, especially you high school juniors and seniors, are starting to have college-related meltdowns. Your minds are swirling with questions—important ones. What school might be the best fit for you? How should you go about narrowing down your list of colleges? Should you major in dance? Which programs will prepare you for the ballet world, or the musical theater world, or the modern world, or the commercial world?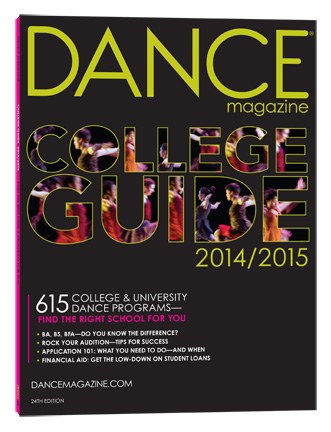 Yes, it's stressful. But don't start hyperventilating just yet: We're here for you! First of all, in about a week, our college-themed September issue will be hitting your mailbox, and it's jam-packed with advice about the oh-so-fraught application process. But there's another resource available right now: the 2014/2015 Dance Magazine College Guide.
The DMCG, aka the College Mothership, is the educated dancer's guide to dance education. It features an easy-to-understand directory of 615 (!) dance programs, with color-coded information about the styles and degrees each one offers. It also includes financial advice and tips about merit-based scholarships; a step-by-step college prep timeline that walks you through the application process; advice from the likes of Sonya Tayeh; and so, so much more.
Where can you find this magical thing, you ask? Right here. Order your copy—and then take a few deep breaths. It's going to be OK!
Dance News