Remember last fall, when Stella McCartney ended her Paris Fashion Week show with a big ol' dance party on the catwalk? It was fantastic.
So, at her show yesterday for the latest Paris Fashion Week, McCartney did it again:
Keep reading...
Show less
As beautiful and glamorous as Fashion Week is, the whole production can sometimes feel a little too...serious. Grim-faced models stomping down runways, aggressively styled fashionistas sizing up each others' outfits in the the front row—it's easy to forget that fashion is supposed to be fun.
So thank you, Stella McCartney, for pushing back against all that seriousness by ending your Paris Fashion Week presentation yesterday with a big, goofy, joyful model dance party. At the conclusion of the runway show, McCartney's gaggle of models met in the middle of the catwalk to bust out a little routine created by fashion-world choreographer of choice Blanca Li:
World-class dancing this is not—and none of these models are pretending to be professional dancers—but the whole spectacle is just so happy. It's like watching a wedding dance floor, except that all the wedding guests happen to be six feet tall and gorgeous. Apparently it even made Anna Wintour giggle, which...? .
This is our new favorite thing, and we'd like to request that it be the way every runway show ends from here out. (Or heck, take things up a notch and hire professional dancers as your runway models, Opening Ceremony-style.)
Jan. 02, 2013 12:35PM EST
I think the ballet world and the fashion world have a little mutual infatuation thing going on.
Haute couture designers just love to make costumes for ballets. From Valentino to Christian Lacroix to Stella McCartney—the kings and queens of the runway just can't stay away from ballet's best and brightest. But the equation goes the other way, too: Ballet dancers tend to have an amazing sense of personal style, putting together all kinds of creative looks. (It probably doesn't hurt that many of them look like runway models!)
Awesome San Francisco Ballet principal Maria Kochetkova is definitely one of the leaders of ballet's fashion pack. Over the holidays, Refinery 29 photographed the ballerina in some of her signature looks—and got her to spill the secrets of her quirky style. (The best part of the interview? When she reveals that Flavor Flav is one of her fashion icons. For real. Also, she got designer David David to make her a custom dragon T-shirt. She is amazing.)
Check out her looks below!
(All photos by Anna-Alexia Basile)
[portfolio_slideshow nowrap=0 thumbs=true timeout=4000 showtitles=true showcaps=true showdesc=true]
Ballet
Aug. 10, 2012 04:00PM EST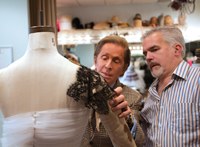 Valentino (left) and costume director Marc Happel working in the NYCB Costume Shop (Photos by Paul Kolnik)
The ballet and fashion worlds collide this month in NYC with a one-time-only gala
at Lincoln Center kicking off New York City Ballet's fall season (which just happens to start one week after New York Fashion Week!). The gala is honoring legendary fashion designer Valentino Garavani, who will be transforming ballerinas into stunning fashionistas, creating costumes for four works—three by NYCB ballet master in chief Peter Martins and one by choreographer Christopher Wheeldon.
Valentino has been working tirelessly to create these exquisite costumes since April, with the help of NYCB costume director Marc Happel. No stranger to the world of fashion, Happel has worked with several prominent designers who've created costumes for the company over the past year, including Gilles Mendel, Kate and Laura Mulleavy of Rodarte, and Stella McCartney. And he's mastered the art of successfully bridging the gap between the catwalk and the stage. "Designers usually deal with models on the runway, but when dancers are onstage with the audience at least 50 feet away, everything changes," Happel says. "I advise them to pay attention to the details that are really going to stand out." He also helps the designers manage their schedules, so the costumes are completed with enough time to actually rehearse in them. "I've been to fashion shows where people are sitting backstage at sewing machines an hour before the show," Happel says. "I've had to explain to each of the designers that we just don't work that way."
While working with each well-known designer over the past year has been a unique experience for Happel, collaborating with Valentino has been the cherry on top of this fashion sundae. "I'm completely in awe of Valentino," he says. "He's a legend, and he's one of the last great couture designers. His designs are sumptuous and extravagant, and his choices are spot on."
Valentino's designs hit the stage at NYCB's 2012 Fall Gala at Lincoln Center on
September 20.
A Year in Costumes
According to the NYCB Dancers Who Wore Them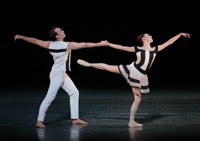 Tyler Angle and Tiler Peck in Benjamin Millepied's Two Hearts, with costumes by Kate and Laura Mulleavy of Rodarte
"The first day Kate and Laura Mulleavy came in, they were casually dressed and laid-back," Tiler Peck says. "I said to another dancer, 'I can't believe they are so cool.' They were very accommodating to what we needed. For my costume, they decided to lose the skirt at the end of the ballet, and just have a leotard. I loved it!"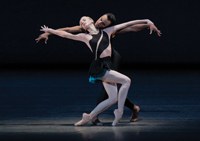 Taylor Stanley and Claire Kretzschmar in Peter Martins' Mes Oiseaux, with costumes by Gilles Mendel
"My mom, sister and I have always been interested in fashion, so hearing Gilles Mendel was making our costumes was a great surprise," Claire Kretzschmar says. "He paid close attention to the littlest details, like the curves of the shapes on the bodice. My costume transformed me into a different, more sophisticated person."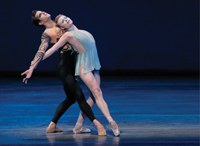 Sara Mearns and Robert Fairchild in Peter Martins' Ocean's Kingdom, with costumes by Stella McCartney
"The whole experience was surreal to me," Sara Mearns says. "Since Stella McCartney didn't know much about ballet, we started by showing her how fabrics move when you dance. The process of getting from there to the final costumes was difficult, but when it all came together, it really worked."
Jun. 04, 2012 11:12AM EST
New York City Ballet has been on a serious fashion kick recently. First there were Gilles Mendel's costumes for Melissa Barak's Call Me Ben a couple of years ago. Then there were Stella McCartney's designs for Ocean's Kingdom, with music and story by her dad Sir Paul. Most recently, there were the Rodarte and Mendel costumes at the company's spring gala.
In September, you can add Valentino Garavani to that impressive list. The Italian designer is making costumes for three ballets to be performed at the company's fall gala, September 20.
What will they look like? Well, Valentino created costumes for Vienna's 2010 New Year's Concert, featuring Paris Opéra Ballet étoiles Eleonora Abbagnato and Nicolas Le Riche as well as dancers from the Vienna State Opera, which might give us a sense of his ballet style. Here's a video of Abbagnato and Le Riche performing at the concert, dressed in Valentino's signature red:
And here are the Vienna State Opera dancers, in rosette-trimmed pinks and greys:
What do you think? Can't wait to see what he comes up with for NYCB!
With four world premieres on the lineup, the 2011-2012 season at New York City Ballet is sure to be exciting. But the company's most anticipated new work, Ocean's Kingdom, comes from a trio of creative masters: It features choreography by NYCB ballet master in chief Peter Martins, a score by former Beatles front man Paul McCartney and red carpet–worthy costumes by fashion designer (and Sir Paul's daughter) Stella McCartney.
The piece tells a Little Mermaid-esque story, with NYCB principals Sara Mearns, Amar Ramasar and Robert Fairchild dancing the leads. Also debuting in Ocean's Kingdom is senior corps de ballet member Georgina Pazcoguin, who chatted with DS about her role as Scala in the groundbreaking premiere.
—Alison Feller
Dance Spirit: How did you find out you'd be dancing a lead role in Ocean's Kingdom?
Georgina Pazcoguin: Ballet mistress Rosemary Dunleavy pulled me aside one day. She said, "You're going to be one of the leads in the new Peter ballet." I was like, "Excuse me?" She said, "You're going to be Scala," and I said, "What is Scala?" My first rehearsal was the next day! As it turns out, Scala is the disillusioned leader of the ballet's handmaidens. She's a servant with a chip on her shoulder. It's a feisty, dramatic character!
DS: What do you think is most exciting about this piece?
GP: Knowing that Paul McCartney is composing a score for a ballet—specifically for us—is amazing. How could you not love Paul McCartney? And for Stella to be doing the costumes, making it a family affair, is wonderful. I've especially enjoyed working closely with Peter. It's been a great chance for me to show him what I can do.
DS: Are you nervous about your debut?
GP: I'm sure nerves will come up, especially pertaining to the costumes. There's talk of a big cape I'll be dancing with, and some wings. I'm also nervous about dancing next to Sara Mearns, who is one of the top NYCB dancers—that's a big pressure. But I'm up for the challenge and am enjoying defining my character. It will all come together by opening night.
DS: Why should people see Ocean's Kingdom?
GP: First and foremost, see it for the dancers. NYCB has a brand-new generation of dancers rising through the ranks. The company is transforming. Then come for Stella's amazing costumes. Her ideas are incredible, and she wants every look to be like a runway look. Peter's choreography is going to be great and the score is breathtaking. It's a dream team.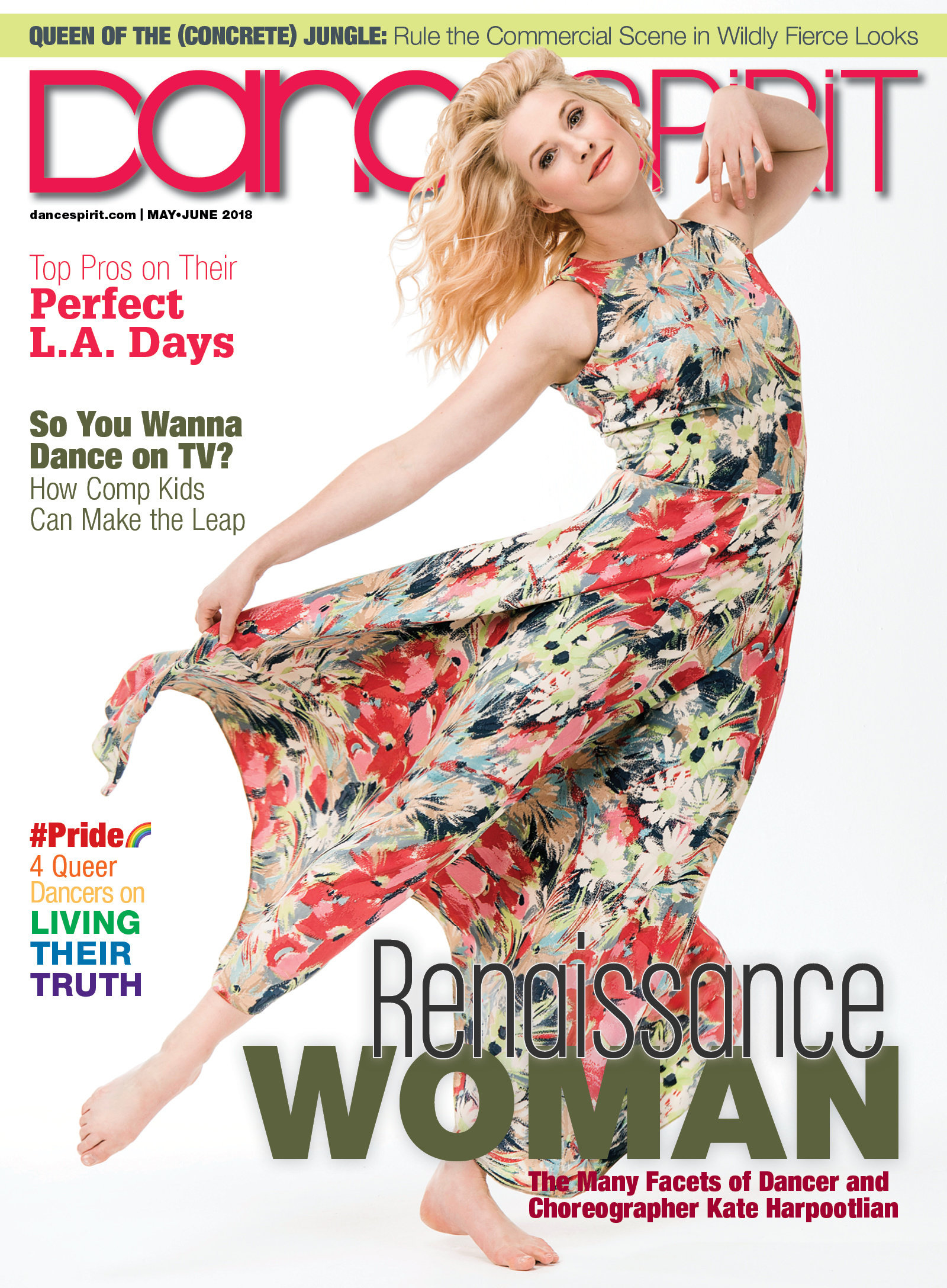 Get Dance Spirit in your inbox