In my imaginary second life, I am best friends with Kathryn McCormick and Chantel Aguirre, and we are all members of Stacey Tookey's newly-formed company, Still Motion.
In actual life, Kathryn and Chantel (and a host of other former Dance Spirit cover stars, including Melanie Moore) really are members of Tookey's company.
Sure, I'm jealous. But I'm sure a spot will open up in the company—and the friendships—for me soon enough.
In the meantime, I am so into this just-released video from Tookey showcasing a bit of the incredibly talented dancers from Still Motion in Moments Defined.
Choreography
Sep. 01, 2014 12:30PM EST
Since leaving her hometown of Edmonton, Alberta, at 19, Stacey Tookey has become one of the commercial world's biggest-name choreographers. Her work on "So You Think You Can Dance" has earned three Emmy nominations for outstanding choreography, and her company, Still Motion, presented her full-length work, Moments Defined, in NYC and L.A. this summer.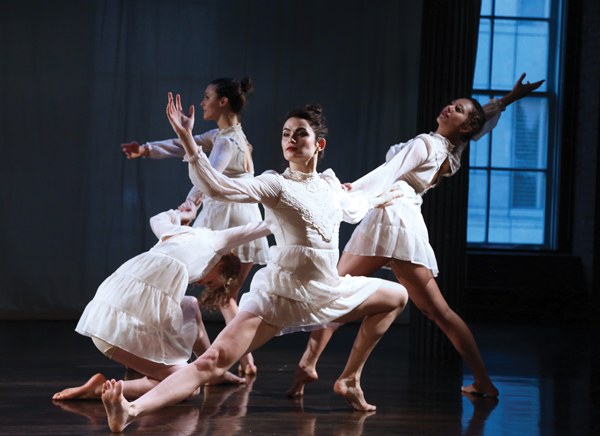 Members of Still Motion in Tookey's Moments Defined (photo by Bill Herbert, courtesy Stacey Tookey)
"In Moments Defined, there's a New York street scene that's up-tempo—a really happy, feel-good part of the work. It was inspired by the first time I arrived in NYC. The city was a place where, all of a sudden, I just felt alive. It was a feeling of true happiness and true belonging."
"I often use apps like SoundCloud to find new music. But I also love getting recommendations. For example, a friend first told me about Christina Perri, who, at the time, was still a waitress. I heard her song 'Jar of Hearts' and immediately fell in love with it. I took it to the 'SYTYCD' people, and they said they needed a produced copy. I went back to Christina, who then asked her manager to produce it. Finally, we got to use it on the show, and the song was a hit. A couple of days later, she was flown to NYC and basically had her choice of record labels!"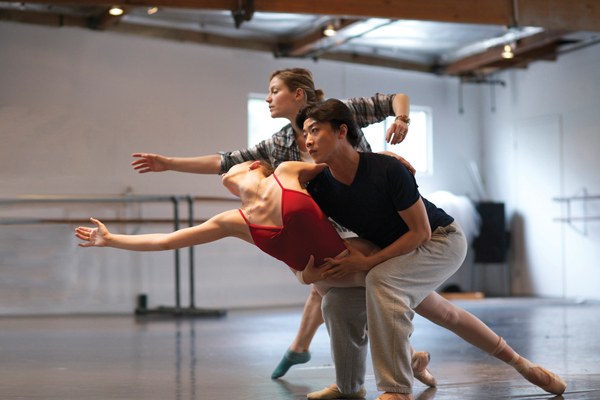 Rehearsing Be Still with Los Angeles Ballet's Allyssa Bross and Zheng Hua Li (photo by Erich Koyama, courtesy L.A. Ballet)
"I love collaborating with composers. I've worked with Matthew Banks many times—for Moments Defined and my pieces for Los Angeles Ballet and Cincinnati Ballet. I love being able to speak to him about exactly what I want or to ask if he can go in another direction. He also comes in to watch the rehearsal process and creates from there."
"I was walking down a street in NYC, and I started to think about the stories behind everyone I passed—a businessman, girls out shopping, a homeless man—and the diversity of our culture. That's how Mad World was born. I thought, 'What if there were a twist? What if two people knew one another growing up, but their lives took completely different journeys, and then they had an accidental meeting?' I wanted to bring up that shocking, twisted, sad thing about reality."
"Pina Bausch is a true visionary. Her work inspires me, and she embodies everything I want to become as a choreographer. Crystal Pite is also just mind-blowing. She was in Ballet BC when I joined the company as an apprentice, and since then, I've looked up to her as a mentor. I always say, You aren't the person you are without the people you look up to."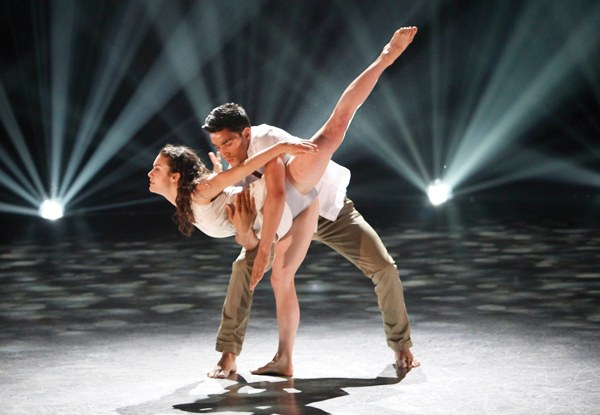 Kathryn McCormick and Robert Roldan in Heaven is a Place on Earth (photo by Mathieu Young, courtesy FOX)
"The inspiration for my piece Heaven is a Place on Earth came from seeing families making huge sacrifices for the military. The dance centered on a woman leaving for war. At the time, so many people were dealing with those sacrifices, and their stories really affected me. On the show, Kathryn McCormick and Robert Roldan were able to take the piece to such a real place emotionally."
"Kathryn McCormick is my muse. I fell in love working with her on 'So You Think' and she's the one dancer I always go to for any project. She invests her whole soul in everything she takes on."
"When I look at myself as a teacher or a choreographer, I see that it all comes from my mother. She's one of the most hard-working, passionate people I've ever met. She's had her studio, Shelley's Dance Company, for more than 45 years and has created so many amazing dancers. Still, she goes in every day and puts her heart and soul into her work. I'm not sure if I have the strength to do what she has done. I'm the person I am today because of her."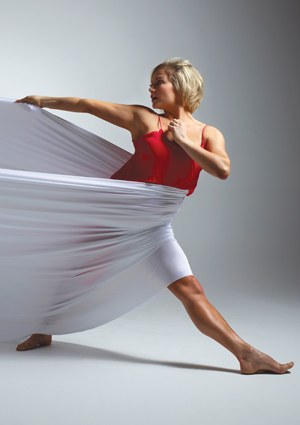 Tookey photographed by Michael J. Moore
Stacey Tookey's gorgeous contemporary pieces have been wowing "So You Think You Can Dance" audiences since Season 5. But for the past couple of years, the talented choreographer has also been directing her own company, Still Motion, which premiered Tookey's first evening-length work, Moments Defined, in L.A. in 2012. Now a revamped version of the show is coming to NYC for two nights only—June 4th and 5th at the Kaye Playhouse. (Get your tickets here!) I caught up with Tookey to see what New Yorkers can expect from Moments.
Margaret Fuhrer: How did you initially come up with the concept for Moments Defined?
Stacey Tookey: When you're creating a whole evening of your own work, the best place to start is with something personal to you. I started thinking about all the moments in my life that have transformed me, inspired me, shaped me. So I wanted to create a series of vignettes of these moments, snapshots brought to life. That was the root of the show, and then as it developed, of course I realized it wasn't just about me—it was bigger than that. We all have moments that define us.
MF: A lot of your "SYTYCD" pieces tell beautiful stories. Is there a narrative through-line to Moments?
ST: There's a little bit of a subplot. I like to assume my viewers are smart, and to leave some things to their imagination—it's up to them to decide if they want to thread everything together or not. This show isn't as commercial or spelled-out as what we see on TV, but in addition to its more abstract moments there are also simple, clear, even funny ones.
Excerpts from the L.A. production of Moments Defined
MF: This is a multimedia show, right?
ST: Yes, there's a dance film in the middle of it. I feel like that's where theater is headed—into the realm of multimedia. It's cool to be transported into a film in the middle of a live experience. I can take the whole audience with me on a different kind of journey.
MF: Your NYC cast includes some new faces.
ST: I wanted some fresh energy, because I wanted the New York show to feel different. Some of them are people I've admired for a long time. But I also held an audition in New York, and I hired some dancers I'd never worked with before. The final group has such an amazing range—they go from the concert dance realm to Broadway to the commercial world of "SYTYCD." One of them, Anthony Morigerato, even holds the Guinness World Record for the most tap sounds in a minute. He's the only tap dancer who's ever made me cry.
MF: What qualities do you look for when you're choosing dancers?
ST: I rely on them to bring something to the creative process, so I want people who are honest and have really giving spirits. And humility is important, too. There are a lot of extraordinary talents out there who are really difficult to work with, and I've always steered away from that. All of my dancers are really nice people!
MF: How has Moments evolved since 2012?
ST: It'll be evolving up until opening night! As an artist you're forever changing, so it would feel strange to do the exact same show again. I've reworked a lot of the dance—I've added to it, I've brightened parts, I've dimmed others. And I've left room for the spontaneous moments we have in the studio during rehearsals. As a choreographer, you have to trust yourself and not over-plan things. You have to go with your heart.
MF: Why did you want to bring this show to NYC?
ST: New York has played a huge role in my dance career. It was the city I connected with most as a dancer—it inspired me. L.A. was a great place to start this journey, but it's always been a dream of mine to do something in New York. It's bringing me back to my roots, in a way.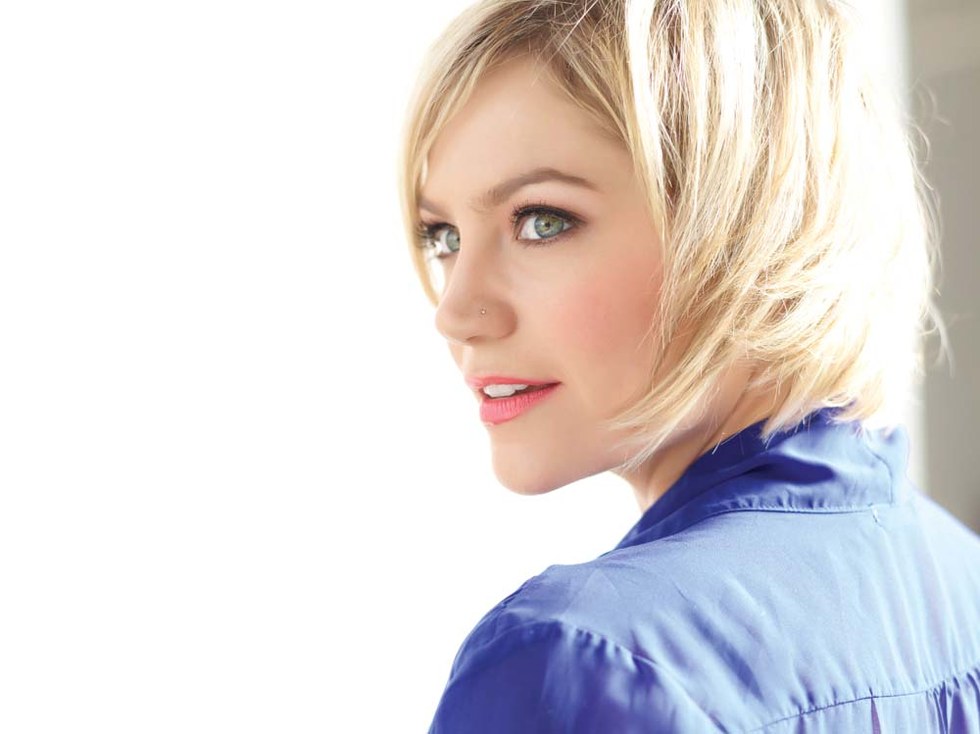 If you've watched any "So You Think You Can Dance" episode in the last five seasons, you've probably been wowed by Stacey Tookey's contemporary choreography. She recently received her third Outstanding Choreography Emmy nomination for her work on the show. (Tune in on September 23 to see if she snags the win!) As if that weren't enough, Tookey is also starting her own contemporary company,
Still Motion
, which will make its debut November 9 in L.A. We recently caught up with her to get the inside scoop.
DS: What is your favorite number you've choreographed for "So You Think You Can Dance"?
ST: I like different routines for different reasons, whether it's my experience with the dancers or the reaction from the judges when someone is stretched out of their comfort zone. Sometimes the piece just has special meaning to me. I can narrow it down to three: Mad World (Billy and Ade), Heaven is a place on Earth (Kathryn and Robert) and Bang Bang (Eliana and Alex).
DS: All of us at Dance Spirit are super excited you're starting your own company. What made you decide to do it?
ST: I've been thinking about starting my own dance company for a while and finally decided the time is right. I want to push myself as an artist, continue to grow and take beautiful dancers who inspire me along for the journey. L.A. is such a "gig by gig" type of dance industry, where most dancers do a job for a couple days or a week then it's over. In my professional dance career, it was my experience working in a company situation that stretched and taught me the most. There is something about sweating in a studio together for 8 hours a day over a long period of time that is so rewarding.
DS: What do you look for when hiring dancers?
ST: Fearlessness, openness, passion and good energy.
DS: What genres do you expect your dancers to have a strong technical base in?
ST: Classical ballet! It's the foundation of dance and the base of my movement. You don't have to have perfect ballet technique or the perfect classical body—just be trained and have an understanding of true classical ballet.
Any genres you can be proficient in will help you as a dancer. The more versatility you have, the more hire-able you are and the more you have to offer. My mom (my teacher) had me study ballet, jazz, lyrical, contemporary, modern, tap, hip hop, musical theater, Scottish highland and baton twirling. I have pulled from every genre in my professional career at some point, and I'm thankful for my diverse training.
DS: How do you define contemporary?
ST: Contemporary dance embodies a vast spectrum of movement and expression that can be interpreted in many ways. I feel like it's a genre that's continually reinventing itself and pushing boundaries. It has roots in classical ballet but is truly about conveying an emotion or story—as subtle or obvious as that may be.
DS: What do you think is the key to great contemporary choreography?
ST: I believe great contemporary choreography will make you feel something. Some of my favorite contemporary performances have left me crying, laughing or sitting in complete silence, not being able to move. You feel it so deeply it leaves an imprint on you as a person. I can recall those feelings and images in an instant because they are so memorable.
DS: If you could choreograph a piece on anyone, who would you choose?
ST: There are so many dancers I would love to work with for so many different reasons. But if I have to pick one, it would be Misty Copeland from American Ballet Theatre.
DS: What are you working on next?
ST: My main focus now that "SYTYCD" is nearly over is my dance company, Still Motion. I have so much work to do to premiere our first show, "Moments Defined" on Nov 9-10 in L.A. at the Nate Holden Theatre.
DS: Who are your favorite up-and-coming dancers right now?
ST: Melanie Moore, Kathryn McCormick and Robert Roldan.
DS: Is there a particular choreographer or dancer that inspires you?
ST: I'm continuously inspired by and in awe of my very good friend, dancer and brilliant choreographer Peter Chu. He is a one-of-a-kind artist, with a driving passion and love for the art of dance.
Choreography
Sep. 10, 2012 04:50PM EST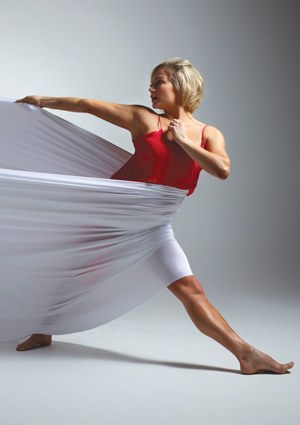 by Michael J. Moore
If you truly felt for Billy Bell during the "Mad World" number on "So You Think You Can Dance" Season 7, or gasped aloud at Witney Carson and Chehon Wespi-Tschopp's duet to "I Will Always Love You" on Season 9, you're in for a treat: Stacey Tookey, who choreographed both those memorable routines, has formed her own company. Still Motion, her diverse troupe of dancers, will perform plenty of Tookey's signature contemporary style. But the Emmy-nominated choreographer also has a whole lot more up her sleeve (including baton twirling!). Dance Spirit chatted with Tookey to get the scoop.
Dance Spirit: How did you make the decision to start your own company?
Stacey Tookey: After five years of seriously thinking about it, I finally decided, "This scares me, so I should definitely do it." And why not now? There's so much talent here in L.A., and there are so few venues for concert dance. If it weren't for my experience in companies [including Mia Michaels' company, R.A.W., and Parsons Dance Project], I don't think I would be who I am today. Companies are where dancers learn dedication and hard work. It's all about giving young performers opportunities.
DS: Will the choreography be similar to what we've seen from you on "SYTYCD"? 
ST: I obviously love contemporary dance, but my training and background are diverse. A lot of people don't know that. I was in a tap company, danced on an NBA cheerleading team, twirled baton competitively, figure-skated, was a Scottish Highland dancer, did Chinese dance, was in a German dancing troupe and trained in jazz and modern. Of course, "SYTYCD" has to label you, so there I'm a contemporary choreographer. But in my company pieces, I want to express more sides of myself. I want my audiences to walk away feeling like they've been through an experience.
DS: What do you look for in dancers?
ST: I work with energies. It's all about how dancers present themselves and how open they are to being vulnerable. As far as genres, I usually look for dancers who are versatile. But, I'll also feature artists who only do one thing really well, like Anthony Morigerato, who recently set the Guinness World Record for most tap sounds in a minute. I mainly look for special artists who are ready to go on a journey with me.
SAVE THE DATE: Stacey Tookey's Still Motion will present its first performance November 9-10 in L.A.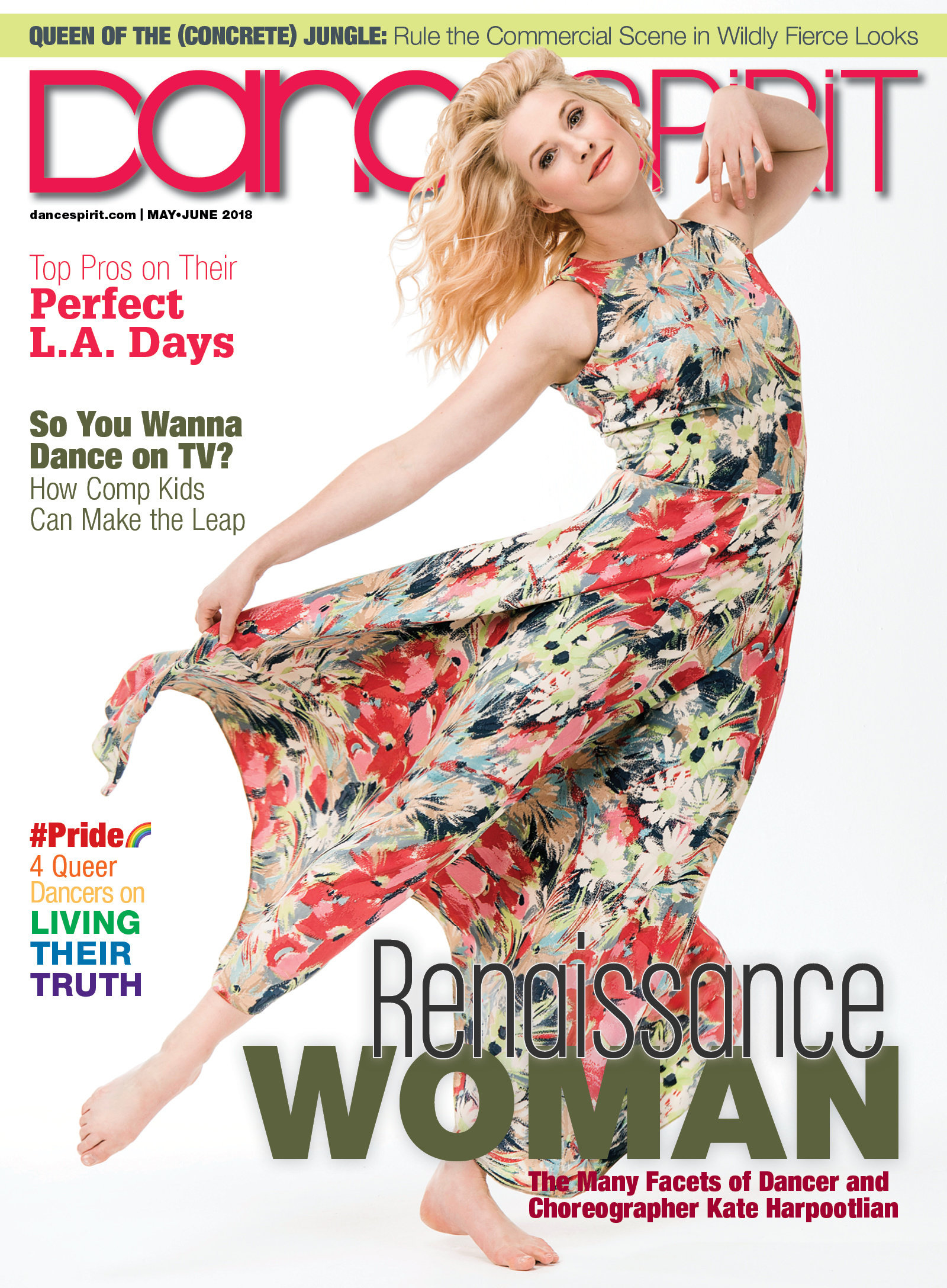 Get Dance Spirit in your inbox