The worst has happened: You landed a jump and felt an oh-so-terrifying pop in your ankle. As your friend rushes over with an ice pack, your entire dance career flashes before your eyes. All you really want to know is how bad it is—and how long you'll have to stay off your toes.
Dancers endure a lot of physical stress on a daily basis, making injuries like sprains, strains, fractures and stress fractures fairly common throughout the body. Here, Dance Spirit breaks down the differences between the four diagnoses—so you'll know what to expect when your doctor gives you the news.
The diagnosis: a strain
Strains usually build up gradually over time but can also happen suddenly. They occur when muscles or tendons (tissues that connect muscle to bone)—frequently in the lower back or hamstrings—are stressed by prolonged repetitive motion. Strains often come with pain, swelling, limited mobility or muscle spasms. "I usually see strains in dancers who are trying to get a muscle to stretch or contract more than their body can tolerate," says Katie Lemmon, an athletic trainer with Athletico Physical Therapy in Chicago, IL.
Treatment strategy for strains depends on their severity. You may make significant recovery with a few days off, but you may also need up to six weeks working with a physical therapist, or even surgery. Lemmon recommends turning to a dance-friendly physical therapist as soon as possible, since they can often help correct anything in your technique that might increase your risk for re-injury. "It could be an imbalance in your muscles," she says. "For example, if the pulling feeling is in your hamstring, you might need to stretch out the front of your thigh. We always recommend a technique assessment to look at how all the parts of your body are working together."
The diagnosis: a sprain
A sprain is usually accompanied by pain, swelling, bruising and limited mobility. It indicates a stretching or tearing of ligaments, the bands of tissue in your joints that connect two bones. In addition to the classic sprained ankle, you can also sprain ligaments in your knee with an unexpected twist, or in your wrist during acro or partnering. Sprains usually happen suddenly, and they're more likely if you're tired or haven't warmed up properly.
While a mild strain may only require a few days of rest, ice and wrapping, most ankle sprains will require some time in a brace or a boot. Podiatrist Ronald Werter, who works with professional dancers in NYC, says moderate sprains may only require two weeks in a boot followed by two weeks in an ankle brace. The more intense the tear, the longer you'll have to stay off the foot. If the ligament is completely severed, it could take six months or more to heal. In that scenario, many dancers opt for surgery to repair the ligament, since it typically won't reconnect on its own.
It's important not to return to dancing too soon after a sprain. "If the ligament is still overstretched, you may be at risk of making the injury worse or tearing it completely," Lemmon says. "Even when your doctor says you can go back to dancing, start gradually with movements that don't require twisting, turning or jumping." Working with a physical therapist can help you regain balance, strength and range of motion. And your doctor may recommend taping the affected area to add support when you first return to the studio.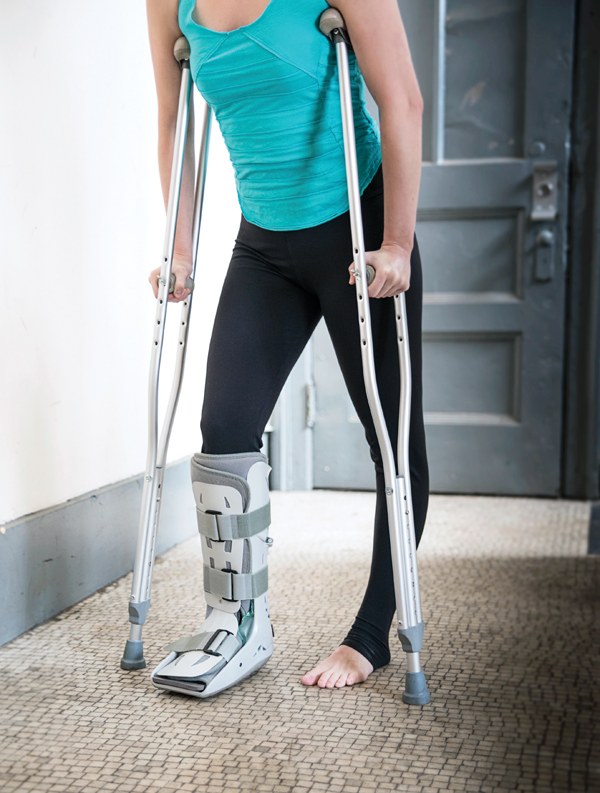 (Photo by Lucas Chilczuk)
The diagnosis: a fracture
A fracture, or broken bone, happens suddenly, usually from landing a jump wrong, falling or being dropped while partnering. You'll often feel and hear a snap, followed by throbbing pain, swelling, bruising and sometimes noticeable deformity. Werter says he commonly sees broken toes in dancers, which, at best, heal with taping and a couple days of rest.
However, a broken metatarsal may require surgery to insert a pin or screw in the bone. "After surgery and six weeks in a boot, it should be stable enough to dance on carefully, but you'll likely need about another three months to be completely healed," Werter says.
To avoid fractures, Lemmon suggests checking in with a nutritionist to be sure you're eating a bone-healthy diet. Often, dancers with poor nutrition or amenorrhea (lack of periods) will have weaker bones, which can make them more susceptible to fractures. The good news is that once your bone completely heals, the chance of breaking it again doesn't increase in healthy dancers. In fact, Lemmon says, the bone may actually heal stronger.
The diagnosis: a stress fracture
A stress fracture happens when a bone begins to develop thin cracks due to prolonged stress. Dancers usually get them in the bones of the foot (metatarsals or sesamoids) or in the bones of the lower leg (tibia and fibula), and they may not be easily spotted with an X-ray. They're usually caused by overuse or repetitive pressure on the bone—jumping repeatedly on a hard floor, for example, or even wearing pointe shoes that don't fit correctly.
"For foot fractures, I start by immobilizing it in a walking boot for just a week," Werter says. "After a week, if there's no pain, I'll wrap it and ask the dancer to take it easy. If treated properly, a stress fracture should be OK to dance on after about three to six weeks."
Lemmon adds that being diagnosed with a stress fracture, much like being diagnosed with a strain, is a sign that you may be fatigued or need to reevaluate your technique. "A stress fracture in the foot, for example, could actually be caused by an imbalance in your hips or core," she says. "Taking time off to heal is an opportunity to figure out what caused the injury in the first place."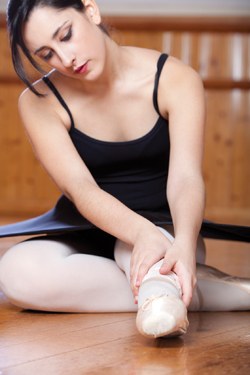 Take care of your body so you can stay in the studio—and not on the sidelines.(iStock)
Every dancer, at some point, is faced with physical pain. Fractured bones, inflamed tendons and muscle strains seem to come with the territory. They might even force you to take an unwanted break.
But injuries, particularly overuse injuries, can be prevented. DS talked to medical experts about the most common problems dancers face. Take their advice to stay ahead of the pain—and off the injured list.
Stress Fractures
What they are: Stress fractures are small cracks in the bone that occur when too much force goes through the bone. They're commonly seen in the second and third metatarsals, but shin splints can also turn into stress fractures if you're not careful. "The muscle pulls on the outside lining of the bone and becomes inflamed," says Michelle Rodriguez, physical therapist and owner of Manhattan Physio Group. "If you keep jumping and pushing through it, you can end up with a stress fracture."
How to prevent them: When your workload or class schedule increases over a short amount of time, you're at risk for a stress fracture. Try not to do too much too soon. Slowly build up the number of classes you take, and limit the number of big jumps you do in one day.
It's important to get plenty of calcium and magnesium in your diet, since they keep your bones strong. Foods like spinach, broccoli and dairy products will give you a boost. It's also crucial that you get your period, since estrogen plays an important role in bone density. "Many young dancers don't get their periods within the average age range because of the pressure to be thin. They've got all this physical demand on an immature skeletal system," Rodriguez says. If you don't have your period by age 15 or 16, talk to your doctor.
How to treat them: Rest for 4 to 10 weeks. Your doctor might put you in a walking boot to protect the injury. If you start having tenderness in the middle of your shin or feel a bump on that bone, see a doctor right away. Tibia fractures will keep you from jumping for several weeks.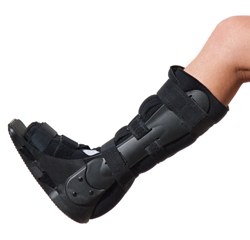 Not nearly as pretty as pointe shoes... (iStock)
Tendinitis
What it is: Inflammation of the sheath around the tendon, or tendinitis, is another overuse injury. "I see the condition most in the Achilles and the FHL (flexor hallucis longus) tendon, which points the big toe," says Dr. Kevin Varner, an orthopedic surgeon who works with dancers at Houston Ballet. "It happens when dancers overwork their bodies and get muscle fatigue, like during a long run of Nutcracker shows." Also common is patellar tendinitis, or jumper's knee. As your quadricep muscles get tighter and tighter, they put tension on your kneecaps and pull the patella up toward the thigh.
How to prevent it: One of the most important ways to prevent tendinitis in the ankles is to practice good alignment. "Be sure to relevé over the middle of your foot and ankle," Rodriguez says. "The more you wing your big toe, the more you overuse your FHL." Since the FHL muscle is deep in your calf, you can use a ball to massage it and release its pull on the tendon. For jumper's knee, get into the quadriceps with a foam roller or a dense rubber ball—and then stretch.
How to treat it: "When you have recurring tendinitis, make sure you find the underlying cause," Varner says. "Forcing your turnout and rolling in on your ankles will make your Achilles tendons tight, for example." Physical therapy, ice and anti-inflammatories can help reduce pain and swelling.
Ankle Sprain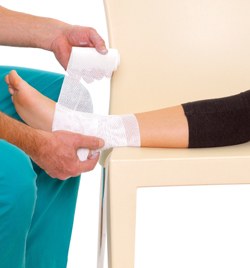 Protect, rest, ice, compress and elevate—then say goodby to that pesky sprain. (iStock)
What it is: Ankle sprains catch you by surprise. One minute you're fine, and the next you've twisted your foot and overstretched or torn ligaments around your ankle. "The typical ankle sprain is in someone with a high arch, because they tend to roll the ankle to the outside more," Varner says. Varner sees more ankle sprains in younger dancers, usually because of poor technique. "They don't land from a jump the way they should and end up twisting their ankles."
How to prevent it: Strengthen the peroneal tendons on the outer sides of the ankles to provide more stability. Do Thera-Band exercises to practice winging and sickling the foot and multiple series of relevés with proper alignment.
How to treat it: Protect, rest, ice, compress, elevate (PRICE). "Make sure you've recovered fully before returning to the studio," Varner says. "Injuries that aren't rehabbed all the way tend to recur."
Lower Back Strain
What it is: Many dancers experience lower back strains and tightness. "Sometimes they try to attain a certain line, like arabesque, and compress their lower backs in an attempt to get their legs up higher," Rodriguez says.
How to prevent it: Lower back strains can be prevented by strengthening the core muscles. If your midsection is strong, you'll engage your core muscles when you're working instead of your back muscles.
How to treat it: "Get a massage," Varner says, "and try alternative medicine like acupuncture. Dancers find that it decreases swelling and lessens pain."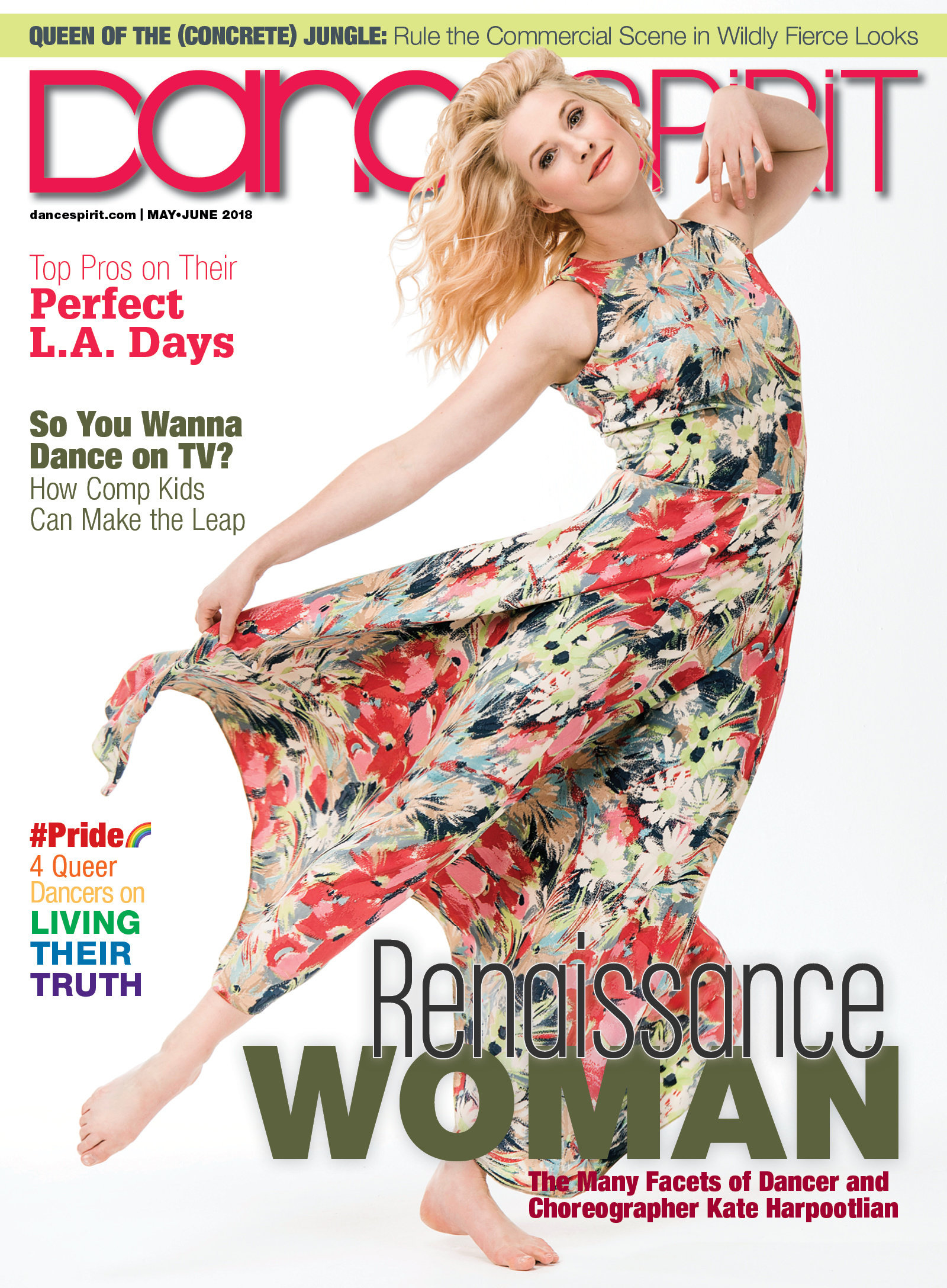 Get Dance Spirit in your inbox