ABT JKO School student Miuka Kadoi shoiwng off her beautiful line (photo by Kenneth Edwards)
Contemporary phenom Christina Ricucci has super-flexible hips, which means she can stretch her legs to unbelievable heights. But when she noticed herself making contorted positions in class, Ricucci realized she was approaching her extensions all wrong. "I went back to the basics in class, squaring my hips and using my turnout," Ricucci says. "I learned to create proper positions, rather than whacked-out versions of them."
Some dancers are so wonky they have a hard time supporting their high legs, while others struggle with limited flexibility. But no matter your facility, you can find a balance of stretch and strength to achieve your fullest range of extension. It's not about how high (or not) your legs can go: It's the quality of the movement, and how you get those legs up, that counts.
Keep reading...
Show less
Former comp kid (and 2013 DS Cover Model Search winner!) Hayden Hopkins grew up training in Seattle, WA, cultivating her huge social media presence along the way—she has more than 200,000 followers on Instagram alone. The 20-year-old recently landed her dream job: dancing in Cirque du Soleil's Las Vegas show Mystère. DS had her keep a diary last spring to get the behind-the-scenes scoop on what dancing in a Cirque show is really like.
—Courtney Bowers
Keep reading...
Show less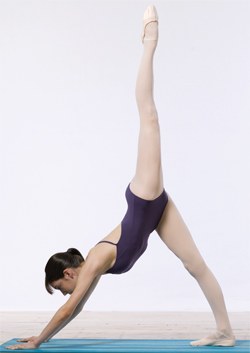 Always give your muscles a solid stretch before you perform. (Matt Karas)
When it comes time to perform, you can't wait to be onstage. But preparing for a show takes more than doing your hair and makeup. Your muscles need to be warm or you'll risk getting injured—and a warm-up isn't just a quick stretch or two. What does a good pre-performance routine entail? DS consulted the pros to find out.
Step 1: Get Moving
Start by doing some cardio to get your heart rate up. Christina Hampton, artistic director of Arizona Youth Ballet, suggests doing Pilates exercises like the hundreds. Lie on your back with your arms by your sides and your legs lifted in tabletop position. Tuck your chin to your chest and lift your upper back off the floor. Pump your arms, breathe and engage your abs. "Once you get your blood circulating, it helps the rest of your body get warm," she says. You can also jog in place for a few minutes or do jumping jacks—anything low-impact to get you moving without exerting too much energy.
"Warming up increases tissue temperatures and makes them more supple," says Kester Cotton, physical therapist for Oregon Ballet Theatre. "It allows them to be stretched, so you're not just pulling on tendons and ligaments." Cotton recommends non–weight-bearing movements, like a floor barre, to engage your abdominals and turnout muscles. Then, after you've generated some heat in your body, roll out tight spots with a foam roller or tennis ball.
Step 2: Stretch
Gentle stretching before you dance will help prevent injuries—but don't force it. "Once you feel the resistance, don't push too much into it," says Cynthia Brown, certified personal trainer with Core Fitness. "Ease into the stretch to let the muscles loosen up."
You might want to flop down into a split or throw your leg up over the barre, but resist the urge—remember, your muscles aren't fully warm yet. Instead, ease into a split or hold on to something sturdy while you take your foot in your hand and lift it to the front and side. Then take your knee and guide your leg back into an extended arabesque. Whatever stretches you choose, keep them moving and don't sit in one position for too long. Too much pull on one area can overstretch and weaken muscles.
Step 3: Activate Your Ankles and Feet
After you've done some cardio and stretching, target your ankles and feet. Work on Thera-Band exercises, practice "doming" (lifting your metatarsals while keeping your toes on the floor) and do a short barre. "Spend 10 to 15 minutes on pliés and relevés, especially if you're doing pointe work," Hampton says. "Then do exercises to center yourself, like relevé passés or single pirouettes."
Your routine should take 15 to 30 minutes. "There's no perfect warm-up," Cotton says. What works for one person might not feel right to another. "You know you're sufficiently warmed up when your heart rate's elevated and you feel less stiff, less tired and more prepared."
What NOT to Do
Don't bounce in a stretch. You could rip muscles or tear ligaments.
Don't push through pain. "Listen to your body, and if something really feels wrong, don't do it," Brown says.
Don't just go out and start jumping. "You could end up with knee injuries, Achilles tendonitis or shin splints," Hampton warns.
Don't wait until the show to get on your legs. Work on finding your balance before the curtain goes up.
Thinkstock
Back to school means back to dance full-time. But while you might be excited to spend every evening in the studio, your body likely isn't—and it'll let you know with some killer soreness the next morning. When should you push through the achiness and when should you take it easy? Dance Spirit looked to Natalie Imrisek, MSPT, CSCS, for advice.
Keep reading...
Show less
Sep. 01, 2009 11:44AM EST
Model: Daphne Fernberger
Consultant: Hilary Cartwright
Bio: Following her career as a soloist with The Royal Ballet, England, Hilary Cartwright became a director, teacher, coach and stager. She's been teaching Yoga for Dancers for the past 20 years, after opening White Cloud Studio in NYC. Daphne Fernberger is a Level 7 student at American Ballet Theatre's Jacqueline Kennedy Onassis School. For more information about Daphne, go to www.hilarycartwright.com
Dancers of all genres (and women in general) yearn for long, lean legs, and even more so, injury-free bodies. One important element to achieving both of these things is stretching—correctly, that is. With the help of Hilary Cartwright, DS brings you three exercises that will stretch every angle of your hamstrings, resulting in beautifully toned, strong legs.
BEFORE FIRST STRETCH
Before stretching, warm up the body with aerobic exercise (like light jogging) for five to 10 minutes. Then allow 10 seconds for each stretch on a continuous exhale, recover and relax. Repeat all five to six times on both legs.
Hamstring stretch #1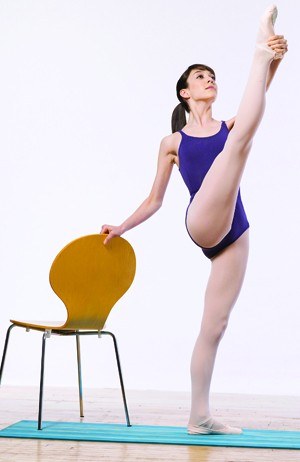 Begin in first position with right hand on the barre. Bring right leg into passé at the front of the knee, then extend into front attitude while the left leg pliés. Grab the foot from underneath the heel with the left hand and extend the right leg, while simultaneously straightening the left leg. Continue to grow while leaning back slightly toward the barre.
Tips:
1. Relax neck.
2. Keep eyes focused above toes.
3. Engage abs.
Hamstring Stretch #2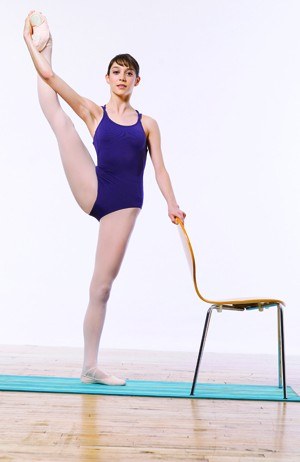 Start in first position with the left hand on the barre. Bring the right leg into retire at the front of the knee, then extend into front attitude while the left leg pliés. Using the right hand, grab the foot from underneath the heel and slowly straighten the right leg, while keeping the left bent. Continue to slowly open the right leg to second.
Tips:
1. Keep right hip back.
2. Keep back straight.
Hamstring Stretch #3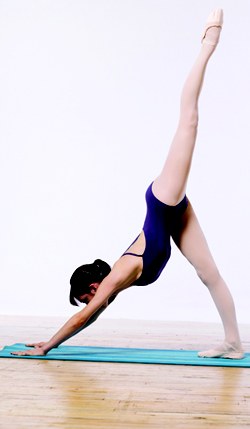 Start on all fours. Push the heels back and straighten the legs and arms (like downward dog position) with feet slightly turned out. Keep focus between hands and push shoulders and ribs toward the pelvis. Bend right leg, then straighten it toward the back wall in a scooping motion. Slowly raise it into penchée position, keeping the hips parallel to the floor. Lift up and back over the standing leg to feel stretch.
Tips:
1. Push back from arms.
2. Drop active hip.
3. Keep focus between hands.
Go to dancespirit.com/ to see Daphne demonstrate these stretches. Just click on "Videos."
Photography by Matt Karas. Hair and makeup by Angela Huff for Mark Edward, Inc.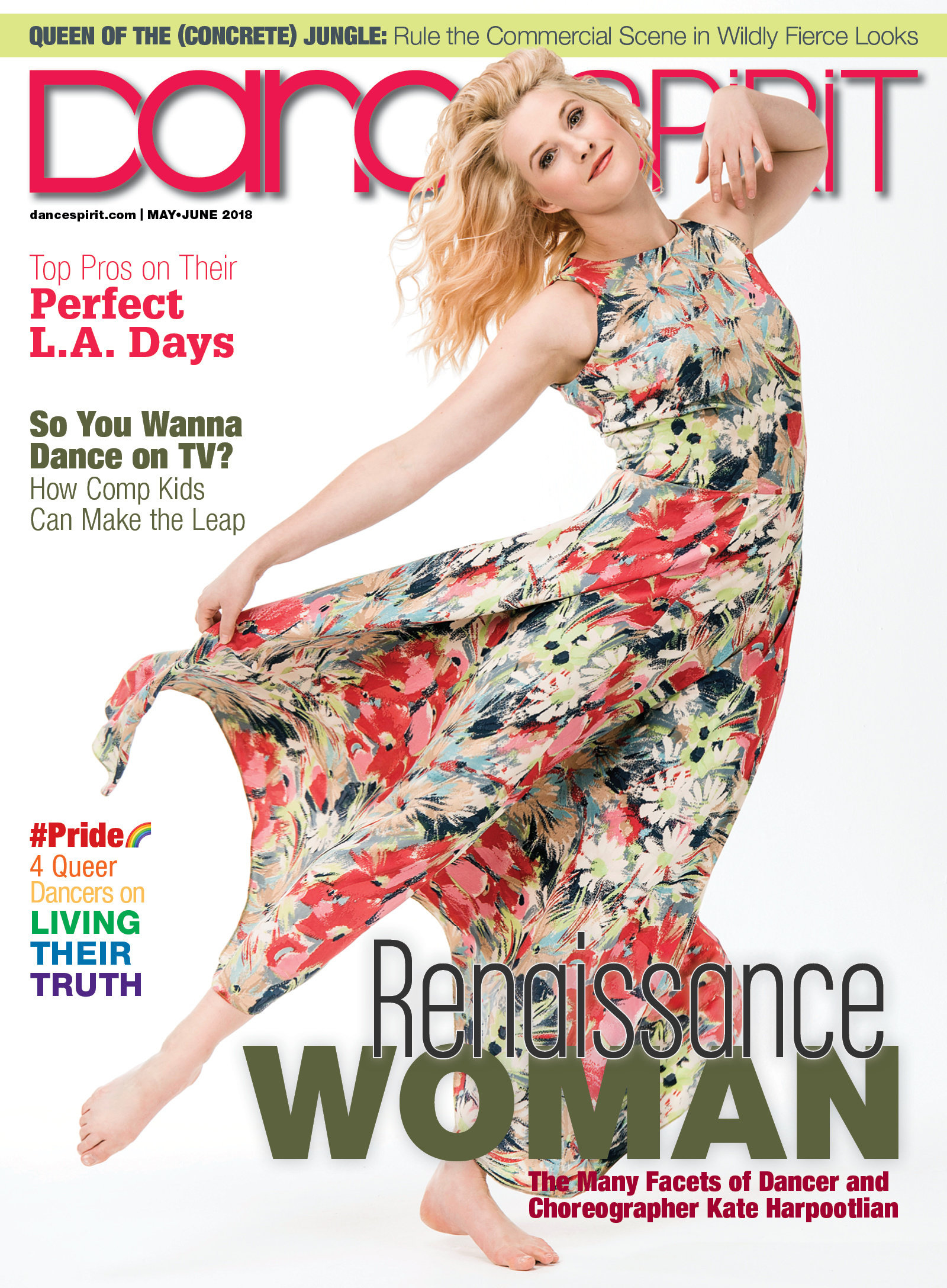 Get Dance Spirit in your inbox