Apr. 27, 2018 05:06PM EST
Via @dancers&dogs on Instagram
Dance collaborations are always exciting but there's a special place in our hearts for dance projects that feature our favorite, furry, four-legged friends, otherwise known as dogs. That's why when Kelly Pratt Kreidich came up with the concept of shooting elegant ballet dancers next to the cutest creatures on earth, she decided she had to run with it. The resulting photos were so sweet and unexpected that Kreidich decided to create a project featuring 100 Dancers and 100 Dogs.
Dance News
Oct. 30, 2017 11:47AM EST
@i.am.miss.brigee via Instagram
You're probably used to jotting down rehearsal notes and corrections, but according to research from the University of Pennsylvania's Positive Psychology Center, you may want to save room in your dance journal for these exercises, too. These writing prompts were designed to boost your well-being by focusing on the positive.
Health & Body
Sep. 06, 2017 02:56PM EST
The multitalented Merritt Moore (photo by James Glader, courtesy Moore)
For the past decade, Merritt Moore has been living a double life as both a professional ballerina and a quantum physicist. While dancing with Zurich Ballet and Boston Ballet, she received her undergrad degree from Harvard in physics, and she's currently pursuing a PhD in quantum physics at Oxford while performing with English National Ballet and London Contemporary Ballet.
Now, Moore is hoping to add another ball to her juggling act: becoming an astronaut. She's one of 12 contestants competing on the BBC reality show " Astronauts: Do You Have What It Takes?" For six weeks, Moore and her competitors face a series of demanding physical and psychological challenges to see if they're astronaut material. (Show mentor Chris Hadfield, former Commander of the International Space Station, will recommend the winner to space agencies recruiting for astronauts.) Even in a cast of extremely accomplished people—the contestants include a military pilot, a surgeon, and a dentist who has summited Mount Everest—Moore's unusual combination of skills stands out.
We leveled with the renaissance woman about how she's managed to pursue all her different passions.
Dancer to Dancer
Sep. 06, 2017 02:56PM EST
The multitalented Merritt Moore (photo by James Glader, courtesy Moore)
For the past decade, Merritt Moore has been living a double life as both a professional ballerina and a quantum physicist. While dancing with Zurich Ballet and Boston Ballet, she received her undergrad degree from Harvard in physics, and she's currently pursuing a PhD in quantum physics at Oxford while performing with English National Ballet and London Contemporary Ballet.
Now, Moore is hoping to add another ball to her juggling act: becoming an astronaut. She's one of 12 contestants competing on the BBC reality show " Astronauts: Do You Have What It Takes?" For six weeks, Moore and her competitors face a series of demanding physical and psychological challenges to see if they're astronaut material. (Show mentor Chris Hadfield, former Commander of the International Space Station, will recommend the winner to space agencies recruiting for astronauts.) Even in a cast of extremely accomplished people—the contestants include a military pilot, a surgeon, and a dentist who has summited Mount Everest—Moore's unusual combination of skills stands out.
We leveled with the renaissance woman about how she's managed to pursue all her different passions.
Just for Fun
Sep. 01, 2017 11:48AM EST
With her long limbs and delicate features, Ella Titus could pass as a model—and she has actually posed for fashion photographers on her days off from Miami City Ballet, where she's in the corps. But Titus also sets fashion trends: For several years now, she has designed and hand-knit her own line of legwarmers, Ella Warmers. Read on for her tips on achieving that pastel-pretty ballerina look.
Dancer to Dancer
Jun. 27, 2016 01:49PM EST
Kim DelGrosso coaching her daughter Abrea DelGrosso (Naomi Masina)
Is the person leading technique class also—gulp—your mother? Here's the good news: Having a parent as a dance teacher comes with many advantages. "From a young age, I had a built-in manager who knew the ins and outs of the business," says tapper Donovan Helma, who grew up dancing with his mom in Denver before performing in Tap Dogs on and off for 10 years. However, finding a balance between "home mom" and "dance mom" is difficult, and you might feel singled out by classmates for being the teacher's child(/pet). Here's how to deal with the difficult issues that can arise when your parent's also your instructor.
Sep. 17, 2015 11:49AM EST
Back-to-school season means the return of long nights at the dance studio. When rehearsals go as late as 9 or 10 pm, waiting until you get home to eat dinner isn't a good option. But chowing down on fast food or snack bars between classes could leave you feeling sick to your stomach. How do you pack a nutritious meal that will fuel your dancing without weighing you down? Rachel Fine, registered dietitian and founder of To the Pointe Nutrition, offers her foolproof strategy.
The Equation
According to Fine, a balanced meal should incorporate the following three macronutrients:
1. Complex carbohydrates—like lentils, wheat bulgur, quinoa, wheat berries and barley—give your body sustained energy. "I recommend primarily nonbread carbohydrates, because they offer the highest fiber content, which is good for digestion," Fine says. "But if you choose bread, opt for a product with visible nuts and seeds, like Ezekiel bread."
2. Lean protein—like lean meat, nuts, soybeans, Greek yogurt, quinoa, edamame and eggs—helps build and repair muscle. "Hard-boiled eggs are a great grab-and-go protein fix," Fine says. "Some people shy away from egg yolks, but they actually have a lot of vitamins and minerals." Fine doesn't recommend eating more than one whole egg, but you can have unlimited egg whites.
3. Healthy fats—like the omega-3 fatty acids in ground flaxseeds, chia seeds, walnuts, olive oil and salmon—are crucial for muscle recovery. "Because dancers are athletes, their bodies are always in a state of minor inflammation," Fine says. "Omega-3s reduce that inflammation."
(Photo by Lucas Chilczuk)
The Menu
How do these macronutrients come together in a delicious, packable dinner? Try one of Fine's three dance-bag-friendly recipes.
Greek Lentil or Wheat Berry Salad: Combine steamed lentils or wheat berries with chopped onions, tomatoes, feta and splashes of olive oil and lemon juice. If you have access to a fridge at the studio, add a dollop of plain 2% Greek yogurt to your salad when it's time to eat.
Fine recommends steaming a whole box of lentils, quinoa or barley on Sunday, and using it as a base for different grain salads all week.
Packable perks: Grain salads are delicious at room temperature, and unlike green salads, they won't wilt throughout the day.
Almond Butter and Banana Sandwich: Spread almond butter on two slices of Ezekiel bread. Top with half a sliced banana and a sprinkle of flaxseeds.
Packable perks: Nothing beats a utensil-free sandwich when it comes to meals on the go.
Tuna or Egg Salad Wrap: Combine canned tuna or chopped hard-boiled eggs
with plain 2% Greek yogurt and chopped celery and spread on a whole-grain wrap
or crackers.
Packable perks: Crackers make this meal easy to snack on throughout the evening, rather than eating all in one sitting.
Your Aches and Pains Addressed: Charley Horses
What is it? A "Charley horse" is a muscle spasm in which the muscle contracts involuntarily and can't relax. Dancers tend to get them in their lower legs—especially the calves—as well as their hamstrings and the arches of their feet.
(Photo via Thinkstock)
What causes it?
General causes: A Charley horse can result from overloading a muscle that's unprepared to do the job asked of it. You're most at risk when coming back from a break, practicing a new step or working at a new level of intensity. Dehydration can also contribute to the problem, particularly for spasms in the lower leg, where the waste products of muscle contraction concentrate easily.
Specific causes: Calf spasms often occur in dancers who wing their feet excessively. When you wing, you rely heavily on your peroneus longus, a stabilizing muscle running along the outside of your lower leg. Without adequate help from the many other muscles in your calf, your peroneus longus gets overworked, which can cause it to spasm. Similarly, the main calf muscle—the gastrocnemius—can spasm from overloading due to weakness in the larger hip muscles.
Charley horses in the arches of your feet can originate in your calves, too. The flexor hallucis longus and flexor digitorum longus are two muscles that run from your calves to your toes. They tend to be tight in dancers from spending so much time on pointe or in relevé. This tightness can compress the joints of the feet or overload the intrinsic foot muscles, which can lead to spasms.
How to deal
If you get a Charley horse in the middle of class, step aside and try to gently work it out. If the spasm is in your calf, try doing some demi-pliés and other calf stretches to relax the muscle. If that doesn't help, try massaging your calves or rolling them out with a tennis ball. If it still hurts to walk, stop dancing and let the area rest.
When a Charley horse strikes in your arch, you might want to focus on massaging your feet. But remember that the problem likely originates in your calves, so spending some time rubbing out your lower legs can be helpful, too.
When to seek help
If stretching, massage and proper hydration aren't helping, and the pain doesn't ease by the following day, the spasm may be the sign of a nerve impingement in your lumbar spine or a muscle tear. This could also be the result of joint dysfunction in the spine,
so it's something you'll want to get checked out by a physical therapist or sports medicine practitioner.
Are you a stomach sleeper? You may want to train yourself to snooze on your side or back. Lying on your stomach puts pressure on your lower spine by flattening out its natural curvature, leaving you with an anterior pelvic tilt that may follow you to the ballet barre.
Sep. 16, 2015 11:55AM EST
(Propix)
Competing a solo with your dance studio is a big honor—and responsibility. To make sure your solo is uniquely yours, and to expand your horizons as a performer, you may decide to hire a choreographer who doesn't regularly teach at your studio.
The challenge? The more high-profile the guest, the less time he or she might have to work with you. "People think we set a solo and it's an instant masterpiece," says New York City Dance Alliance faculty member Andy Pellick, who choreographs solos for students across the country. "But it's really up to the student to rehearse and clean the piece and make it her own."
How do you make the most of your time with the choreographer? Dance Spirit asked the experts.
Sep. 01, 2015 02:14PM EST
Aug. 13, 2015 07:00AM EST
You work hard in dance class to perfect your technique and perform at your best. But what you do outside of class counts, too. The truth is, little everyday habits—like carrying an overstuffed dance bag or texting nonstop—could be negatively affecting your body and, ultimately, your dancing. Dance Spirit investigates seven bad health habits that have repercussions in the studio.
The Habit: Crossing your legs.
The Risk: "Doing it once or twice isn't a big deal, but habitually sitting with your legs crossed can lead to real changes in your body," says Alison Deleget, a certified athletic trainer at the Harkness Center for Dance Injuries at NYU Langone Medical Center. "Since you're not sitting evenly on your pelvis, you're forcing your spine to curve to one side." Over time, you may develop back or hip pain, and overstretched back muscles on one side of your body may leave you feeling uneven in class. Want to look ladylike without throwing your body off balance? Try sitting squarely on both hips and crossing your feet at the ankles.
(Photo by Ammentorp Photography/Thinkstock)
The Habit: Constantly texting.
The Risk: Typical texting posture—head bent forward and shoulders slumped—puts the equivalent of 60 pounds of pressure on your upper spine, which can lead to wear and tear on the supportive tissues between your vertebrae. "It shortens the muscles in the front of your upper body and neck while overstretching and weakening the muscles in the back, which may make maintaining correct épaulement more difficult," Deleget says. In the short term, spending hours hunched over your phone could cause headaches or a sore neck and shoulders; in the long term, it could mean herniated disks or nerve impingements. The next time you get a text, try bringing your phone up to your face to respond, or ask Siri to type for you.
The Habit: Cracking your neck, back or toes.
The Risk: You may have heard rumors that popping your joints will eventually lead to arthritis. The good news is there's no research supporting that theory, and feeling a hip pop during class is perfectly fine. The problem comes when dancers start forcing their joints to pop instead of letting it happen naturally. This can stress the joints' connective tissues and cause them to overstretch and become unstable. "It's like dancing on a slinky when you should be dancing on a bed spring," Deleget says. "That slinky gives much less support."
The Habit: Walking like a duck.
The Risk: All the older dancers are doing it, but that doesn't mean you should. "The joints of the knees and ankles work like hinges, designed to move straight forward. Walking turned-out means putting excessive stress on the insides of your knees, ankles and toes," Deleget says. It won't lead to better turnout, but it can lead to anterior hip pain—a common and sometimes debilitating injury for dancers.
The Habit: Carrying your dance bag on one shoulder.
The Risk: When only one side of your body carries a heavy load day after day, you're likely to develop muscle imbalances that can lead to overwork- and stress-related injuries—from your shoulders all the way to your pelvis. "If one side of your upper trapezius muscles becomes more developed than the other, your shoulders may also look uneven when you're dancing," Deleget says. "Opt for a backpack, and wear it the proper, 'geeky' way—straps secure and chest strap fastened, not thrown over one shoulder or hanging down over your butt."
(Photo by Bonnin Studio/Thinkstock)
The Habit: Typing in bed.
The Risk: It's been a long day, you're exhausted and you have a paper due tomorrow. You may be tempted to snuggle up in bed to write that essay—but resist the urge. "If
you plan on working for an extended period of time, always sit up with your spine in a neutral position. Don't slouch and definitely don't lie down," Deleget says. Making bad homework posture a habit strains the connective tissues in your spine, which can cause pain and stiffness in your lower back when you dance. Sitting up straight improves your core strength and posture for class.
The Habit: Wearing flimsy shoes.
The Risk: Your feet are two of the most important parts of your dancer body, so it's crucial to shoe them with care. Podiatrist Ronald Werter, who works with professional dancers in NYC, says the worst options for your precious feet are paper-thin flip-flops or super-squishy boots. "They're worse than walking around barefoot," he says."Unsupportive shoes force you to put more pressure on the inside of your foot, which causes the tendons that support the arch and ligaments in the ankles to stretch." Without proper tension, foot and ankle strength will be much harder to retain.
Werter recommends testing shoes before you buy them by squeezing both the arch and where the big toe hits with your thumb and forefinger. If you can compress them to half the thickness they were before, save your money. Instead, look for a shoe with a hard rubber or leather arch built in.
As for your favorite heels, Werter says they're OK as long as they're not higher than two inches. Just make sure that the middle of the shoe, where the shank would be on a pointe shoe, can't fold easily, so you have strong support.
Get Dance Spirit in your inbox
Apr. 01, 2014 12:00PM EST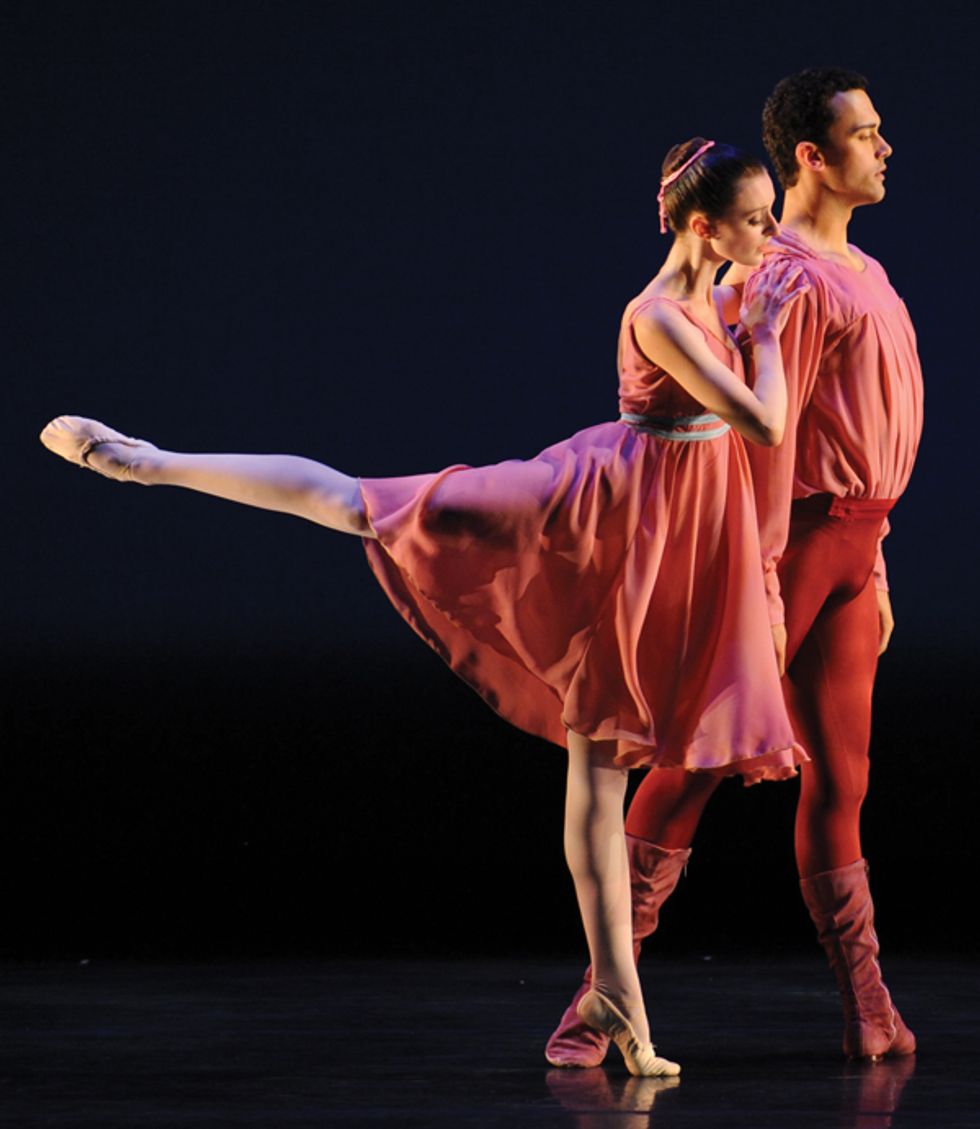 Metropolitan Ballet Academy & Company's Sara Vander Voort and Jonathan Tavares in Kanji Segawa's Viva (photo by Eduardo Patino)
You get all the lead roles and your teachers always ask you to demonstrate. You've taken top titles at competitions and have been singled out by star choreographers at conventions. It's been said that you're the best dancer at your studio or in your company. So now what?
Dancers strive for perfection—what we do can always be better. But sometimes it's hard to know how to push yourself when you've been put on a pedestal. Plus, how do you really know where you fall on the massive dance spectrum? You may be the best at your hometown studio, but where are you relative to the rest of the dance world? If you've found yourself in this situation, read on to see how to get the most comfortable and keep growing as a dancer.
Be Proactive
Talk to your coach, teacher or director about your goals. Nichole Savage of Savage Dance Company in Sykesville, MD, sits down with each of her dancers and comes up with individualized dance plans. "We talk about what classes they should be taking, what conventions they can go to and things that are going to help them succeed," she says. "There's always a way to stay enriched."
To push her best students, Savage might use them as demonstrators or send them into another class to assist. She also encourages these dancers to work outside their comfort zones. "If they're best at contemporary, I have them jump into a hip-hop or tap class," she says. Trying different genres and teachers will enhance your training by exposing you to new ways of working.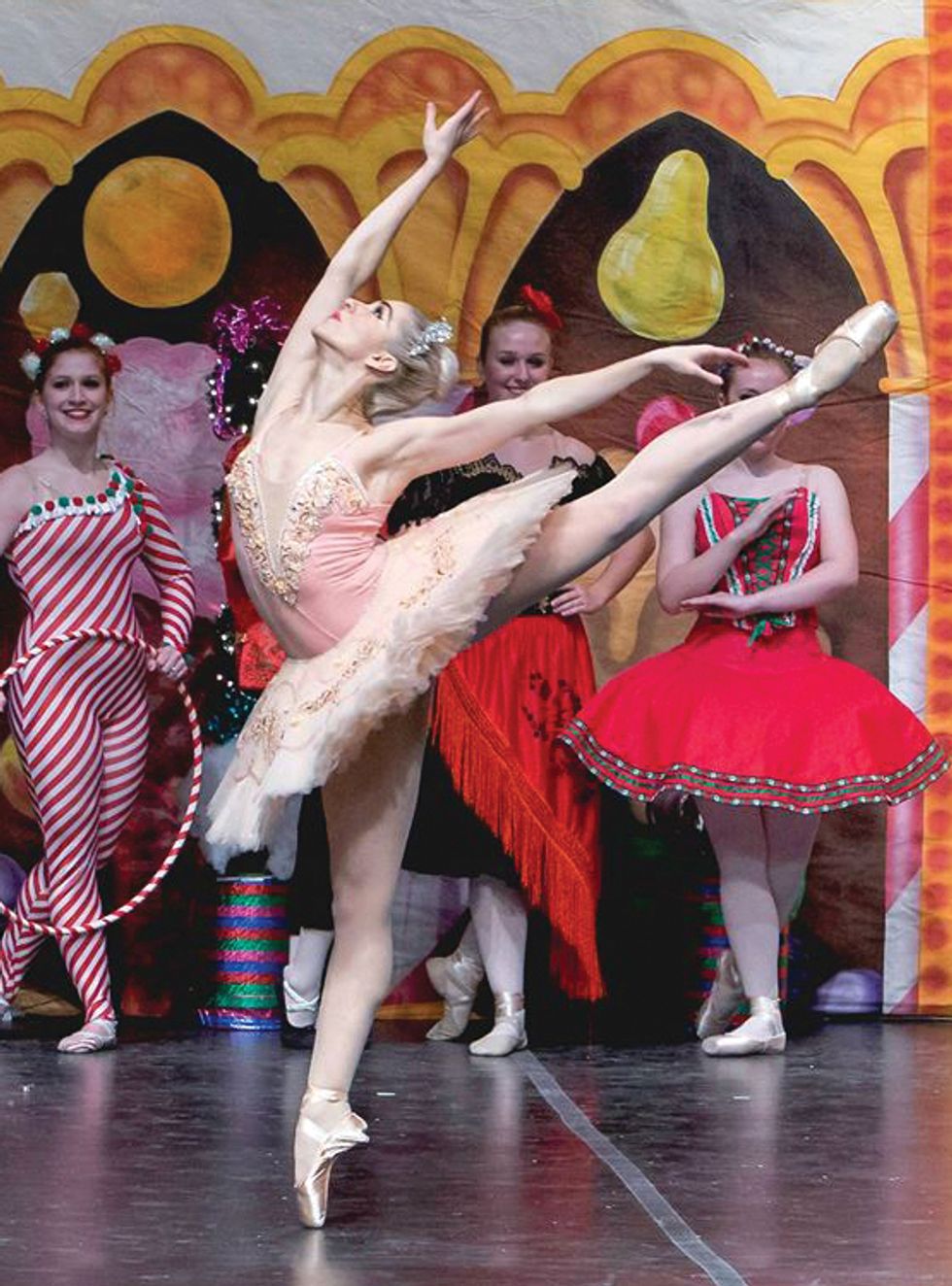 Adrienne Canterna in a performance of The Nutcracker (photo by XMB Photography)
Know When to Stay and When to Go
Whether or not you should move on to another studio or company is a big decision. If you're thriving with your current teacher or coach, there's no need to look elsewhere. "Students have to have confidence in their teacher to feel like they're in the right place," says Lisa Collins Vidnovic, director of Metropolitan Ballet Academy in Jenkintown, PA. Being the best dancer, wherever you are, isn't a sure sign that you should relocate. How you feel should be the determining factor. Are you challenged? Happy? Frustrated? Bored? "If you don't think you're getting what you need," Vidnovic says, "listen to your gut and try to find it someplace else."
For some people, switching schools can mean a step up in training. Katelyn Prominski, lead ballerina with the touring production of Flashdance The Musical, made the move after she graduated from high school. "I was at the top of my class and I wanted to have more of a challenge," she says. She left her local studio and went to San Francisco Ballet School, where she was introduced to more styles—and more competition. "I'd look at other dancers and appreciate their strengths. It gave me room to grow," she says.
Some dancers thrive at small local schools or with the benefit of extra private lessons. Adrienne Canterna, dancer with and choreographer and co-artistic director of the Bad Boys of Dance, got her early training at a small school in Maryland and supplemented it with private lessons. At 15, she won gold at the International Ballet Competition in Jackson, MS. "It just shows that you can win without going to a professional ballet school," she says.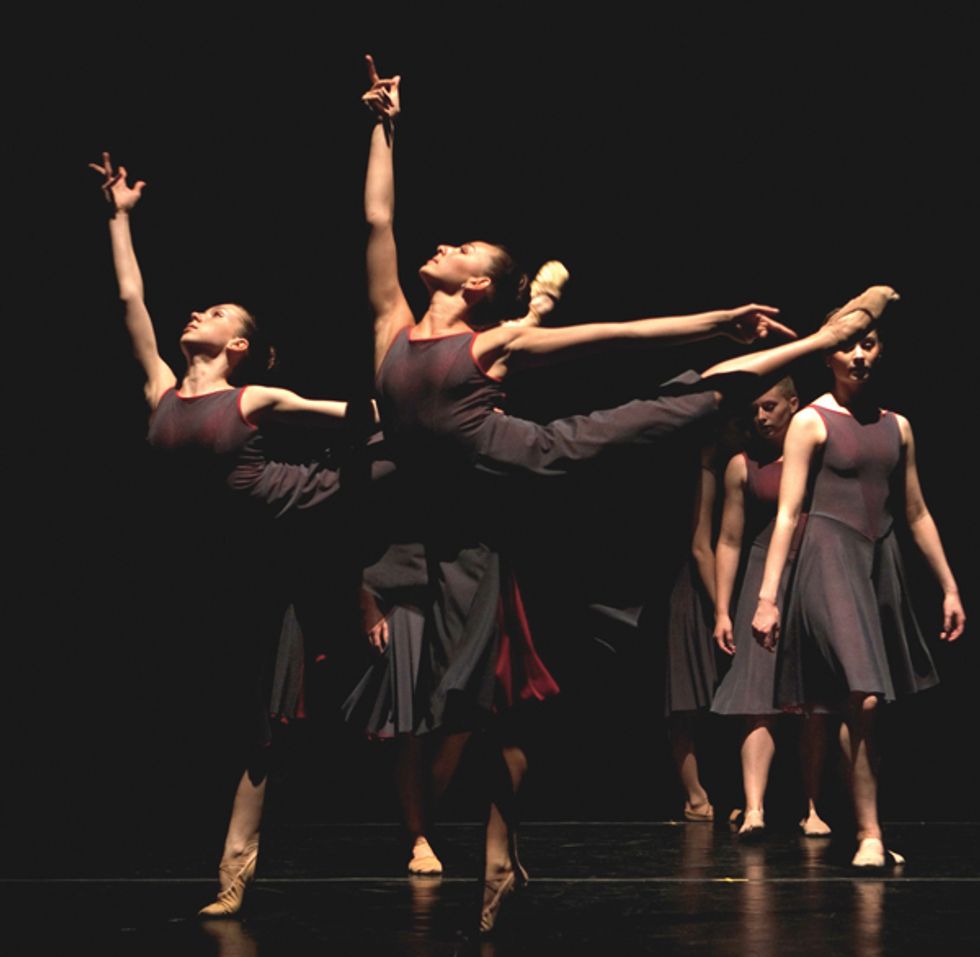 Metropolitan Ballet Academy & Company in Sarah Mettin's Fieldwork (photo by E.A. Kennedy III)
Stay Grounded
The dance world is full of amazing artists, and it's easy to lose sight of the big picture. "People run into problems because they get to be the best at their studio, and then they get to the real world and realize they're not the best anymore," says Canterna, who went on to train at the Kirov Academy of Ballet in Washington, D.C., after her win at Jackson. "It's tough." Keep a healthy perspective by watching as much dance as possible and going to master classes, workshops and conventions.
Savage warns her winning competitive dancers not to get full of themselves. "No matter how good you think you are, there's always someone better right around the corner," she says. Look at a dancer like Canterna: Even though she has a killer resumé, she doesn't let the success go to her head. She credits "good old-fashioned ballet class" for keeping her grounded. "I don't care if it's a simple class or a difficult one, you can never do it perfectly," she says. "Realizing how much you have to work on is really humbling—you see that there's still a place to go."
It's important to have confidence, but also to stay gracious. "Show up, work hard and be nice," advises Vidnovic. Along with talent and success comes the responsibility to set a good example. And remember that the dance world is small. You don't want to burn any bridges.
Health & Body
Apr. 08, 2013 01:30PM EST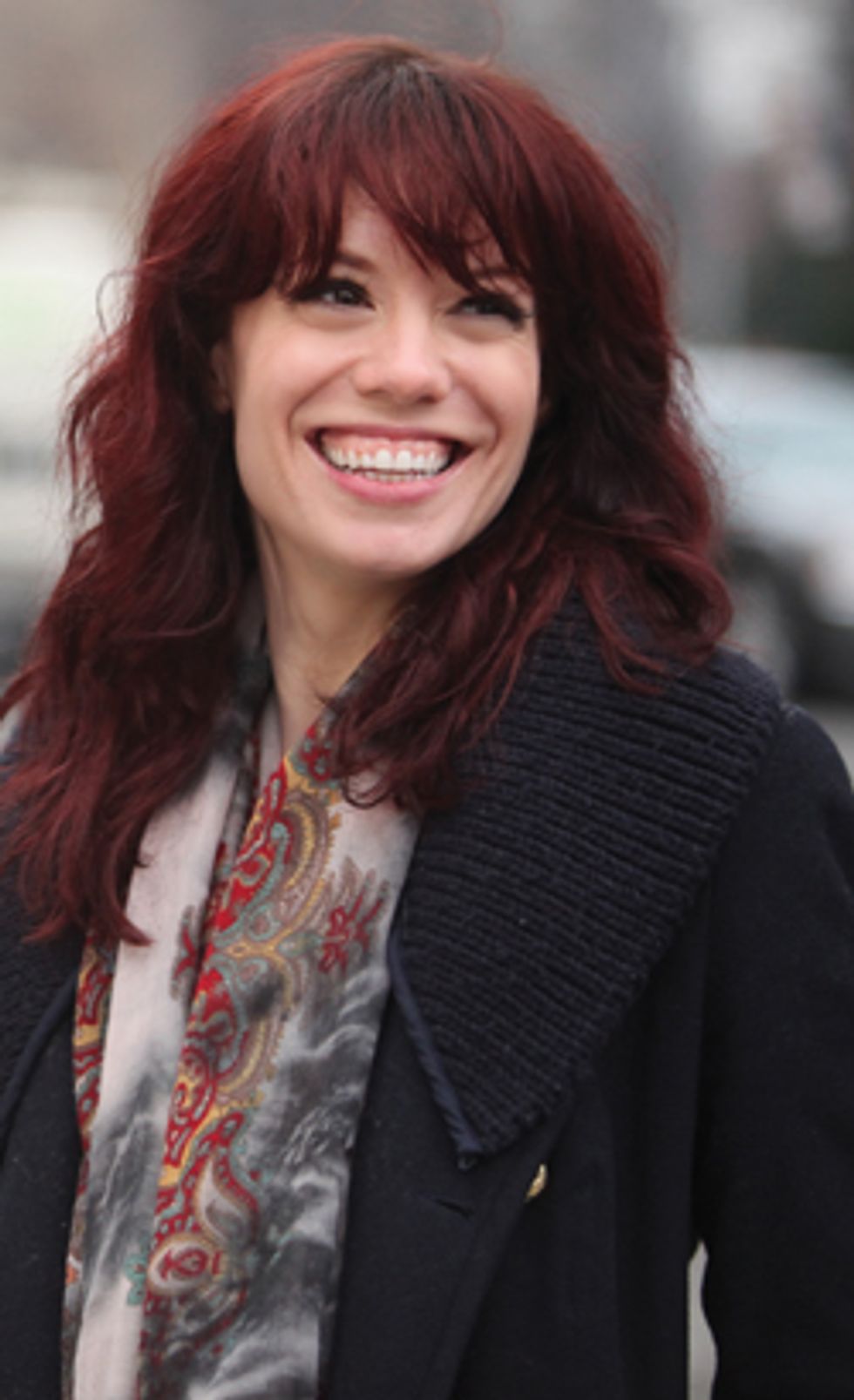 Nicole Carol Schuman
She wasn't the star of her studio, but that didn't keep Nicole Carol Schuman from having an amazing professional dance career:
I can't remember a time when I didn't want to be a professional dancer. Sure, what I actually wanted to be was an astronaut-marine-model-princess-ballerina-lawyer-writer, but dance has always been a part of my career plan.
When I was 7, my parents enrolled me at Juliana's Academy of Dance in Clinton Township, MI—this tiny storefront tucked inside a suburban shopping center next to a Weight Watchers. I started with a tap/ballet combo class once a week, then advanced to an hour each of jazz, tap and ballet. A couple years later, I started competing.
When I was 10, Juliana, the owner of the studio, gave me a solo. It was a lyrical number to "Evergreen" by Barbra Streisand. Afterward, she said she saw potential in me, and asked me to switch to her bigger studio an hour away in Troy, MI. It was an exciting but terrifying prospect, because in my mind, that studio was in the big leagues. It was where the "good" dancers went. I was so impressed with some of the girls there that I still remember their names to this day. They were rock stars.
With a great deal of pleading, I convinced my mom to start taking me to the new studio a couple days a week. Boy, was that a whole new world. I thought going there would be all sunshine and puppies, but instead, in a heartbeat, I went from doing no wrong to doing nothing right.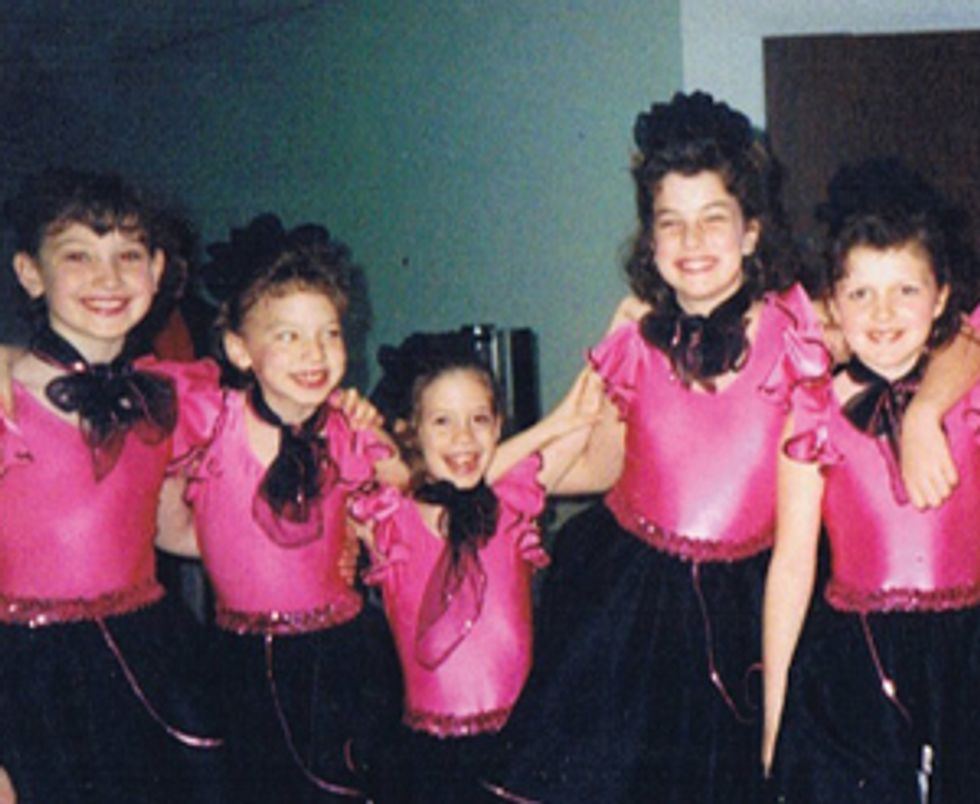 Not quite at Rockette height yet: 8-year-old Schuman (center) in a number called "Rockin' Around the Clock"
I thought at least I was good at lyrical (I'd just done a solo to Barbra Streisand!), but then, in lyrical class, I was told I looked as if I had rigor mortis. I was mortified. There were times I wanted to run back to my old studio and hide. But I also wanted to be good. I wanted to be the girl whose name other girls remembered years later. There was no way I was going back
Not getting the parts I wanted in performances and competitions was hard, to say the least. My mother was never a stereotypical stage mom, but she was honest. She'd say, "You know, that other girl is better at that part than you are." I knew I was surrounded by fabulous dancers, but getting constantly stuck in the back meant I had almost no confidence, and I always felt badly about myself.
Don't get me wrong: I had a few glorious fouetté solos (I was always a turner). But the combination of adrenaline and a bad swayback usually meant something wonky happened onstage. More frequently, I was hidden in the back corner without explanation. At the time, that felt like the end of the world.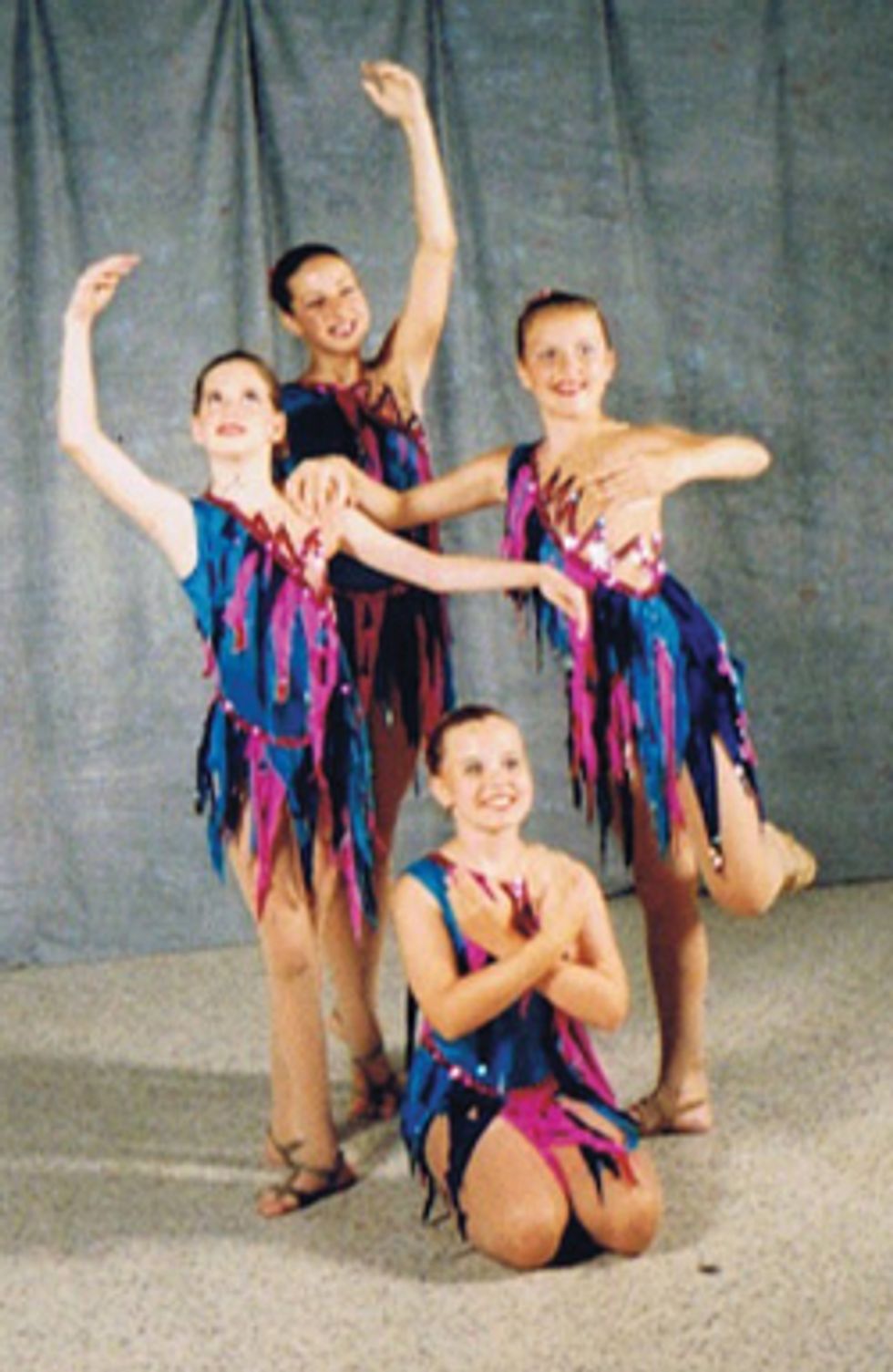 Schuman (far left) in costume for a small group lyrical number
A turning point for me was when Dee Caspary came in from L.A. to guest teach. We'd competed against his studio before, and their numbers were phenomenal. It was his first time teaching for us, and we were terrified. His movement was foreign and uncomfortable. We were doing an across-the-floor combination, and at one point, he pulled me out and made me do the combination over again by myself. He saw something special in me. When I did the combo again, it felt awful, but he had successfully given me the confidence I'd been lacking.
I didn't suddenly go from being a back-row dancer to being the star of the studio, but that was the moment I realized how big and diverse the dance world really was. There were many parts I wasn't right for, but there also had to be parts I was right for. And I was willing to put in the work to find them.
I realized I had two options: I could either resent my talented classmates or try to learn from them. And I could learn a lot more dancing in the back, able to see the talent I was surrounded by, than I ever could up in front where I could only see myself. I began to realize how insignificant my placement in the blocking of a routine was in comparison to the great training I was receiving. Every time I wasn't chosen for a part I wanted, it was just more fuel for my fire.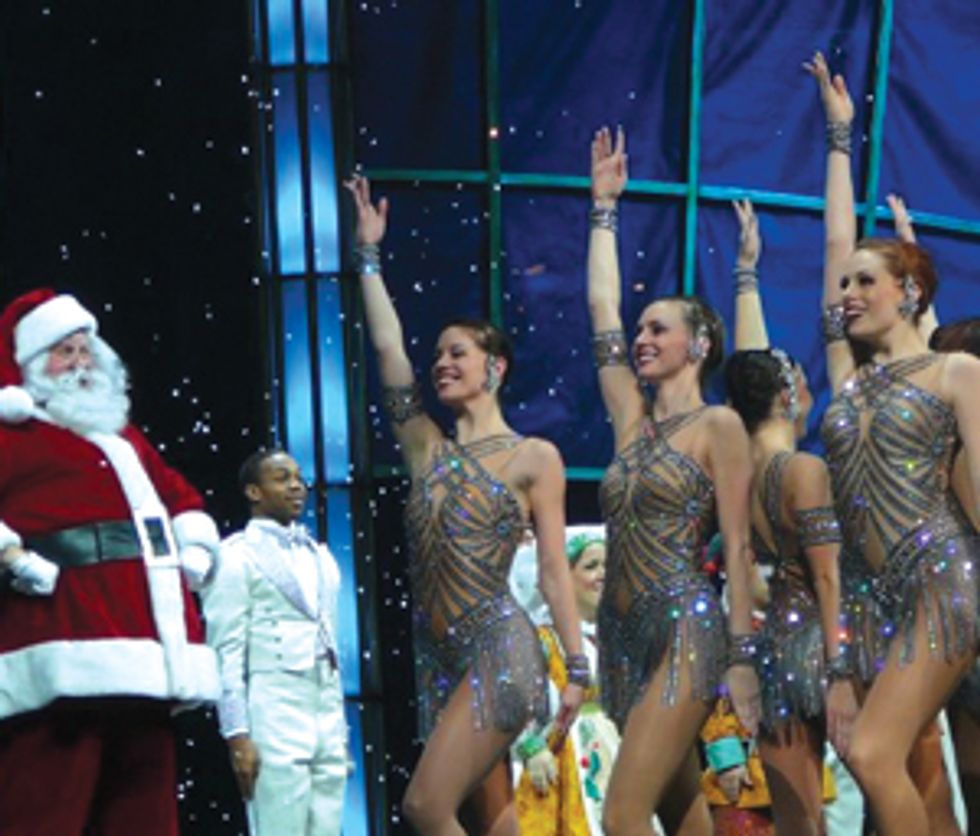 Schuman (Left) In the "Let Christmas Shine" number
I auditioned for the Radio City Rockettes during my senior year of high school, and I was offered the job that summer. The offer surprised me, but it also helped me understand that not always being in the front had made me the dancer I'd become. I'm so grateful I was given the chance to work my butt off for every opportunity instead of having things handed to me.
I've now danced with the Rockettes for 11 years, and our motto is "Together we're better." Being a part of this company is about making these beautiful pictures no dancer could create by herself. It's not about who's the best, because we're all the best.
Today I frequently judge dance competitions, and let me tell you: If you're in the back row, that's no reason to blow it off. I'm watching you!
Dancer to Dancer
Feb. 11, 2013 12:00PM EST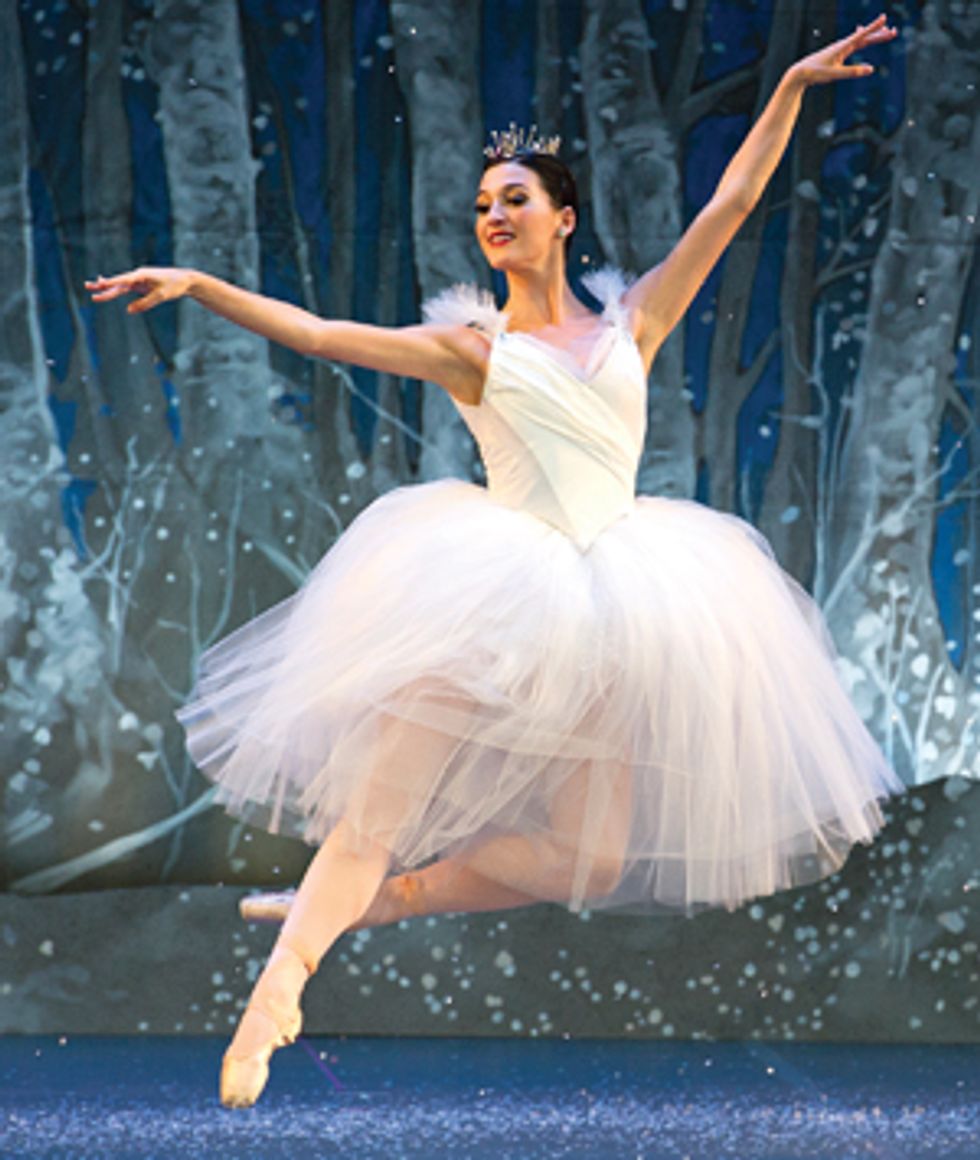 Emily Mistretta in The Nutcracker (Gene Schiavone)
If you're a talented small-town ballet student, you've probably wondered: Should I leave my local studio to study at a top-notch school? At the bigger institution, you'd have more intense training, which would help when it came time to audition for companies. But if you left you'd miss your family and friends—and the super-personalized attention you get from your local ballet teacher.
If you're thinking about making the leap from a local studio to a major training program, read the stories of these four dancers who did. You'll find out how it worked—or didn't work—for them.
Emily Mistretta, corps member, Boston Ballet
Inland Pacific Ballet Academy in California, where I trained for years, is a great school, but I felt I had more to learn than it could teach me. Every time I went away to a summer intensive, I thought seriously about staying for the school's year-round program. I was always conflicted, though; I wanted to finish high school at home.
After I graduated high school, I went to Boston Ballet School's summer session, and the school invited me to come year-round. I went home to California for two weeks, discussed it with my family, and got right back on a plane to Boston! I knew it was a great opportunity.
When I first got to Boston, I felt like I was behind. The other dancers had been in full-time ballet schools for years, while I'd only been doing ballet in the evenings. The schedule was intense—we danced for about eight hours a day—and I had a lot of self-doubt: Did I make the right decision? How's this going to turn out?
Luckily, I was able to make friends quickly. That's pretty much what saved me. And as a trainee, I got instant exposure by working with the company. I was so happy when I got my contract!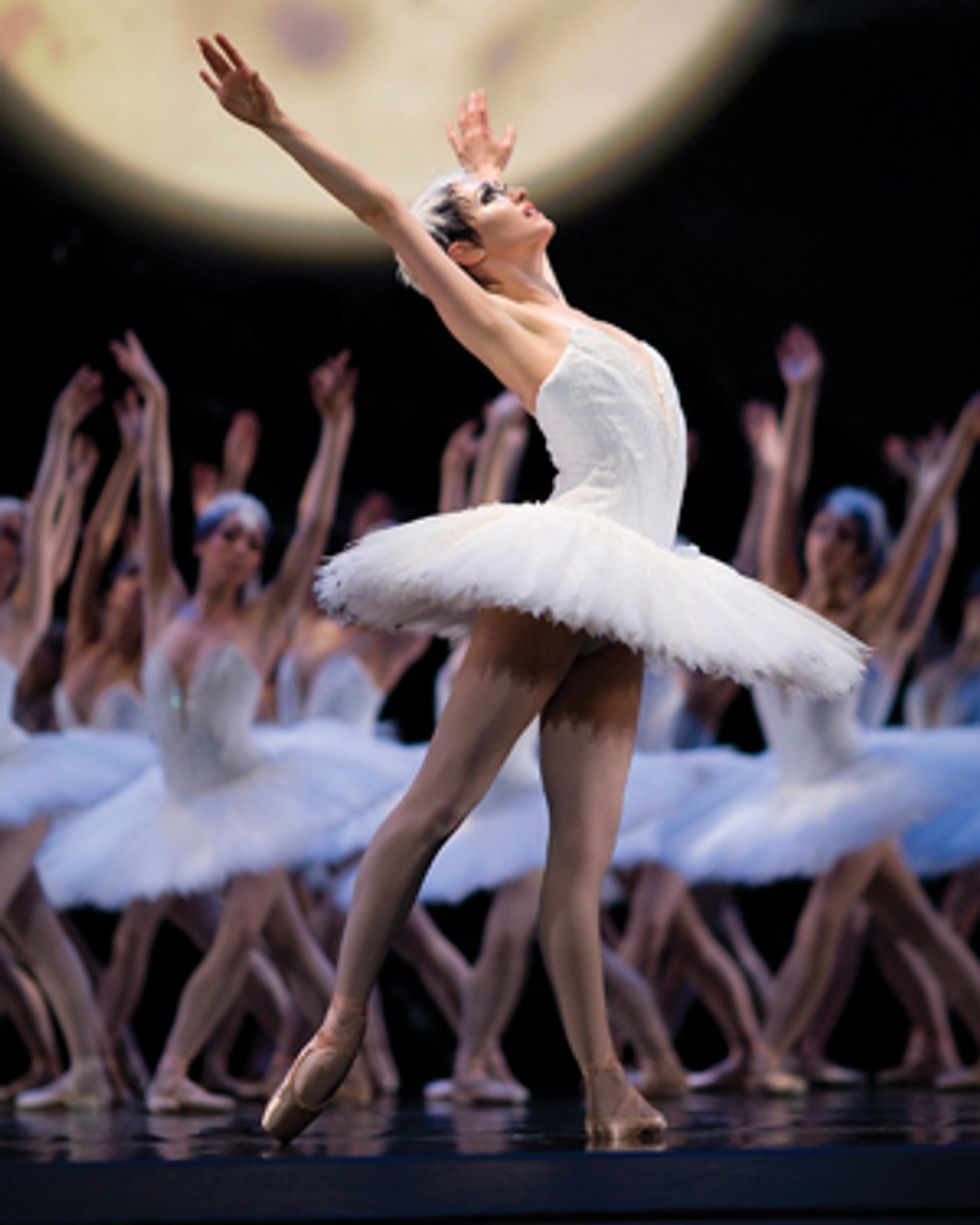 Sarah Van Patten in Swan Lake (Erik Tomasson)
Sarah Van Patten, principal, San Francisco Ballet
When I decided I wanted to be a ballet dancer, my parents said a big institution like Boston Ballet School would have the best teachers. So I started taking classes there when I was 8. But I had a different teacher every day, and I was one of about 30 kids in my class.
Then, when I was 11, I attended a summer program with Jacqueline Cronsberg at Ballet Workshop of New England. I immediately started learning variations and doing real dancing. I had long classes with Jacqueline every day, and was given lots of one-on-one attention. Her training is Balanchine, which puts a lot of emphasis on performance. That suited me.
When I told my parents I didn't want to go back to BB, they assumed I'd given up on a dance career. If I didn't want the big school with all the prestige, they thought, I'd just do dancing as a hobby. But it was the opposite. I wanted more time with my teacher. I wanted to be dancing more.
I was much happier at Ballet Workshop of New England. But everybody is different. You have to have these experiences for yourself, and be honest about how you feel.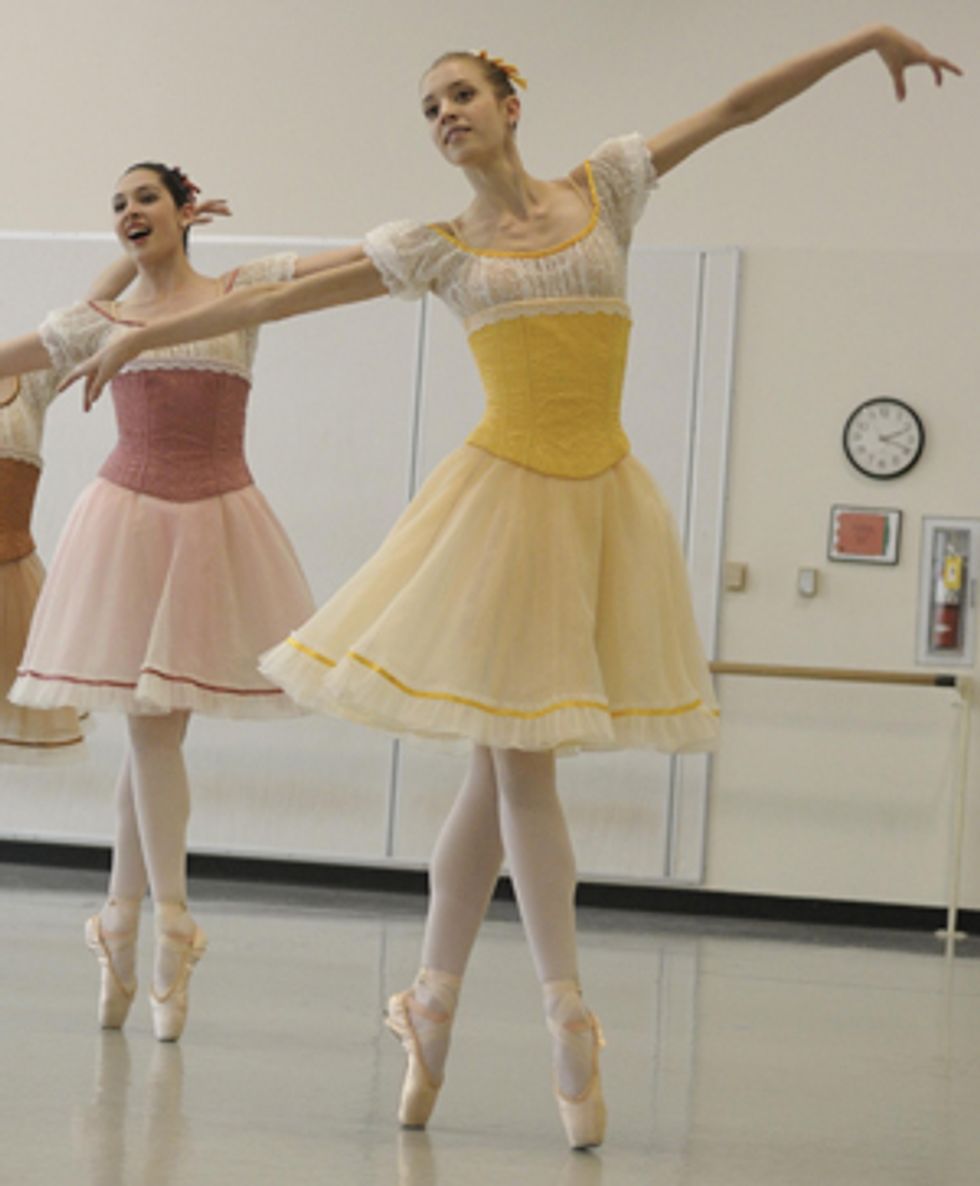 Leah Slavens (front) dancing at PNB School (Rex Tranter)
Leah Slavens, Pacific Northwest Ballet School's Professional Division
I went to Ballet Center of Houston from age 4 through my senior year in high school. I got to dance all kinds of big roles, and the teachers trained me really well. But the studio could only offer so much. They don't have a lot of funding, space or time. I guess that's why the decision to go to Pacific Northwest Ballet School after graduation was so easy.
It was a shock coming to a professional school with such a difficult training program. It was also hard to leave home, get an apartment and do everything that grown-ups do without having the experience of college dorm life. I just went straight into living on my own, having to cook for myself and take care of my own finances. A lot of kids my age don't have to pay their own bills yet! And it's hard only seeing my parents twice a year.
Part of me wishes I'd left home sooner, before I graduated high school. I feel a little bit behind ballet-wise sometimes. Then again, I'm glad I waited, because I feel more mature and ready to start a new phase of my life. It makes it easier that my friends at home have graduated and moved away too, so I don't feel like I'm missing anything.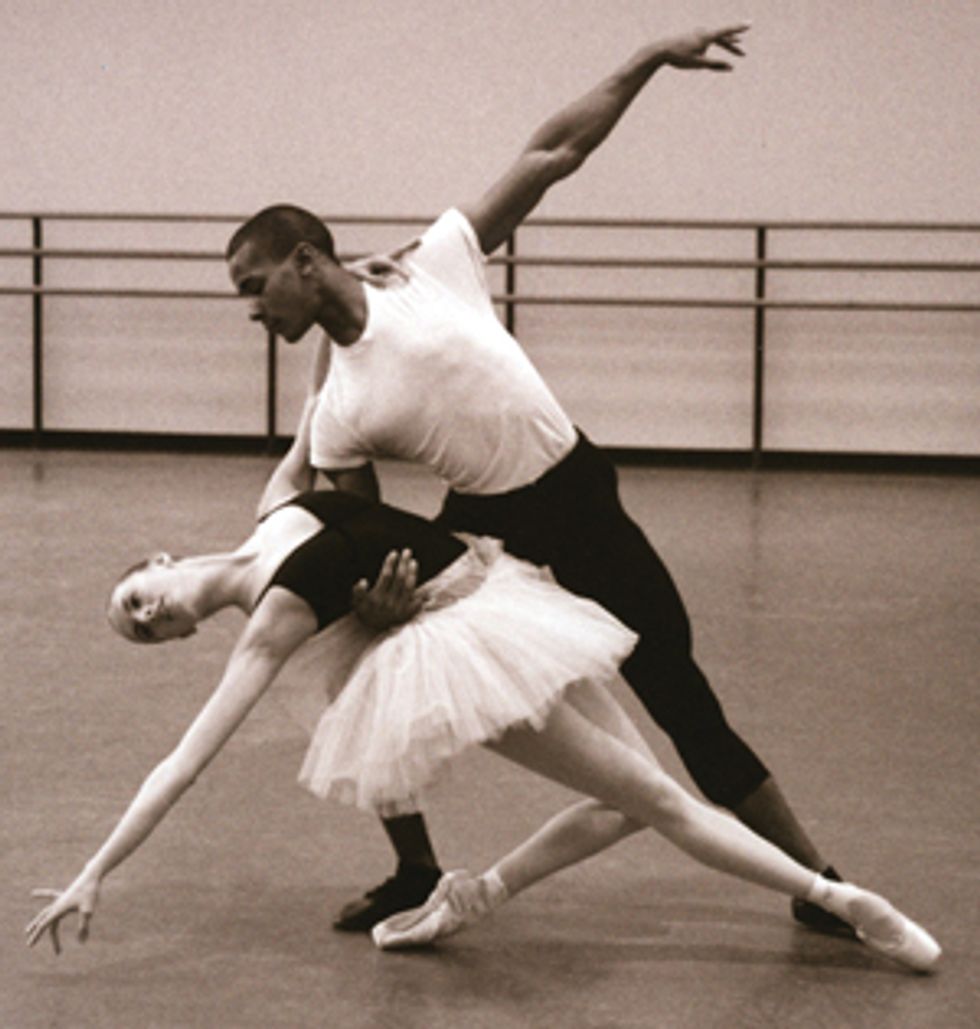 Faye Arthurs rehearsing with Craig Hall for the 1999 workshop performances at SAB (Rosalie O'Connor)
Faye Arthurs, corps member, New York City Ballet
Growing up in Pennsylvania, I took classes at Pittsburgh Youth Ballet School, where I learned a lot of George Balanchine repertory. I loved those ballets so much! But I declined invitations to the School of American Ballet's summer session—SAB is the home of Balanchine technique, and feeds into New York City Ballet, Balanchine's company—a few times because my parents weren't ready for me to go. It wasn't until I was 15 that they finally said OK.
After that summer, SAB asked me to stay for the year. I agonized over the decision. But I eventually thought, "Well, it's now or never!" I had gotten to a certain place at my smaller school and was antsy to try something bigger.
It was hard the first year to be away from my family. You have to grow up so quickly, not only emotionally but practically—you have to do your own laundry and get yourself places on time. But I saw my father once or twice a month when he was in New York for business, which was helpful.
The biggest change from living in Pittsburgh was being able to see live performances all the time. SAB students get free NYCB tickets, and I went every night. That inspired my decision to join the company. You see the actual life of a dancer in a way you can't at a small school.
SIGNS YOU SHOULD STAY
You don't want to be "just a number." If you enjoy getting lots of personal attention from your teacher and don't want to fight for a spot at the front of the class, consider sticking it out at your local studio.
You get anxious if you're away from family and friends for more than a few days. Leaving home and a tight-knit group of friends can make you homesick—and too distracted to focus on your training. Skyping, texting and phone calls will be your new norm. If the thought of that makes you break out in hives, you might not be ready to make the jump.
It just doesn't feel right yet. Trust your gut. Bigger schools don't always mean bigger rewards. If it seems like the pros of uprooting yourself won't outweigh the cons, try waiting a year or two before taking the plunge.
SIGNS YOU SHOULD GO
You want more than what's offered at your home studio. You're ready for more intense training, different teachers and the chance to work with professional dancers.
You have your heart set on getting into a specific ballet company. Most companies hire dancers from their schools, so it helps to already be in their programs. You'll also get to watch performances and maybe even dance in some of them as a student at the company's school.
You're a risk-taker. If you're the type of person who enjoys, rather than dreads, new challenges, you'll probably adapt quickly to the sink-or-swim environment that defines most larger schools. Go for it!
How To


Get Dance Spirit in your inbox