Mar. 23, 2017 05:37AM EST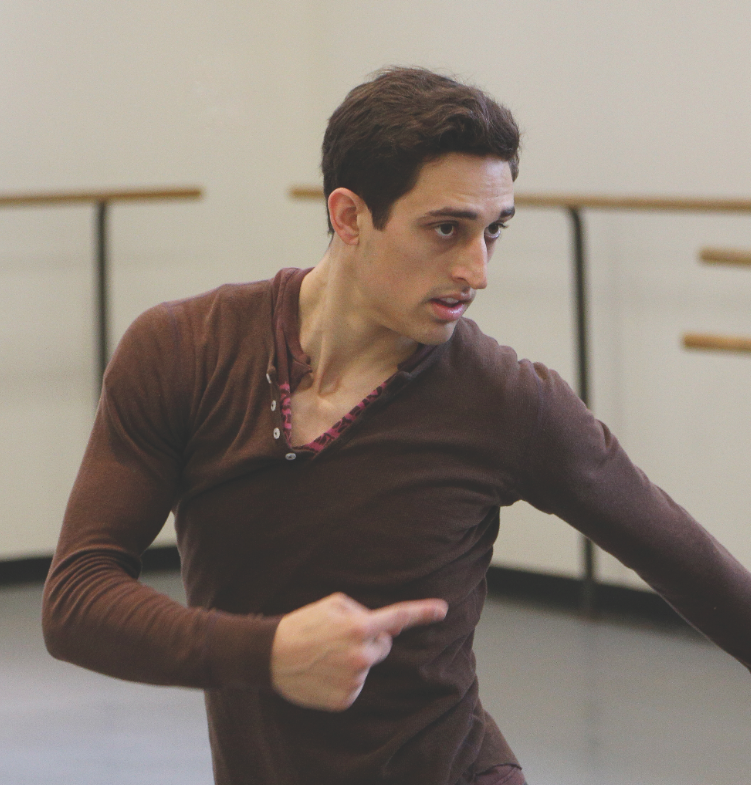 If you've already gotten your hands on DS's October issue (and if you haven't, click here!), you've seen our "Choreographer's Collage" with Justin Peck. The 25-year-old is pretty busy these days: Not only is he one of the ballet world's most talked about up-and-coming choreographers, he's also a corps dancer with New York City Ballet.
As Peck's collage reveals, his ballets are inspired by anything from the George Balanchine classics he's danced to restaurant meals. Sounds fascinating, right? Which is why I kind of can't wait to see his new work for NYCB, Year of the Rabbit, when it premieres this Friday. The piece is set to music by indie star Sufjan Stevens, who worked with Peck and conductor Michael Atkinson to translate what was originally a lot of beepy electronica into a score for a string orchestra. (Check out the three of them talking about the process in this recording of their Guggenheim "Works & Process" presentation—it's pretty nifty!)
Can't make it to NYC for the premiere? Well, here's a little taste of Year of the Rabbit: a promo video featuring NYCB dancers Janie Taylor and Craig Hall doing some beautiful things on the beach. Enjoy!
What would a Justin Peck premiere be without a gorgeous preview video to celebrate it?
The New York City Ballet soloist's first work for San Francisco Ballet, In the Countenance of Kings, is set to debut on April 7. #TeamBallet is excited about this one, and for good reason: It features a score by Sufjan Stevens, with whom Peck seems to have an especially powerful chemistry. (See exhibits A and B.)
Curious as we are about what Peck will do with Stevens' cinematic melodies this time—and about how he'll use the talented SFB dancers, a brand-new pool of muses? Or just looking for an especially lovely way to kick off the weekend? Then you'll want to watch the short film SFB released yesterday. Shot by dance filmmaker Ezra Hurwitz and set in a cavernous abandoned train station, it features sneaker-clad company dancers looking especially free as they blaze through Peck's choreography. (Or maybe, as a clever framing device implies, the whole thing is a dream, swirling in the head of principal Dores André.) It's dynamic and joyful and gives us a solid sneak peek at the goodies Peck and Stevens have in store for SFB audiences.
Happy Friday, bunheads!
New York City Ballet's spring gala was last night, and oh man, you guys: I looooove NYCB gala nights. Love, love, love 'em.
First of all, they're a chance for everyone to get dressed up—both the celebrities who come out to support the company, and the company dancers themselves. My favorite example of the former was Kristen Bell (who also showed off her impressive singing voice—you know it best from Frozen!—during the performance):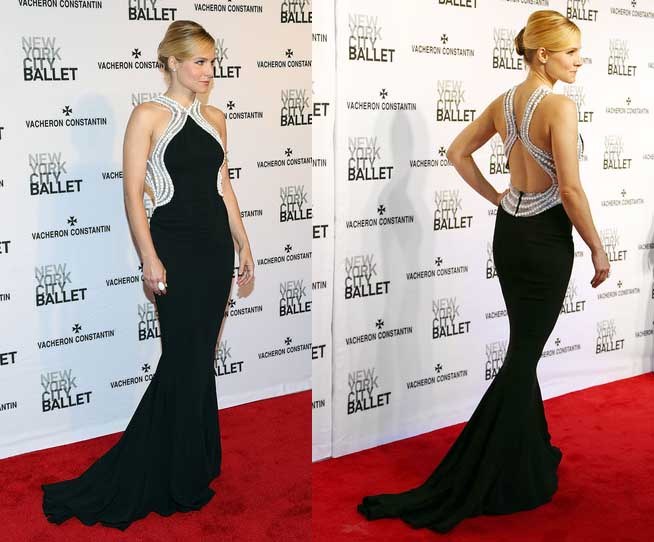 Yowza! (Photo Monica Schipper/Getty Images)
As for the latter, Ashley Bouder's fabulous glamazon-by-way-of-Disney-villainess ensemble kind of made my life: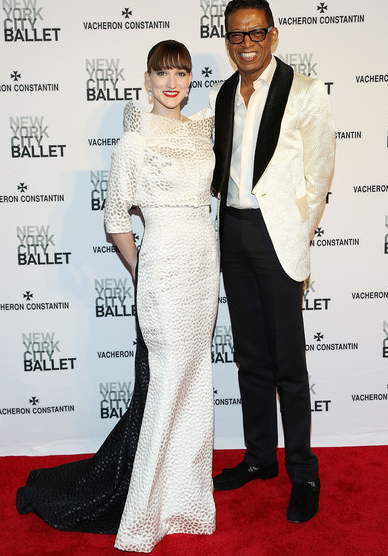 Amazing, right? Here she is with the dress's designer, B. Michael. (Photo Monica Schipper/Getty Images)
But for me, the real point(e) of these celebrations, naturally, is the dancing. NYCB is unlike a lot of other ballet companies when it comes to galas. Rather than filling the program with a bunch of tried-and-true classical pas de deux, City Ballet usually presents at least one completely new ballet. And that makes the proceedings especially exciting—particularly when the premiere is by Justin Peck, whose choreography has been delighting the ballet world for the past couple of years.
Peck dreamed big—really big—for Everywhere We Go, his sixth ballet for NYCB. He collaborated with indie music darling Sufjan Stevens on a completely new nine-movement, 40-minute score. He got architect Karl Jensen to construct a shape-shifting geometric backdrop. He asked former NYCB principal Janie Taylor (who retired earlier this year—we miss you already, Janie!) to create the bathing-beauty costumes. And he put together a cast of 25—count 'em—25 dancers. Everywhere you go, everywhere you look, you're overwhelmed by the ballet's sheer muchness.

Karl Jensen's set, the dancers in rehearsal, and Janie Taylor's costume designs (all via Instagram)
I think a lot of that muchness is just Peck responding to Stevens' score. As orchestrated by Michael P. Atkinson, it's huge, full, and rhythmically aggressive. There's something Philip Glass-ian about its relentless insistence (which makes sense—Stevens mentioned in interviews that he saw Glass's opera Einstein on the Beach sometime during the composing process). I mean, the note-per-minute count must be insane. And Peck, an instinctively musical choreographer, has movement responses to everything Stevens throws at him. This trailer for Everywhere We Go highlights one of the quieter moments in the ballet, yet it's still chock-full of music and dancing:
Like a lot of dance fans, I'm continually overwhelmed by Peck's use of groups. In Everywhere, his geometric mind takes full advantage of every one of those 25 dancers. Jensen's backdrop goes through kaleidoscope-like mutations over the course of the ballet; similarly, Peck's team shifts through endlessly innovative patterns, patterns that start out looking like chaos before suddenly—click!—falling into place.
I also love the way Peck plays with the ballet hierarchy. Everywhere includes seven fantastic principals, and yet they melt in and out of the teeming corps, their movements echoed and further developed by the dozens of dancers around them.
What's my overall verdict? I guess I'm not sure. I want to see the ballet again, so that I can let it seep into me instead of just washing over me in wave after wave of fabulousness. I think I wish it had a few more peaceful moments, more still points, to balance out its churning swirl. I walked out of the theater last night feeling a little overstimulated—buzzy, like I'd had one too many cups of coffee.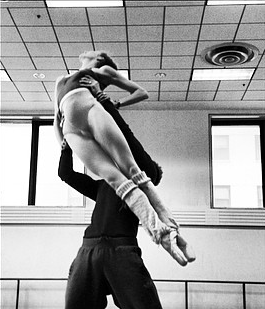 The "bow and arrow" moment in rehearsal (via Instagram)
But it's the rare choreographer who can make audience members buzz at all. And there are images from Everywhere We Go that give me little chills of pleasure every time I think of them. My favorite is a lift that appears throughout the ballet, a motif that seems to encapsulate Everywhere's overall feeling: The man lifts the woman away from him as she arches up and outward, her legs stretched behind her. She looks like a bow stretched by an arrow, full of anticipatory tension, ready to shoot off into the sky.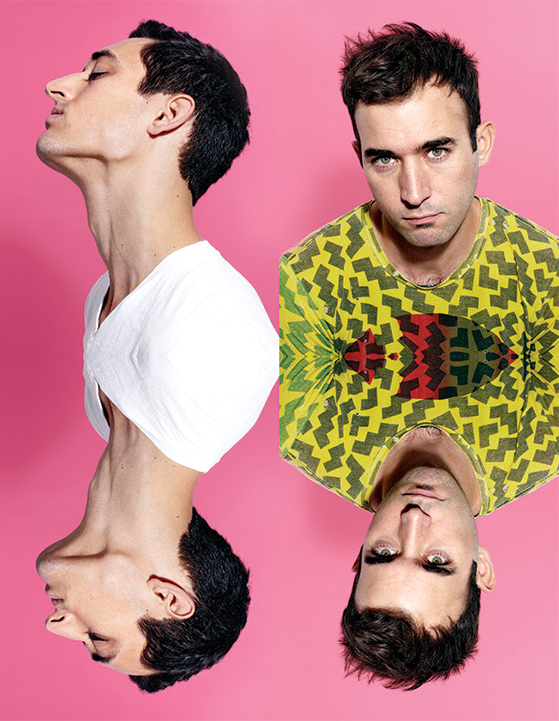 Justin Peck (left) and Sufjan Stevens (photo by Peter Hapak, via New York Magazine)
Big things are happening for New York City Ballet soloist and choreographer Justin Peck.
This month, Ballet 422—the documentary following Peck's creative process for Paz de la Jolla—is competing at the Tribeca Film Festival (click here for show times and tickets).
And next month, Peck's newest ballet, Everywhere We Go, is set to premiere. This is Peck's sixth work for NYCB and his second collaboration with popular Indie singer/songwriter Sufjan Stevens. Their first collaboration, Year of the Rabbit (2012), was a huge hit, so naturally, we're pretty psyched to see what these two eccentric artists have in store.
Lucky for us, Jody Lee Lipes (the director responsible for Ballet 422) released a sneak peek of the ballet this weekend, featuring NYCB principals Tiler Peck, Teresa Reichlen and Amar Ramasar. Check it out!
Everywhere We Go premieres May 8 at Lincoln Center's Koch Theater. Click here for tickets.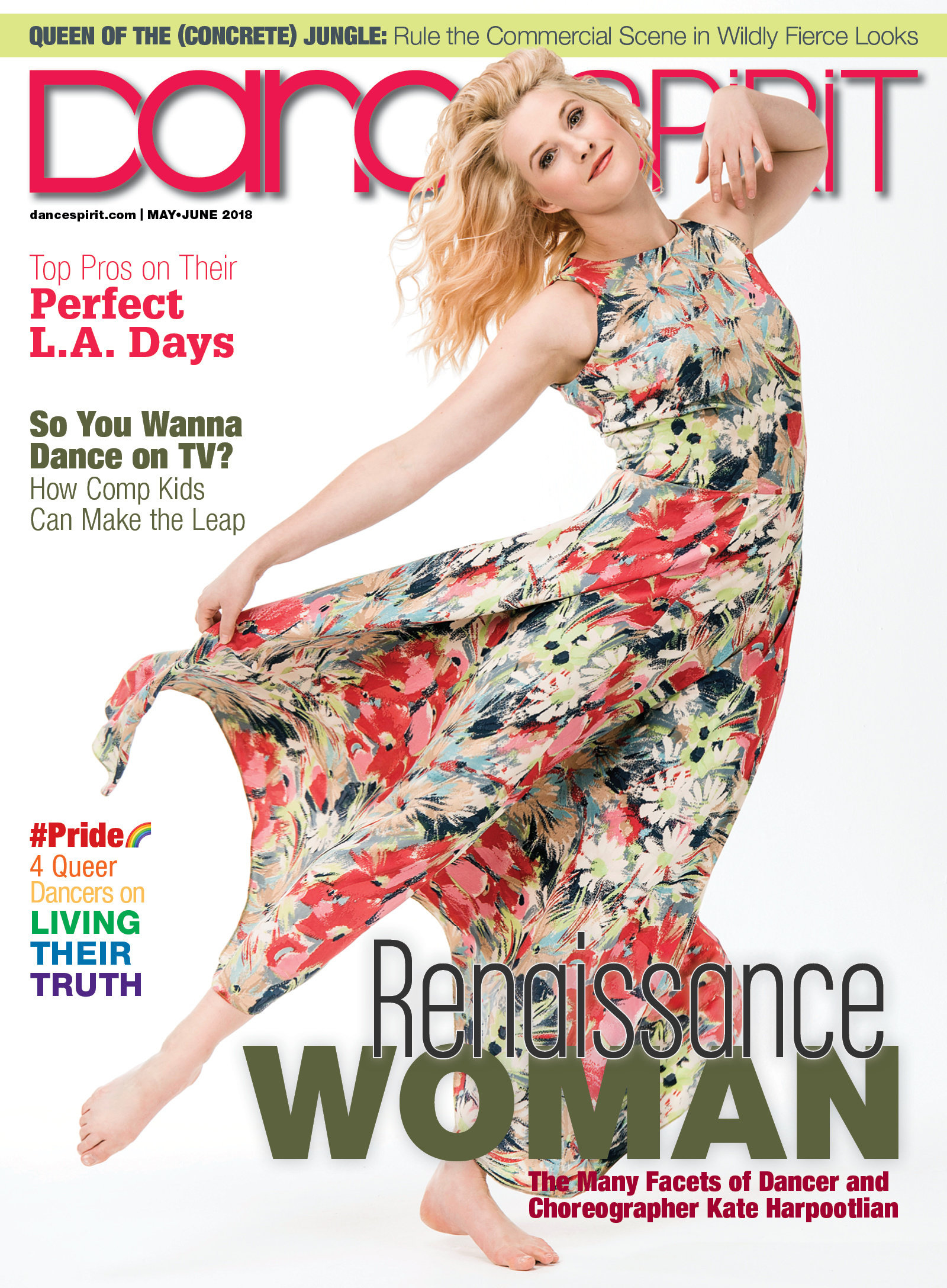 Get Dance Spirit in your inbox