Jan. 09, 2019 12:10PM EST
Hall works with students at Dance Conservatory of Charleston. (courtesy Dance Conservatory of Charleston)
As the name suggests, summer intensives are, well, intense, encouraging you to eat, sleep, and breathe dance for a significant chunk of the summer. But they're not for every dancer—or every summer. Maybe you're not ready to be away from home just yet, or you want to spend your last summer with family before going off to college. Intensives can also be expensive, and not every household has the financial flexibility to cover the high cost of auditions, travel, room and board, and tuition. Whatever your reasons for seeking alternatives, it's important to recognize that, when it comes to summer study, it doesn't have to be all or nothing. "The most important thing is to keep dancing," says Lindy Mandradjieff, owner of the Dance Conservatory of Charleston in South Carolina. "Without the added stress of school, you can improve as much in one summer as you would in an entire school year." Here's how to keep up your training even if you don't plan on attending an intensive.
Dancer to Dancer
Jan. 24, 2018 12:55PM EST
Photo by Travis Kelley, courtesy Kathryn Morgan
In our "Dear Katie" series, former NYCB soloist Kathryn Morgan answers your pressing dance questions. Have something you want to ask Katie? Email dearkatie@dancespirit.com for a chance to be featured!
Dear Katie,
I'm applying to some summer programs by video this year, and I can't afford a professional videographer. Is it OK to film an audition video on my phone? What can I do to make it look polished?
Lindsay
Dancer to Dancer
Jan. 09, 2018 02:15PM EST
The School at Jacob's Pillow's contemporary program auditions (photo by Karli Cadel, courtesy Jacob's Pillow)
Summer intensive auditions can be nerve-racking. A panel of directors is watching your every move, and you're not even sure if you can be seen among the hundreds of other dancers in the room. We asked five summer intensive directors for their input on how dancers can make a positive impression—and even be remembered next year.
Dancer to Dancer
Mar. 23, 2017 09:11AM EST
One of the biggest perks of a summer intensive is meeting great people. In just a few weeks, you can make lifelong friends, find that teacher who "gets" you and maybe even get to talk to your dance idol. But how exactly do you start to form these bonds, and what can you do to make sure they continue—and, ultimately, benefit your career? Read on for ways to nurture each of these summer relationships.
Your Classmates
You've probably already connected with your new friends on social media, so to keep everyone from drifting apart after you leave, create a Facebook group for your class. It can be a forum to post videos, share your successes, ask for advice, remember inside jokes and find out who's going back next year. If you all agree to post regularly, these groups can also help you reach your goals through the year. "Students encourage one another while they're here, and then through a Facebook group, they can take that home with them," says Michelle Chassé, director of The Boston Conservatory's Musical Theater Dance Intensive.
Dancers You Admire
Beyond the studio, you'll probably be sharing meals, dorms and even bathrooms with dancers in higher levels, so take advantage! Ask about how they've gotten to where they are and collect any career advice you can. More experienced dancers are often flattered to hear that you look up to them and may be happy to become mentors—but be sure not to come on too strong. There's a fine line between an eager younger dancer and an annoying little sister. If you do find someone you click with, stay in touch through social media, keep him or her updated on your dance progress and try to meet up whenever you're in the same city.
San Francisco Ballet School students in class.
(Photo by Erik Tomasson)
Faculty Members
While you're at the intensive, demonstrate that you're someone your teachers will want to keep tabs on. "Work as professionally as you can—that builds an opening for a relationship," says Debbie Roshe, a theater dance instructor at The School at Steps Summer Intensive in NYC. Being courageous and introducing yourself are strong first steps. "I've had students come up to me and say they're hungry for corrections, and they just want me to know that they're open to a lot of feedback," says Roshe. She's also had students ask her questions about her own dance career. Curiosity and a strong work ethic will show the teacher you're worth investing in.
When the intensive is coming to a close, ask a staff member about how students typically keep in touch with teachers. Some instructors, like Roshe, will give students their email addresses. "Keep it professional," she says. "Just send a message saying, 'I really enjoyed this summer, and this is what I'm doing now.'" Remember that most teachers' schedules are jam-packed year-round, so don't be offended if you don't receive a response right away. Down the road, let your teachers know when you'll see them again. "Students will tell me when they're getting ready to audition for the BFA program or the MFA program," says Chassé. "It's smart to say, 'Remember me? I'm coming in on this day!'" Then, be sure to reintroduce yourself each time you see the teacher. "Even though teachers recognize someone, we might not be sure where we remember you from," says Roshe.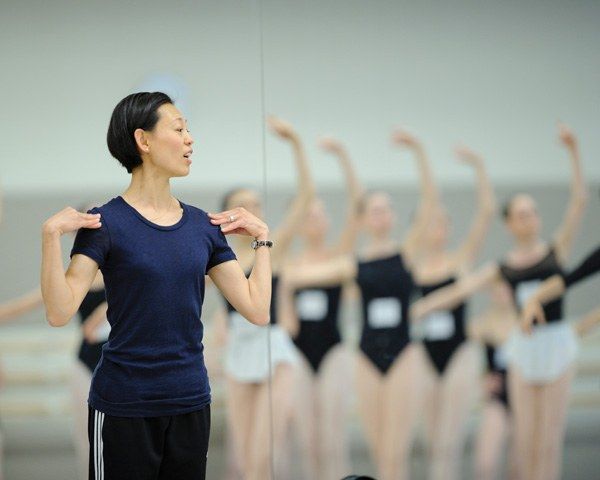 Yuko Katsumi and students in class during San Francisco Ballet School's Summer Session.
(Photo by Erik Tomasson)
Guest Teachers
Even if an instructor is only at your intensive for a day or a week, you can still make a lasting connection. "Introduce yourself and say how happy you are to be working with her," says Chassé. If you take a picture with the teacher, post it on social media and tag the teacher so she can connect a face with a name.
Afterward, if guest teachers don't give out their email addresses, it's OK to ask school administrators if those teachers mind getting emails from students. "There's nothing wrong with emailing a teacher and saying, 'I loved your class, and my goal is to start auditioning here or going to this college,'" says Roshe. Even if the school doesn't give out the teacher's contact information, an administrator might be willing to forward a "thank you" email to him or her. Guest teachers are often dancers who are currently performing. Chassé says many students can meet and reconnect with the teacher at the stage door of a show she's in.
Program Directors and Staff
The program director and facilitators can be your best friends when it comes to learning more about future opportunities with the school. "Our office door can seem like a barrier, but it's always open," says Christina Gray Rutter of San Francisco Ballet's Summer Session. "Dancers often stop by because they want to be considered for the school's year-round program."
Staff members are usually happy to answer any questions you have about future auditions, and it can be a great idea to send an email letting them know when you're coming. "I'll occasionally hear from students and parents when we're approaching the audition season," Rutter says. Go with a simple, "This is what I'm working on. Can't wait to see you at the audition!"
Jan. 20, 2017 02:49PM EST
It's no secret that summer intensives are a time to perfect your technique and learn exciting choreography. But they also come with another important takeaway: friendship! Finding the perfect person to tag in studio selfies or split a post-rehearsal snack with can make even the best summer program that much better—and can lead to a long-term career bond. Dance Spirit spoke to six sets of pros who still can't get enough of their summertime BFFs.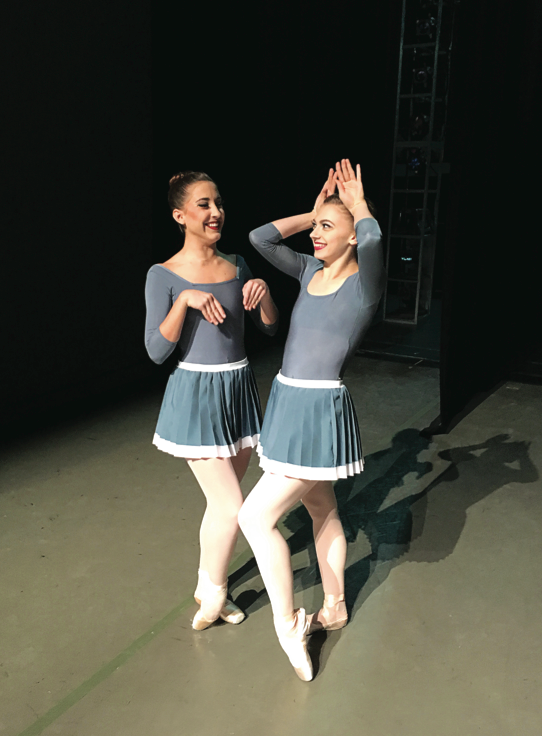 Rinaldi and Grocki before Justin Peck's Year of the Rabbit (courtesy Grocki)
Leanna Rinaldi & Ellen Grocki, Miami City Ballet
Leanna Rinaldi and Ellen Grocki do everything side by side—they live together, dance together, travel together and joke together—and that's just the way they like it. The two met during Miami City Ballet's summer intensive in 2012. When Grocki was invited to stay year-round, Rinaldi invited Grocki to live with her and a friend, and their fate was sealed. They both joined the MCB corps in 2014.
"We're more like sisters than friends," Rinaldi says. "We can pretty much read each other's thoughts." Grocki agrees: "Our jobs are demanding, with lots of emotional highs and lows, so having someone to share that with in the studio and at home has been so helpful."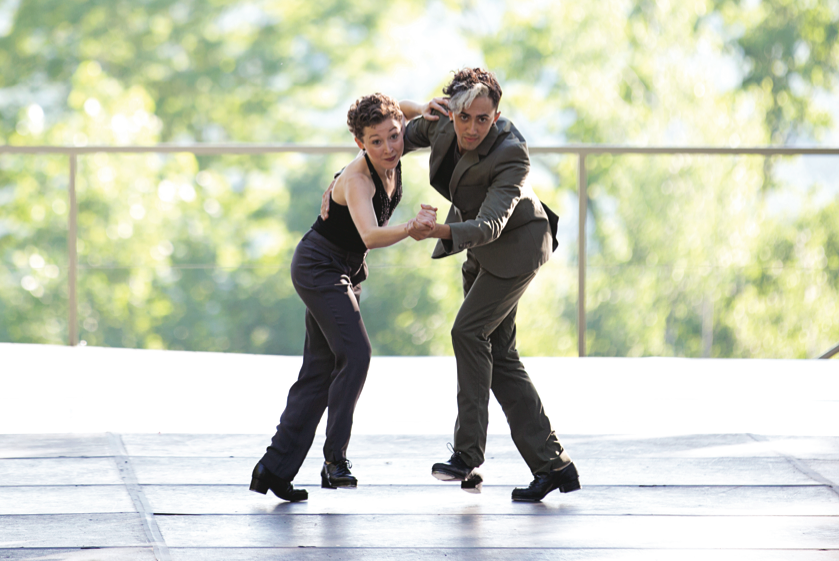 Sullivan and Teicher at Jacob's Pillow in 2016 (photo by Hayim Heron, courtesy Jacob's Pillow)
Caleb Teicher & Macy Sullivan, Caleb Teicher & Company
Caleb Teicher and Macy Sullivan met during a two-week tap program at Jacob's Pillow Dance Festival in 2010. Sullivan had just finished her sophomore year
at The Juilliard School; Teicher had just finished high school. Teicher remembers admiring Sullivan's dancing from afar even before they met. "I was intrigued and intimidated by her," he says. "Being friends with Macy encouraged me to do better myself."
Since then, the duo have supported each other professionally time and time again: Sullivan suggested Teicher try out for The Chase Brock Experience; they partnered up to swing dance with the Syncopated City Dance Company; and Sullivan now performs with Caleb Teicher & Company. "Dancing together professionally has been really special," Sullivan says. "There's a huge amount of trust between us, artistically and as friends, and that comes through onstage."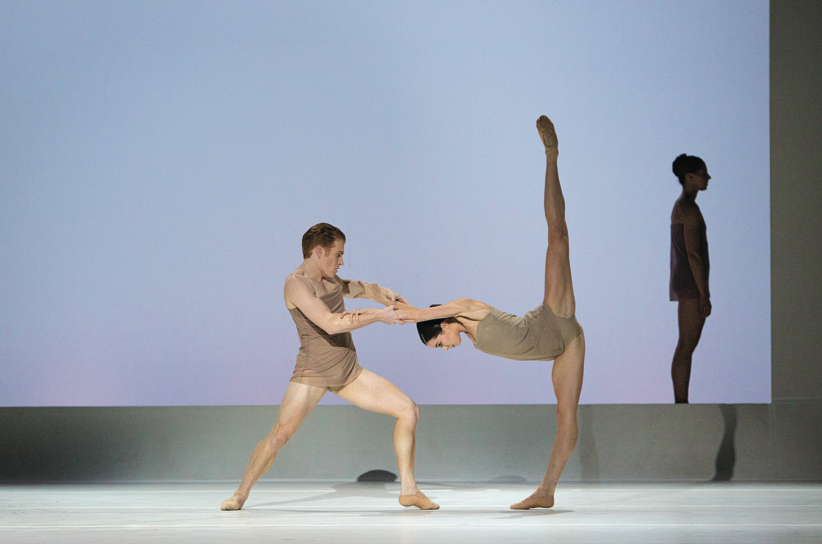 Peters and DiPiazza in Wayne McGregor's Chroma (photo by Alexander Iziliaev, courtesy PA Ballet)
Lillian DiPiazza & Alexander Peters, Pennsylvania Ballet
Pennsylvania Ballet principals Lillian DiPiazza and Alexander Peters met at the School of American Ballet's Summer Course in 2007. Back then, their favorite between-class activity was soaking up the summer sun in Central Park. "We would bring these really gross Starbucks latte things," Peters remembers.
They've been through a lot together in the years since, including graduating to the year-round program at SAB. DiPiazza transitioned to Pennsylvania Ballet one year later, and Peters followed her there after three more years. "Having a friendly face there made the transition much easier," he says. Side by side, they've matured as dancers—and their culinary tastes have come a long way from lattes in the park. "We love to go out to explore Philadelphia's food scene," Peters says, "or we'll just stay in and cook."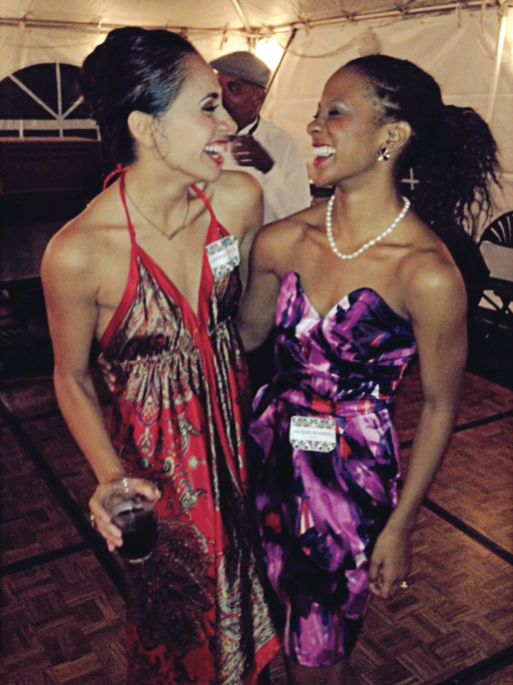 Paulos and Harris' first Ailey II reception in Towson, MD (courtesy Paulos)
Jacquelin Harris & Danica Paulos, Alvin Ailey American Dance Theater
"Our co-workers refer to us as Frick and Frack or The Giggle Twins," Danica Paulos says
of her friendship with fellow AAADT member Jacquelin Harris. "When someone tells one of us something, it's assumed that we'll tell it to the other. And we're always laughing!"
Though the two first met as students at The Ailey School, they became BFFs during a summer at Jacob's Pillow Dance Festival in 2013. Harris remembers one adventure in particular that sealed the deal: "One night we took our blankets, pillows and comforters to Inside/Out [the outdoor stage at Jacob's Pillow] and slept under the stars. I'm pretty sure that was against the rules, but we stayed up for hours getting to know each other and making memories."
These troublemakers have stuck together ever since: They joined Ailey II together the week after returning from the Pillow, and have moved up the ranks side by side, entering the main company in 2014.  "It's like our amazing summer never ended," Paulos says. They'll be together onstage from coast to coast during Ailey's 2017 tour Feb. 3–June 18.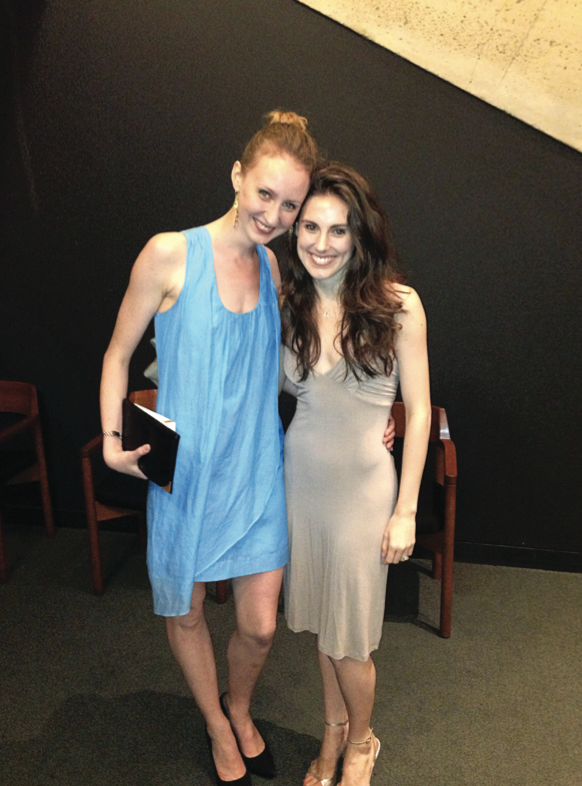 Gilliland and Peck in 2012 (courtesy Peck)
Tiler Peck, New York City Ballet, & Kaitlyn Gilliland, freelance ballerina
At the School of American Ballet Summer Course in 2002, Tiler Peck and Kaitlyn Gilliland shared a moment you might not expect from two blossoming ballerinas: "Believe it or not, we first bonded over a Ludacris song," Gilliland says. "It came on the radio, and we were each surprised to learn the other knew the lyrics."
"She could rap all the words," Peck says. "I was so impressed."
This goofy pair continued to turn to each other for laughter and support throughout that summer. When they were both offered apprenticeships with New York City Ballet two years later, they roomed together in SAB's dorms and later moved into a shared apartment—and continued to be roomies for the next several years. After four years dancing together at NYCB, Gilliland moved on to explore a freelance career, but their friendship has stayed intact. Peck is "a friend I hope to have for life," Gilliland says. "I also earn major cool points with other friends when I bring them backstage at NYCB performances to meet her."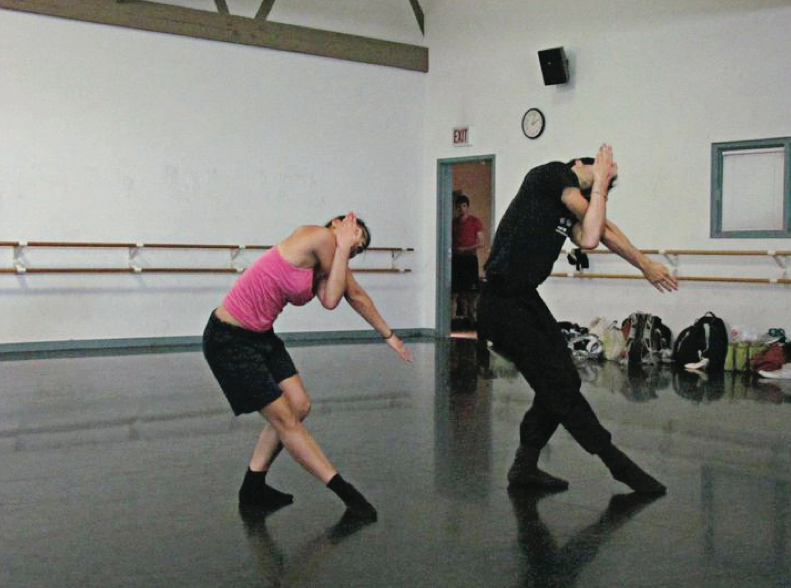 The pair rehearsing in 2009 (courtesy Delgadillo)
Alicia Delgadillo, Hubbard Street Dance Chicago, & Derek Ege, freelance dancer
For Alicia Delgadillo and Derek Ege, the perfect friendship grew from the perfect partnership. Both were freshmen in college coming from NYC—Delgadillo from the Ailey/Fordham BFA Program, and Ege from The Juilliard School—when they spent the summer of 2009 together at an intensive at Hubbard Street Dance Chicago. There, they were paired together for a duet in Jirˇí Kylián's 27'52". "It was the craziest partnering I'd ever done," Ege remembers. "We had to build a lot of trust—and we still have that."
After three summers together at HSDC, the two went different directions—Delgadillo stayed on in Chicago, joining Hubbard Street 2 and then the main company, and Ege danced with the Trey McIntyre Project for one season, then returned to NYC, where he's danced with Keigwin + Company, the Metropolitan Opera Ballet, ZuiDance and, recently, on the international tour of Shrek: The Musical. But whenever they reconnect, they always pick up right where they left off. "He's hilarious," Delgadillo says. "And I know he likes that, to this day, I will always laugh at his jokes."
Find Your BFF This Summer!
How can you raise your chances of meeting a friend who will turn into a lifelong ally? Here are some tips from those who've been there.
1. Ask for support. "Rely on the people around you if you're feeling homesick, sad
or stressed, because they're probably going through something similar." —Alexander Peters
2. Remember: Opposites attract. Friends who are different from you can make for a more interesting summer. "I was very talkative, and Kaitlyn [Gilliland] was the complete opposite; it worked because we balanced each other out." —Tiler Peck
3. Get out of the studio. "Do things outside of class or rehearsal. It'll keep you from feeling overwhelmed." —Lillian DiPiazza
4. Inspire each other. At an intensive, you'll be surrounded by dancers who inspire and motivate you, so take advantage of that! "I was obsessed with Jacquelin [Harris]'s dancing before we met—I really admired her talent and work ethic." —Danica Paulos
5. Be a team player, not a competitor. "It's easier to make friends when you're not caught up in comparing yourself to other people. The best friends are supportive of each other." —Ellen Grocki
6. Just be you. "Be yourself. Your friends will find you." —Kaitlyn Gilliland