Jan. 09, 2019 12:10PM EST
Hall works with students at Dance Conservatory of Charleston. (courtesy Dance Conservatory of Charleston)
As the name suggests, summer intensives are, well, intense, encouraging you to eat, sleep, and breathe dance for a significant chunk of the summer. But they're not for every dancer—or every summer. Maybe you're not ready to be away from home just yet, or you want to spend your last summer with family before going off to college. Intensives can also be expensive, and not every household has the financial flexibility to cover the high cost of auditions, travel, room and board, and tuition. Whatever your reasons for seeking alternatives, it's important to recognize that, when it comes to summer study, it doesn't have to be all or nothing. "The most important thing is to keep dancing," says Lindy Mandradjieff, owner of the Dance Conservatory of Charleston in South Carolina. "Without the added stress of school, you can improve as much in one summer as you would in an entire school year." Here's how to keep up your training even if you don't plan on attending an intensive.
Dancer to Dancer
Jan. 24, 2018 12:55PM EST
Photo by Travis Kelley, courtesy Kathryn Morgan
In our "Dear Katie" series, former NYCB soloist Kathryn Morgan answers your pressing dance questions. Have something you want to ask Katie? Email dearkatie@dancespirit.com for a chance to be featured!
Dear Katie,
I'm applying to some summer programs by video this year, and I can't afford a professional videographer. Is it OK to film an audition video on my phone? What can I do to make it look polished?
Lindsay
Dancer to Dancer
Jan. 09, 2018 02:15PM EST
The School at Jacob's Pillow's contemporary program auditions (photo by Karli Cadel, courtesy Jacob's Pillow)
Summer intensive auditions can be nerve-racking. A panel of directors is watching your every move, and you're not even sure if you can be seen among the hundreds of other dancers in the room. We asked five summer intensive directors for their input on how dancers can make a positive impression—and even be remembered next year.
Dancer to Dancer
Mar. 23, 2017 09:11AM EST
One of the biggest perks of a summer intensive is meeting great people. In just a few weeks, you can make lifelong friends, find that teacher who "gets" you and maybe even get to talk to your dance idol. But how exactly do you start to form these bonds, and what can you do to make sure they continue—and, ultimately, benefit your career? Read on for ways to nurture each of these summer relationships.
Your Classmates
You've probably already connected with your new friends on social media, so to keep everyone from drifting apart after you leave, create a Facebook group for your class. It can be a forum to post videos, share your successes, ask for advice, remember inside jokes and find out who's going back next year. If you all agree to post regularly, these groups can also help you reach your goals through the year. "Students encourage one another while they're here, and then through a Facebook group, they can take that home with them," says Michelle Chassé, director of The Boston Conservatory's Musical Theater Dance Intensive.
Dancers You Admire
Beyond the studio, you'll probably be sharing meals, dorms and even bathrooms with dancers in higher levels, so take advantage! Ask about how they've gotten to where they are and collect any career advice you can. More experienced dancers are often flattered to hear that you look up to them and may be happy to become mentors—but be sure not to come on too strong. There's a fine line between an eager younger dancer and an annoying little sister. If you do find someone you click with, stay in touch through social media, keep him or her updated on your dance progress and try to meet up whenever you're in the same city.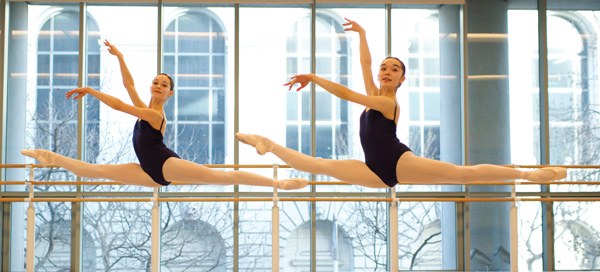 San Francisco Ballet School students in class.
(Photo by Erik Tomasson)
Faculty Members
While you're at the intensive, demonstrate that you're someone your teachers will want to keep tabs on. "Work as professionally as you can—that builds an opening for a relationship," says Debbie Roshe, a theater dance instructor at The School at Steps Summer Intensive in NYC. Being courageous and introducing yourself are strong first steps. "I've had students come up to me and say they're hungry for corrections, and they just want me to know that they're open to a lot of feedback," says Roshe. She's also had students ask her questions about her own dance career. Curiosity and a strong work ethic will show the teacher you're worth investing in.
When the intensive is coming to a close, ask a staff member about how students typically keep in touch with teachers. Some instructors, like Roshe, will give students their email addresses. "Keep it professional," she says. "Just send a message saying, 'I really enjoyed this summer, and this is what I'm doing now.'" Remember that most teachers' schedules are jam-packed year-round, so don't be offended if you don't receive a response right away. Down the road, let your teachers know when you'll see them again. "Students will tell me when they're getting ready to audition for the BFA program or the MFA program," says Chassé. "It's smart to say, 'Remember me? I'm coming in on this day!'" Then, be sure to reintroduce yourself each time you see the teacher. "Even though teachers recognize someone, we might not be sure where we remember you from," says Roshe.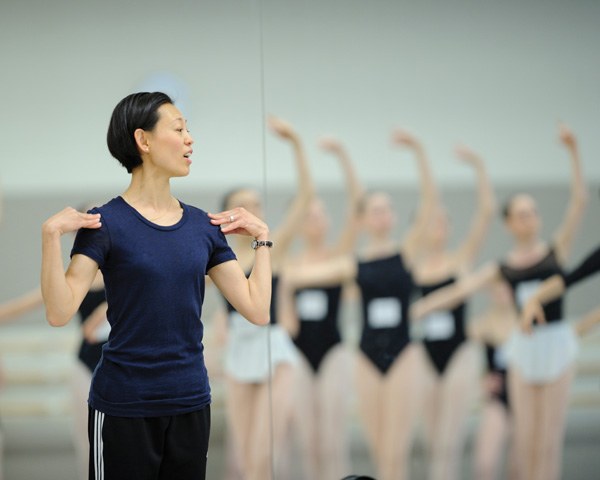 Yuko Katsumi and students in class during San Francisco Ballet School's Summer Session.
(Photo by Erik Tomasson)
Guest Teachers
Even if an instructor is only at your intensive for a day or a week, you can still make a lasting connection. "Introduce yourself and say how happy you are to be working with her," says Chassé. If you take a picture with the teacher, post it on social media and tag the teacher so she can connect a face with a name.
Afterward, if guest teachers don't give out their email addresses, it's OK to ask school administrators if those teachers mind getting emails from students. "There's nothing wrong with emailing a teacher and saying, 'I loved your class, and my goal is to start auditioning here or going to this college,'" says Roshe. Even if the school doesn't give out the teacher's contact information, an administrator might be willing to forward a "thank you" email to him or her. Guest teachers are often dancers who are currently performing. Chassé says many students can meet and reconnect with the teacher at the stage door of a show she's in.
Program Directors and Staff
The program director and facilitators can be your best friends when it comes to learning more about future opportunities with the school. "Our office door can seem like a barrier, but it's always open," says Christina Gray Rutter of San Francisco Ballet's Summer Session. "Dancers often stop by because they want to be considered for the school's year-round program."
Staff members are usually happy to answer any questions you have about future auditions, and it can be a great idea to send an email letting them know when you're coming. "I'll occasionally hear from students and parents when we're approaching the audition season," Rutter says. Go with a simple, "This is what I'm working on. Can't wait to see you at the audition!"
Jan. 20, 2017 02:49PM EST
It's no secret that summer intensives are a time to perfect your technique and learn exciting choreography. But they also come with another important takeaway: friendship! Finding the perfect person to tag in studio selfies or split a post-rehearsal snack with can make even the best summer program that much better—and can lead to a long-term career bond. Dance Spirit spoke to six sets of pros who still can't get enough of their summertime BFFs.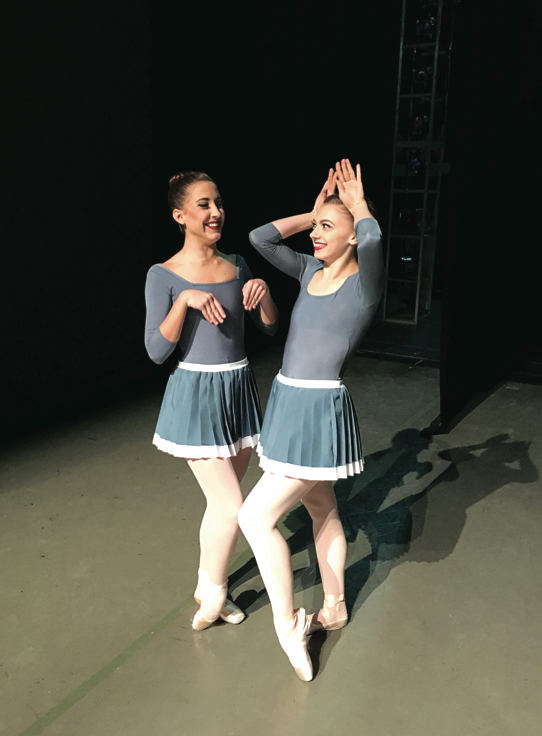 Rinaldi and Grocki before Justin Peck's Year of the Rabbit (courtesy Grocki)
Leanna Rinaldi & Ellen Grocki, Miami City Ballet
Leanna Rinaldi and Ellen Grocki do everything side by side—they live together, dance together, travel together and joke together—and that's just the way they like it. The two met during Miami City Ballet's summer intensive in 2012. When Grocki was invited to stay year-round, Rinaldi invited Grocki to live with her and a friend, and their fate was sealed. They both joined the MCB corps in 2014.
"We're more like sisters than friends," Rinaldi says. "We can pretty much read each other's thoughts." Grocki agrees: "Our jobs are demanding, with lots of emotional highs and lows, so having someone to share that with in the studio and at home has been so helpful."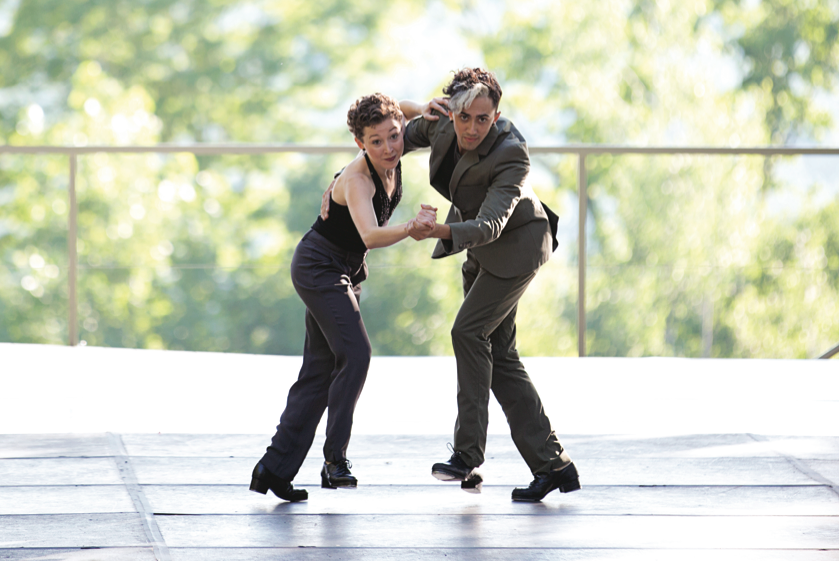 Sullivan and Teicher at Jacob's Pillow in 2016 (photo by Hayim Heron, courtesy Jacob's Pillow)
Caleb Teicher & Macy Sullivan, Caleb Teicher & Company
Caleb Teicher and Macy Sullivan met during a two-week tap program at Jacob's Pillow Dance Festival in 2010. Sullivan had just finished her sophomore year
at The Juilliard School; Teicher had just finished high school. Teicher remembers admiring Sullivan's dancing from afar even before they met. "I was intrigued and intimidated by her," he says. "Being friends with Macy encouraged me to do better myself."
Since then, the duo have supported each other professionally time and time again: Sullivan suggested Teicher try out for The Chase Brock Experience; they partnered up to swing dance with the Syncopated City Dance Company; and Sullivan now performs with Caleb Teicher & Company. "Dancing together professionally has been really special," Sullivan says. "There's a huge amount of trust between us, artistically and as friends, and that comes through onstage."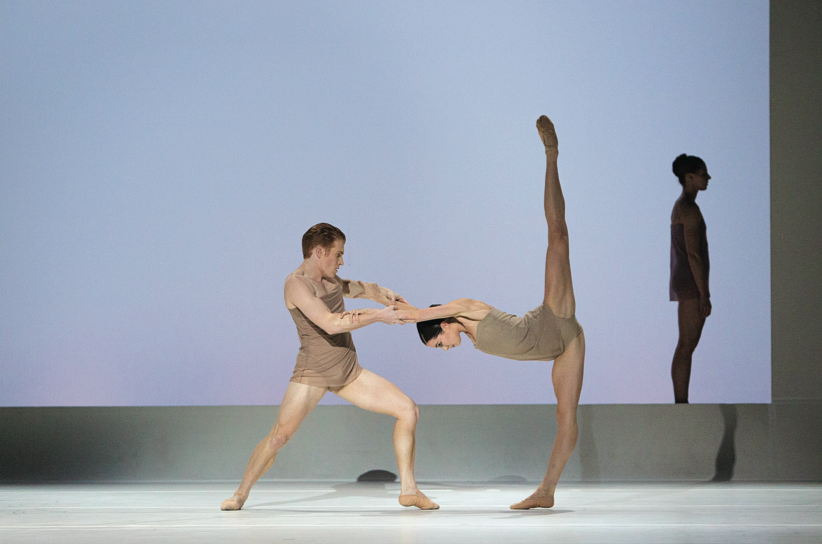 Peters and DiPiazza in Wayne McGregor's Chroma (photo by Alexander Iziliaev, courtesy PA Ballet)
Lillian DiPiazza & Alexander Peters, Pennsylvania Ballet
Pennsylvania Ballet principals Lillian DiPiazza and Alexander Peters met at the School of American Ballet's Summer Course in 2007. Back then, their favorite between-class activity was soaking up the summer sun in Central Park. "We would bring these really gross Starbucks latte things," Peters remembers.
They've been through a lot together in the years since, including graduating to the year-round program at SAB. DiPiazza transitioned to Pennsylvania Ballet one year later, and Peters followed her there after three more years. "Having a friendly face there made the transition much easier," he says. Side by side, they've matured as dancers—and their culinary tastes have come a long way from lattes in the park. "We love to go out to explore Philadelphia's food scene," Peters says, "or we'll just stay in and cook."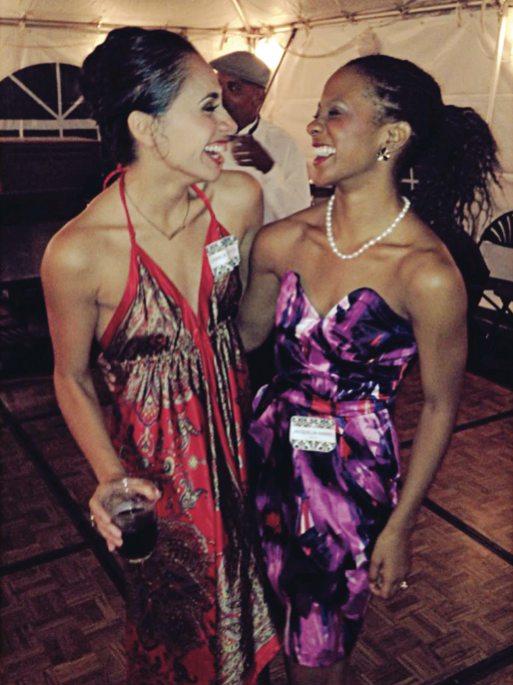 Paulos and Harris' first Ailey II reception in Towson, MD (courtesy Paulos)
Jacquelin Harris & Danica Paulos, Alvin Ailey American Dance Theater
"Our co-workers refer to us as Frick and Frack or The Giggle Twins," Danica Paulos says
of her friendship with fellow AAADT member Jacquelin Harris. "When someone tells one of us something, it's assumed that we'll tell it to the other. And we're always laughing!"
Though the two first met as students at The Ailey School, they became BFFs during a summer at Jacob's Pillow Dance Festival in 2013. Harris remembers one adventure in particular that sealed the deal: "One night we took our blankets, pillows and comforters to Inside/Out [the outdoor stage at Jacob's Pillow] and slept under the stars. I'm pretty sure that was against the rules, but we stayed up for hours getting to know each other and making memories."
These troublemakers have stuck together ever since: They joined Ailey II together the week after returning from the Pillow, and have moved up the ranks side by side, entering the main company in 2014.  "It's like our amazing summer never ended," Paulos says. They'll be together onstage from coast to coast during Ailey's 2017 tour Feb. 3–June 18.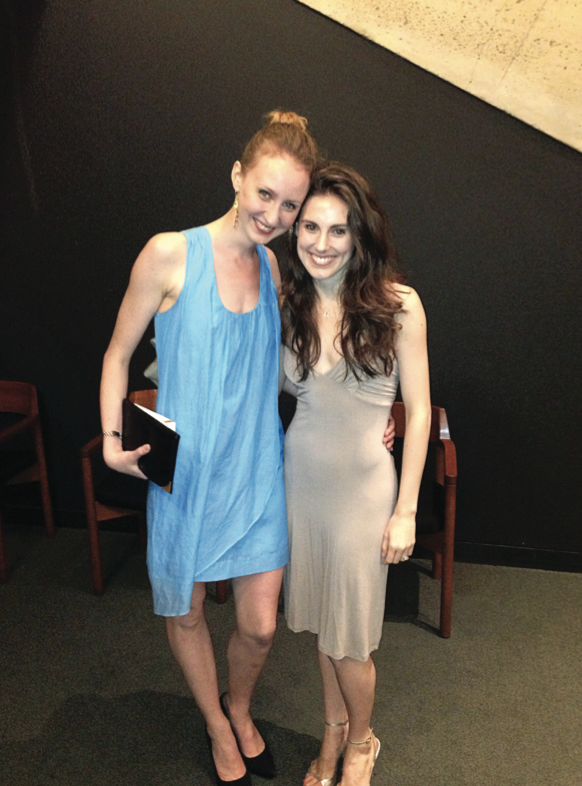 Gilliland and Peck in 2012 (courtesy Peck)
Tiler Peck, New York City Ballet, & Kaitlyn Gilliland, freelance ballerina
At the School of American Ballet Summer Course in 2002, Tiler Peck and Kaitlyn Gilliland shared a moment you might not expect from two blossoming ballerinas: "Believe it or not, we first bonded over a Ludacris song," Gilliland says. "It came on the radio, and we were each surprised to learn the other knew the lyrics."
"She could rap all the words," Peck says. "I was so impressed."
This goofy pair continued to turn to each other for laughter and support throughout that summer. When they were both offered apprenticeships with New York City Ballet two years later, they roomed together in SAB's dorms and later moved into a shared apartment—and continued to be roomies for the next several years. After four years dancing together at NYCB, Gilliland moved on to explore a freelance career, but their friendship has stayed intact. Peck is "a friend I hope to have for life," Gilliland says. "I also earn major cool points with other friends when I bring them backstage at NYCB performances to meet her."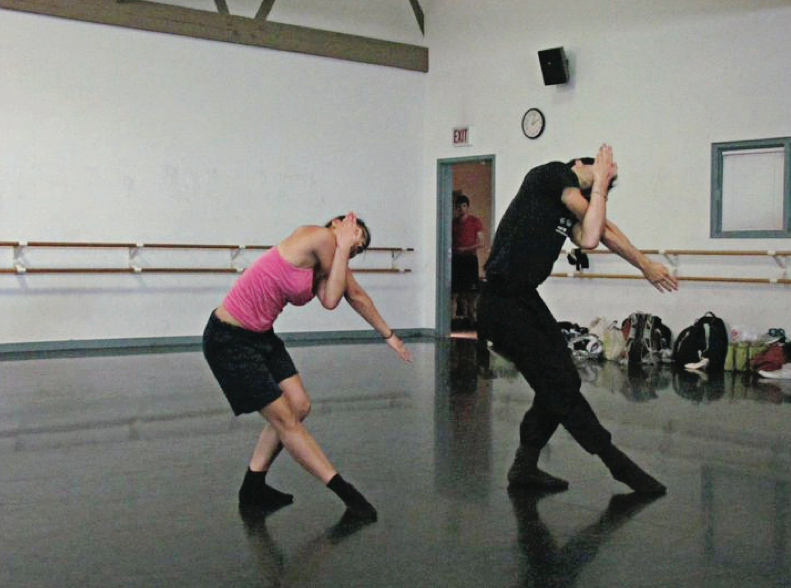 The pair rehearsing in 2009 (courtesy Delgadillo)
Alicia Delgadillo, Hubbard Street Dance Chicago, & Derek Ege, freelance dancer
For Alicia Delgadillo and Derek Ege, the perfect friendship grew from the perfect partnership. Both were freshmen in college coming from NYC—Delgadillo from the Ailey/Fordham BFA Program, and Ege from The Juilliard School—when they spent the summer of 2009 together at an intensive at Hubbard Street Dance Chicago. There, they were paired together for a duet in Jirˇí Kylián's 27'52". "It was the craziest partnering I'd ever done," Ege remembers. "We had to build a lot of trust—and we still have that."
After three summers together at HSDC, the two went different directions—Delgadillo stayed on in Chicago, joining Hubbard Street 2 and then the main company, and Ege danced with the Trey McIntyre Project for one season, then returned to NYC, where he's danced with Keigwin + Company, the Metropolitan Opera Ballet, ZuiDance and, recently, on the international tour of Shrek: The Musical. But whenever they reconnect, they always pick up right where they left off. "He's hilarious," Delgadillo says. "And I know he likes that, to this day, I will always laugh at his jokes."
Find Your BFF This Summer!
How can you raise your chances of meeting a friend who will turn into a lifelong ally? Here are some tips from those who've been there.
1. Ask for support. "Rely on the people around you if you're feeling homesick, sad
or stressed, because they're probably going through something similar." —Alexander Peters
2. Remember: Opposites attract. Friends who are different from you can make for a more interesting summer. "I was very talkative, and Kaitlyn [Gilliland] was the complete opposite; it worked because we balanced each other out." —Tiler Peck
3. Get out of the studio. "Do things outside of class or rehearsal. It'll keep you from feeling overwhelmed." —Lillian DiPiazza
4. Inspire each other. At an intensive, you'll be surrounded by dancers who inspire and motivate you, so take advantage of that! "I was obsessed with Jacquelin [Harris]'s dancing before we met—I really admired her talent and work ethic." —Danica Paulos
5. Be a team player, not a competitor. "It's easier to make friends when you're not caught up in comparing yourself to other people. The best friends are supportive of each other." —Ellen Grocki
6. Just be you. "Be yourself. Your friends will find you." —Kaitlyn Gilliland
Jan. 09, 2013 10:15AM EST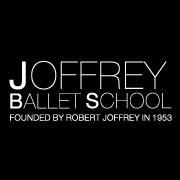 Of course you do!
DanceMedia has teamed up with NYC's Joffrey Ballet School to offer a contest with pretty sweet prizes: full-tuition scholarships to one of the JBS summer programs.
How can you get in on it? Easy: Just submit your 1-3 minute ballet, jazz or contemporary clip here. The DanceMedia editors and JBS faculty will select five winners in January alone, with more to come in February and March. Simple as that.
Click here to read all the official rules—then submit your best videos!
Jan. 04, 2013 11:19AM EST
It's summer study audition time—which means you're probably feeling a little stressed out. But no matter how nerve-racking your audition circuit is this year, keep your eyes on the prize: Attending a summer intensive is one of the best ways to boost your technique—and to meet other awesome dancers from around the country, or even the world.
To help you focus on the positive, web series Dance212 is re-airing its popular fourth season, which follows five young dancers as they attend sweet NYC summer programs. Watching these talented students living the dream at the likes of American Ballet Theatre and The School of American Ballet should give you a sense of perspective—look at all the amazingness ahead!—and help calm those audition jitters right down.
(Still not sure which program might be right for you? Browse our comprehensive summer study listing, which is searchable by state.)
Today's Dance212 episode follows Sterling Baca through pas de deux class at ABT's summer intensive. Take a look!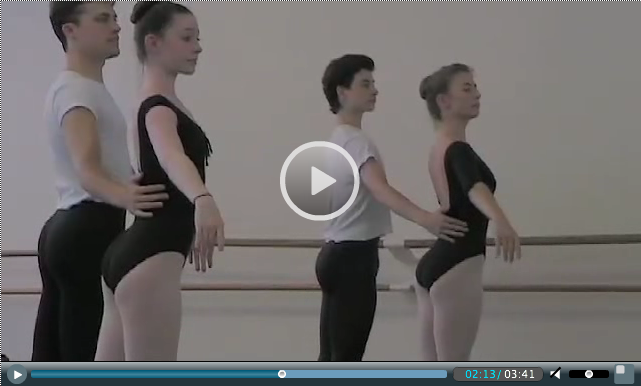 Dec. 17, 2010 01:40PM EST
As a serious dancer, it's easy to let your favorite genre become your identity, whether you're a contemporary queen, tapper, comp kid or ballerina. Yet it's no coincidence that shows like "So You Think You Can Dance" reward well-rounded dancers; after all, breaking out of the mold often enables you to reach your full potential. Summer study programs provide the perfect opportunity to do just that. So consider trying something different this summer—you might surprise yourself. Meet four dancers who pushed their limits to discover their own unlimited potential.
The Rockette Experience
Imagine a Latin dancer and a Rockette standing next to each other—it's like fire and ice. Latin dance is all about fast footwork and flair, while the Rockette kickline is known for its rigid precision and uniformity. So why would Ashlé Dawson, a Latin dancer, want to check out The Rockette Experience, a daylong workshop with the legendary dance group? "Every young girl thinks at some point, 'Maybe I could be a Rockette!' " Ashlé says.
So she decided to attend. The day began with a two-hour master class in one of the Radio City Music Hall rehearsal studios, where she learned tap and jazz choreography from the Radio City Christmas Spectacular plus a Rockette audition routine; a mock audition and tour of Radio City followed. "It was a great opportunity to have access to the Rockettes, and it was so neat to watch their performances later and say, 'I learned that!' " Ashlé says.
But learning the Rockette style didn't come without its share of challenges. "Everyone's hands had to be completely the same way, which was a struggle because I like to accentuate everything," she says. "It's nowhere near as easy as it looks."
Ashlé's efforts paid off and she was asked to assist on the Experience the next two years. The third year, she scored a coveted Rockette audition but ended up having to miss it after being picked for the first season of "SYTYCD." (She placed fourth!) Since then, she's danced everywhere from the Latin Grammys to "American Idol," but Ashlé still has one big goal: Broadway. "There's magic on Broadway, and getting to work with the Rockettes put me in that mentality," she says.
New York City Dance Alliance Summer Dance Intensive
Growing up with a dance teacher mom usually means attending lots of competitions and conventions, and Dennis Davis was no exception. "I've been dancing since I was little—I just fell into it," he laughs. And Dennis was a natural: As a high school sophomore, he earned the Triple Threat Award at New York City Dance Alliance and was subsequently offered a spot at the convention's annual summer intensive. "The idea of going to NYC by myself for a few weeks was scary," Dennis remembers. But he couldn't refuse the chance to work with faculty including Joey Dowling, Lauren Adams and Jason Parsons, and soon he was en route from Michigan to the Big Apple.
What lay ahead resembled dance boot camp. Every day of the two-week intensive began at 7 am and was packed with classes in ballet, lyrical, jazz, hip hop, samba, partnering, modern and more. For Dennis, it was the intensity of the ballet curriculum that resulted in a bit of culture shock: "I didn't start training seriously in ballet until age 11, and I'd only taken one class a week. Having ballet every day, first thing in the morning, was a big adjustment," says Dennis, who ended up doing the intensive two years in a row. "It was definitely the most challenging part for me. It was also way more intense than a regular convention, as the classes are smaller and the teachers can really see you and give corrections."
Also stretching Dennis beyond his comfort zone were the program's vocal requirements. Though he'd participated in choir at school, he'd never sung solo, so doing it on his audition tape and at the intensive was intimidating. "I went in the room by myself, stood in front of Joe Lanteri [executive director of NYCDA] and sang for him," recalls Dennis, who sang 16 bars of "Somewhere Over the Rainbow." But Dennis pushed through the fear, and ended up joining show choir upon his return to school.
Now a freshman in the dance program at Point Park University, Dennis marvels at how much his NYCDA experience prepared him for college. (He hadn't even heard of the school until he went to the intensive!) Today several intensive alums are his classmates, and Dennis is showing off his newfound ballet prowess as a member of Point Park's Youth America Grand Prix competition group. "I've gone from my little hometown studio in Michigan to one of the top dance schools in the country," says Dennis happily.
Jacob's Pillow
As a diehard hoofer, Caleb Teicher always had a laser-like focus on the tap world. "I never intended to go into other dance styles," says Caleb, who started tapping at age 10. "So when I heard Jacob's Pillow was going to have a tap program, I knew it was perfect for me." When auditions were held in NYC, Caleb was front and center—and when they were over, he stuck around to audition for the Jazz/Musical Theatre program as well.
For that audition, Caleb had to dance and sing—a prospect that "terrified" him—but he couldn't help being captivated by the possibilities. Caleb had to wait several months to find out his fate, but the wait was worth it: He was accepted to both programs!
After completing the tap program in early July, Caleb returned in August for Jazz/Musical Theatre. The three weeks that followed were filled with singing, acting and dance classes. "It was everything I'd never tried before," Caleb says. When not taking class—which he did for up to 12 hours daily—Caleb ushered the nightly dance shows featuring performers like Trey McIntyre Project, Kyle Abraham and Camille A. Brown. Not only did the work afford him a glimpse into the workings of the festival, he also got access to these dance tastemakers. "I remember roasting marshmallows with Camille and talking about her work," Caleb says. "It was much closer than I ever would have gotten to any of these choreographers."
Caleb also performed on the "Inside/Out" stage, an outdoor setting that attracted hundreds of spectators nightly. There he overcame his singing fears to do an onstage solo during the second week of the program. "It's a one-of-a-kind experience—the atmosphere the festival creates is unlike anything else in the world," Caleb says.
A recent high school graduate, Caleb's now in NYC taking up to five dance classes daily in everything from Horton technique to flamenco. "I no longer train just in tap—I try everything," he says. "Because of The Pillow, I'm not afraid to do that."
Pacific Northwest Ballet School
Ever since she was 6 years old, Megan Skalla has been turning heads at conventions like JUMP, West Coast Dance Explosion and New York City Dance Alliance. So what's a comp kid to do when she gets bitten by the ballet bug? For Megan, it meant auditioning for the six-week summer study program at Seattle's Pacific Northwest Ballet. "My teacher told me about the camp," says Megan, who studies at Barlow Arts Conservatory and The Dance Club in Utah. "I was shocked she thought I could get in, but she pushed me and made me believe I could do it."
At the intensive, Megan studied pointe, ballet, jazz, modern and character six days a week, and took weekly field trips to baseball games and local landmarks. Classes with Le Yin, then a principal dancer with PNB, were her favorite part. "I couldn't sleep at night because I was so excited to attend his classes," she says.
Megan also relished the chance to observe company rehearsals. "It was amazing to see how good they are and how talented we can become," Megan says. "I grew so much as an artist, and being there made me realize I can do anything I set my mind to." Among those new goals? A spot with a professional ballet company. To get there, she's now training before school as early as 5:30 am and taking private lessons with former Rocky Mountain Ballet principal Jacki Ford and former Indianapolis Ballet Theatre ballet mistress Yi-Qi Cheng. Adds Megan, "I gained a greater understanding of how much I need to train to someday be in a company—it would be a dream come true!"
Jan. 01, 2010 02:47PM EST
So you've narrowed down your list of places to dance this summer, and you're looking forward to exploring the dance world and meeting new people at your dream intensive. But first you have to get through the audition process—and it can be a little scary. It's true that summer intensive auditions are important because they "build your relationship and contacts within the dance world and let people know what your beautiful qualities are," says Lorraine Spiegler, Director of Studio Education and the Conservatory at Washington D.C.'s CityDance. Yet many summer programs are highly competitive, and there's nothing more nerve-racking than knowing you're auditioning for one of a limited number of spots.
But DS is here to help! Take a look at these dos and don'ts from three pros who sit on the other side of the table.
Do: Dress for success
Make a good first impression at auditions by being sure you look the part. If there are specific dress requirements, come prepared with the appropriate clothes and shoes, whether it's a solid-color leotard for an audition at the School of American Ballet, jazz shoes for a multi-genre program like CityDance, or character shoes for a Broadway-focused program. Take time to find an outfit that not only fits the audition's requirements, but that you're also comfortable and confident moving in. Kay Mazzo, co-chairman of faculty at SAB, says, "When you come into our audition, we want to see someone who is interested, alert and neatly dressed. You should look like you're ready to show us what you can do."
Do: Be realistic
More than 1,700 students audition for SAB's summer course each year, and just 10–13 percent are accepted into the program. While knowing the numbers might freak you out, it can also help to keep you humble. "Don't come in thinking you're the best dancer in the world," Mazzo says. "You should think, 'I'm going to come here and try hard.' Listen and pay attention, and if you're given a correction, take it."
Don't: Psych yourself out
We've all done it. Not only are you watching yourself in the mirror, but you're also looking at the dancer on your left and thinking your high kick isn't as high as hers, and looking to your right and thinking her lines are longer and cleaner than yours. Try not to get caught up in comparisons. "Don't compare yourself to others in the room," says Tim Santos, artistic director of the National Dance Institute of new Mexico's Broadway Theater Dance Workshop. Keep your vision forward and focus on yourself. "Your particular strengths might be the ones that panel is looking for," Santos says.
Do: Leave a lasting impression
When you're watching the dancers learning choreography during the audition rounds of "So You Think You Can Dance," you see plenty of hopefuls who know the routine but don't grab your attention. Then there are others who seem to leap off the TV screen: They truly own the choreography, bringing more than just great technique to the steps. No matter your dance style, strong technique is an absolute necessity. But as Santos says, "It's people with charisma and great stage presence who truly stand out at auditions." For Santos, a successful auditioner is someone who is "a great performer with passion, drive and joy for what they are doing. Combine that with great technique, clean lines and versatility." Spiegler adds, "Take the movement and make it your own. We want dancers who can perform a piece five minutes after learning the choreography." But while putting your own signature on an audition combination is essential, be careful not to significantly modify the choreography, especially at ballet or musical theater auditions, where uniformity is prized. While directors do want to see you, they also want to see the correct steps.
Do: Think of it as just another class
Does the word "audition" send shivers up your spine? Stay calm and pretend it's just another class with a new teacher, Mazzo suggests. Spiegler agrees that forgetting about the "A" word is key. "Enjoy yourself and think of every audition as just another chance to not only be seen but to learn," he says.
Don't: Think that one misstep means it's all over
Panelists are looking for students with drive and a strong work ethic, not people who are perfect all the time. If you make a mistake, don't assume the whole audition is a wash. "One thing that is important is if you're doing a step, even if you don't get it, don't stop and walk away," Mazzo says. "Don't worry if you fall over; next time it'll be a little better. Don't be too hard on yourself or beat yourself up. Just get up and do it again. That's what life is. You have to keep trying." If you make a mistake, simply compose yourself and pick up where you left off. Obsessing over a misstep will make you stand out negatively to the panel—a quick recovery shows professionalism.
Debunking Summer Study Audition Myths
Does getting into a summer study program help your odds of being accepted to the school's year-round program? YES!
Kay Mazzo, co-chairman of faculty at the School of American Ballet, says it absolutely helps because that's where they get many of their students. "The dancers get a chance to try out the Balanchine aesthetic, and we can see if we think it fits them." Most New York City Ballet dancers, including Wendy Whelan, Jenifer Ringer, Maria Kowroski and Tiler Peck, went to SAB's summer study program and from there to SAB's year-round program. CityDance's Lorraine Spiegler says attending the summer program gives you an idea of what the organization is all about: "It helps to bring you into the fold. It gives you a window into what the program is like."
Are summer study programs harder to get into than year-long programs? It depends.
"In some ways they are, because we're encapsulating something in the summer," Spiegler says. "In the intensive, we have a few weeks in which we hope to help the students dig in deeper than they do during the year and pull something out that's going to have a meaning for the whole year."
Get Dance Spirit in your inbox