The Boston Conservatory Launches Musical Theater Dance Intensive
Are you a Broadway-baby-to-be? Head to Beantown this summer for The Boston Conservatory's new musical theater dance intensive. Broadway veterans and conservatory graduates Nick Adams and Noah Racey will be teaching master classes. Dancers between ages 15 and 25 can submit an audition video online through May 6.
Though there will be some vocal and acting instruction, the program will focus primarily on dance. In addition to master classes, attendees will be treated to ballet, jazz, theater dance, voice and acting classes taught by conservatory faculty and alumni.
The intensive will be held in the school's newly opened theater complex from July 17–August 6. For application info, visit bostonconservatory.edu/mtdance.
Youth America Grand Prix Hosts First Job Fair
After the awards have been handed out at this month's Youth America Grand Prix finals in NYC, the competitors will have an extra chance to impress potential employers. YAGP is calling the new venture a "job fair," and it has invited artistic directors and industry professionals representing more than 200 top ballet companies from around the world to observe a special audition class on March 23. (The finals are March 17–22.) The class, which will feature both classical and contemporary ballet, will be open to all current and past YAGP finalists, ages 16 and up.
YAGP awards more than $250,000 in annual scholarships to leading dance schools around the world. "One of the best ways to get into a dance company is to attend a school affiliated with that organization, so we've been indirectly helping dancers get jobs through our scholarships since the beginning," Sergey Gordeev, YAGP's director of public relations and external affairs, tells DS. "But we've realized that many of our finalists are ready for professional employment when they come to the competition." YAGP hopes this new job fair will provide career opportunities for such dancers. For details, visit yagp.org.
CPYB's Dylan Cobb Receives Jerome Robbins Foundation Scholarship
Seventeen-year-old Dylan Cobb is studying dance with Central Pennsylvania Youth Ballet tuition-free for the entire year, thanks to the new CPYB Jerome Robbins Scholarship. The $8,000 scholarship was established after CPYB was awarded a grant from the Jerome Robbins Foundation earlier this year.
CPYB CEO Alan Hineline tells DS that Dylan, currently in his third year at the school, was selected for the award because: "He sets the tone for the whole school with the way that he behaves and through his work ethic. He's a great example of how we like our students to work and just be as people."
Dylan says the award motivates him to continue working toward his goal of dancing in a professional company. "It inspires me to work even harder," he says.
DanceU101.com
Do you have questions about the college application process, college dance auditions, how to choose a degree or even how to finance your education? Head to the "Ask the Experts" section of DanceU101.com, where all the answers you've been searching for are just a click away! The site is also full of information about dancing in college and has up-to-date facts on more than 600 college dance programs. Check it out!
Quinn Pendleton, from Washington, CT, attended her first summer program when she was 13. She spent subsequent summers at Boston Ballet, the Washington Ballet and the Nutmeg Conservatory for the Arts, and at 17 moved to Germany to dance with Staatsballett Berlin.
"Every year I got a little more used to going away," says Pendleton, who's now with Les Ballets de Monte-Carlo in Monaco. "While the idea of being alone was daunting at first, it's easier to talk to new people when you aren't with people you know. I still missed home, but I had fun with new friends, and I didn't feel as homesick."
If you're worried that you'll have a hard time being away from home this summer, whether it's for a week-long workshop or a six-week intensive, try these strategies to get the most out of your summer studies.
1. Don't worry. Homesickness is common, especially if you haven't been away from home before. "Most summer students are homesick for the first 24 to 48 hours," says Jennifer Wesling, dean of students at Interlochen Center for the Arts in Interlochen, MI. It's normal to feel sad after mom and dad drive away, so don't feel bad about the emotions you're experiencing.
2. Introduce yourself. If you're nervous about putting yourself out there, just remember: You aren't the only one who doesn't know anybody. "Often, it's like everyone is waiting for one person to make the first move," says Kelly Novitski, director of student life at the School of Am
erican Ballet in NYC. There's lots to talk about besides dance—books, music, movies—so try whatever it takes to get people talking.
3. Be a social butterfly. "In dance class, you don't get to talk much," explains Novitski. That's why many summer intensives offer activities—ice cream socials, field trips, movie nights—to help students get to know each other. Take advantage of them! You'll feel better overall if you're not just sitting in your room. "The busier you are, be it shopping or exploring," Pendleton says, "the less time you spend missing home."
4. Talk to an adult. You haven't clicked with your roommates or classmates, and you're too shy to go to social events alone. What's your next step? Tell a counselor or staffer how you're feeling. He or she can offer words of wisdom and connect you with other dancers who might be feeling the same way.
5. Bring home with you. Pack pictures and small items that will remind you of home and loved ones. Mementos, from a stuffed animal to a music mix made by a friend, can comfort you when you're feeling down. There's another perk, too: Items from home can be conversation starters for you and your new friends.
6. Weigh the benefits. Consider what you're getting.  "We ask students, 'If you were at home right now, what would you be missing by not being here?'" Wesling says. "You'd miss dance classes, meeting new friends, performances—try to look forward rather than longing for home."
7. Keep in touch. Write letters. Send e-mails. Call home. But try not to spend the entire conversation asking about what you're missing. Instead, share the new memories you're making, Novitski says. "By telling others about your experience, you can remind yourself that you're having a good time!"
"Summer study prepared me for getting used to a new environment as a professional," Pendleton says. However, if you do experience homesickness, remember that it gets better with time. "Now I think of home as a place to go on vacations, not where I actually live," Pendleton says. "That's just a part of growing up!"
Ballet with a Twist
If you love ballet, but feel like the classics aren't for you, don't fret! COMPLEXIONS Contemporary Ballet's summer program will give you the foundation and structure of classical ballet, but also train you to work off-center and tackle many different dance styles. At COMPLEXIONS, you work with artistic directors Dwight Rhoden and Desmond Richardson every day, learning their original style and choreography. Attendees must be 13-18 years old with a strong background in ballet and modern. An audition is required. Dates: August, TBA at press time; complexionsdance.org/summer_intensive.php
Broadway Fever
Have you ever left a Broadway show feeling inspired and determined to be up on that stage, but unsure about where to start? The three-week intensive program offered by Broadway Theatre Project is a great jumping-off point! The teachers are masters of their craft, including living legends like Ben Vereen and Charlotte d'Amboise. All students must take classes in acting, dance, voice and writing. Students will also meet with representatives from colleges with musical theater programs and go through audition workshops with Broadway casting directors. The program is on the campus of the University of South Florida, and each session culminates in a student performance at the Tampa Bay Performing Arts Center. You must be at least 16 years old, and college students can apply as well! Auditions are live or by videotape. There's no better atmosphere
to learn how to succeed on Broadway than to be around those who have lived it. Dates: July 6-27; broadwaytheatreproject.com/home
Dance Conservatory Meets Hip Hop
Want to take your hip-hop skills to the next level and learn how to enter the professional world of commercial dance? Here's an opportunity for you: The Hip-Hop Dance Conservatory Summer Intensive in NYC offers technique classes, b-boy fundamentals, funkstyles, hip-hop dance theory, health and nutrition, field trips and choreography. At the end of the intensive you'll participate in a performance choreographed by faculty including Nicola Linge, who was an assistant producer for the 2007 MTV Video Music Awards. No audition required. Dates: June 30–August 30; hdcny.com/wst_page4.html
The Art of SLAM
Are you daring enough to fly through glass? Meet Elizabeth Streb, founder of Brooklyn's STREB Company. Through her studies of the human body and its possibilities (using science and math!) she has created a dynamic style of dance that defies gravity with grace. At her SLAM summer program—SLAM stands for Streb Laboratory for Action Mechanics—you can train in trapeze, aerial work and more in a safe and educational way. Students can take one weeklong workshop, or register for the whole summer! Open to ages 5-14, no audition required. Dates: TBA at press time; strebusa.org/index.html
Swing Your Way to Cirque du Soleil 
Sick and tired of hearing, "Don't try this at home?" If you want to dangle from wires, contort your body, dive from great heights and perform tricks on moving walls and wheels like Cirque performers do, now you can! For safe, top-notch training, head to the National Circus School in Montreal, Canada. It offers one- or two-week intensive programs for ages 9-12 and 13-17. Classes include circus arts, dance, and martial arts or acrobatic sports with an artistic component, such as artistic or rhythmic gymnastics, trampoline, diving and figure skating. You must mail in an admission form to be considered. Dates: Ages 9-12: July 14-20; Ages 13-17: July 21–August 1; enc.qc.ca/en/programs/program3.asp
Company Calling
It's not often that you get the chance to train with one of the country's most esteemed modern companies. The Paul Taylor Dance Company is in its 53rd year of breaking dance boundaries. Each summer, students can train in Taylor's distinctive style and learn the ins and outs of working with a professional company. The Taylor Intensives take place in NYC, and the faculty includes company alumni. Classes are given in Taylor style and repertory. No audition is necessary; however, an application must be completed, along with a teacher evaluation. Dates: June 30–July 25; ptdc.org/si_si.php
Round Em' Up
There's no better way to kick your tap butt into gear than with Vancouver's Tap Boot Camp, put on by the Vancouver Tap Dance Society. Tap masters Cheryl Johnson and Anthony Peters, who have shared the stage with legends like Jimmy Slyde and traveled with St. Louis Tap Festival, host this 30-hour, one-week intensive; also appearing as a guest artist is Shelley Stewart Hunt, who performed in the national tour of Cats. The goal: to build your technique, style and performance quality. Tap experience is necessary, ranging from advanced-beginner to advanced, and you must be between ages 9 and 16. On the first day of camp, you will be placed in levels based on your skill and experience. No audition required. Dates: July 21-25; vantapdance.bc.ca/summer-youth-boot-camp-ayodele.html
Ballet Goes Extreme
If you're ready to take your ballet training to the next level, Kaatsbaan's Extreme Ballet preprofessional summer intensive might be right for you. This program is for ballet dancers who are preparing to jump into the professional world. Located in Tivoli, NY, the secluded countryside provides a great atmosphere to stay focused on your training and glean advice from the roster of stellar teachers. Dancers at least 14 years old can audition at intermediate, advanced and preprofessional levels. Directed by former ABT star Martine van Hamel. Dates: June 16–July 5, July 6-26, July 27–August 16; kaatsbaan.org/extreme.html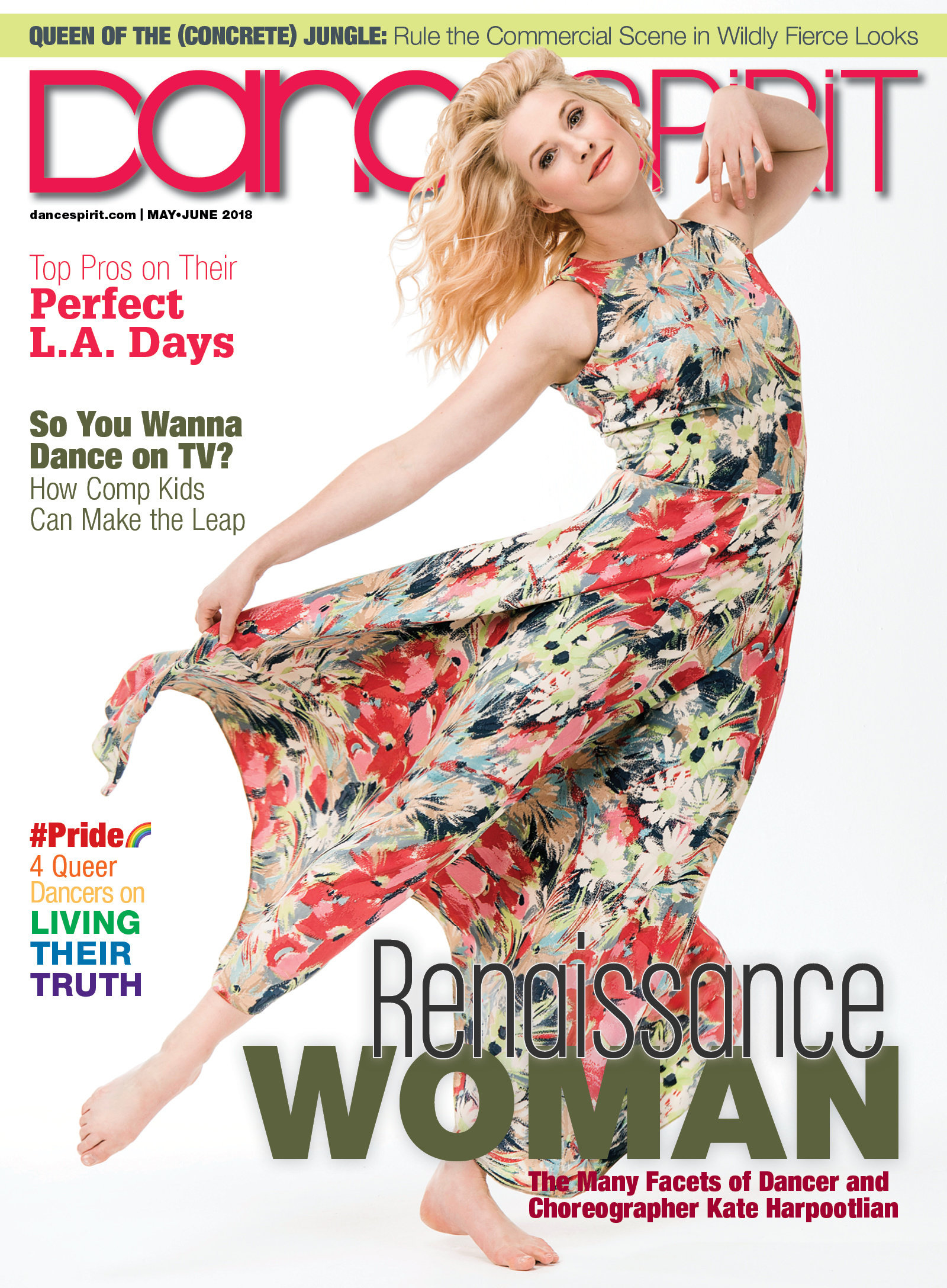 Get Dance Spirit in your inbox