Feb. 03, 2019 07:05AM EST
Screenshot via YouTube
It's game day, dancers! We're talking, of course, about the Super Bowl—but maybe more importantly, about the always hilarious and thought-provoking commercials that air in between all the, um, sportsball. (Sorry, not a football person!) This year, it looks like we'll be blessed with at least three ad spots highlighting dance. Without any further ado, here's all the best dance going down later today during the commercial "breaks." (As if we'd take a break from watching, PLEASE.)
Dance on TV
Jan. 14, 2019 09:47AM EST
Dancer Tony Bellissimo on the field at Super Bowl LII (via Instagram)
The Super Bowl is America's most-watched television event. Last year, when the incomparable Justin Timberlake took center field for the halftime show, more than 106 million viewers were watching his every move—and that's not even a record!
What's it like to perform for such an incredibly huge audience? Dancer Tony Bellissimo has plenty of experience with high-pressure dance gigs, having worked with artists including Rihanna, Britney Spears, John Legend, and Chris Brown. But stepping out alongside Timberlake during last year's halftime show was a next-level experience. We talked to Bellissimo about how he scored such a coveted job—and how he handled the pressure.
Dancer to Dancer
Feb. 05, 2018 04:46PM EST
via YouTube
There were lots of great moments from last night's Super Bowl LII (hellooo, JT's FIERCE dancers). But one of the top (and most hilarious) highlights was NFL's commercial starring players Eli Manning and Odell Beckham, Jr.
Dance Videos
Feb. 04, 2018 07:00AM EST
screenshot via @bostonballet on Instagram
Unless you live under a rock, you know the Super Bowl is going down later today. What you may not know, however, is that the ballet worlds of Philadelphia (home of the Eagles) and of Boston (the Patriots' stomping grounds) are just as excited as, y'know, everyone else you know is.
Popular
Feb. 01, 2018 10:43AM EST
NBC
It was almost exactly three years ago that "left shark"—a dancer in a giant foam shark costume who was FEELING HIMSELF during Katy Perry's Super Bowl halftime performance—grooved his way into our cold, hard hearts. The world fell in love with the fish gone rogue. And that love? It's still burning.
Just in time for this year's Super Bowl, the real human behind left shark—aka Bryan Gaw, a former pro dancer (he's since become a hair stylist)—has penned a story for The Washington Post. The confessional-style piece describes what actually happened out there, what it felt like to become a meme, and what he learned from the whole experience.
You guys: It is really, really good.
Dancer to Dancer
Jan. 30, 2018 10:17AM EST
Timberlake rehearsing at the stadium (via YouTube)
In less than a week, Mr. Justin Timberlake and his crew of amazing dancers will take to the biggest stage of their lives: center field at the U.S. Bank Stadium in Minneapolis, MN, for the Super Bowl LII halftime show.
We know the performance will be top-notch; we'd expect nothing less from JT. (Although we're guessing that, 15 years after the "nipplegate" scandal, the costumes will be, uh, full-coverage.) But exactly how fabulous will the choreography be? Well, we just got a look at some behind-the-scenes rehearsal footage. And based on the clips, the answer to that question appears to be: very fabulous.
Dance Videos
Dec. 13, 2017 04:57PM EST
Photo by Joe Toreno
Some might say Charlize Glass' fame kicked off with a single three-letter word. In 2014, Beyoncé shared a video of the then–12-year-old dancer performing to "Yoncé" on Instagram, along with a simple caption: "WOW!"
But by that point, the hip-hop mini had already performed at the MTV Video Music Awards and on "The Ellen DeGeneres Show," and won first runner-up with her crew, 8 Flavahz, on "America's Best Dance Crew." And her Queen Bey Insta shout-out wasn't even the pinnacle of her tween career: She earned a spot on The PULSE On Tour as an Elite Protégé for the 2014–2015 season, and performed with Missy Elliott at the Super Bowl XLIX Halftime Show in 2015.
These days, the 16-year-old spends her time touring the country as Brian Friedman's assistant at Radix Dance Convention and blowing up YouTube and Instagram with her class-video cameos. And while the Char Char we fell in love with was a hip-hop cutie pie, the more mature artist we see today is sure to rock the dance world for years to come.
Cover Story
Feb. 05, 2016 11:45AM EST
Ah, the Super Bowl halftime show. For dance fans, it's, well, the Super Bowl of live performances. It's the glorious moment when literally hundreds of millions of people see 12 solid minutes of dancers (and, OK, giant musical acts) being amazing.
Of course, not every halftime show is a dancestravaganza. I mean, for what felt like 100 years following 2004's Nipplegate (oh, I so want to hashtag that, but it's FROM A PRE-HASHTAG WORLD, GUYS), the Super Bowl powers that be chose old rock-and-roll headliners, who were less inclined to get their dance on and more inclined to, um, sit at pianos.
But other years? Other years, we got lucky. Other years, we got MJ. Or Britney. Or Madonna. OR BEYONCÉ.
In honor of this Sunday's sure-to-be dance-filled spectacular (Beyyyyyy we're so glad you're back!), we put together a little #FBF list of the danciest moments in Super Bowl halftime history. And it starts in the 90s, which is when the halftime show as we know it really became a thing. (Before that, it was mostly just marching bands, believe it or not.)
Meeeemorieeeeeeesss!
1991: New Kids on the Block
OK, yes: There's an awkward Disney "It's a Small World" opening. But push through it, because afterward we get the slickly choreographed beauty of that glorious 90s phenomenon, the boy band:
1993: Michael Jackson
Here's what's most amazing about this performance, which essentially pioneered the modern Super Bowl halftime spectacle: MJ JUST STOOD THERE FOR A SOLID MINUTE. He was so charismatic that that was literally all it took to drive the crowd insane. But then he started dancing, and—I'll shut up now. Just watch him:
2001: Aerosmith, 'N Sync, Britney Spears, Mary J. Blige, Nelly
Can you tell that MTV had started presenting the halftime show at this point? Basically their approach was to take all the people who had top 40 hits and throw them onstage together. Luckily, in 2001, that group included both 'N Sync and Britney, which meant we were in for some solid choreography (THE "BYE BYE BYE" DANCE <3<3<3):
2004: Janet Jackson, Justin Timberlake (et al)
Yeah, Nelly and Kid Rock and the artist then known as Diddy also performed. But this one was all about the dance stylings of Janet and Justin—not to mention the appearance of one infamous, star-adorned nipple (yes, it's in this video, so proceed with school/work-appropriate caution):
2011: The Black Eyed Peas, Usher
Oof, the post-Janet boob years were long, dull and dance-less. (The Who? Bruce Springsteen? Tom Petty? The Rolling Stones? At least Dad was happy.) But then the Black Eyed Peas flew in on their futuristic stripper poles and brought choreography—specifically, choreography of the fluorescent-light-suit variety—back, as did one of our favorite MJ protégés, Usher:
2012: Madonna, Nicki Minaj, M.I.A., Cee-Lo Green
Leave it to Madge (and Lil Buck! and that crazy tightrope bouncer!) to cement dancing's return to the Super Bowl:
2013: Beyoncé
YESSSSSS!!! YES YES YES. Bless the Super Bowl crew for knowing that Queen Bey didn't need 15 other guest acts to make her halftime show the most #flawless of all time:
2014: Bruno Mars, Red Hot Chili Peppers
I'll admit it: After the amazingness of 2013's halftime show, I came into this one with low expectations. But Bruno Mars' high-energy, old-school choreography was surprisingly delightful, wasn't it?
2015: Katy Perry, Missy Elliott
Left Shark got all the love, but we were most impressed with Missy's crew of phenomenal kids:
So, what dance goodies will BeyBey and Bruno Mars (and, um, Coldplay, I guess) bring us this year? We'll have a full recap right here on Monday morning, of course.
And with that: Go forth into Super Bowl weekend, friends! Enjoy the dancing! Maybe enjoy the football, too, if it's your thing! Definitely enjoy lots of nachos!
Dance News
Feb. 01, 2015 07:00AM EST
It's Super Bowl Sunday! Are you rooting for the New England Patriots or the Seattle Sea Hawks? I'm still hoping that the Pittsburgh Steelers make a miraculous comeback, but I'm pretty sure that's not how football works...
Before I embarrass myself with anymore football talk (Aren't the Sea Hawks' costumes pretty?! Can't wait until Katy Perry performs at intermission!), I'm gonna go ahead and bring the convo back to dance.
Dancers, like football players, are incredible athletes. But you already know that. A couple of weeks ago, Vogue.com spotlighted two dancers as a part of their "Year of No Excuses" campaign: Cedar Lake Contemporary Ballet's Madeline Wong and voguer/choreographer Danielle Polanco. They also featured a triathlete (Katie Botini) and a yogi (Briohny Smyth), whose bodies are equally incredible. Check it out!
P.S. Wondering where you've seen Madeline Wong before? Turn to p. 46 in your February 2015 issue of DS to see Ms. Wong rocking her best audition look!
Dance News
Dec. 12, 2013 10:49AM EST
Most of the time, the NFL isn't a big fan of over-the-top end-zone dances. And by "isn't a big fan," we mean "charges players who have too much fun out there $30,000 fines." (No, really! That's what then-New Orleans Saints wide receiver Joe Horn got after one particularly nutty 2003 celebration.)
From now until the Super Bowl on February 2, however, the organization is changing its tune. In fact, the Super Bowl Host Committee's "Huddle Shuttle" is traveling the tri-state area during the next few weeks, encouraging fans to show off their own end-zone moves. Participants at each of the Shuttle's stops will be entered in a sweepstakes, and the prizes are $500 and $50 gift cards. From fining $30,000 to awarding $500—not a bad turnaround, NFL!
In honor of this epic dance-off, the New York Daily News even got Alvin Ailey American Dance Theater's Alicia Graf Mack to share her own touchdown dance, the "Rocka My Soul" (which, from the sound of it, is based on choreography from Alvin Ailey's iconic Revelations).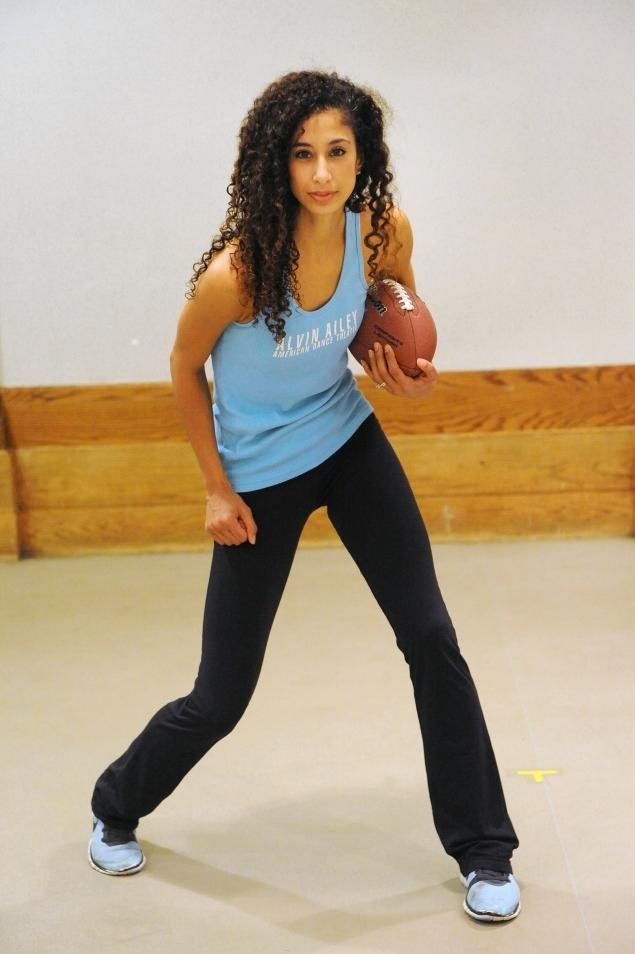 Mack showing off her moves (Susan Watts/New York Daily News)
Click here to find out when the Huddle Shuttle will be heading to your neighborhood. And for those of you who need a little more inspiration, here's a mashup of some of the best/most ridiculous end-zone dances in the NFL. Enjoy!
Get Dance Spirit in your inbox
Feb. 07, 2013 12:27PM EST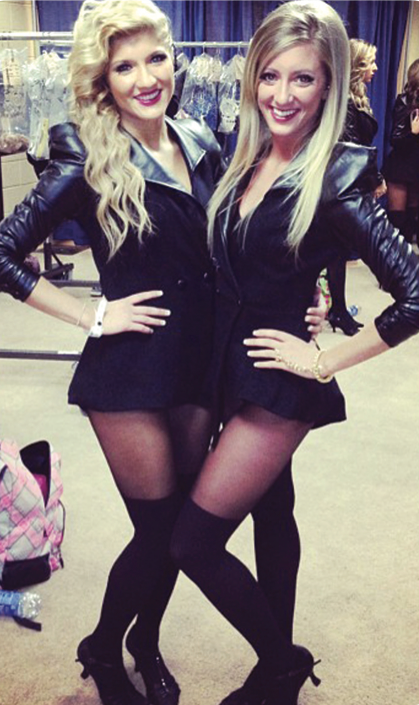 It's no secret we loved Beyoncé's Super Bowl halftime show. So naturally, we were dying to know more about the making of the production. We caught up with Just For Kix designer Alexandra Clough—who performed in the "Single Ladies" number and designed the leotards the dancers wore!—to get a behind the scenes look at the performance.
Five things you didn't know about the fiercest Super Bowl halftime ever:
1. "There were 74 dancers onstage during the "Single Ladies" number." 30 were Bey's dancers and 44 were dancers (mostly local New Orleans girls) who auditioned and scored a coveted spot.
2. "Beyoncé rehearses full-out. What you saw on TV was the same performance quality we saw in every practice." Okay, so maybe this isn't too surprising, but it makes sense: Kill it in rehearsal, perform it like a boss.
3. "Beyoncé is not a diva." Sure, she's got enough talent and star power to justify major diva status, but Alexandra says she was "very humble and down to earth."
4. "The whole cast only rehearsed together 5 times." Three of the practices were full dress rehearsals with everyone (including all of the fans that ran onto the field to their set places). Fun fact: It took 500 stage crew members to get the set on and off the field!
5. "The leotards I designed had a special pocket in the back for our radios and headphones." That's right, every dancer onstage wore ear pieces so they could clearly hear the music and dance together without fear of echoes or getting off count.
And no, Alexandra didn't get to meet baby Blue Ivy. (Of course, I asked.) She did, however, spot Jay-Z after the performance when they all posed for pics.
Now for a special treat. Check out this awesome vid of Bey and her dancer rehearsing for the big performance:
Dance News
Feb. 04, 2013 12:16PM EST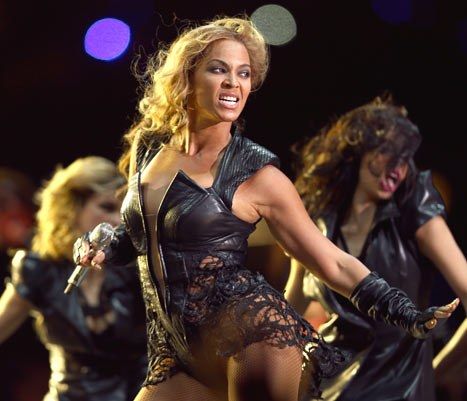 Hey Bey Bey, hey Bey Bey, hey! (photo Christopher Polk/Getty Images)
So, how annoying was the football game that interrupted that amazing Beyoncé concert last night?
Seriously though: Bey rocked the Super Bowl halftime show. ROCKED IT.
You thought, after the whole Inauguration scandal, that maybe she couldn't really sing? That she'd be—gulp—lip syncing?
You thought wrong. Hello, "Halo."
You thought she might hide behind crazy pyrotechnics and effects? That she wouldn't get down and dirty and dance-y?
Wrong again. Aside from that awesomely trippy Beyoncé-replicating screen and some standard-issue fire effects, most of the performance was just Queen B and a huge group of great dancers doing real choreography (some of it by our friend JaQuel Knight).
You thought the rumors about a Destiny's Child appearance were just, well, rumors?
Oh, silly you. Kelly and Michelle were there, of course. And while we do wish the original "Single Ladies" dancers (Ebony! We missed you!) had been able to revisit that choreo, it was fun to see the three amigos onstage together again. Can't wait for your new album, ladies.
Here's my theory: The power outage in the second half? Blame Beyoncé. The Superdome literally couldn't handle Bey Bey.
Here's the whole performance, in case you missed it—or just want to watch it over and over, a choice we fully support:
Feb. 01, 2013 10:07AM EST
I always wanted to be one of those "cool girls" who's all into sports and understands the difference between a first down and a field goal. Sorry, Dad: I didn't get the Feller family football gene I guess.
So while I won't necessarily appreciate Sunday's big battle between the San Francisco 49ers and the Baltimore Ravens (the only reason I know that's who's playing is because I happened to watch the "Today" show this morning), there is one thing I'm absolutely looking forward to during the Super Bowl: the halftime show. And this year, Beyoncé will be taking center stage, flocked by what appears to be tons and tons of dancers.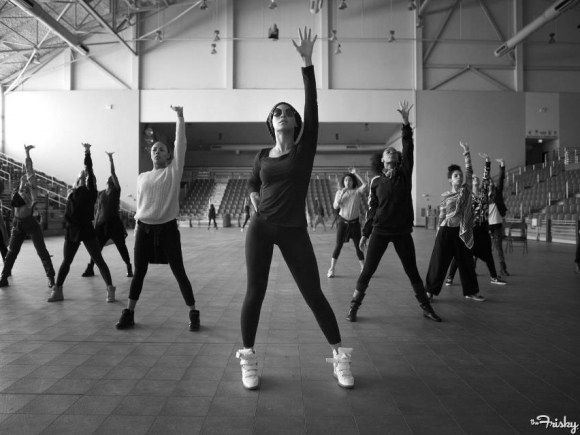 I'm a huge Queen Bey fan, so while I couldn't care less about who wins the game, I will be glued to the TV during the in-between moments, attempting to master those all-too-good "Single Ladies" moves in the comfort of my own living room.
Mrs. Jay-Z (oh please...homegirl hardly needs that title—she's cool enough on her own, but having a hot superstar husband certainly doesn't hurt her street cred) seems to be pretty pumped about the pending performance herself, and she posted these photos on her website yesterday: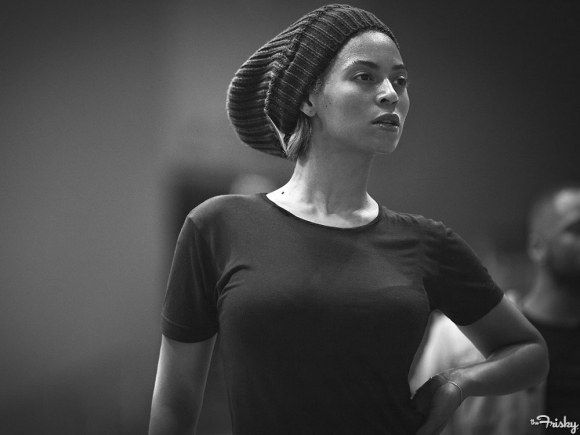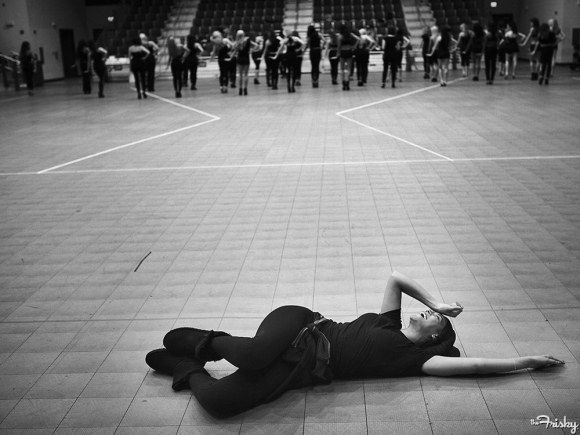 Go Team Bey!
(Don't forget to tune into the big halftime show—er, game—Sunday at 8 PM!)
Dance News