Justin Timberlake and his all-star dancers at the Super Bowl (via YouTube)
Whatever your feelings about the Prince tribute, or the "selfie kid" moment, or the star performer's...bold fashion choices, I think we can all agree on one thing: Last night's Super Bowl halftime show belonged to JT's dancers.
They. Were. 🔥🔥🔥.
Keep reading...
Show less
Last night's Super Bowl was nothing if not memorable. It was a football lover's dream: the neck-and-neck scoring, the absurd yet impressive "juggle catch" and the last-minute rookie interception that saved the game for the New England Patriots. In the end, Patriots quarterback Tom Brady was named MVP. But let's be honest, this year's Super Bowl had two MVPs, and neither of them were wearing jerseys: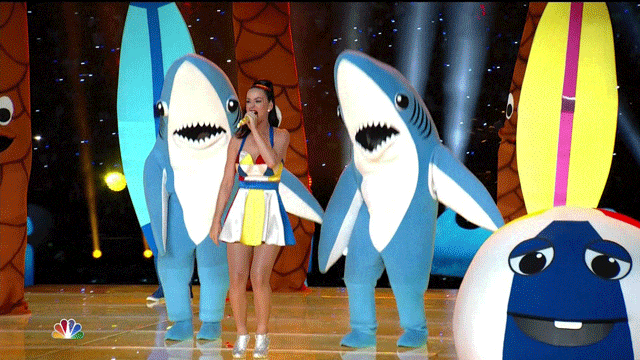 Yep, America has fallen in love with Katy Perry's dancing sharks. Just look at them nail the choreo! Our favorite part was when Left Shark started really feelin' that teenage dream, and just...sorta...went for it.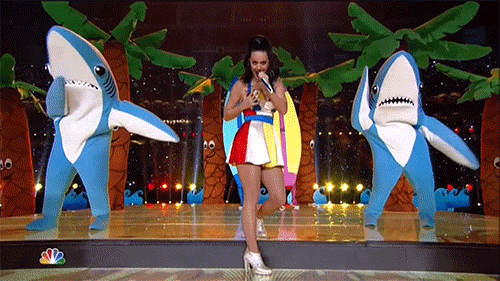 So who are the mysterious men behind the masks...err...shark suits? Katy Perry backup dancers Bryan Gaw (Left Shark!!) and Scott Myrick. Way to go, guys, you made all of our nights (/weeks/lives). #spiritanimalstatus
OK, enough shark talk. Let's discuss some other equally jaw-dropping highlights of Perry's halftime show. First, there was her Katniss-inspired entrance for "Roar"...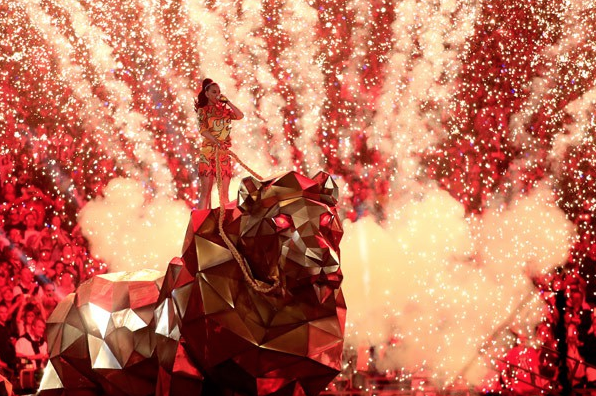 Talk about a girl on fire. (Photo by Andy Lyons/Getty Images)
...then, her "Dark Horse" backup dancers decided to ignore gravity...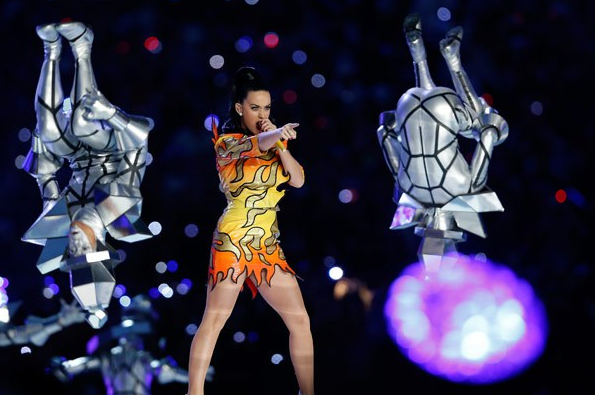 Horses, identify yourselves! (Photo by Andy Lyons/Getty Images)
...and after that, Missy Elliot made a three-song appearance (because, why not) with backup dancers performing some pretty incredible choreography by Tricia Miranda. If you, like us, found yourselves wondering, Wait, don't those four insanely talented kids in front look super familiar?, you're not crazy. That'd be Charlize Glass, Will Simmons, Kaycee Rice and Gabe De Guzman, repin' Will "Willdabeast" Adams' LilBeasts.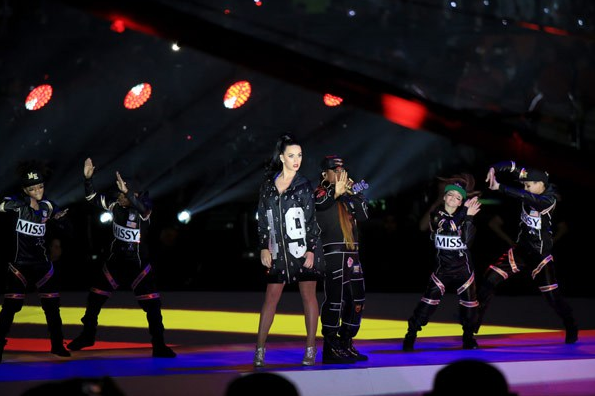 (L to R) Charlize, Will, Kaycee and Gabe with Katy Perry and Missy Elliot. NO BIG DEAL, GUYS. (JK, it's the hugest deal.) (Photo by Christopher Polk/Getty Images)
And with that, dancers everywhere nearly passed out from the sheer gloriousness of it all. Did you miss it? No worries! Catch the entire halftime show below:
OK, just one more shark GIF—because we're so happy someone took the time to do this: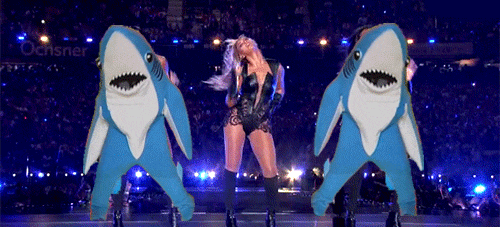 OK, so we've had a day to think it over—to relive the magic through GIFs, clips and discussion boards. It's about time we take a minute to appreciate Bruno Mars and his epic Super Bowl halftime show.
Dear Bruno Mars,
Thanks for the fancy footwork...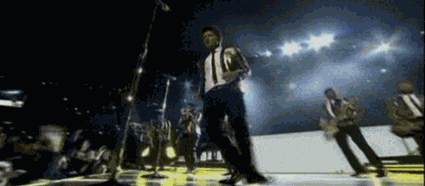 That's right: Bruno Mars' band members double as his backup dancers. (Courtesy MTV.com)
...for that oh-so-smooth drop split...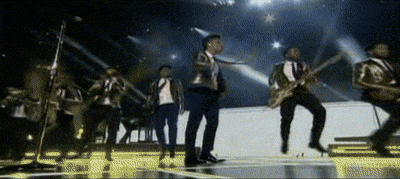 (Courtesy MTV.com)
...for the body rolls...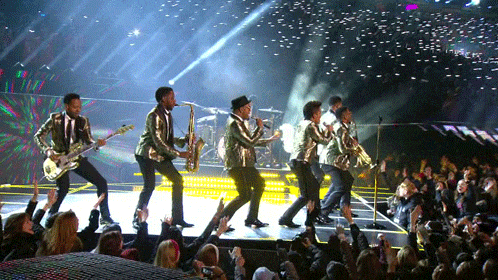 (Courtesy villagevoice.com)
...for the spirit fingers...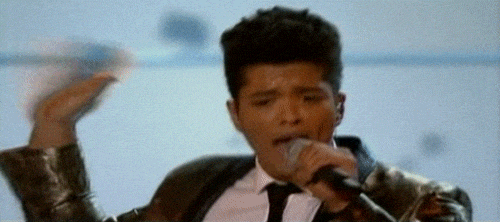 Although, Sparky from Bring It On may be able to give you a few pointers... (Courtesy MTV.com)
...and for your inspiring performance of "Just The Way You Are," aka the anthem of good boyfriends everywhere.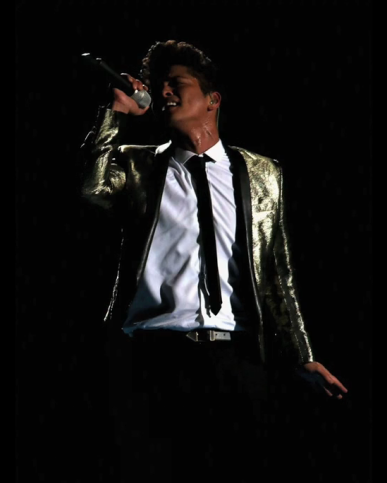 Be still my heart... (courtesy USA Today)
Oh, and thank you for inspiring some audience members at home to get up and dance, too:
(Shout out to People for that glorious collection of Vines.)
We know that Beyoncé was a tough act to follow, and we think that you did a downright respectable job.
Love,
Dance Spirit
(Didn't catch the halftime show? We've got you covered:)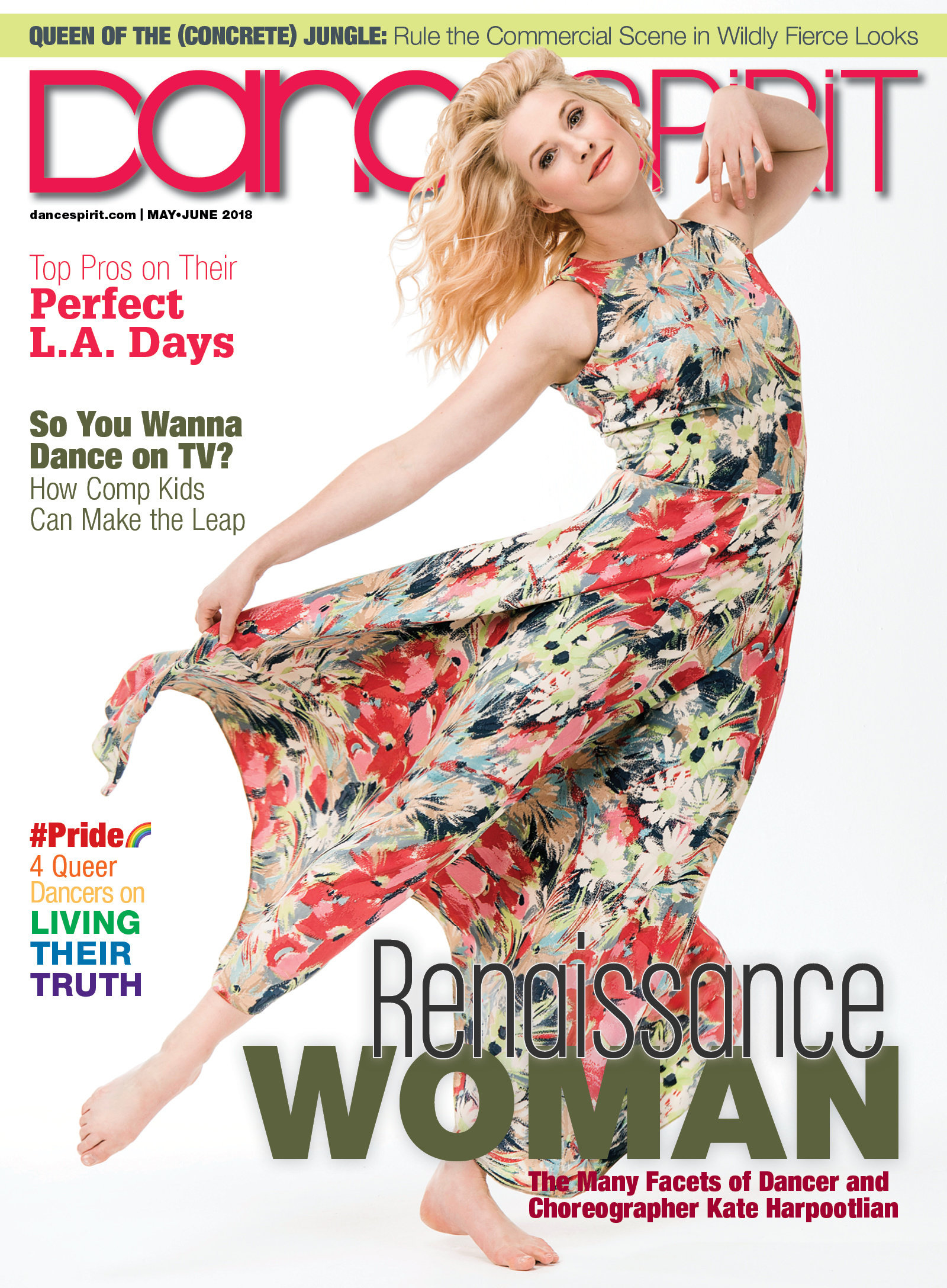 Get Dance Spirit in your inbox