Timberlake rehearsing at the stadium (via YouTube)
In less than a week, Mr. Justin Timberlake and his crew of amazing dancers will take to the biggest stage of their lives: center field at the U.S. Bank Stadium in Minneapolis, MN, for the Super Bowl LII halftime show.
We know the performance will be top-notch; we'd expect nothing less from JT. (Although we're guessing that, 15 years after the "nipplegate" scandal, the costumes will be, uh, full-coverage.) But exactly how fabulous will the choreography be? Well, we just got a look at some behind-the-scenes rehearsal footage. And based on the clips, the answer to that question appears to be: very fabulous.
Keep reading...
Show less
Dear Chris Martin,
Hello. It's me. Beyoncé.
I have this discomfiting sense that things are...awkward between us. And since I didn't want to disturb you last night after the Super Bowl—I heard a series of snuffles and moans coming from your dressing room, and assumed you were caring for a sick pet or nursing some sort of terrible rapid-onset head cold—I thought I'd write you an apology.
I'm sorry I completely dominated your halftime show.
I'm sorry my "guest appearance" made your headline act look a bit like a 6-year-old's birthday party.
I'm sorry you ended up being a third wheel on what was supposed to be your night.
But you had to know this was coming, didn't you?
Surely you understood, when I was announced as a halftime show guest, that there is no such thing as a "guest" act by Beyoncé? That wherever I appear, I am immediately recognized by all present as the Supreme Being? (See: my recent turn on "Lip Sync Battle," in which, with approximately three hair flips, I reduced Channing Tatum—a far more formidable rival than you, if we're being honest, which I always am—to dust.)
You must have guessed, when I dropped my genius "Formation" video one day before the Super Bowl, that some serious mischief was afoot? Didn't you gaze upon the vid's inspired choreography (shout-out to the brilliant Dana Foglia, JaQuel Knight and Chris Grant) and think, "Wow, those 'Formation' formations sure would look great on a giant football field! They'd basically turn Beyoncé into the captain of the most epic dance team that ever was!"?
And so they did.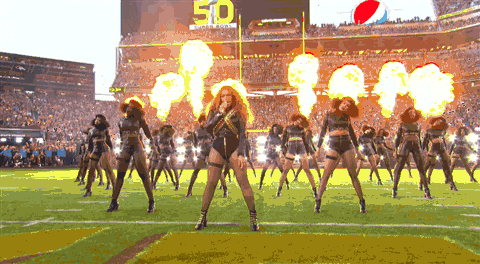 I shouldn't take all the credit, though. Again, complete honesty is my policy, and therefore I have to thank Bruno Mars for his valiant, albeit unsuccessful, attempt to defeat me in our halftime dance battle. What an adorable little man he is! What a wonderful viral moment that made! His Run DMC-style chain necklace sparkled with at least half the brilliance of my custom DSQARED2 Michel Jackson-esque military jacket, didn't it?
Here's a lesson you should learn, Chris: Don't show up to the big game alone. Four middle-aged men in psychedelic flower jeans will never be a match for me and my #squad of devastatingly fierce ladies. (So much love to Ebony Williams and Ksyn and Jasmine Harper and the rest of you beautiful, beautiful people.)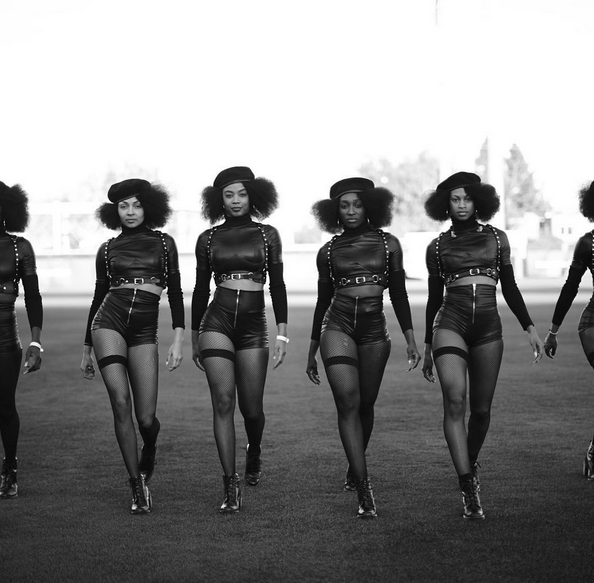 Via @beyonce
But I digress; this was meant to be a moment of contrition, not of instruction. And so please believe me when I say that there was no malicious intent here. I am simply incapable of being anything less than mind-bogglingly, earth-shatteringly, internet-breakingly fantastic.
Did you notice my hand on your back at the conclusion of the show, Chris? Did you sense that I was trying to comfort you, to reassure you that, come tomorrow, nobody would remember your set anyway, because they'd all be too busy dissecting the political implications of my girls' Black Panther costuming?
And so it has come to pass. But fear not, Chris: I've already reserved tickets for you for my Formation Tour. Because I know how thrilled you were when that tour announcement dropped immediately following what was, in theory, your halftime show. I heard you mutter that little congratulatory oath (I assume it was congratulatory?) under your breath as the world was made aware of my next great undertaking. I saw your hand tense on the mic (in happy excitement, I'm sure?) as any eyes that remained on you were wrenched, unceremoniously and inexorably, to me.
I'm sorry, Chris. I really am. But more importantly: YOU'RE WELCOME.
x Bey
Ah, the Super Bowl halftime show. For dance fans, it's, well, the Super Bowl of live performances. It's the glorious moment when literally hundreds of millions of people see 12 solid minutes of dancers (and, OK, giant musical acts) being amazing.
Of course, not every halftime show is a dancestravaganza. I mean, for what felt like 100 years following 2004's Nipplegate (oh, I so want to hashtag that, but it's FROM A PRE-HASHTAG WORLD, GUYS), the Super Bowl powers that be chose old rock-and-roll headliners, who were less inclined to get their dance on and more inclined to, um, sit at pianos.
But other years? Other years, we got lucky. Other years, we got MJ. Or Britney. Or Madonna. OR BEYONCÉ.
In honor of this Sunday's sure-to-be dance-filled spectacular (Beyyyyyy we're so glad you're back!), we put together a little #FBF list of the danciest moments in Super Bowl halftime history. And it starts in the 90s, which is when the halftime show as we know it really became a thing. (Before that, it was mostly just marching bands, believe it or not.)
Meeeemorieeeeeeesss!
1991: New Kids on the Block
OK, yes: There's an awkward Disney "It's a Small World" opening. But push through it, because afterward we get the slickly choreographed beauty of that glorious 90s phenomenon, the boy band:
1993: Michael Jackson
Here's what's most amazing about this performance, which essentially pioneered the modern Super Bowl halftime spectacle: MJ JUST STOOD THERE FOR A SOLID MINUTE. He was so charismatic that that was literally all it took to drive the crowd insane. But then he started dancing, and—I'll shut up now. Just watch him:
2001: Aerosmith, 'N Sync, Britney Spears, Mary J. Blige, Nelly
Can you tell that MTV had started presenting the halftime show at this point? Basically their approach was to take all the people who had top 40 hits and throw them onstage together. Luckily, in 2001, that group included both 'N Sync and Britney, which meant we were in for some solid choreography (THE "BYE BYE BYE" DANCE <3<3<3):
2004: Janet Jackson, Justin Timberlake (et al)
Yeah, Nelly and Kid Rock and the artist then known as Diddy also performed. But this one was all about the dance stylings of Janet and Justin—not to mention the appearance of one infamous, star-adorned nipple (yes, it's in this video, so proceed with school/work-appropriate caution):
2011: The Black Eyed Peas, Usher
Oof, the post-Janet boob years were long, dull and dance-less. (The Who? Bruce Springsteen? Tom Petty? The Rolling Stones? At least Dad was happy.) But then the Black Eyed Peas flew in on their futuristic stripper poles and brought choreography—specifically, choreography of the fluorescent-light-suit variety—back, as did one of our favorite MJ protégés, Usher:
2012: Madonna, Nicki Minaj, M.I.A., Cee-Lo Green
Leave it to Madge (and Lil Buck! and that crazy tightrope bouncer!) to cement dancing's return to the Super Bowl:
2013: Beyoncé
YESSSSSS!!! YES YES YES. Bless the Super Bowl crew for knowing that Queen Bey didn't need 15 other guest acts to make her halftime show the most #flawless of all time:
2014: Bruno Mars, Red Hot Chili Peppers
I'll admit it: After the amazingness of 2013's halftime show, I came into this one with low expectations. But Bruno Mars' high-energy, old-school choreography was surprisingly delightful, wasn't it?
2015: Katy Perry, Missy Elliott
Left Shark got all the love, but we were most impressed with Missy's crew of phenomenal kids:
So, what dance goodies will BeyBey and Bruno Mars (and, um, Coldplay, I guess) bring us this year? We'll have a full recap right here on Monday morning, of course.
And with that: Go forth into Super Bowl weekend, friends! Enjoy the dancing! Maybe enjoy the football, too, if it's your thing! Definitely enjoy lots of nachos!
Feb. 04, 2013 12:16PM EST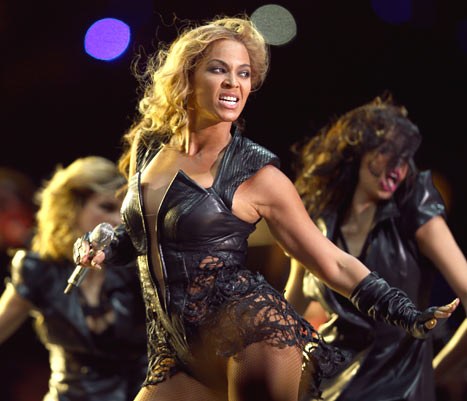 Hey Bey Bey, hey Bey Bey, hey! (photo Christopher Polk/Getty Images)
So, how annoying was the football game that interrupted that amazing Beyoncé concert last night?
Seriously though: Bey rocked the Super Bowl halftime show. ROCKED IT.
You thought, after the whole Inauguration scandal, that maybe she couldn't really sing? That she'd be—gulp—lip syncing?
You thought wrong. Hello, "Halo."
You thought she might hide behind crazy pyrotechnics and effects? That she wouldn't get down and dirty and dance-y?
Wrong again. Aside from that awesomely trippy Beyoncé-replicating screen and some standard-issue fire effects, most of the performance was just Queen B and a huge group of great dancers doing real choreography (some of it by our friend JaQuel Knight).
You thought the rumors about a Destiny's Child appearance were just, well, rumors?
Oh, silly you. Kelly and Michelle were there, of course. And while we do wish the original "Single Ladies" dancers (Ebony! We missed you!) had been able to revisit that choreo, it was fun to see the three amigos onstage together again. Can't wait for your new album, ladies.
Here's my theory: The power outage in the second half? Blame Beyoncé. The Superdome literally couldn't handle Bey Bey.
Here's the whole performance, in case you missed it—or just want to watch it over and over, a choice we fully support: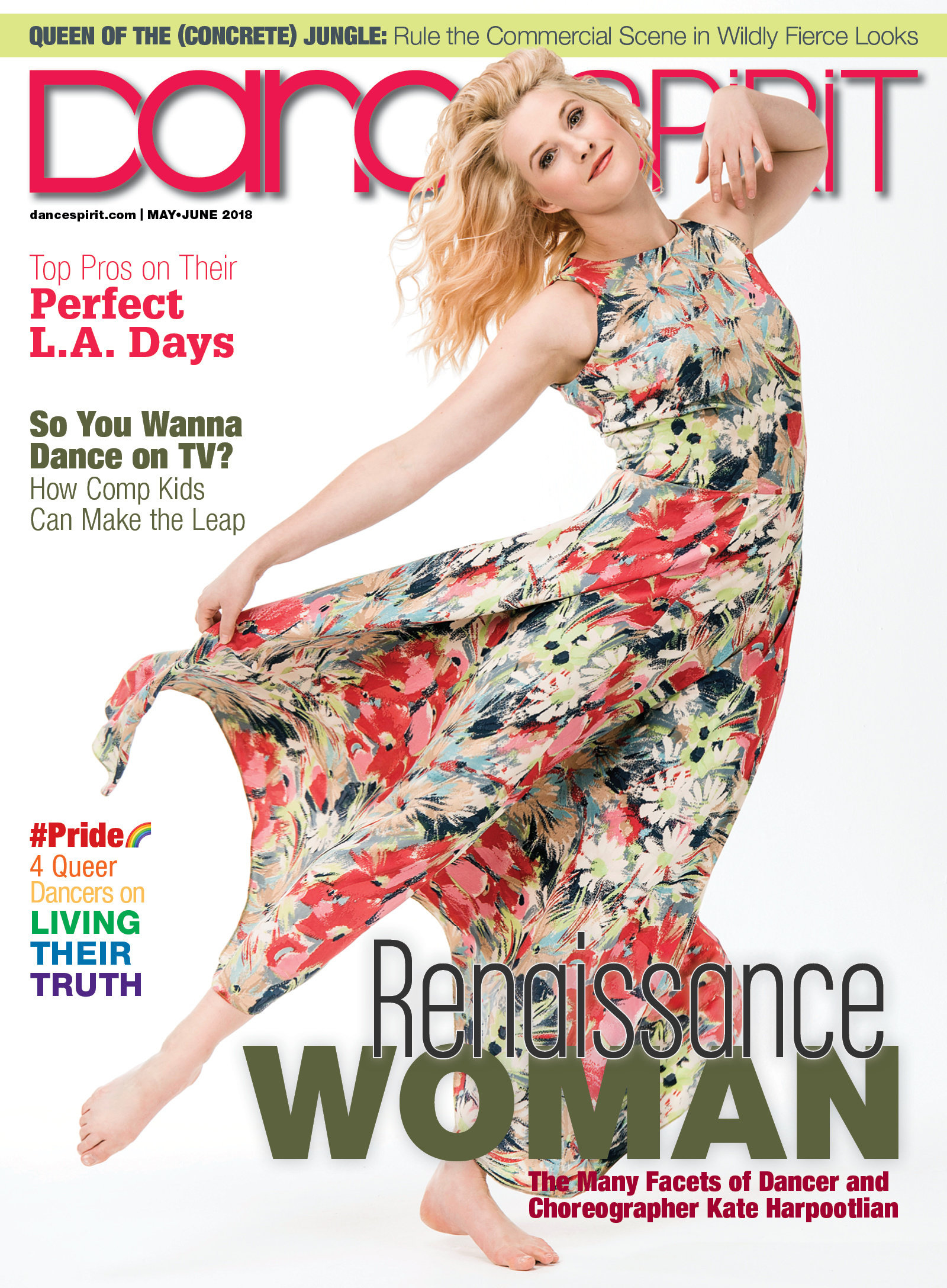 Get Dance Spirit in your inbox