For dancers, the decision to undergo surgery can be frightening. The time spent in recovery seems like an eternity when it keeps you from pursuing your passion. But as 14-year-old Maya Wheeler learned, dancing with injuries isn't worth the pain—or the damage it can cause. A student at Philadelphia's The Rock School for Dance Education, Wheeler has undergone two surgeries to remove extra bones behind both of her ankles. Here, she shares her journey in and out of the operating room, as told to Kat Richter.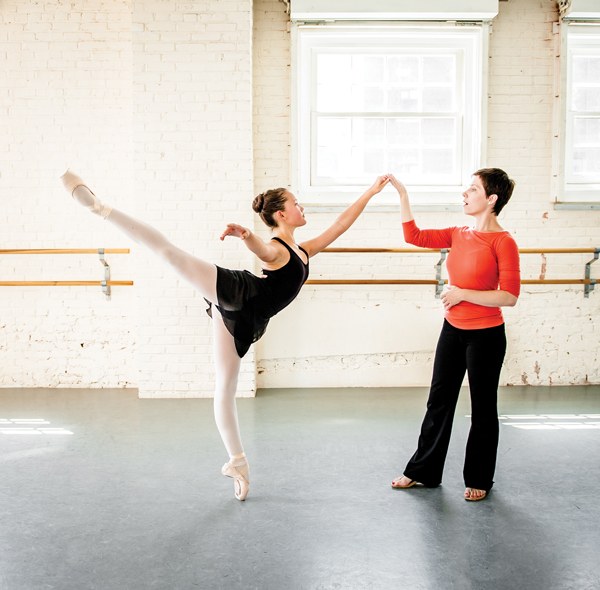 Working with coach Sarah Cooper in 2012 (photo by Vikki Sloviter)
I was 8 when it all started. My left ankle was hurting in ballet class, so I began asking my teachers if I could sit out during jumps. At first, they didn't believe me—they just thought I wanted to get out of certain exercises. But the pain wasn't letting up. Finally, one of my teachers suggested I see a physical therapist. "It could be tendonitis," the therapist said, showing me a few calf and ankle stretches. But then her voice lowered to a whisper: "Or it could be an os trigonum."
I had no idea what she was talking about, but I could tell from her tone that it was something scary. Since I'd started dancing at age 6, I'd never had an injury. My training at The Rock School was intense, and I didn't know how to cut back. I told myself it was just tendonitis and kept stretching.
Soon, my ankle hurt any time I pointed my foot,  jumped or did just about anything strenuous. When I couldn't take the pain any longer, I went to a doctor. After an X ray, the doctor confirmed my worst fear: My symptoms indicated os trigonum. An extra piece of cartilage between my Achilles tendon and my heel had hardened into bone. The doctor explained that this syndrome was common for dancers. I knew he was trying to be reassuring, but I was still nervous about what this meant for me—and the career I hoped to have one day. He was up front about my options: I needed surgery to take it out.
By this time—about a year after my symptoms had worsened—it was performance season, and Nutcracker rehearsals were heating up. On top of all that, I had started preparing for my first time competing at the Youth America Grand Prix finals in NYC. I didn't want to stop training—but I could feel my extra bone crunching with every move.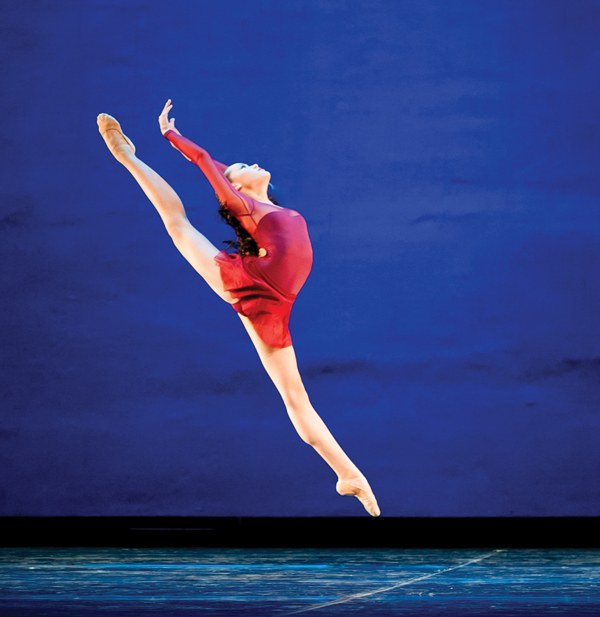 Maya at the 2014 Youth America Grand Prix (photo by Vikki Sloviter)
I was 10 when I had my first surgery at the Children's Hospital of Philadelphia. Two hours and four incisions later, the extra bone was gone. It turned out that the bone had fractured in the time I continued dancing, which had caused even more irritation and swelling.
Before the surgery, I was told that because I was young, the recovery process would be relatively quick. I stayed home from school for a couple of days, and I could walk without crutches (though wearing a boot) after two weeks. I worked with a physical therapist for three months, who taught me lots of Thera-Band exercises and other ways to rebuild my foot muscles, like picking up marbles with my toes. I had to sit out of ballet classes completely for four weeks, but I gradually worked my way up to pointe, and I was back to performing within a few months.
A year and a half later, however, the pain was back—this time in my right ankle. I didn't know what to do. I was scheduled to compete at the YAGP finals in NYC that April. I had also been accepted to Boston Ballet School's summer intensive. I tried to weigh my options: If I skipped YAGP to have surgery again, I'd miss out on that performance experience in NYC. But if I waited until after YAGP, I wouldn't be strong enough for Boston. And I definitely didn't want to miss that opportunity. Ultimately, I chose not to compete, and I was back in the operating room on Valentine's Day.
During the recovery from my second surgery, most of my classmates moved up into the next level. Surprisingly, the worst part for me wasn't not being able to dance—it was having to sit and watch my peers excel without me. My teachers would say, "Just take notes," but I didn't want to watch anymore. I wanted to scream back, "Why can't I just do it? I can do it in my boot!"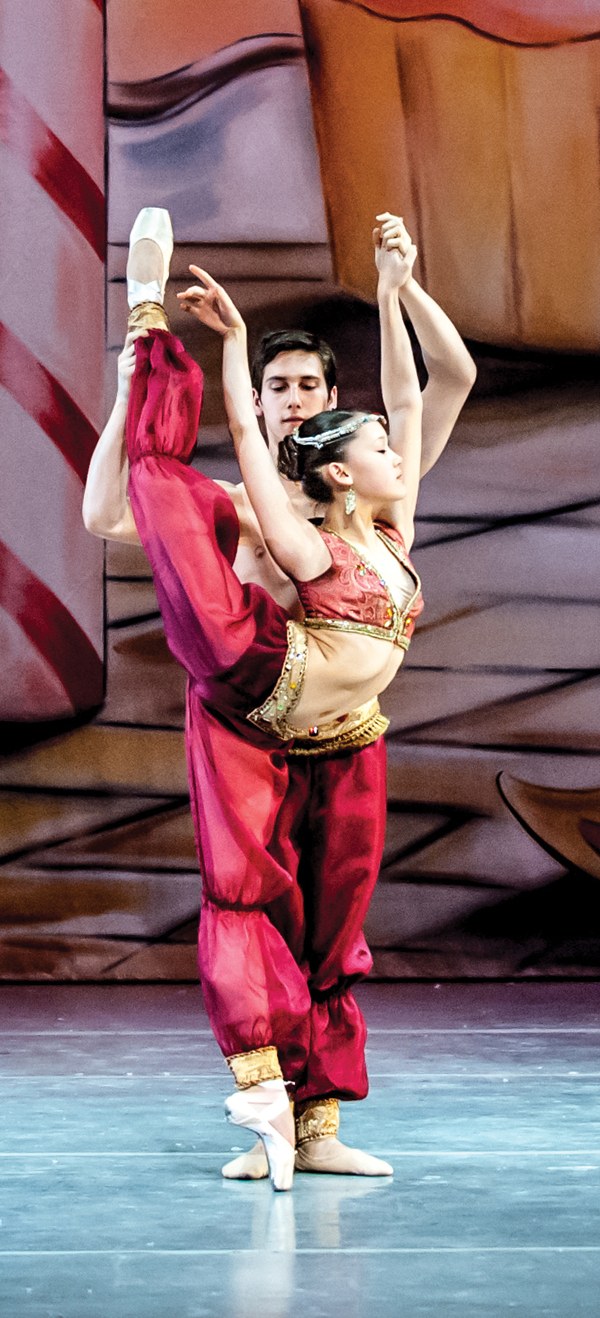 In The Nutcracker with Anthony Cannarella-Anderson in 2012 (photo by Vikki Sloviter)
I felt left behind, but I'm glad I waited and made a full recovery. With a little extra work and lots of determination, I've caught up to my friends, and I even finished in the top 20 at the YAGP finals this year. I've learned that hurdles like os trigonum syndrome don't have to hold you back. And now that I'm dancing pain-free, I don't even think about it anymore. Instead, I'm on to my next challenge: one day landing a spot in my dream company, Pacific Northwest Ballet.
Os Trigonum Syndrome 101
The os trigonum is a bone growth behind the talus bone (ankle) that may be present at birth. "Os trigonum syndrome" refers to the deep, aching pain and swelling that develops due to repetitive stress on that area. Because os trigonum syndrome can mimic Achilles' tendonitis, X rays are helpful to differentiate between the two.
If you notice these symptoms, it's best to talk to a doctor or physical therapist, especially if the pain persists. Surgery isn't always necessary; other treatments include rest or anti-inflammatory medications to reduce swelling and pain. Above all, make sure your doctor or therapist knows the complexities of your dance training so he or she can work out a treatment plan tailored to you.
Alyssa Lemenager's large chest always seemed to get in the way of her dancing. She loathed spaghetti-strap leos and constantly altered her costumes to accommodate her 34E bust. "I couldn't take the constant back pain and discomfort that the weight of my breasts caused," says Lemenager, now captain of the Suffolk University Dance Company in Boston. "Being a dancer only heightened these issues. I felt sore and tired, and very insecure about myself and my dancing."
The breaking point came at age 16 when she had to duct tape her breasts into a competition costume to keep from bouncing onstage. That same year, she underwent breast reduction surgery. Since then, she's been able to dance and live much more comfortably.
For many dancers whose chest size has inhibited their health, training and performance, breast reduction can be beneficial. But it shouldn't be mistaken for a "quick fix"or a way to reach aesthetic standards; it's major surgery with both benefits and risks.
The Procedure
According to a report by the American Society of Plastic Surgeons, in 2005, 114,250 women in the U.S. had breast reductions. Though there are multiple ways of performing the operation, all involve removing breast tissue, moving the nipple upward and tightening the skin around the breasts, says Dr. Richard Ehrlichman, instructor in surgery at Massachusetts General Hospital. The surgery usually lasts two to four hours and is performed under general anesthesia on an outpatient basis or with a one-night hospital stay. Pain, swelling and bruising are expected, and patients routinely wear drainage tubes for a few days to remove fluid.
According to Chicago-area plastic surgeon Dr. Anthony Terrasse, dance and other aerobic activities are off-limits for a few weeks. Though recovery periods differ greatly from patient to patient, most are up for daily activities, such as lifting arms overhead, after a few days. Heavy lifting, pushing and pulling should be avoided for three to six weeks. During recovery, patients wear special bras to minimize the tension on the skin. Though there is an immediate difference in size after surgery, final results are seen three to twelve months later, as the body needs time to adjust to the rearrangement of breast tissue, Terrasse says.
The Benefits
Large breasts can cause neck, back and shoulder pain, chronic infections under the breasts, indentations in the shoulders due to the constant pressure of bra straps and, in severe cases, curvature of the spine and difficulty breathing. For large-chested dancers, these problems are amplified in the studio, especially when it comes to running or jumping. Reduced breast size can alleviate all of these discomforts, as well as make it easier to find bras and clothing and likewise, leotards and costumes that fit.
The Risks
Permanent scars are unavoidable. Anytime you take out skin and close it, you're left with a scar, and the scars are permanent, says Ehrlichman. Scarring can range from thick red marks to nearly invisible thin white lines. Because incisions are usually limited to the nipple area and the lower half of the breast, scars typically won't show in low-cut costumes.
During surgery, each nipple is removed and reattached higher on the breast. The potentially worst (and also rare) complication is lost or compromised blood supply, which can result in loss of nipple sensation or of the entire nipple itself, Ehrlichman says. An inability to breastfeed may also result. As with any major surgery, there's a risk of excess bleeding and infection.
According to Dr. Richard Greco of the Georgia Institute for Plastic Surgery, a breast reduction isn't guaranteed to be permanent, either. Weight gain or hormonal changes, which can be elicited by such causes as pregnancy and taking birth control, can result in breast size changing even after surgery.
Covering the Cost
Breast reduction surgery can cost between $4,000 and $7,000. Insurance companies have different coverage criteria; many will only pay for the procedure for individuals who have macromastia--the condition in which abnormally large breasts cause continual health problems. Lemenager, for example, was able to prove to her provider that her chest size was detrimental to her health because the back pain persisted, in spite of her active lifestyle and a year of chiropractic treatment.
Proving the necessity of such surgery can be tricky. Strong dancers, for instance, may not suffer the same back strain from large breasts that an average person would. Whether due to pain tolerance, muscle strength or the drive to perform, people experience different degrees of pain. Even if back pain is relatively manageable, dancers with large enough breasts to merit surgery will most likely suffer from other symptoms, like chronic rashes or shoulder indentations.
Pain and other symptoms are becoming a non-issue, however, as an increasing number of insurance companies are setting weight and volume restrictions in an effort to cover only surgeries that are medically necessary, Ehrlichman says. Restrictions on weight require a patient to be at or near an "ideal" weight for her height, to prevent overweight women from having surgery when weight loss alone could significantly reduce the size of their breasts. Volume requirements dictate that a certain amount of tissue be removed from each breast (usually 300 to 600 grams, the equivalent of several cup sizes)
The reality is that not everyone who truly needs a breast reduction will fit into these coverage requirements: For example, a small-framed woman may have a large chest for her body, but still not meet the volume requirements because of her petite build. In these cases, women may partner with their doctors to appeal the insurance company's initial decision.
Talking To Your Doctor
If you're considering breast reduction, ask your physician about the benefits and potential dangers for you specifically, and interview board-certified plastic surgeons until you find one you feel comfortable with. Terrasse recommends asking a potential surgeon to connect you with a past patient of similar age or situation so that you can talk about her experience.
If you're under 18, specific guidelines apply. The American Society of Plastic Surgeons says that women younger than 18 years old shouldn't have elective (also called cosmetic) breast reduction surgery, because they may not be finished growing, says Ehrlichman. Exceptions are made for extreme cases.
Careful Consideration
Risks and benefits aside, breast reduction is serious business and shouldn't be taken lightly. "Just because you have large breasts doesn't mean you should have a breast reduction," Terrasse says. "But if they are getting in the way of [dancing with] ease, grace and athleticism, then it's something to consider." Ehrlichman warns that women considering a reduction just to achieve the small-chested look of a stereotypical "dancer's body" should proceed with caution. For a woman with debilitating symptoms, scars and other risks can be a small trade-off for the health benefits; however, when surgery is a purely cosmetic decision, the risks may not be worth it.
Several years later, Lemenager is still confident she made the right choice for her health and her career. "The first day that I walked into the studio in a leotard with no bra on, I knew that the surgery was the right thing to do," she says. "My dancing was no longer painful, and it felt as if a huge weight had been lifted--literally." As with any major medical decision, only you can decide if the risks are worth the
rewards.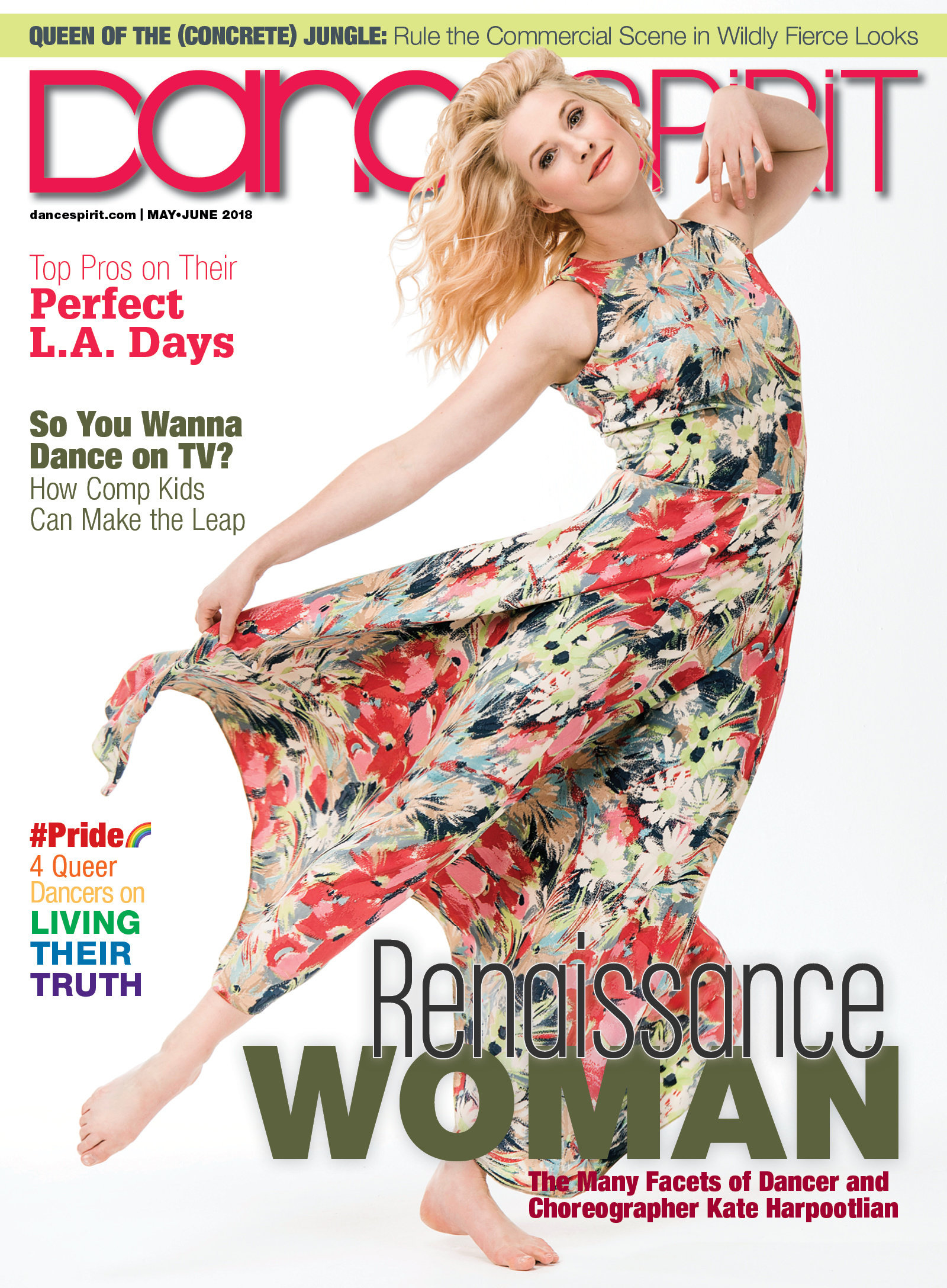 Get Dance Spirit in your inbox